Alternatives To Treks Affected By High Court Ban
Share this story
Alternatives To Treks Affected By High Court Ban
Category News
By Swathi Chatrapathy
2018-09-03
Last week we wrote about the High Court's ban on overnight camping in the meadows of Uttarakhand.
A gist of what happened: Even though the order would ban only specific trails with alpine meadows, the forest department quickly called for a clamp down on all treks — meadows or no meadows. Read about it here.
It created a furore amongst trekkers and local folk. Trekkers strongly voiced their thoughts and suggested sending a petition to the High court, whereas locals headed to the High Court to get reasonable regulations.
It's natural that trekkers are annoyed by the overnight ban. Their plans have gone haywire and it's a huge loss for everyone.
At Indiahikes, we have been pushing our boundaries as much as we can. Our team has been working round the clock to make alternate options.
We have opened up new treks in Himachal, extended the Kashmir season and opened fresh dates for existing treks.
I have a good list of alternate treks for you. I'll get to that in a bit.
But first, let me give you a quick update on what has been happening with the High Court order.
Two days ago, the Indiahikes team, headed by Izzat (the head of our Outdoor Education team) met with the Chief Conservator of Forests (PCCF HoFF) of Uttarakhand.
Having known him for quite some time, we know that he's always had right intentions when it comes to trekking and the environment. We had a long discussion with him.
Honestly, he is quite aware of the implications of the High Court ban. They are going to approach the Supreme Court to appeal against it.
But the entire process is going to take some time. Going to the Supreme Court means going with a lot of data to back up our cause.
They have requested Indiahikes to share some solid data about the consequences of the ban — about the number of people affected and its impact on tourism in Uttarakhand. We have compiled a report and sent it to them.
He also sent out a notice to all the local DFOs to allow treks that don't involve camping in alpine meadows or sub-alpine meadows.
It's a rather broad notice to all DFOs. It does not specify trek names. But they are doing everything they can to let trekking continue.
So we are hopeful about treks like Kedarkantha, Kuari Pass (with a slightly changed route), Brahmatal and perhaps Dayara Bugyal (we'll camp on the edges of meadows).
But hope is all we have. We do not have a confirmation yet.
The only Uttarakhand treks that are running for sure right now are
These trails are nowhere near meadows, which is why they have not been affected.
But I cannot comment on which other treks will run.
What about winter treks?
Well, we do have dates open on our website.
My advice to you is this – Book your trek now. Book your travel about 15 days later.
If the trek isn't going to run, we'll switch you to an alternate trek that will run. You have the flexibility to switch to any trek, any available date. We'll either refund the difference in the trek fee or make provisions for you to pay the balance. We're hoping it won't come to that.
I understand that the travel fare might increase with time, but it's still cheaper than having to cancel and re-book.
I hope that helps.
Meanwhile, as I mentioned earlier, we have opened up more alternatives for you.
We have just added fresh dates for all these treks.
If you're keen on planning your trek quickly and booking your travel then these are the best options for you.
– Hampta Pass (A dramatic pass-crossing in Himachal)
Here are the dates available for September.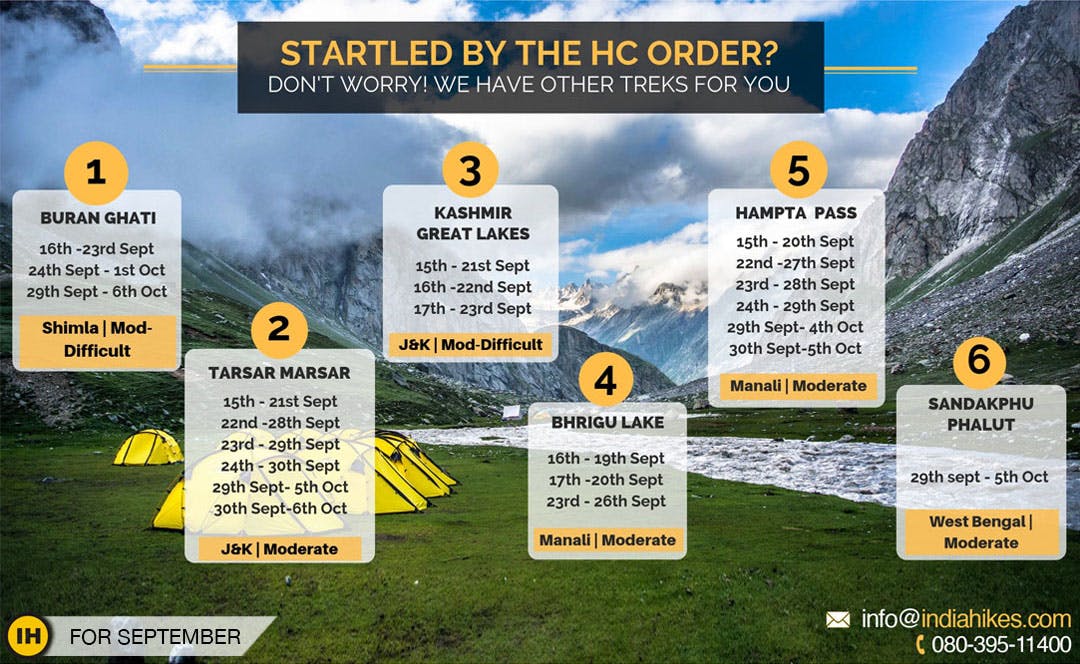 Here are the dates available for October.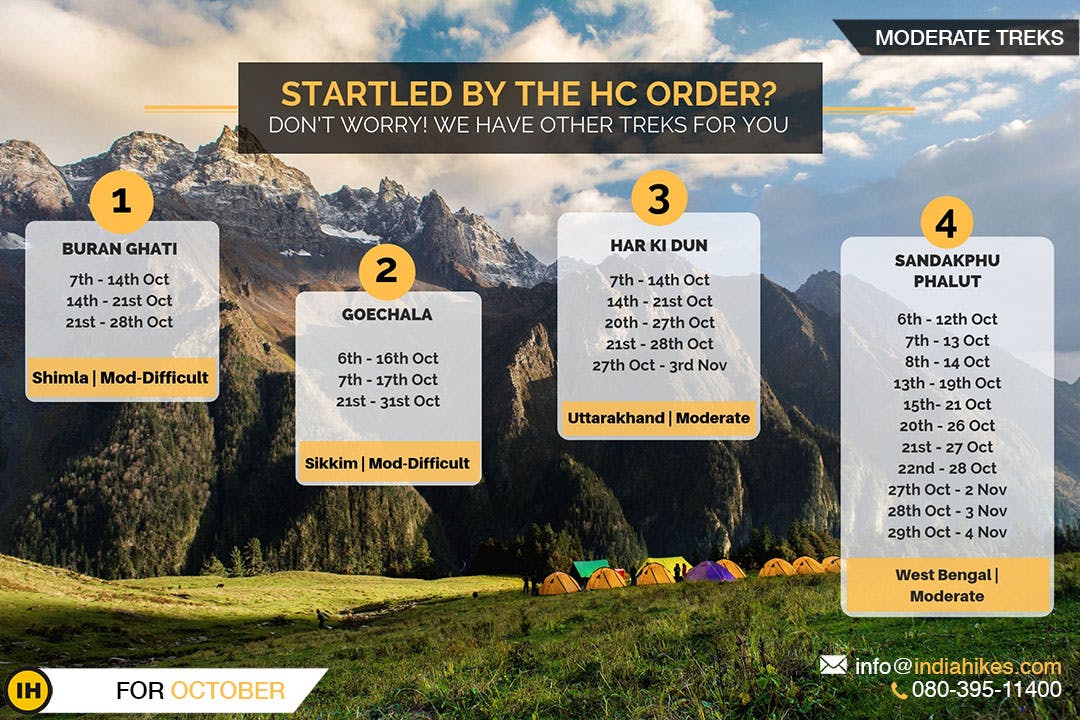 These treks are getting filled up as I write this. So if you're keen on planning any of these above treks, now is a good time.
If you have any thoughts around this ban, drop in a comment on this page.
The comments have been extremely useful so far because through them, we have been able to share the voice of trekkers with the government. So keep your thoughts coming.
If you need any help registering for a trek, give us a call or mail us. You'll find the right person to get in touch with on this page.
Sign up for our much loved Weekly Mailer
We have terrific trekking tips, trek updates and trek talks to look forward to