Adventure Therapy Date Announced for August 2023
Share this story
In April 2022, we introduced Adventure Therapy treks at Indiahikes. The response, even to our very first group, was unexpectedly overwhelming. 
"Within three days, over 178 people applied to participate. I was truly surprised," Izzat Yaganagi, Head of Experiential Learning at Indiahikes says. "Even though we could select a maximum of 18 participants, it was heartening to see that the growing openness towards therapy," she adds. 
Another group of trekkers trekked in February 2023, again with the same impact.
So after two extremely successful groups, we are very excited to announce our third Adventure Therapy trek group. 
When: Aug 13, 2023
Where: Chandrakhani Pass Trek
Available Slots: 18
Trek Fee: 12,850 + 5% GST
Click here to register for the Adventure Therapy trek -- https://indiahikes.com/registration?batchId=9305
Why we started Adventure Therapy treks 
To give you context, he's a story narrated by Izzat Yaganagi, the head of Experiential Learning at Indiahikes. It is a story that dates back to 2011, when Izzat was on her first Himalayan trek. The story gains more significance if you know Izzat's background. She is a psychological counsellor, who has worked extensively with couples, youth and families.
"It was September 2011," begins Izzat. "I was going through a difficult phase in my life. I was at a crossroads with everything — my personal life, my professional life. I felt low. I wanted to get away from everything." 
"That's when, on the recommendation of a colleague, I signed up for a Himalayan trek with Indiahikes. Not to cure myself, but just to get away from everything for a while. Little did I know that the trek would change everything about my life," she reflects. 
"I remember this one moment I was sitting by Gadsar Lake, watching the blue waters lapping the shore. Small rivulets trickled down the mountain sides, feeding the lake. On my right, I could see the Gadsar valley stretching into the horizon. 
"It was at this point that somehow, my mind hit a reset button. I felt all my problems disappearing away. I felt light and relieved, like no problem was too big. For the first time in the past few months, I could feel a sense of lightness in my heart," recollects Izzat. 
Later that night, when Izzat was reflecting on the trek, she realised that what she had gone through was very different. The trek had a big role to play in it. "The trek had helped me get out of a troublesome environment into a space where I could see my own problems from a bird's eye view. In the city, I was constantly rushing from one day to the next, never able to give myself the mental space required to heal. I felt trapped in a bubble of my own thoughts."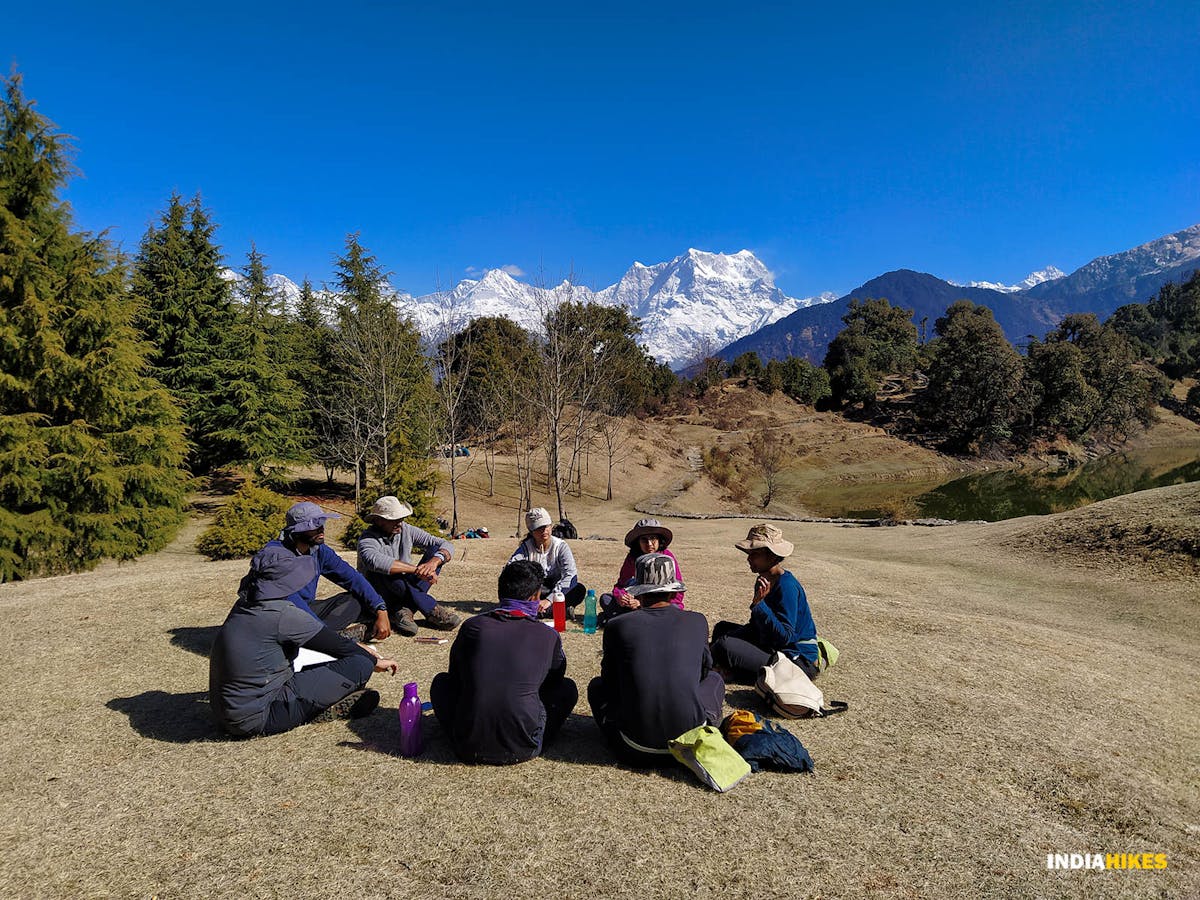 "But on the trek, I had the luxury of time and space to open up. I was never in a rush. I had no other responsibilities. I felt calm. I could see things more objectively. The feeling of being overwhelmed all the time withered away and my problems seemed manageable." 
"This is what most therapists do in the process of working with their clients. But the trek was naturally lending itself to such a profound outcome – in such a short duration," she says.  
"After returning I strongly felt  'why not bring my clients here. It would have such a deep impact on their state of mind. It could do what months of therapy could not," recalls Izzat. 
It was back then that Izzat decided to join Indiahikes with the intention of using trekking as a medium to help those struggling with personal issues. 
In these 11 years, Izzat Yaganagi among other things, set up the Experiential Learning Division at Indiahikes. Today, we work with innumerable professional institutions and schools to bring these learnings from the outdoors into our daily lives. The impact of these programs has been enormous. 
What is adventure therapy?  
Adventure Therapy is not a new concept. It is something that has existed in many forms for over a century. 
In his paper on outdoor therapy, Stephan Natynczuk, one of the foremost adventure therapists, writes on different ways of adventure therapy — "Some rely on nature as a co-therapist; others on experiential learning. Some utilise talking therapy and others successfully blend each of these with an adventurous journey." 
"We've noticed that even on our regular treks, trekkers go through a near-therapeutic experience. It is where nature creates its own impact without human intervention. But not everyone realises this impact, especially if they're in a troubled state of mind," explains Izzat. "Many times, it needs facilitation by someone who can nudge them to enhance what the trek is already doing," she adds. 
This is what we will be doing in our adventure therapy treks.
Read the popular travel guide book Lonely Planet's story on How India is Embracing Adventure Therapy Treks.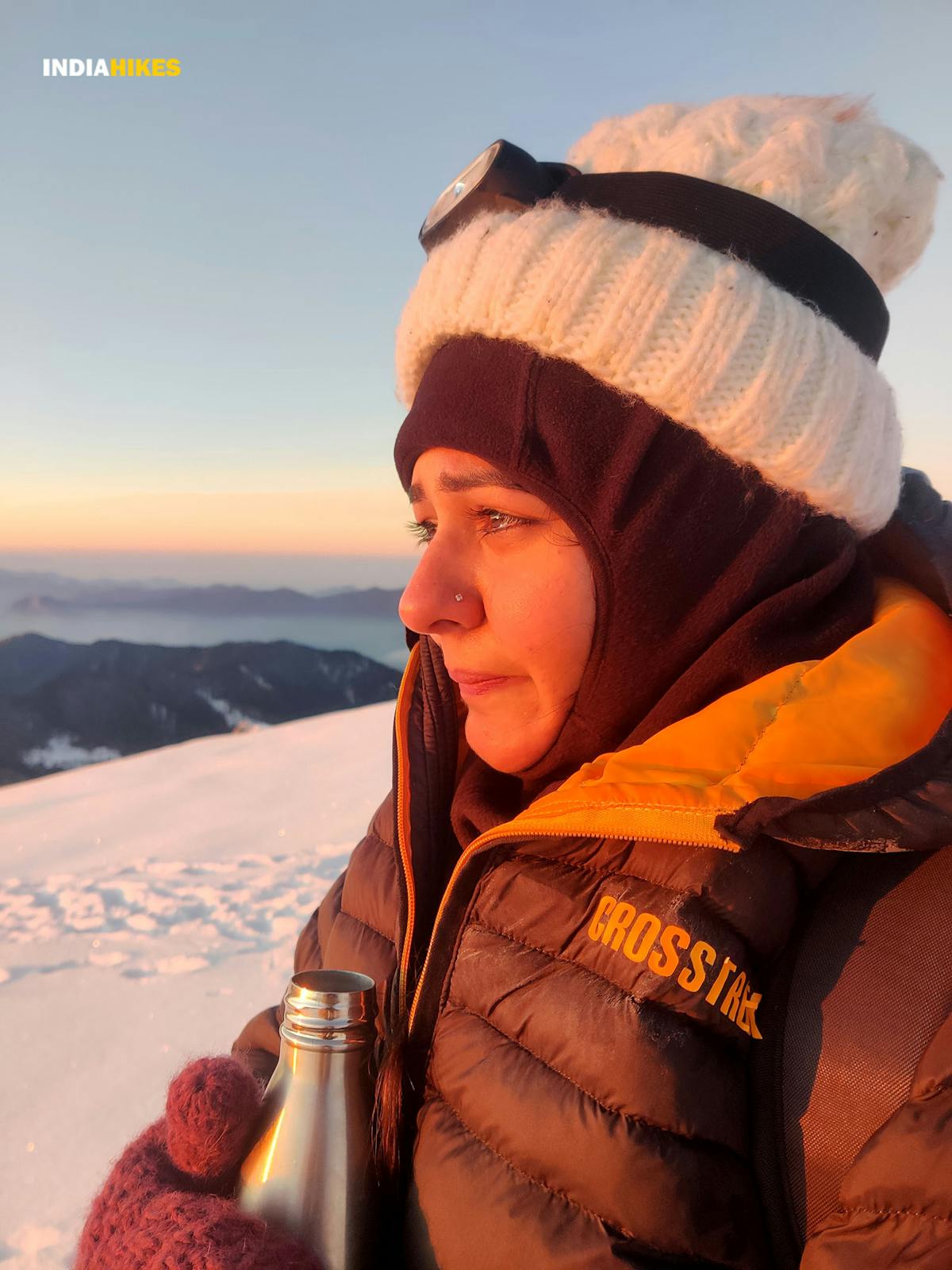 A trek, on its own, has the power to impact your mind, body and spirit. But not everyone realises this impact. This is where a trained professional comes in, to nudge you to enhance what the trek is already doing. Picture by Faizan Shaikh
How our Adventure Therapy Treks work
This is not going to be like our regular treks. It is specially designed and facilitated by team members who are trained to conduct therapy. 
The first trek is going to be led by Ms Izzat Yaganagi herself, who is a Psychological Counselor with a practice of over 13 years. She heads the Experiential Learning division at Indiahikes. 
While the trek is going to work on its own, Ms Izzat Yaganagi will be playing a big role through one-on-one sessions, and group sessions. Talking therapy and experiential learning will be a key features in the adventure therapy trek.
Whom is it meant for? 
These treks are meant for those going through some difficulty in their lives. If you're feeling low, underconfident, or finding it hard to overcome difficulties, this trek is meant for you. If you're overcoming the loss of someone, or are unable to focus on your professional life, this trek will work wonderfully for you.
When and where is the Adventure Therapy trek going to be held? 
This trek is going to be held on the beautiful Chandrakhani Pass Trek. The base camp, the campsites, the meadows, and mountain views, all lend themselves to a great setting for therapy.
Dates for the trek: August 13th - 17th, 2023
Duration: 5 days
Highest altitude: 12,185 ft
This is what the itinerary will look like:
Day 1: Reach the Indiahikes Community Campus at Sarsai, Haripur on your own. Reporting Time: 4 pm | Location: Sarsai, Haripur. Briefing and orientation about the Adventure Therapy Trek by Ms Izzat Yaganagi.
Day 2:  Drive from Sarsai to Rumsu (cost not included in the fee). Trek from Rumsu to Naya Tapru.
Day 3: Trek from Naya Tapru to Chaklani 
Day 4: Trek from Chaklani to Nagruni via Chandrakhani Pass
Day 5: Trek from Nagruni to Malana via Magic valley. Drive back to Manali
The adventure therapy trek fee for the group is the same as our regular group:  ₹12,845 + 5% GST (base camp to base camp). 
You'll find more details about the Chandrakhani Pass trek on this page.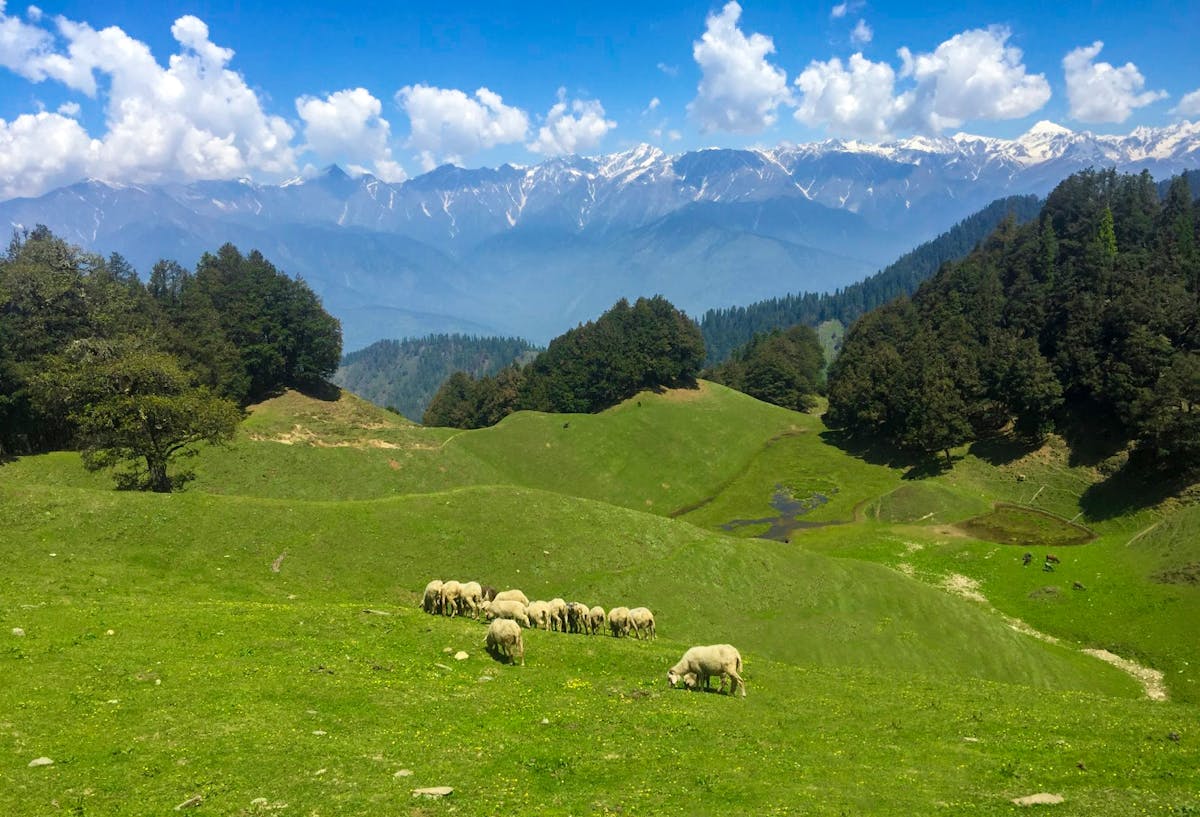 The Chandrakhani Pass trek lends itself beautifully to a setting where adventure therapy can be conducted.
How to register: 
If you'd like to be a part of our Adventure Therapy trek, follow this link to register - https://indiahikes.com/registration?batchId=9305
We will keep the group small, with around 18 members. The slots will be confirmed on a first-come-first-served basis. 
In conclusion: 
We all know how beneficial a trek can be for the mind, body and spirit. Terms like nature therapy and forest healing have firmly embedded themselves in conversations of therapists. Medics in countries like Canada, UK and New Zealand are suggesting nature prescriptions and green prescriptions as healers. At Indiahikes too, we not only believe in it, but have seen the healing powers ourselves. We hope these Adventure Therapy treks spread the healing power to those who need it too.
Related Videos
Why trekking with Indiahikes is different
An Independent Documentary About How Indiahikes Is Leaving Mountains Better
Why We Believe Everyone Must Trek
Sign up for our much loved Weekly Mailer
We have terrific trekking tips, trek updates and trek talks to look forward to