Adventure Worx Xplore 55 Backpack Review
Share this story
You can get the best of the gear for your trek. But if you don't have a good and sturdy backpack, will any of it be of value?
A good backpack is one of the most essential items on a trek. Therefore, having a backpack that is spacious, has good back support, and good material is important.
Picking your backpack is an important decision. It stays with you for a long time. It's your best friend on a trek. That is why, I'm impressed with the new explore 55 backpack from Adventure Worx. I would consider it to be at a similar level with some of the best backpacks I've used. 
It's made in Bangalore, India. I'm proud that such a product is made in our country. That too, of such high quality. I'm glad to see that there are companies in India creating equipment for trekkers with such fine detail.
It really impressed me and I'm glad I got to try it out on a Himalayan trek. 
Why I Liked Using the Adventure Worx Xplore 55 Backpack
One of the major reasons I liked using this backpack is because of the structure. It has incredible balance and stability. In addition, it maintains an excellent shape when it's full.
The structure of the backpack is very logical. There are two frames running along the bag. And, there's a lovely hourglass shape to them. 
It ideally takes the weight from the top. Then, it concentrates on the middle and spreads out at the bottom. It's an important shape for a stable trek. It keeps the weight balanced and doesn't strain your back either.
I tested it out on an 8-day Himalayan trek and the results were brilliant! The structure and shape retained throughout the trek. It gave me adequate back support and offered great space. I would really recommend this backpack for a Himalayan trek. 
➤ Ventilation & Compartments: Rating: 5/5 
This backpack has a really good ventilator mesh. It prevented me from having a sweaty back throughout the trek. Even during long walks, my back stayed dry. 
Adventure Worx has nailed the compartments perfectly. The backpack has standard compartments as expected in any modern backpack. But this one is really spacious. The top hood has an ample amount of room. There is generous space in the inner flap too.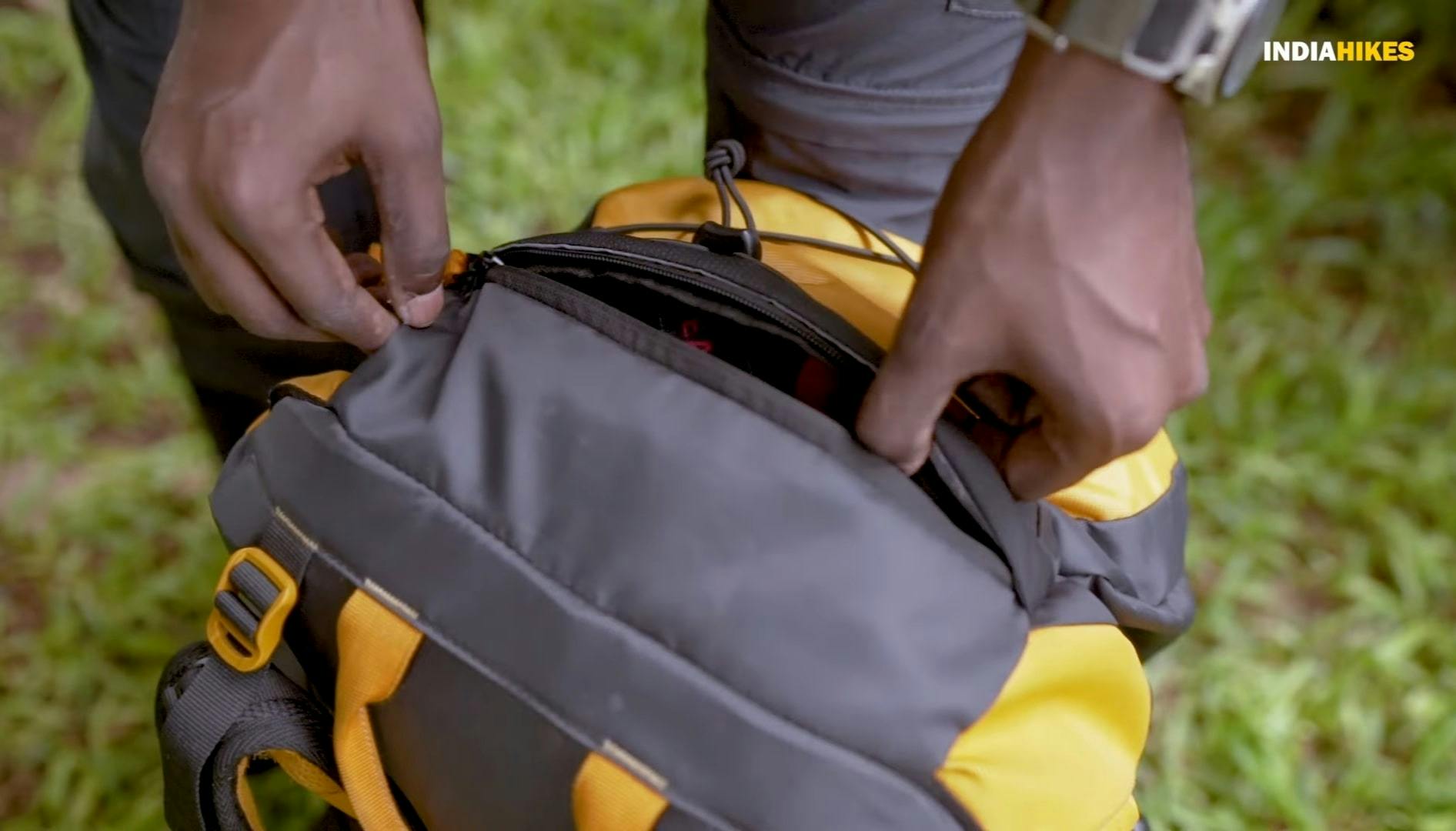 I thought that the water bottle holder was perfect. It allowed my water bottle to sit tight without slipping out even once. Not like usual backpacks, which have the flap lower. It felt sturdy and easily reachable too.
There are a couple of added compression straps for the water bottle too. It holds the bottle in place and prevents it from falling. 
The waistband has lovely pockets. I could easily fit in my GPS tracker and mobile phone. It was easy to pull it out whenever I wanted to click pictures.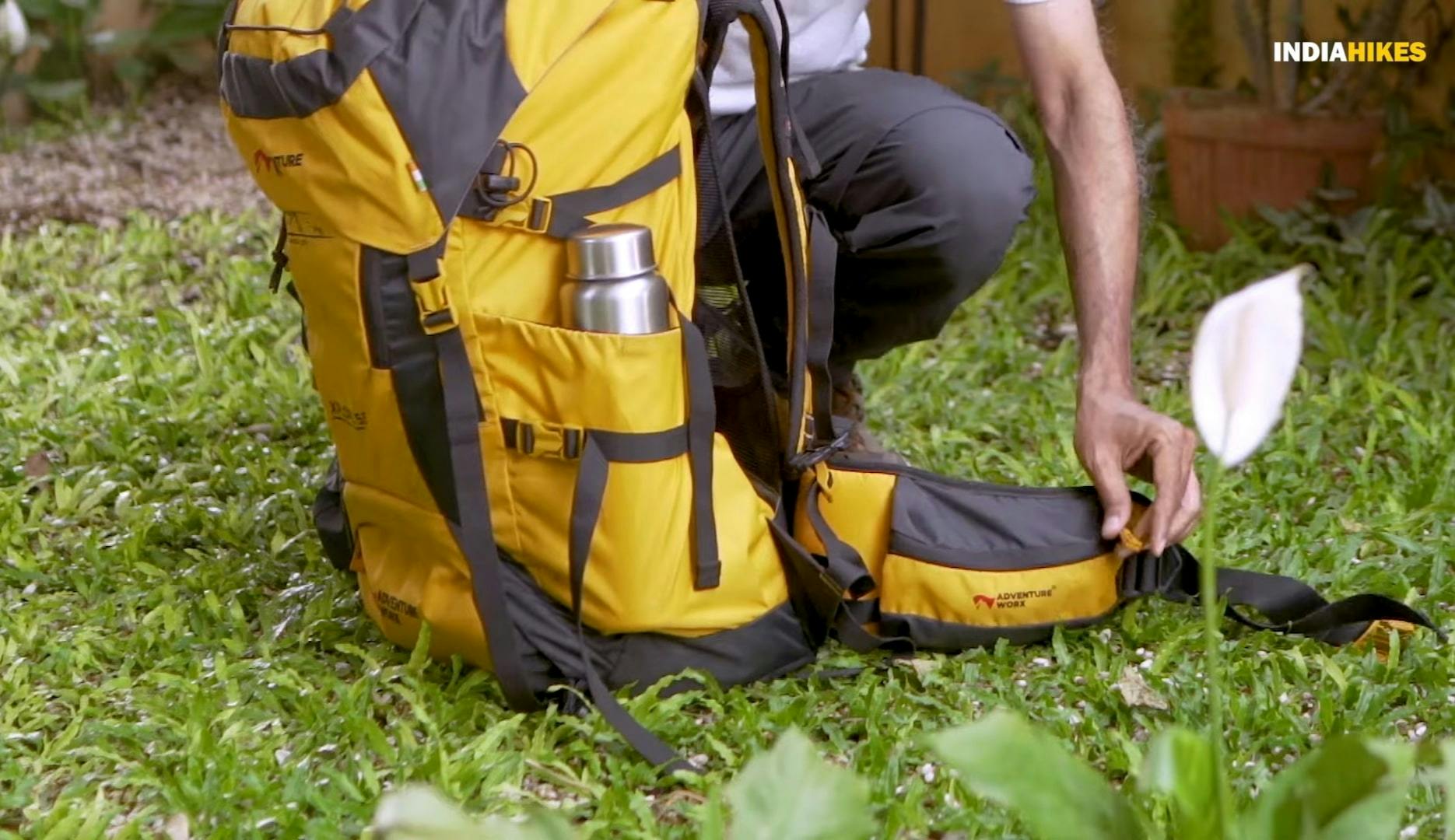 On the front side, there is an added compartment for emergency items. I found that very accessible too. 
➤ Space: Rating: 5/5
The Adventure Worx backpack has loads of space inside. I could fit my sleeping bag at the top and clothes at the bottom and it still didn't feel overpacked. I think the backpack scored really well on inner space. 
➤ Straps, buckles, and belts: Rating: 4.5/5
The straps have the right amount of padding–not too thick or too thin. It didn't cut through the shoulders or feel painful during the trek.
The waistband, too, has the right amount of padding. It fit quite well and didn't make me feel uncomfortable. 
The strap to lift the backpack has good material and feels decently sturdy. The buckles all over the backpack are of superior quality and not easily breakable.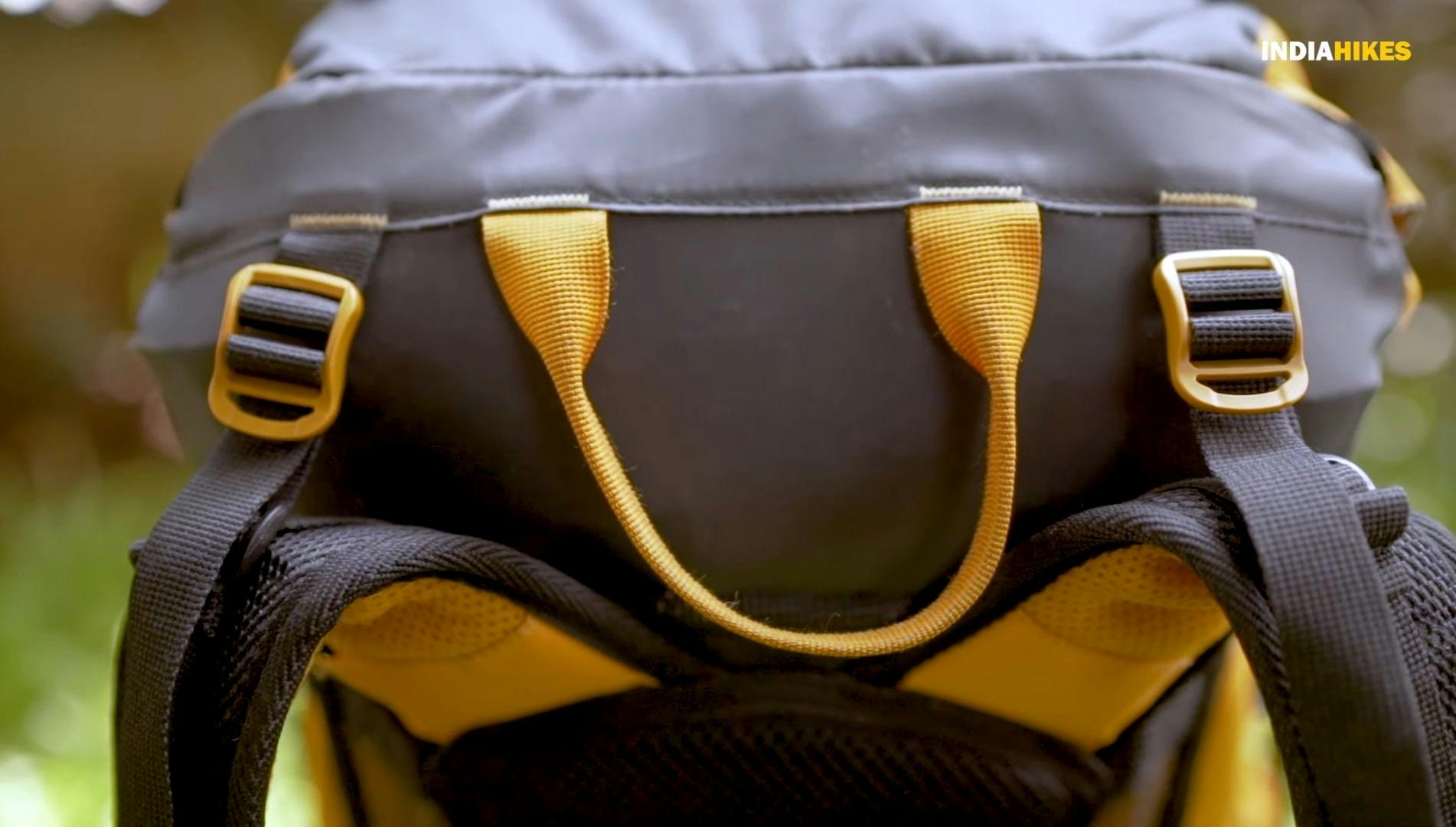 However, there are some downsides in this aspect. I thought that the strap to lift the backpack isn't as strong. It could have another layer of stitching.
I also didn't like the width of the strap on the compression straps. It didn't feel wide enough. 
I think the straps could be marginally wider everywhere. 
➤ Design & Looks: Rating: 4.5/5
The basic design of the backpack is excellent. It has a bright orange/yellow colour and looks good. The backpack is really attractive and draws a lot of attention on a trek. 
I thought there could be some improvements here as well. While everything else is high quality, the graphics on the backpack aren't as good. 
There could be more detailing on the main graphic in the front. 
The black colour on the sides doesn't really go well with the yellow/orange. Grey panelling on the sides would blend better with the yellow/orange. 
➤ Pricing of the Adventure Worx Xplore 55 Backpack: Rating: 5/5
The price of the Adventure Worx Xplore 55 Backpack is comparable to any other backpack. I wouldn't say it is much higher or lower.
There are very few backpacks that offer good space, good support, and balance. But, at the same time, having an attractive backpack is really rare. 
You can check off all these things in the Adventure Worx Xplore 55 Backpack. Plus, you get a premium design and material here. 
So at around Rs 5,600, I thought it was normally priced. In fact, I thought it was cheaper than some standard ones. 
➤ Final Verdict: 4.5/5
The Adventure Worx Xplore 55 backpack is a very well designed backpack. It's crafted with thoughtful attention and detail. There are some minor issues, but they won't bother you much. 
All in all, it's a perfect buy for a trekker. I would really endorse this backpack. The comfort, space, design, and compartments are great and made my trek experience really efficient. 
Because it's made in our own country, I feel good and proud to carry it along.
It's an excellent backpack to carry on higher altitude treks. Treks like Rupin Pass, Buran Ghati, Bali Pass or Kedartal will put this backpack to good use. It will allow you to have a seamless experience even if your backpack is loaded.  
Author – Arjun Majumdar
If you have any questions or thoughts for us, let us know in the comments below!
Related Videos
"AdventureWorx XPlore 55 Backpack Review | Thoughtfully Designed for Himalayan Treks | Indiahikes"
"How To Wear A Backpack Correctly | बैकपैक पहनने का सही तरीका | Indiahikes | Chalein Trekking"
"How to pack your backpack?"
Sign up for our much loved Weekly Mailer
We have terrific trekking tips, trek updates and trek talks to look forward to