Indiahikes Opens Treks To The Two Grandest Meadows Of India - Ali-Bedn...
Share this story
We have opened the Ali Bedni Bugyal trek and the Gidara Bugyal trek.
These are treks that don't need an introduction in the trekking community. They have often been touted as the best high altitude meadow treks of our country. 
Nevertheless, before I get into details of these treks, I need to give you a backdrop.
Meadow treks are not common in India. Unlike western countries, India does not have vast tracts of meadows or grasslands. So when we come across meadows on our treks, we celebrate them like blessings. 
Which is why at Indiahikes we are always on the lookout for the best meadow treks to do. Thankfully we have been able to bring attention to some of the greatest ones. Dayara Bugyal is easily one of them. So is the Bhrigu Lake trek in Himachal. 
Today, I want to talk to you about two of the greatest ones that we are bringing out. The Ali-Bedni Bugyal trek (in March April) and the Gidara Bugyal trek (June).
 The Ali-Bedni Bugyal is not really a new trek — it has been part of the Roopkund trek for years. Unfortunately, with Roopkund trek being closed for many years now, the twin meadows of Ali and Bedni Bugyal were lost to Indian trekking.  
What makes Ali Bedni Bugyal special
We have seen many meadows in our country (and outside our country), but I'll tell you this — the Ali and Bedni meadows will rank right up with the best of them.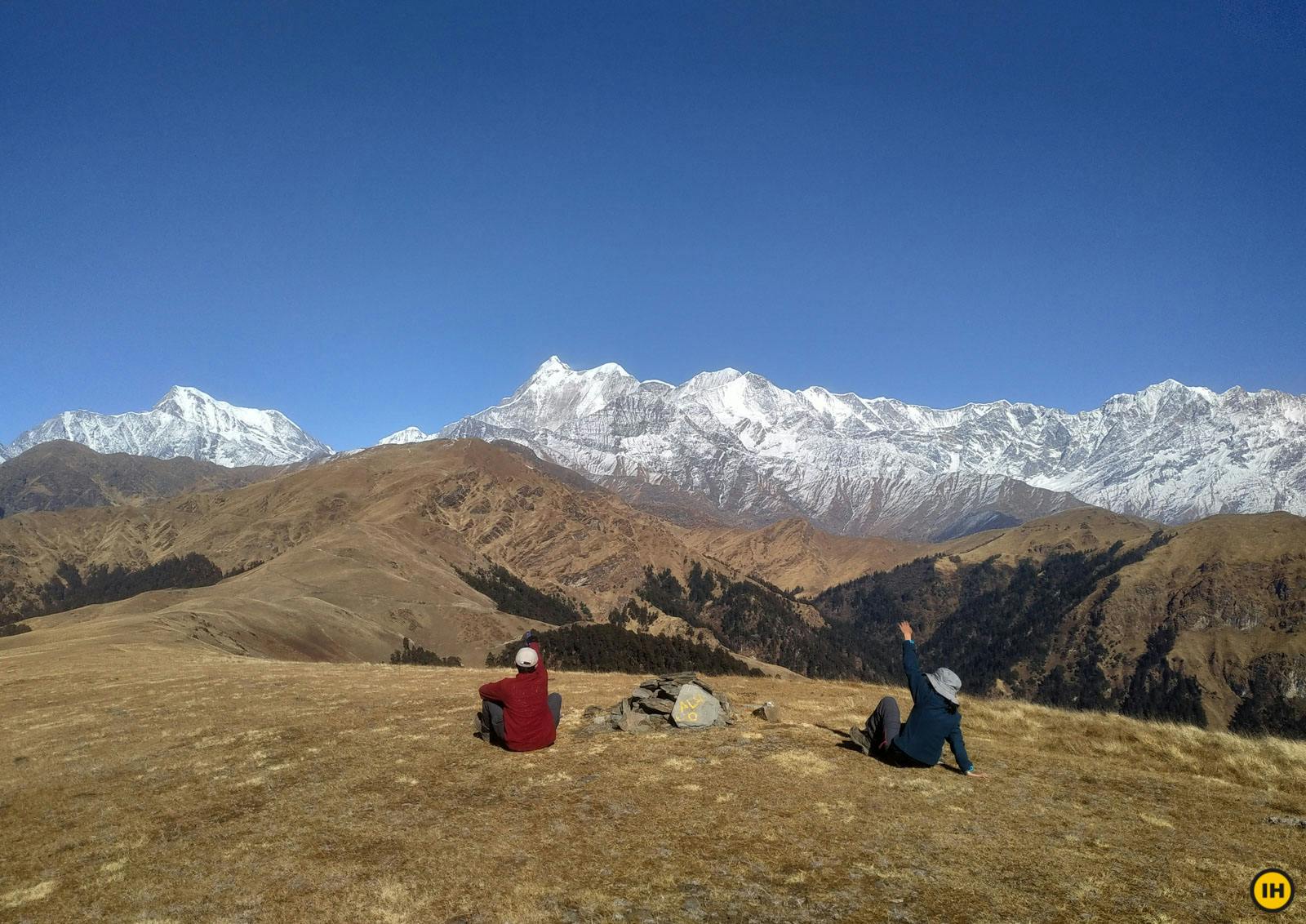 It's hard to spot a flaw on these meadows. Just before you get to the Ali meadows, the forest is a thick jungle of oaks. They are the densest around this part of Uttarakhand. You climb through a trail of crunchy brown leaves, the sunlight streaming in beautiful angles through the oak trees. 
Then suddenly, as if someone's opened a gate, there's Ali Bugyal in front of you, the biggest, widest rolling meadows that you've ever seen. The meadows are so smooth that you can take off your shoes and walk on them. You spot wild horses running around in gay abandon!
The new campsite of Abin Kharak gives us a chance to be at Ali Bugyal when the sun is setting and when the first light of dawn breaks out.
Just as the meadows swell in the distance, the summits of Mt Trishul and Mt Nanda Ghunti tower over the meadows, as if the meadows were their own playground. On a clear day, you can see every crevice and fissure on the face of Mt Trishul from Ali Top.
In a quiet moment, I have seen trekkers stop in their tracks, somehow perplexed and taken aback at this unexpected view, and then in an almost incomprehensible way, a wave of emotion rides up on them. Some just collapse and cry. 
Our new campsite near Ali Bugyal at Abin Kharak has excited all of us at Indiahikes. On the edges of the forest, just on the fringes of Ali Bugyal, it gives us a chance to be at Ali Bugyal when the sun is setting and when the first light of dawn breaks out. We have never been able to see the sun rise and set on Ali Bugyal — which we believe are moments that will be treasured by any trekker.
When are we running this trek: Mid-March onwards till the end of April 
What to expect in this season: You'll see snow patches till the first week of April. Lovely spring colours in the forests. Except to see a lot of Rhododendron bloom after our Ghairoli Patal camp site. Clear weather with great mountain views.
Difficulty: Moderate (You cover roughly 6-7 km everyday). It is also a steep climb to the meadows.
Duration: 6 days 
Note: This is going to be a popular choice amongst trekkers. If you want the slots that suit you, plan your trek in the next two weeks. 
What makes Gidara Bugyal special
Gidara Bugyal, on the other hand, is well known only in hardcore trekking circles. It is a trek everyone wants to do, but never does — because of its remoteness. Trekkers have rarely been there. 
Yet, if you were to ask me, Gidara would be the greatest of all our meadow trek. It is not only the largest amongst all we have, but perhaps the prettiest.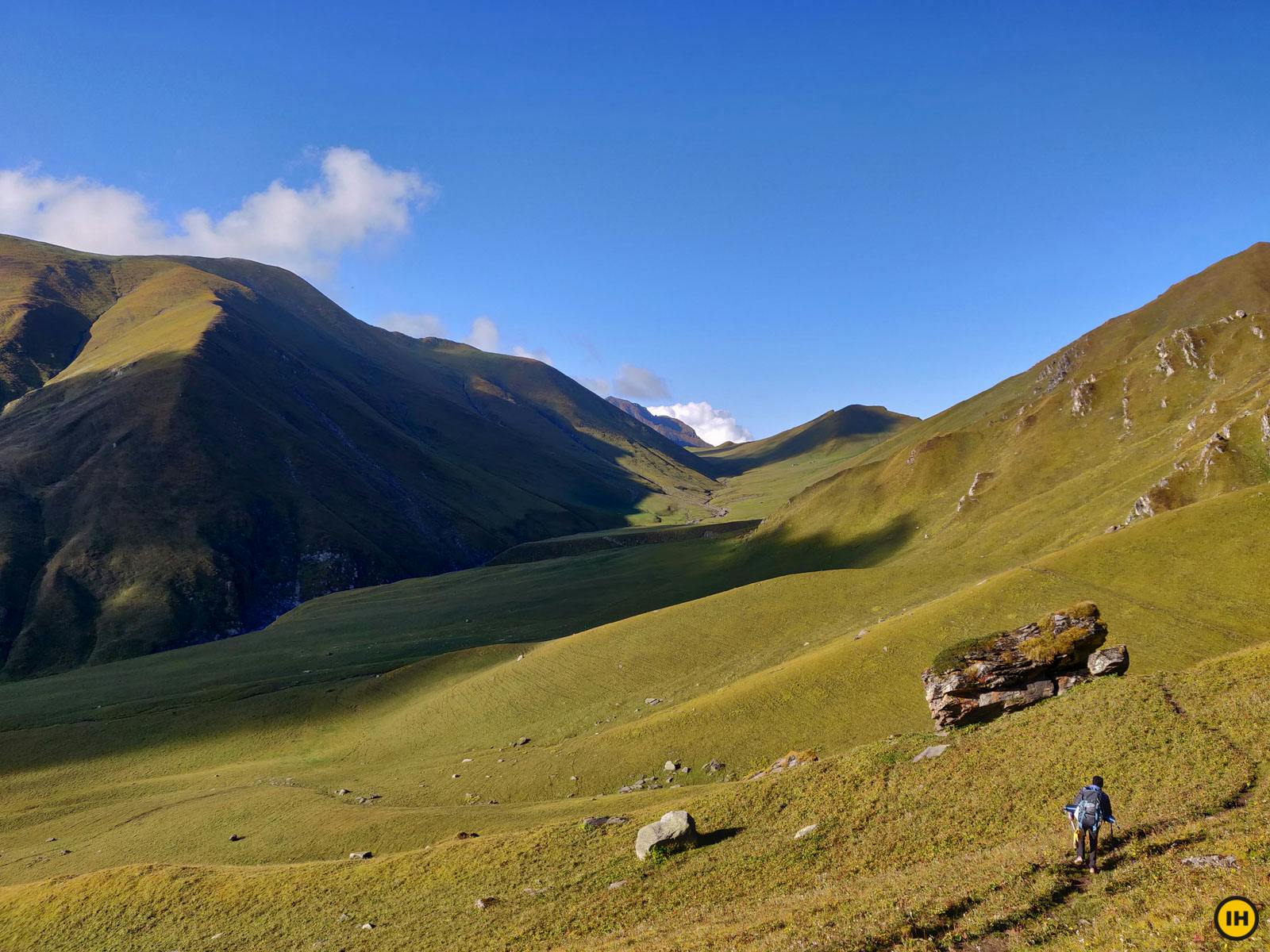 "I first heard of Gidara, probably ten years ago, while trekking with our local mountain folks. They told me with immense pride that, Sir yeh sab bugyalon to theek hai, lekin Gidara jaisa bugyal abhi tak koi nahi dekha hai. Back then, I thought they were probably stretching things a bit," says Arjun Majumdar, our founder. "Yet, the thought stayed with me."
"It was a meadow I had to see for myself. Or at least have Indiahikes explore it," says Arjun.
Gidara also brings us closer to some of the big mountains that we know — Mt Srikanth, Draupadi Ka Danda and the Gangotri Range.
That's how we explored Gidara Bugyal. I think we've explored different routes in these meadows nearly 5-6 times — and all our Trek Leaders have come back visually stunned. One of them, Nitesh Kumar, wrote this blog about 5 things he loved about the trek.
Geographically, Gidara is in between Uttarkashi and Gangotri, but at a higher elevation than most of our other meadows (we almost touch 13,500 feet on this trek). Which is why the trek opens only in June when the snow has melted and we can approach the meadows. 
Gidara also brings us closer to some of the big mountains that we know — Mt Srikanth, Draupadi Ka Danda and the Gangotri Range. The views of these mountains from the meadows can stun anyone. 
Gidara has been inaccessible for quite some time. It has always been tucked away in a corner that trekkers rarely ventured into. Now, with our repeated visits, we have been able to establish a route that is best for trekkers. 
When are we running this trek: Only 3 groups in the month of June
What to expect in this season: Lush meadows, with flowers blooming at every step. Warm days, cold nights with temperatures dipping to 1 or 2 degrees.
Difficulty: Moderate difficult (The trek climbs above 13,000 ft). Expect 6-7 hours of trekking everyday, the longest day stretching to 10-11 hours 
Duration: 7 days 
Note: Gidara is easily our grandest meadows trek. Yet, it has a flip side. It is our highest altitude meadow trek. The days on the trek are long as well. This is a moderate difficult trek and not meant for beginners. 
So those are two grand treks we have opened this March, April and June. 
These are not treks that are as common as our other treks. I hope you seize this opportunity to explore them. 
You'll find further information on both the treks here again. 
Ali Bedni Bugyal – https://indiahikes.com/ali-bedni-bugyal-trek/
Gidara Bugyal – https://indiahikes.com/gidara-bugyal
If you have any doubts, drop in a comment on the same page. We'll write back to you. 
Sign up for our much loved Weekly Mailer
We have terrific trekking tips, trek updates and trek talks to look forward to