Latest Updates : April Is The Season For Adventure Treks
Share this story
Latest Updates : April Is The Season For Adventure Treks
Category News
By Aditya Shankar
2018-04-06
A pril is the season when most of our adventurous treks kick-off. On one hand, we run the Everest and Annapurna Base Camp treks in Nepal, while on the other hand, the Pangarchula trek starts off in Uttarakhand this month.
Coming face to face with an Eight Thousander gives an immense sense of accomplishment to a trekker. It's an extraordinary feeling to climb up to the base camp of these legendary treks in Nepal and pose with the 'Completed' flag. Back here in India, our Himalayan treks have coloured themselves in hues of spring. Few treks are still receiving unexpected snowfall.
Scroll down to read latest updates from all our treks.
As many as 30 trekkers spread over two groups have completed this trek in the past two weeks. All trekkers had a really wonderful time – right from the hustle bustle of Nepal's Pokhara to the snowy adventurous summit. To top it all, our trekkers also saw a helicopter performing rescue missions and were filled with awe. Trek Leaders Geet and Himanshu had only good things to say about their batches. Mountain views were clear and snowfall was just the right amount to aid our trekkers across the trail.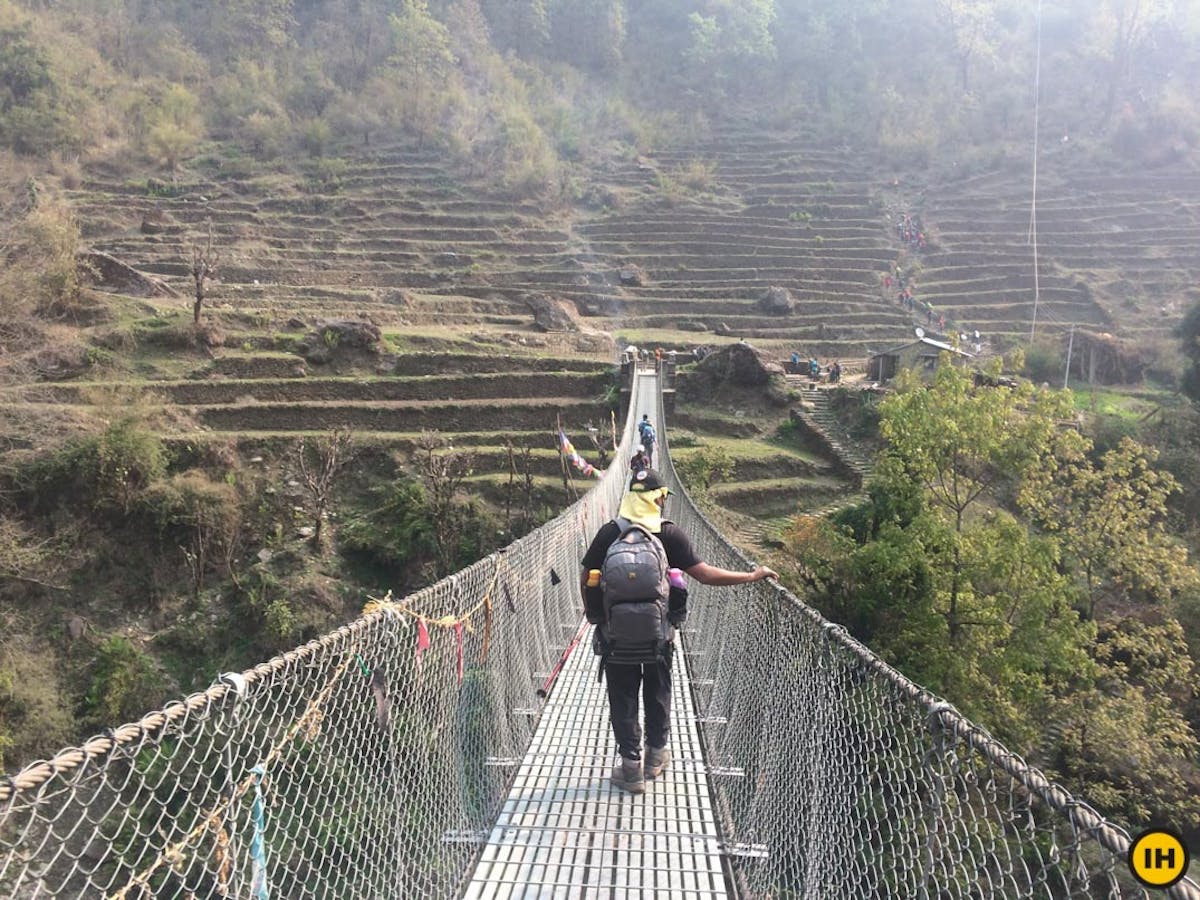 Trekkers cross the Hanging bridge across Chomrung Khola. Picture By: Geet Tryambake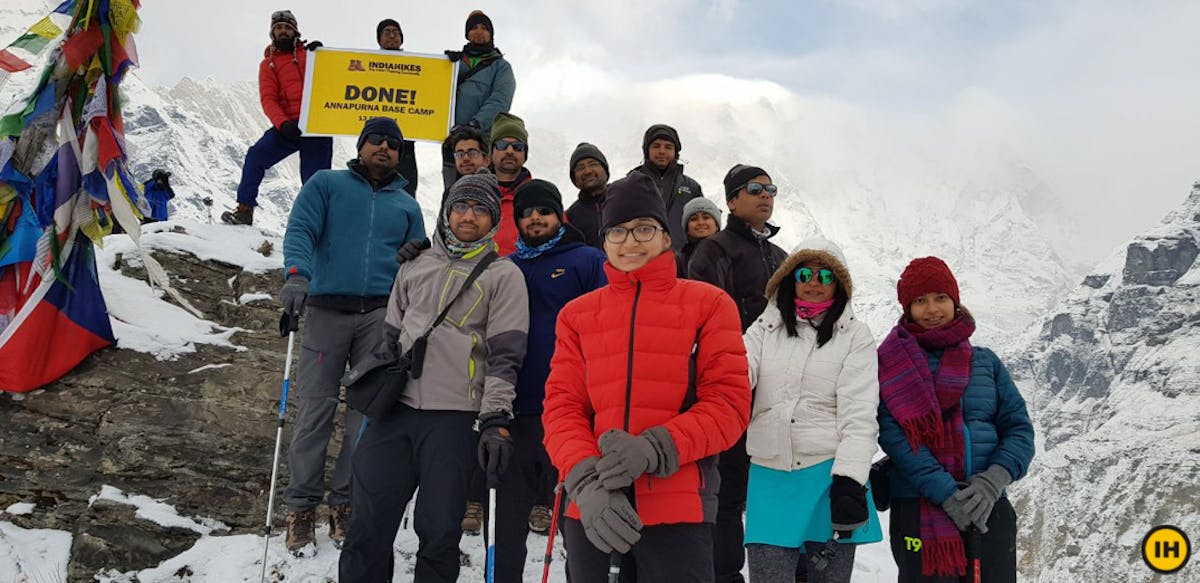 The happy trekkers at the Annapurna Base Camp summit. Picture By: Trek Leader Himanshu Thapa
Even as I write this, a new group of trekkers is assembling in Pokhara, Nepal, all geared up to start their trek. We wish them all the best!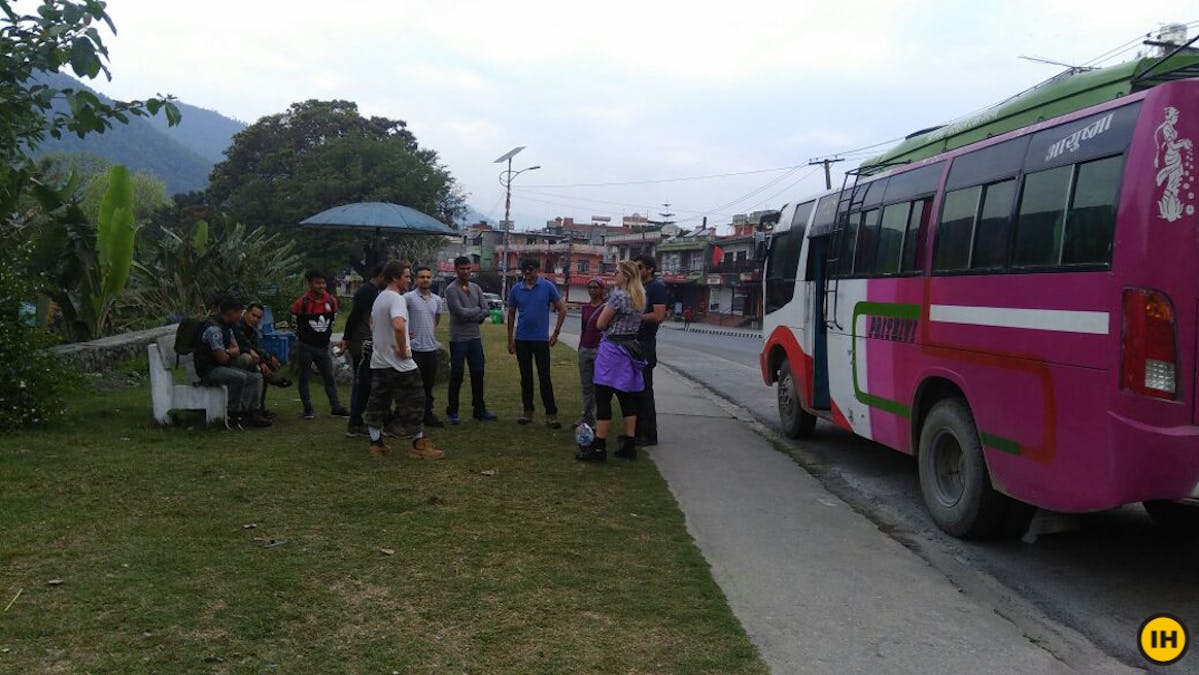 The new group of trekkers assembling at Pokhara. Picture By: Trek Leader Geet Tryambake
If the 8-days trek to Annapurna Base Camp is not enough, you can try the 18-days Everest Base Camp Trek. Our first group for the season started last week and have had a smooth trek so far. We've been in constant touch with our trekkers and trek leader via phone. Trek Leader Karthik informed us yesterday that all trekkers reached Machermo safely. Although the weather is really cold, foggy and rainy, none of the trekkers slowed down, which is indeed appreciable. We salute their enthusiasm and sincerely hope that the weather changes for better in the days to come. Here's a cheerful picture of the group from EBC.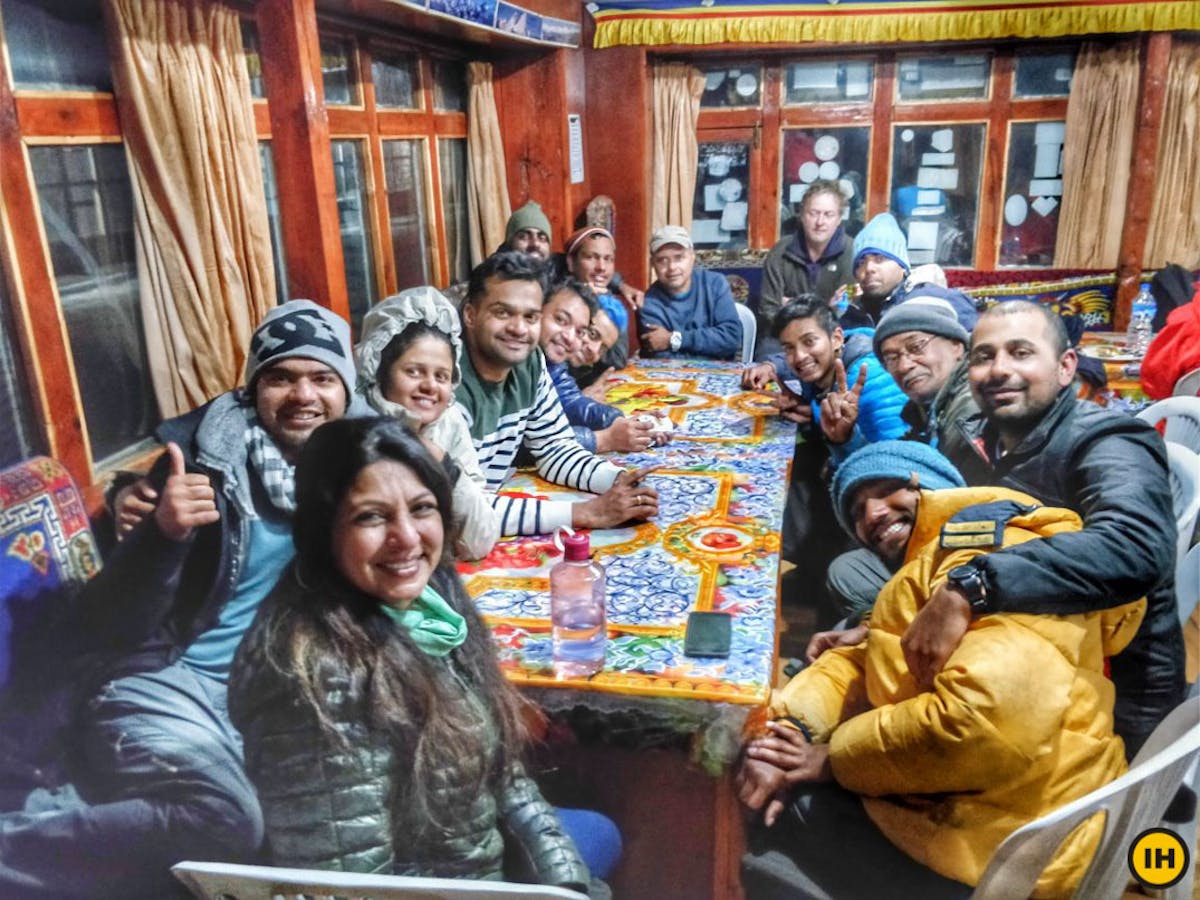 The batch of enthusiastic trekkers from the Machermo campsite. Picture By: Trek Leader Karthik
This Uttarakhand trek is refusing to let the winter go. As per latest news, its raining hails on this trek. With incessant snowfall all the way from Khullara campsite to the Pass crossing and further on to Chitrakantha, trekkers have been experiencing fresh snowfall. Trek Leader Varun Sharma recommends that all trekkers have proper gear on the trek. Trek poles are an absolute must to provide firm support to trekkers in the snow. Buy or rent a pole now if you're heading to this trek in the near future. We also want you to have at least 5 layers of warm clothing for this trek.
Kedarkantha is surprisingly giving a spring-summer feel to its trekkers. Over the last week, most of the snow has melted away, but the views have become clearer. The wide clearings and the enthralling summit point provide full 360-degree views of mountain peaks around. Due to the huge demand for this trek, we have agreed to keep this open for a few more months.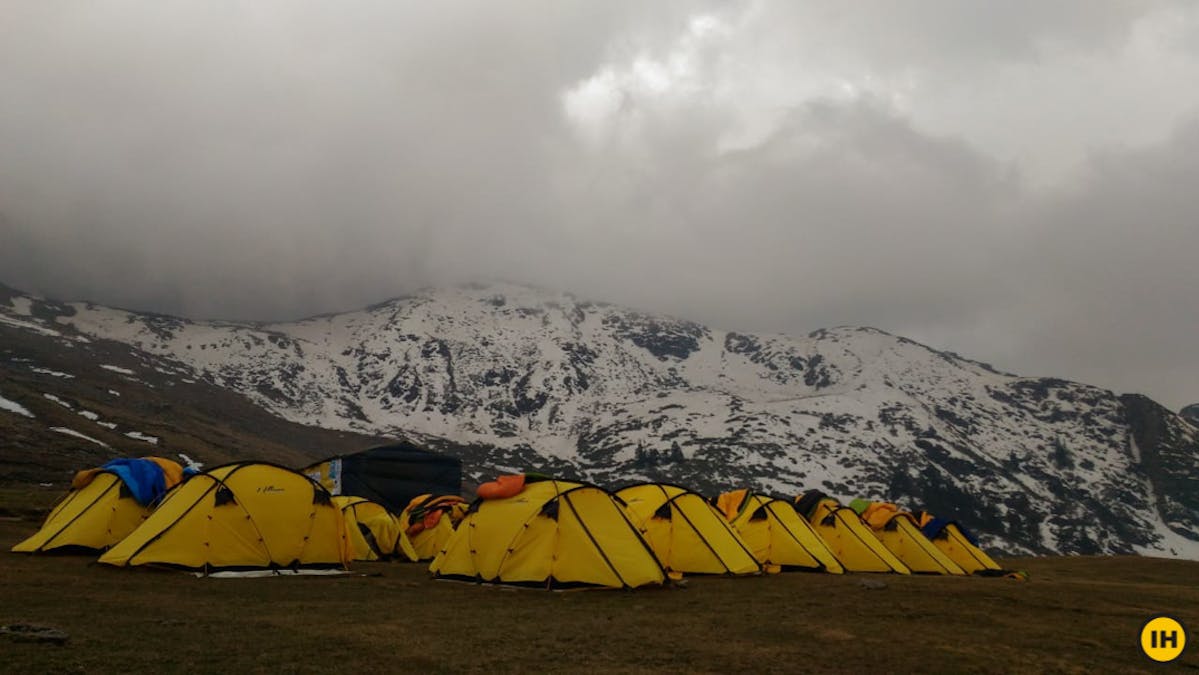 The scenic campsite at Kedarkantha Trek. Picture By: Chaitanya Katakam
It snowed again in Dayara, and trekkers couldn't get enough of it. We had a lot of trekkers who came along with their children and families and this was the best surprise possible. The weather was clear much through the trek and trekkers had wonderful mountain views all through. The overall batch experience was brilliant.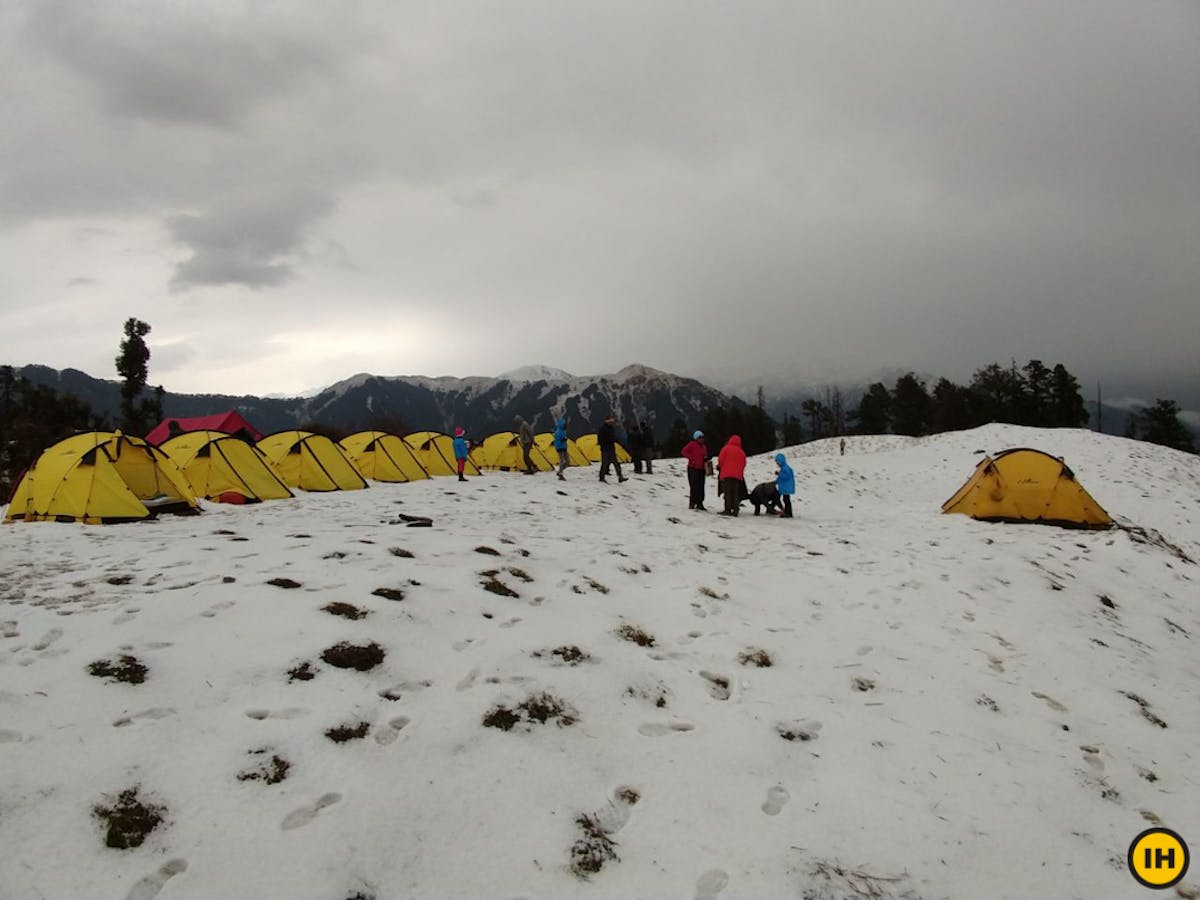 Child trekkers have a fun time at the Dayara Campsite. Picture By: Trek Leader Yash
If you read our updates from last week, you would know that Har Ki Dun was covered in 2-3 ft of snow. Surprisingly, much over the last week, the weather has cleared out and the sunshine has melted most of this snow. Due to lack of internet connection on the trails, we are not able to share the latest pictures from Har Ki Dun, but we are sure that this trek is giving the best of times to its trekkers. We expect this trek to be covered in fresh snow in the days to come.
This eastern India trek continues to thrive and why not – how many treks in the world show you 4 of the highest 7 peaks in the word. Weather-wise there has not been much change from last week. It's still sunny during the day with favourably cool night-time temperatures. Trekkers heading to Sandakphu can expect to see rhododendrons and crystal clear views of Mt Everest, Mt Lhotse, Mt Makalu, and the entire Sleeping Buddha-range with Mt Kanchenjunga.
All except one group from the last 2 weeks were able to reach the Chandrashila summit point. One group had to be sent back due to heavy overnight rains that led to the formation of verglas all the way to the summit. Trek Leader Naada recommends mandatory Trek poles and good quality trek shoes to avoid slipping. All trekkers are advised to be careful and take help of guides and trek leader while crossing such tricky patches.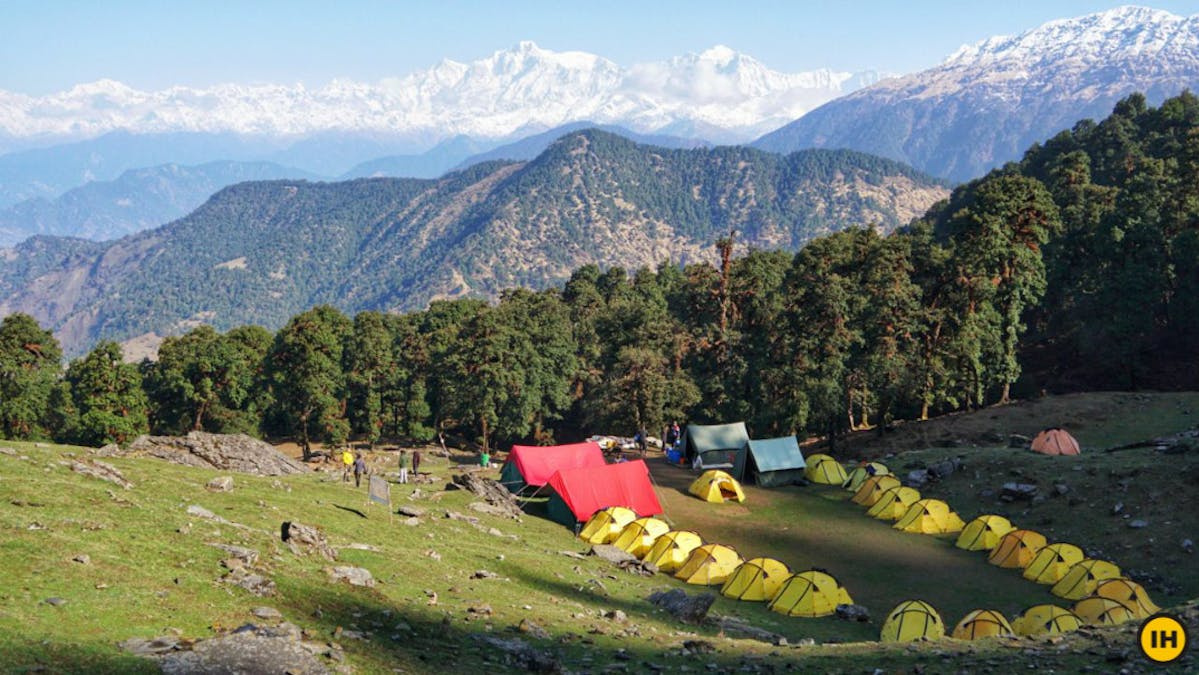 The picturesque village of Sari – basecamp for Deoriatal Chandrashila Peak trek.
This grand trek is all set to start from the coming week. You make your way to 15,069 ft in deep snow, with some boulder sections and views grand enough to make you stop in your tracks! April is also a good time to see rhododendrons in the lower trails of the trek. This much sought after trek is opening to trekkers from 8th April.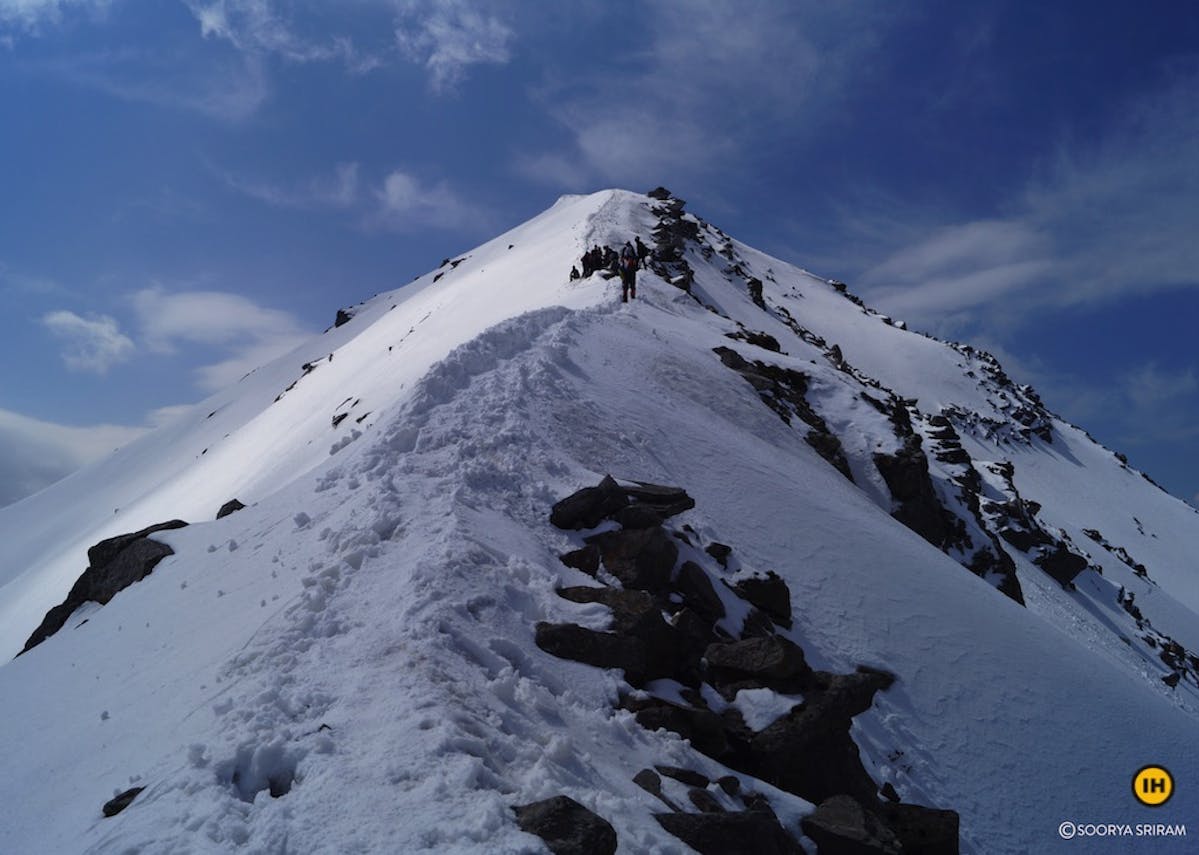 The trail that leads to the Pangarchulla peak. Picture By: Soorya Sriram
We're about to close the season for the Brahmatal trek. Honestly, we are leaving this trek with a very heavy heart. The amount of winter joy that this trek gave to our trekkers this last season is beyond comparison.
But there are many more treks that you can try in this spring-summer season. Head over to Deoriatal-Chandrashila Peak Trek. This trek has everything going its way. Right from camping next to Deoriatal – a scenic mountain lake to visiting the famous Tungnath temple – Shiva's highest abode in the mountains – this trek is an absolute must-do. April – May is also the best season to see Rhododendrons on this trek. Add to it the bonus of going to the Chandrashila Peak and having brilliant mountain views.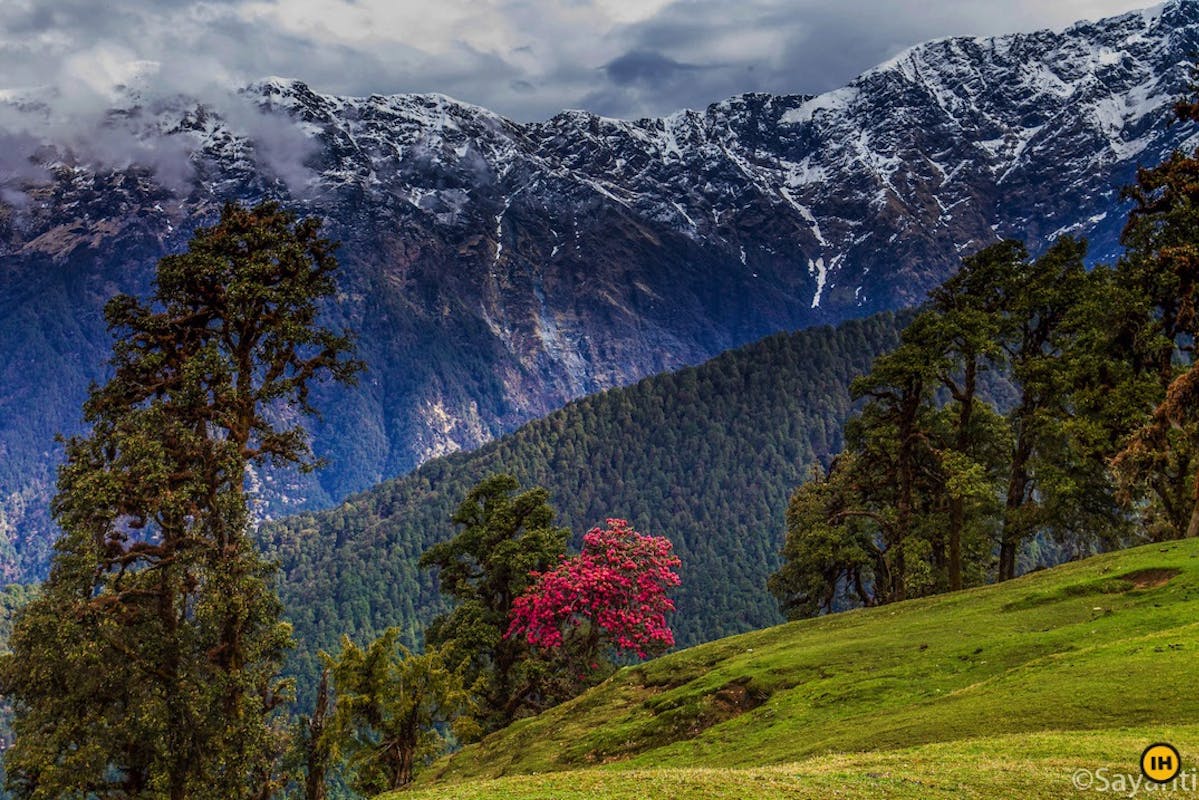 The picture-perfect trails filled with Rhododendrons in the Spring season. Picture By: Sayanti Bhrujgali
Our Trek Leader Dushyant couldn't stop gushing about the new descent route for this trek. He led a trek there last weekend and couldn't stop talking about the beautiful forest trails without a ray of sunlight peeping through. All trekkers enjoyed this small weekend trek to the most. A word of caution: Don't take this trek lightly just because its a weekend trek. The descent route has a lot of slippery sections and our trek leaders recommend a trek pole and good quality trek shoes.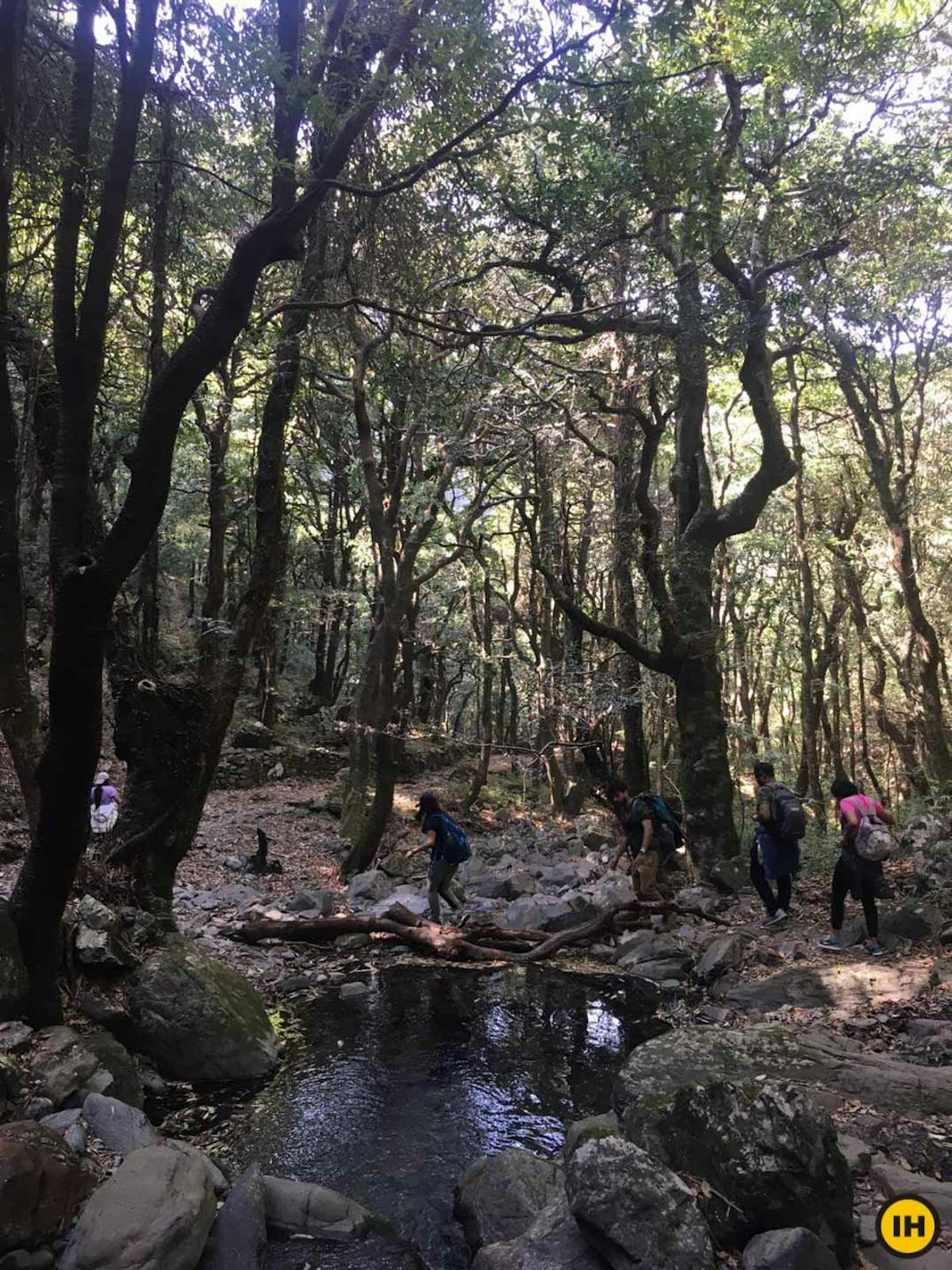 The descent route from Nag Tibba Peak passes through dense forests. Picture by: Dushyant Sharma
That's it from the mountains this week. Before I leave there are few more highlights that I hope you would like to read:
Green Trails Activity – now at our Bangalore Office
Our Bangalore office team members pledged to reduce their waste around 2 months back. Few integral steps were taken in this direction such as:
1. Making a compost pit for recycling all wet waste to usable manure.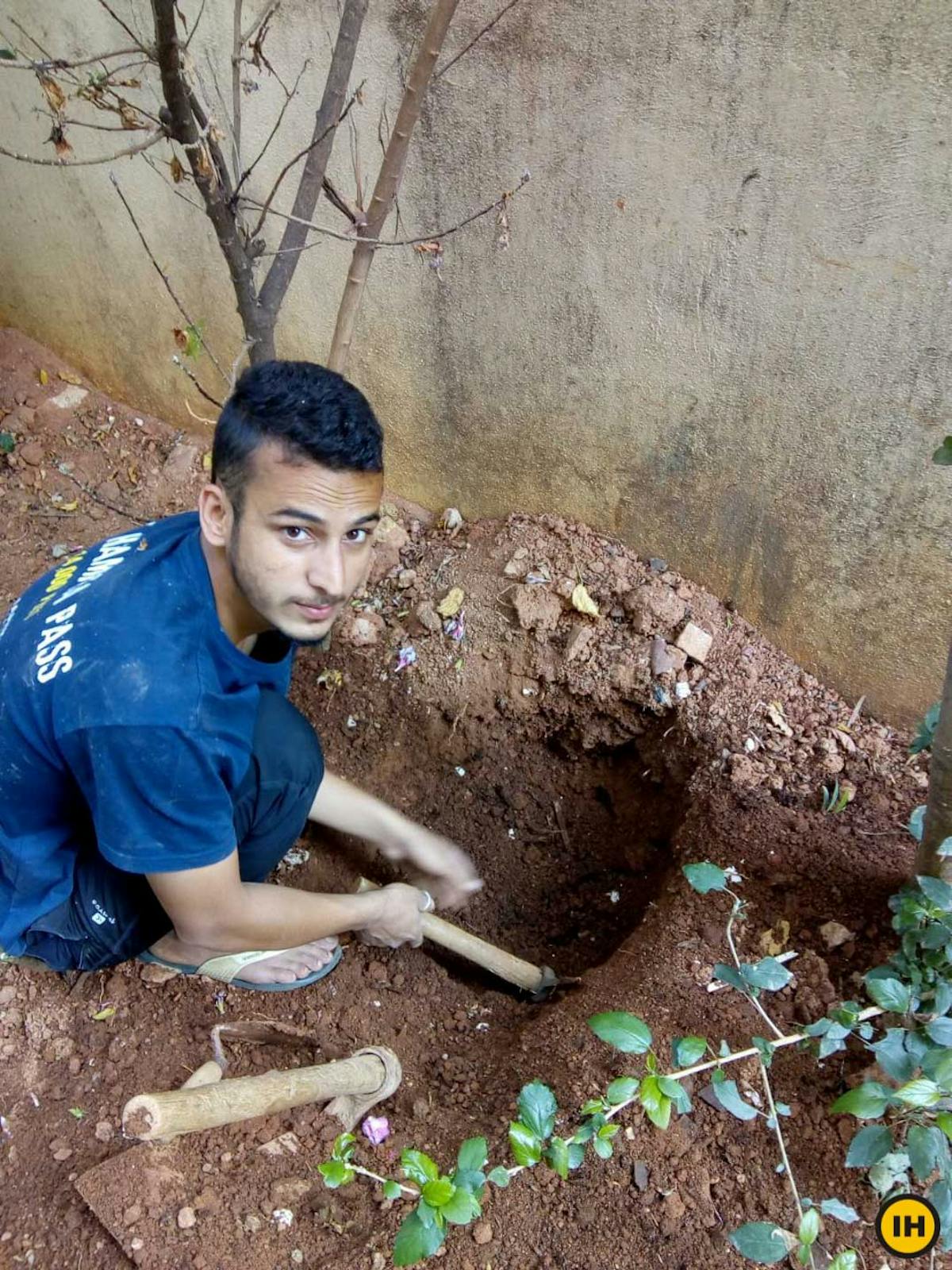 Our Team member Sandeep makes a compost pit for disposing our wet waste. Picture By: Izzat Yaganagi
2. Segregating, washing and shredding all generated plastic waste to be re-used as pillows and bottle bricks.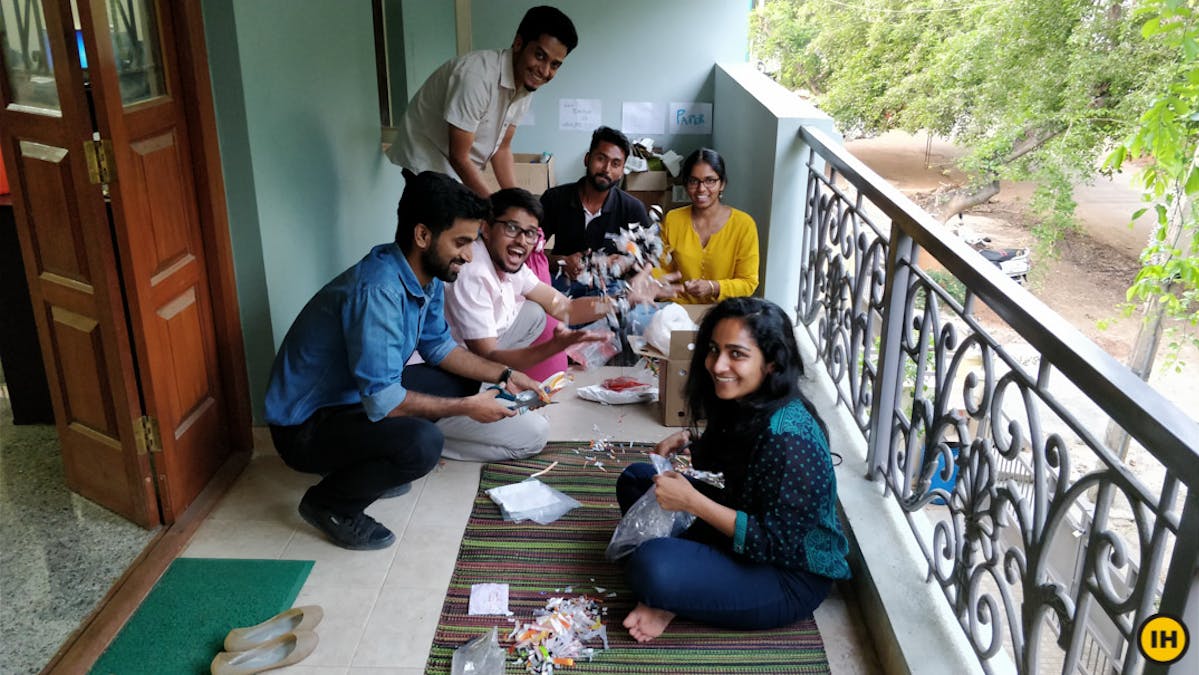 It's a fun time at our Bangalore office during the segregation hour. Picture By: Swathi Chatrapathy
3. Cutting down on our packaged food supplies – Can you imagine we cut down our tea consumption and stopped taking milk packets.
The entire office sprang into action and teams were made overnight for taking care of daily composting and segregating efforts. As a result of above steps, we have brought down our waste to an absolute minimum. We hope to continue and take these efforts to our personal homes as well. Do get in touch with us if you need help managing your daily house waste. Read more about Green Trails mission here.
New Posts on the Website
1. Fenix HL6oR Review: A High Utility Headlamp For Trekkers  Are you looking for a good quality premium headlamp for your long Himalayan Trek. Read this review and choose for yourself.
2. Author's Pick of the week: Why Indiahikes is not running the Pin Parvati Pass trek. Read this article to know why we decided to call off this trek.
Trek Pick of the week
Tarsar Marsar Lake Trek in Kashmir. Read this wonderful article penned by our founder Arjun. If there's one trek that mixes adventure with untouched beauty in our country, it is the Tarsar Marsar Lake. Read the article, head over to the trek page and make your plans now.
What you should do now
1. If you want to work with us: Head over to our careers page. We have lots of positions open. We also have lots of applications coming in. So the sooner you apply, the better.
2. If you ended up here by chance and were actually looking for treks to do: Then head over to our upcoming treks page. You'll find all our Himalayan treks there.
3. If you want to see the 13 best treks of India: Then get our free guide here.
Sign up for our much loved Weekly Mailer
We have terrific trekking tips, trek updates and trek talks to look forward to