August Photo Contest - Results
Share this story
August Photo Contest - Results
Category Photo Contest
By Abhishek Misra
2015-10-01
We received over 250 pictures for the August 2015 Photo Contest. And a LOT of them made us go "Wow!"It is with great difficulty that we chose the Top Three Winners. We have selected two photographs for the third place, because we loved them both! Here they are. Congratulations! 
WINNER!
Chetan Gupta – Tarsar Marsar
A trek needs a special photograph to make it come alive. Chetan nails it with this superb shot of sunrise over Tarsar campsite. The dew is still fresh, the camp still sleepy. Chetan's photograph shows a larger canvas of the beauty of Tarsar, that is rarely captured by camera. His super grip of lighting and composition makes him the winner of this month's photo contest.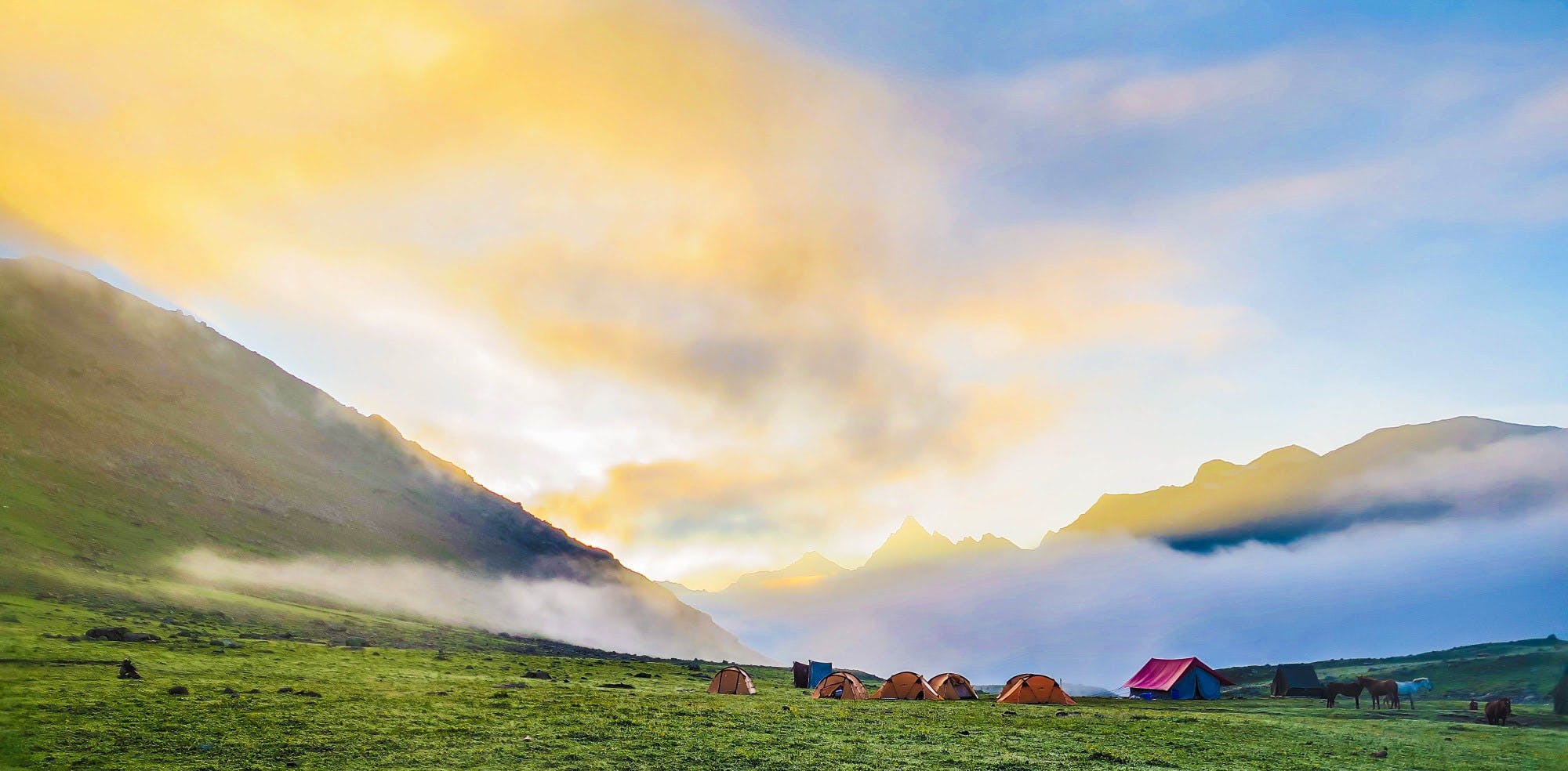 1st RUNNER UP
Ravindra Joisa – Tarsar Marsar
Sometimes a photograph is absolutely perfect in every sense. Ravindra's photograph of the horse is one of them. It has the perfect lighting, terrific settings, superb colours, no artificial touch up. Animal photography is never easy — Ravindra nails it perfect with the horse standing beside the Tarsar lake. Aside the horse, the photograph gives viewers a glimpse of what the trek could be like.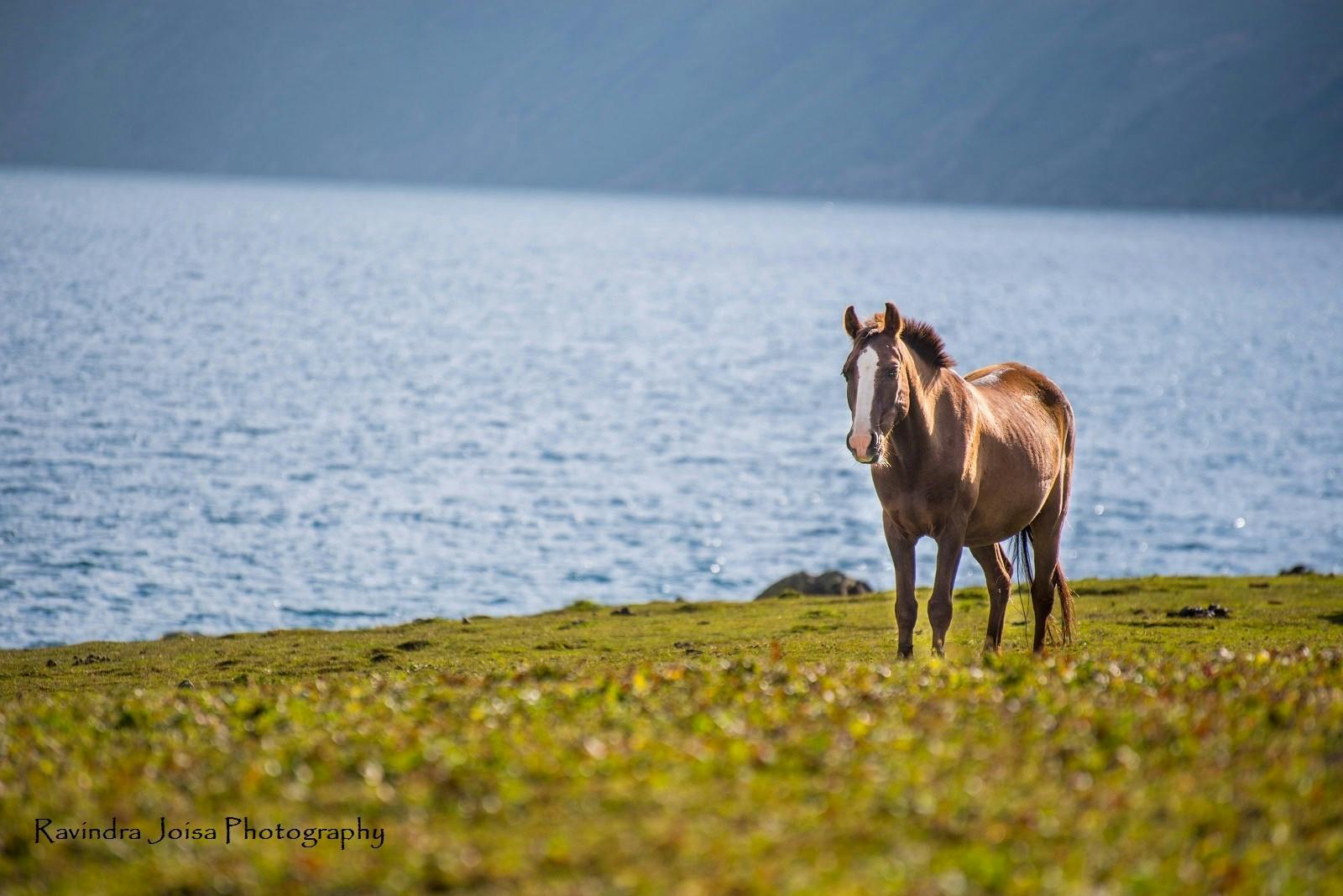 2nd RUNNER UP
Bhushan Virkar – Kashmir Great Lakes
It takes a lot of patience to move yourself to a location to get a brilliant light and shade effect. Bhushan had to get off trail, compose the shot quickly to get the streak of sun through the dark clouds. It lights up the grasslands of the Kashmir Great Lakes trek in a way most photograph have not been able to capture. Add the bonus rainbow as part of the composition.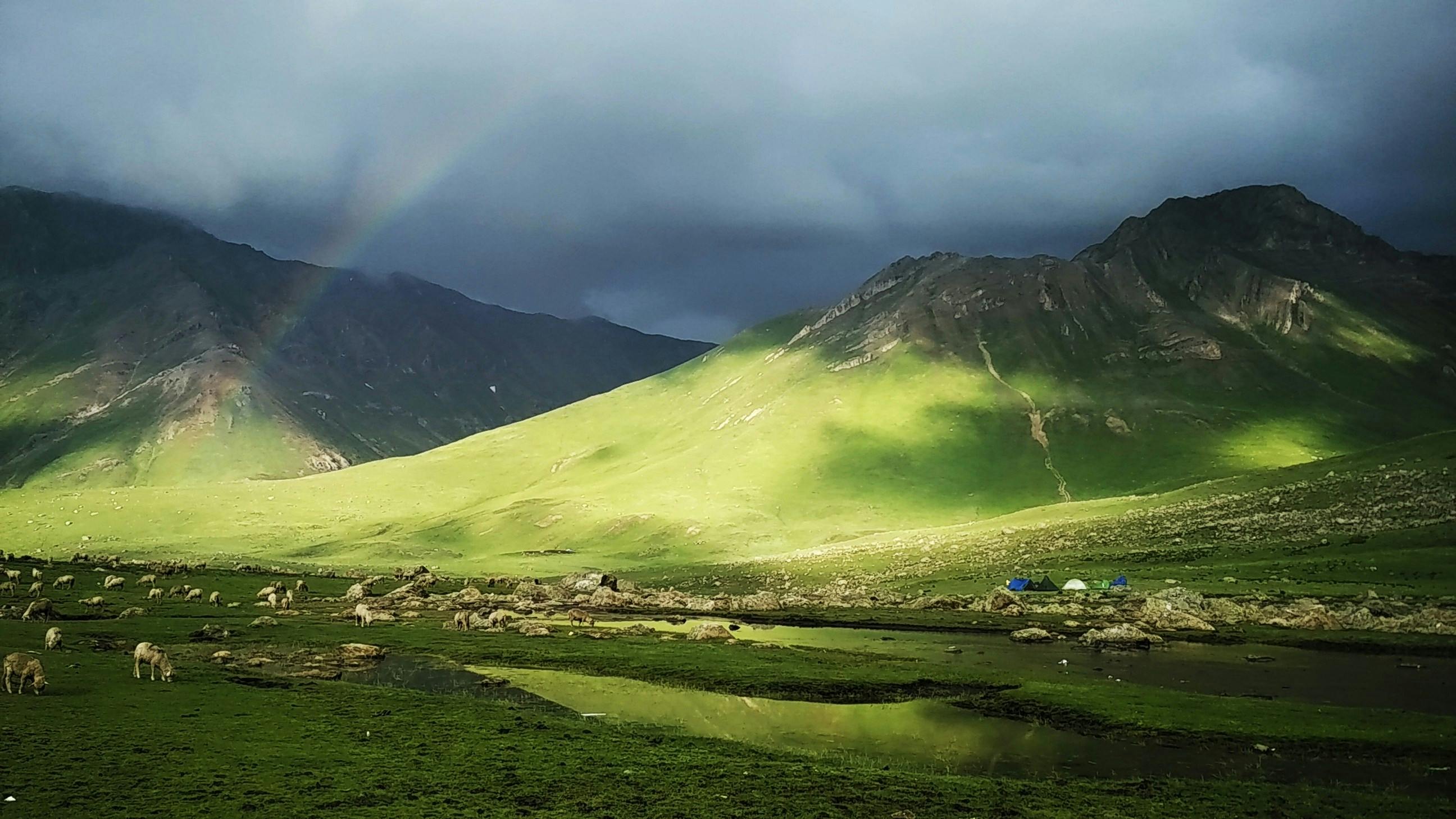 Joint 2nd RUNNER UP
Kishan Harwalkar – Tarsar Marsar
It does not have to be a technically perfect photograph to get a photo right. A great composition can lift a photograph many times. Kishan does this with a terrific composition of the Tarsar lake. The girl sitting on the edge of a rock overlooking the lake, adds drama to the picture.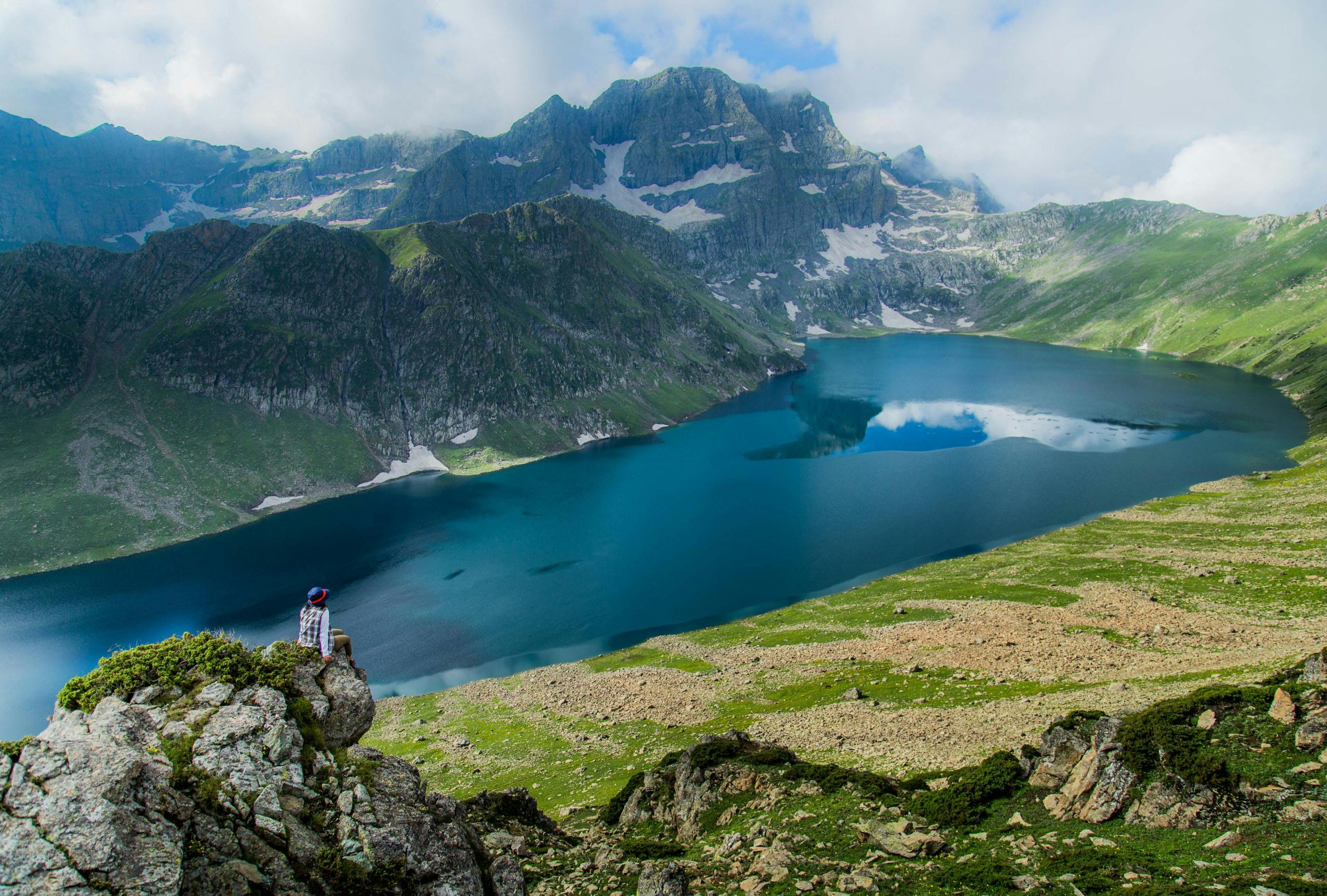 Other notable photograph:
1. Chaitra V, Tarsar Marsar: Superb capture of light.
NOMINATIONS: 
1. Kavya K: Kashmir Great Lakes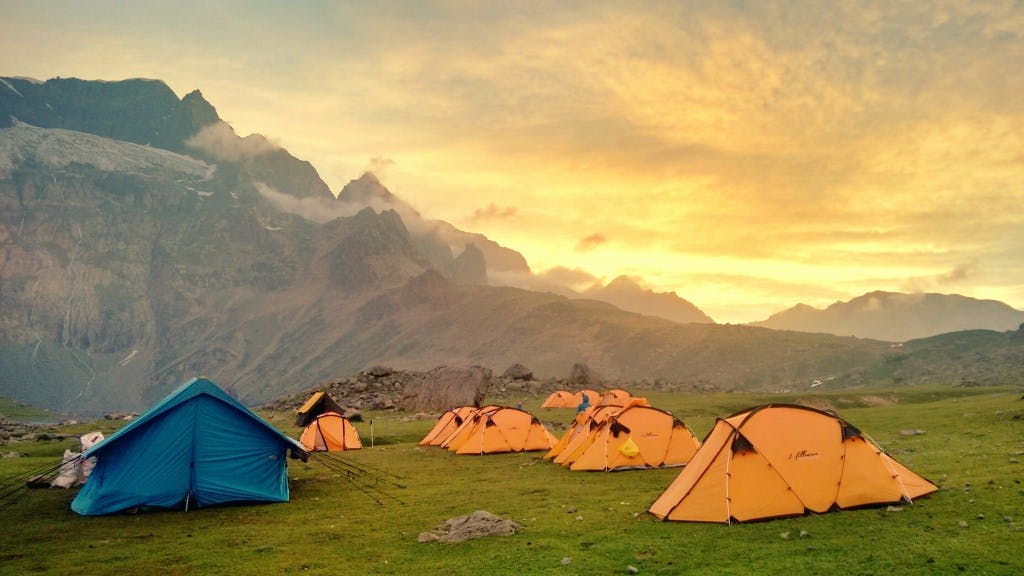 2. Ravindra Joisa: Tarsar Marsar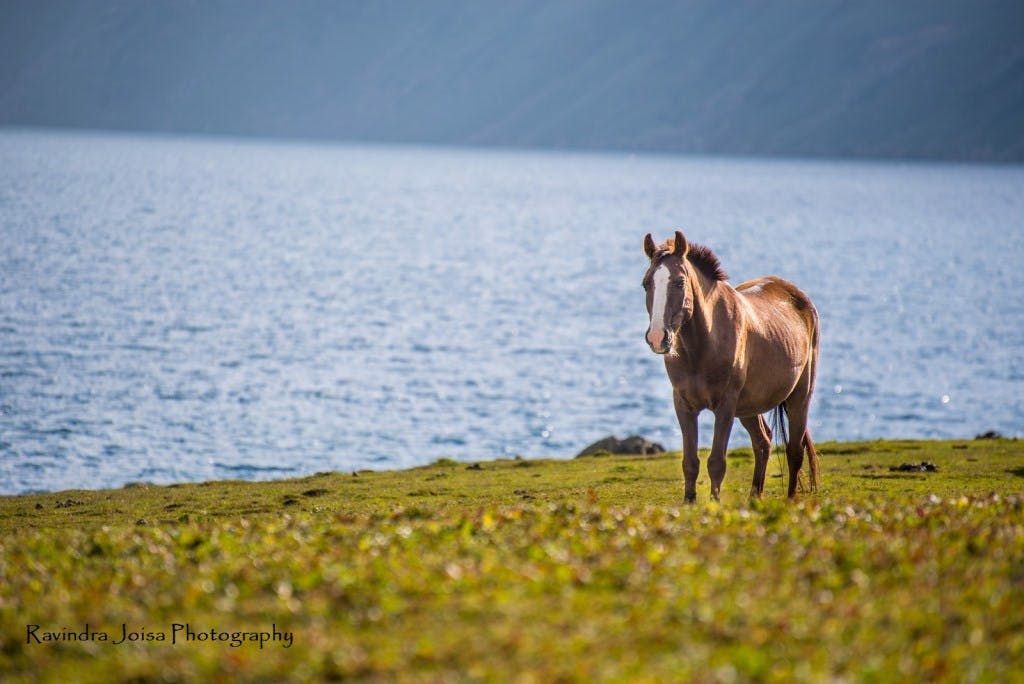 3. Rebecca Dleema: Kashmir Great Lakes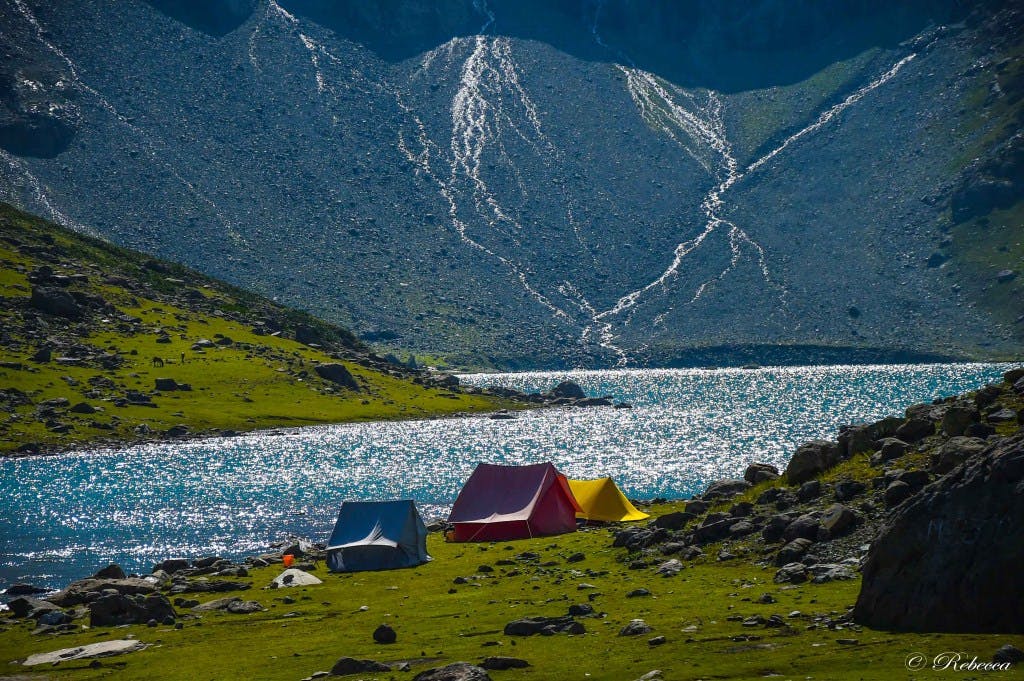 4. Ravi Murthy and Raghavendra: Kashmir Great Lakes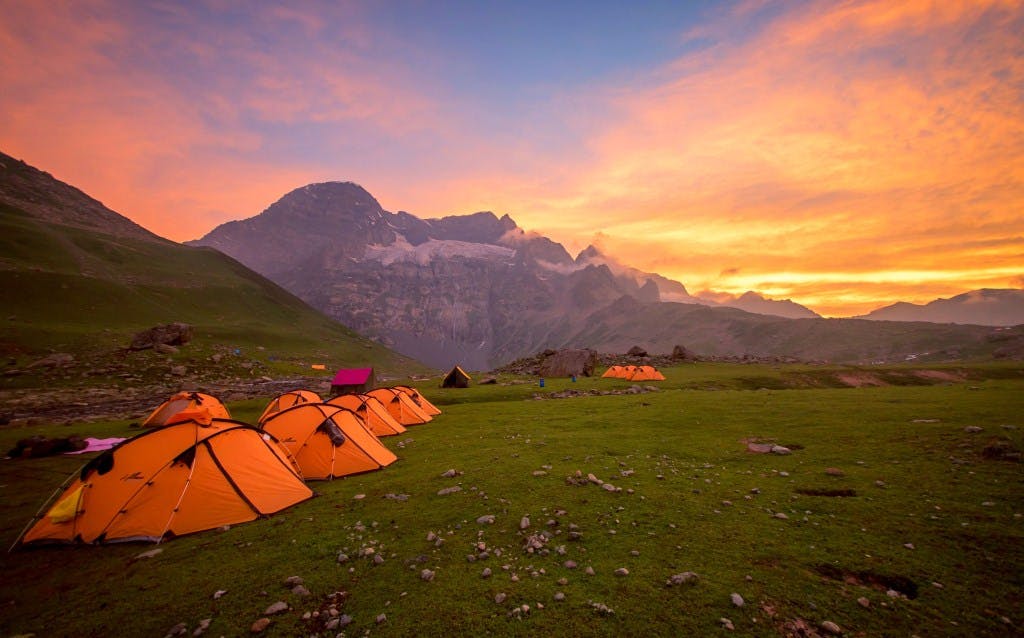 5. Shanker Raman Nagesh: Kashmir Great Lakes
6. Chaitra V: Tarsar Marsar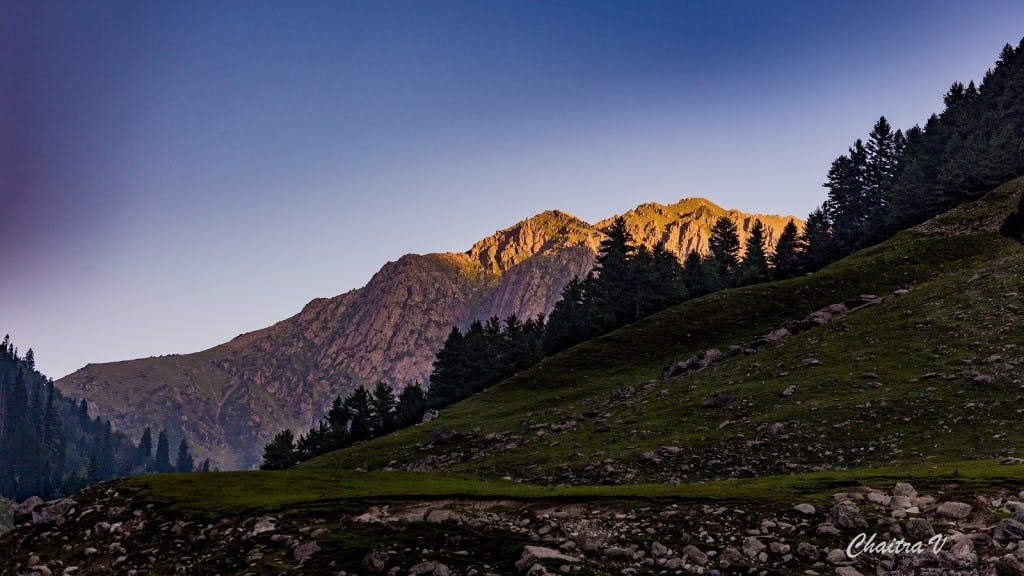 7. Kishan Harwalkar: Tarsar Marsar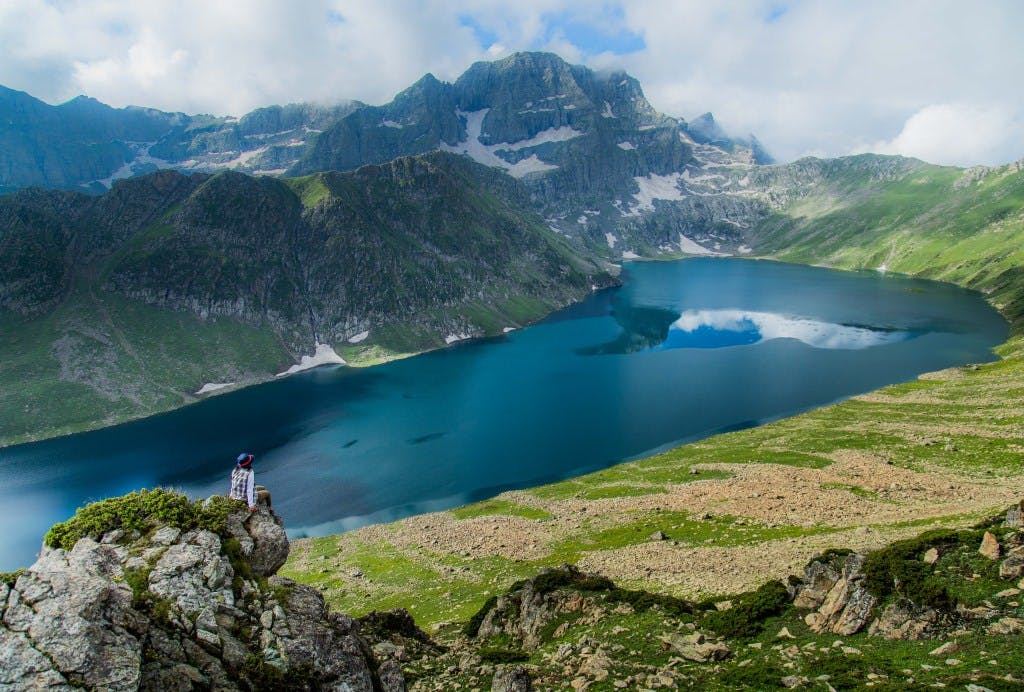 8. Rebecca Dleema (2): Kashmir Great Lakes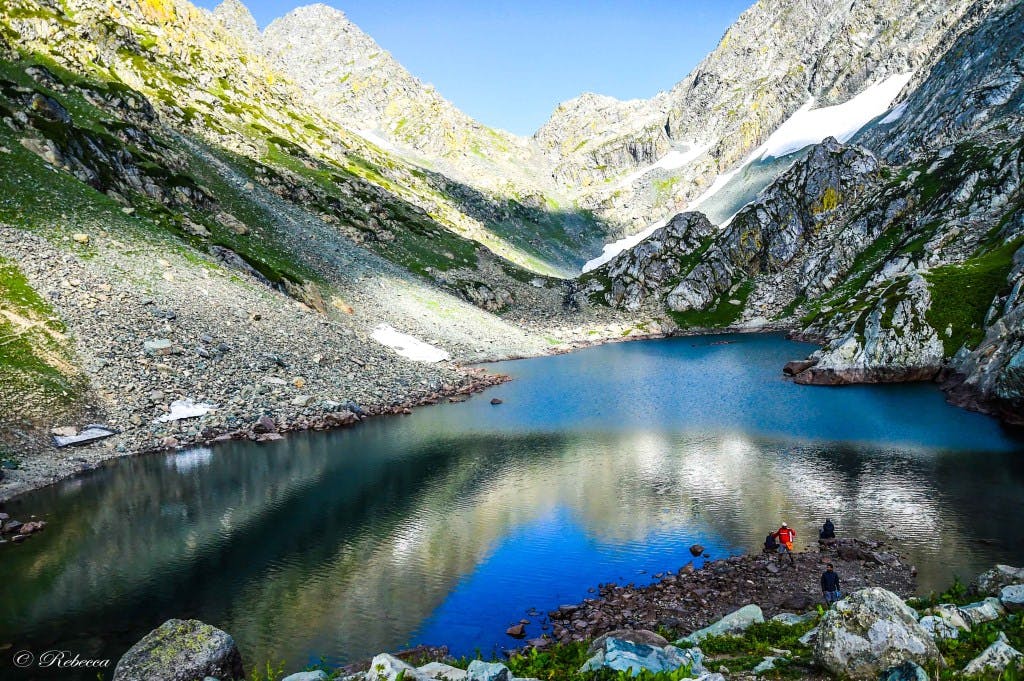 9. Chetan: Tarsar Marsar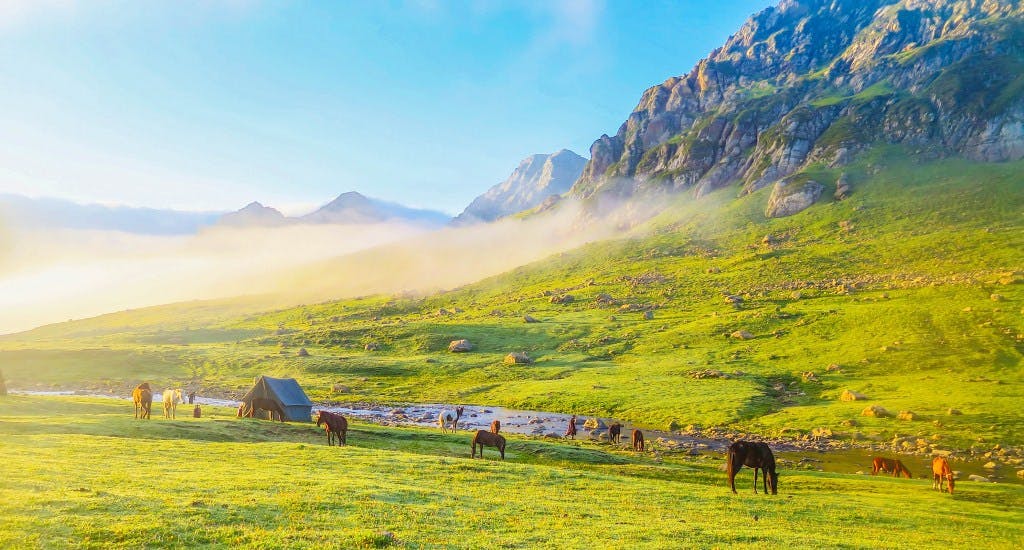 10. Brijesh Tiwari: Tarsar Marsar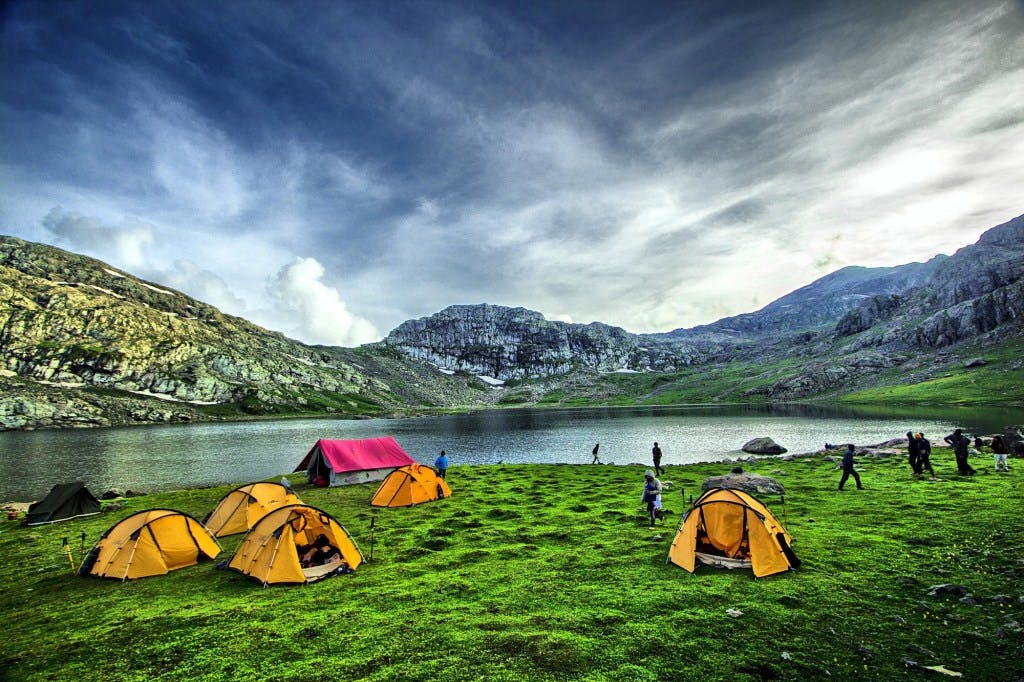 11. Bhushan Virkar: Kashmir Great Lakes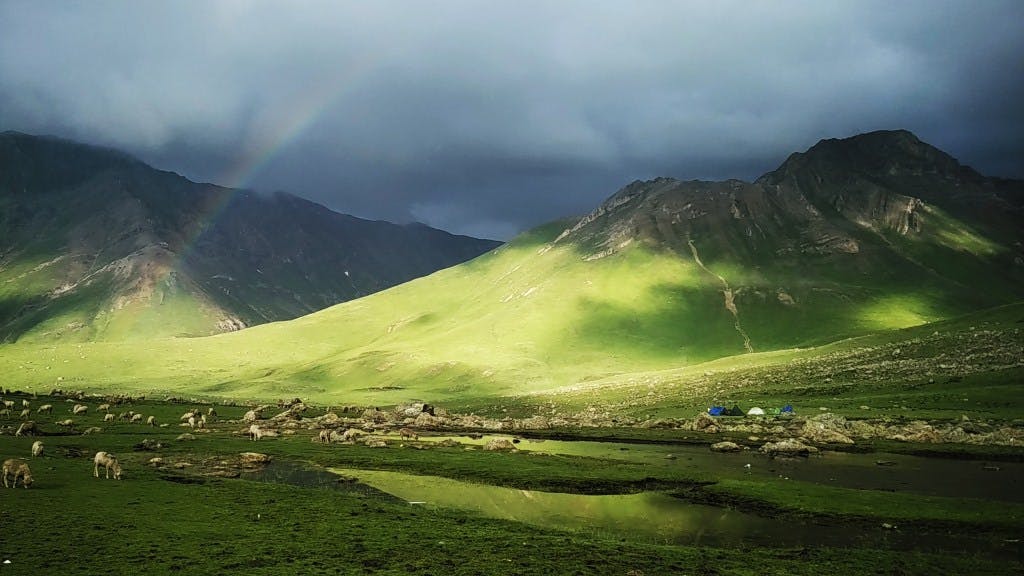 12. Chetan (2): Tarsar Marsar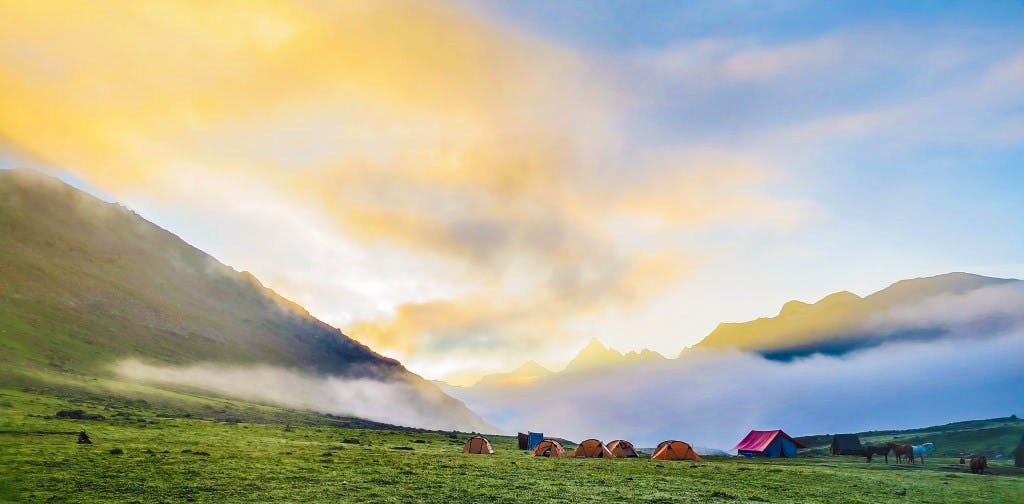 Well done! 
Keep a tab on our website for details about the September 2015 Photo Contest! 
Sign up for our much loved Weekly Mailer
We have terrific trekking tips, trek updates and trek talks to look forward to