Why My Basic Mountaineering Course Was The Most Rewarding Experience O...
Share this story
Why My Basic Mountaineering Course Was The Most Rewarding Experience Of My Life
Category Mountaineering
By Akshita Makhija
2022-08-19
There are always these certain things that you know you lack. Be it self-confidence, strength, determination or just certain skills that you crave to have for a long time. I really wanted to push myself, overcome the barriers in my head. I knew that if I did this, I would have a new sense of belief. This is what I sort out to do, achieve what seemed impossible to me.
Why did I choose the Basic Mountaineering Course?
Mountaineering, the act of climbing a mountain. It always fascinated me that we could go to heights we never imagined. I also knew that such an adventure sport can be risky if you are not being safe. I was hoping to become more confident in the mountains regarding my safety and know more about the sport. Doing a Basic Mountaineering Course (BMC) felt like the right path for me. 
Choosing an Institute
I started researching about this, asked a lot of people about their experience, what institute to choose and what training schedule to follow.. 
I decided to choose National Institute of Mountaineering and Adventure Sports (NIMAS), Arunachal Pradesh as my institute. There were two primary reasons for this choice. Firstly, the waiting time was less compared to other institutes. Secondly, I was in awe of the Gorichen Glacier. I had always dreamed of climbing an ice wall at such a high altitude. It persuaded me to go for it and I completed the application.
The basic details about the course were available on the NIMAS website. However, reading blogs online was a huge help. I also contacted multiple friends who had done this course and who were mountaineers to know about what fitness routine would be the best. 
NIMAS Institute in Dirang, Arunachal Pradesh. Picture by Akshita Makhija
Preparing myself for the Basic Mountaineering Course
This was not going to be easy. I would have to be well prepared physically and mentally to get the most out of this opportunity. I spent some time working out a training schedule that will improve my strength, endurance, technique and stamina. It involved different activities like running, swimming, strength training, rock climbing and load ferry. Being determined and focused is very important to pull this off. You have to push your limits and put your body through the pain to enjoy the fruits later.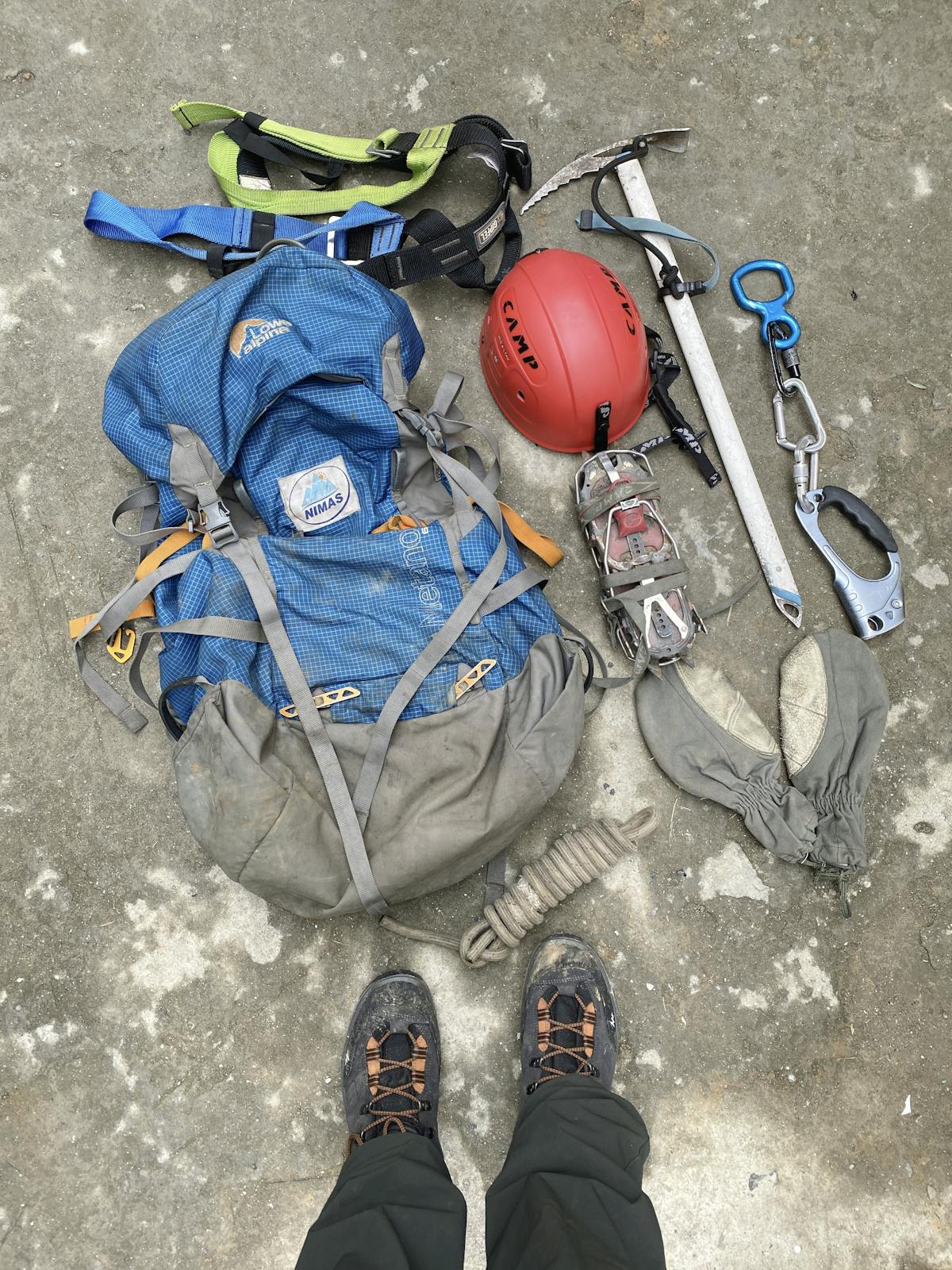 Mountaineering equipment used in the course. Picture by Akshita Makhija
The start of the journey
My course BMC-36 started on 21st May, 2022 and ended on 17th June 2022. It was going to be 28 days away from home and out of network. 
NIMAS is in Dirang, Arunachal Pradesh. From any metropolitan city, you have to reach Guwahati first. I flew from Mumbai to Guwahati and spent an entire day roaming around and learning about the local culture. Early in the morning we took a shared taxi from Assam State Transport Corporation. It was an 11-hour journey from Guwahati to Dirang. We reached NIMAS by 7pm, tired from the long trip.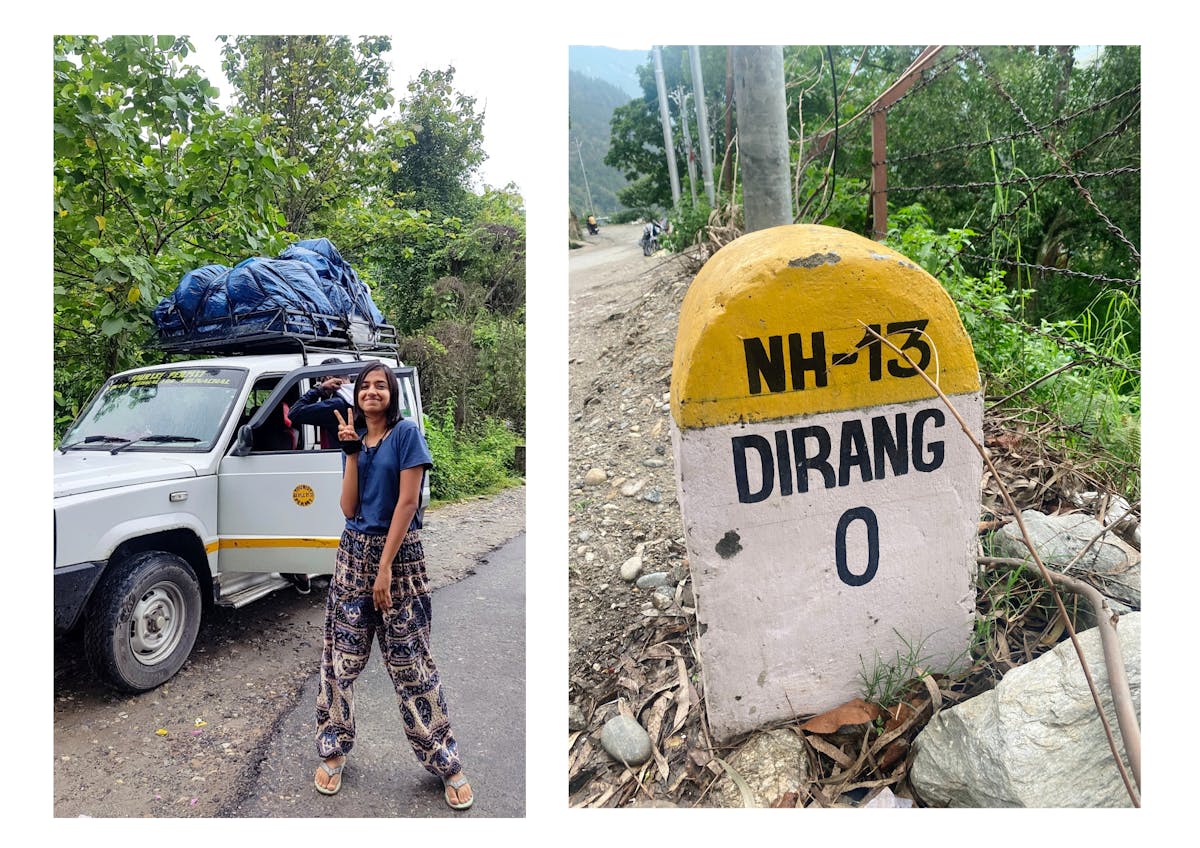 From Guwahati to Dirang via Jeep. Picture by Akshita Makhija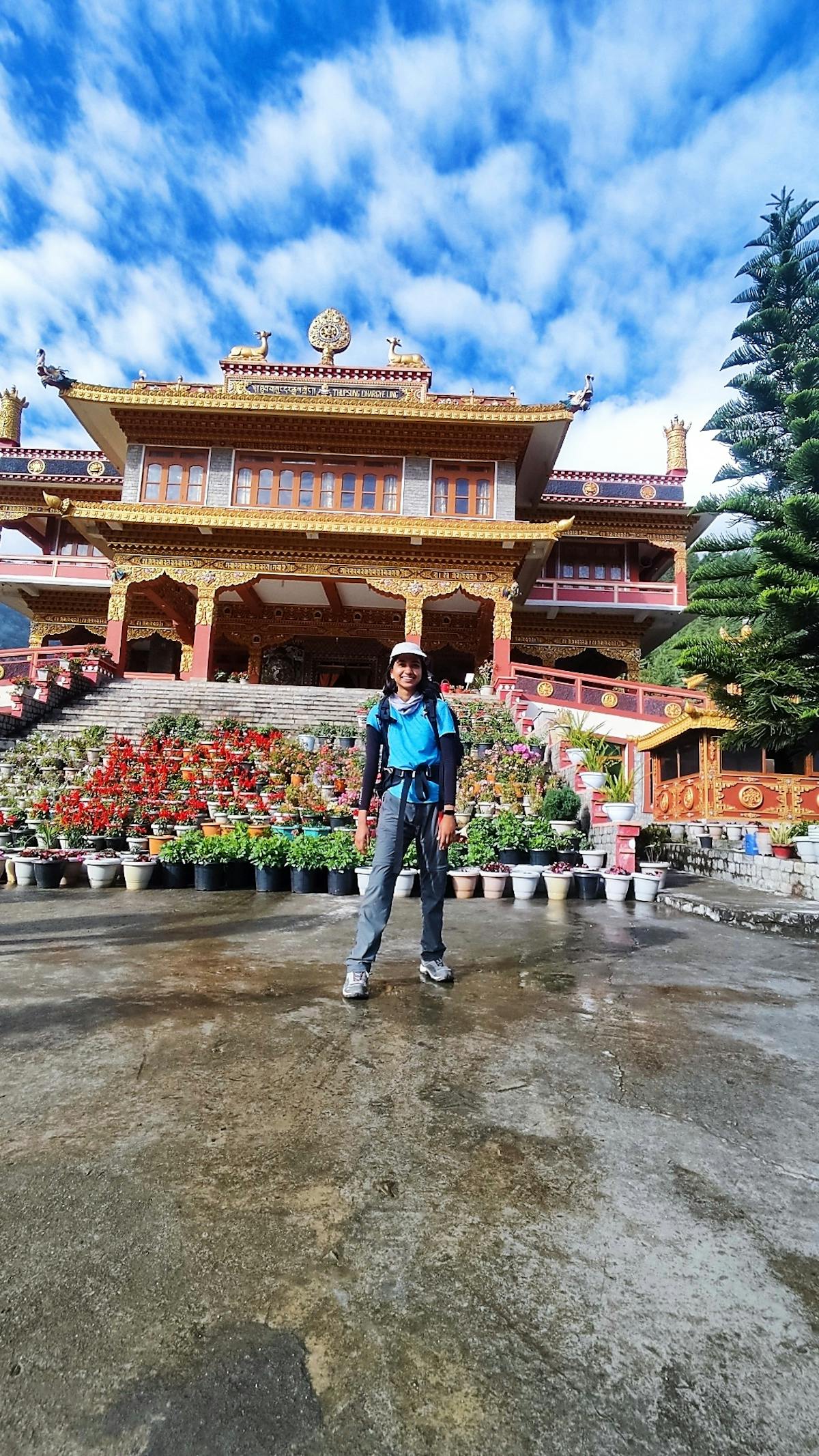 A monastery in Dirang. Picture by Akshita Makhija
Week 1- Preparing ourselves for what was to come
NIMAS has a lot of instructors from the army. They are very particular about discipline, punctuality and sincerity. Week 1 of the course was intense, mainly intended to prepare us for the slopes ahead. It involved PT exercises early in the morning and carrying weight on hikes. It also tested our mental strength and our mettle.
Lectures at Nimas Lecture hall. Picture by Akshita Makhija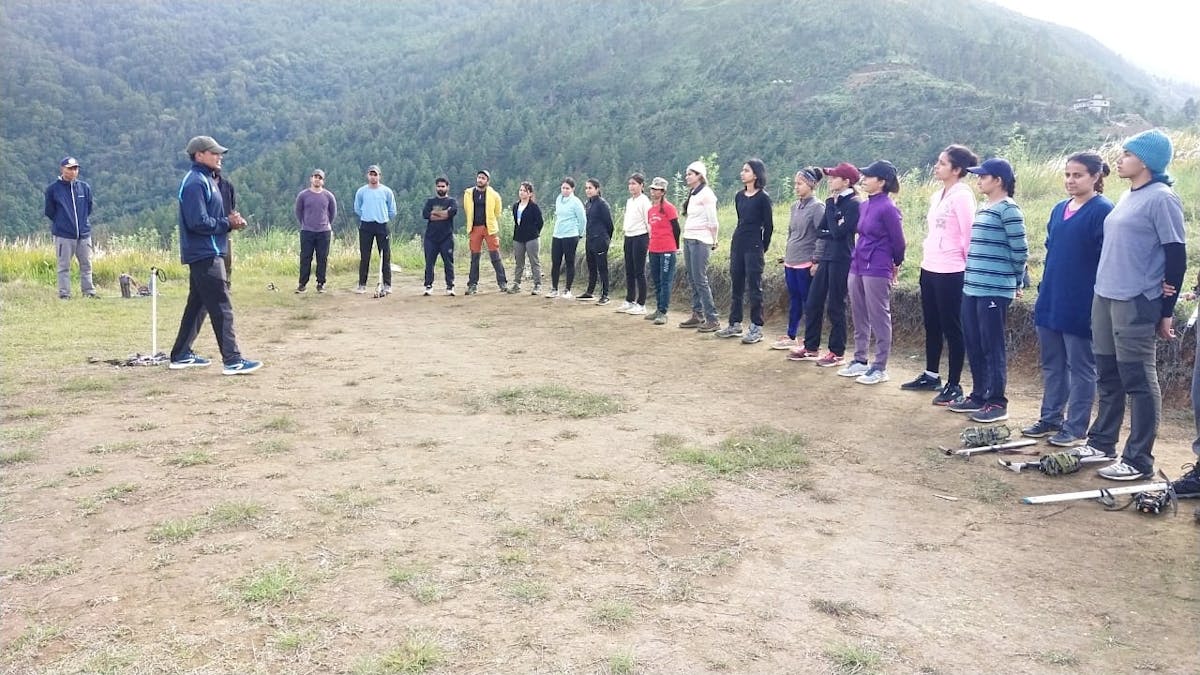 Lectures and PT Sessions by the instructors. Picture by Akshita Makhija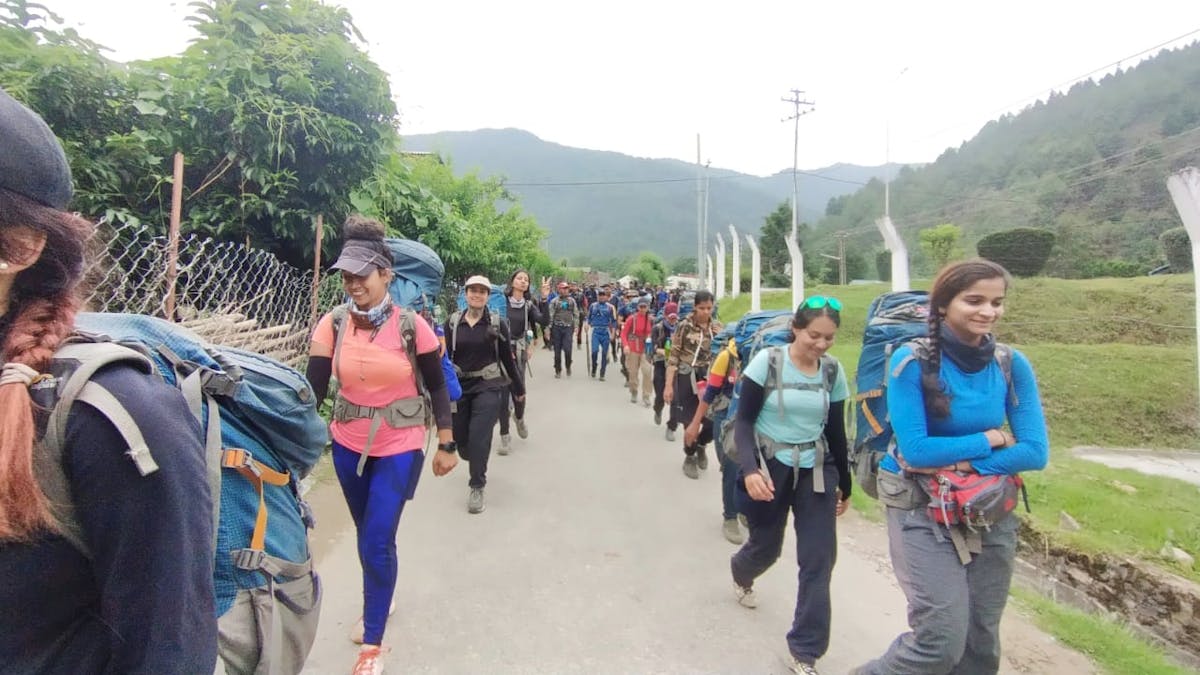 Short hikes while carrying our rucksacks. Picture by Akshita Makhija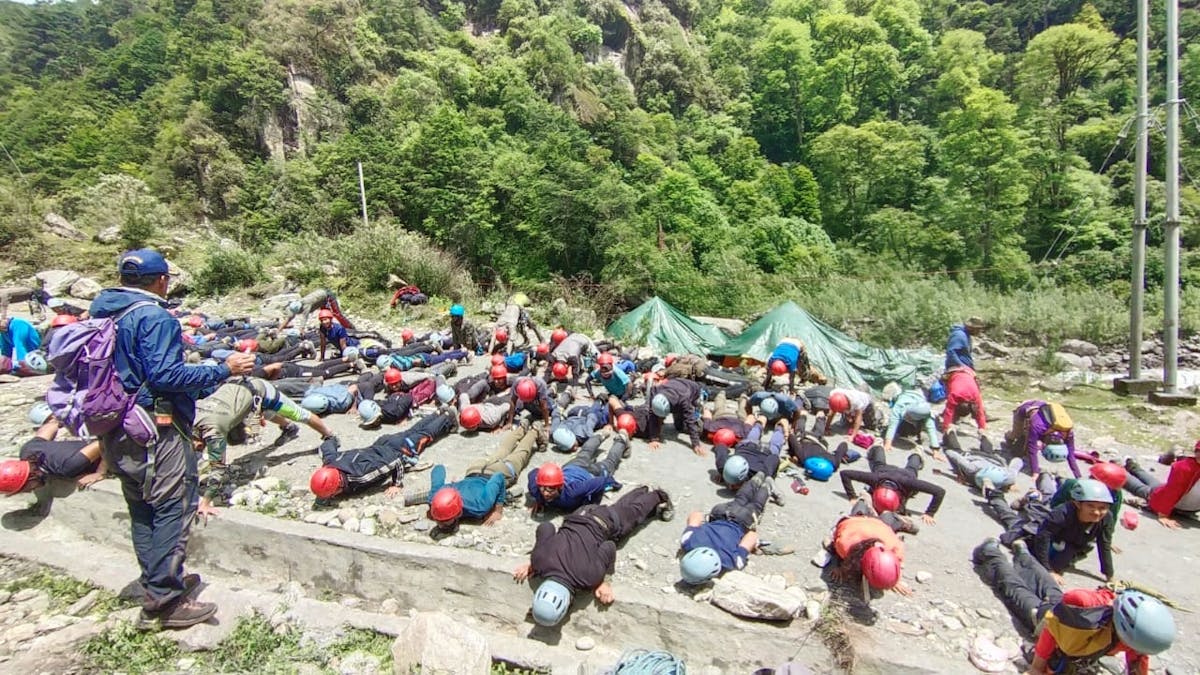 Many pushups and PT Exercises done during the workout. Picture by Akshita Makhija
A highlight for me was the artificial rock climbing in NIMAS. It is a beautiful 22m wall, the highest in Asia. It was a privilege to get to climb here. I enjoyed every route and climbed as much as I could. I couldn't reach the top, which was frustrating, but it also told me that I have a long way to go and a lot of things to learn.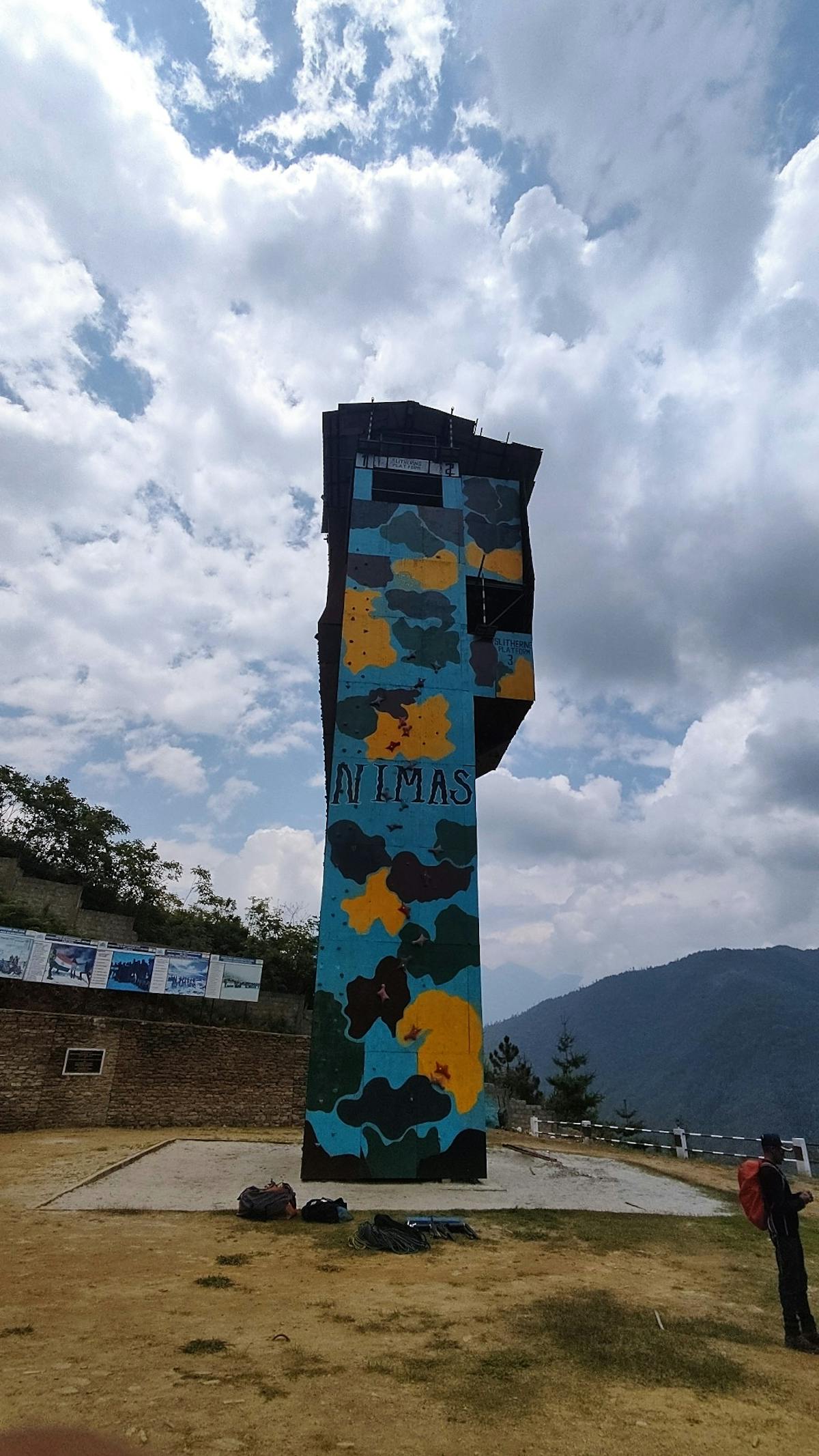 Artificial Rock Climbing wall at NIMAS. Picture by Akshita Makhija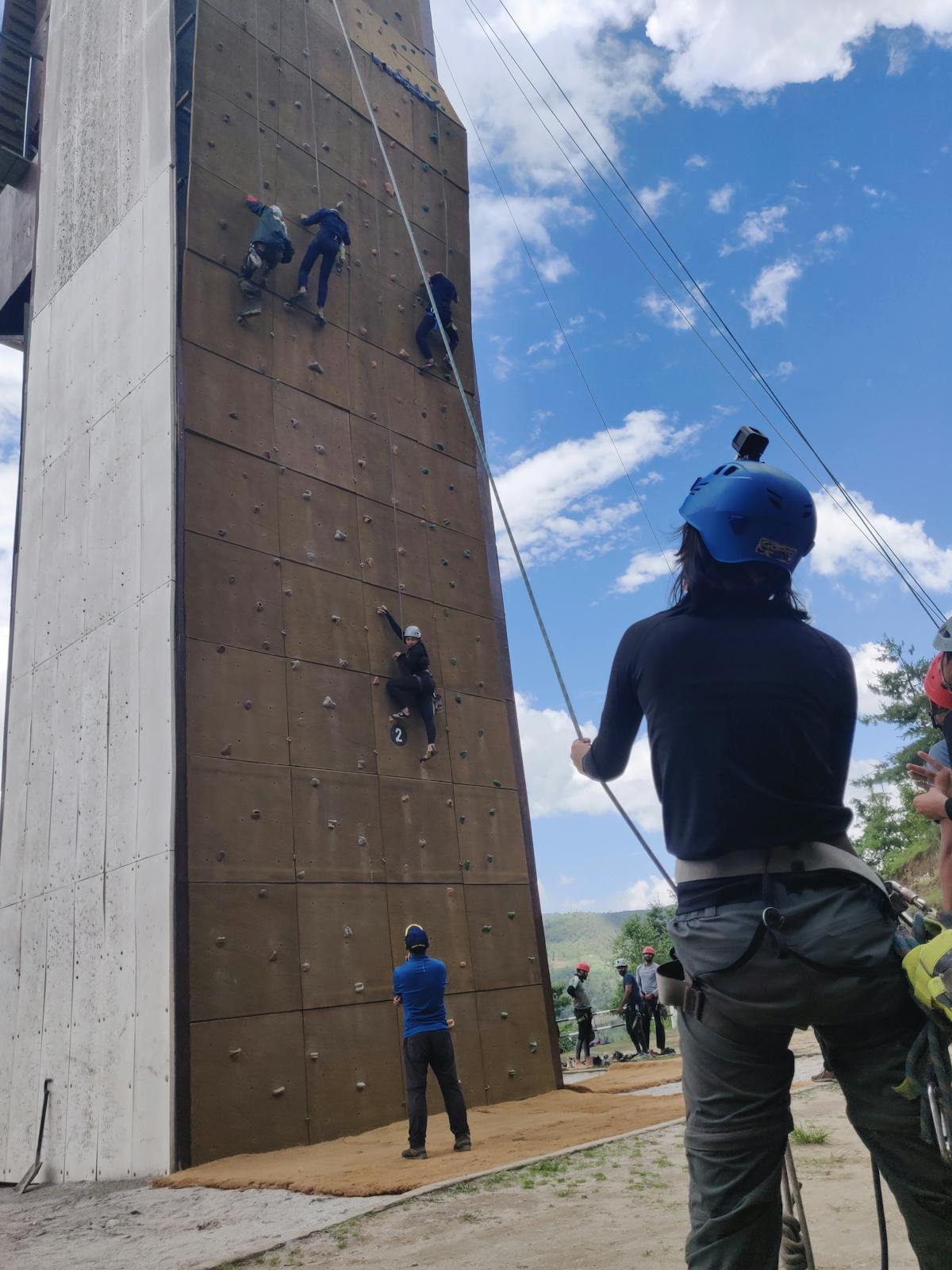 The act of giving belay. Picture by Akshita Makhija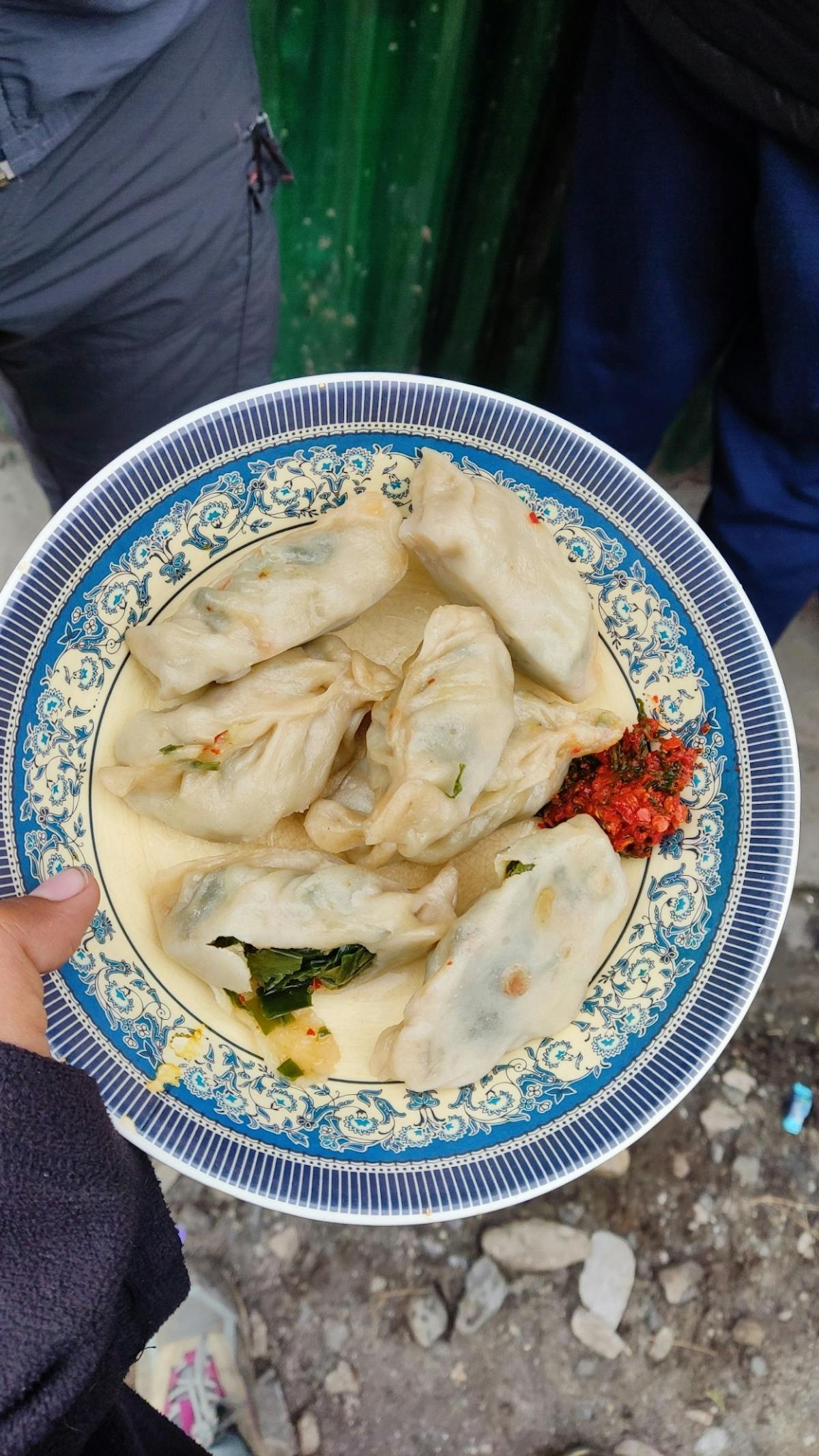 Momos from NIMAS cafe. Picture by Akshita Makhija
Week 2 - My first time carrying a 20 kg bag
Week 2 was when we finally left for the higher camps. The bus ride to Jung was a lot of fun where we sang and danced the entire way. I was excited and nervous about what was ahead. 
The nervousness became stronger when I first picked up by 20 kg rucksack. It was a scary thought that we have to carry this bag in the entire course.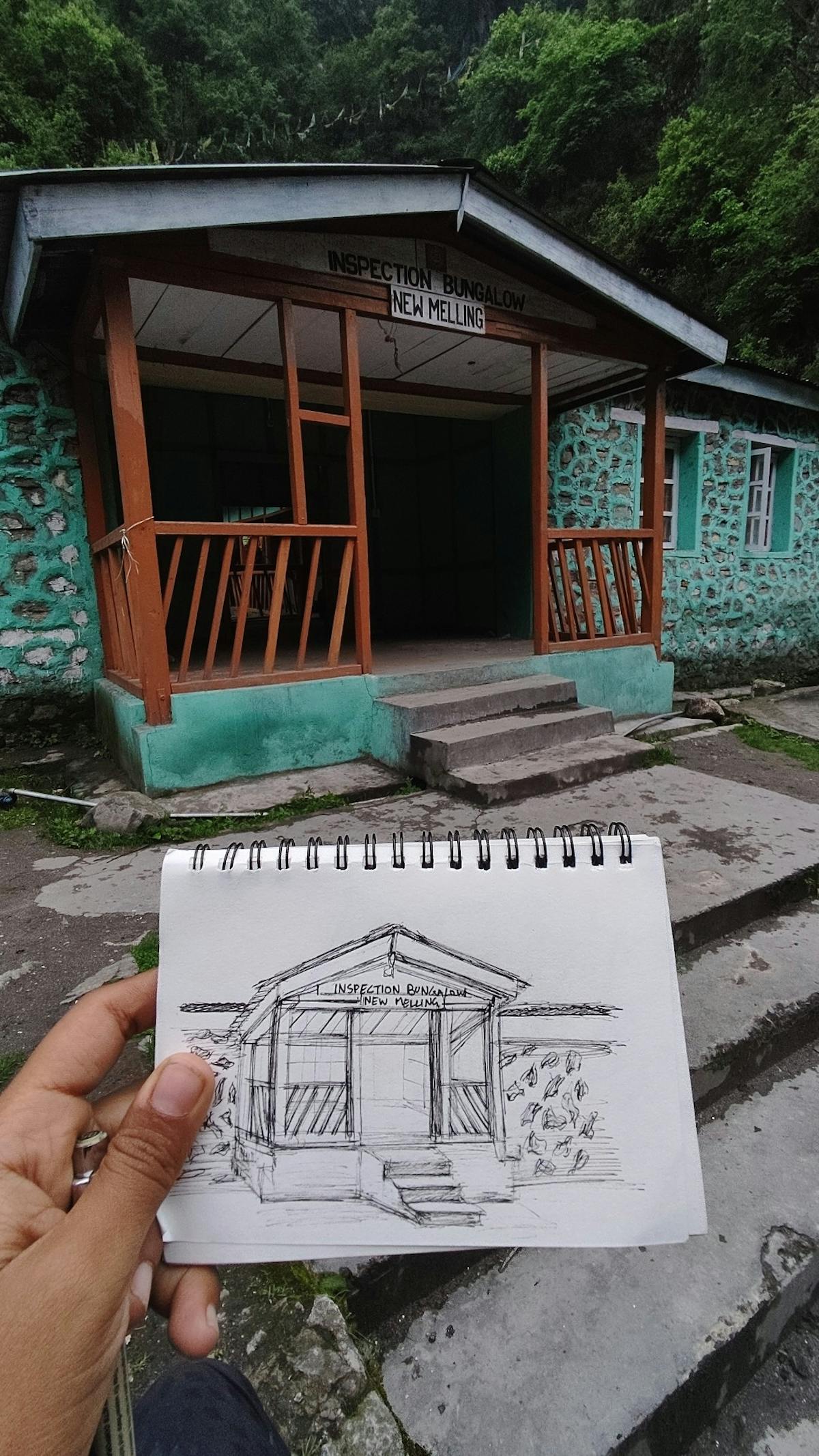 A sketch of our stay in New Melling. Picture by Akshita Makhija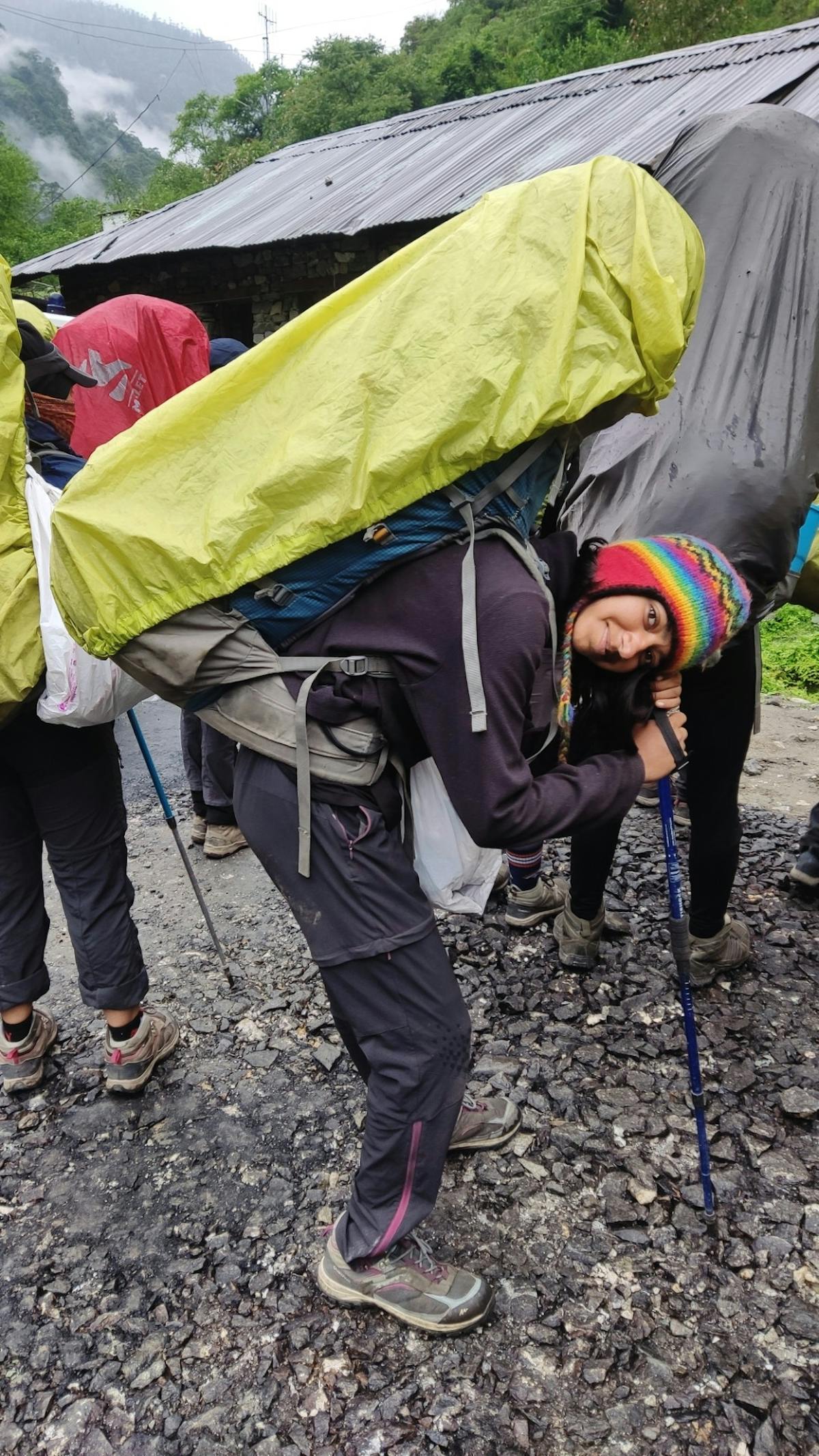 Carrying a bag, weighing almost half my body weight. Picture by Akshita Makhija
With optimism, I started the trek to New Melling. Just focusing on one step and a time and completing the 18 km journey ahead. 
This day was difficult for me, the weight was a lot. The straps cutting into my shoulders and waist, my back hurting and my feet wanting to stop. My mind ignoring all the pleas of the body and pushing itself to make it to the campsite, to work for the dream I had been dreaming for so long. That satisfaction of finally reaching New Melling and keeping down the rucksack was out of this world.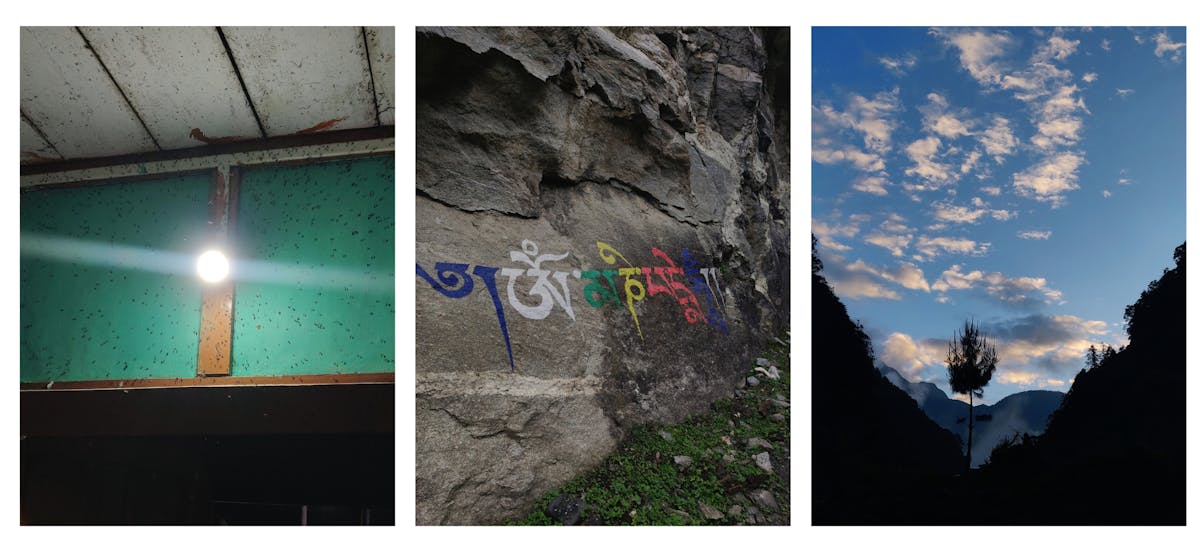 Shots capturing the beauty of New Melling. Picture by Akshita Makhija
We spent the next 6 days at New Melling, acclimatizing with short treks, learning natural rock climbing and of course, having PT sessions. Natural rock climbing was again a lot of fun. We were very lucky to have clear weather throughout so we had a lot of climbing sessions. I climbed all routes, including the difficult route 9.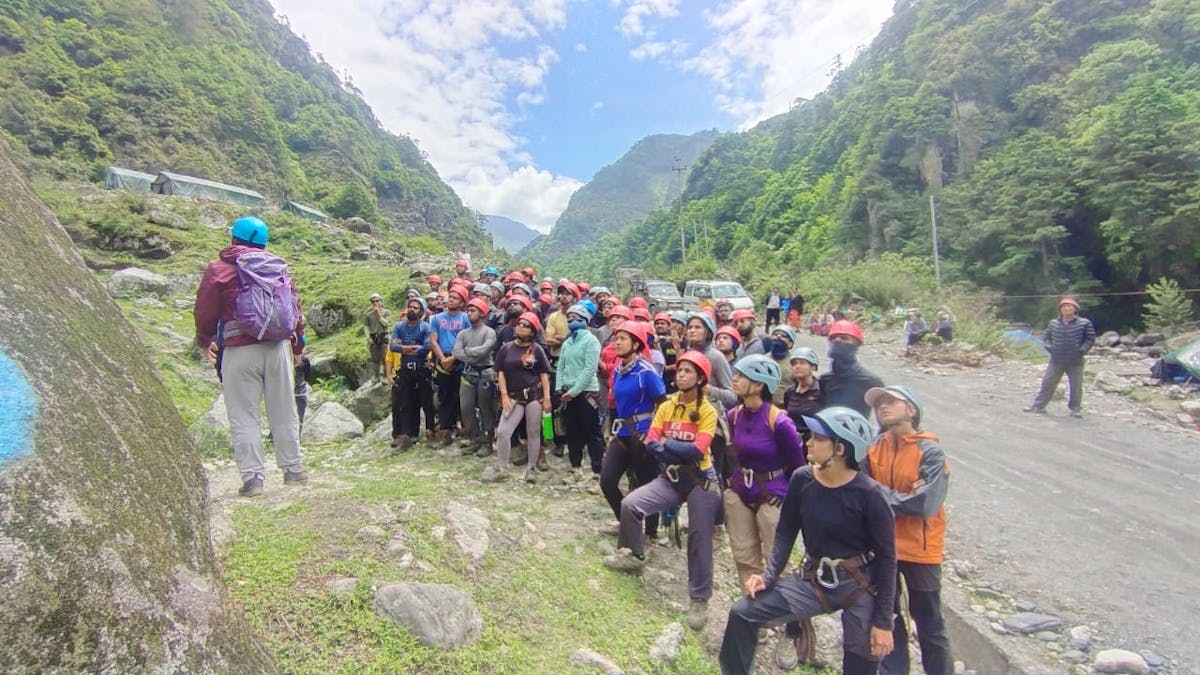 Instructors guiding us about natural rock climbing. Picture by Akshita Makhija
We also had some lectures and training about knots, hitches and bases. We would practise this in sessions and even in our rooms to master each knot. The nervousness before the knot exam was something I never felt even in school exams.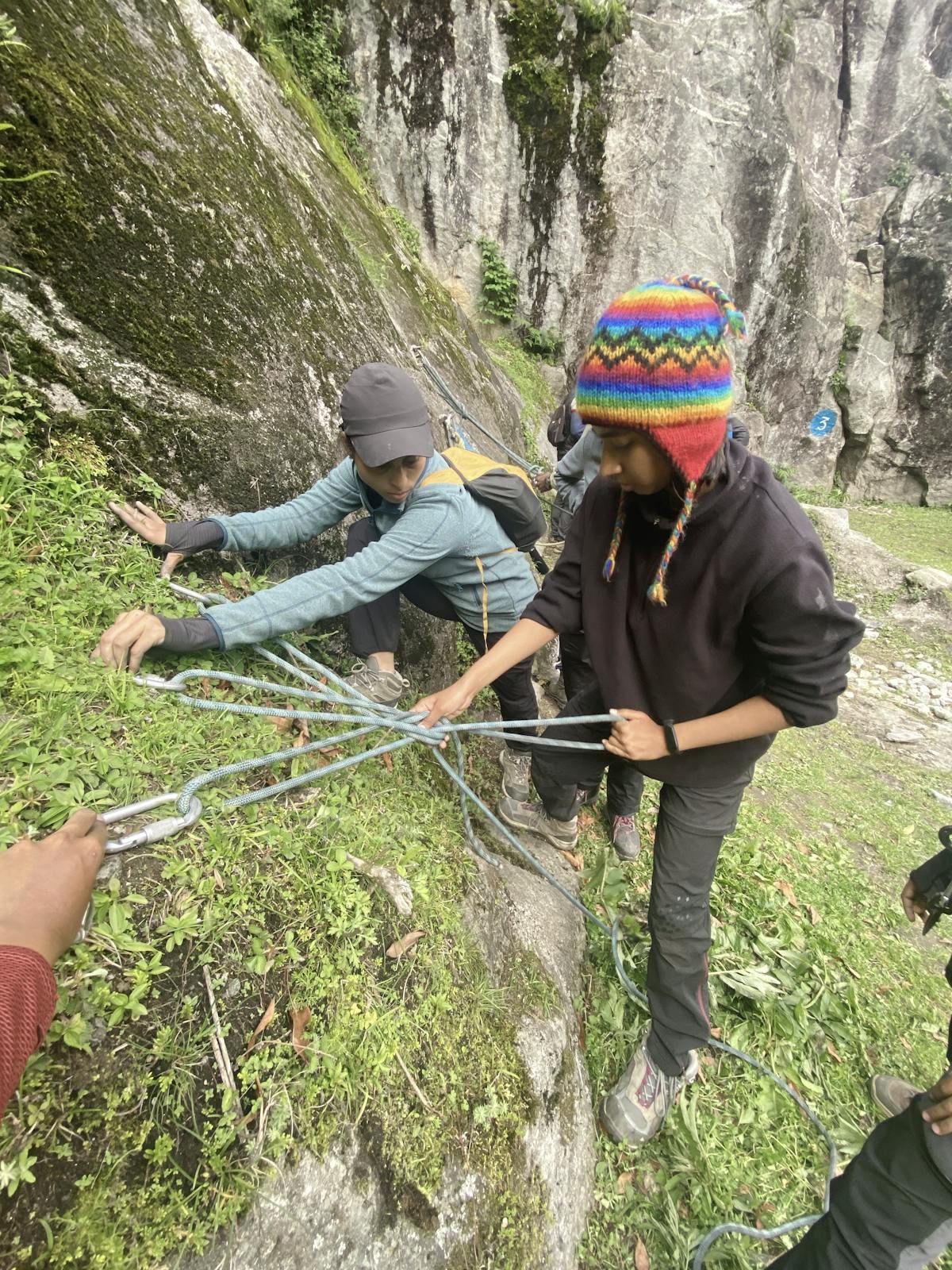 Making an artificial base on a rock. Picture by Akshita Makhija
To the friends who matter the most. Picture by Akshita Makhija
I also built a great bond with some friends on the course. We would always have meals together and talk about our day and what we felt. This was a huge mental relaxation given that we were stressed sometimes and away from home. 
Week 3 - The longest distance I have walked in a single day
At the start of week 3, we continued our journey further ahead. It was the longest trek day of the course from New Melling to Mago — 22 km. I was determined to not give up. I kept walking, distracting myself with random thoughts. By the end I would jokingly cry that I could not feel my shoulders. They are probably dislocated by now, I kept thinking. But I knew that carrying a bag almost half my weight was an achievement and it was making me stronger each day.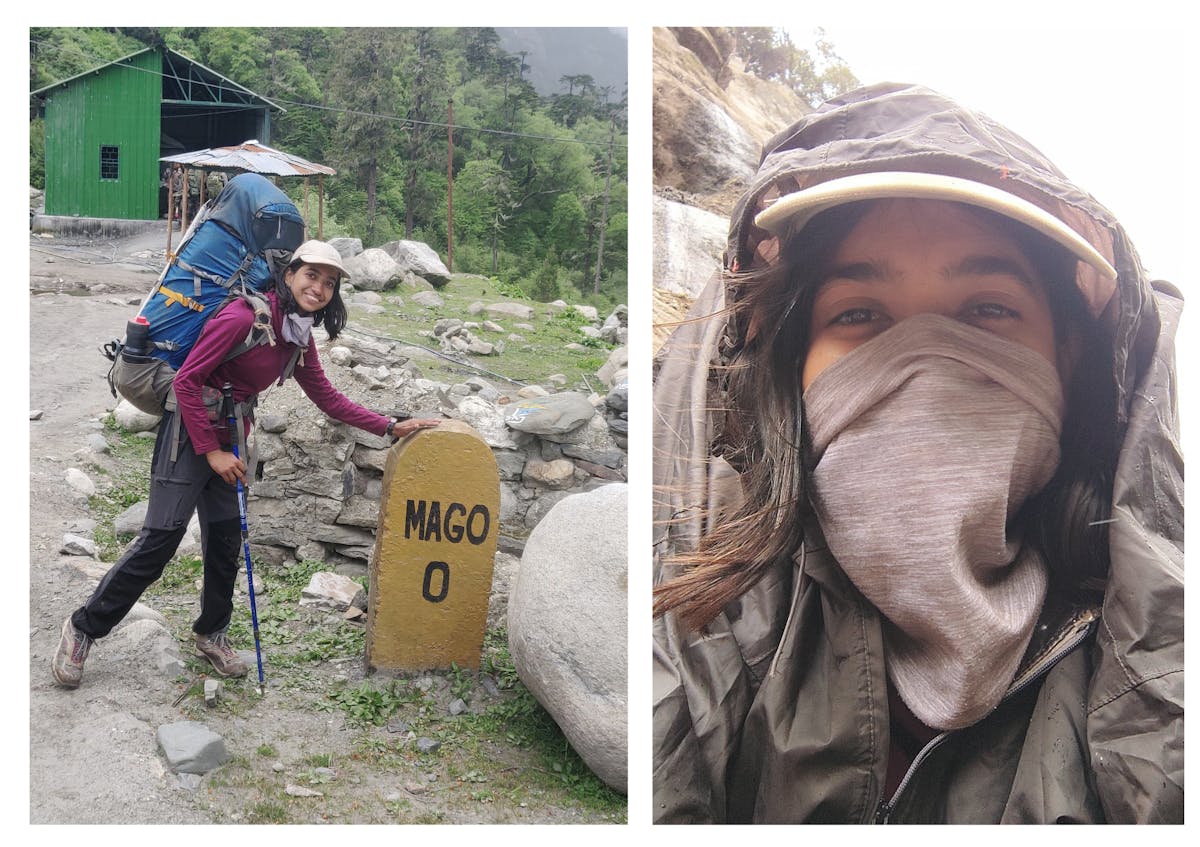 The happiness of reaching Mago. Picture by Akshita Makhija
My experience in Mago was interesting. It was an army camp. So the restrictions were stricter. There was no room for the undisciplined. We were expected to finish our meal within 15 minutes and not socialize after that. We were told to stay away from boys and not talk to them, it was something that I did not like in the course. I had made great bonds with friends there and not being able to spend even little quality time with them after a long, hectic day really stressed me out. This was probably the most challenging day for me mentally and really tested me.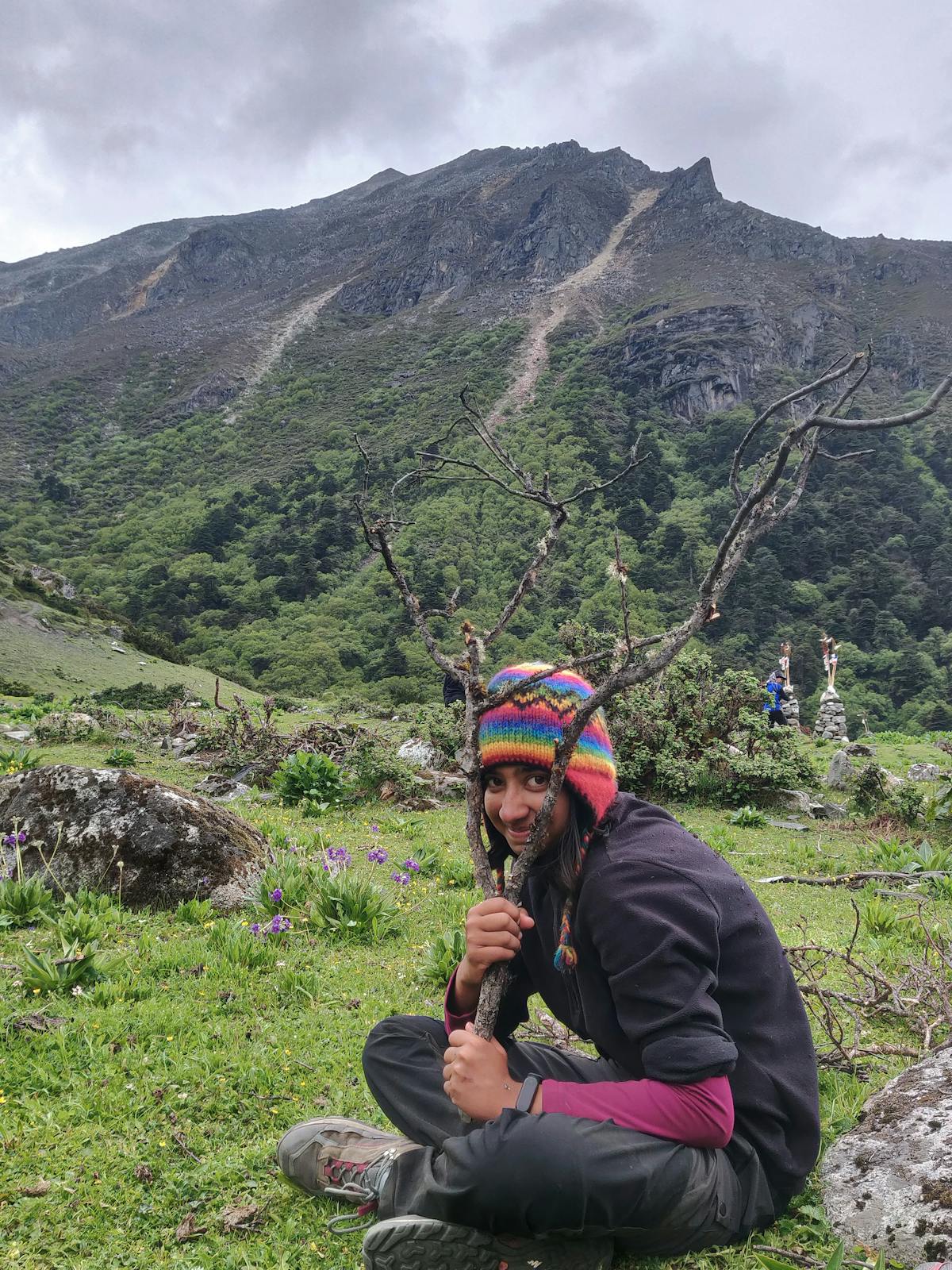 Connecting to nature, one campsite at a time. Picture by Akshita Makhija
On a happier side, we had a hot water spring in Mago. Taking a bath in the natural, medicinal hot water felt out of this world. It relaxed all the sore muscles and of course the feeling of finally taking a bath after 10 days is something that I don't need to describe.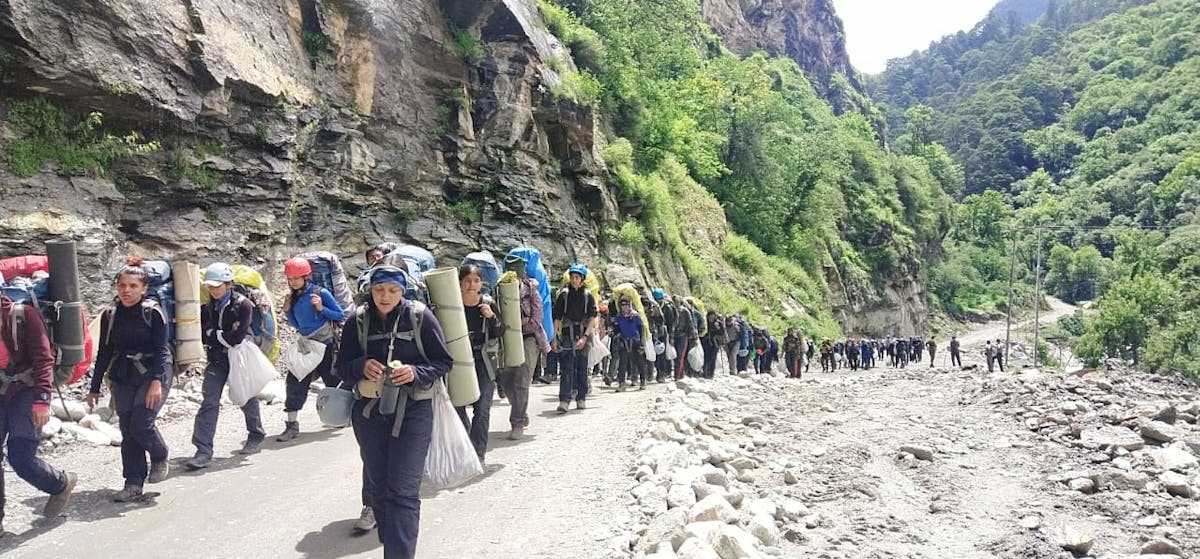 Trekking from one campsite to another, carrying all equipments. Picture by Akshita Makhija
Our journey to Gorichen glacier further continued on higher campsites. We next went to Jethang where we had our survival day. Something that I looked forward to for a long time. This was the night where we were on our own, at the mercy of our own skills. We had to cook our own food, make our shelter for the night, boil and filter water to drink. I tried to involve myself in each task. I helped fill water from the nearby stream, chopped vegetables for dinner and built our shelter. We made delicious khichdi, something which had involved people fighting over how much masalas to put. That is how we survived that evening, on our own capabilities.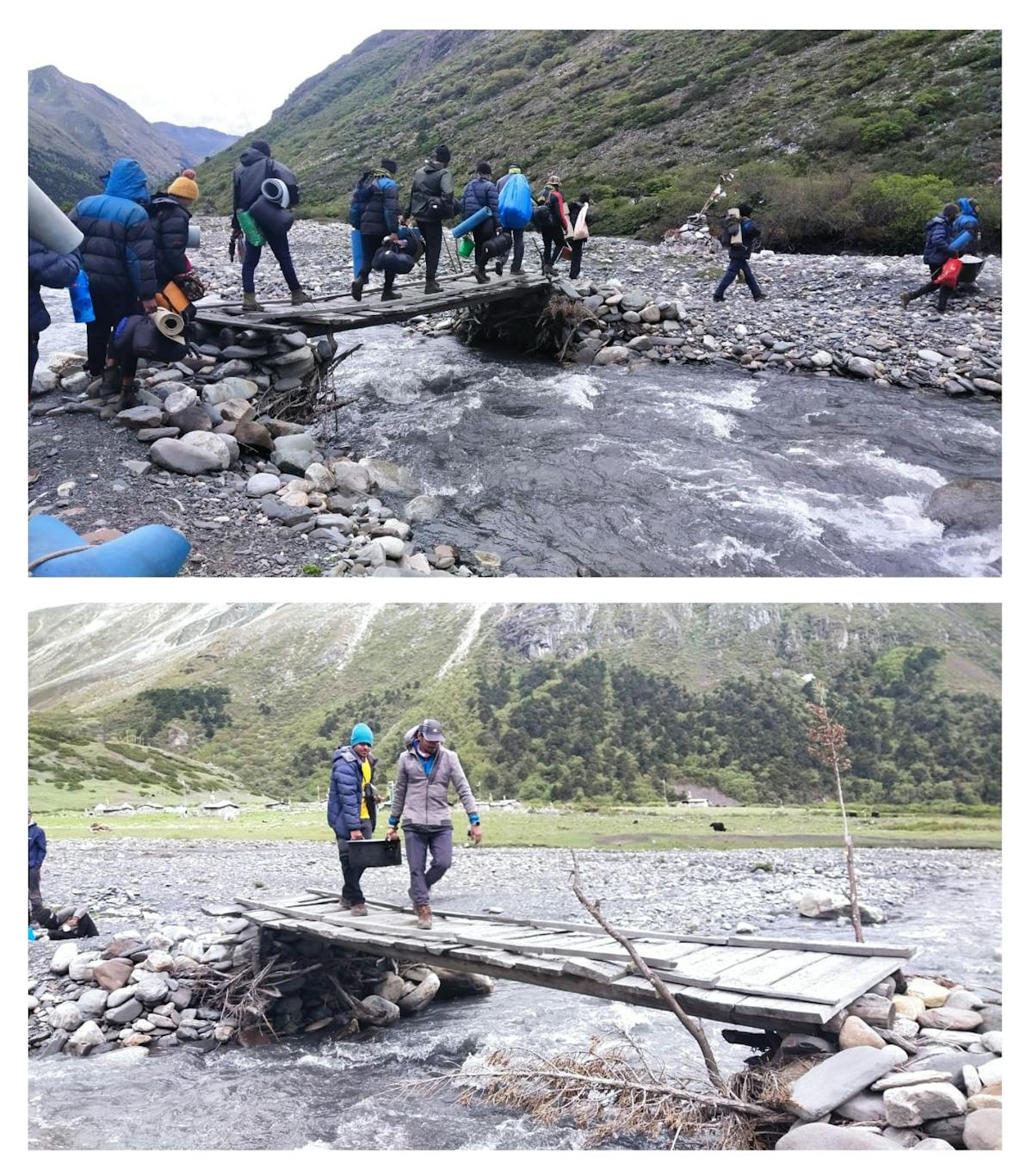 Carrying all equipments and ration for survival day. Picture by Akshita Makhija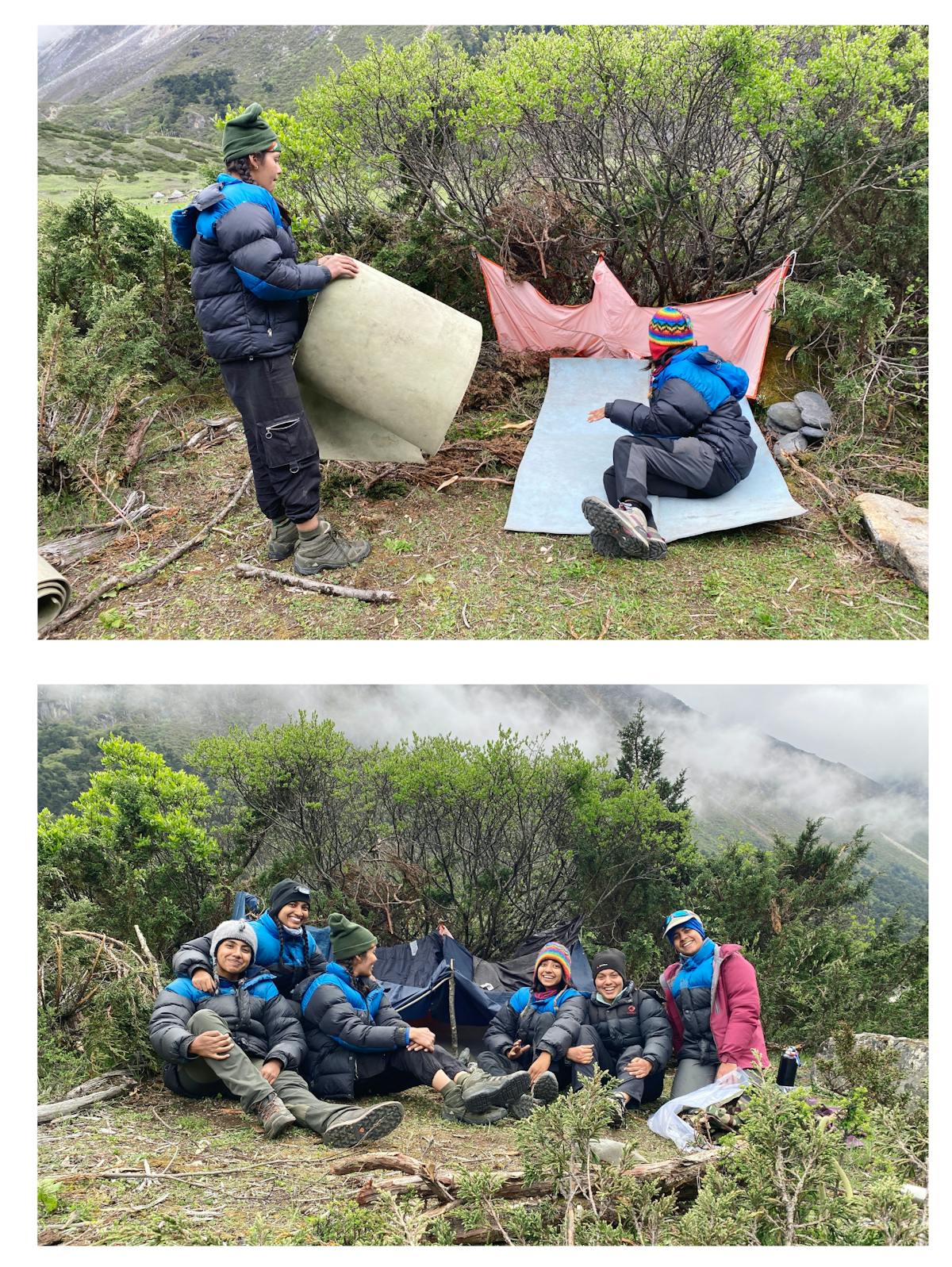 Glimpses from shelter making. Picture by Akshita Makhija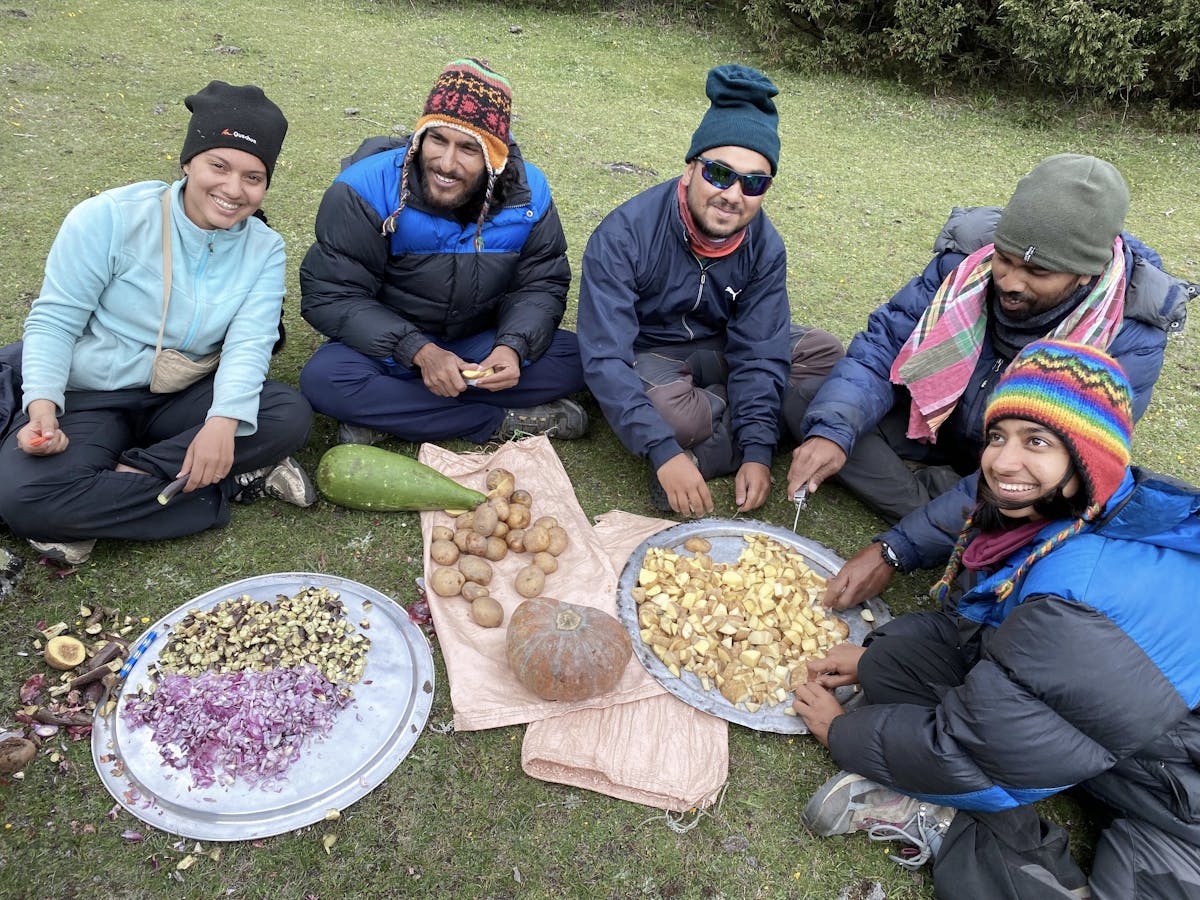 Chopping vegetables for dinner. Picture by Akshita Makhija
Week 4 - The dream finally came true
Next, we reached Meerathang campsite, a beautiful trail leading to a beautiful destination. We pitched our beloved football tent, with Mt. Gorichen in the background. Staying here for the next 4 days was serene. The beautiful grassland, the wild yaks, the stream flowing was all breath-taking.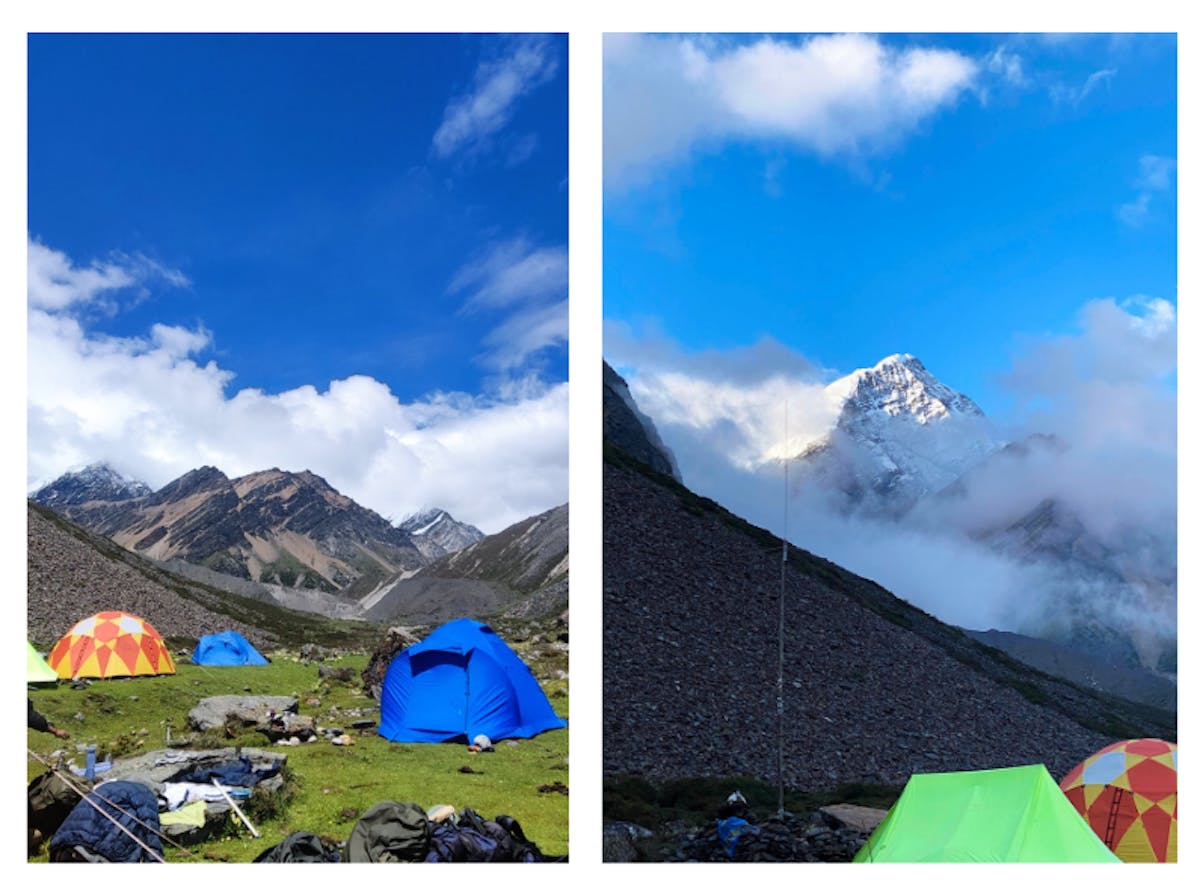 View of Gorichen Peak from Meerathang campsite. Picture by Akshita Makhija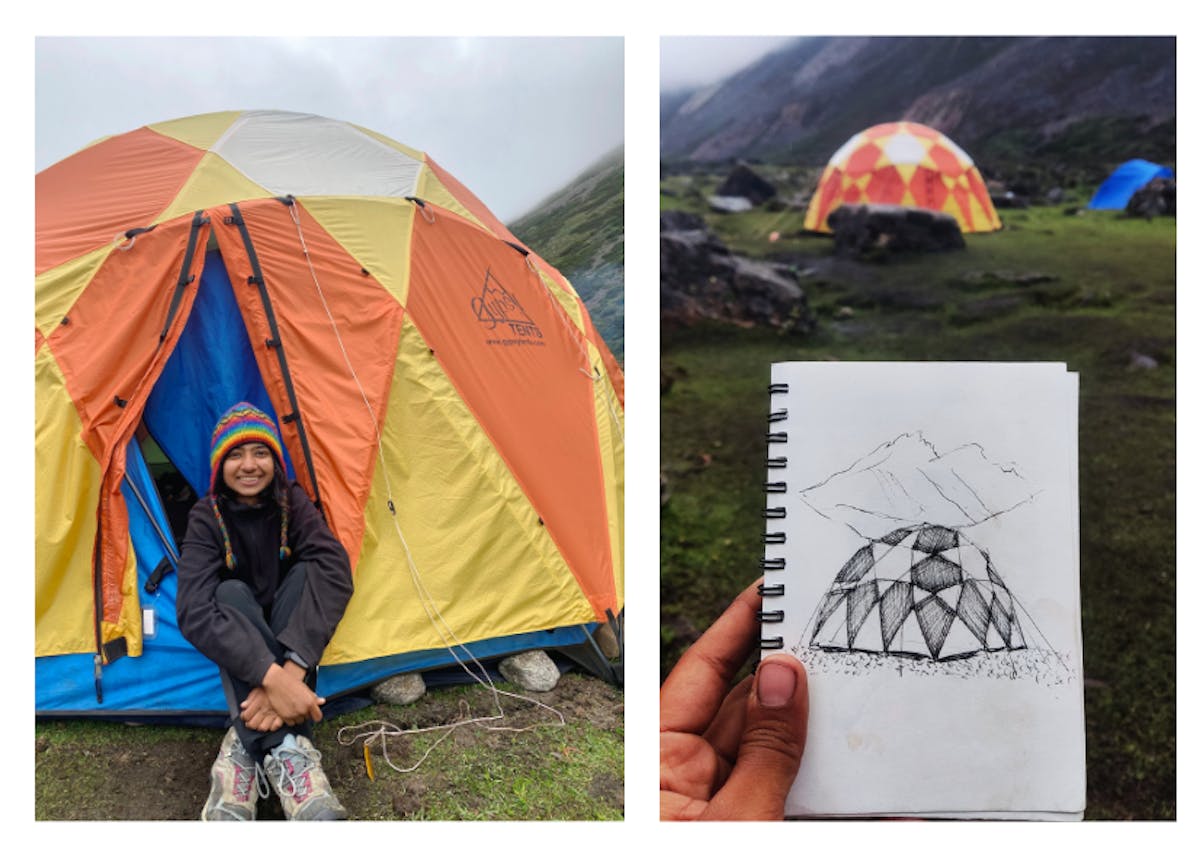 A sketch I made of our football tent. Picture by Akshita Makhija
We went to Gorichen Glacier for the first time the next day. My dream was finally about to come true. The great ice wall that I was desperate to see was going to be in front of my eyes. 
The first day's trek to the glacier was a challenge as we were going to 16,500 ft for the first time. The trail was steep and had loose rocks and boulders. The glacier was such a beautiful scene.
I will never forget that feeling of achievement walking upto that glacier. All those months of training had come to use. All the self-doubt, the insecurities and challenges were overcome by being here. I was overwhelmed with emotions and really felt the need to hug at that time.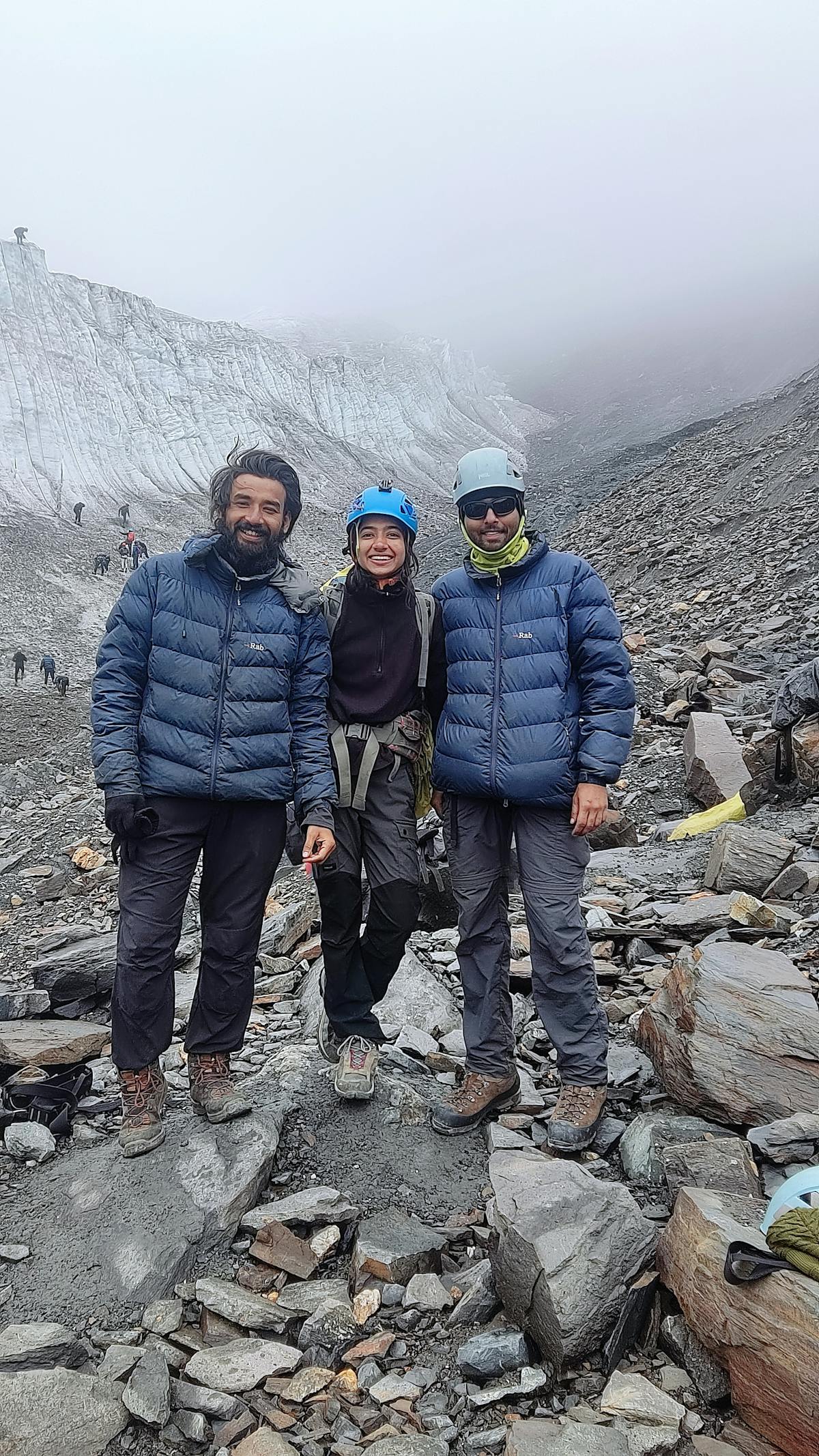 Being at the best place with the best company. Picture by Akshita Makhija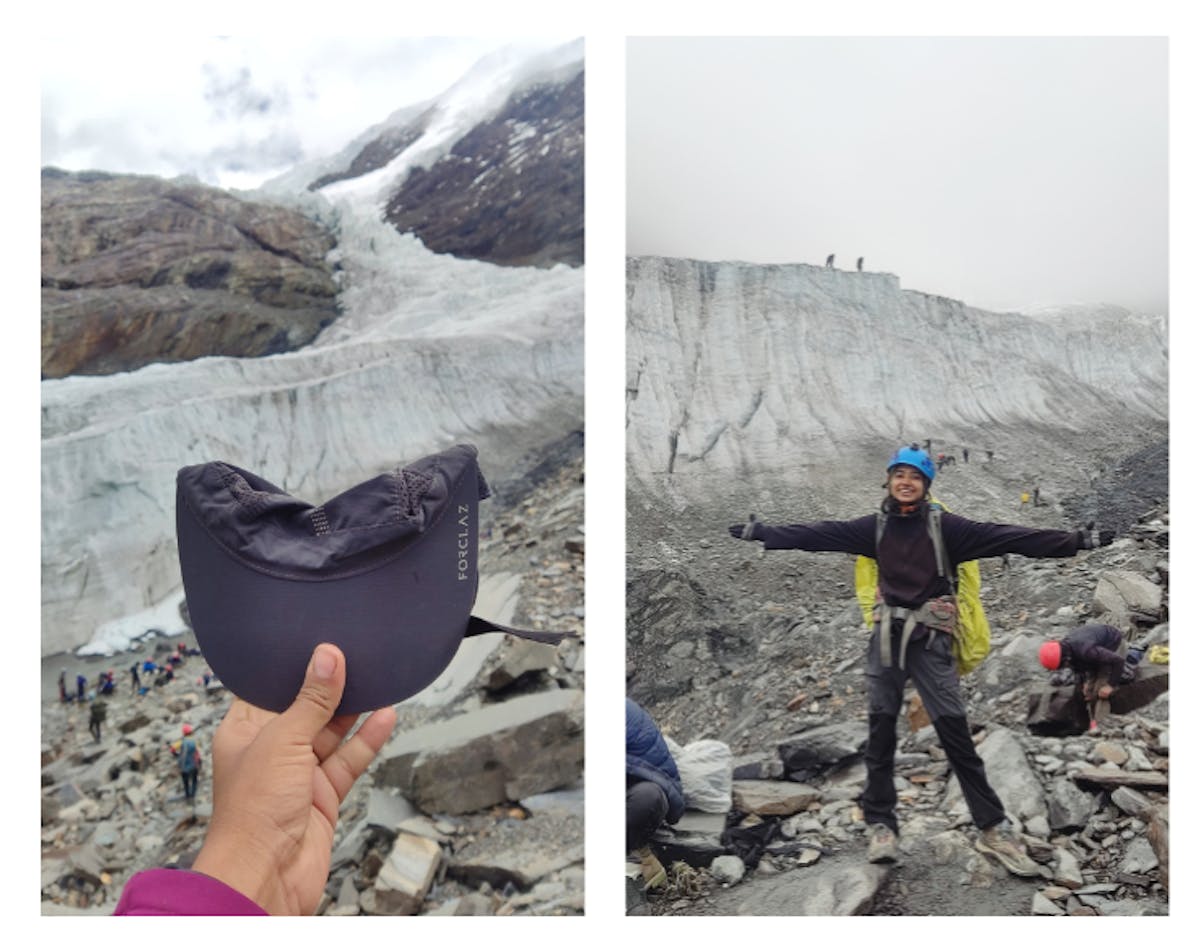 Making my dream come true. Picture by Akshita Makhija
Bringing myself together, I hurried to get ready with all equipment as some people had already reached the training site. I wore snow boots, crampons and walked on ice for the first time. I was thrilled to finally use the ice axe and climb the ice wall. It was an exhilarating experience, I used bad technique but I was ready to learn. 
The next few days involved ice craft at the glacier. We trekked from Meerathang campsite to Gorichen Glacier everyday and the trail was not so difficult anymore as we were acclimatised to the altitude.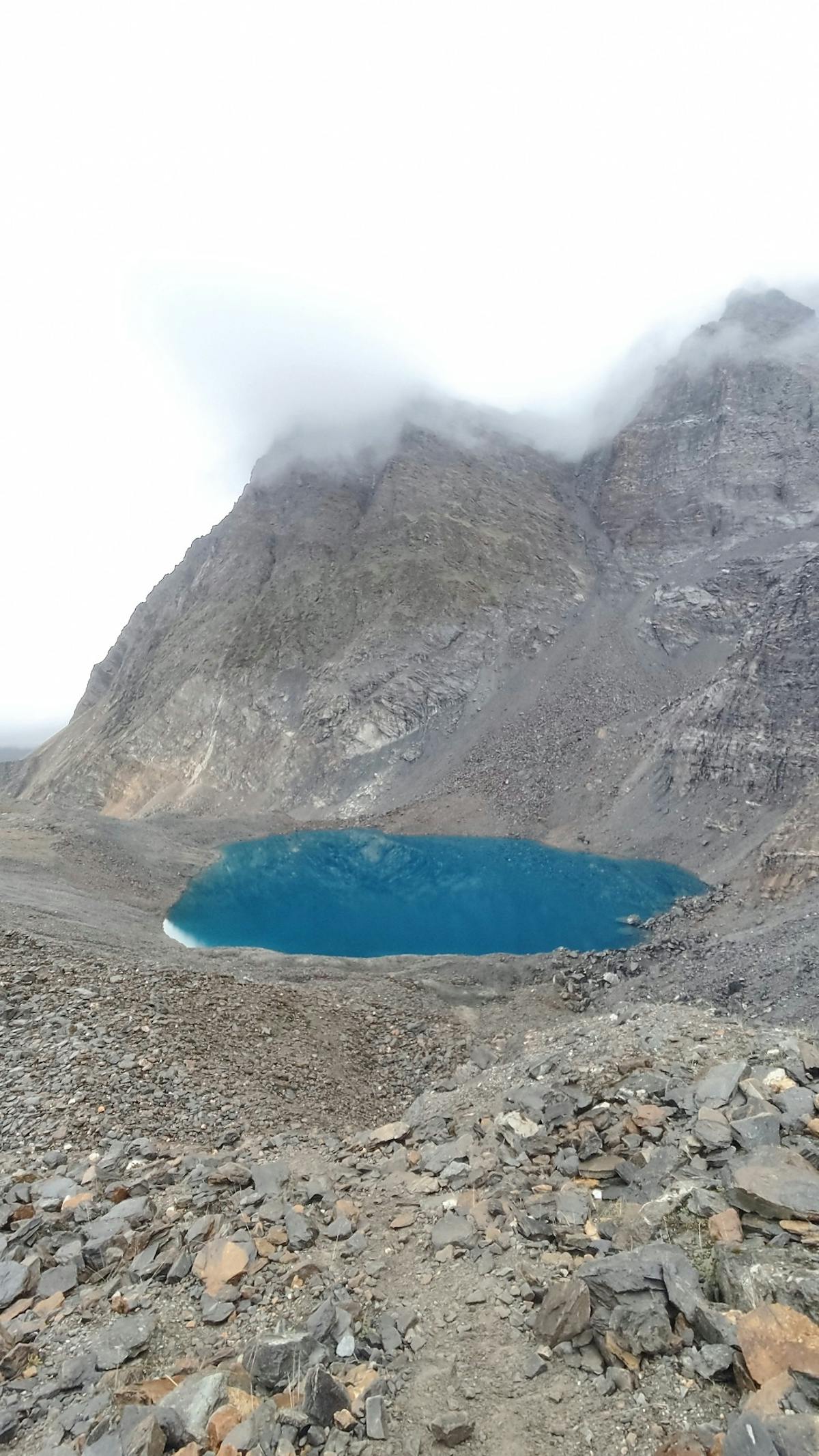 NIMAS Lake, on the way to the Gorichen Glacier. Picture by Akshita Makhija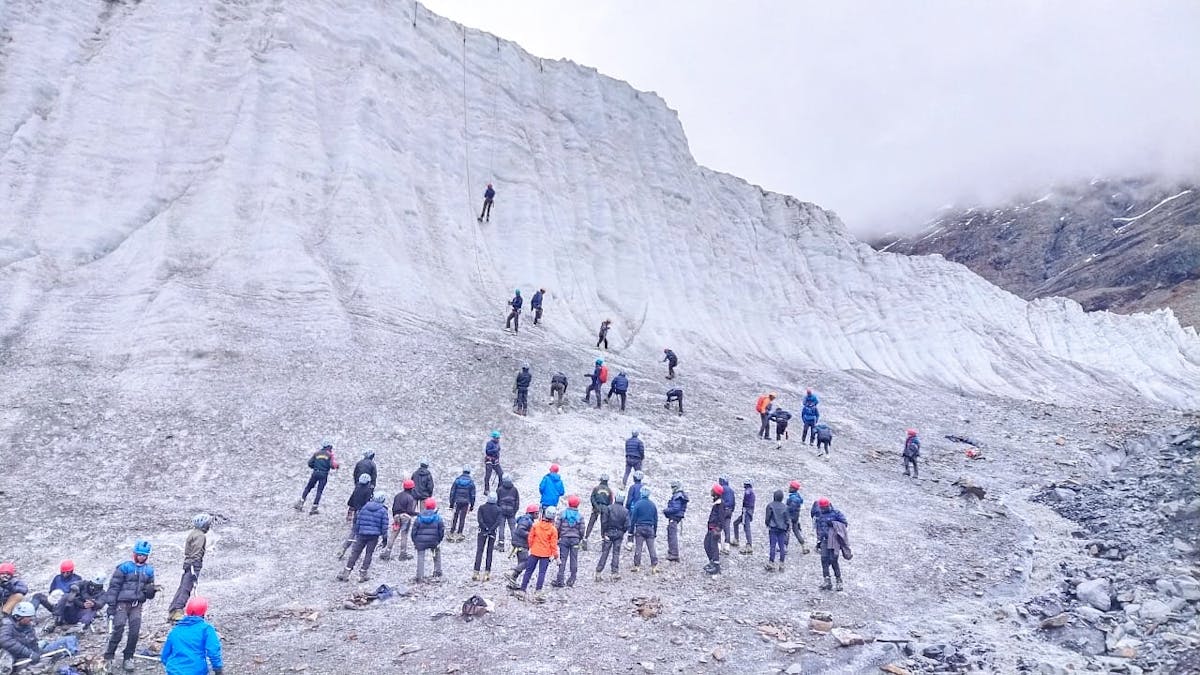 Climbing on the Gorichen Glacier wall. Picture by Akshita Makhija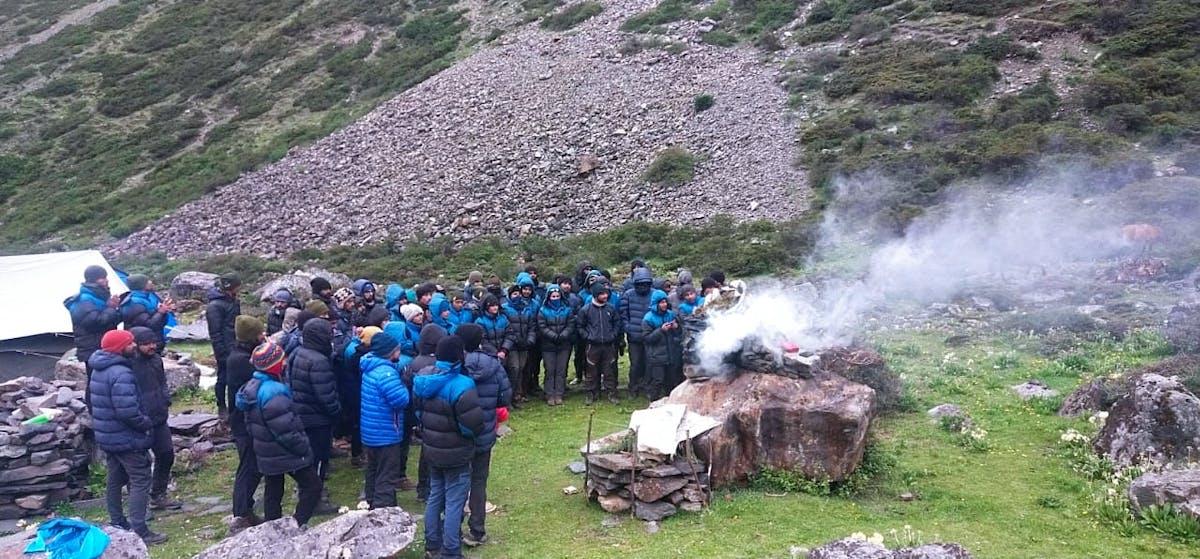 In between a pooja for the mountains, chanting "Om Mani Padme Hum". Picture by Akshita Makhija
Start of the descent
In no time, we were ready to head back home. It had been a long month staying away from home and I was missing the comfort of being with family. At the same time this experience had been so enriching I wanted to stay in the mountains forever.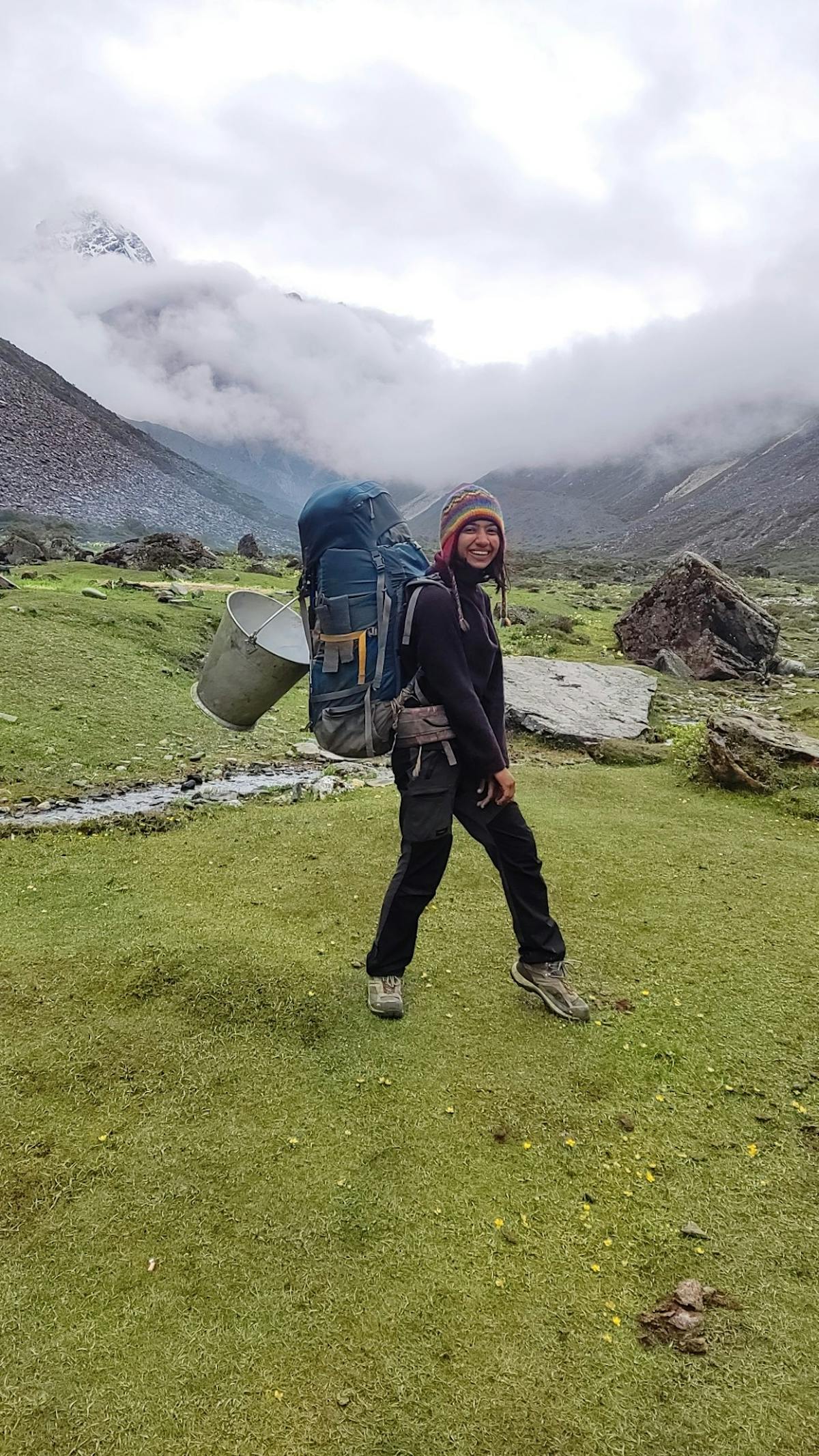 Hanging a bucket on an already heavy bag. Picture by Akshita Makhija
We started our descent journey to the lower campsites. The bag still felt heavy but there was no self-doubt anymore, I was confident I would do it. We camped at the lower campsites and finally reached back to New Melling. 
Running 8 km continuously with a heavy bag
One huge task was left. The endurance run. Running 8 km continuously with a 12 kg bag. It was a little scary but I assured myself that I don't have to worry about the time, I just have to be consistent and jog at a constant pace.
The endurance run was such a fun experience. I enjoyed pushing myself throughout the run, being motivated by instructors and friends. I completed it in a decent time as I was very happy with myself. I was received with hoots and claps at the end which made me feel like a celebrity.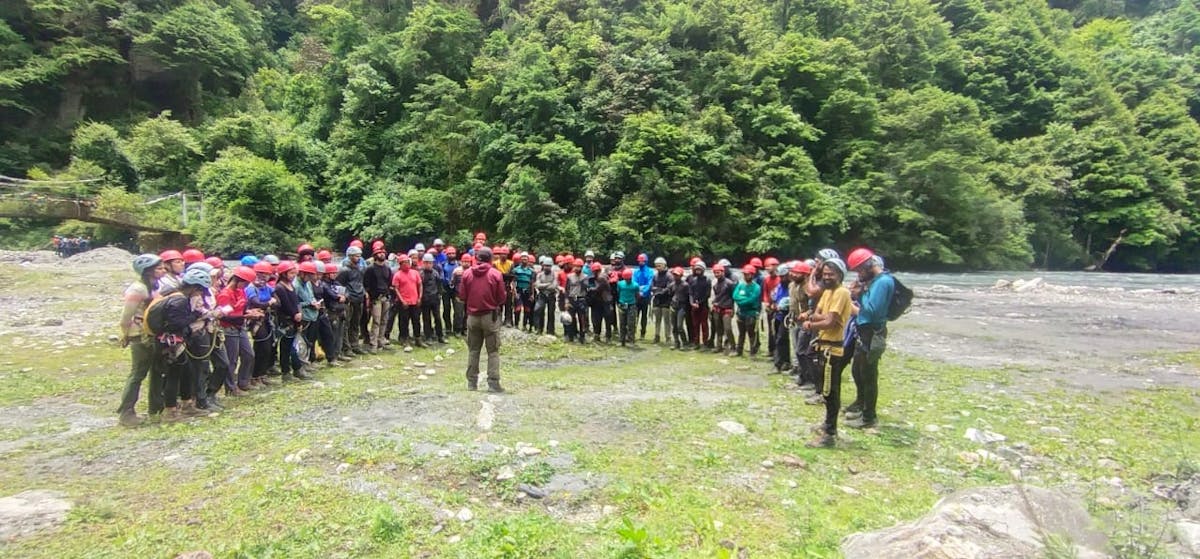 Instructor briefing us about the different river crossing techniques. Picture by Akshita Makhija
The last physical task we did was a river crossing. Another fun activity. We also went in the chilling water and tried to cross the river with a wooden stick and rope. This was a way of taking a natural bath after 2 weeks.
It was all coming to an end
We started our trek back home. With mixed emotions of having the most rewarding journey of my life come to an end and of finally seeing the people I missed so much back home. One constant feeling was pride, in myself, for making it through all the challenges this month.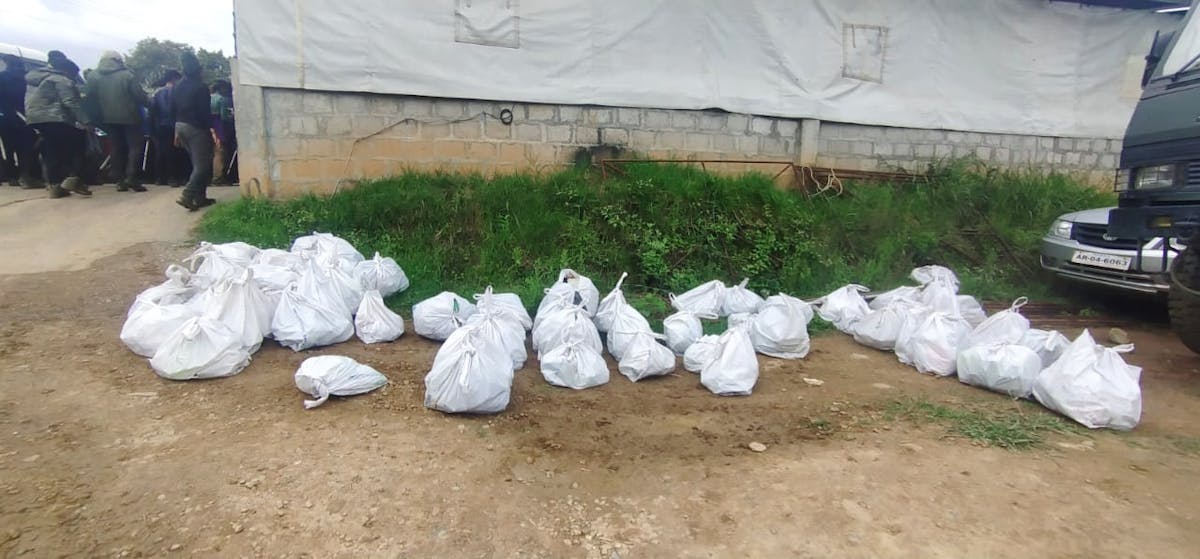 The garbage we collected in the course. Picture by Akshita Makhija
We reached NIMAS campus, relieved that the hard part was done. I had the most satisfying bath of my life after 2 weeks. Still, I spent the day studying for our final exam paper. Even after being so tired, the will to put in efforts to study and give my best showed how much this course meant to me.
I even got up early at 3 am to revise, not leaving any stone unturned. The exam went well, I was happy with my efforts.
It was not all over yet. We had our closing ceremony the next day and of course I had to perform. I was keen on showcasing the art form I had learnt since the past 11 years. I choreographed and performed a short piece in Bharatnatyam. This too involved a lot of rehearsals which was awarded by continuous claps and whistles of appreciation. We were felicitated with a badge, signifying the fruit of our efforts.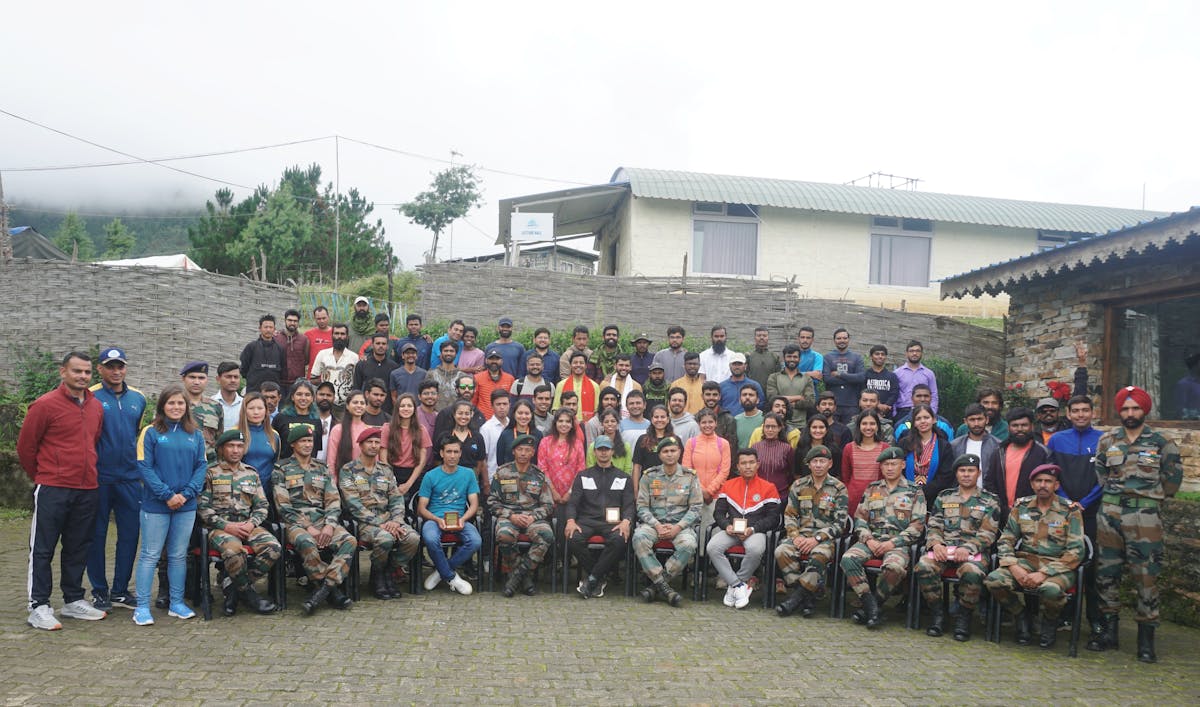 BMC Batch 36. Picture by Akshita Makhija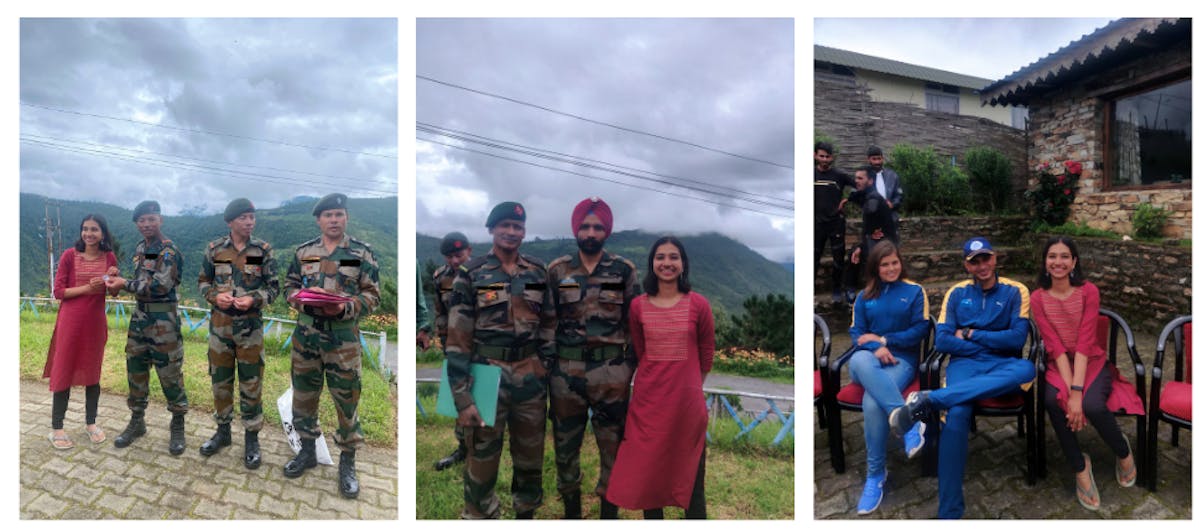 Getting felicitated by our instructors. Picture by Akshita Makhija
A goodbye to the beautiful journey
Eventually, the journey came to an end. We had to bid some difficult goodbyes. I had made some beautiful bonds here. Friends that I will cherish for a lifetime and wished I would meet them soon. I stayed in Shillong for a day, enjoying the serenity before coming back home. At home, I was treated like a celebrity and welcomed as a mountaineer. Their love and support is something I am so grateful for.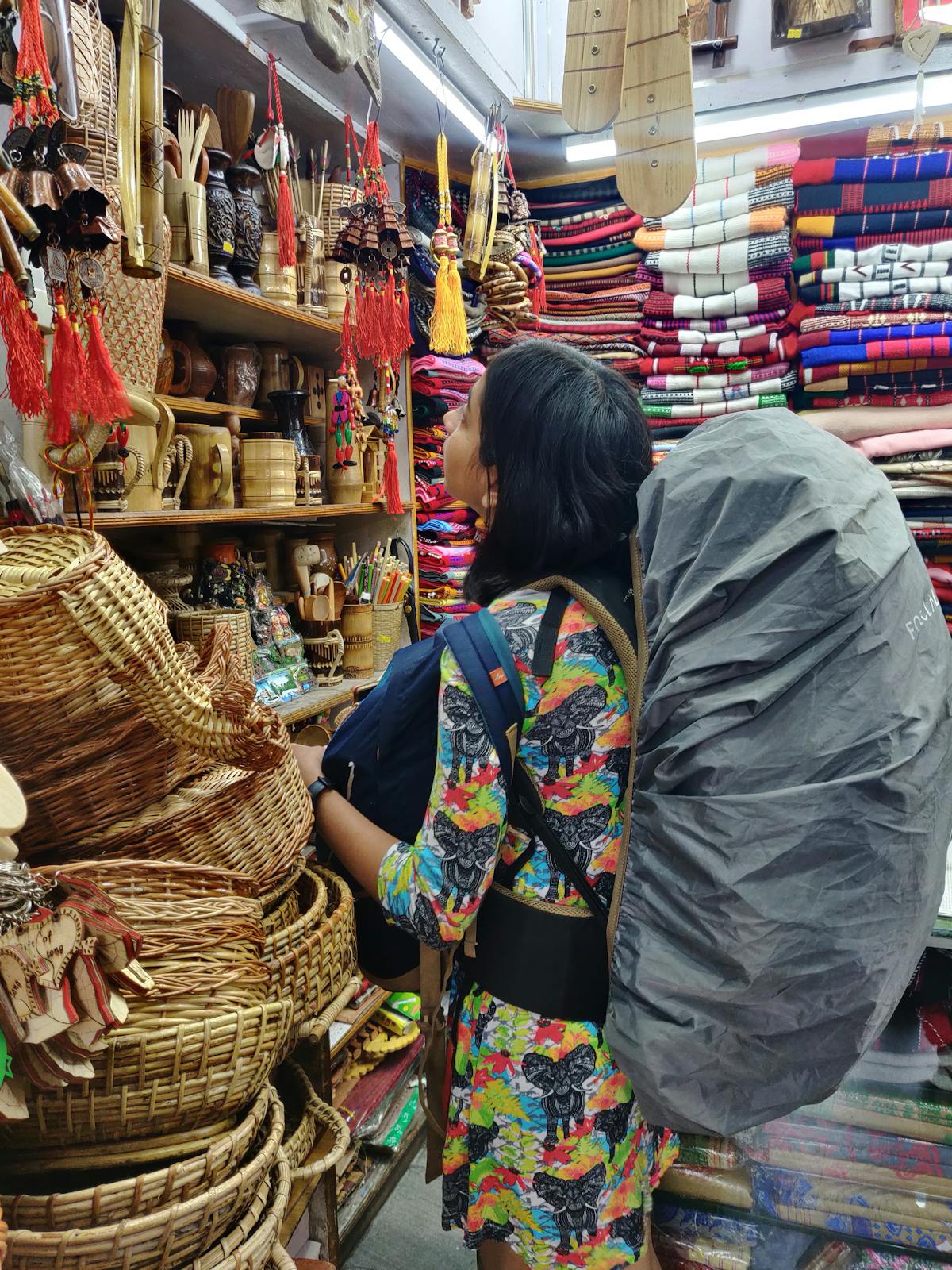 Glimpses from Shillong. Picture by Akshita Makhija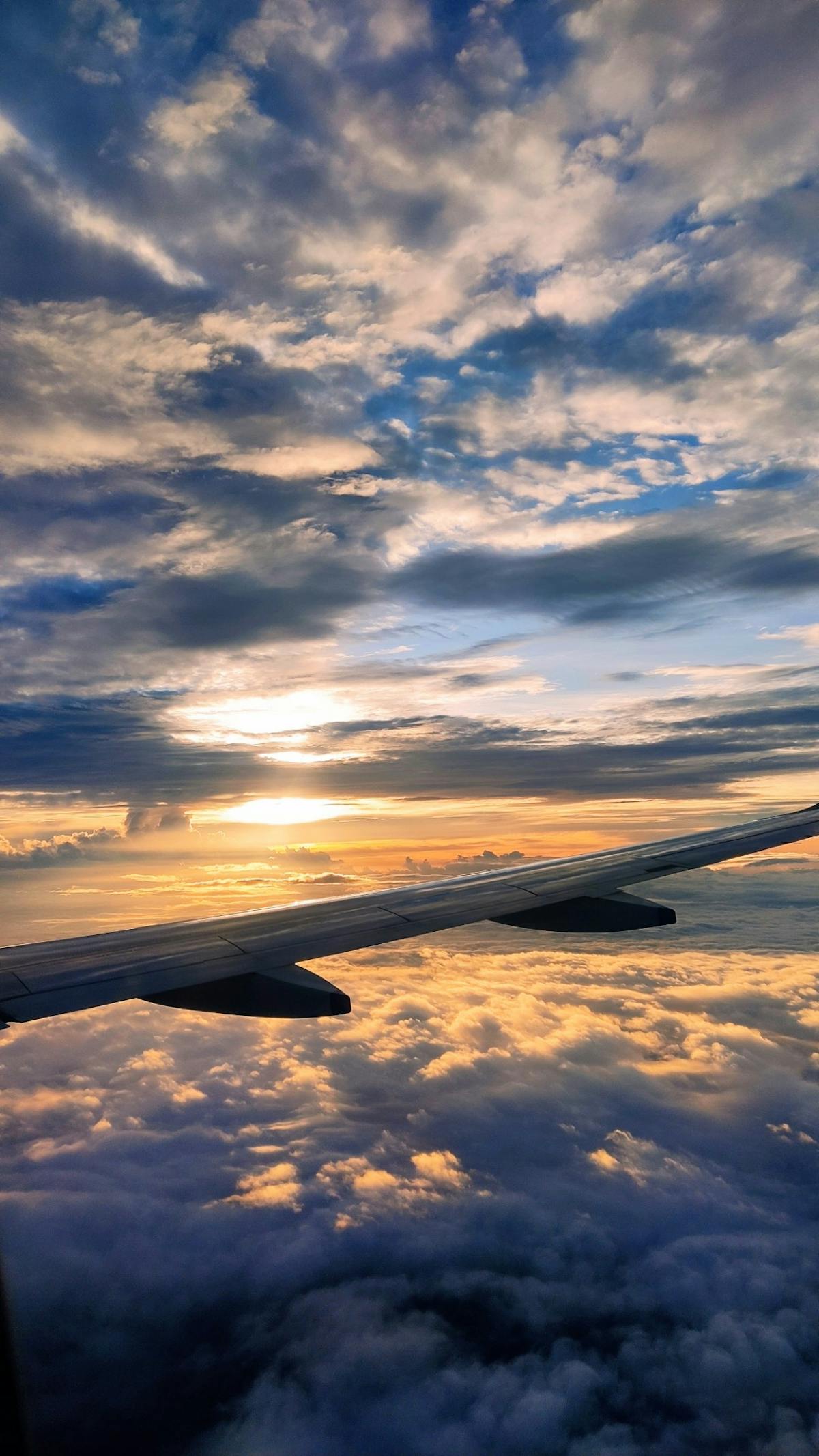 Ending the beautiful journey with a gorgeous sunset. Picture by Akshita Makhija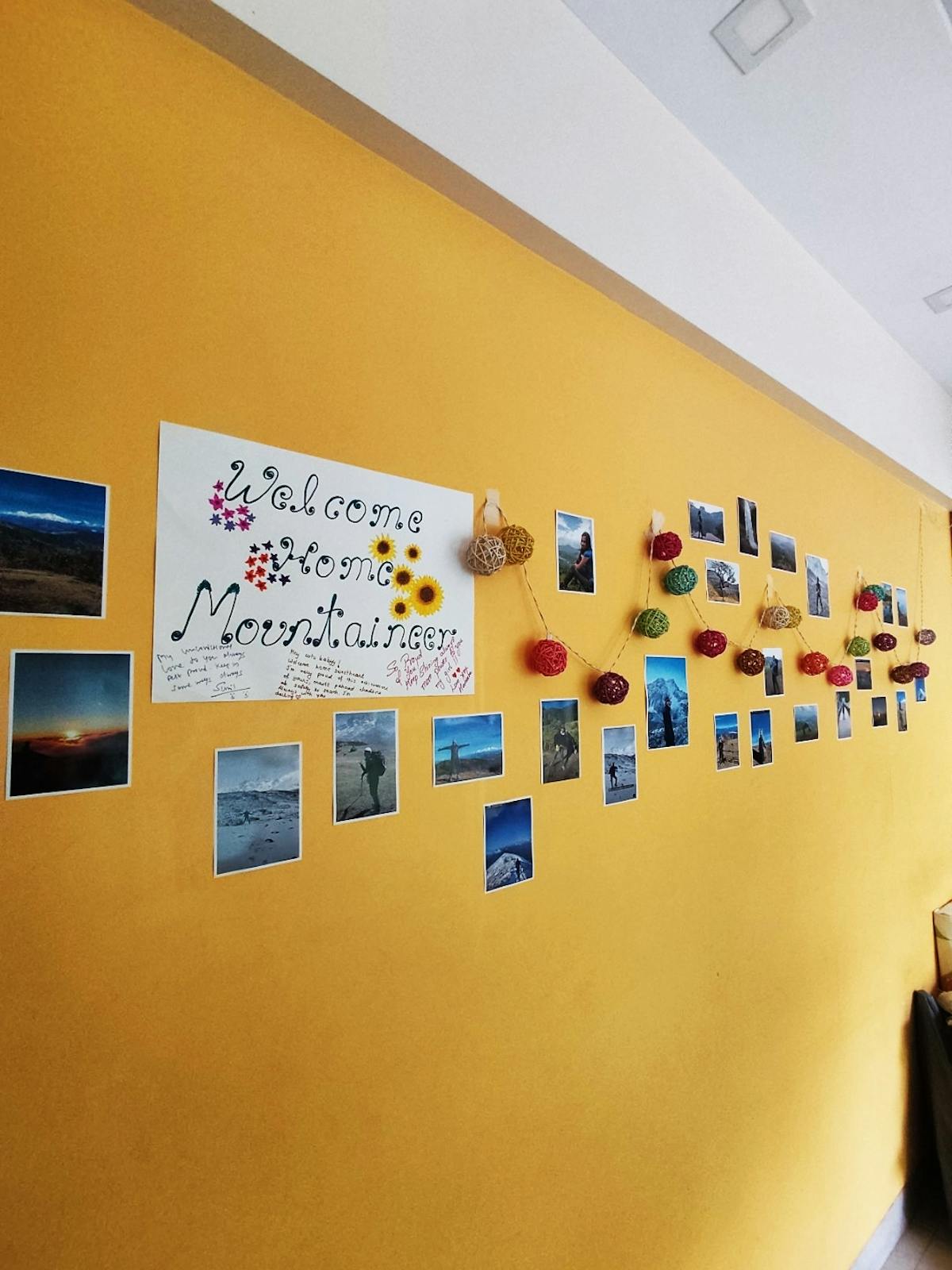 A warm welcome by my family back home. Picture by Akshita Makhija
This was such a roller coaster journey. From the insecurities, nervousness to the assurance and confidence. I will forever be grateful to everyone who enriched this experience. It was definitely the most rewarding one of my life. 
I now see myself as a changed person. Someone who is more confident in herself, someone who doesn't shy away from responsibilities and someone who is always ready for a challenge. I am proud of this new me and hope to take the learnings forward. I hope to achieve new heights and make all my dreams come true. I hope to inspire others and give that assurance. 
"When you really want something, all the universe conspires in helping you to achieve it." - Paulo Coelho                                                    
Sign up for our much loved Weekly Mailer
We have terrific trekking tips, trek updates and trek talks to look forward to