My Trek Experiences From A Decade Of Trekking - Benefits of Trekking o...
Share this story
Apart from being a Senior Director of Technology at at Scientific Games, Anantha Krishna Tirumalai has also been a trekker for many years. He believes and has experienced first hand how trekking can be a great example of experiential learning. In this article, he shares some of his most memorable trek moments and what he learnt from them. 
In this article, I'm putting down a few thoughts that have been provoked by conversations in the outdoors. I would want to caution you; this is not my Trek Diary but some of my reflections, accumulated over years of trekking.
I'm attempting to jot down what trekking as a sport has given me over the past years.  I'm doing so through a few anecdotes from my treks. I'll get to them right away.
1. Well-being
An occasional but repeated dose of happiness (with a sense of achievement) fights boredom and strongly promotes overall well-being.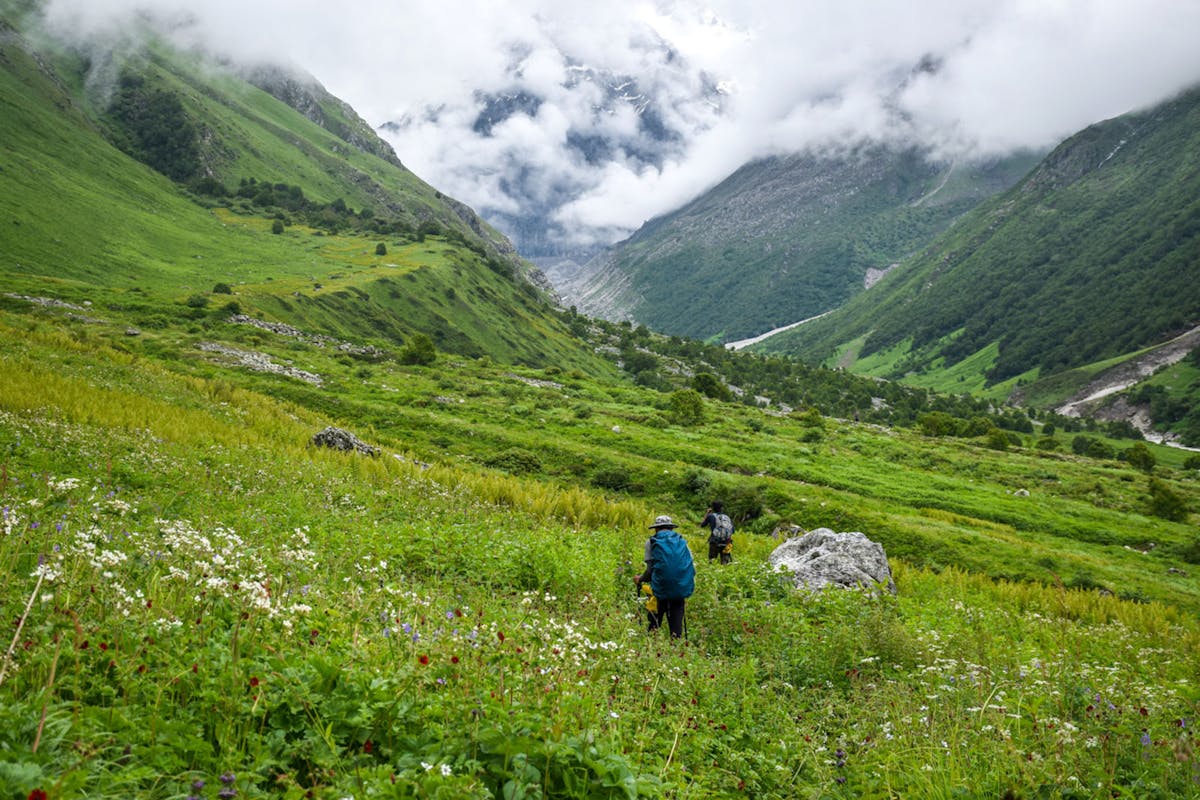 Trekkers trekking in the lush greenery of the valley of flowers. Picture by Nitesh Kumar
It all started in 2008 when we went out on a team outing on a trek to Tadiyandamol in Coorg, Karnataka.
There was something that we liked about the trek. It made us happy to the extent that some of us made the decision to trek regularly.
You can say it was inner peace. Or a better connect with the basic elements of nature (Air, Water, Earth, Fire). A sense of belonging to these elements in their most primal forms, which we are deprived of in urban life.
The trek brought us this happiness quotient that opened up a Pandora of things that could be worked upon – one of them being our physical capabilities and strength.  
2. Gratitude
A trek develops a sense of gratitude to things and people around.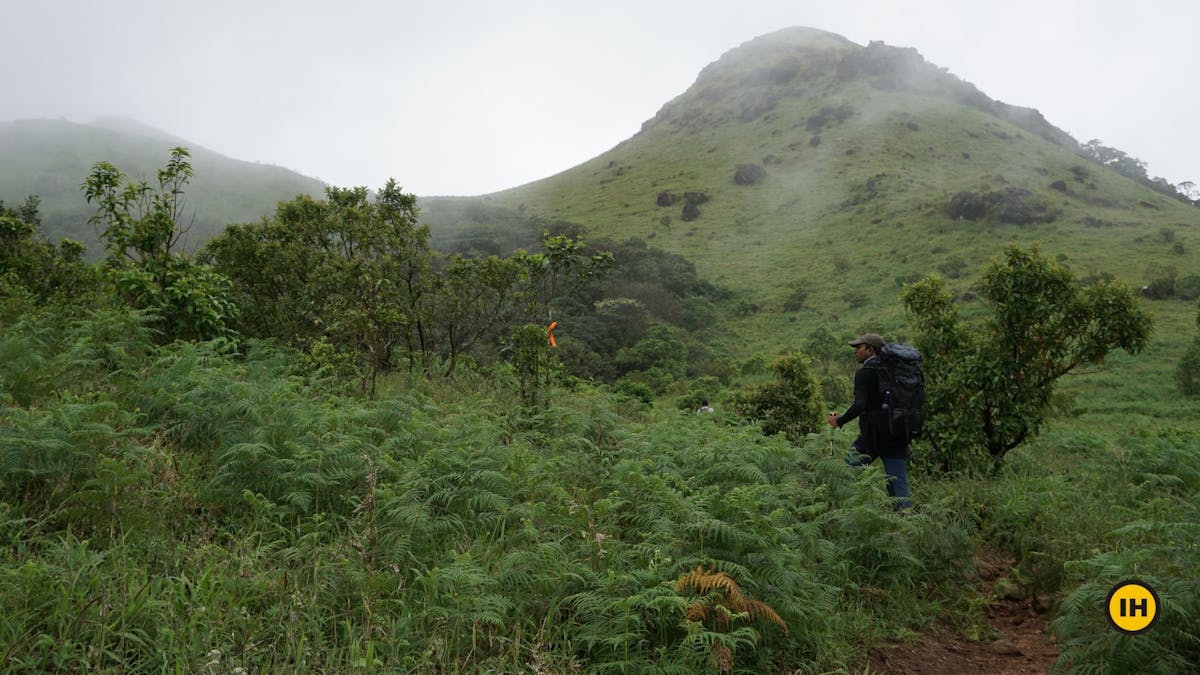 Trekking makes you ponder over how many people and things came together to make your success possible. You instantly feel thankful about it. Picture by Suhas Saya
A monsoon trek to Kumara Parvatha helped me realize "how many things" and "how many people" have contributed to our well-being.
It poured relentlessly during the 2 day trek. We walked in rain, rested in rain, ate in rain and slept in rain. Yes, all tents had water in them.
Consequently, the feeling of putting on warm clothes upon returning to the base village — we all felt truly blessed.
Mother Nature has mechanisms that are like warm clothes on a rainy day. Have a look at how favorable nature is towards us – the Sun provides us with heat, the catchment areas to collect water for us and so on.
Now, are we doing what we are supposed to do to co-exist in this equilibrium of nature? Do we even know what we are supposed to do? Are we at least allowing Mother nature to do the intended good to us?
3. Self-reflection
Feedback is good but a mirror where we can see it ourselves is the best. In turn, we can improve our capacity at the physical, mental and emotional level to achieve bigger things.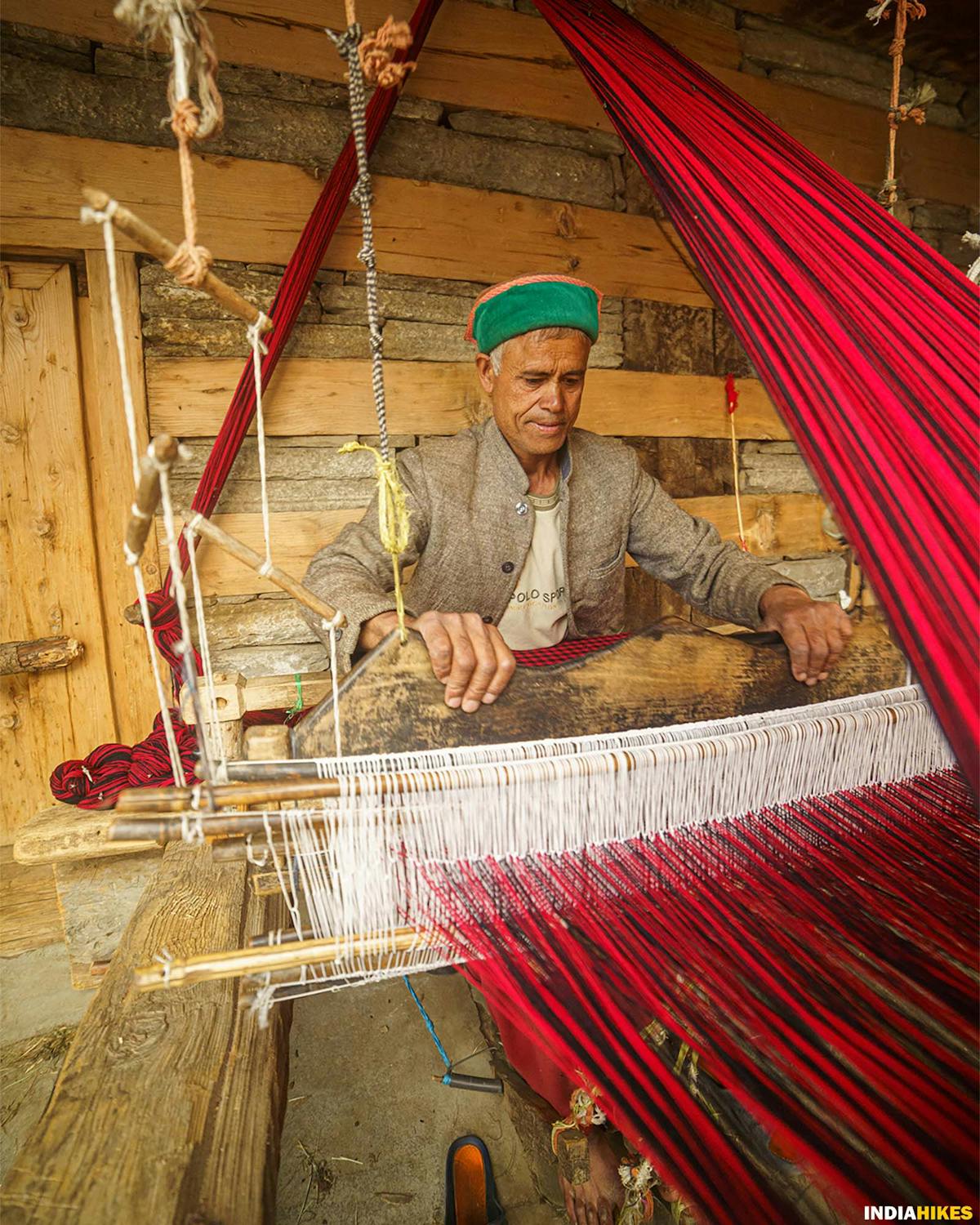 A villager in Jiskun, engrossed in his daily work with his loom. Picture Parikshit Madhukar
I was on the Rupin Pass trek in September 2012. Landslides had added extra ascents and descents to the trail. We stopped at a small house to rest. By then all our water bottles were empty. When the people at the house offered us water, we drank it up and filled our bottles as well. (They also gave us some freshly picked apples, much to our joy.)  
Nothing about the villagers giving us water is surprising.
But there's a story behind it.
Every drop of that water was brought up to this small house by going down-hill close to 1800 ft, all the way to the river. We had just come up that way, finishing all our water bottles on the way.
We knew what they would have to go down  to get more water for themselves. But did we have the heart to do such favors in a terrain like this?  
Treks, in many situations, have held a mirror in front of us and challenged us, "How good are you?" We are physically questioned, intellectually questioned and emotionally questioned.
A trek is a mirror that reveals our true capabilities. There are many situations where we feel good because we fare better than what we thought we would. Then, there are equal if not more number of situations where we need to get better. This is how personality development begins from deep within.
4.  Clarity
Trekking gives us time for reflection, which promotes clarity. Clarity significantly improves decision making abilities.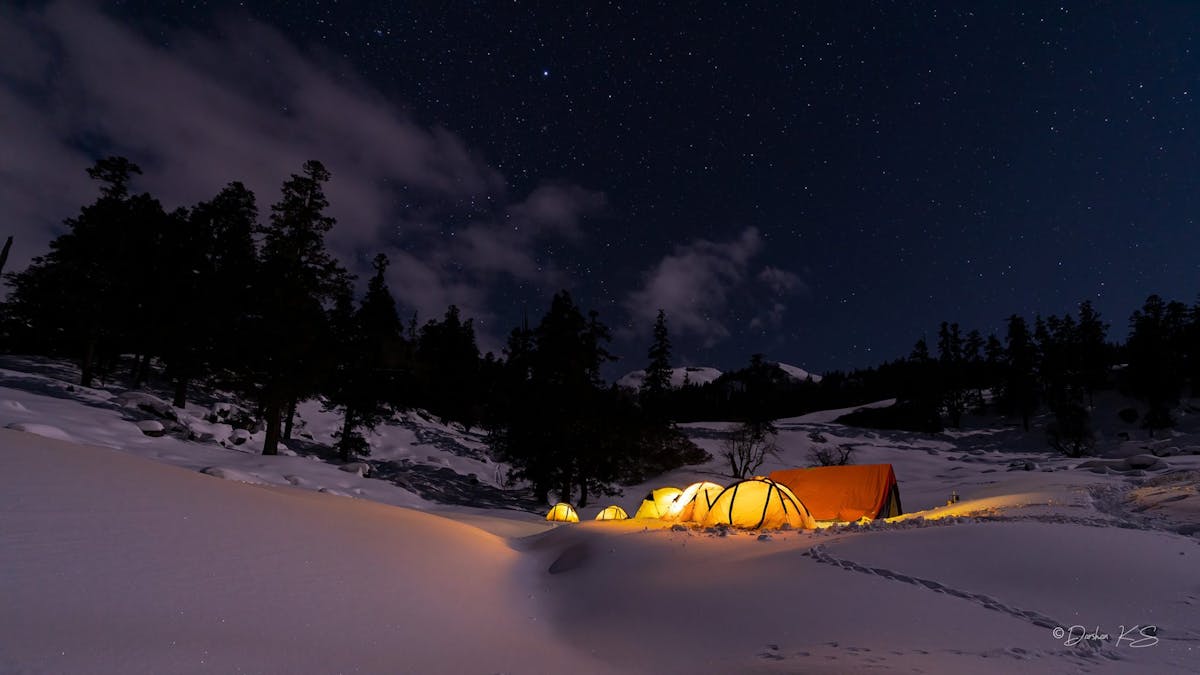 Camping under starlit sky in a snowy setting on the Kuari Pass trek. Picture by Darshan KS
Walking alone in mountains is a great experience. Trails cut between mountains and run by the riverside. I get this opportunity mostly in my Himalayan treks. There are miles and miles of mountains in front of us and miles behind us.
I feel minuscule among the mighty mountains. It is here I start wondering about the purpose of our existence. Have we found it yet? Do we even know that we need to find it? What are our primary and secondary duties in life? What are the factors derailing us from our duties?  These questions are not tricky ones.
Sometimes on a trek, we get answers that are extraordinarily impactful on our lives.
5. Happiness
Trekking helps you realize that true happiness is not a product of amassing things.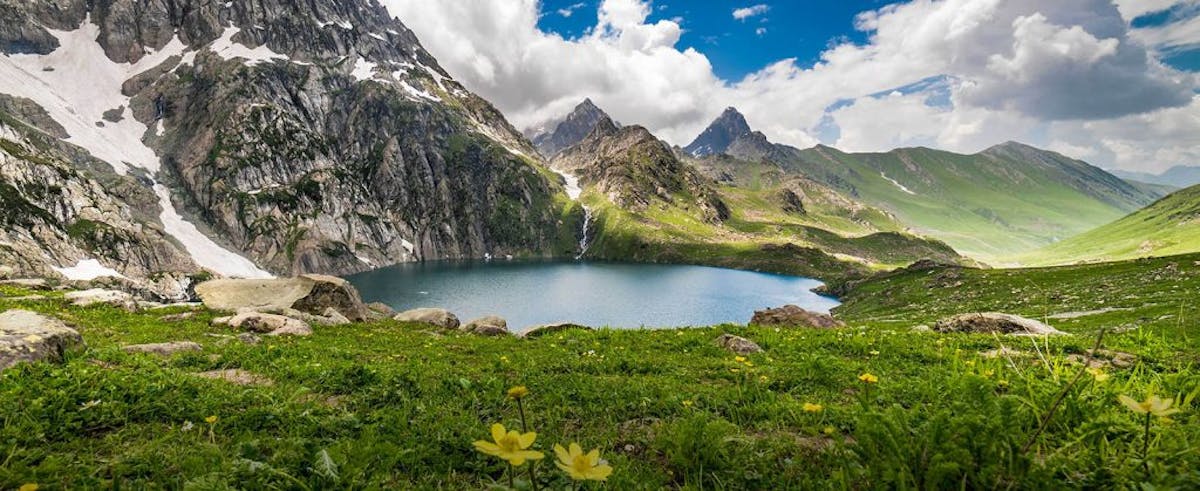 Rarely do you need the worldly luxuries that we have these days to be happy. Trekking teaches you that first hand. Photo by Rajarshi Manna
On the Kashmir Great Lakes trek in the June of 2014, we walked past some beautiful alpine lakes and mountain passes. In my opinion, they were the the best seven days I have ever spent.
Now let us look at it the other way. We were walking with a backpack, eating simple food and having "the best time"? How can someone be having the "best time" when they are deprived of basic necessities of a comfortable bed, car and sophisticated restrooms? What does happiness depend upon then? "What" and "how much of it" do we need to possess to be happy? How much mental baggage do we absolutely need?
What I have said afore is by no means a complete cover of my experiences, but it gives you an idea of my biggest learnings.  While some of my learnings are universal, learnings from a trek is also a subjective experience. What have you learnt from your treks?  
What you should do now
1. If you want to read more about how you can gain learnings from trekking: Head over to our Experiential Learning page. We have quite a few useful articles on how trekking can shape a person's overall development.
2. If you want to work with us: Head over to our careers page. We have lots of positions open. We also have lots of applications coming in. The sooner you apply, the better.
3. If you ended up here by chance and were actually looking for treks to do: Then head over to our upcoming treks page. You'll find all our Himalayan treks there.
Latest Videos
A Mother Speaks About Her 16yo Son's Transformation On The Trek
How an Indiahikes trek Transformed Me
The Indiahikes Origin story - Find Out Why Our Founders Started Indiahikes
How Trekking Transforms Families | Outdoor Learning with Indiahikes
Sign up for our much loved Weekly Mailer
We have terrific trekking tips, trek updates and trek talks to look forward to