Why Bhrigu Lake Is The Perfect Trek For Fit Beginners
Share this story
B hrigu Lake is one of those treks you wonder why you haven't heard about sooner. It is a trek that not only has some of the best views of meadows and the Himalayan range but is a perfect trail for beginners or first-time trekkers.
For the first-time Himalayan trekker, this gem of a monsoon trek may not immediately jump to mind. Kedarkantha and Deoriatal-Chandrashila seem to be cemented as the two most popular options for first-timers. But don't discount the Bhrigu Lake Trek for beginners so quickly.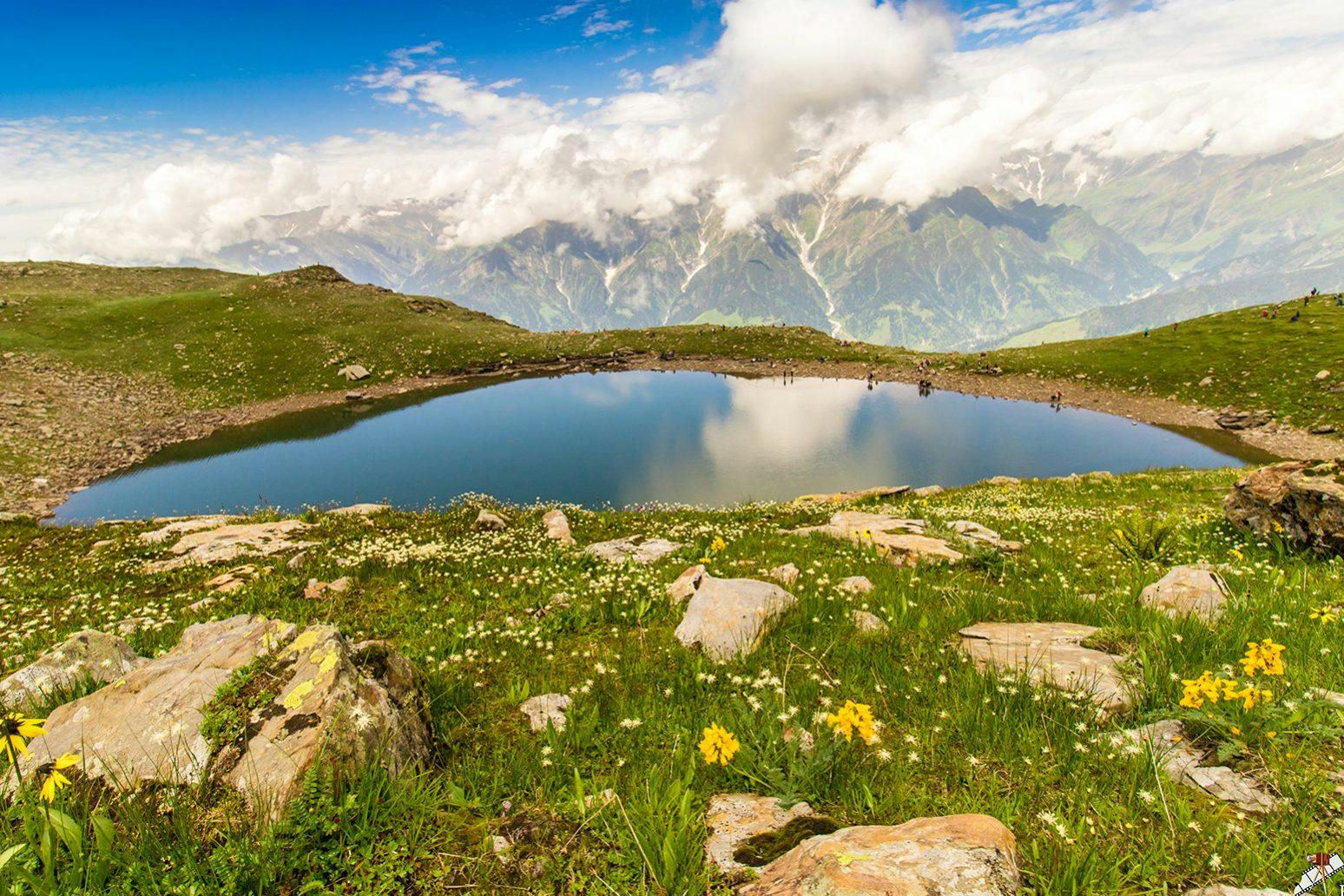 I'll put down why it's the perfect choice for your first Himalayan trek:
1. A short journey to the basecamp
If you're worried that you'll be tired before your trek even begins, then Bhrigu Lake is the trek for you.
On most Himalayan treks, you have to deal with long drives on winding roads to reach the basecamp.
Picture it: You've had over a day of travel by train, bus or flight. And then you drive another 8 or so hours to your basecamp! For most experienced trekkers, this is a fine (if not enjoyable) journey.
But first-timers are often glad to learn that you can get to Gulaba, the basecamp for Bhrigu Lake, in just an hour's drive from Manali.
Once you arrive, you immediately start your trek. After another hour and a half's walk, you'll get to your first campsite!
2. Short treks are best for first-timers
The Bhrigu Lake trek may climb to 14,000 ft and need your fitness levels to be above average, but it's only a 4-day trek.
You'll still learn about your capacity to deal with the cold. You'll learn what it's like to stay in tents, wash your utensils in the mountains, and answer nature's call in a cat hole. And you'll be back before you know it.
On the Bhrigu lake trek, you have only two full days of trekking, and 3 nights at a campsite.
Think of it this way. A limited dose ensures that
a) you're not biting off more than you can chew, and b) you're much better prepared when you go on a longer trek next time.
3. Climbing to high altitude
It's not often on such a short trek that you get to climb from 10,000 ft to a lake at 14,000 ft. So it's not an easy climb.
But it's incredibly rewarding to trek in the landscapes that such high altitudes offer. You'll see the snow-capped peaks of famous mountains like Hanuman Tibba and Ladakhi in the background as you walk on high altitude meadows.
And of course, you'll see the beautiful alpine Bhrigu Lake. Generally, trekkers have to trek for hours, if not days to be able to trek through meadows and grasslands, see some of the highest mountains in the region and finally reach an alpine lake. However, the Bhrigu Lake trek offers all of the above in just 4 days. This is why highly recommended the Bhrigu Lake Trek for beginners.
4. The two-fold benefits of high altitude meadows
You shouldn't take the meadows on the Bhrigu Lake trek for granted. Usually, trekkers must wait days after beginning their trek to be able to see vast meadows at high altitudes. But you'll see the meadows at Bhrigu Lake just 10 minutes into the start of your trek. There are meadows for days.
And on a more practical note, the grassy meadows make the trek very easy on your knees. Even during the steep descents, the grass reduces the impact on your knees, making this an easy trek.
5. Trekking in the monsoon
Many trekkers have a fear of trekking in the rainy season. "What if I get wet?" Well, spoiler alert: you probably will.
But you'll see the meadows at their lushest green in the months of July to September. You'll spot wildflowers everywhere. The Bhrigu Lake will be a captivating blue cauldron across a ridge in the mountains.
And yes, it might rain on one day out of four. But your first trek will teach you to embrace all kinds of weather in the Himalayas.
So there you have it – 5 reasons why the Bhrigu Lake Trek is an ideal trek for beginners!
If you have done this trek, tell us why you think it should or shouldn't be a first-timer's go-to choice in the comments section below.
What you should do now
1. If you want to read about or register for the Bhrigu Lake trek: Go here.
2. If you want to work with us: Head over to our careers page. We have lots of positions open. So the sooner you apply, the better.
3. If you ended up here by chance and were actually looking for treks to do: Then head over to our upcoming treks page. You'll find all our Himalayan treks there.
4. If you want to see the 29 best treks of India: Then click here to know more.
Sign up for our much loved Weekly Mailer
We have terrific trekking tips, trek updates and trek talks to look forward to