Do Brahmatal, For The Love Of Roopkund
Share this story
Let me be frank here. When it comes to popularity, Brahmatal has always been a distant cousin of Roopkund. It has never been a "must-do trek" on most people's lists. Even amongst winter treks, it is only seen as an alternative when the popular Kedarkantha or Kuari Pass treks get booked.
For many years, even I fell prey to this thought. And I finally trekked Brahmatal 4 years after us launching it.
And only after doing the full trek did I realise how underrated this trek is.
Watch Sandhya's message from the Brahmatal summit
I now say that Brahmatal is one of the finest treks I have done. Everyday of the trek is unique and you see sights that stay with you forever.
Let me give you a few highlights that blew me away on the trek.
Lovely Rhododendron and Oak forests
Just like the Roopkund trek, Brahmatal also has a mesmerising forest walk. The oak trees of Wan are amongst the oldest oaks of our country. Many centuries old. You can relive similar oak forests on the first day and second day of the Brahmatal trek.
However, on the Brahmatal trek, you have a bonus — Dedicated sections of Rhododendrons! Just out of Bekaltal, you get a clearly demarcated section of Rhododendron forests.
The Rhodo forests are a treat to the eyes. The trunks twist and turn in shapes and forms. The trunks are usually bare and smooth wooded. The trees are not too tall and form a nice canopy at the top. They are close enough to form a perfect green roof over your head. This is what you see throughout the year.  
If you come here during March and April, you get a pink flowery roof. If you come here during winters, you get a white snowy carpet!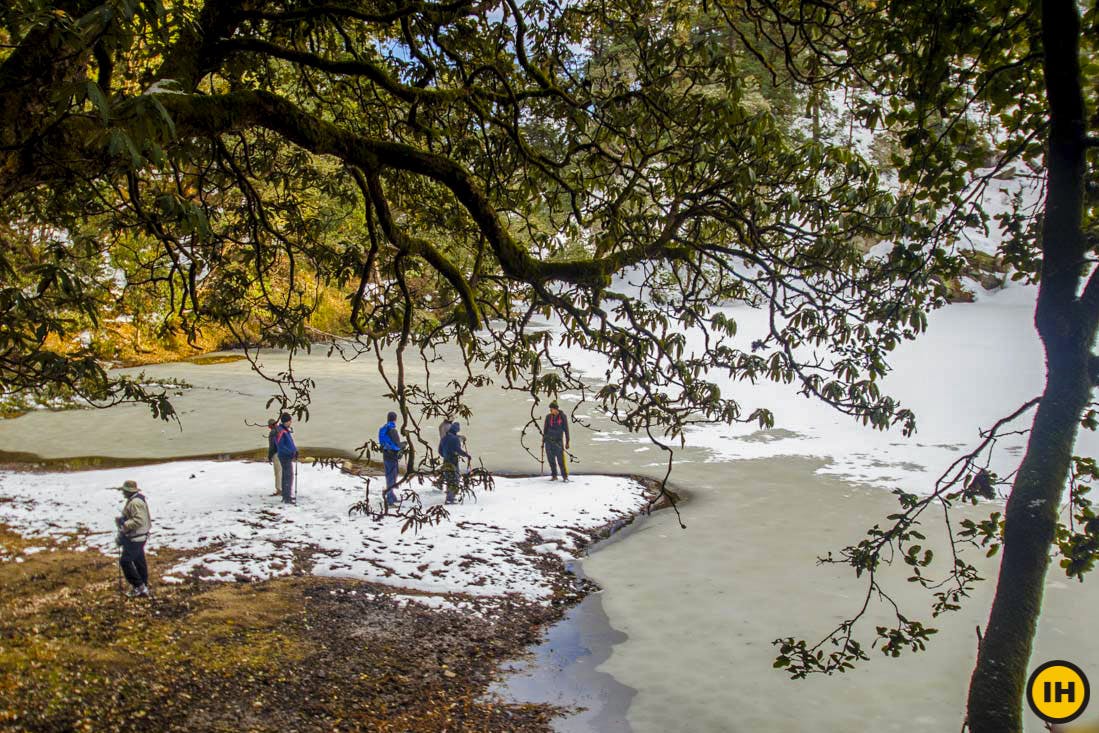 Up-close views of Mt Trishul and Mt Nanda Ghunti
Some of our top treks are favourites because of the mountain views they offer.
Dronagiri and Nanda Devi from Kuari pass, Chaukhambha from Deoriatal Chandrashila, Bandarpoonch from Dayara Bugyal would be some top names that come when someone talks about great mountain views.
What if I tell you that Brahmatal can beat all of these?
On the second day of the trek, you climb out of a beautiful rhododendron and oak forest. Just when you are curious and impatient to see what lies outside the tree line, you see a wall of white mountains in front of you. You have climbed all the way up to the ridge (which runs parallel to Ali Bugyal of the Roopkund trek) and you see grand view of the Trishul range. And let me tell you, this is only the beginning. These views come closer as you traverse the ridge towards Jhandi Top.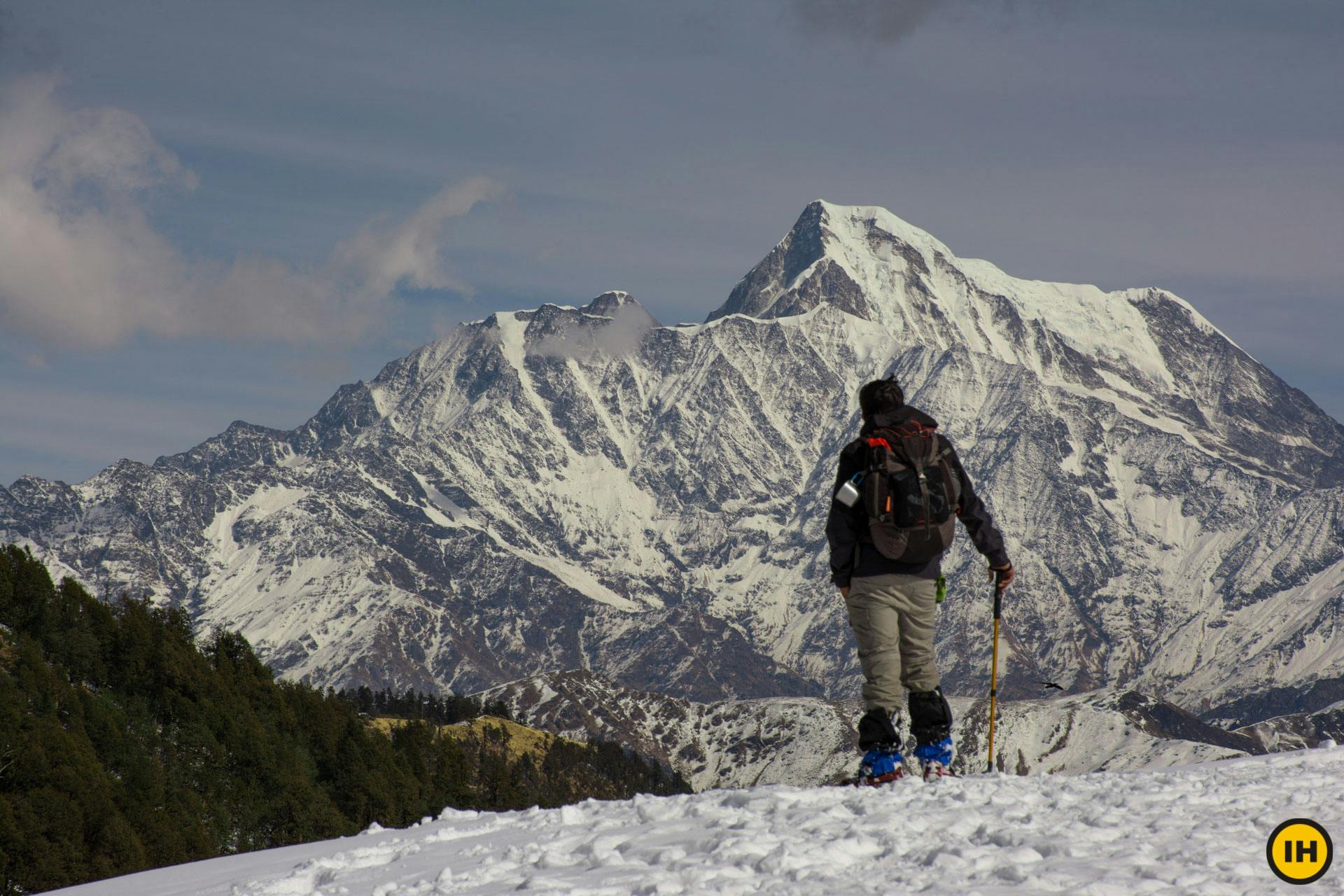 Kaluvinayak re-lived
At Jhandi top, you are almost at the centre of the mountain views. To your right rises the massive Mt Trishul, and to your left stands Mt Nanda Ghunti. This view is a magnified version of the view you get at Kalu Vinayak on the Roopkund trail.
The reason for the magnification is that here you have the right height and distance to see the whole panorama. Ronti Saddle, the ridge that connects Mt Trishul and Mt Nanda Ghunti, (a challenging trek by itself) is clearly visible. Every fold of the mountains in front of you is seen. In fact you can see the flank of the mountain where the Roopkund crater lies.
Standing here, it is very easy to get transported to your Roopkund summit day if you have done the trek. I saw myself tracing the summit route from Bhagwabasa to Roopkund. The slippery trail at Chinarnaag, the steep C-section climb and the final bump over which Roopkund lies. It all came rushing back!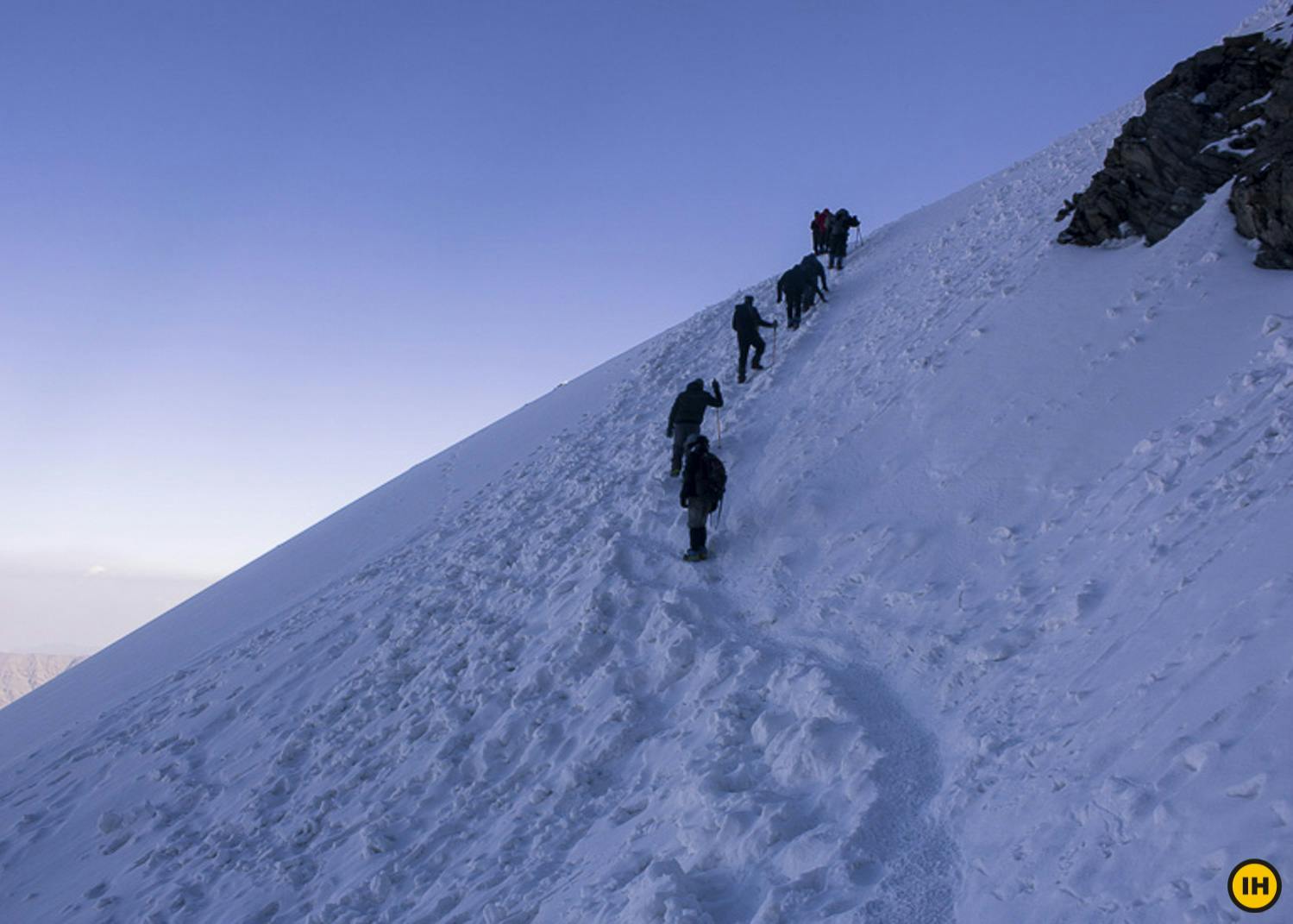 The vast expanse on the trek
One aspect where the Brahmatal trek feels delightfully different from Roopkund is the sense of expanse that you feel on the trek. When on Roopkund, you are largely isolated in the "Roopkund world." You don't see very long distances.
When on Ali Bugyal or Bedni Bugyal you see the ridges of Brahmatal on the left and the ridges of Ali, Bedni, Trishul range to your right. But when on the Brahmatal ridge, you see miles to your left and miles to your right. To your left are layers and layers of mountain ranges. To your right you see the full Roopkund trek spread out like real life Google Earth. You feel like you are on a stage with a stupendous view!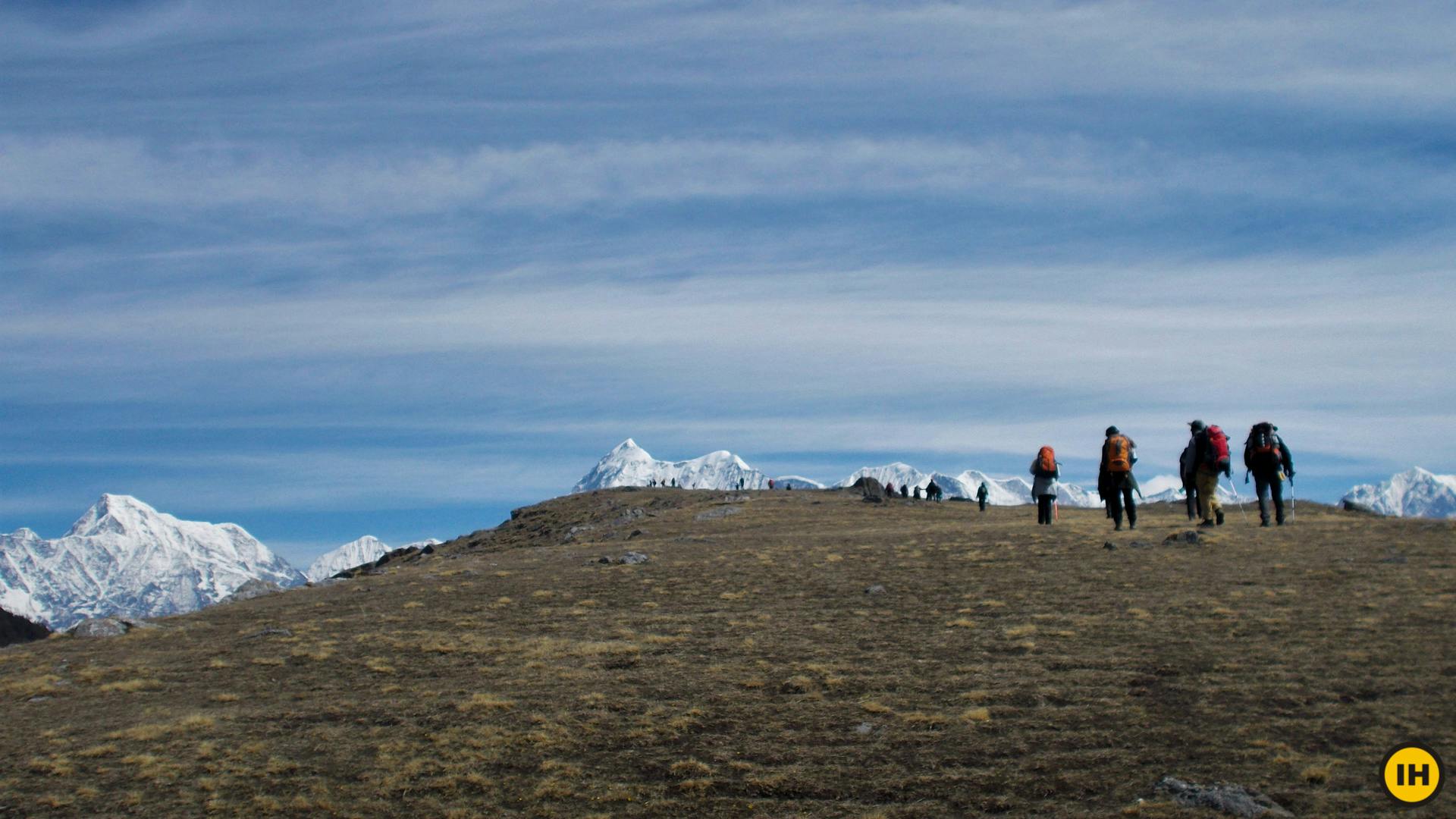 The view from the top
The high point of Brahmatal trek, Brahmatal Top, is approached from the side that is exposed to Mt Trishul and Mt Nanda Ghunti. The trail clings on and weaves in and out of the mountain side here. The trail heads further to Wan if you follow it.
When you leave the main trail and climb up to the high point, a new set of high mountains open themselves up to you. This is the side that you get to see from Bhagwabasa. They are closer from here. You see Mt Chaukhamba, Mt Neelkanth, Mt Hathi Ghoda amongst the prominent peaks. To your right, the mighty Trishul and Nanda Ghunti are always there.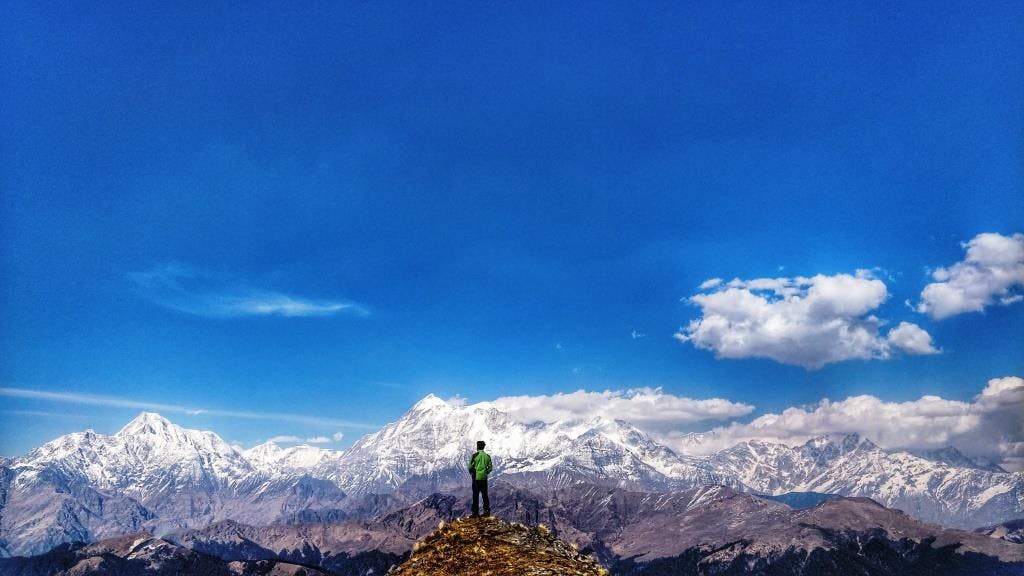 The Brahmatal trek is a grand one. With its lovely forests, two alpine lakes, long meadows and outstanding mountain views it can go in as one of the finest treks in our country. Though it looms largely in the shadows of Roopkund, I would say that it is a must do for everyone who has loved Roopkund.
Apart from everything else, it takes you back to every turn, every view of Roopkund. You see the trek fully. Starting at Wan, the big cypress trees of Latu Devta mandir, Ran Ka Dhar, Gheroli Patal, Bedni Bugyal, Ali Bugyal, Kalu Vinayak, Bhagwabasa, finally Roopkund and even beyond. I loved Brahmatal on its own. But for me it was a true homage to Roopkund. I went on the Brahmatal trek but on that journey I did the Roopkund trek with my eyes and heart at least a hundred times!
If you have done the Brahmatal Trek, please do drop in a comment about your experience. In case you have any questions, queries or thoughts, feel free to drop in a comment below and someone from Indiahikes will be in touch shortly!
What you should do next
1. If you'd like to know more about the Brahmatal trek, head to our trek page here.
2. To read more expert opinions about treks and trails, click here.
3. If you ended up here by chance and were actually looking for treks to do, then head to our upcoming treks page.
4. To download a free guide of the 29 Best Treks in 2020, click here.
Sign up for our much loved Weekly Mailer
We have terrific trekking tips, trek updates and trek talks to look forward to