Chainsheel Batches Open For September & October
Share this story
Chainsheel Batches Open For September & October
Category News
By Karishma Jayapaul
2017-08-04
We've opened up batches in September and October for the Trek of the Year. The Chainsheel trek has been one of the most celebrated and widely anticipated treks this year. We have collaborated with the Uttarakhand Tourism exclusively to run this trek.
Ishani Mehta, a trekker who completed the Chainsheel trek in the June 2017 batch says, "The Chainsheel trek from Uttarakhand is a hidden gem that needs to be high on anyone's list. The trek has enough challenging sections to excite and is yet achievable with the right mindset and preparation. Reaching Saru Tal is a magical experience and the meadows with flowers of all colours can cure even the sick."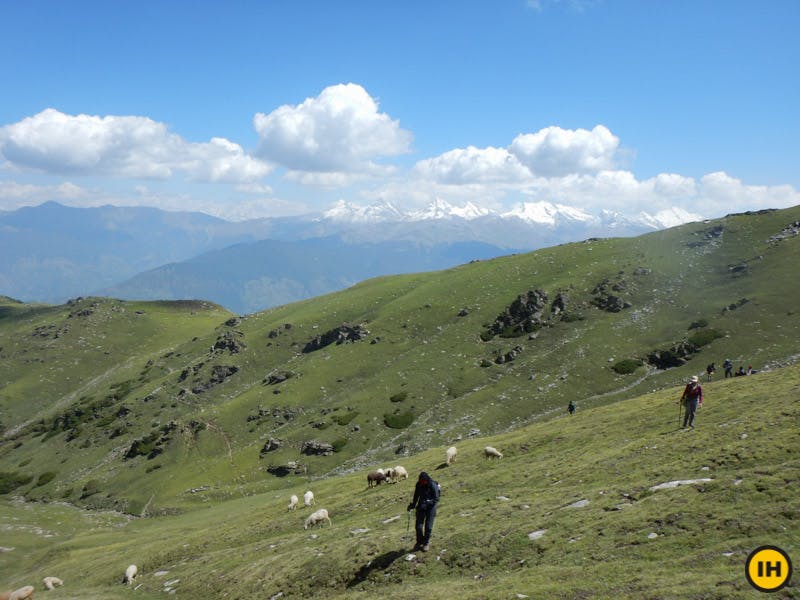 It is truly a trek that you must first experience to be able to talk about.
Here are the dates. 
Updates on Currently running treks
There was a landslide at Govindghat today. This blocked half of the road which caused traffic. But our trekkers have reached their lodges safely. For those of you looking forward to visiting Badrinath please get prior information regarding the routes. If a landslide occurs, chances are that the path will be blocked.
The Valley of Flowers is not the only place being hit with landslide. There was a landslide near Chatru in Himachal as well. Our Hampta Pass trekkers are safe though. Although one batch went to Chandrataal while the other got stuck in traffic.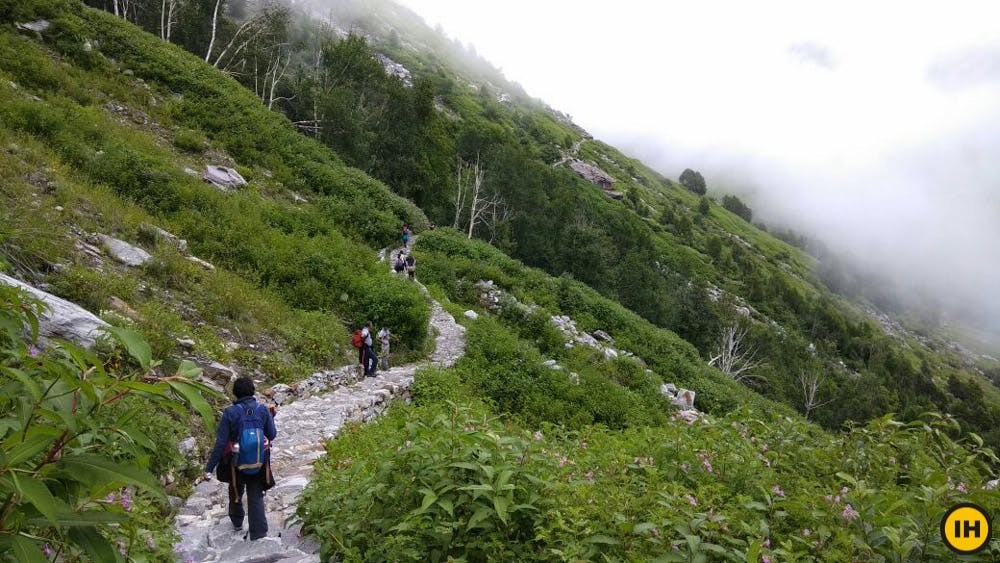 Trek Tip for VOF trekkers
For first time trekkers to Valley of Flowers, Trek Leader Imroz gives some valuable advice. "I strongly recommend trekkers to carry knee caps. This will help reduce the strain on their knees while climbing up and down the steep trail," he says. It reduces the impact on your knees especially while descending.
A rare challenge a trekker brought upon himself
While it did rain cats and dogs for almost four days of the Hampta Pass trek, it couldn't hold down the spirit of trekking. We had one of our trekker's carry an 8 kg dumbell in his backpack throughout the trek. Thats right, an 8 kg DUMBELL! He wanted to challenge himself on the trek. Our trek leader Himanshu was astonished and pleasantly surprised that the trekker was so fit.
The weather remained closed and foggy as it rained all the way till the pass. Once they crossed Shea Goru they were shining bright under the sun. "The Kullu valley is full of greenery which is more likely to get rain. So once you cross the pass and reach the Lahaul side of the Valley you get a much clearer weather," says Himanshu.
The Bhrigu Lake trek is still struggling with the weather. Since rain and fog go hand in hand, you are likely to miss out on clear mountain views.
But Trek Leader Mahi says you get everything you need on a monsoon trek on the Bhrigu Lake trek. One must come accepting rainfall on a monsoon trek. The freshness of rain makes a trek come alive!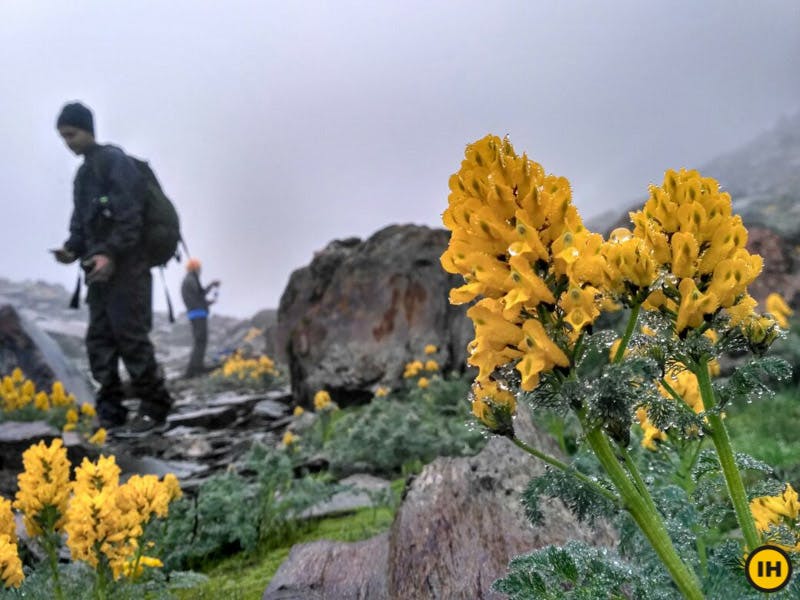 As expected from last week's updates, the Nag Tibba trek had good amount of rainfall. While it did remain foggy for most part of the trek the trekkers also enjoyed the beautiful sunset at Nag Tibba. Trek Leader Shravan says, "Even though we couldn't see much of sunlight blocked by the thick fog, it was refreshing."
Speaking of weekend treks, Prashar Lake is another wonderful weekend getaway trek that goes up to 8,900 ft. Since most of the trail has been paved with roads we have found a trail that goes through the forest and gives you the experience of trekking.
Trek Leader Ankur advices trekkers to carry their trek poles since it helps remove weight off both your legs and acts as a third leg. He also urges trekkers to wear hiking shoes on treks. Since the rains make the rocks slippery, regular action shoes are not going to be of much help.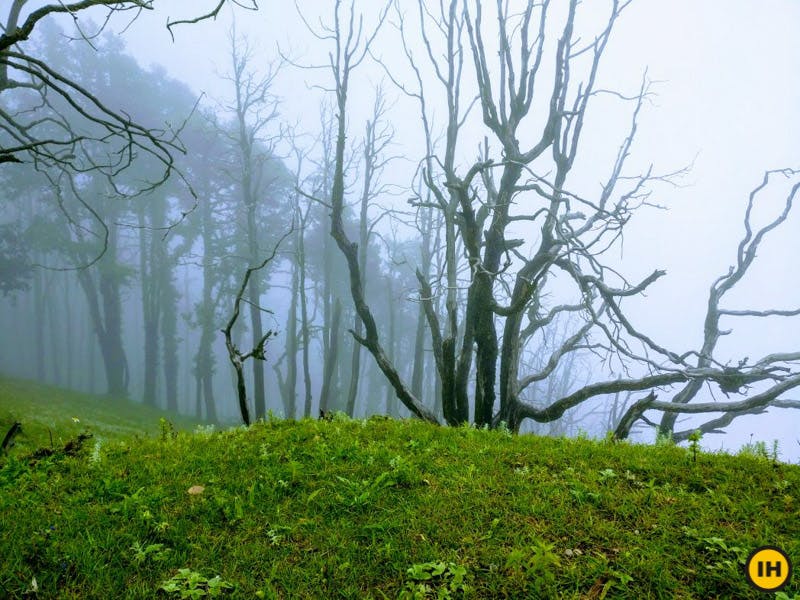 Kanamo – "This was one of the toughest climbs for me as a Trek Leader"  
There is no doubt about how difficult the  Kanamo trek is. Since we trek straight from the basecamp to the advance basecamp gaining approximately 4,000 ft, the high altitude rise becomes a challenge. Our Trek Leader Karthik visited us in Bangalore yesterday and told us that this was his most exhausting trek.
"The whole trek is very relaxing – because you spend nearly four days simply acclimatising. But that one summit attempt will tire the living daylight out of you!" said Karthik.
Trek Leader Ankit seconds Karthik. He just led the latest batch. He says "The last section of the trek before reaching the summit was the most difficult section according to me. The path is filled with scree which means you are constantly slipping down the path. Climbing on this trail at 19,000 ft is the actual struggle."
The weather during the trek was fairly cloudy. But post the summit day the visibility decreased. While there was no rain on the trail, it remained foggy throughout the trek. All in all the trek was quite a climb!
Pin Bhabha doesn't fail to surprise us
When it comes to difficult treks, Pin Bhaba is not far behind. It requires high level of fitness as your trek up and down two completely different mountain valleys.
Our local staff from Pin Bhaba has sent us pictures from the Khara campsite and it has made us all just go "Wow!". Our founder Arjun says the Pin Bhaba trek can be easily confused for a trek in Kashmir. I have to agree!

The trekkers will be coming back to Manali tomorrow.
Trekkers have enjoyed good weather on the Kashmir Great Lakes trek. They got clear views of the stunning emerald green Vishnusar and Kishensar lakes. Did you know that the water from Kishensar feeds the Vishnusar lake?  
With Kashmir coming back to a state of normalcy, the treks have also been coming back on time. They leave Gangbal early morning to reach back to Srinagar on time.
Biodigester testing in Bangalore office
While we are most passionate about trekking we also share a passion to keep the mountains green. We realised that a lot of human waste is being produced on the mountains. The pits are getting full quickly and we are running out of space.
Our Green Trails intern Madhuri spent the last few days making a biodigester using an empty water can, few plastic tubes, PVC pipes and valves. This biodigester will be tested out solely to decompose feces.
The feces decomposes faster in a biodigester because of anaerobic respiration. It usually takes about 3 – 4 weeks. Once the feces decomposes methane gas is produced. This gas can be used as fuel for cooking food. The leftover slurry can be used as manure.
That is all for the updates from this week. You can write to me at karishma@indiahikes.in for any queries, comments or suggestions that you might have.
Until next week, adios!
Sign up for our much loved Weekly Mailer
We have terrific trekking tips, trek updates and trek talks to look forward to