Why We Change Trekking Routes From Time To Time
Share this story
R ecently, a trekker called to ask me about the Kedarkantha trek.
He asked if we take the trail through Juda Ka Talab and Hargaon. If you're not acquainted with it, this was the trail Indiahikes set up in 2011. It was a gorgeous trek — the kind that could make you weak in the knees. Over the years it grew to have its own legacy.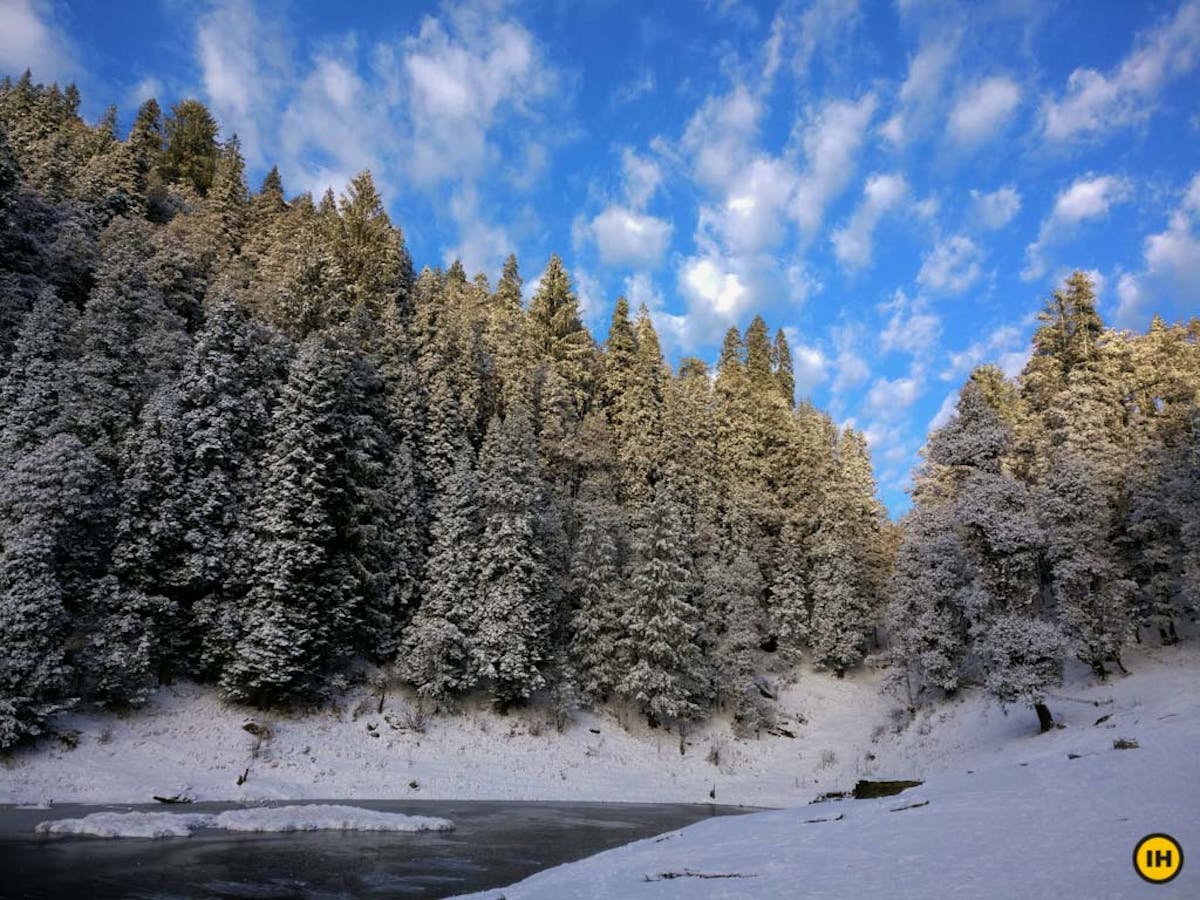 The once sceninc Juda Ka Talab campsite on the Kedarkantha trek. PC: Sudarshan
So imagine his surprise when I told him we don't go on that route any more!
We now start the trek from another basecamp, Gaichwan Gaon, and take a totally different approach to the summit!
We explored this new trail last year because the old trail was getting enormously crowded. There was no space to camp and there was a queue to climb to the summit!
In fact, during our non-winter months, we have also explored a route from Kotgaon. Read more about the different trails to the Kedarkantha summit and what are the best routes for Kedarkantha here.
But setting up this new trail was not easy. Not only did we have to find a less-crowded trail, but we needed a trail that lived up to Kedarkantha's beauty! It took us more than a year with many explorations before we settled on this new route.
Today, Indiahikes trekkers have a fresh trail all to themselves. This Kedarkantha trail is prettier than the old one. It has delightful clearings in forests, those lovely signature pine trees and an exceptional summit climb. And above all, not another person in sight for miles!
Why we change routes:
Just like this, we have changed many trekking routes — some times to stray away from crowds, some times to make it more convenient for trekkers and most often, to enhance a trekker's experience.  
And you'll be surprised at how we move mountains to better a trekker's experience.
For instance, did you know that we changed the route to Roopkund twice? First, when we set up the currently popular route through Didna. Next, when we discovered that this route had become overly crowded and trekkers were not seeing the best of Ali Bugyal.
The thing is, it's very important to get to Ali Bugyal before 10 am. That's when you see big mountains sprouting out of the lush meadows! If you go at any time beyond that, clouds cover up the big mountains and you lose out on a spectacular sight.
But getting trekkers to experience this was not easy. This meant they would have to reach Ali Bugyal early in the morning. On our old route, they would leave Didna and reach Ali Bugyal only by 12.30 pm, when the mountains would all be covered in afternoon clouds.
So we re-thought the entire trek. We changed the starting point of our trek to Wan instead of Didna, a route that was seldom used to go uphill. We set up the Ghaeroli Patal campsite, where nobody else camped. We introduced a glorious new forest walk from Ghaeroli to Ali Bugyal.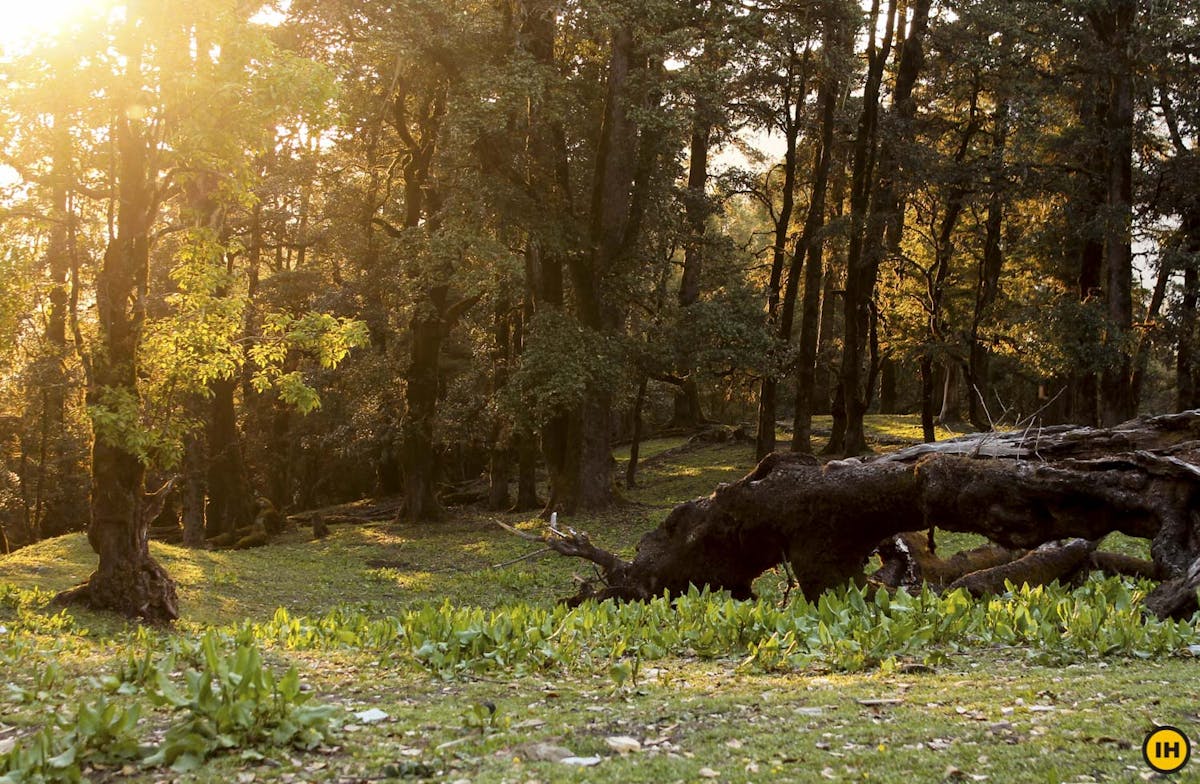 Evening light in the forests of Ghaeroli Patal. Picture by Arvind Kumar
We ensured trekkers reached Ali Bugyal by 9 am and had their moment with the big mountains.
It took us months to put this in place. But I've seen trekkers break down at that view from up there.  
Just for that moment, all the logistical implications are worth it.
More recently, we changed the route to Dayara Bugyal.
Earlier we used to trek from Barsu and return to Barsu on the same trail. Our founders explored this new trail to Dayara starting from Raithal and observed that this route added so much to a trekker's experience.
The forests were thicker and hardly trodden upon, the views of Mt Bandarpoonch were much grander. Plus trekkers didn't go up and down the same route. They got a lot more variety in the same four days.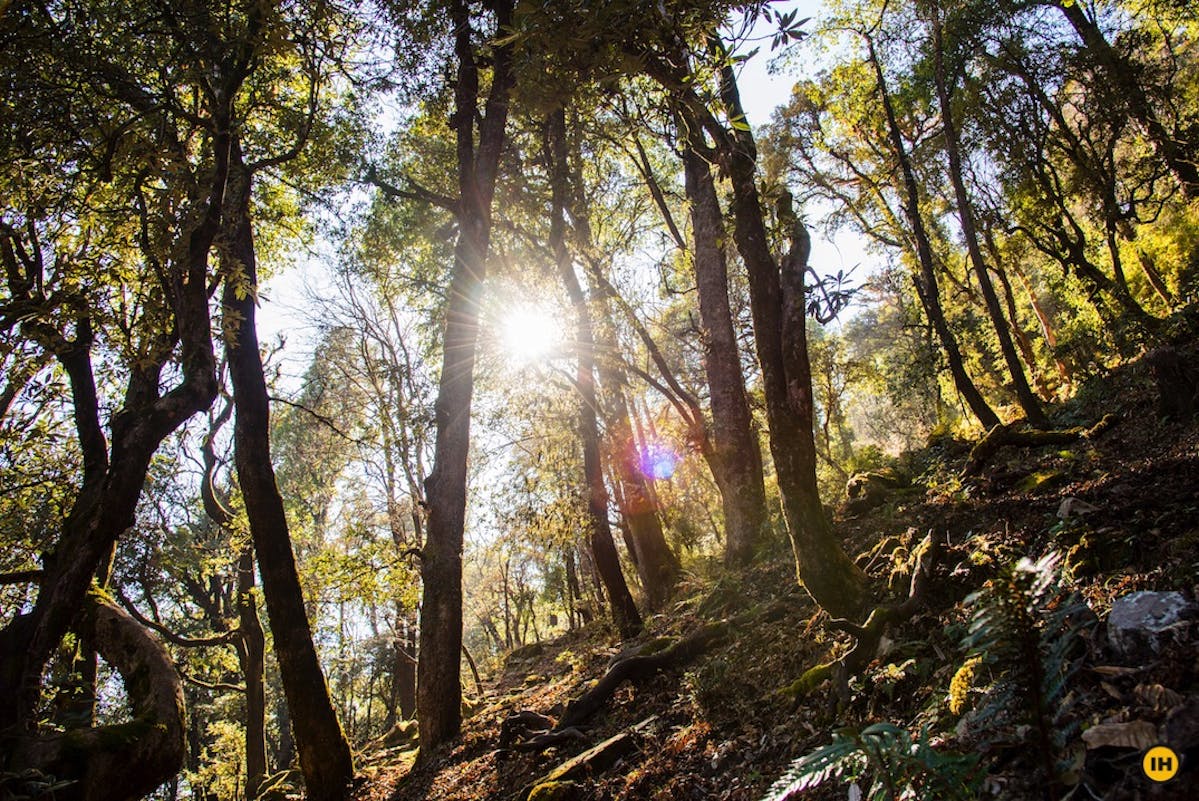 The play of light between the trees in the forests towards Gui from Raithal. Picture by: Sudheer Hegde.
Because we are trekkers ourselves, we instinctively veer towards what's best for a trekker's experience.
On the other hand, if we're not changing trekking routes, we're bringing in new routes. The Tarsar Marsar trek in Kashmir is a great example of this.
Just like this, Indiahikes has been responsible for setting up most of India's trekking trails and bringing them to the fore. That's the legacy we leave behind.
At the same time, we're eager to rewrite that legacy whenever we can, by forging a new route for a good old trek — just so all of us trekkers see every trek at its best!
What you should do now
1. If you liked this post and want to read more such posts, go to this page – You'll find many such Expert Opinions here.
2. If you're looking for treks to do: Then head over to our upcoming treks page. You'll find all our Himalayan treks there.
3. If you want to work with us: Head over to our careers page. We have lots of positions open. We also have lots of applications coming in. So the sooner you apply, the better.
4. If you want to see the 13 best treks of India: Then get our guide here.
Sign up for our much loved Weekly Mailer
We have terrific trekking tips, trek updates and trek talks to look forward to