Deoriatal-Chandrashila: An anniversary gift to my wife
Share this story
Deoriatal-Chandrashila: An anniversary gift to my wife
Category Trekker Space
By pramod gidwani
2016-02-22
Pramod and Halak had their most unusual anniversary up in the mountains. They met a mad bunch of trekkers, got robbed of their food by a fox(!) and climbed the Chandrashila summit. The duo could not have wished for a better place to be!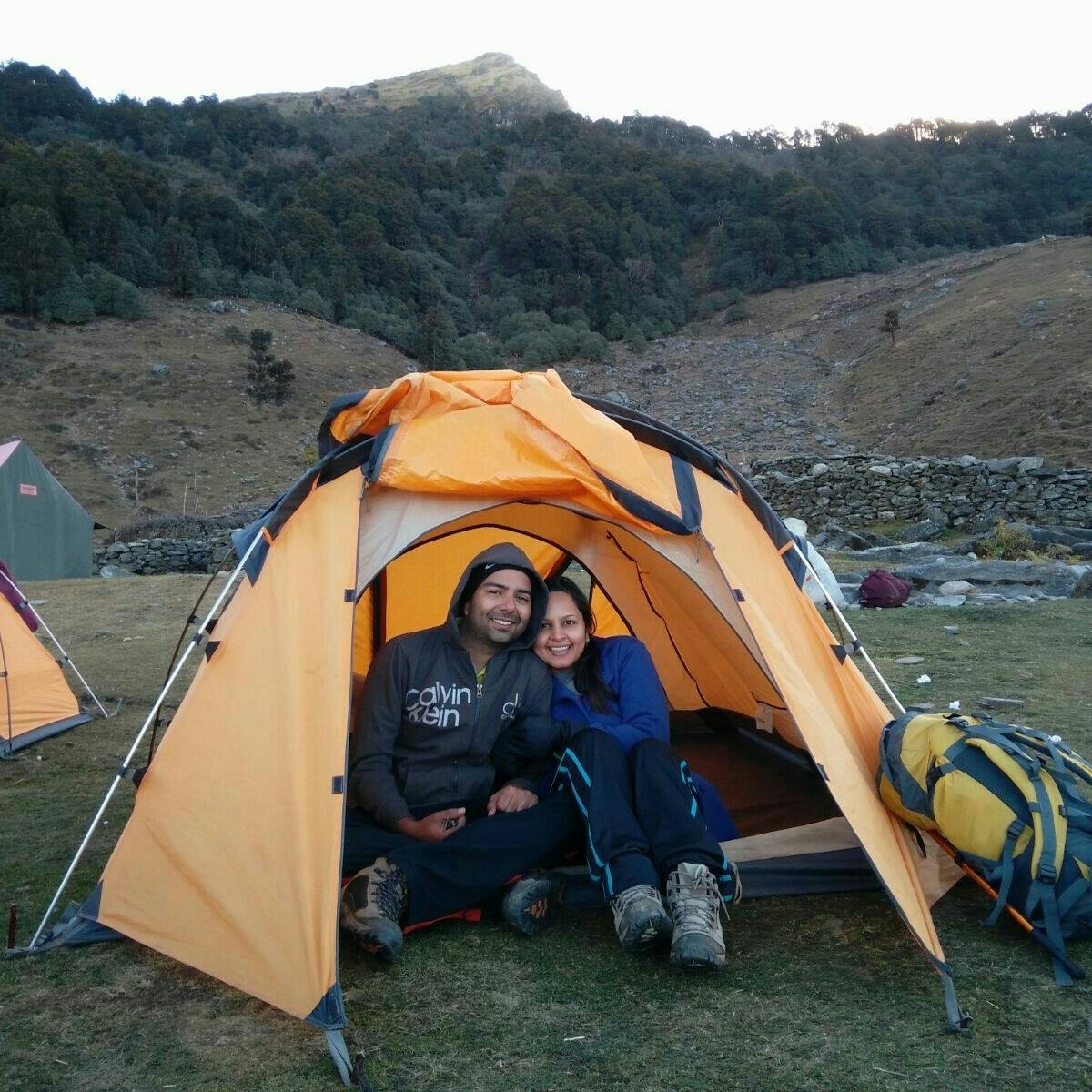 Halak and I
Written by Pramod Gidwani
My wife Halak and I have been trekking for a while now. We trek at least once a year. Our experience with trekking has been patchy at best; I had a bad experience on a high-altitude trek previously. With the shadow of my bad experience hanging over us, we decided to take it easy on on our wedding anniversary. Since we did not want to miss out on the beauty and peace offered by the mountains, we chose Deoriatal-Chandrashila trek as our anniversary getaway.
Our trek group had 15 odd group of trekkers-out of which nine of them had come solo.  We had our trek leader (the encyclopaedia), two assistant trek guides and support staff.
We spend majority of our lives in a corporate jungle, working with people who expect service or office-related work from us. Our 8 am to 6 pm routine consists of people who we call "dal-roti", if you can forgive the food analogy. It is difficult to find out-of-the-box or creative people on the weekdays. On weekends, we meet a bunch of crazy blokes who we call "vanilla"; very important part of food supplement after 'dal chawal'.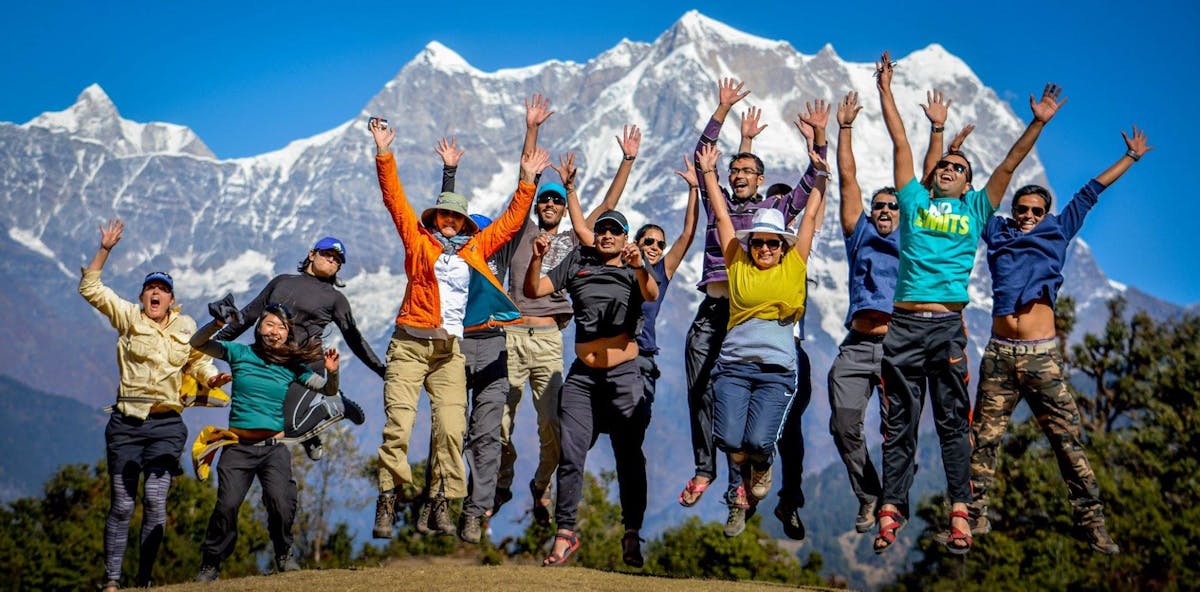 The crazy nuts we met on the trek
So, here at the trek, we meet a crazy bunch of nuts. There was Shobhna – an obsessive gamer who came to trek because she was offered a break by her boss. Apparently, she forgot to do an assignment because she was too busy playing DOTA. There were some crazy IITians (looking at you here-Umang, Kshitij and Puneet) who were calculating the angle, slope of walking, speed and distance for trek by applying some sin, cos, tan theta mumbo jumbo.
Jason, who was a music freak, did not let us feel deprived of rock music in the no-network 13,000 ft. There was Pratik, the loner, who you will find at the edge of the cliff, absorbing his surroundings. There was Apoorva, a photographer whose time-lapse video of the trek I am desperately waiting for. There was a CA finalist Soham and ex-airline crew, Surabhi, who called herself "phattu" but sat on edges to take a selfie. There were foreigners twice our age with double our enthusiasm. They were especially keen on keeping the surroundings clean with the eco-bags Indiahikes provided us with. There was a lawyer, who would use all her skills to convince you otherwise in a group game. The group gelled well thanks to games like fish pond, antakshari and most importantly, Mafia. Mafia revealed that the corporate honcho, IT training guy, Murali could also speak.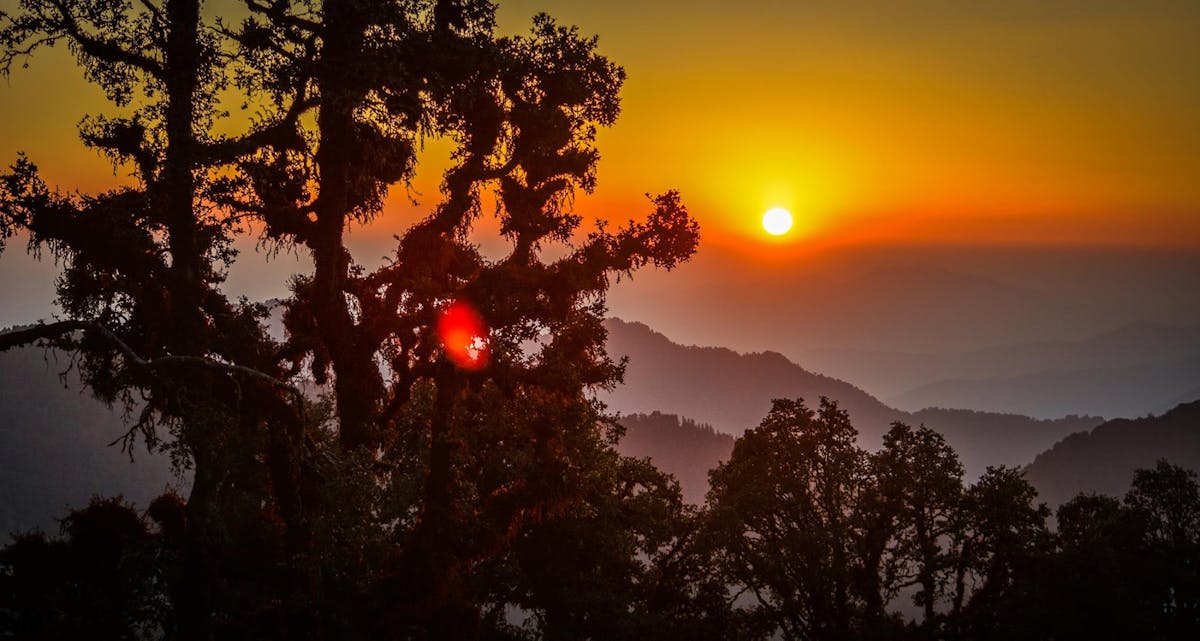 Sunset at Bhrujgali
As colourful as the personalities were, so was the trek. The night was beyond description with the Milky Way painting the inky black sky.  The constellations are flamboyant in the night and play coy in the morning. I wondered if we were all seeing the same sky above us in the cities.
The trek started as a gentle 2-hour uphill walk from Sari to Deoriatal. We were promised birds but didn't see any there. We were warned of foxes stealing food. They stole my daypack and tore apart fellow trekker's bag at 4 am. The route to Chandrashila summit was not visible initially-but the view, once you do have a glimpse of it, makes you laugh out loud in joy.
The summit gave us beautiful pictures of the mountain ranges and the new slow-motion video option in Halak's mobile have us a lot of interesting scenes as well. The trek offered us seclusion – there were no other people than our group, no mobile connectivity in an absolutely serene place. The misty forests the trek started with, with best ever sunset at Rohini Bugyal, the great variety of flora and fauna, a whistling bird, the music of the wind passing through the leaves – we were in heaven, indeed.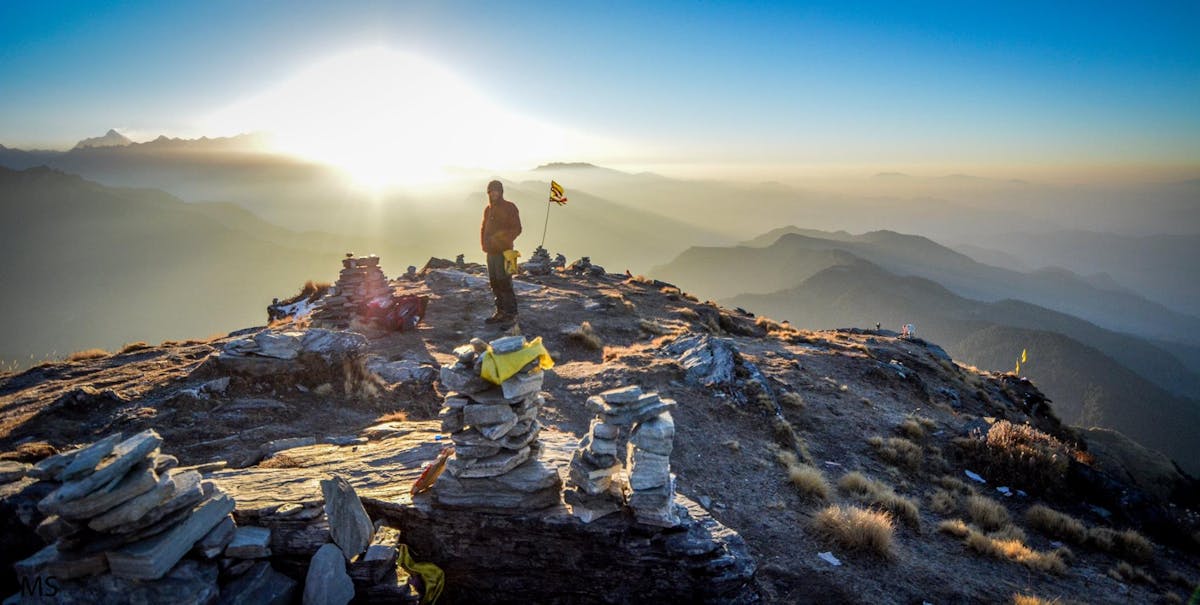 The summit.
I'm glad I shared this little bit of heaven with the best person – the person I would go anywhere with, anytime. Being with her is like being around nature: you don't have to be somebody or something. Just be who you are and appreciate what you have. Being with her is true happiness.
Happy Anniversary Halak.  😀
Sign up for our much loved Weekly Mailer
We have terrific trekking tips, trek updates and trek talks to look forward to