Deoriatal-Chandrashila Trek Reopens!
Share this story
Deoriatal-Chandrashila Trek Reopens!
Category News
By Swathi Chatrapathy
2019-01-17
I'm thrilled to post this today, because we have reopened one of the most picturesque treks in Uttarakhand — Deoriatal-Chandrashila!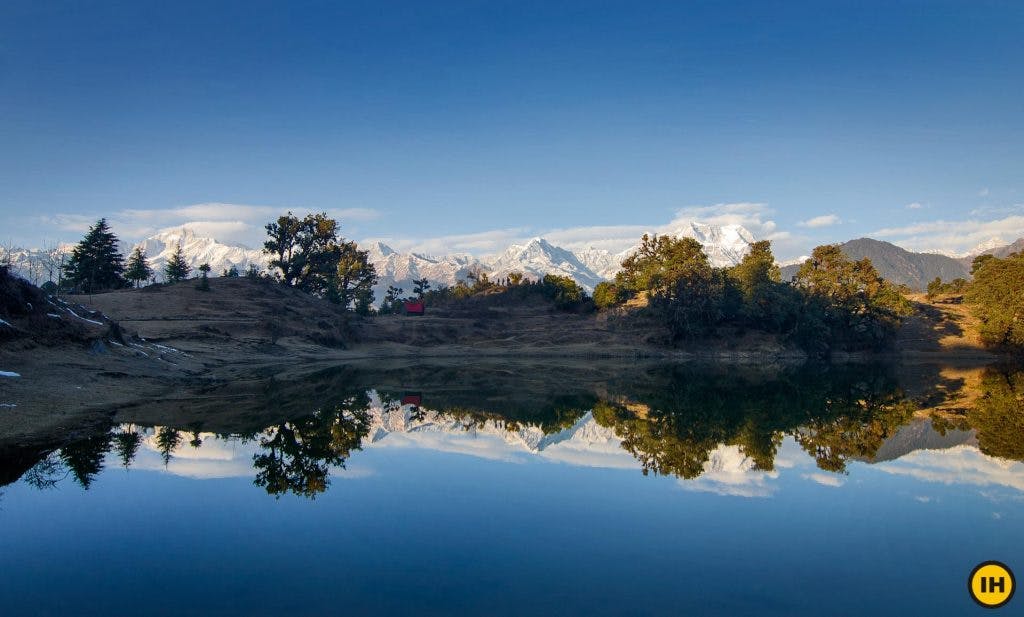 This was my first Himalayan trek, so I hold it very close to my heart.
In fact, this is where, many trekkers, like me, have learnt what trekking is all about, what the Himalayas are all about. They experience the serenity of the meadows and the lake, the exhilaration at sighting few of the biggest mountains of the Garhwal Himalayas and also, the spirituality at the beautiful Tungnath temple, which stands above 11,000 ft!
If you ask me, it is a perfect (and most unfairly rewarding!) trek for first timers.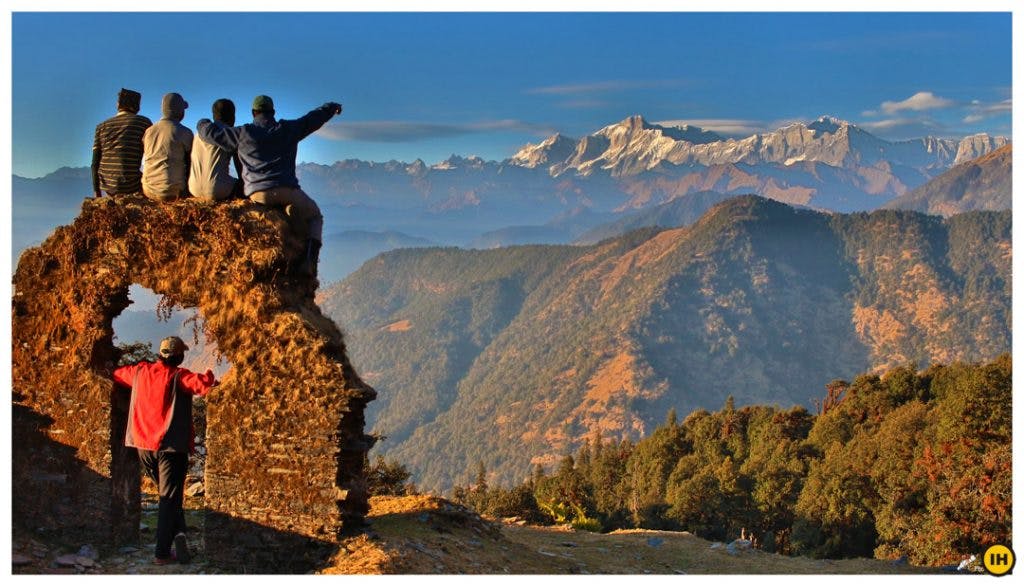 Why was the trek closed?
The entire trekking trail runs through the Kedarnath Musk Deer Sanctuary, which makes it an eco-sensitive area. The forest department was getting increasingly worried about the impact of visitors on the wildlife inside the park. First, they disallowed camping in the meadows of Rohini Bugyal (back in 2017). Then the camping grounds of Deoriatal and Chopta became dysfunctional.
With no camping grounds left, this trek was hard to do. We stopped conducting the trek altogether.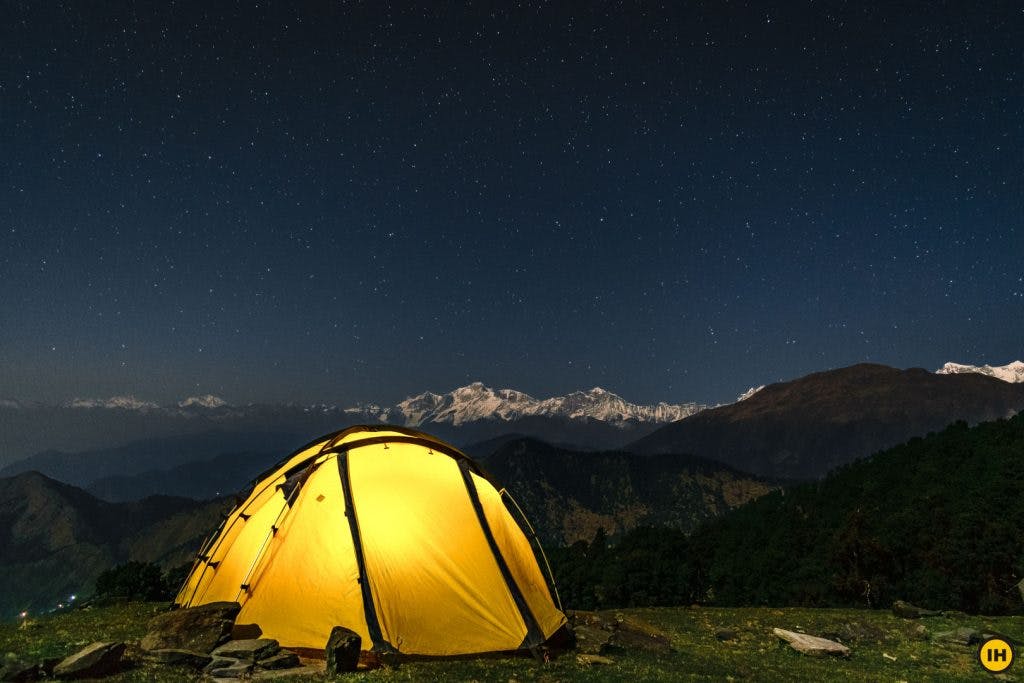 How has it opened again?
Deep down we have been in love with the Deoriatal Chandrashila trek. It is one of our favourites. Trekkers love it too. Even though we shut it down we have been exploring alternate routes and alternate campsites. We wanted to see if we could find new campsites — places where trekkers could take in the splendour of the trek, yet within the rules of the forest department.
So here we are, with three new campsites for the trek. It took us some time, but we believe these campsites restore the trek back to its original glory.
To start with we are camping on a private plot of land near Deoriatal (not on the banks of the lake, but at a distance from it). There is a new campsite across Rohini Bugyal. And our last campsite, is below Chopta at Baniya Kund.
Our recce team has stitched it together really well! They have not compromised the old trail's experience anywhere.
Almost the entire trekking trail remains the same. So we will be going through those magical rhodo and oak forests! We will have ample time by the Deoriatal lake too! 🙂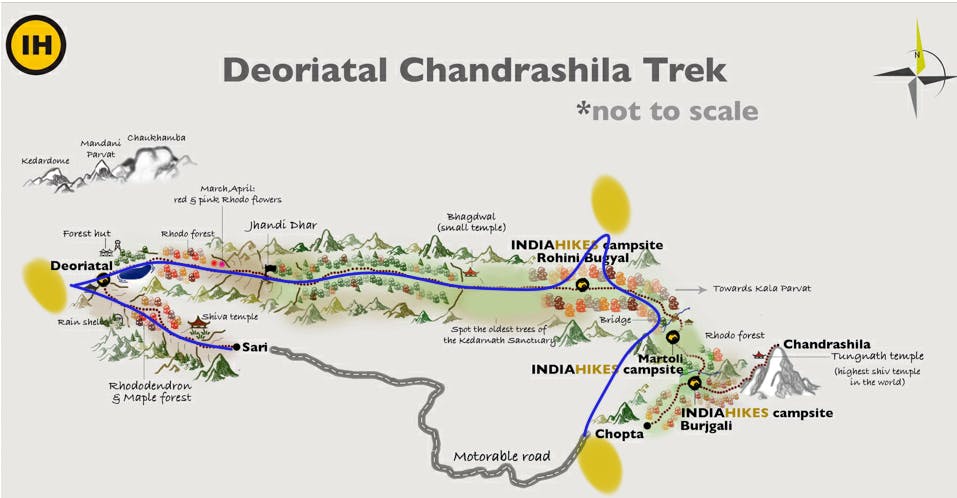 I must tell you about this trek! When you look at it very objectively (and all of us at Indiahikes have a habit of doing that!), this trek ticks all the boxes. It has forests (the best of them), it has small meadows, it has a grand summit climb, it also has spectacular mountain views from Deoriatal and the Chandrashila summit!
Let me take you through the trek.
The forests with blooming rhododendrons
These are perhaps few of Uttarakhand's purest forests! They are dense, they stretch over long distances and are doused in a fresh, earthy smell. What makes it more delightful is that a lot of the trail is flat — so you're not puffing and panting, but actually experiencing the forest!
And come March and April, the forests burst to live with Himalayan rhododendrons! These are flowers that bloom only in these spring months. And boy oh boy! You'll not want to take your eyes off!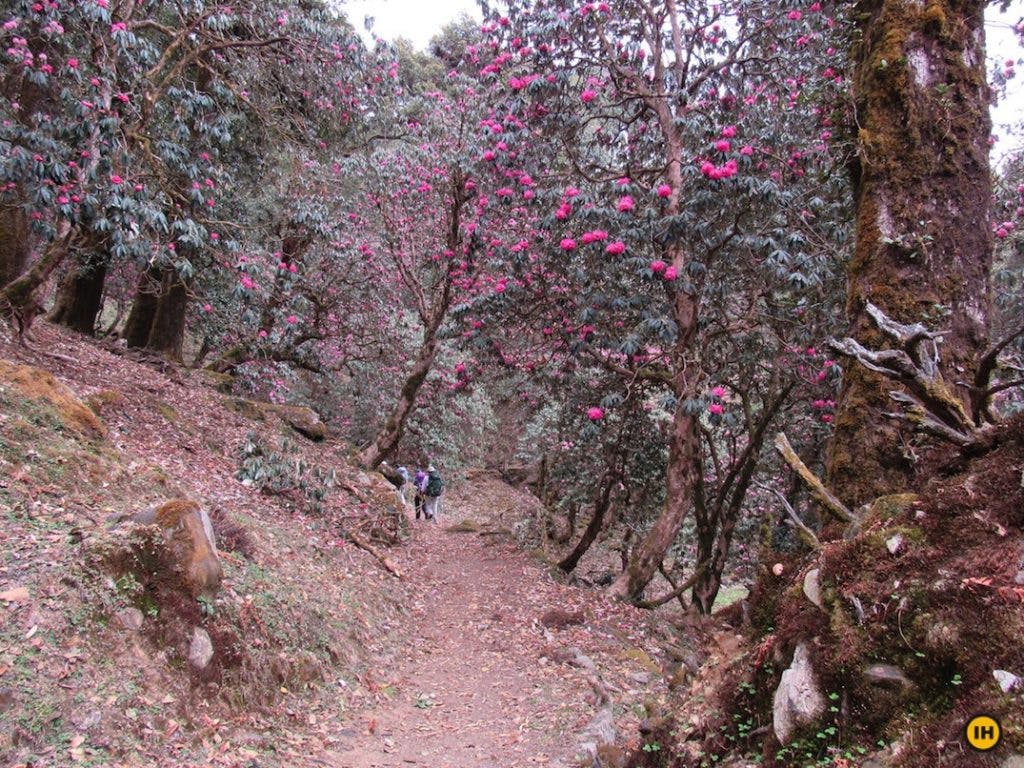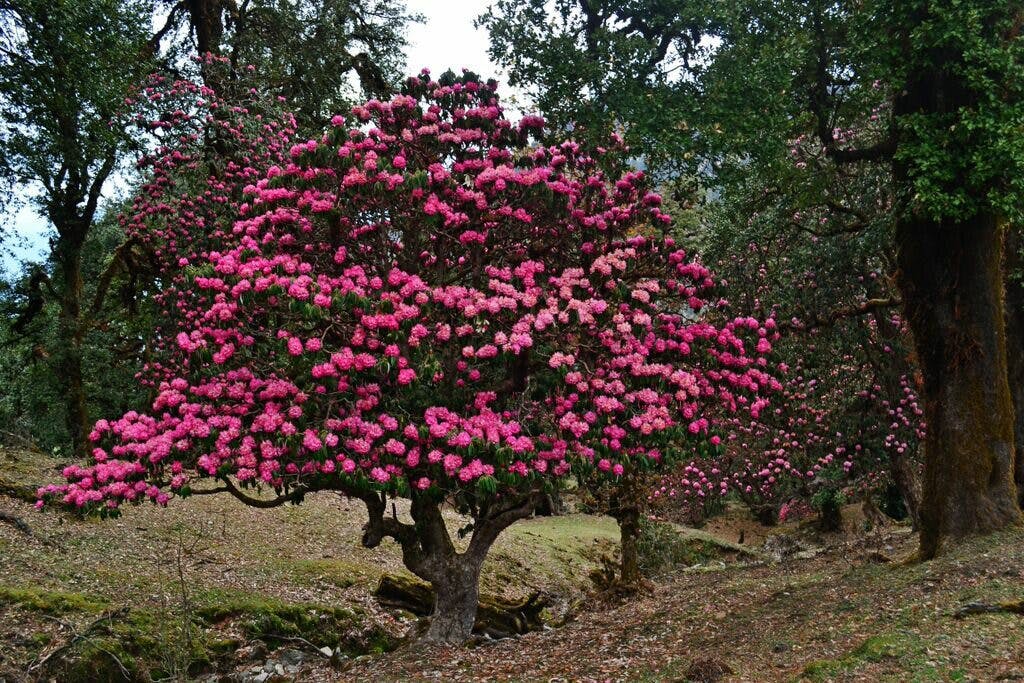 The grand mountain views
It takes literally just 2 hours of climbing from the base camp to come up close with mountains like Kedarnath, Kedar Dome, the ever-looming Chaukhamba massif, Sumeru Parbat, Mandani Parbat and more. From Deoriatal, the view is absolutely breath-taking!
And then you climb to Chandrashila and right there in the distance is Mt Nanda Devi, India's tallest mountain. Seeing the golden rays of the sun in the early hours is an other-worldly experience!
Needless to say, this trek pampers you with stunning mountain views! A rare opportunity on such an easy trek.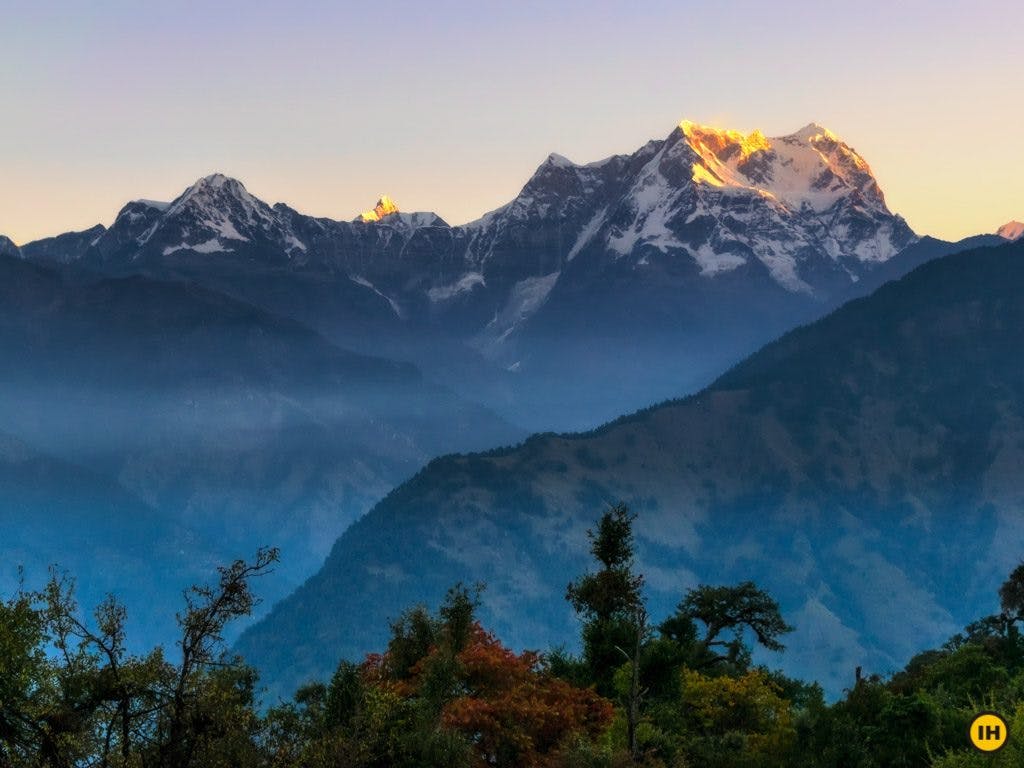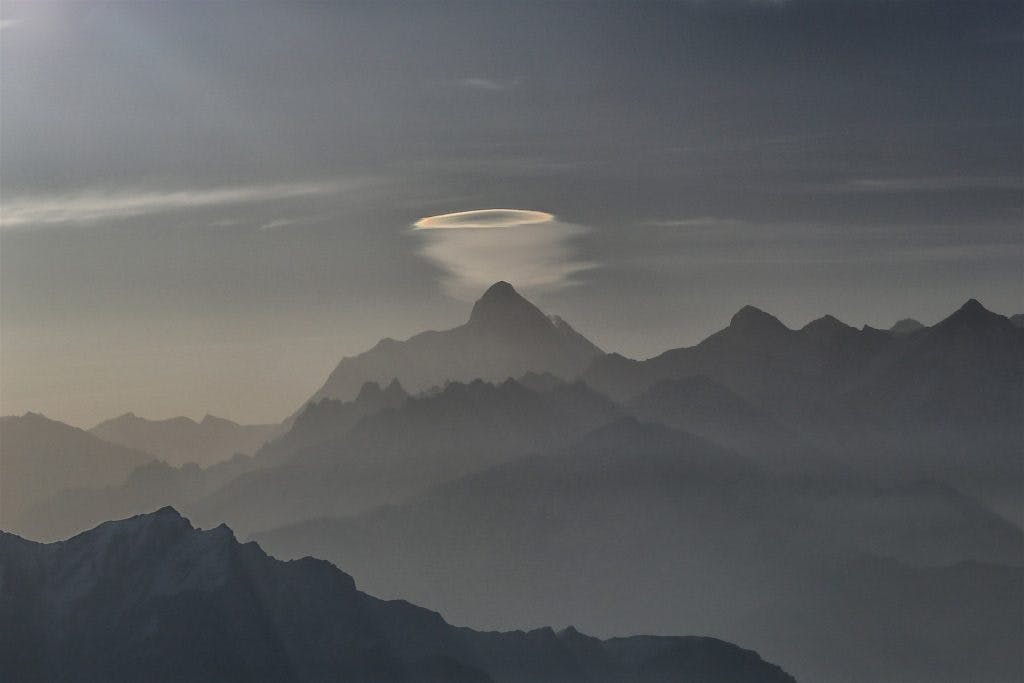 Then come the birds
One of our trekkers, Ajit Hota, an avid bird watcher, has spotted more than 100 species of birds on the Deoriatal trek alone! Because the forests are so dense, and Deoriatal is a lovely watering hole, the trail attracts lots of birds and animals. Here's a small collection of bird pictures that one of our trekkers put together after his trek.
In fact, when I was on the trek, I spotted a fox near our Rohini Bugyal campsite. I mistook it for a dog and called it over to pet it, only to realise after many seconds that it was a fox. Boy am I glad that he didn't come expecting his ears to be scratched!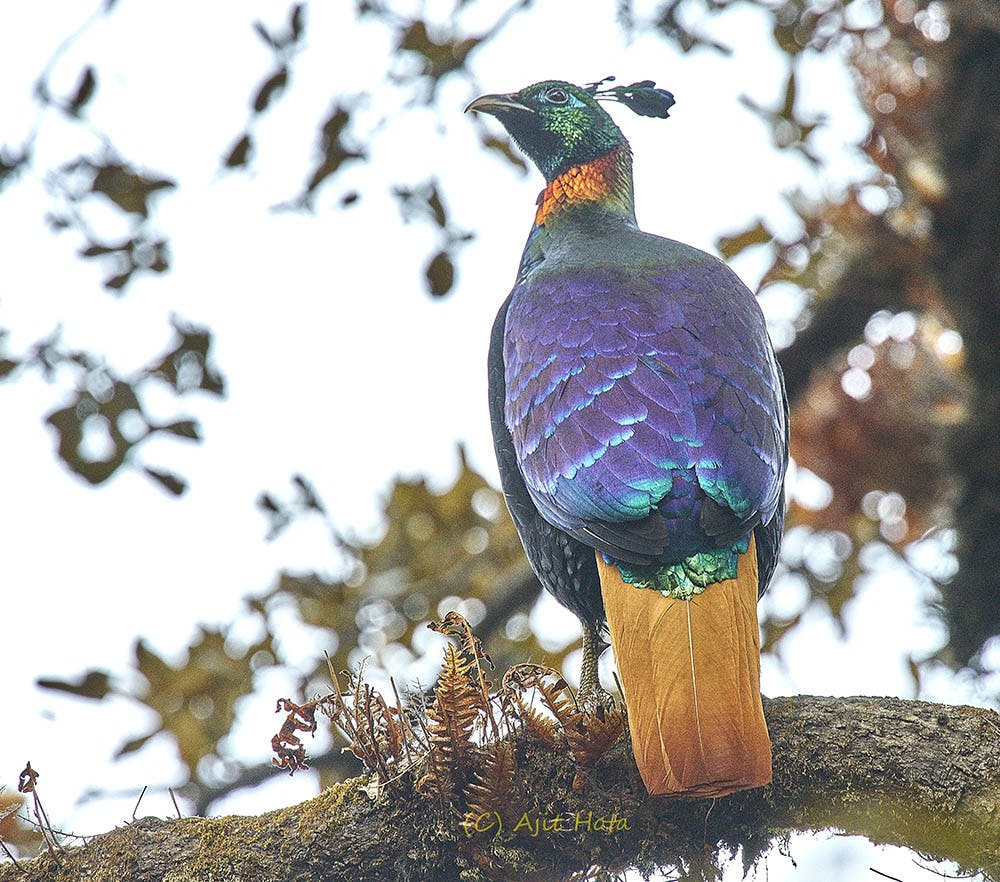 Honestly, I can go on and on about this trek. But I'll stop here. I'm just really glad the trek is back on the cards. It's a grand one for trekkers!
And it's a great trek for children above the age of 6 too! 🙂
When are we running the trek?
We have dates throughout March and April. The best months to do the trek. We will not be running the trek in winter, because there's too much snow on the way to Chandrashila.
Click here to view all dates and details – indiahikes.com/deoriatal-chandrashila-peak/
A wonderful video made by a trekker on the Deoriatal trek
On another note, one of our trekkers, Ayush Dinker, had made a fantastic video of the trek. He captured his journey all the way from Haridwar to the Chandrashila summit and back.
Out of many vlogs I've seen, this is a really good one! Spare some time and watch it. 🙂
I hope this excites you as much as it excites me!
What to do next?
1 . To know more about the Deoriatal-Chandrashila trek, head over to this page.
2. To read a blog by one of our trekkers, head over here.
Here are more treks like Deoriatal.
4. If you ended up here by chance and were looking for treks to do, head over to our upcoming treks page.
5. If you would like to get our 13 Best Treks of India guide, click here.
Sign up for our much loved Weekly Mailer
We have terrific trekking tips, trek updates and trek talks to look forward to