Deuter Futura Vario Backpack Review: Well-Engineered For Long Treks
Share this story
Deuter Futura Vario Backpack Review: Well-Engineered For Long Treks
Category Trek Gear Review Backpacks
By Lakshmi Selvakumaran
2017-06-25
Annapurna Base Camp was my first independent exploration trek. I was on a fact-finding mission. A trek that people usually do over seven days, I had to do in no more than five. It was a hard trek and I needed a good solid backpack. Something that could take the rough and tumble of trekking in Nepal. I was also going to be using local buses and roads which are, to put it mildly, a chiropractor's delight.
Coincidentally the Deuter FuturaVario 50+10 backpack reached our office for review the day before my trek. As a reviewer, I could not think of better conditions than a trek in Nepal to take it on its first run.
First impression of the Deuter Futura Vario
At first glance the backpack looked solid and professional. No fancy bells and whistles. At the same time everything was in place. It had the customary top loader, a lovely additional front opener, a roomy lower compartment. The usual straps were in place: the load adjuster straps, the compression straps, the shoulder strap adjuster, the sternum strap, the hip stabiliser strap.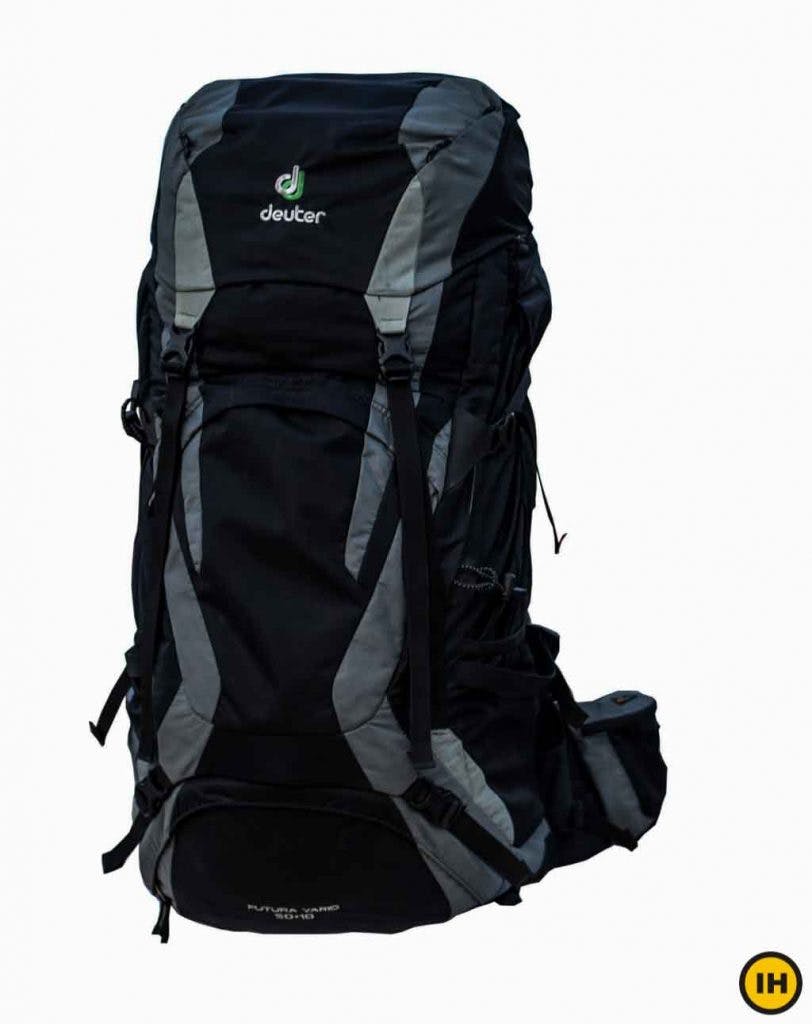 I like my backpack in appealing colours. This one was in a lovely black and grey combination that was beginning to grow on me. But I was more interested in how it would balance when packed. I hurriedly took it home. I didn't have much time left in case I had to change backpacks.
Construction
I liked the Microrip-Nylon ripstop fabric of the Futura Vario. Nylons are stronger, more durable than the regular polyester most backpacks come in. The rip-stop weave makes the fabric less prone to tearing and ripping. Deuter had made the backpack for the long haul.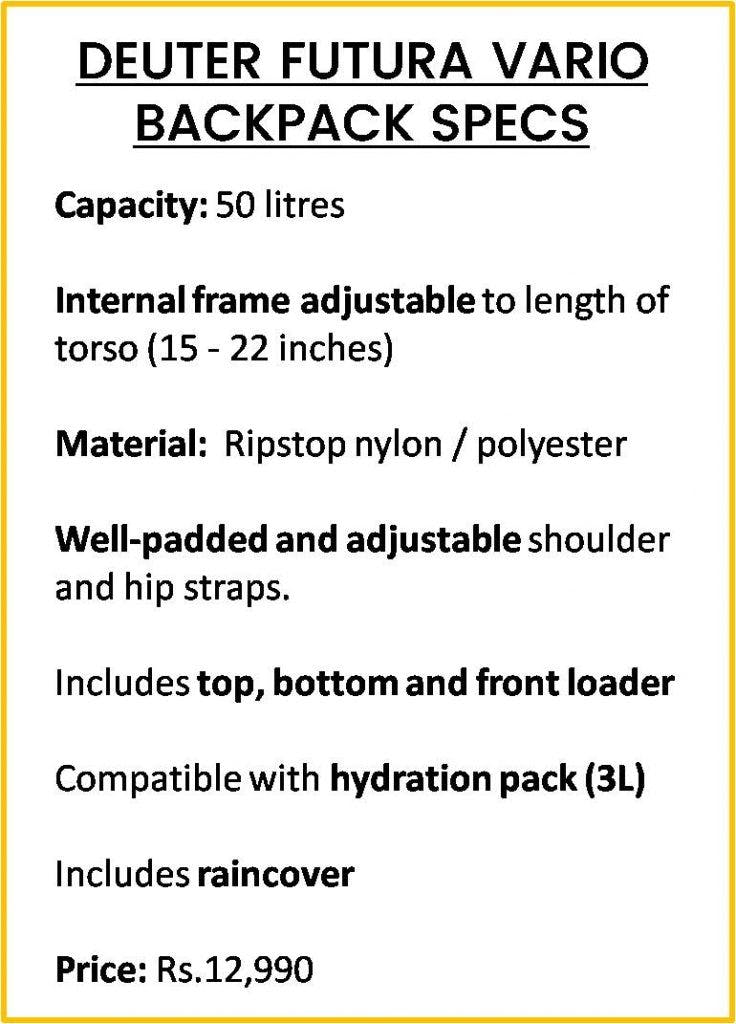 Turning the backpack around, I was not surprised to find contoured shoulder straps. In fact, anything less would have surprised me. The padding felt just right. Not too thick to make it spongy and neither thin to cut through the shoulders. I liked the firm arches of the shoulder straps. I slung them over my shoulders. They settled snugly.
The ventilation mesh was high strung and tight. I hate meshes that buckle. I was glad the Deuter Futura Vario had the basics in place. On a hard day's trek almost everyone sweats. A good mesh makes the difference between a regular and a soaking wet shirt.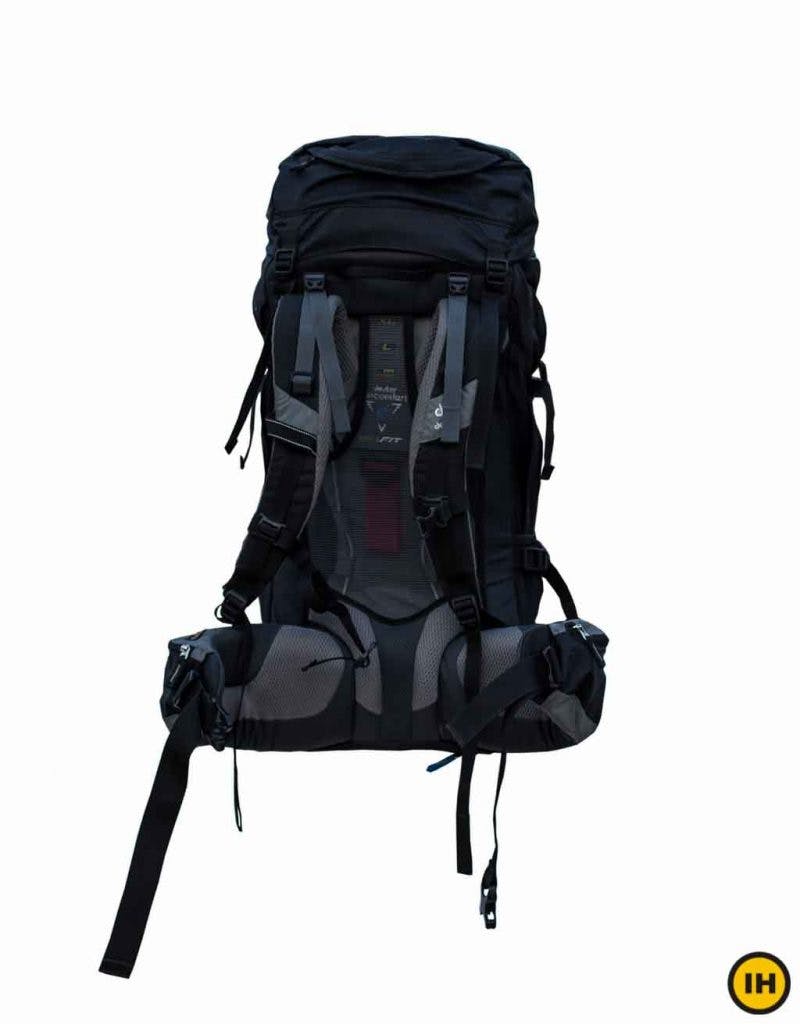 The lumbar pad below the ventilation mesh was another surprise. It was not like the foam pads seen in most backpacks. Rather it was ergonomically designed to sit around your spine. I loved this touch.
I was worried about the front opener though. I didn't want the backpack to lose its ergonomics. The last thing that I wanted was a backpack that lost its shape because of a design feature. I started to pack.
Packing the Deuter Futura Vario
I must admit, the front opener didn't make it easy to pack. When open it is more like a suitcase. You are left wondering how to pack your gear. So I quickly zipped it up and started to pack in the regular classical way. From the top.
That way packing is done in a jiffy. Put your heavies (woollens)at the bottom, next come your trousers, shirts/t-shirts; stuff your UGs and socks in separate plastic covers in either corners. With this, your packing is more or less done. Rest are accessories. Use the pockets to keep things accessible. Store floaters, raincoats, or wet clothes in the bottom compartment.
Packing a backpack does not take more than 20 mins.
Packing done, I stood the backpack up and stepped back. The backpack did not tilt or fall to the floor. It balanced well. It passed my first test. Stepping further back, I checked if the ergonomics were right. The backpack looked rounded and not rectangular as I had expected. I couldn't find any difference between a regular backpack and the one with a front opener. This pleased me no end.
I put finishing touches to my packing. I wrapped my DSLR in a T-shirt and stuffed it on the top inside my clothes. I don't carry DSLRs in their original cases. They are extremely cumbersome during trekking. Then came my toiletries, which I packed in the top loader for easy access.
My spare batteries, spare camera lenses, all come in their pouches which I put in the top pocket. I slipped the hydration pack in the surprisingly spacious hydration pouch at the inside rear of the backpack. I was carrying lots of Nepal maps. I put them all in the front pouch. Things looked dandy.
If you want to know how to pack a backpack smartly, watch Swathi's video here. You'll want to take a look at things to carry on a high altitude trek. So watch this video as well, again from Swathi.
I really loved the lower side pockets of the Deuter Futura Vario. In almost every backpack I have seen (including mine) they were made of mesh, which tore easily. In the Futura Vario they were made from a solid polyester-like material, large and deep. I could use them for water bottles or tuck in a floater quickly. I liked the thoughtful design.
Using the Deuter FuturaVario backpack
The shoulder straps are adjustable to S, M, L and XL body sizes. I adjusted it to a point between S and M for my 5'4" frame. Unlike some backpacks that I have used before, the Futura Vario did not come with a detachable ventilation mesh. So I had to dig my fingers through the sides to adjust the size strap. Size adjustment is not something that you do often, so this is fine.
With everything in place I slung the backpack on. It felt very good immediately. The backpack sat smartly on my hips. I tugged on the load adjuster straps to make the backpack more snug. The backpack felt even better.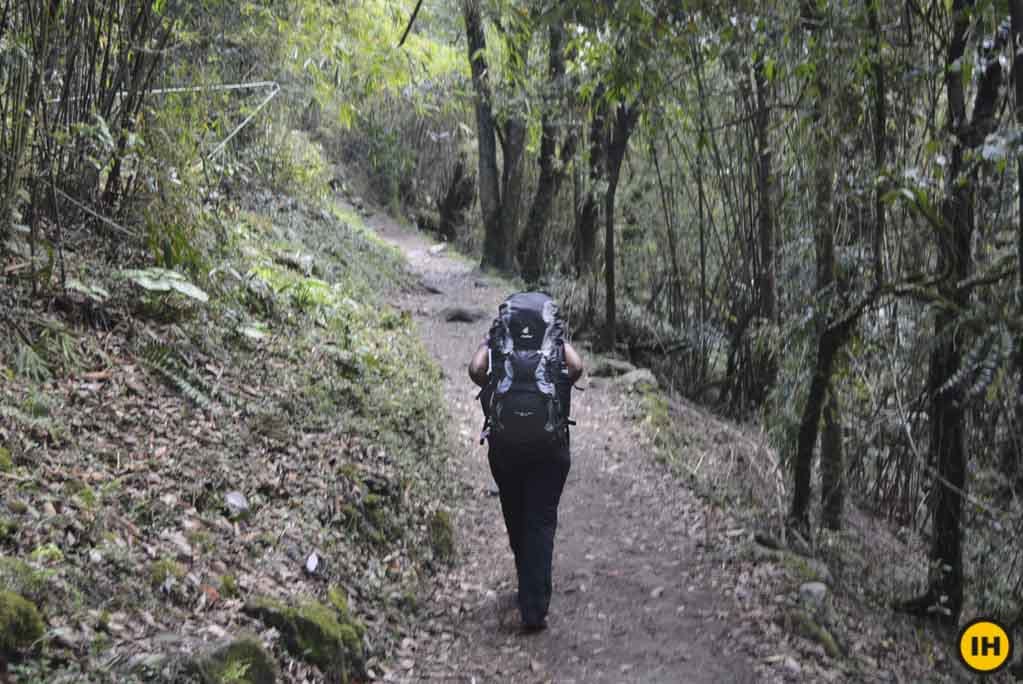 Finally, I tightened the stabilizer strap on the hip belt, but something didn't feel right. The backpack seemed to sway a bit to my right. I took off the backpack and played around with the compression straps much like a guitarist does with his strings. I tried the backpack on again. Things fell in place. My smile could not have been broader.
I was really rooting for the Deuter by now.
Cons
There are a few things where I thought Deuter could have done better. The top pocket (one of the most accessed parts of a backpack) could have had a bigger mouth. If the opening was another inch or two wider it would make reaching for things more comfortable.
I was not too happy with the zippers too. While they were sturdy, they did not feel smooth. I like runners to move quickly, but with the Futura Vario many of them required gentle nudging. It is a small grouse, but with such a perfect backpack I think I am allowed to whine a bit.
I also wonder what good the daisy chain on the sternum strap was. Daisy chains are generally used to hang things, usually from a carabiner. I hate the thought of things dangling from my chest but frankly, that's just my opinion.
Conclusion
The Deuter Futura Vario 50 L backpack is good for a week-long Himalayan trek. I used it for more than 10 days in Nepal. I didn't think I required anything bigger. In fact, the top loader has space to add another 10 L of stuff. The backpack is well-engineered and extremely comfortable.It has lots of space – more than I expected. The pack balanced very well, fitting snugly on my back. I didn't find the backpack tall, which can be very annoying.
I am aware that the Deuter Futura Vario is expensive at Rs.12,990, but any backpack worth its salt is similarly priced. If money is not a constraint, I recommend you go for it.
Sign up for our much loved Weekly Mailer
We have terrific trekking tips, trek updates and trek talks to look forward to