What makes Dhakuri an Irresistible Campsite on the Sunderdhunga Trek
Share this story
What makes Dhakuri an Irresistible Campsite on the Sunderdhunga Trek
Category Diy Treks
By Vaibhav Chauhan
2014-11-19
Dhakuri is the gateway to two of the most beautiful valleys of Kumaon – Pindari and Sunderdhunga. It is located in Uttarakhand's Bageshwar district. Surrounded by evergreen oak and horse-chestnut forests, it is a welcoming sight for any tired trekker.

High altitude meadow with enchanting mountain views
Dhakuri is an unusually flat, high altitude meadow. The lush green grass here is accentuated by the surrounding forests. To add to this are the snow capped mountains of the southern rim of Nanda Devi Sanctuary that loom just ahead of you.
A short trek from the campsite to Dhakuri-Khal offers even better views of the mountains, especially at sunrise. If you walk further up for about an hour, towards the South West forested ridge of the pass,  you reach Chilta Top. The view you here is like no other – you can capture the mountain ranges of Badrinath all the way till Dharma Valley in a single frame!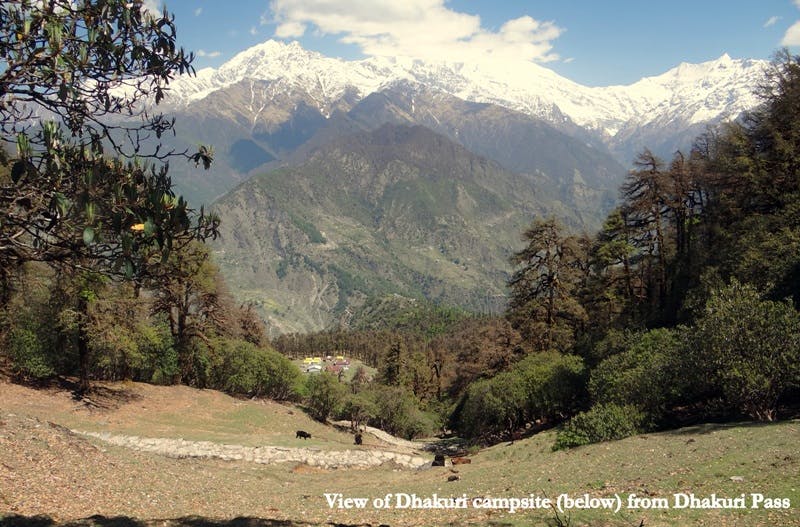 Entrance to grand treks in Kumaon
Being the gateway to famous treks such as Pindari glacier and Sunderdhunga, Dhakuri attracts trekkers from all over the world. It comes alive with colourful tents and trekking paraphernalia during the season (mid April – end November). You are likely to make great trekking buddies if you're here at the right time!
Given its popularity, Dhakuri also has other options for accommodation in case you do not wish to stay in tents. Kumaon Mandal Vikas Nigam (KMVN) and the Forest Department run lodges here, which you can book in advance.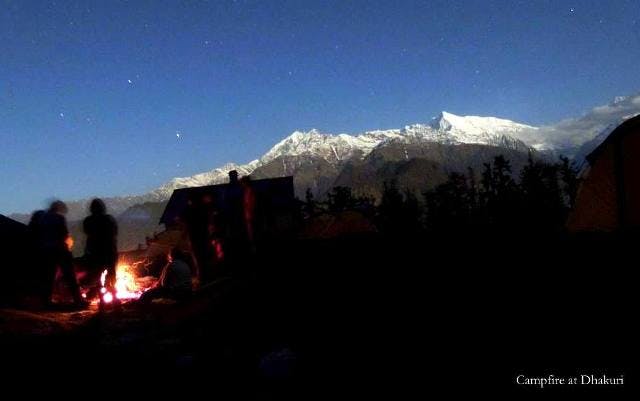 So, the next time you are visiting this area, make sure you have Dhakuri in your trek itinerary.
Pictures courtesy : Vaibhav Chauhan & Sudhir S. from Indiahikes Sunderdhunga Exploratory Trek in May 2014.
Sign up for our much loved Weekly Mailer
We have terrific trekking tips, trek updates and trek talks to look forward to