Do-It-Yourself Treks Re-launched!
Share this story
"DIY is not new in our country. In fact, DIY was the only way we would trek 15-20 years ago. That doesn't mean DIY has become easier over time," says Arjun Majumdar, Founder-CEO, Indiahikes.
While trekking with an organisation like Indiahikes is great — trekking DIY is a pure style of trekking.
However, trekkers in our country have not taken much to DIY trekking for the simple reason that a lot of hassle surrounds it.
The biggest issue with DIY trekking is that it's not easy to get lightweight tents, sleeping bags, cooking equipment and food together. You tend to visualise trekkers carrying heavy backpacks like they're going on a mountaineering expedition.
Another hidden constraint is that people do not know which treks are good to start as DIY.
In reality, DIY trekking can be as lightweight as trekking with an organisation. A backpack does not have to weigh more than 10-12 kg. In fact on my DIY trek I had it down to 9 kg.
So how did we solve the problem of DIY trekking?
Introducing KITs that enable DIY trekking:
We have made extra light camping, cooking, and food kits. Using these kits, you can do any DIY trek on your own. You have the flexibility to trek the way you want to. These kits took us over a year of research and development, but they are finally ready to be used.
Here are the basic details:
New Light-Weight Sleeping Bags:
"It has always been difficult for us to reduce the weight by even 200g for our sleeping bags. It would always end up compromising on the warmth. But this time, we moved mountains to find new material and new technology to reduce the weight of our sleeping bags. Now, we have made a sleeping bag that's less than half the weight, without reducing the warmth of the sleeping bag. The sleeping bag now weighs just 1.4 kilos!" says Manish Pasad, the head of our R&D team.
We were able to reduce the weight by bringing in a new poly-wading technology from the USA. This brought down the weight of the sleeping bags dramatically without affecting its performance.
New Light-Weight Tents:
We also have new light-weight tents for DIY Trekkers. "Our expedition tents are strong and sturdy. Our challenge was to make something as sturdy and strong at nearly half the weight and volume. Together with our manufacturers, we have been able to engineer a tent that is not just light, but as warm as our expedition tents, and spacious enough for two trekkers to sleep inside with their backpacks included. It weighs just 2.4 kilos and anyone can carry it and trek comfortably," says Manish. Named Crosstrek Lite, these are the tents that our DIY trekkers will be using (what you see in the picture below).
How did the tents become light? That's because we moved to the lighter nylon fabric over the polyester fabric. We reworked every inch of the tent to reduce weight without compromising on the roominess or performance.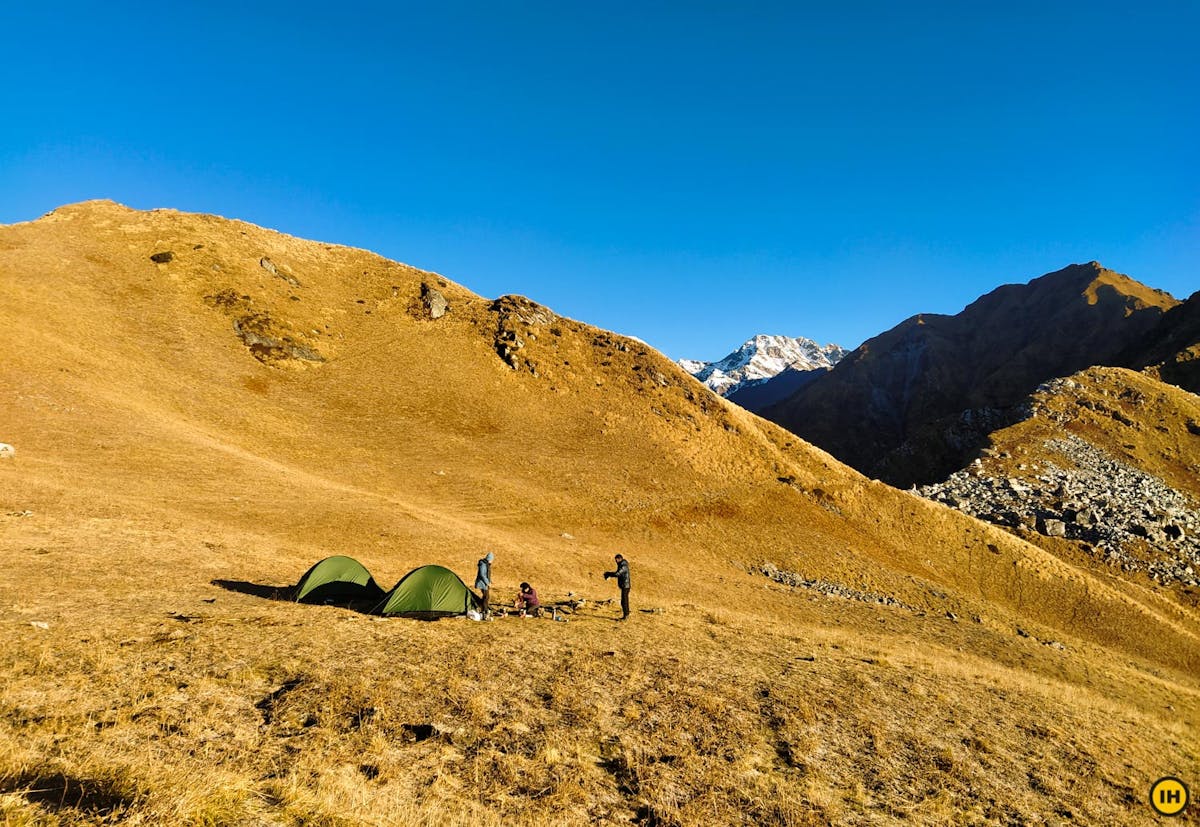 Our new Crosstrek Lite tents, which weighed as less as 2.4 kilos, worked wonderfully in temperatures up to -10 degrees. Picture shot on the Gidara Bugyal trek
Highly efficient cooking gear:
One of the biggest problems of trekking is the availability of lightweight cooking gear. This includes the stove, the cooking gas, and vessels. We've been forced to use bulky butane burners or small LPG cylinders. These are not good for DIY trekking.
But Sree LPG (one of the largest private gas companies in India), after a lot of research, was able to make a highly efficient butane gas canister weighing just 220g. The gas. combined with a super-efficient cooking stove (which also weighs just 225g). has changed how we cook on our treks. A piping hot cup of chai for a team of 4 now takes 6 minutes to make. With the premixed food kits, a meal for 4 will take you about 18-20 minutes to make.
Speaking from personal experience:
Two weeks ago, we experimented with all this gear on a new route of the Gidara Bugyal trek. It was a 5 day trek, where my team and I carried these sleeping bags, tents, gas canisters, stoves and food. We cooked for ourselves, pitched our own tents and navigated on our own. Despite the high altitudes, extreme cold and uncertain terrain, all of the gears worked brilliantly.
Any ardent trekker in the world would give an arm and a leg to get such premium light-weight gear.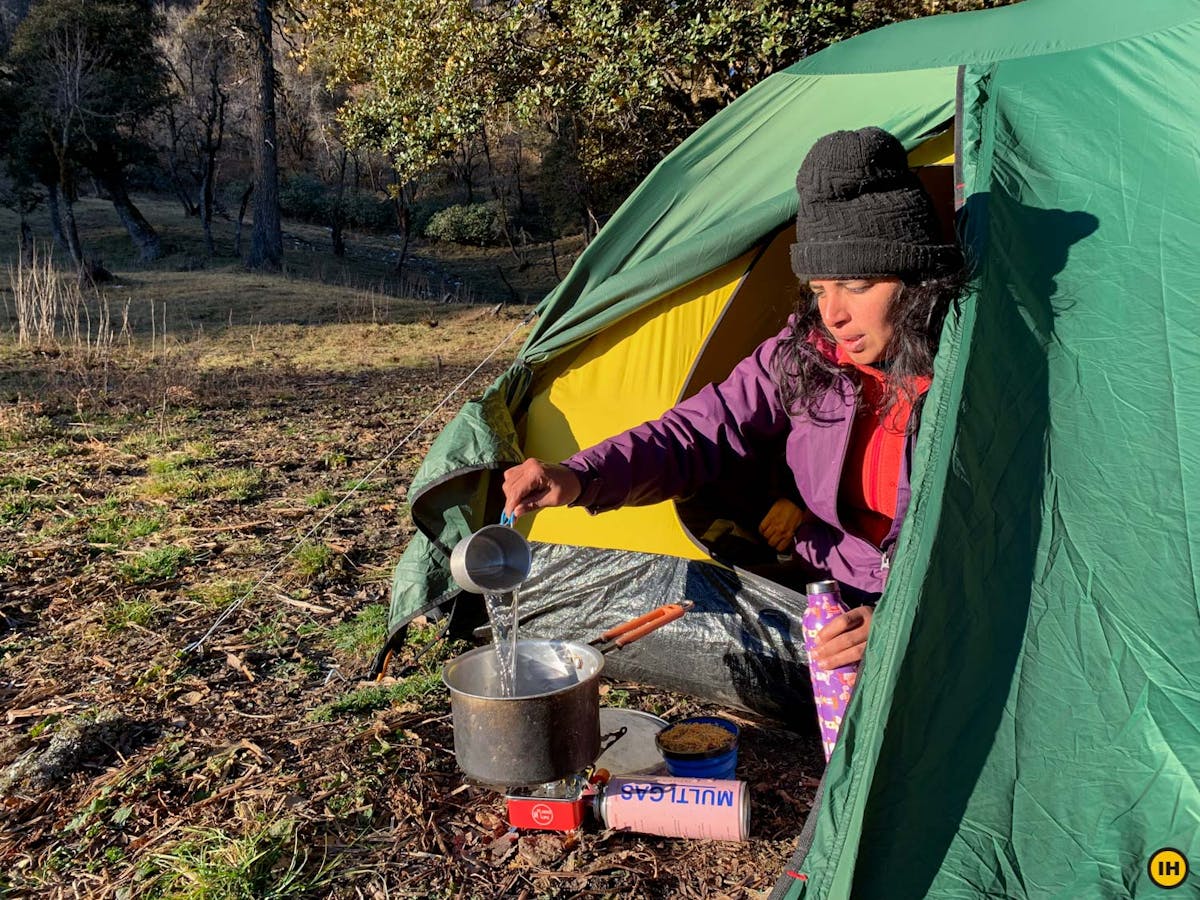 Our co-founder Sandhya cooking with our DIY burners on the Gidara Bugyal trek.
Having said that, let's move on to the trails that we're opening up for DIY trekkers.
Trekking trails open to DIY trekkers:
To be frank, not every trek is suitable for DIY. The terrain, safety and navigation play a big role in this. We have opened only six treks in Uttarakhand as DIY treks —
– Ali Bedni Bugyal
These treks have some of the greatest sceneries of our country, but will also keep you safe. We will add more treks to this portfolio as DIY trekking grows.
How to go about it:
We've made a simple process for you to plan a DIY trek.
Choose a trek out of the above 6 based on your fitness and experience (note that they will all have snow between January and mid-April)
Choose the equipment you need from us
Collect your kits from our office in Dehradun
Once you collect the kits, meet our Slope Manager at the base camp of your trek. He/she will give you a detailed guide and any assistance before the start of the trek.
On the trek, you'll be trekking on your own, using a GPX file to navigate. You'll be cooking and camping on your own too. If you are trying DIY for the first time, don't worry. The navigation kit has the route put down in detail. You will not get lost.
A note of caution: Do not try DIY trekking if you have not trekked before.
Our DIY treks will open from January 15th, but registrations have begun.
Plan your trek anytime after January 15. We do have limited DIY kits, so register for your DIY trek soon.
The page below has a form that you can fill to express your interest. A member from our DIY team will get in touch with you once you fill it up. We will talk to you once to see if you are ready to manage a DIY trek on your own.
The above page also gives you all information about what's included in the kits, how we'll assist you and how much it would cost.
I hope you get a chance to experience treks DIY style, Sandhya. Because having just returned from one, I can tell you it is mountains apart from an organised trek!
Sign up for our much loved Weekly Mailer
We have terrific trekking tips, trek updates and trek talks to look forward to