Down Jacket vs Padded Jacket: What Is Better For Trekkers
Share this story
Trekkers are often confused about what layers they should buy, when they should wear them, how much they should invest in them, and so on. 
In this article, we will be addressing one such concern – should you invest in down jackets or padded jackets. We went down to Decathlon, Anubhava in Bangalore, looked through their large collection and made our verdict as to which is a better investment. Take a look. 
We compare down jackets and padded jackets based on six important factors:
Warmth
Weight 
Compactness 
Water resistance 
Maintenance 
Cost
In each of the above sections, we will give you a fair comparison of both the types of jacket. 
➤ Warmth
Down Jacket
Down jackets are known to be warm. Compared to the more versatile padded jacket, warmth is the biggest strength of the down jacket. 
Down jackets are jackets that are filled with plumage of ducks or geese from the underside of their wings. The air pockets in the feathers trap your body's warmth and keep you from getting cold. These feathers are great insulators and are naturally available material. 
The warmth of these jackets are measured by their Fill Power. Fill power is the number of cubic inches that an ounce of down fills up. In other words, it is a measure of the "fluffiness" of the jacket. The higher the fill power, the warmer the jacket is.   
Padded Jacket
Padded jackets are filled with a synthetic polyfill material, usually trying to mimic the effect of a down jacket. 
Padded jackets by themselves are fairly warm. These jackets (along with your layers) can withstand temperatures up to -5 degrees.
Having said that, if you compare the warmth to weight ratio, down jackets are the clear winner. If you have to attain the same warmth as a down jacket, the equivalent padded jacket tends to weigh a lot more. 
With this, let's look at their weights.
➤ Weight
Down Jacket
One of the biggest USPs of down jackets is that they are light. Given they are made of feathers, they are lighter than any material. On another note, most down jackets are simple, without hoods and inner pockets. Given they have no added frills, they are extremely light. 
Padded Jacket
When it comes to weight, padded jackets tend to be slightly heavier than down. Aside from the inner filling itself, they tend to have hoods, inner pockets and water resistant coating. 
Having said that, with the advent of technology in the clothing industry, most brands have managed to bring down the weight of padded jackets to match that of down jackets. 
Even companies like Decathlon have padded jackets that can compete with down jacket in both weight and warmth categories. They're slightly more pricey, but still at half the price of down jackets. 
➤ Compactness
Down Jacket
Since down jackets weigh less, they score high on compactness as well. They can actually be stuffed into a small pouch and that rarely happens with padded jackets.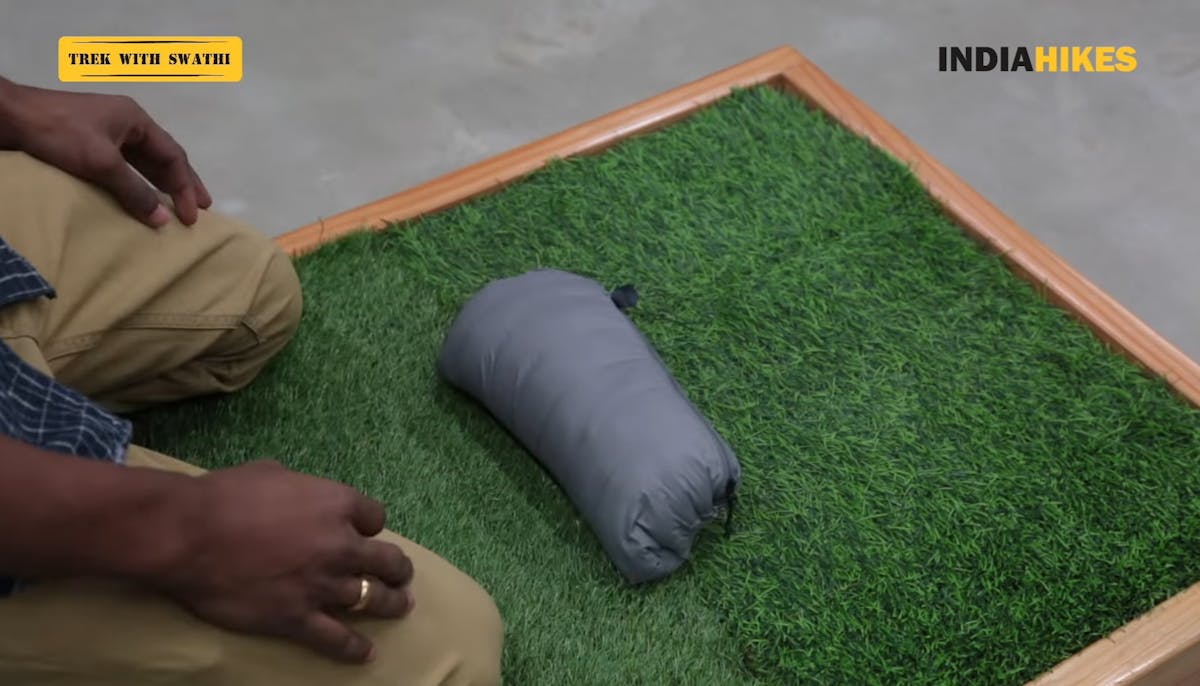 Down jackets are compact and take less space.
Padded Jacket
Of late, most padded jackets mimic down jackets in terms of volume and compactness. You can roll them right into a small ball and keep them in a corner of your backpack. 
When you're buying a padded jacket, you can make sure you get one that compresses easily. Avoid bulky padded jackets, they are not easy to use on treks.
➤ Water Resistance
Down Jacket
Everybody knows that waterproofing is the biggest weakness of down jackets. They do not keep you warm if they get wet and they take a long time to dry up once they are wet. Down jackets are most effective as mid-layers and not as outermost layers. 
Padded Jacket
Water resistance is a plus point for padded jackets when compared to down jackets. Most padded jackets are coated with at least a little bit of waterproofing. This means that they can withstand slight rain and snow for at least half an hour to one hour. It depends on the waterproofing of the particular jacket. Do check that and then choose.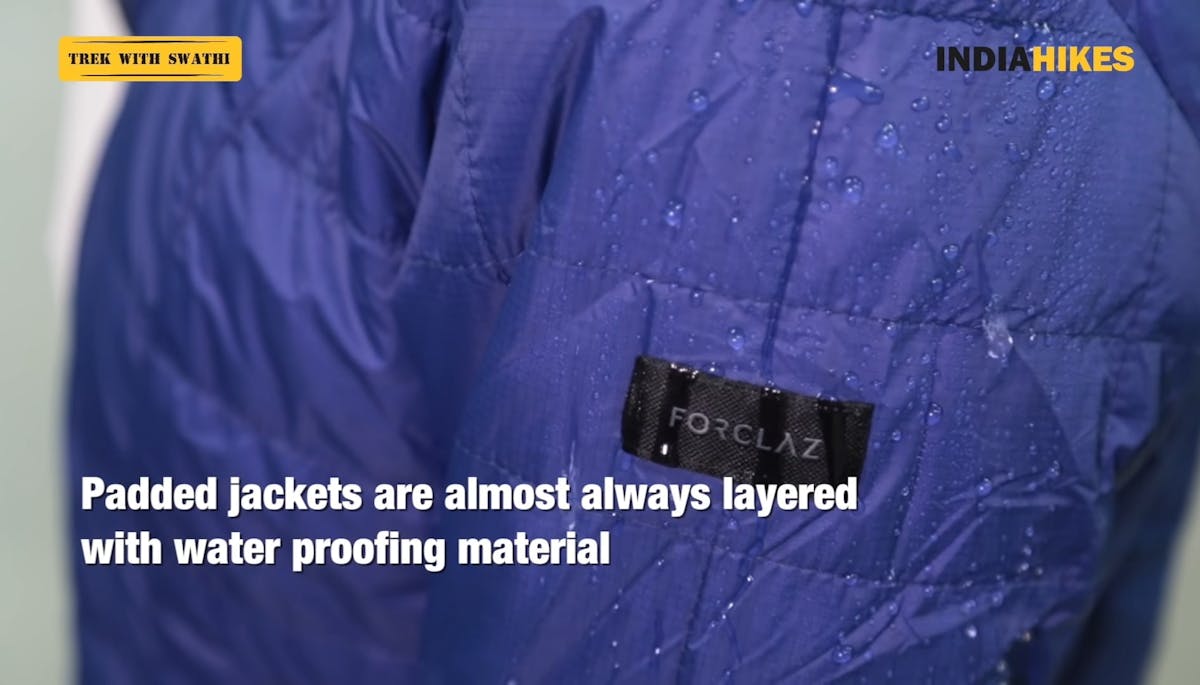 Padded jackets mostly come with a waterproof layer.
➤ Versatility
Down jacket
Down jackets have one purpose — to keep you warm. Outside of this purpose, down jackets are not your go-to jackets for anything. They come without water proofing, without hoods and inner pockets. While they can be used while hiking and trekking at high altitudes, they are mid-layers at best. 
They are not your robust, tension-free, low maintenance layers that you ideally need as an outer layer.  
Padded jacket
Padded jackets tend to be a lot more versatile. They are suitable as outer layers, given that most of them have hoods and subtle waterproofing. They have additional pockets to store small accessories. 
You can wear them while hiking over a T-shirt. Or you can wear them in the evenings on top of 4 other layers. You can even wear them for travel or bike riding. They are robust and easy to maintain. 
➤ Maintenance 
Down Jacket
Down jackets are not so easy to maintain when you're wearing them or after you use them. You have to be careful at both these times. Here are a few dos and don'ts:
Don't use them roughly while wearing them, because they are made of delicate materials. 
Don't simply toss them into the washing machine among other clothes, once you're done wearing them. 
Don't use your normal detergent on them. 
Put a tennis ball into the washing machine to maintain the fluffiness of the jacket. (Otherwise, the feathers in it tend to bunch up in one corner which reduces the effectiveness of the jacket. 
Padded Jacket
Padded jackets are a lot easier to maintain than down jackets while you're wearing them and also after using them. For most of these jackets, you can directly toss them into a washing machine. 
But there's a range of jackets in the market. So you'll have to decide and choose the kind of padded jacket, depending on the kind of usage you need. All in all, padded jackets are definitely a lot easier to maintain. 
➤ Cost
Down Jacket
When it comes to costs, down jackets are more expensive. Sourcing down feathers and manufacturing a jacket is an expensive process. 
Down jackets are usually in the range of around Rs. 5,000 to 6,000. You do get more expensive ones with higher fill power which will keep you extra warm. You also get slightly cheaper ones, which are usually mixed with polyester or non-down feathers. 
Padded Jacket
Padded jackets are much lower-priced than down jackets. This is simply because the material is easier to source than down jackets, as it's not natural. These padded jackets are available starting from around Rs. 2000 up till around Rs. 3000 on an average. Even with these, there is plenty of variety. Again, it is important to buy depending on personal requirements.
Another point to keep in mind is that even the maintenance is less expensive for a padded jacket. 
➤ Our Verdict
If you're planning to invest in one of these jackets, definitely pick a padded jacket. 
It will not only suit your Himalayan treks, but will also double up as your travel / riding jacket. It is cost-effective and easy to maintain. Given that we're in 2022, most of the padded jackets are at par with down jackets in terms of weight, warmth and compactness. You need not worry about any of these factors. 
Down jackets make sense if you're going to live in a cold place for long periods of time. They are not meant for rough use that you tend to do on a trek. 
Here's a quick sum up of the above: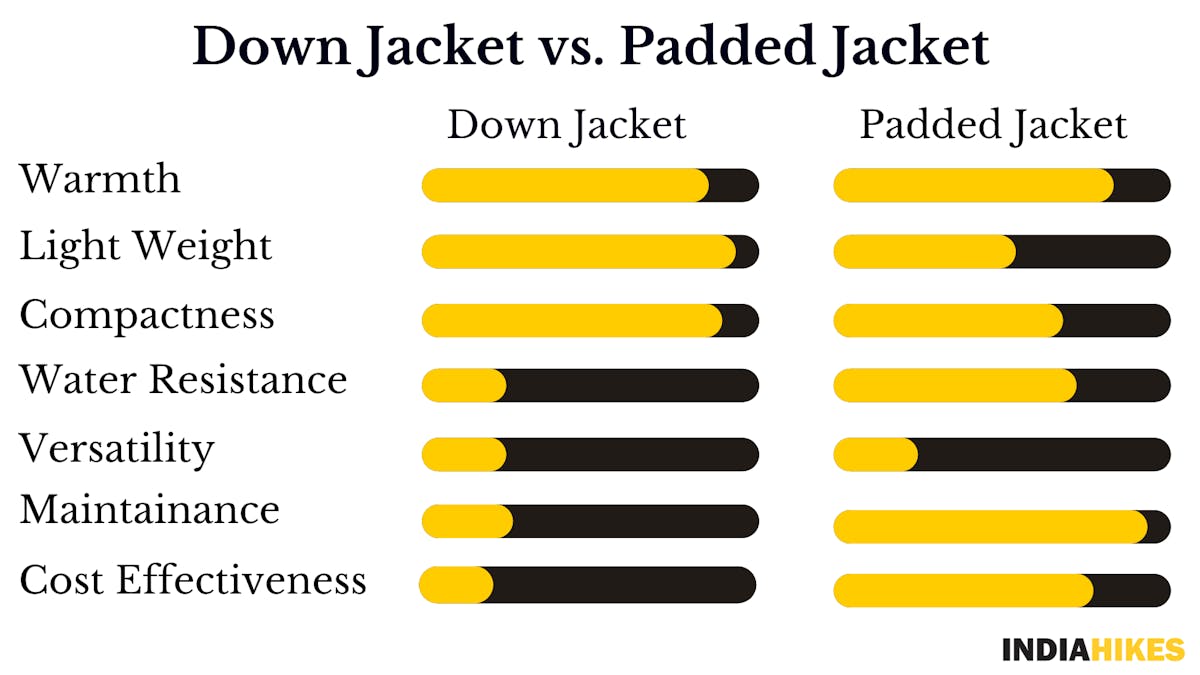 Comparision of different parameters between down jacket and padded jacket
➤ A Few Tips
Make sure your jacket has a hood and deep pockets. 
Adjustable sleeves are a bonus!
Buy a jacket that is larger than your actual size. You will be wearing them on multiple layers.
We hope this article has helped you decide which one to buy. If you have any doubts, just drop a comment and we will help you out.
Related Videos
Down Jacket vs Padded Jacket - What's better for trekkers?
AdventureWorx XPlore 55 Backpack Review | Thoughtfully Designed for Himalayan Treks | Indiahikes
How to Layer Up On a Winter or Summer Trek | Fleece, Padded Jacket | Trek With Swathi | Indiahikes
Sign up for our much loved Weekly Mailer
We have terrific trekking tips, trek updates and trek talks to look forward to