A Note to Indiahikes Founder from an Economist who Trekked to Ali Bedn...
Share this story
A note from our founder: "Sometimes it takes age and wisdom to notice things that others would not. Raghunath ji's observations of his fellow trekkers are an indicator of that. His observations of what matters truly in life are another."
Raghunath ji went on a trek with Indiahikes to Ali Bedni Bugyal at the end of March 2021. When he came back, he reflected on his  Indiahikes experience in an email to our founder, Arjun Majumdar. 
We get emails from our trekkers almost on a daily basis. But this one stood out to us because of the depth and wisdom in it. We thought everyone must read it. So here it is, with no edits from our team.
Dear Arjun,
I have just returned from Ali Bedni Bugyal Trek (29 Mar-03 Apr 21) batch conducted by Indiahikes.
This was not my first trek. I had trekked to Dayara Bugyal earlier through IH and done few solo treks such as, Tiger Nest(Bhutan) and Khaliya Top (Munsiyari).
I am working in a corporate sector and am 54+ now. Sports and physical activities were never on my list. Rather I was more inclined to literature, music, theatre, movies, stand-up comedy shows, painting, photography exhibitions and so on.
It was because of my daughter I was driven into trekking.
At 17, she would run away from home and would go to mountains and spend 5-6 days there alone. She would go alone; with her backpack, tent and sleeping bag and would just put her tent wherever she felt like. I would spend sleepless nights thinking of her safety and overall wellbeing in the mountains.
When it became unbearable, instead of confronting her, I thought of exploring the mountains myself to understand what attracts her so much to the mountains. But I couldn't have travelled solo like her. I was already on the other side of 50 and was never used to any such activity earlier.
I asked her how can I do a trek for myself. She suggested I try Indiahikes (Even though she has never trekked with IH and would always go for solo treks). Thus began my journey into the world of trekking with the first trekking with IH being the Dayara Bugyal in April 2019.
I am normally an easy-going person. But when it comes to trekking, I am the most disciplined one. At 54, I was the senior most member in the group. But that never made me uncomfortable as I would always enjoy interacting with the young and old ones alike, while finding space for myself during the trek.
Ali Bedni was a different experience altogether.
It was like a complete platter on your plate. I couldn't have asked anything more from this trek. Be it the natural beauty throughout the trek or the fun-loving group members, or the dedication of trek leader/guides, kitchen and support staff; everything was a perfect 10 out of 10.
What mattered the most was the trek experience, particularly the night treks/star gazing, spending time with trees in the jungle in the night, knowing about the stories relating to Ali and Bedni top and Bedni Kund, the local culture, vegetation and so on.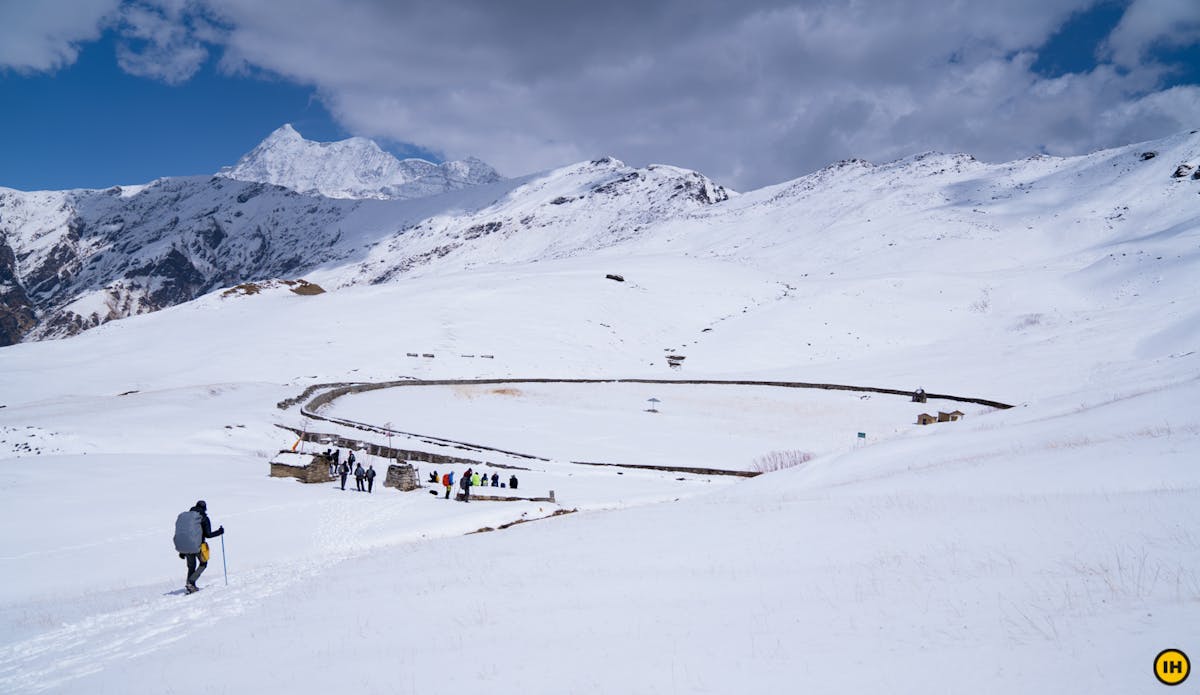 There are many stories around this trek and the ones about Bedni Top and Bedni Kund are fascinating. Picture by Yash Trivedi
I have seen people getting transformed after the trek, in such a short span of time.
Few in the group, who thought of having alcoholic drinks during the trek took a vow not to touch the liquor again. Some wanted to give back to the nature, some wanted to commit to the environmental wellbeing. Someone committed to a  minimalistic way of life. A 14-year-boy who was always on junk food refused to accept chocolates and chips as his commitment to become a fit person throughout his life.
This was not all. We all had our own stories.
There are stories of pain, suffering, agony and how each of these phases have been overcome. A young girl travels all the way from a metro city to make it to the summit just to fulfil the wishes of her friend who passed away in Covid. At the summit, she felt him with her in the lap of mighty Himalayas, in front of Mt Trishul and Nanda Ghunti. I felt as if a part of me has just melted away when I saw tears in her eyes.
A single mother accompanies her son to make to the top of Bedni to make him realise how to survive in the world, outside one's comfort zone.
A father takes his overweight 14-year-old son with him for the trek to make him realise the challenges in life and why he should focus on his fitness to live better in this world.
I have my personal experiences too.
Before reaching Abhin Kharak camp site, my phone rang all of a sudden for half a minute and got disconnected. There was no signal throughout the way. These 30 seconds are enough to get the message from the other side that my mother was seriously ill and must be admitted to the hospital. She was not taking any food and was just lying on bed almost lifeless.
The ground started melting beneath my feet. While descending to the campsite, I could not control myself. I cried uncontrollably without knowing what to do. After reaching campsite, I found my oxygen level had come down to 75. I started getting headache. I was completely fatigued.
I asked Gourab about this the next morning before going for the summit. I said I am sorry, I may not be able to go for the summit. It was 5.30 in the morning. He gave me some medicines and said I must take rest and stay at the entry point, where I can see some views.
Within an hour I started feeling better. I thought let me go with the group till I can go. If my health deteriorates, I shall come down.
As I started going up, you will be surprised, Arjun, I started feeling better with each step and felt more energetic. The more I climbed, the better I felt. All the symptoms of AMS disappeared when reached the Bedni Top.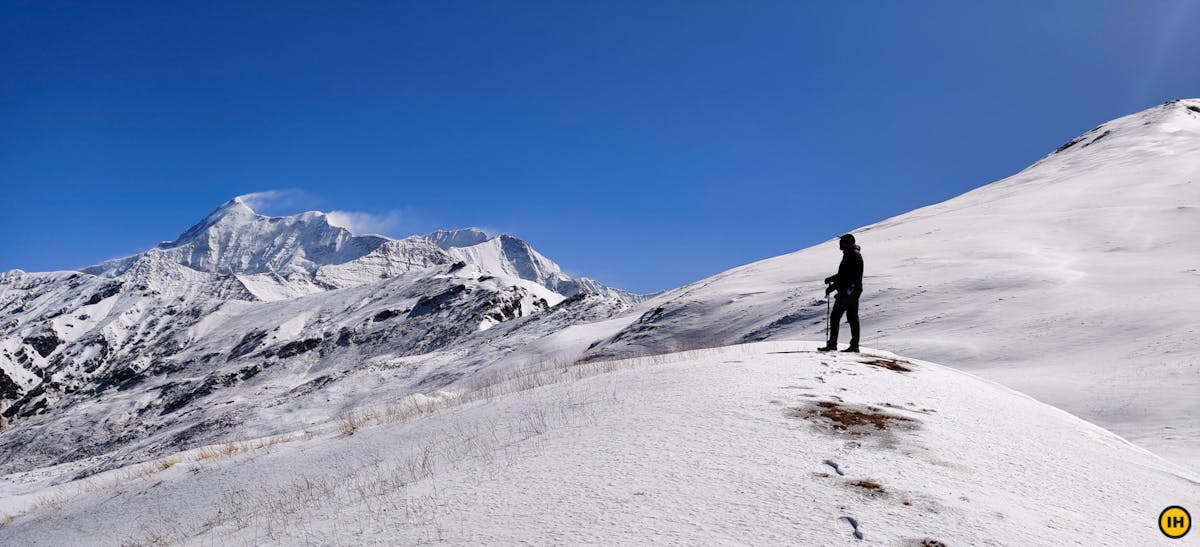 The climb to Bedni Top, with Mt Trishul and Mt Nanda Ghunti looming closer and closer is almost therapeutic. Picture by Yash Trivedi
I bowed down before Mt Trishul and Mt Nanda Ghunti with gratitude. I felt its not me who reached to the top, rather it's the Himalayas who chose me to be their lap. I prayed before the Himalayas for the wellbeing of my mother.
My Prayer at Bedni top was answered. When I descended and reached the Campsite at Gehroli Patal, I got weak signal on my phone. I immediately connected home. Tears rolled out with joy when I heard that my mother has recovered largely and there was no necessity for her hospitalisation.
Most of us  – including those who have studied economics like me – think it is money that makes the world go around.
People are happy because of money, people work for money, companies exist for making profits, nations compete for higher GDP and wealth etc etc.
Not True.
I discovered that people can stay happy with less and they can also become discontent with more. A rich company like Satyam can go bust because of its greed – driven unethical corporate practices while a similar company Infosys commands huge respect internationally. One WTC incident can make people highly insecure in a highly developed country like USA and people in a not so economically developed country like Bhutan, despite its limited exposure to consumerism, can feel more spiritual.  This is the paradox of unhappy growth. In economic jargon what we call growth vs welfare.
In our day to day lives, we come across many such illusions. The amount of money we make is only part of the story; how we spend that money also makes a big difference. And to spend in the right way we need to understand the true value of what makes us happy.
What is the price of a cold breeze on Bedni top, the colourful plants and Rhododendrons one sees while traversing into the Ali Bugyal, or the serene beauty of the never ending meadows?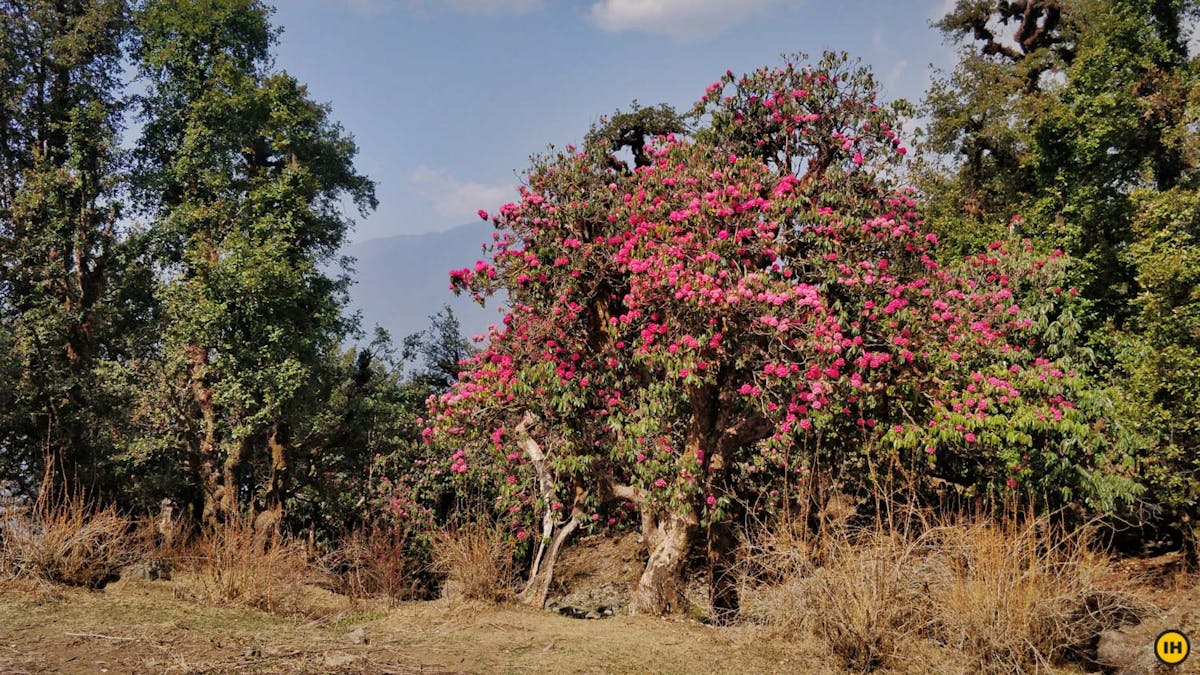 Very rarely do people count the happiness that comes from nature. What is the price of seeing Himalayan rhododendrons in full bloom on the way to Ali Bugyal? Picture by Dhaval Jajal
What is the price of star gazing in the nights in the Himalayas and feeling elevated into a spiritual world?
What is the price for spending time with the trees in the night at Gheroli Patal and feeling the tree as part of you?
What is the pricing of hearing the chirping of birds while descending to Wan?
We feel blissful whenever we go to these places but do everything that threatens the existence of these places.
I am happy that as part of Green Trails initiative of Indiahikes, I cleaned the mountains.
What is the worth of the labour that little honey bees and butterflies put in as they go about the work of pollinating. Ecologists say, the world will be dead in 5 years in the absence of honey bees. Shocking, but true. 87% of food and vegetables are estimated to be pollinated by bees and butterflies that generate a cash value of around 134 billion dollars a year. And yet, we have no respect for flora and fauna in these regions.
We do not seem to have any easy answers for the above questions. We generally take them as free, as they are economically invisible. And that is why we ignore them and neglect them despite them being beneficial and a great source of happiness for all of us. We treat the air, water, flora and fauna around us the same way. 
Arjun, in this age of consumerism, we only value things that come with a price tag. Companies invest in projects that ensures them higher Internal rate of return and nations allocate large resources and make policies that guarantee rapid growth of GDP. That's why it has become necessary to put an economic value to these multidimensional aspects of human wellbeing, be it ecology and environment or natural resources or traditions and culture or even social structure.  This will draw everybody's attention by bringing economic visibility to such things.
Such ideas are not new. In fact they have already started mushrooming in many parts of the world and also within me. I have made it point to interact with "Panch Bhut"(Five elements- Akash (Space), Vayu (Wind), Agni (Fire), Jal (Water), Prithvi (Earth) on a regular basis even though I live in a Metro.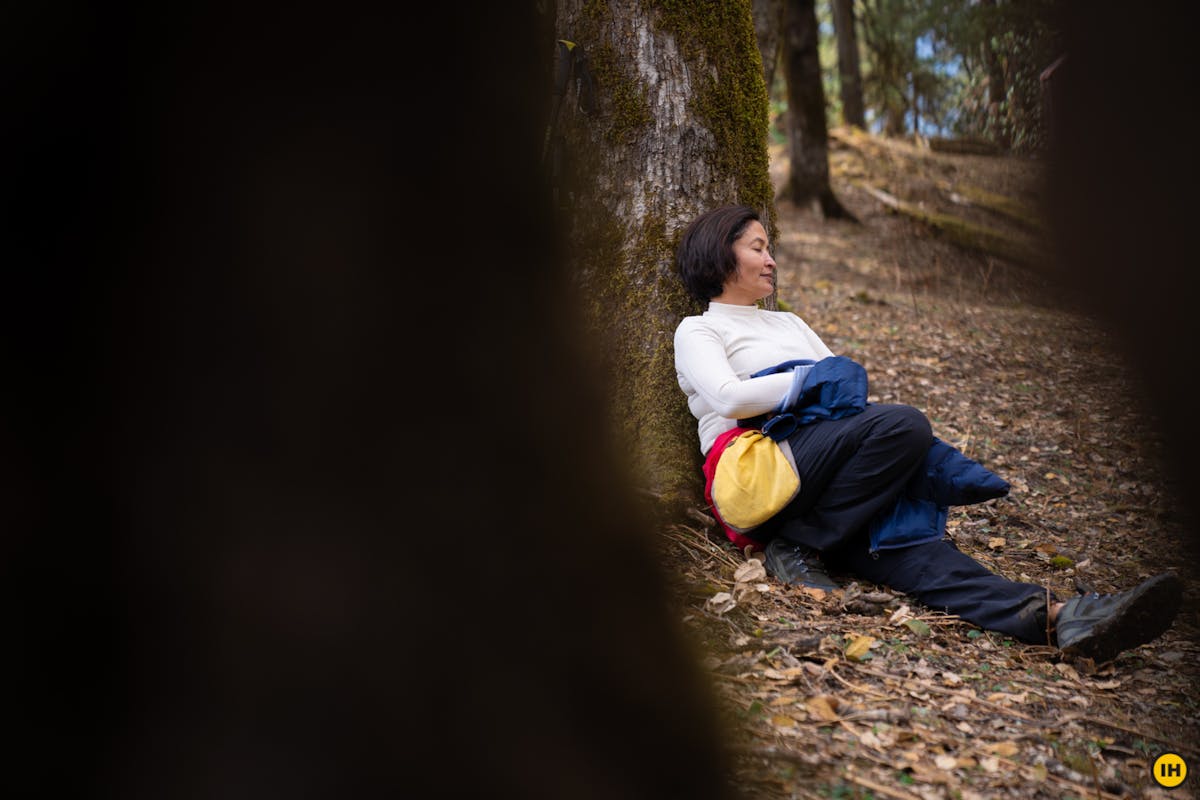 Trekking is one of the few sports that takes you closer to nature without harming it. Here's a trekker taking in the aura of the forests of Gehroli Patal on the Ali Bedni Bugyal trek. Picture by Yash Trivedi
I plant trees in my balcony, go to the park, touch the trees, walk on bare foot, expose to the sun, drink water from an earthen pot or copper vessel so that I stay aligned to my source of creations. I avoid using ACs or room heaters and even if I have to use them in extreme weather condition I make it a point to set the temperature to 27 degree. I switch off the lights of my cabin in the office whenever I go out. I made it a point to buy local handicrafts/handlooms, local produce (White Rajma, Rock salt, Malta, Ginger, Buransh Juice, Timore etc.) whenever I go to the mountains so that the village economy continues to sustain.
It will be unfair if I don't mention your team, who stood with us with full dedication and love throughout our journey. Gourab, Bhagat Chacha, Nari, Siddhu, Khusi, Raju Saha Ji and Kitchen and mule staff – all extremely caring.  I fail to understand from where Gourab gets such high "JOSH"?
I have talked a lot about my experience and views Arjun. Don't know how it flowed so long. Hope to get in touch with you and your team in near future.
Our founder's response to Raghunath sir:
"Hi Raghunath Ji
I read your email a couple of times. It was such a moving tribute to what you learnt and observed on the trek.
Sometimes it takes age and wisdom to notice things that others would not. Your observations on your fellow team mates were an indicator of that. Your observations of what matters truly in life were another.
I don't know how to put it, but you have an incredible daughter. I cannot imagine young women going out trekking on their own at her age! It requires a lot of courage and self belief. In some ways, you have set her on a life journey from which there is no turning back. She will never do a conventional career, that much I am sure of.
When it came to the part about your mother, I had such a dreaded fear. For me it is hardest when, as an organisation, we have to pass on news to a fellow trekker that someone back home is no more or in a critical state. I was so relieved when you mentioned she was ok!
At Indiahikes our vision is very simple. We believe everyone must trek — that it transforms lives. That's where we focus our entire energies on. To see if our treks can transform lives. Not only for trekkers but even ourselves.
I am so happy that the Ali Bedni Trek was able to do that with so many of you.
I am hoping the next time you come, you will be able to see similar transformations taking shape, perhaps differently.
Thank you for sharing your thoughts with me. There is a lot of learning that people can take away from it. 
Regards
Arjun"
Sign up for our much loved Weekly Mailer
We have terrific trekking tips, trek updates and trek talks to look forward to