Expert Analysis on a HAPE Case in the Himalayas: A Real Life Case Study
Share this story
Trekkers often get affected by High Altitude Pulmonary Edema (HAPE), a critical case of altitude sickness that affects the lungs. The consequence of HAPE can be fatal, often within hours. This can happen on any trek, even lower altitude ones. Trekkers heading to the mountains can learn from such experiences, so that they know how to take care of themselves and others. 
Today, we're studying one such case that occurred on the night of June 29th, 2021, on the Hampta Pass trek. Through the case study, we'll learn what went wrong and analyse what could have been done better.
The Hampta Pass trek is notorious for altitude sickness cases. It shoots up to an altitude of 14,000 ft in less than 3 days. Picture by Aditya Bodke
How the evacuation unfolded
It was around 9.30 pm, when the Indiahikes team saw the blinking lights. Two red beams flashed into the night sky. It came from not more than 3 km above the Chhatru campsite. 
Flanked by towering peaks and mountainsides, Chhatru is the last camp on the Hampta Pass trek. Despite being the last camp, Chhatru is still at a daunting altitude of almost 11,000 ft. 
"Initially, when we saw the lights, we thought it was trekkers navigating down the section. To get confirmation, our Slope Manager, Ravi Ranjan, reciprocated with a return blinking call. He immediately got a response from them. It was confirmed. It was a distress call," says Aditya Bodke, Senior Trek Leader at Indiahikes. 
"We knew they weren't Indiahikes trekkers. They could have been solo trekkers, or trekking with another organisation or local guides," says Ravi. 
Knowing someone was in trouble, a team of 6 experienced members from Indiahikes set out towards the SOS light. 
They carried a rope (which they could convert into a stretcher), an ice axe to cut through the snow patch on the way, a high altitude medical kit and one medium-sized oxygen cylinder. They also carried 2 radio communication devices, which could relay messages to the Indiahikes campsite.  
With rare road access at the camp, they took the team SUV as far as they could, and trekked for another 2.5 km. They rushed but it took them almost 25 minutes to reach the distressed group. 
10 PM: Upon reaching them, Aditya saw a trekker wrapped in a stretcher — it was a stretcher borrowed from the Indiahikes campsite at Shea Goru (the previous campsite). Four members from another organisation stood beside the trekker. A local staff member from Indiahikes Shea Goru camp was accompanying them too. 
Doing the first thing he's been trained to do, Aditya bent down to check if the trekker was conscious. He asked the trekker's name. "Divyanshu," came a quick reply from the trekker. Aditya was relieved that the trekker was conscious and in his senses. 
His next step was to check the trekkers' oxygen level. Aditya was stunned. It was at an alarming 37% saturation. At this level of saturation, organs begin to fail. The trekker could slip into multiple organ failure soon, which would eventually lead to death. Aditya acted fast. He immediately got down to supply oxygen to the trekker. Within 20 seconds, he had the oxygen on at 8 L/min.
Noticing that the trekker was coughing mildly, it didn't take long for Aditya to recognise it as a case of high altitude pulmonary edema (HAPE). A cough along with such low oxygen saturation at altitude is a very big sign of HAPE. Divyanshu's teammates mentioned that he had begun coughing after crossing the mountain pass earlier in the day. Aditya didn't need to hear anything else. 
Wasting no time, he administered 500 mg of Diamox, 20 mg of Nifedipine and 6 mg of Dexamethasone, along with continuous oxygen supply. Diamox would help him to acclimatize quickly, by expelling bicarbonates from his body. A double dose of Diamox was the need of the hour (500 mg). 
Nifedipine would reduce the fluid pressure in the lungs, which was making it difficult to breathe for the trekker. The fluid prevented a smooth transfer of oxygen into the lungs as well. This is what caused the drop in his oxygen saturation levels. 
Dexamethasone would help reduce other forms of edema (swellings). In such cases of altitude sickness, other body organs swell as well, which hampers the smooth flow of oxygen to our cells. Dexamethasone reduces the swelling. A 6 mg dose is high, but was the need of the hour.  
The trekker's Oxygen improved to the 60's, but did not improve beyond that. Aditya knew there was tremendous pressure on his lungs. HAPE had taken a firm grip on the trekker. There was no time to lose. 
While Aditya checked on the trekker, the rest of the Indiahikes team planned out the evacuation. They would stretcher the trekker all the way to the road head, from where they would drive to Manali (64 km away). They would take the Atal Tunnel to Manali, which would buy them a precious 4 hours, as compared to the older route through Rohtang pass.
10.20 PM: In the heart of the desert-like Lahaul, the descent was steep and rocky. Their first challenge was an icy stream they had to cross. Then came the snow. The snow traverse was a 45-degree incline directly over the Chandra river. 
With one team member ahead, one at the back, and Aditya crouching below the stretcher holding onto the oxygen cylinder, they crossed the slippery section in the light of their headlamps.
From the Chhatru campsite, an alarmed set of trekkers watched on, as a series of headlamps and flashlights lit up the mountain side on a dark night. 
10.50 PM: Within 30 minutes, the evacuation team reached the vehicle. Meanwhile, Slope Manager, Ravi had radioed our base for the larger oxygen cylinder, which is kept at all Indiahikes camps for emergency purposes. 
Once the trekker was plugged into the large-sized cylinder, the vehicle rushed towards Manali. 
Throughout the journey, Aditya monitored the trekker, making conversation, keeping him in his senses and administering oxygen. 
The trekker stopped the vehicle to urinate twice (a good sign, showing that the Diamox was working). The first pee-stop was concerning. Divyanshu's oxygen saturation dropped from 72 to 42 in a matter of two minutes. The trekker was surviving purely on supplemental oxygen. On the second pee-stop, Aditya didn't take a chance. He went along with him, carrying the oxygen. 
1.30 AM: It took 3 agitated hours, but the vehicle made it to Manali. "Our biggest challenge was to make the big oxygen cylinder last throughout the journey," shares Aditya. With careful estimation, they regulated the flow so accurately that the oxygen lasted just until the trekker reached the emergency ward. 
At the hospital: 
An X-ray of the lungs showed that one lung was heavily infected (a medical confirmation of HAPE).
The hospital tested him for COVID with a Rapid Antigen test, which came negative. 
They sent samples for an RT-PCR test, the results of which came back negative the next day
At the hospital, the trekker was put on supplemental oxygen, saline drips and administered a few regular medications. However, Aditya had already given him the life saving drugs on the slope, which helped the trekker recover quickly at Manali. The lower altitude of Manali, of course, helped the most.
As we document this on July 1st, the trekker is still in the hospital, on a steady supply of oxygen. He's doing better, with oxygen saturation in the high 90's. He may spend a few more days in the hospital before being discharged. Divyanshu's full recovery from this may take a few months though.
The HAPE-affected trekker, Divyanshu, was kind enough to answer some questions for a case-study, to help us assess what went wrong, and what could have been done better to avoid a near-death experience. 
8 Lessons We Can Learn from the HAPE Case Evacuation
1. Have an acclimatization-friendly itinerary 
What could have averted the whole situation is a more well-thought-out itinerary keeping altitude gain in mind. Divyanshu's team followed an itinerary that covered the Hampta Pass trek in 4 days, as opposed to the regular 6-day itinerary. 
Day 1: Manali (6,726) to Chika (11,500 ft) 
Day 2: Chika to Balu Ka Gera (12,411 ft)
Day 3: Balu Ka Gera to Shea Goru (12,864 ft.), via Hampta Pass (14,065 ft) 
Day 4: Shea Goru to Chhatru (10,898 ft)
Day 5: Chhatru to Manali
| Analysis: "Even with the 6-day itinerary that we follow, the Hampta Pass is notorious for AMS cases. The Hampta Pass trek starts too quickly, from above 9,000 feet. These are dangerous altitudes to start a trek. What the trek requires is an acclimatisation day in between. 
Which is why, even though the distance is short, an acclimatisation day at Jwara (11,200 feet) is excellent for the trek. It saves trekkers from getting into a messy situation later on. Divyanshu's team needed a break between Chika and Balu Ka Gera."  
| Learning 1: Always give your body time to acclimatise when you're going on a trek that has a forced ascent. Include acclimatization days within the itinerary, if required stay at a camp for two days.
| Learning 2: Don't make the mistake of acclimatizing at the wrong altitude. In case of Hampta Pass, many trekkers choose to stay at Manali (6,726 ft) considering it acclimatizing. It's not acclimatization unless you're within a range of around 2,000 ft to your next day's altitude. Divyanshu should have spent an extra day between the 9,000 and 11,000 feet acclimatising.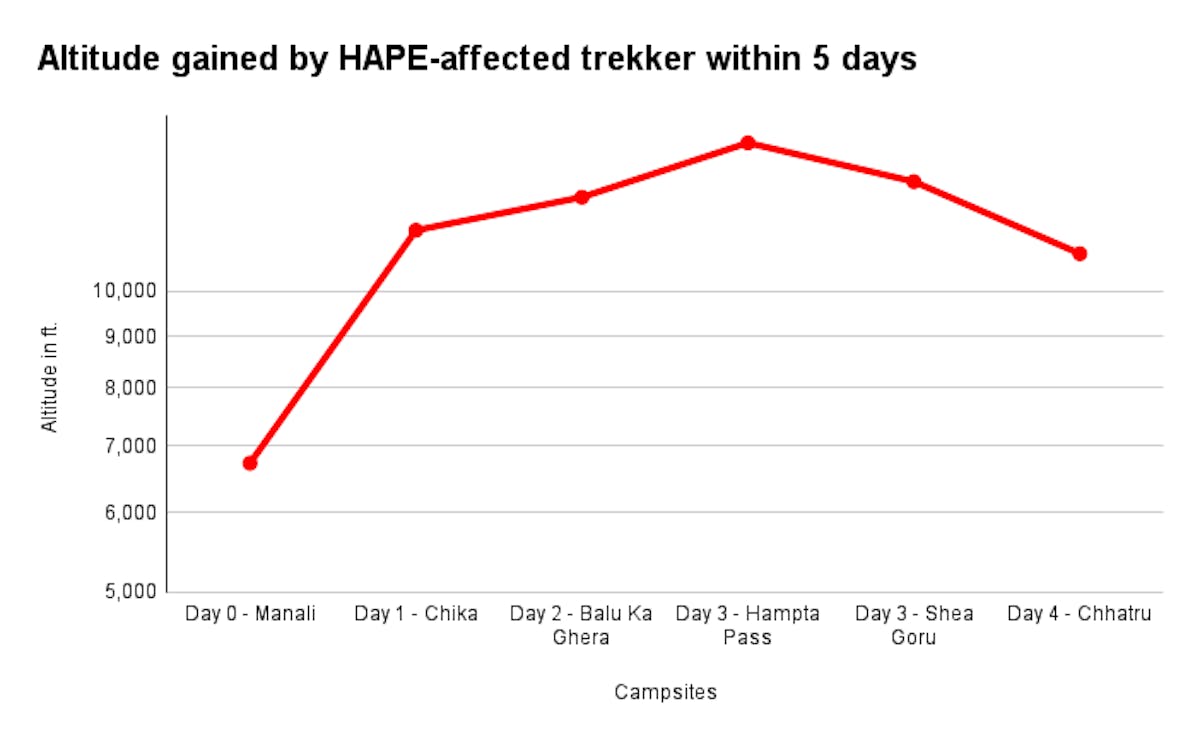 The trekker spent a day at Manali and then started the trek. He has climbed up to 14,000 ft within 3 days, which could have brought on altitude sickness a lot quicker than usual.
2. When at high altitude, suspect and treat AMS first. Don't attribute symptoms to anything else
"The night we camped at Balu Ka Gera (Day 2), I had very disturbed sleep. I woke up every few minutes," says Divyanshu, recalling the night before he crossed the pass. "I didn't eat much that night either," he recalls. 
The next day too, he didn't eat. Neither did he have much water to drink. 
| Analysis: "All these symptoms that Divyanshu felt — a lack of appetite, sleeplessness, are symptoms of AMS," says Sandhya UC, co-founder of Indiahikes. 
"Most trekkers wait for a headache or to vomit to recognise AMS. But lack of appetite, sleeplessness, indigestion are also symptoms that indicate that your body is struggling to cope with the altitude. It is a clear sign of altitude sickness," she adds.
| Learning: It's not normal to feel sleepless or a lack of appetite at high altitudes. Don't attribute it to anything else. The golden rule at high altitude is to suspect AMS first and treat it.
3. Catch symptoms early and nip it in the bud
"On the first day from Manali to Chika, I trekked very comfortably. I was fine at the Chika campsite as well. My oxygen was well in the late 80s (a normal reading for the altitude)," says Divyanshu. 
"The second day, when I was trekking from Chika to Balu ka Gera, I could sense my pace had reduced. I was lagging behind a bit," he recollects. "When I was at rest, my oxygen reading was around 86 in the evening, so I still felt okay." 
"The next day, when I started my climb to the pass, I was exhausted with every ten steps. I had to stop and rest. I even handed over my backpack to our Trek Leader," he recalls. 
It was after they crossed the pass that Divyanshu felt full-blown symptoms of HAPE, with cough and difficulty breathing. "Just walking made him wheeze," says his friend. So much so that their Trek Leader decided that camping at Shea Goru was a bad idea and started descending to Chhatru — a crucial good decision. 
| Analysis: "Most times, HAPE doesn't occur as suddenly as trekkers think. But after it affects you, it can reach a deadly stage within hours," says Arjun. 
"It is clear that Divyanshu's HAPE did not happen after he crossed the pass. His fatigue at Balu Ka Gera, his sleeplessness, his lack of appetite are all clear indicators that he already had AMS at Balu Ka Gera, which grew in intensity as they climbed to the pass, and turned into a full blown case of HAPE," he analyses. 
Aditya Bodke adds, "It's not easy, but at times like this, when a trekker is extremely fatigued, it's important for the Trek Leader to take the hard call of sending the trekker back. I would have probably returned Divyanshu at Balu Ka Gera. The sooner you turn around a trekker, the better it is. You may have averted a life threatening situation. Climbing a pass with symptoms is almost like signing a death warrant." 
| Learning: Learn about all the symptoms of AMS, HAPE and HACE well if you're going on a high altitude trek. We have always maintained that an informed trekker is a safe trekker. 
"On another note," adds Aditya, "don't always rely on oximeters. They are machines after all and can go wrong. Trust your instinct, trust what your body is telling you before you trust an oximeter."
4. Always have Life Saving Drugs (LSDs) with you on high altitude treks. Know how to administer them. 
When Aditya met Divyanshu nearly 12 hours after he showed HAPE symptoms, he learnt that no medicines had been administered to him. He immediately whipped out Life Saving Drugs from our medical kit and gave him doses of Diamox, Nifedipine and Dexamethasone.
"I think it was a turning point when you gave me those medicines," says Divyanshu. 
| Analysis: When Divyanshu told his Trek Leader that he was feeling a bit unwell at Balu Ka Gera, if he was given 250 mg of Diamox every 6-8 hours, he might have never gotten HAPE. In fact, his AMS may have disappeared altogether," analyses Dr Lakshmi Selvakumaran, head of Learning and Development at Indiahikes. 
"From what I've observed, many Trek Leaders hesitate to administer medicines. Diamox is a diuretic. Nifedipine is a bronchodilator. Dex is steroid. Most Trek Leaders worry about side effects or allergies. Frankly, if it means saving a life, it's better to risk a small allergy than risk a trekker's life," she adds. 
| Learning: On a high altitude trek, always carry Life Saving Drugs (LSDs) in your personal medical kit — Diamox, Nifedipine and Dexamethasone. These are medicines that are readily available. 
What's more important is knowing how to administer them. 
Also, do not treat signs — like a loose stomach or a fever. Rather, get to the underlying reason behind the signs. It could be altitude sickness.
5. Go on a preventive course of Diamox if your trek involves forced ascents.
There are some treks that climb quickly (like the Hampta Pass or the Bhrigu Lake). On most such high altitude treks, AMS can be avoided with a simple preventive course of Diamox. Diamox is a medication that helps you to acclimate faster by making your body hyperventilate, thereby taking in more oxygen. To know more read this post on how Diamox deals with AMS.
| Analysis: Trekkers are often reluctant to take a preventive course of Diamox. Either ignorance or a false ego prevents them. Unfortunately, the Indian Himalayas are notorious for their swift climbs. It is generally not possible to camp at 1,000 ft intervals (as it is most prescribed by mountain climbers). We most often camp in gaps of 2 or 3 thousand feet. This very often results in situations where we develop altitude sickness. 
Added to this, a long day's trek depletes oxygen in our blood very rapidly. While trekking we are breathing hard, losing oxygen. If we are unprepared, and carrying our backpack, the loss of oxygen is more rapid. 
| Learning: Being on a preventive course of Diamox can greatly help in acclimatisation. You need to take 125 mg of Diamox (half a tablet) at 12 hours intervals. I generally recommend an 8 am and 8 pm schedule. Be on a preventive course of Diamox on treks that (1) Have forced accents — camps separated by more than 1,500 feet (2) start treks at high altitude from road head, usually above 9.000 feet (3) treks that anyway reach altitudes above 14,000 feet.
6. Make yourself aware of trekking after recovering from COVID-19
It was only during Aditya's interview with him that he learnt that Divyanshu had been infected by Covid-19 in February 2021. "Even though he wasn't hospitalised, he did have symptoms of Covid," says Aditya. 
| Analysis: This is a new topic that we're all still learning about. But in an interview with Dr Sreelakshmi on trekking post-Covid recovery, she said, "If you've got a severe bout of Covid, I would advise waiting a minimum of 3 months before heading to the mountains. There's a reason for this. For moderate to severe Covid, there can be scarring in the lungs and fibrosis as a sequela of the disease. You tend to feel body pain and tiredness long after the infection is gone. 
"Recovering from this takes some time. It takes 2-3 months to reach your Pre-Covid energy levels and get rid of the post-viral myalgia," she adds. 
| Learning: If you have had Covid in the recent past, with symptoms (mild or severe), consult your doctor before going on a high altitude trek. 
It is also better to choose a high altitude trek that doesn't climb above 13,000 ft, just to test the waters. Something like Dayara Bugyal, Phulara Ridge or Deoriatal-Chandrashila, where evacuation can also happen within 2-3 hours if you're hit by AMS. I would also recommend doing a few local treks before getting on a Himalayan trek after Covid recovery.
How to go about Trekking Post-Covid Recovery: A Doctor's Note
7. Always carry 2 personal 1L bottles of water with you
One of the things that could have exacerbated Divyanshu's condition was that he did not have any water with him when he was descending from the pass. The team was scattered so he could not approach anyone else for water either. 
| Analysis: "This is a debatable point, because by the time he crossed the pass, he was already on the early symptoms of HAPE. Good amounts of water here would have helped him release bicarbonates from his body, allowing him to acclimatise," mentions Arjun. 
"However, water is an elixir at high altitude. Just breathing and existing at high altitudes dehydrates you every minute. The moment your body doesn't get it, it starts reacting adversely. Lack of water does not aid in acclimatisation" he adds. 
| Learning 1: Despite being a small point, there are big learnings here. It's imperative that every trekker carries 2 1L bottles for themselves. These must be filled before the start of every day's trek. A good way to assess whether you're dehydrated is by checking the colour of your urine every time. If it is too yellow, you know you're not drinking enough. What is more important is to ration your water on your trek. Some trekkers finish their water too quickly and then remain dangerously thirsty for the rest of the trek. It is asking for big trouble.
| Learning 2: When you're on a trek, even if you have 15 team members, it's important to stick together, or at least be within seeing-distance of each other. This helps the Trek Leader keep an eye on the whole team, not having to spend all his attention on just the first / last member of the team. Giving attention to one team member can put the others in grave danger.
It has taken us years of persistence, but at Indiahikes, we have managed to improve the overall fitness of trekkers to an extent that everyone is able to maintain an average pace. There isn't much distance between the first and last trekker. That way, the Trek Leader and guides are able to flit between all team members to check on them and ensure their safety.
In conclusion: 
What we have seen in this HAPE case is not uncommon. In fact, the most dangerous aspect of HAPE is that it often goes unrecognised or ignored, until it reaches a stage where an emergency evacuation is required. 
The biggest change we can bring about in Indian trekking is to be more aware of the symptoms of AMS and HAPE and know how to treat them. Better yet, prevent them.
So if you're signing up for a high altitude trek, take time to assess the organisation you're trekking with, read about them, call them and talk to them, talk to other trekkers who have been with them. If you're trekking at altitudes such as 10,000-11,000 ft, this doesn't matter so much. But it becomes a matter of life and death when you're trekking to 14,000 – 15,000 ft. 
If you have any questions or observations, drop in a comment below. We'll be here to answer an doubts you have.
Note: We are very thankful to Divyanshu, who agreed to let us document his medical case and understood the importance of the learnings we got from it. 
Sign up for our much loved Weekly Mailer
We have terrific trekking tips, trek updates and trek talks to look forward to