Fascinating Stories About How Some Of India's Most Famous Treks Got Th...
Share this story
It was April 2021. We had just started from Tapoban, the base camp of our Kuari Pass trek. We had trekked for hardly two hours, when commanding views of Mt.Dronagiri brought us to a halt. Our trek leader decided it was the perfect time for a break, to enlighten us with stories of the mountains and trails. 
He took us back to 1905, when Lord Curzon, the then Viceroy General of India and an avid trekker, was on a quest to explore the mountain ranges of the Garhwal region. So smitten was he by the pristine beauty of this land, that he asked his local guides the native translation for the word 'virgin.' "Kuari," they said. Thus was born the Kuari Pass Trek.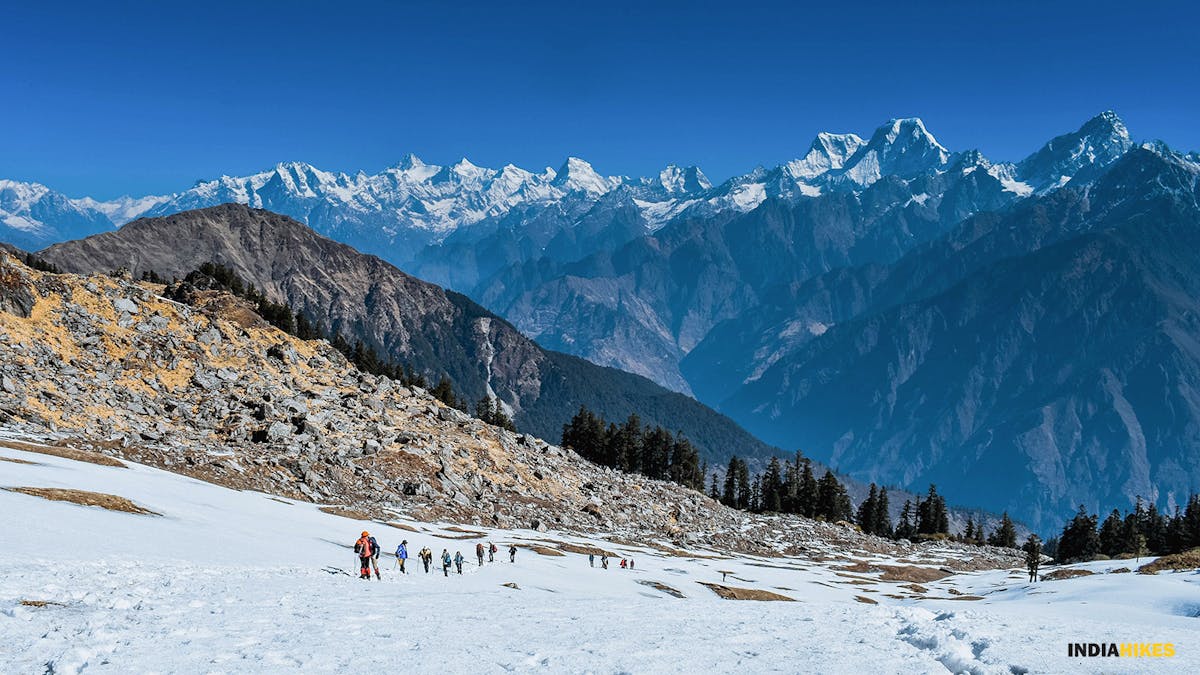 Kuari Pass is one of those special treks that allows you to stand up close with few of the biggest Himalayan peaks with very less effort. Picture by Valay Bhatt.
Quite fittingly, the Kuari Pass Trek is also known as the Lord Curzon Trail.
As I researched this article, I realized that most trails have a story behind them — some more obvious than others and some shrouded in fables and folklore. Knowing these anecdotes isn't just about just listening to a story. It provides a depth, a perspective that makes one appreciate the entire experience so much more. 
If you are about to set off on any of these treks, I hope, knowing these stories; some fact, some fiction, adds to the magic of your journey.
1. Tarsar Marsar Kashmir Trek
Widely considered one of India's prettiest trails, the Tarsar Marsar Kashmir Trek takes you to two of the most beautiful alpine lakes of the country. But behind the shimmering waters and crystal clear mountain reflections lurks a tale of mystery. 
Trek Leader Vijeet Shaw gives me the lowdown. "Tarsar is considered to be sacred, a lake that is blessed. Marsar, on the other hand, is considered to be cursed. And there is a reason for it. 
"Local legend is that there once was a shepherd who took his sheep grazing in these valleys. One day, his herd ended up going close to Marsar and accidentally wandered into the lake. He ran after them but unfortunately, they had already gone too deep into the lake. 
"For the next couple of days, the shepherd kept hoping his sheep would come back, but to no avail. Almost on the verge of giving up, he looked up to the skies and prayed to the heavens. 
"God heard his appeal and instructed the shepherd to go to Tarsar Lake. He told him that he would find his herd there. At Tarsar, the shepherd found his sheep emerging from the lake, one by one. 
"The shepherd got curious and decided to find out where the sheep were emerging from. But God cautioned him from doing so. Not paying heed to the advice, he went into the lake, looking for the rest of his herd. It turned out to be a mistake. The sheep that had already emerged from the lake got to the safety of the shore, but the rest of the herd never came out.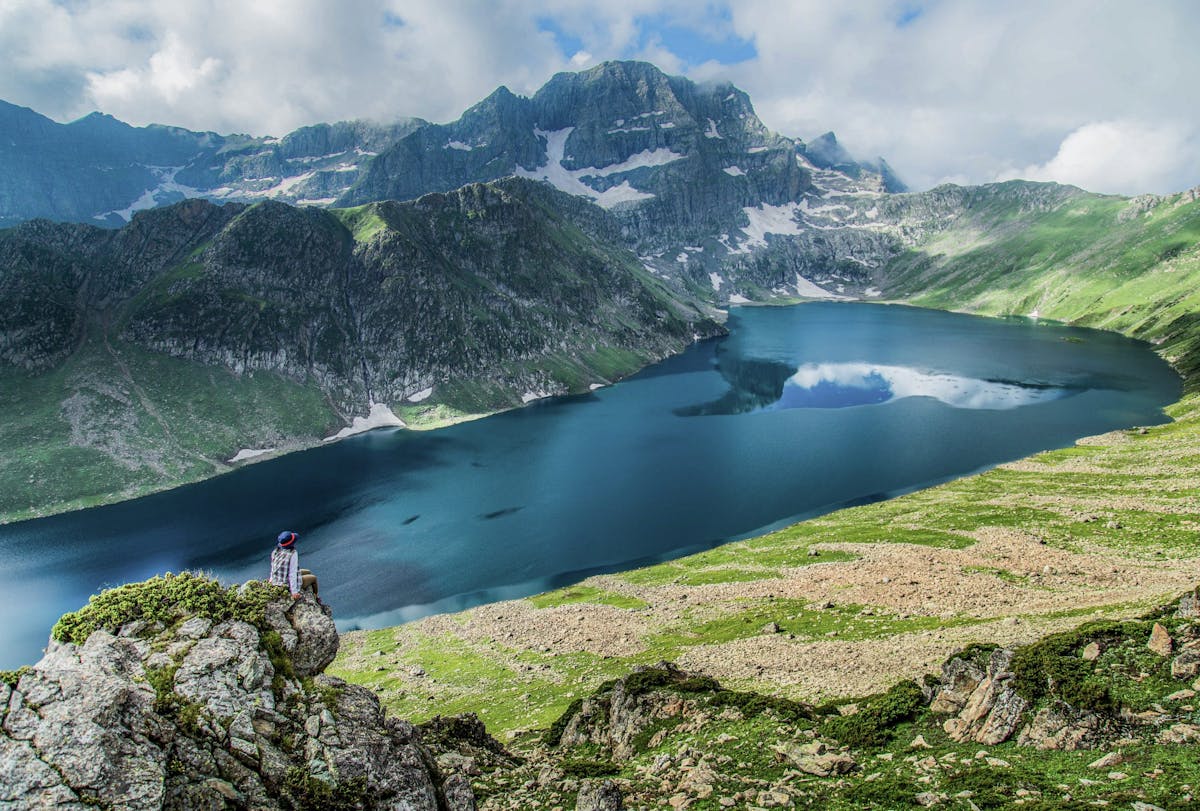 The striking blues of Tarsar Lake. Picture by – Kishan Harwalkar.
"That is how the lakes got their name – Marsar means the lake that kills ('Mar' means to kill and 'sar' means lake in Kashmiri) and Tarsar means a lake that gives life, that resuscitates ('Tar' refers to 'तैरना' or to swim).
"Even today, locals are petrified of going near the lake or touching its waters. And for that reason, nobody camps around Marsar, and it is an isolated lake. You can watch it from a distance, but you cannot touch its waters," sums up Vijeet. 
2. Valley of Flowers Trek
One of the most popular trails in India, the Valley of Flowers Trek needs no introduction. Every year, hundreds of trekkers from around the world make their way through the valley to marvel at close to 500 species of flowering plants and pay their respects at Hemkund Sahib.
The name is as simple as it gets. But what is interesting is how the valley was discovered and named.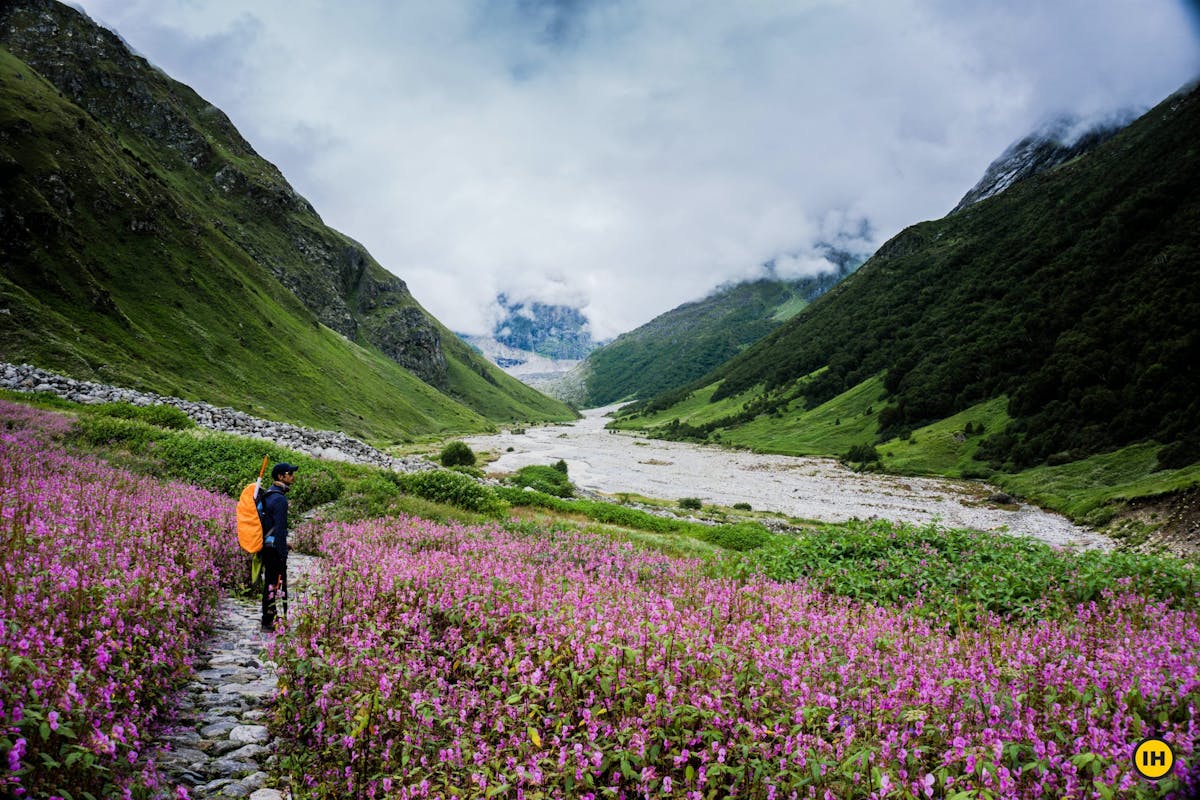 A trail through the valley with flowers on either sides. Picture by – Rupesh Thakre.
Trek Leader Nitesh Kumar narrates the story.
"In 1931, a British mountaineer called Frank Smythe was attempting to climb Mt Kamet along with a handful of other explorers. After a successful summit climb, the group lost their way. On the way down, they found themselves in a valley covered in mist and clouds. When the fog cleared, they noticed that the entire valley was a carpet of flowers. Frank Smythe found himself in a setting so stunning that he thought he had died and gone to heaven. 
It was only after six years of studying flowers and learning gardening that Smythe returned to the valley again. Armed with extensive knowledge of the region's flowers and a deeper appreciation of the valley's splendor, Smythe christened the region 'Valley of Flowers.' He also wrote and published a book titled The Valley of Flowers in 1937. 
That is when the whole world got to know about this place. It was 51 years later that the Valley of Flowers was declared a UNESCO World Heritage Site, in 1988," says Nitesh. 
3. Gaumukh Tapovan Trek
Part pilgrimage, part adventure, Gaumukh Tapovan is one of the earliest established treks in India. Young and old come from near and far chanting Jai Gange and Har Har Gange to be in the presence of the holiest river of India — the Ganga. While trekking along its waters is an experience in itself, knowing the significance behind the name 'Gaumukh Tapovan' makes the journey a mystical one.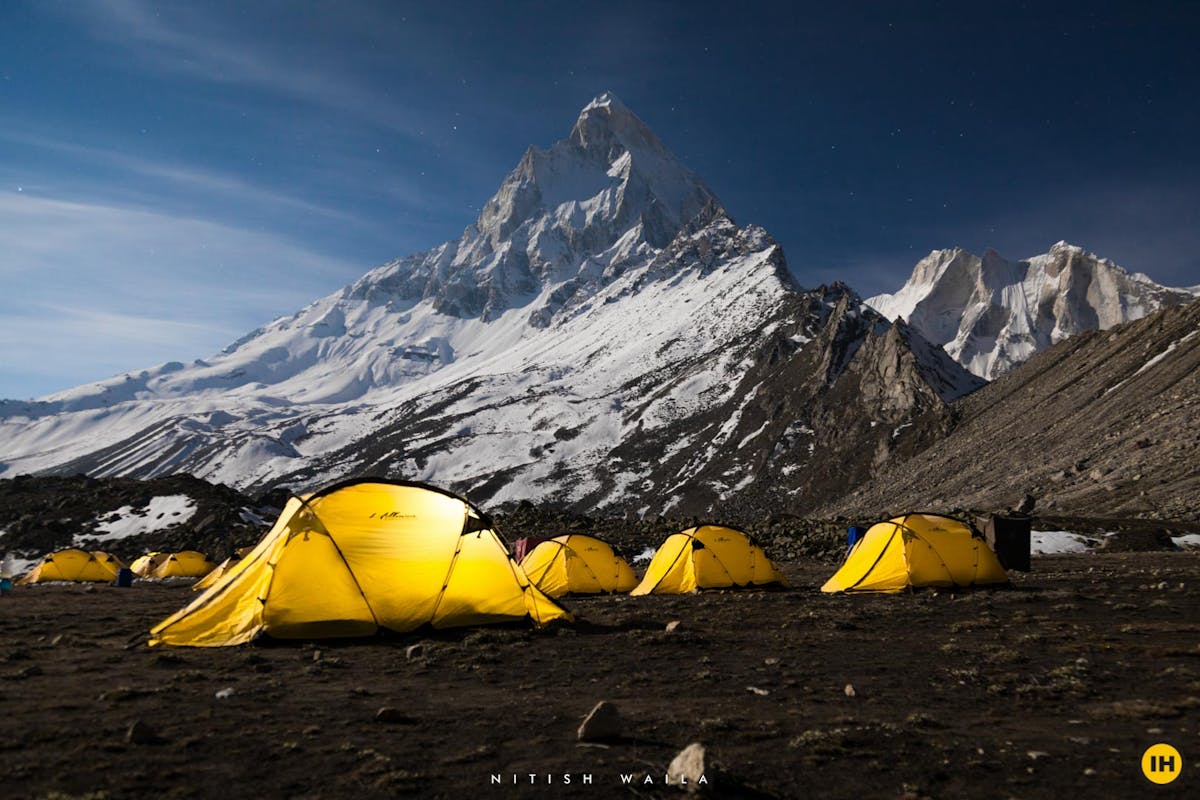 The snow white Mt Shivling in the dark of the night. Picture by Nitish Walia.
Nitesh talks about the mythology associated with the trek. 
"You can trace the story of Gaumukh Tapovan back to the BC period. 
Gaumukh is the origin of the River Bhagirathi, which later merges with the Alaknanda to form the River Ganga. The Bhagirathi River derives its name from a king named Bhagirath, who is said to have brought the Ganga from the heavens to the Earth. 
The story goes that King Bhagirath, who was the ruler of the Sagara dynasty, gave up his kingdom to atone for the curse laid upon his ancestors by Saint Kapila. He headed to the Himalayas to pray to Goddess Ganga to come down upon Earth to purify his dynasty of the sins of his ancestors. 
Pleased by his devotion, Goddess Ganga appeared before him and agreed to descend from the heavens. She, however, warned Bhagiratha that Earth would not be able to handle her power. She could come down only if her powers were reined in, and the only person who could do that was Lord Shiva. 
King Bhagiratha approached Lord Shiva and requested him to control Ganga's fury. 
That's when Lord Shiva wrapped Ganga around his jata (his hair) thereby controlling her flow. He then let her enter Earth from a glacier in the Himalayas. The snout of the glacier was shaped like the face of a cow or Gau mukh— a deep symbolism in Hinduism as it represents Nandi, Lord Shiva's vehicle.
"Tapovan, on the other hand, translates to holy land of penance. And how beautiful is it that right at the heart of Tapovan, you see Mount Shivling, a form of Lord Shiva?" says Nitesh. 
With a steady stream of trekkers doing the difficult climb to see the awe-inspiring Mt.Shivling, its allure and distinct spiritual vibe remain undiminished. 
4. Ali Bedni Bugyal Trek and Brahmatal Lake Trek
It's not just the basecamp of Lohajung and majestic views of Mt.Trishul and Mt.Nanda Ghunti that the Ali Bedni Bugyal and Brahmatal Lake treks share in common. On these adjacent trails, trekkers can see the expansive meadows of Ali Bedni Bugyal from Brahmatal top and vice versa. It's, therefore, no surprise that the stories of these two trails are inextricably tied together. 
Trek Leader Syama Krishna throws light on the legends surrounding the meadows and mountains of these trails – 
"It is believed that Lord Brahma wrote the Vedas from different parts of the world. One of the places where he wrote a part of the Vedas is thought to be Bedni Bugyal. In fact, Bedni Bugyal derives its name from "Ved," referred to as 'Bed(h)' in the Garhwali language. Bedni Bugyal literally translates to Meadow of the Vedas.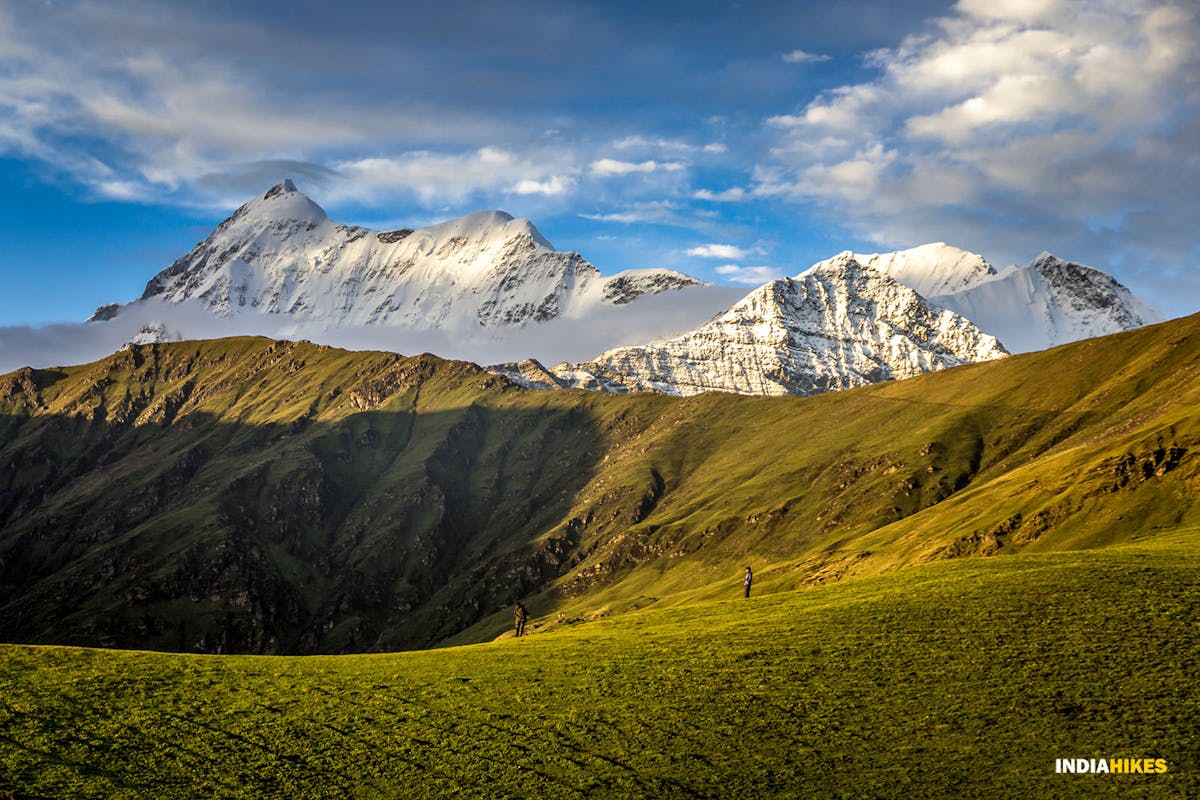 An imposing Mt Trishul rising behind Bedni Bugyal in month of April. Picture by Tarun Gupta.
This is where the story of Brahmatal comes in. 
When Lord Brahma was writing the Vedas sitting in the meadows, he needed to wet the tip of his finger to turn a leaf in his book. He needed pure water to turn the pages with, and thus Lord Brahma created Brahmatal. "Tal" means lake in Hindi and Garhwali. The name literally translates to Brahma's Lake."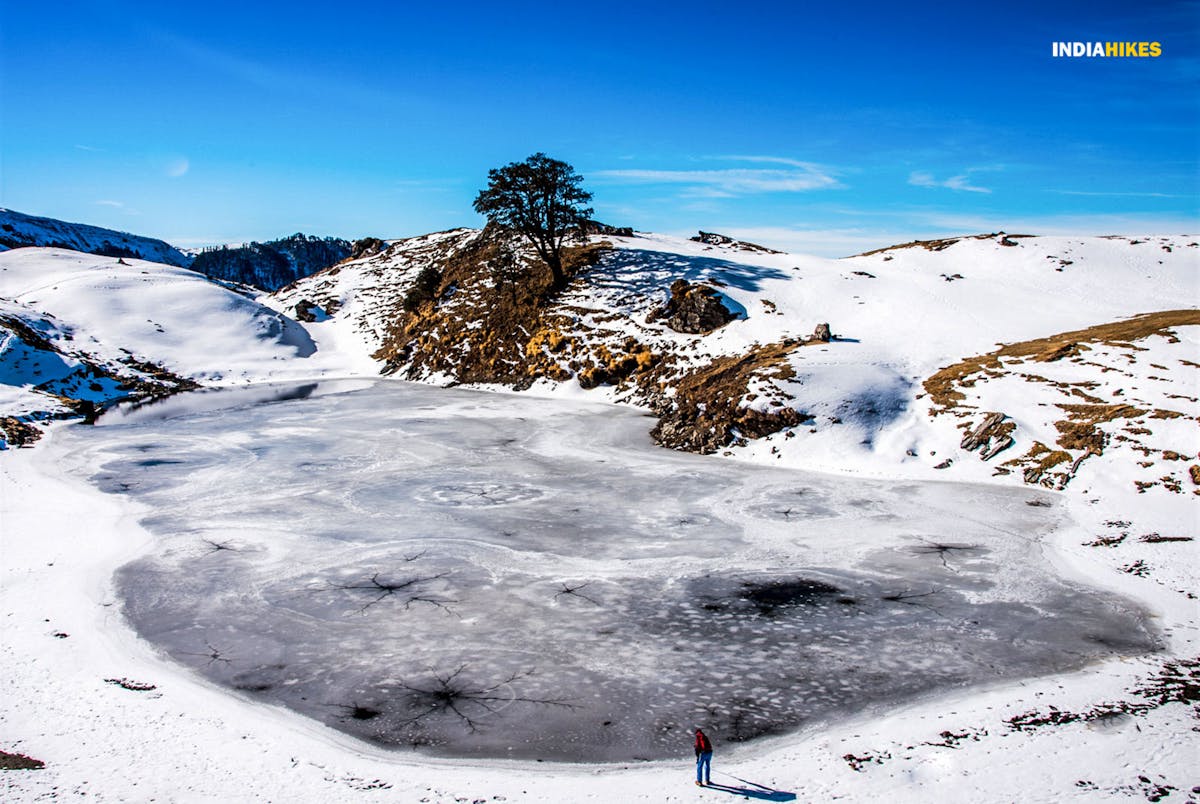 The frozen Brahmatal Lake in winter. Picture by Gajendra Kumar.
Religious or not, knowing that you are walking the lands where the Vedas might have been written adds a certain allure that cannot be quantified. 
5. Roopkund Trek
The Roopkund Trek holds a very special place for Indiahikes. In 2007, Arjun Majumdar, CEO, and founder of Indiahikes wrote a detailed account of his trek to Roopkund that caught the imagination of trekkers around the country. This propelled him to start Indiahikes in 2008, announcing the first organized trek to Roopkund.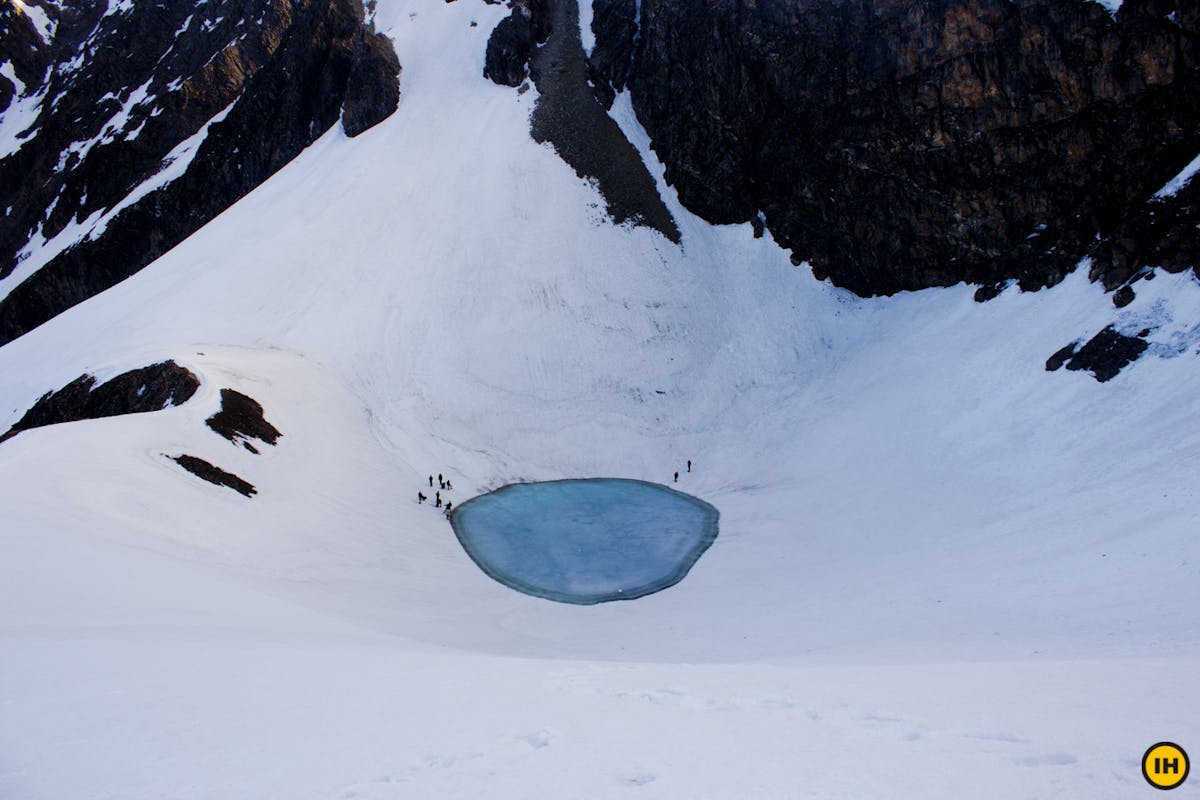 Trekkers standing by the Roopkund lake at 15,750 ft. This picture was shot in summer (May) by Ravi Singh Rana.
Roopkund Trek is a trek surrounded by lores and legends! While the most popular stories surrounding Roopkund are related to the skeletons found in the lake, Nitesh told me the story behind how and why the lake and trek got its name. 
"This is a story that not many people know," narrates Nitesh. "There was a fierce battle between Goddess Ambika (Durga's incarnation) and a demon called Raktabija. Maa Ambika was joined in this war by the Matrikas or divine mothers. But they found it tough to defeat him. 
Raktabija had a boon that every drop of blood that fell from him would turn into a clone of Raktabija. Soon, the battlefield was filled with duplicates of the asura. 
To help the Devis, Parvati took the form of Maa Kali. She prevented even a drop of blood from touching the ground by collecting it in a bowl and drinking it. She went on to kill the other Raktabijas that had emerged from his blood drops by swallowing them whole. However, even after Raktabija was destroyed, Maa Kali's fury did not subside. She went on a rampage demolishing everything that was in her path. Nothing and nobody could help her get out of this fury. 
It was then that Lord Shiva was called upon to put an end to Maa Kali's rage. Shiva went and lay down at the top of Kalu Vinayak, a steep hill near Bhagwabhasa. Unaware of her actions or surroundings, Maa Kali stepped on Lord Shiva accidentally. 
As soon as she realized that it was her husband under her feet, Kali was extremely ashamed of her actions, and her tongue came out.
This act brought her to her senses. Lord Shiva proceeded to calm her down and requested her to return with him to Kailasa. At that point, Maa Parvati looked at her reflection in the small glacial tarn and realized that she needed to return to her original form before going back to Kailasa. She proceeded to beautify herself, her roop, and that is how the tarn got the name Roop Kund. 'Kund' means small lake in the native language." 
6. Kedarkantha Trek
The Himalayas are considered the abode of Lord Shiva, and you will hear stories about Shankar Mahadev on many treks, including the Kedarkantha trek. 
Kedarkantha translates to Shiva's (Kedar) throat (kanth).
There's a very interesting story behind this. It is believed that when the Pandavas were journeying through the Himalayas, they wanted to seek Lord Shiva's blessings. Shiva, however, did not want to meet them and transformed himself into a bull. 
However, Bhima recognized that the bull was none other than Lord Shiva and rushed after him. To get away from the Pandavas, Shiva hid, and during the whole process, the parts of his body got separated from each other and landed at different places. The locals believe that Shiva's throat landed on this mountain and thus the name Kedarkantha.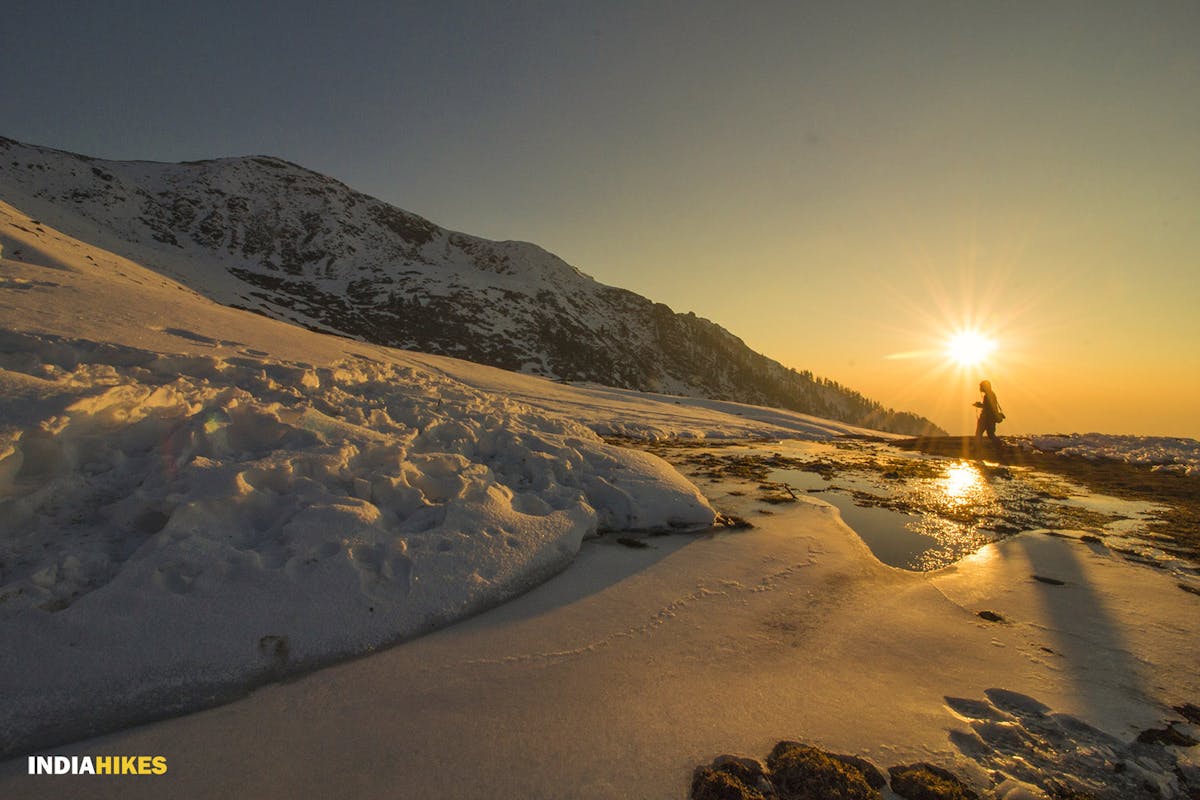 The golden hour! With snow changing its colour from pure white to golden. Picture by HarshitChawla.
It's interesting to note that Juda Ka Talab, a lake that comes on the way to Kedarkantha top, is also said to have been formed when Lord Shiva, who was meditating there, let his hair free and the water dripping from his Juda fell on the ground and formed the lake. 
Talk about mystery and mystique! And yet, there are so many more to hear and know. The best way to find out about the history of your trek is to ask your Trek Leader, local guides, and kitchen staff who accompany you on the trail. Believe us when we say they are a wealth of information! 
The Legacy Of Indiahikes – Exploring And Naming Some of India's Most Popular Trails
At Indiahikes, our endeavor has always been to explore and present new trails in some of the most pristine and untouched parts of our country and enable you to experience the transformative nature of trekking. 
Some of the treks that we popularized have been trails that were already established, such as Kedarkantha. We have presented new routes such as the EBC via Gokyo Ri for some well-known treks, and for still others, we have combined multiple trails to give trekkers a more complete experience. Examples of this are the Har Ki Dun – Ruinsara or the Deoriatal Chandrashila Trek. 
But, for some, we've had the honor of exploring virgin trails and even naming them. Two of these have been the Kashmir Great Lakes Trek and the Phulara Ridge Trek. 
We went straight to the explorers themselves to find out the back story of how these treks were discovered and named.
Arguably, one of the most beautiful trails in our country, the Kashmir Great Lakes Trek, or KGL as it is popularly known, was explored by Sandhya, the cofounder of Indiahikes, way back in 2011. 
"During 2010-2011, we explored many treks in Uttarakhand, Himachal, Sikkim, and even Ladakh. We thought that if there was something else we had to explore, it would have to be very different from all these. Arjun suggested Kashmir since he felt that the beauty of Kashmir was unmatched by anything else. Kashmir was a little beyond our imagination and was coming out of troubled times. Tourism was starting to pick up, and trekking was unheard of. 
Since Kashmir was famous for its lakes, we started researching and figured out a cluster of lakes starting from Sonmarg. People either did the beginning lakes or the end ones on this trail, but we thought, why not make a trail that connects all of these. This trek did not have a name before this.
We gave this exploration a name – The Kashmir Great Lakes Trek. We didn't know how these lakes were. We just knew that we could connect the trail to all of these. We had this belief that since it was in Kashmir, it would be beautiful. But when we went there, it surpassed all our expectations.  
We named the trek without seeing a single photograph and our hunch turned out to be right! The lakes really were the GREAT lakes. We also wanted Kashmir to be celebrated and at the forefront, and that is how the Kashmir Great Lakes Trek was born," she recalls.  
The Kashmir Great Lakes Trek is a significant milestone for two reasons. It was one of the first major treks in Kashmir to be offered by any trekking organization. Secondly, the birth of our Green Trails initiative started with the KGL trek.
Suhas, who heads the Experience Coordination team, talks about the discovery and naming of the Phulara Ridge Trek. 
"The whole discovery of Phulara Ridge was a side effect of another trek exploration we had embarked upon. We had just come back from the Devkyara Meadow exploration. As we discussed things over tea, our slope manager mentioned that the Taloti region was stunning and worth checking out. Arjun Sir asked me if I wanted to check out the trail, and I jumped at the opportunity. 
The second day of the trek blew my mind. Walking on the ridge with 250-degree views of the snow-clad mountains was an experience! And we had these views for a continuous 4-5 hours! I felt like the mountains were trekking along with me. Having gone on a few other treks, I thought this ridge walk was something I hadn't experienced before. So I knew that the word 'ridge' had to be part of the name. After I came back, I spoke to Arjun Sir and Sandhya ma'am, and they were convinced that we should offer this trail to trekkers. 
We were throwing out a few names. I remembered there was a clearing called Phulara on the trek near the ridge. That felt apt because of the flowers that I got to see during the exploration. The ridge and the forest section also had a lot of flowers. Even the meadows are laden with flowers, especially after the monsoon. And it had a local connection, and that is how we knew that naming it the Phulara Ridge Trek was a perfect choice." 
What are some of the most fascinating stories you have heard on your treks? Share them in the comments sections. We'd love to read them!
Related Videos
"Which are the Best Himalayan Treks for Beginners?"
Sign up for our much loved Weekly Mailer
We have terrific trekking tips, trek updates and trek talks to look forward to