7 Mistakes First Time Trekkers Make
Share this story
I'm about to share an embarrassing picture with you. A part of me is kicking myself for giving you an open license to make fun of me. But I'm only writing this so that all of us can learn from our mistakes.
So here it is. A picture of me from my first ever Himalayan trek to Chandrashila. I've marked out few of my obvious mistakes here.​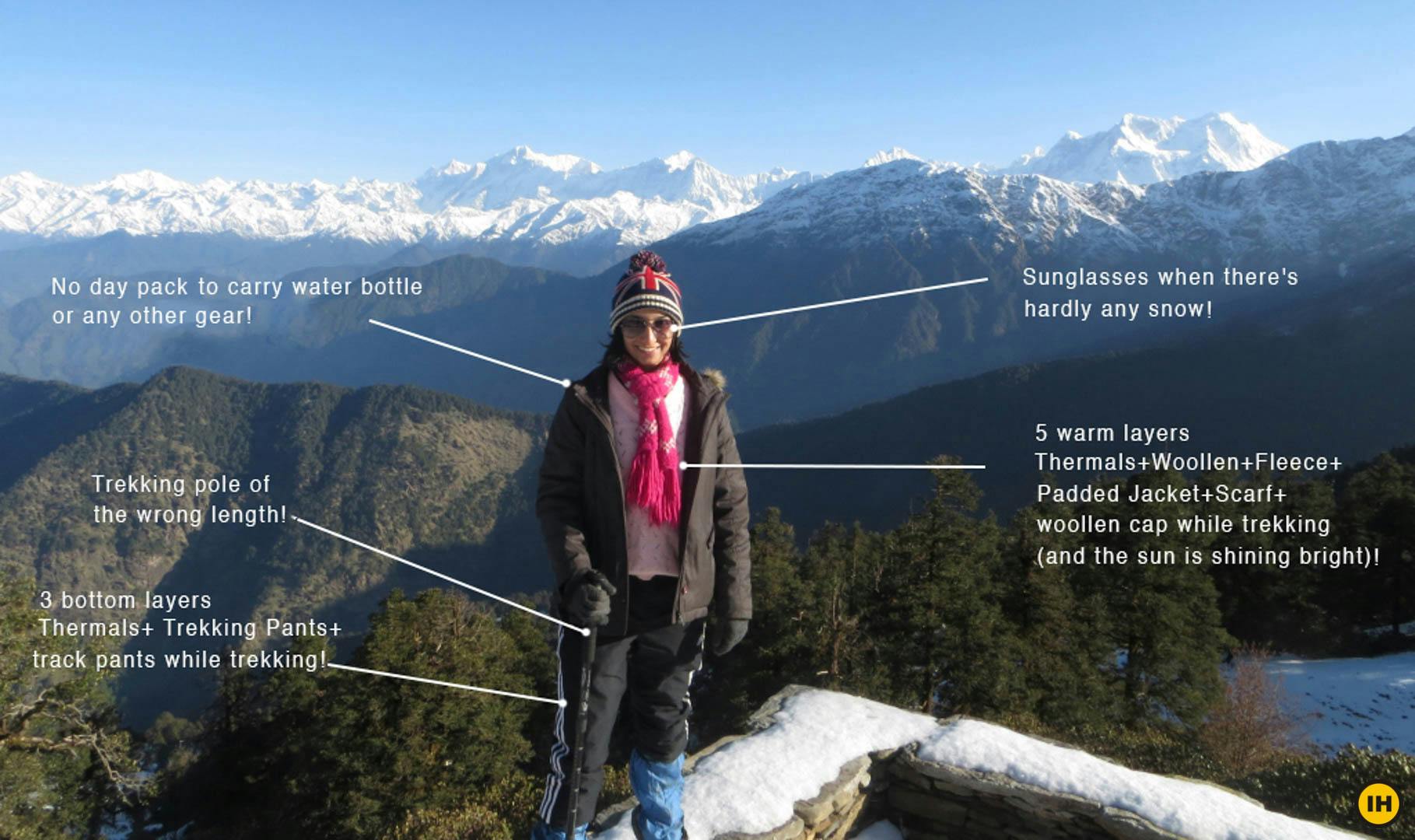 I can point out so many more mistakes if I dig out that album. But I'll spare myself the embarrassment.  
So today I'm talking about mistakes first time trekkers make. These are mistakes we have all made, things we look back on and laugh at. They are also mistakes we won't repeat again. I'm hoping those who haven't yet started trekking will learn from these.
Let's dive right into it.
1. Carrying too many clothes
Extra t-shirts, pants, warm layers, towels, socks, undergarments… Sounds familiar? Most first timers start their Himalayan journey by packing for What If situations.
They think,
"What if I need a set of clothes when I get down to the cities."
Slowly but surely, their half-empty backpacks begin to bulk up and overflow with unwanted clothes. And they needlessly lug these sacks throughout the trek. Or worse, they offload them.
What to do instead:
Carry fewer clothes than you need. You'll be surprised at how less you can make do with.
Carry just one or two t-shirts apart from the one you're wearing. For your lowers, carry just one other. Although, you really can manage with just one pair.
From my experience, once you have warmed the clothes you're wearing, you don't feel like getting into cold clothes. Spare yourself that torture. Just maintain personal hygiene and you can make do with just one extra pair of clothes.
2. Taking inappropriate wear
I've seen people trekking in jeans. Because it is thick, they think it is warm. They can't be more wrong. Jeans are perhaps the most uncomfortable clothes on a trek. They are tight, heavy and terribly difficult to get in and out of. And if they get wet, they will never dry on the trek. They are a big no-no!
I've also seen trekkers carry one really thick leathery jacket. They think this one heavy-as-lead jacket will keep them warm.
The same goes for down jackets. They think these feathery jackets, which probably have "Suitable for -10 degrees" written on their labels, are so good that one of them is enough to manage negative temperatures. I am a little annoyed at how stores over oversell these jackets too.  
And trekkers discover only too late that they were wrong.
What to do instead:
Carry layers. Always. No matter what anyone else tells you. Carry 3 or 5 layers depending on the month you're trekking in. Keep every layer light.
It's your own body warmth that keeps you warm when you wear layers. They trap your body heat and don't let it escape.
Sleeping bags work similarly. Even if they say that they can withstand -10 degrees, you cannot sleep in a t-shirt. You'll still need a couple of layers to trap your body heat. So don't go by the numbers, go by what makes logical sense.
This video will help you with the warm layers you need on a trek.
3. Not using a trekking pole
Most trekkers skip using a trekking pole. I don't know if it is an ego issue, or whether they think it's for oldies, but that train of thought itself is ridiculous.
Either that or they use it wrongly, not understanding its mechanism or its use. So they really don't get the best out of their poles and end up thinking of them as useless.
What to do instead:
Well, use a trekking pole. And use it correctly. It maintains your stability and balance. I cannot recollect how many times I've broken a fall with a trekking pole.
And while descending, a trekking pole is really a magic wand. It keeps your balance (which is especially crucial during a descent), but it also saves your knees and toes from getting that excruciating "climbing down pain."
In addition, it saves you a lot of energy by acting as your third leg. On a Himalayan trek, if I can save 5% of my energy, I would thank my stars. A trekking pole can save you almost 40% energy. That's the difference between a trek that you love and a trek you hate.
Leave the ego aside. Take a trekking pole.
This video will show you how to use a trekking pole correctly.
4. Packing enough toiletries for a 6 month holiday
I've seen trekkers carry shampoo, conditioner, face wash, sunscreen, moisturiser, face cream, deodorant, perfume, toothbrush, toothpaste and I'm always chortling, because I've been there, made the same mistakes. That's so much wasted space and wasted weight in a backpack!
What to do instead:
Get the tiniest medicine bottle. Squeeze some liquid soap in it from home. This is enough soap to last you the entire trek. Next, get a toothbrush. Don't buy toothpaste. There are enough trekkers who'll have toothpaste. Ask them to squeeze a bit for you. If you feel uneasy, then grab one of those tiny toothpaste tubes.
Next, get a small tube of sunscreen. This is your moisturiser, face cream, lip balm, everything.   
If you want to smell nice, a tiny roll-on deodorant.
For medicines, don't get strips of 10 of anything. 4 tablets are what you require (except Diamox). Your emergency medicines must fit in a matchbox. Think like that.
5. Buying the wrong backpack
When first time trekkers buy backpacks, they go too much by what the sales guy tells them. They don't do enough research themselves before heading over to the store. So as expected, they are the perfect scapegoats.
So they end up carrying backpacks that are perhaps the latest model, but really not so great for trekking. A lot of these backpacks are pretty much potato sacks. They're a nightmare on high altitude treks.
What to do instead:
Learn about what goes into a good backpack. It should have an internal frame, it should be compact and shouldn't lose its shape when you stuff it with your gear. It should have all the required straps.
This article about all the parts of a good backpack (there are 18 in this article!) will help you. Share it with anyone who is about to buy a backpack.
6. Not pacing themselves right
I've seen this happen all too often. On the first day of the trek, it is a sly ego game. Trekkers want to be seen as fit and strong. They start walking much faster than they should. Their energy slowly fizzes out, and once they're tired, they don't enjoy the trail any more.
Even when I trekked last month, I saw this with my trek mate. He was just trekking too fast. And his energy did fizzle out by the third day of the trek.
What to do instead:
Start slow. I mean really really slow. Take micro steps while climbing up. Do not let your breath rise even slightly above normal. This way, you'll rest less and trek more. Maintain this pace till the last day of the trek and that's when you'll really experience the trail.
It is the old hare and tortoise story. Always be the tortoise.
7. Underestimating their trek
This one takes the cake. If I could have a penny for every time I have warned a trekker that they must not underestimate their trek, then I'd be on Forbes' Billionaire List. 
The problem is that since they are first timers, they choose easy-moderate Himalayan treks, and they are fooled by the "easy" tag associated with the name.
I would know, because I made the same mistake and I'm not proud of it. I wrote about my regrets on the trek.
Why I Regret My Trek To Kedarkantha After Completing Rupin Pass
What to do instead:
Expect your Himalayan trek to be difficult. And put in the effort it would take to do a difficult trek. Even the easiest of Himalayan treks is difficult! It's just that they are "easy" in comparison to the expedition level treks.
So if anyone thinks that an easy-moderate trek like Dayara Bugyal is actually a walk in the park, then shake them and drive sense into them. It's the Himalayas we're talking about. It's high altitude. It's big mountains. It's unpredictable weather. And it is also many kilometres of unforgiving, uphill climbing!
Your next step – Drop in a comment with a mistake you've learnt from
So those are mistakes I've made and observed others make. I can think of a lot more — not breaking into new shoes, packing so badly that they have to tear their entire backpack apart to find a sock, carrying way too much trail food, etc.
We would love to hear about what mistakes you learnt from and what you have seen others do. Just drop in a comment below. That way we'll all learn what not to do on our treks. 
What you should do now
1. If you liked this post and want to read more such posts, go to this page – You'll find our Thursday Trek Talk article there.
2. If you're looking for treks to do: Then head over to our upcoming treks page. You'll find all our Himalayan treks there.
3. If you want to work with us: Head over to our careers page. We have lots of positions open. We also have lots of applications coming in. So the sooner you apply, the better.
4. If you want to see the 13 best treks of India: Then get our guide here.
Sign up for our much loved Weekly Mailer
We have terrific trekking tips, trek updates and trek talks to look forward to