8 Food Habits to Follow While Trekking
Share this story
Eating meals on treks is a challenge to many. Your body works out so much that you are tempted to gorge on all food available. Yet, over-eating could work against you while trekking. So how does one strike a balance? Here's a quick guide on 8 food habits you need to follow while trekking.
Trekking is a high calorie-consuming activity — that's a no-brainer.
"The idea here is to replace the calories lost, not feast. You don't want to feel like a bloated bean bag when you have miles to go uphill, do you?" says Prathima Chhabria, Senior Experience Coordinator at Indiahikes.
"One needs to consume the right kind of calories. Carbohydrates do boost energy, but more than the amount, one must ensure that they eat the right kind of carbs. Complex carbohydrates like broken wheat (dahlia) are ideal, since they get released slowly into your system and this will help sustain you for a longer time," opines Manish Pasad, Head of Research and Development at Indiahikes.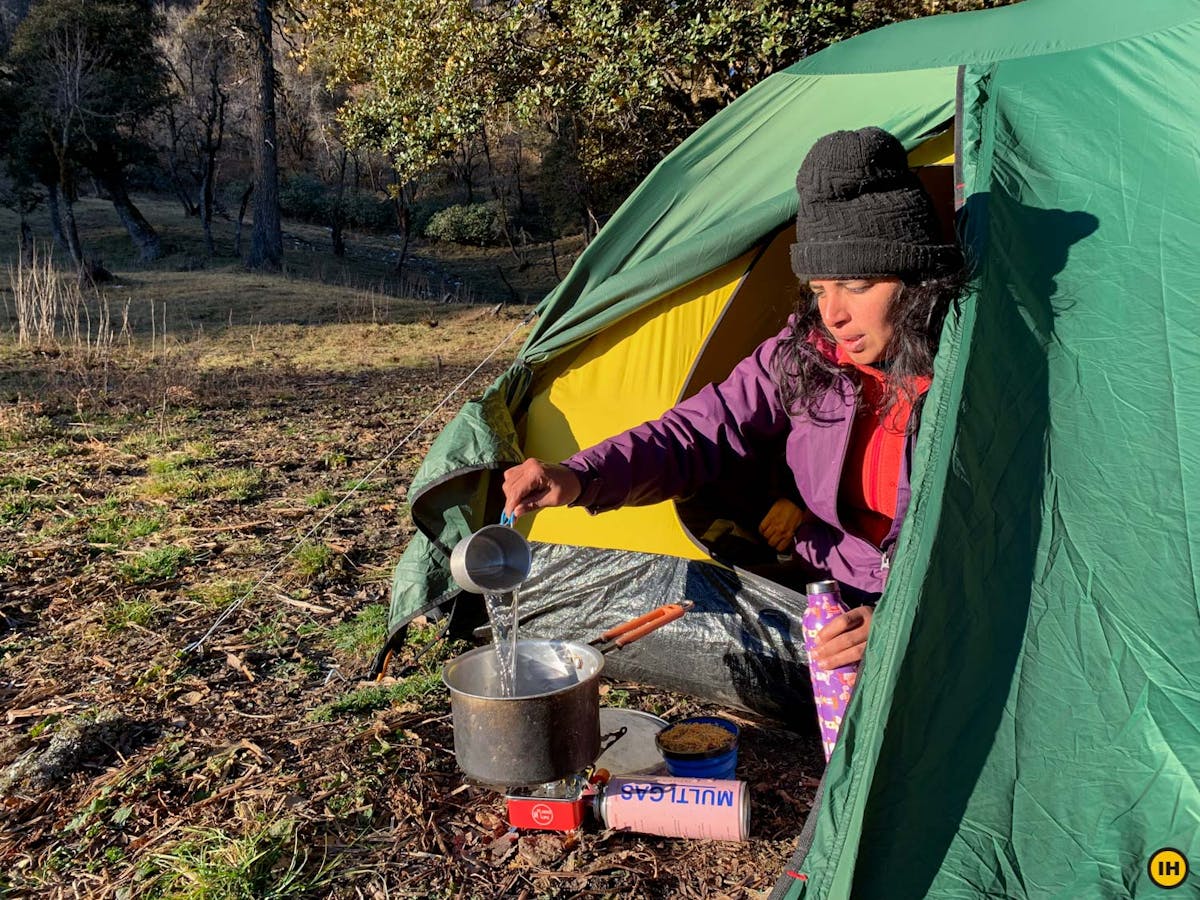 Here's our co-founder Sandhya UC, cooking when on the Gidara Bugyal exploration. Picture by Team indiahikes
So how do you decide what's good for you and what's not? Here's a list of 8 food habits to follow while trekking.
1. Eat a healthy wholesome breakfast – it can set you up for the day. Avoid early morning caffeine cravings; they lead to dehydration.
2. Lunch and dinner must consist of carbohydrate-rich food and whole grains. They digest slowly, giving you more stable energy during the day.
3. Keep some dry fruits handy – it's a good fix to keep your energy levels up.
4. Sugar candies and cream biscuits are a big no-no. They tend to give you a sore throat on high altitudes.
5. Drink at least 6 litres of water through the day (this requires practice). It will prevent muscle cramps and keep you hydrated. Also, water contains oxygen, which can compensate for the low oxygen levels on high altitude treks.
6. Proteins take a longer time to digest at high altitudes due to low oxygen levels. Avoid eating non-vegetarian food. You can consume egg instead. This will prevent sore muscles and helps replace broken-down muscle protein.
7. Avoid chocolate and energy bars. They definitely give you a sudden boost of energy, but because they almost entirely rely on sugar and corn syrup it results in an unhealthy peak and drop energy cycle. This will give rise to hunger pangs after a while.
8. Steer clear of alcohol before and during the trek. Alcohol leads to dehydration that could trigger Acute Mountain Sickness (AMS) during a high altitude trek.
"It becomes very difficult for trekkers to suddenly change their food habits on a trek, especially because they are sweating it out so much," says Arjun Majumdar, founder of Indiahikes. "Most of us lead sedentary lifestyles that lack physical exertion and a healthy diet. Such habits lead to difficulties at high altitudes. Want a good Himalayan trek experience? Try tweaking your eating habits a wee bit and it'll work wonders" adds Arjun.
Conclusion:
If you practice these healthy food habits and some more, do let us know in the comments below. And if you have your friends who would benefit from these healthy habits, please don't hesitate to spread the word.
Related Videos
What Is The General Food Menu On An Indiahikes Himalayan Trek
Do We Serve Non-Vegetarian Food On Trek
How To Be A Zero Waste Snacker On A Trek
Sign up for our much loved Weekly Mailer
We have terrific trekking tips, trek updates and trek talks to look forward to