My Fourth trek to Roopkund: Reflecting on the highs and lows
Share this story
As a Green Trails Intern, I've had the rare opportunity of going on several Himalayan treks including Hampta Pass, Roopkund and Kedarkantha. Having done some of these more than once, I can say that each time in the mountains is a brand new experience. This was going to be my fourth time on the Roopkund trek. I was excited as soon as I saw the team at Pathar Nachauni. I couldn't wait to get back to the Skeleton lake!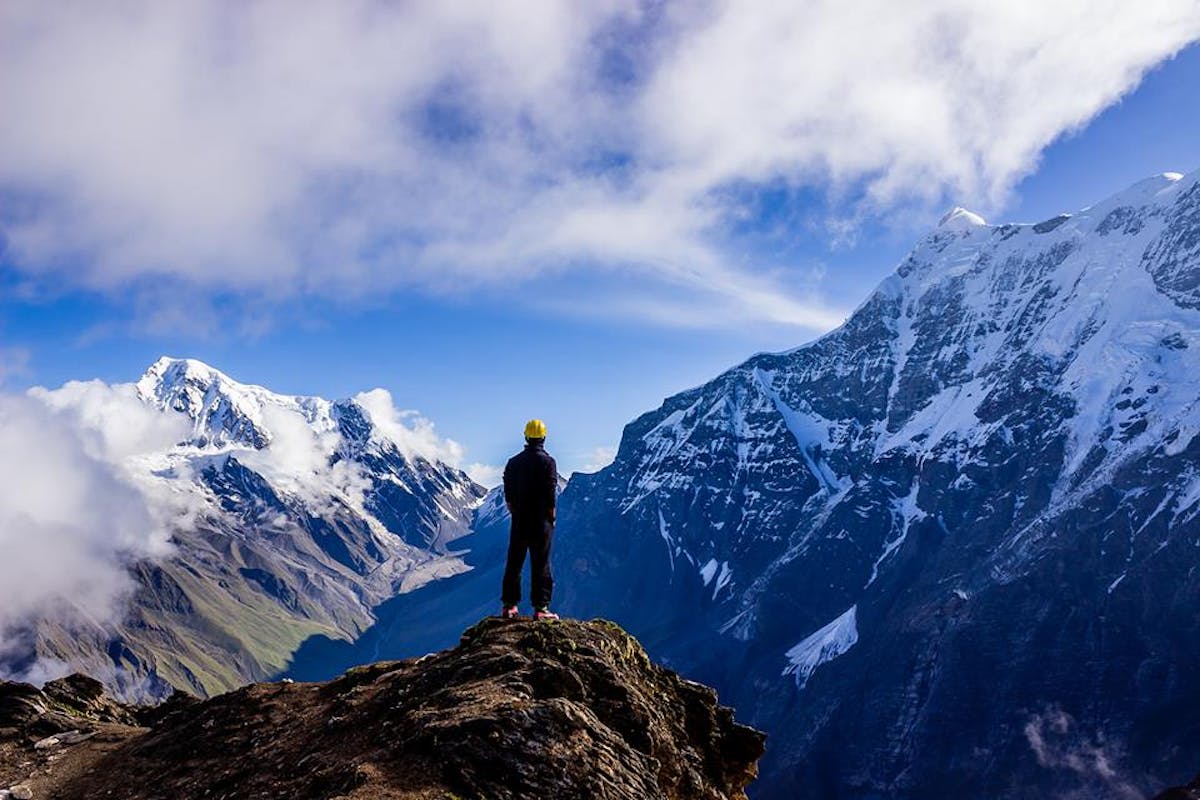 Standing at Junargali with Nanda Ghunti to my left and Mt Trishul on my right
Work at Roopkund base camp
For the past 2 months, I'd been at Lohajung. I had been planning clean up campaigns, working on rainwater harvesting, setting up a Bio-digester, researching viable upcycling projects and most importantly training our local staff on green practices. As local staff and mountain men, they have always venerated the mountains. But they didn't quite know the dangers of plastic and pollution. That's where Green Trails came into the picture.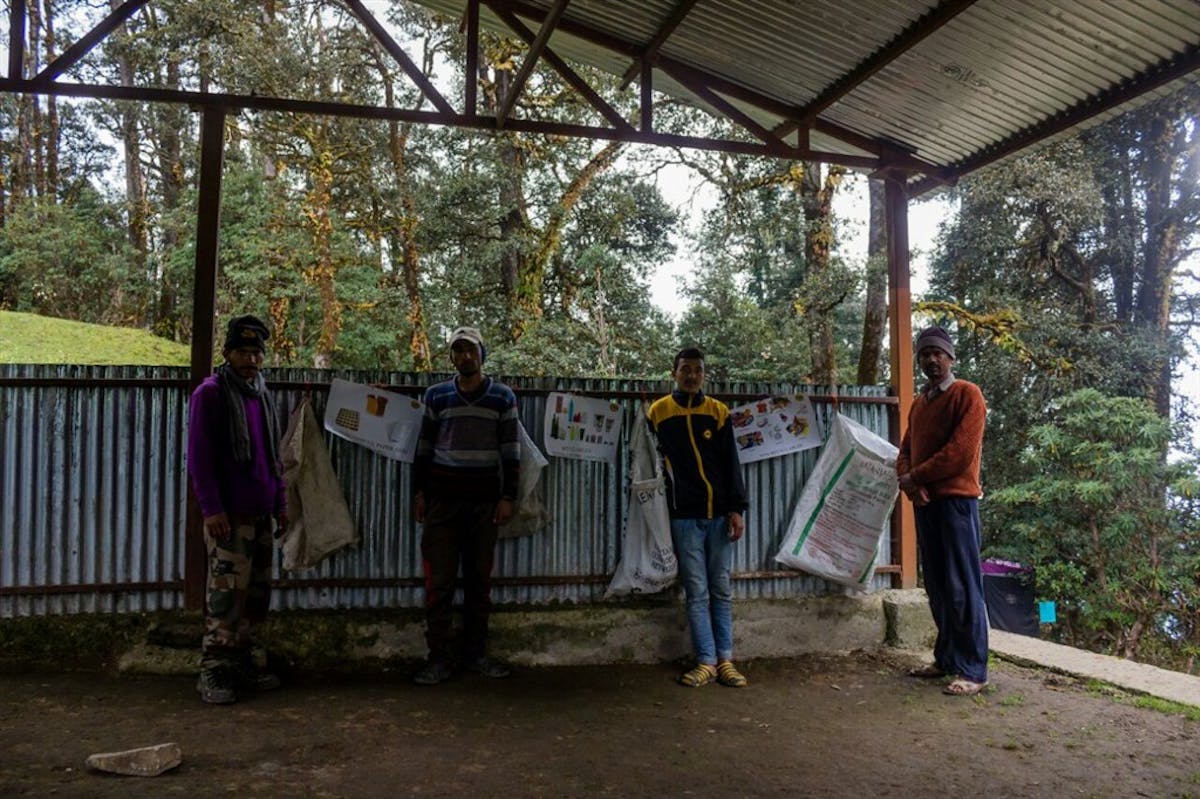 Waste seggregation at the camp
Observations on the trail
When on the trek, I felt a deep sense of satisfaction to see our local staff members sustaining green practices they had learnt. Mahi chotu, Viruji, Yashpal ji and Tari bhaiyya knew how to maintain a compost pit, toilet pit and handle various types waste.
But the happiness didn't last long…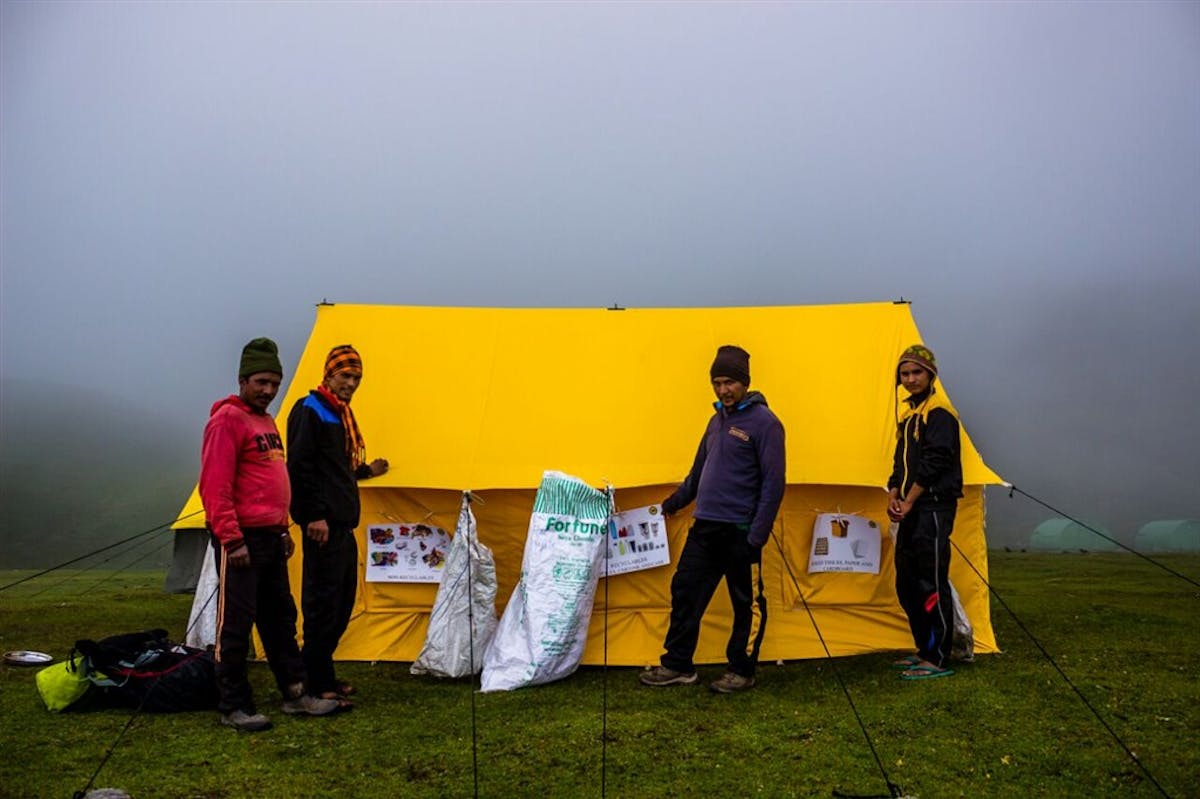 Classes on waste segregation at the camp
In spite of having cleaned the entire trail last season, there was garbage everywhere. Everywhere!
Every time we climbed down with sacks of garbage we knew that the slopes would not remain clean for long. It is heart breaking when educated people from cities come to the mountains and leave their trash behind. But we keep cleaning up behind them, trying to spread awareness in the locals and keeping the trail clean.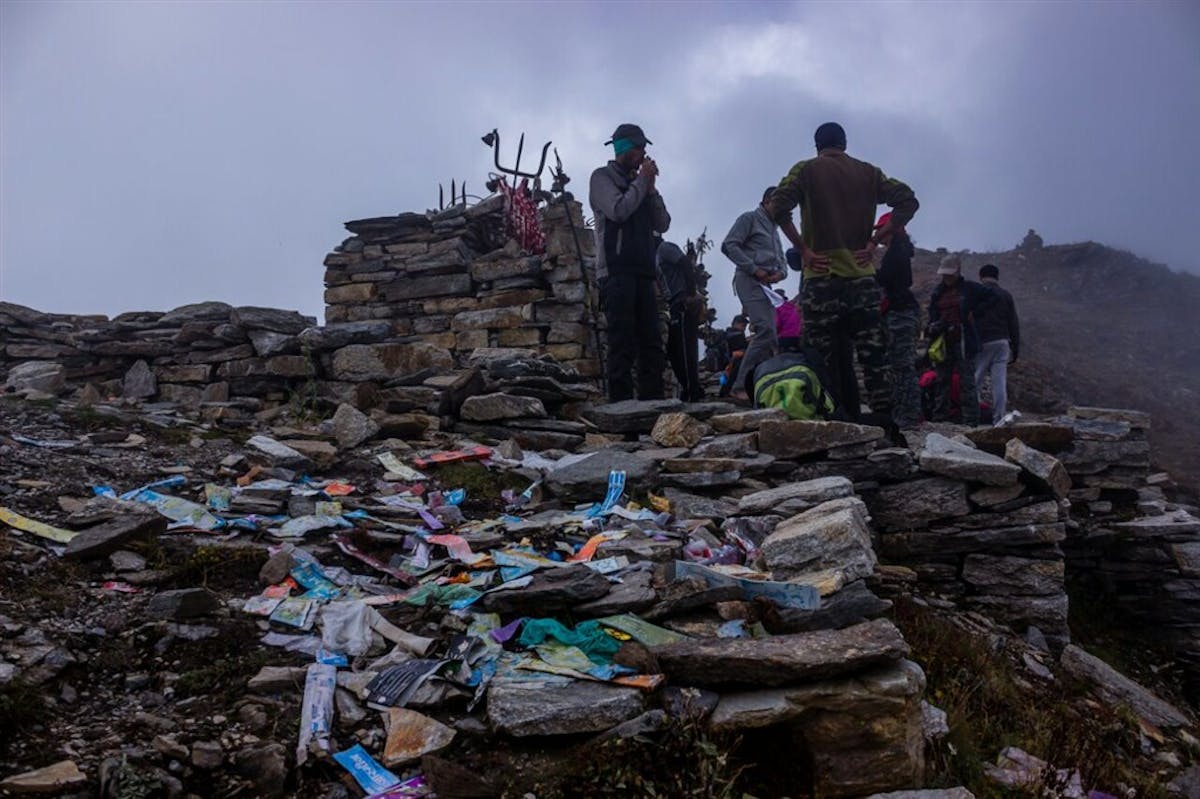 Ruthlessly littered Kelu Vinayak temple
The sorry plight of Kelu Vinayak temple
Holy places on the trail often end up becoming the most polluted places. Ironically, credit for most of the litter goes to devotees. With its surroundings strewn with agarbatti covers and match boxes, the Kelu Vinayak temple looked like a helpless mess when we got there.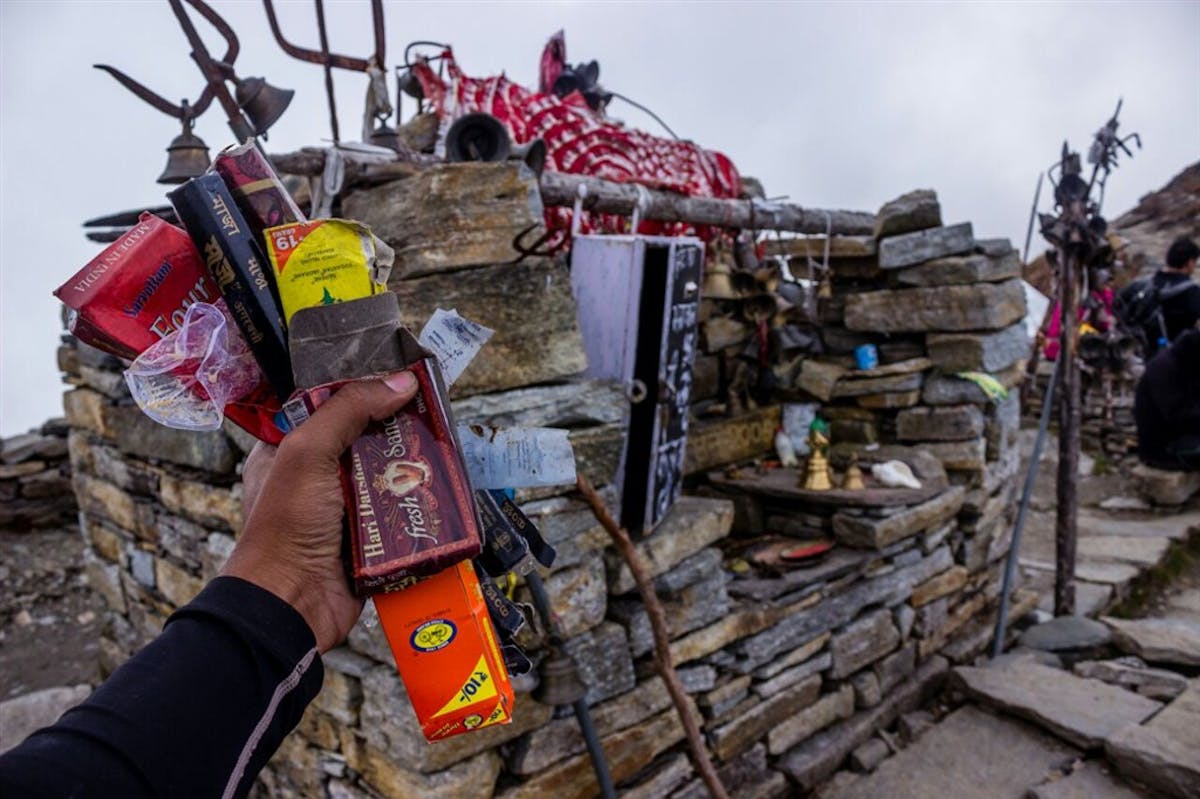 Kelu Vinayak temple-Pollution in the name of worship
It's funny how we take pride in our faith yet carelessly leave our filth behind. What's funnier is that many trekkers have come and gone but none bothered cleaning up this place of worship. We were not going to leave it that way. My batch mates participated in the clean up activity. It took us a lot of time and effort to clear the temple premises.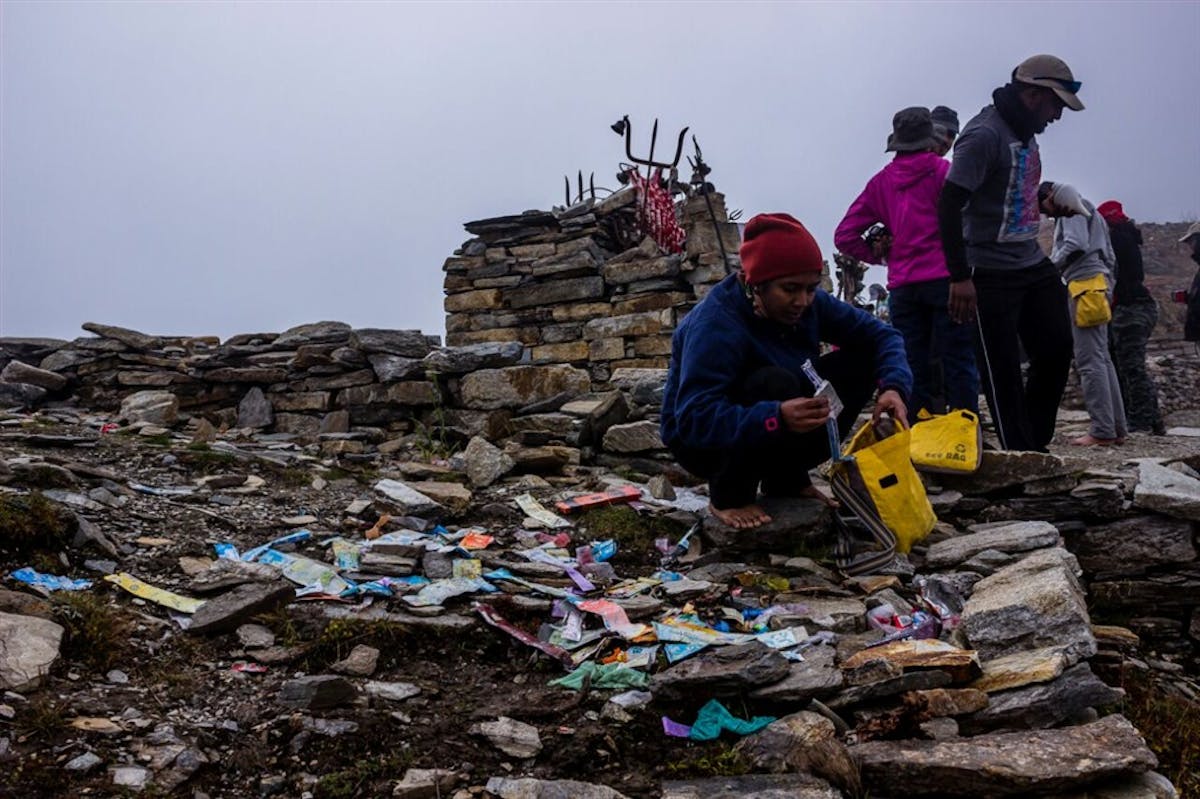 Trekkers cleaning up the mess at Kelu Vinayak temple
Solving water issues at Bhagwabhasa camp
I even got a chance to help with the water shortage problem at Bhagwabasa. As I was setting up the Rain Water Harvesting system, it started raining. I was contented to see water flowing down the pipe at a decent rate. Perhaps it wouldn't give them all the water they needed. I just hope it reduces the number of 2 hour long trips they make to get water.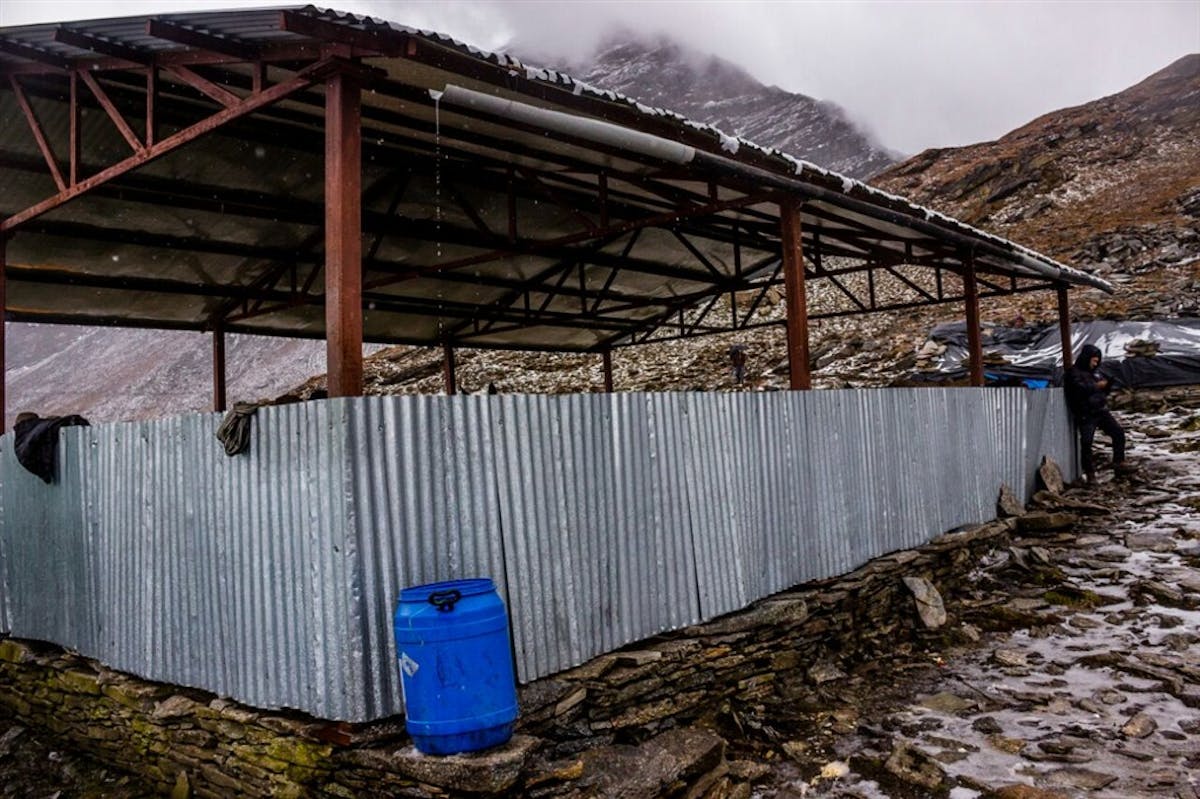 Simple rainwater harvesting system at Bhagwabhasa
Besides all this satisfaction, we were blessed with a double rainbow at Bhagwabasa, just above the campsite! We also got to experience light snowfall while descending from Roopkund.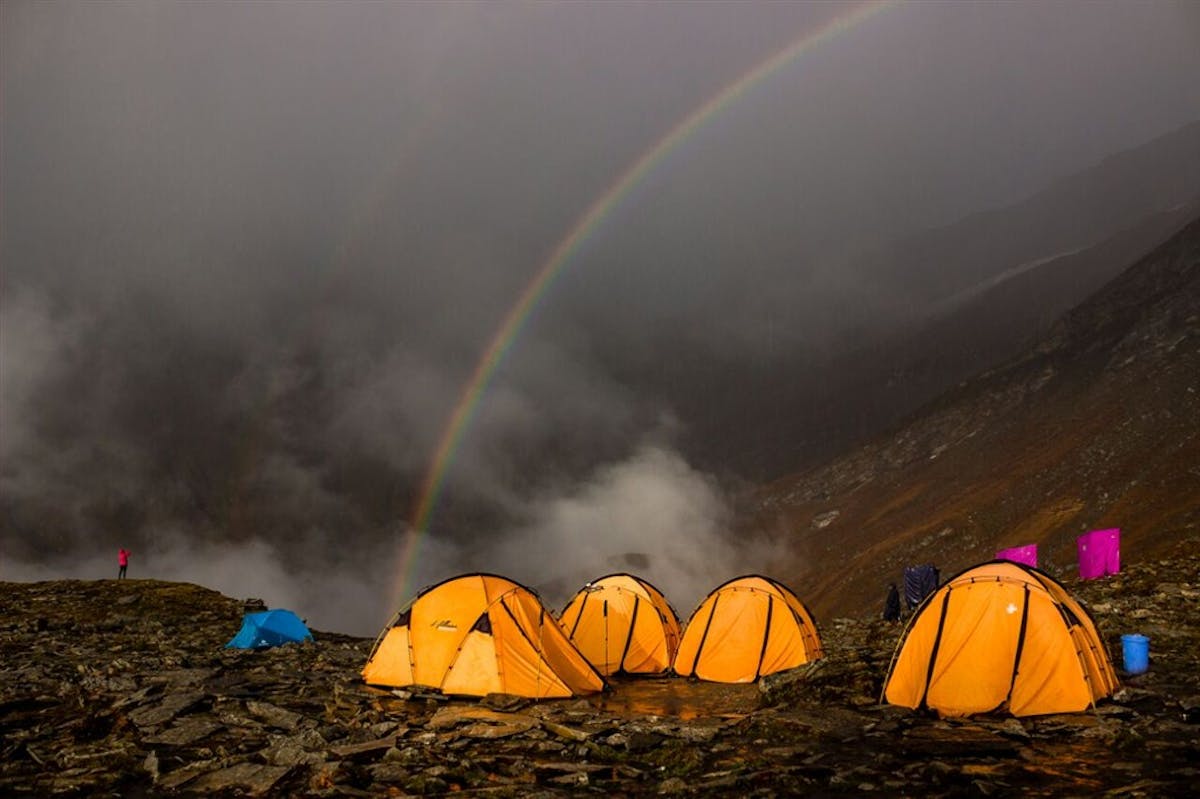 Double rainbow at Bhawabhasa campsite
Roopkund itself had dried up almost completely leaving skeletons exposed on the lake bed. Some of us even heard a glacier cracking at Junargali. It sounded like the cracking of ice in the world's largest ice tray when it is twisted. It's amazing how the same trail, the same set of mountains and the same destination can reward you with a new experience every time!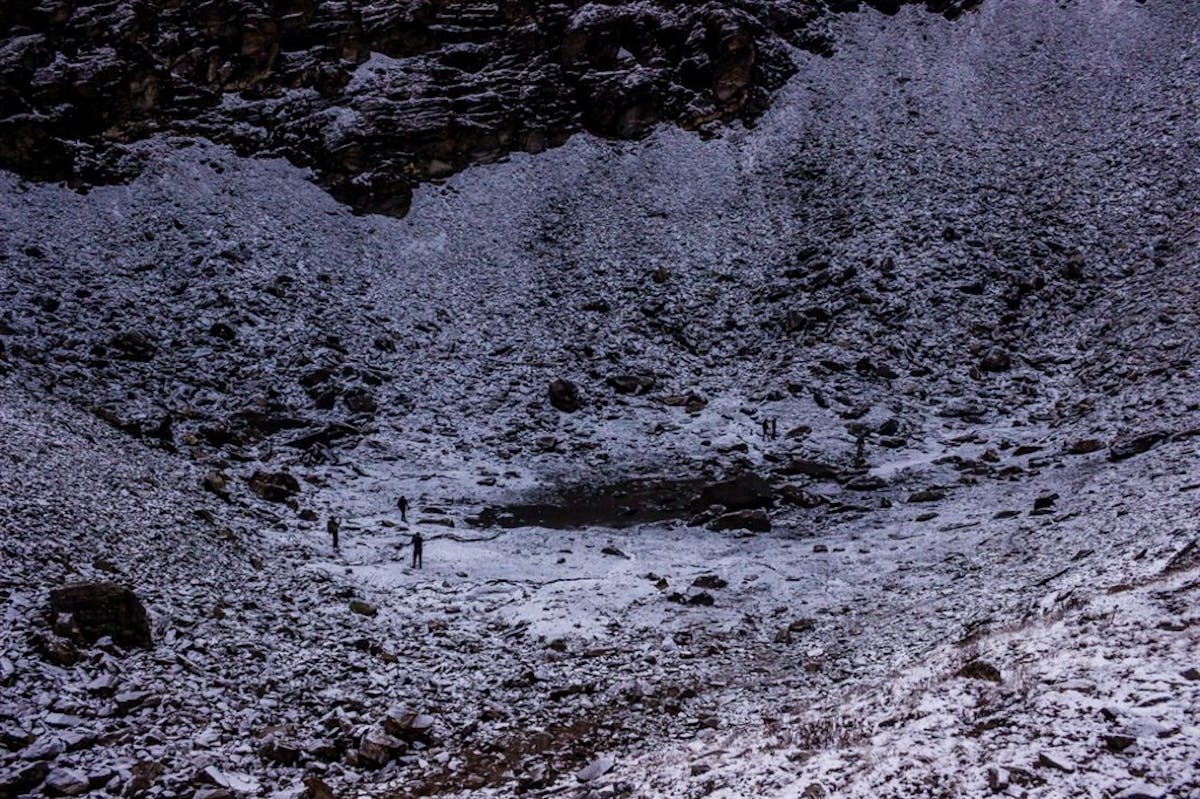 Dried up skeleton lake
Interested in being a Green Trails Intern?
Send an email to lakshmi@indiahikes.in and a questionnaire will be sent to you. You will receive a call for a Skype interview if you are selected for the next round. Following the interview, you will be notified with further details.
Click on related articles to read more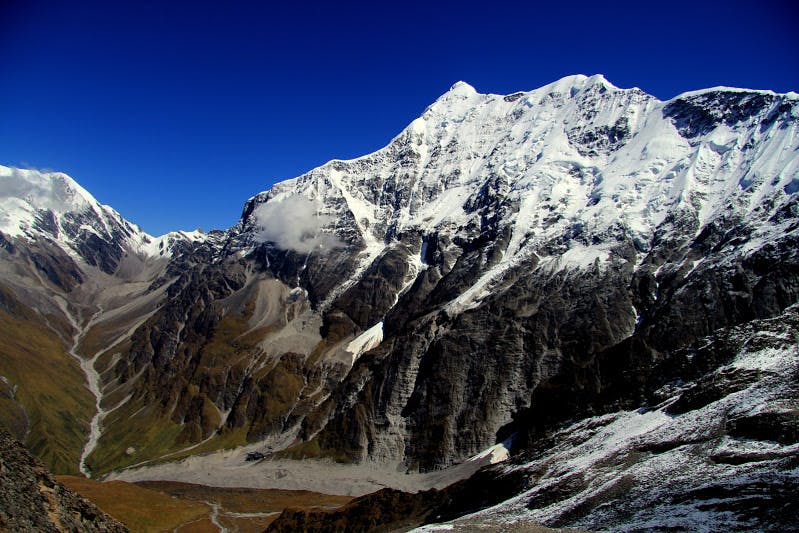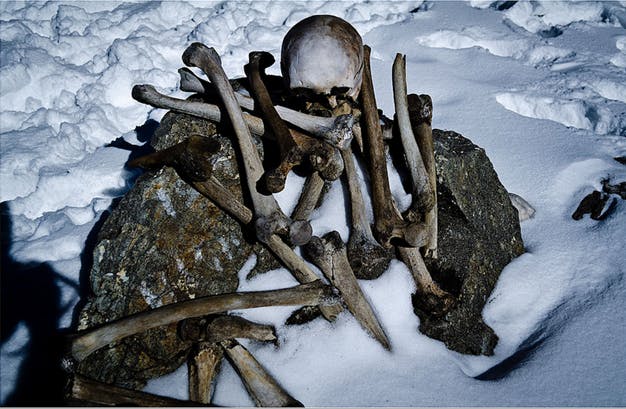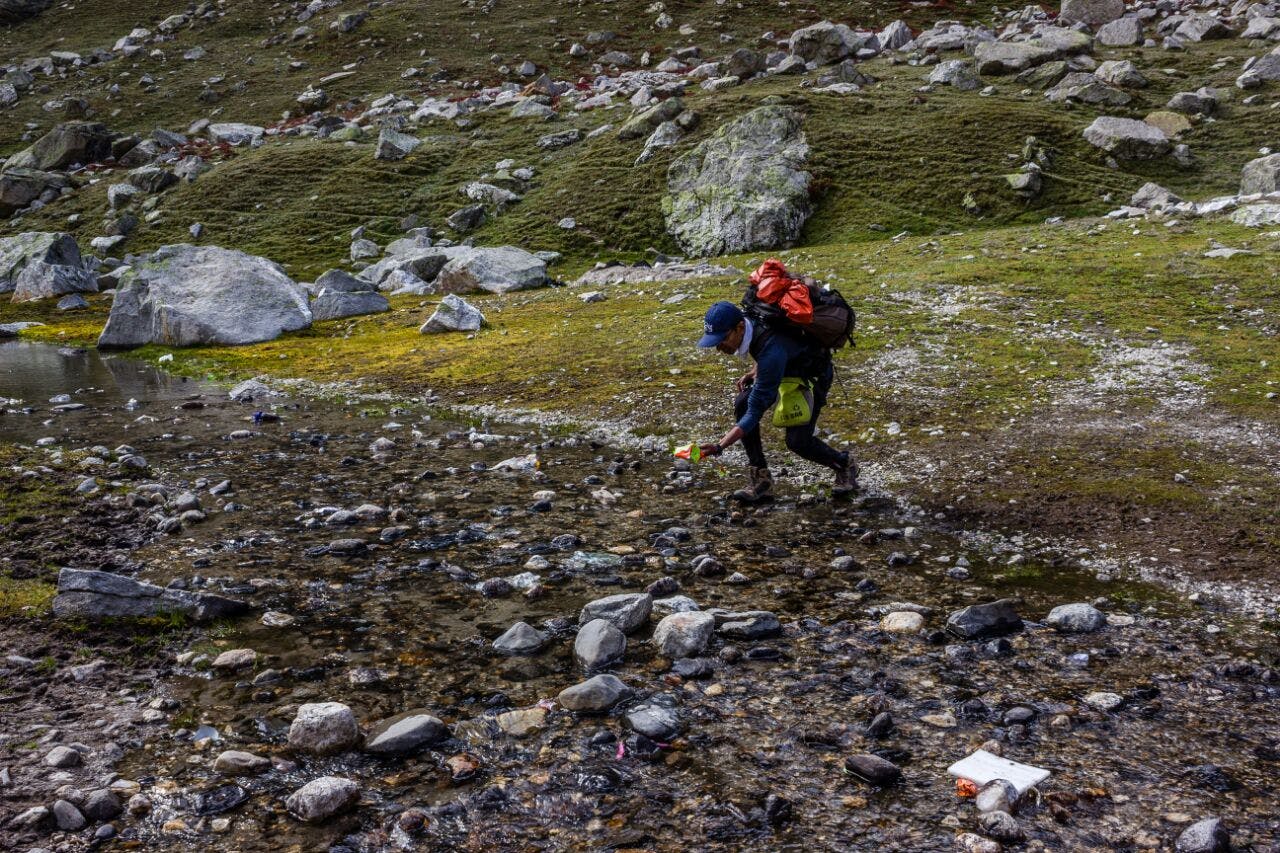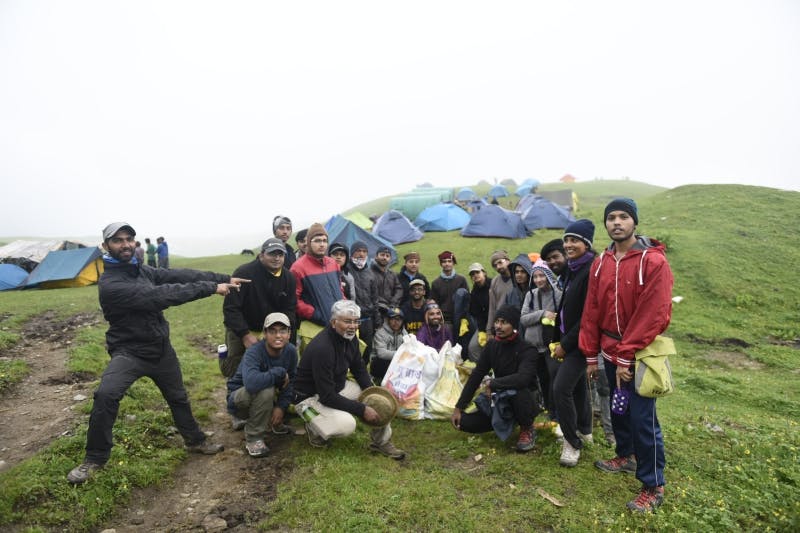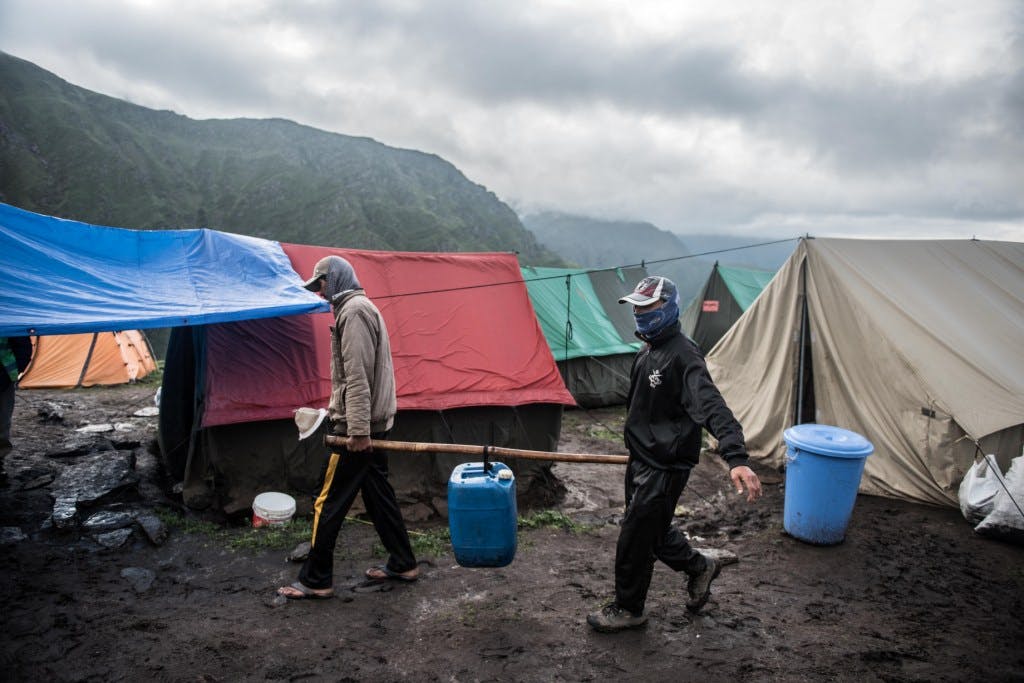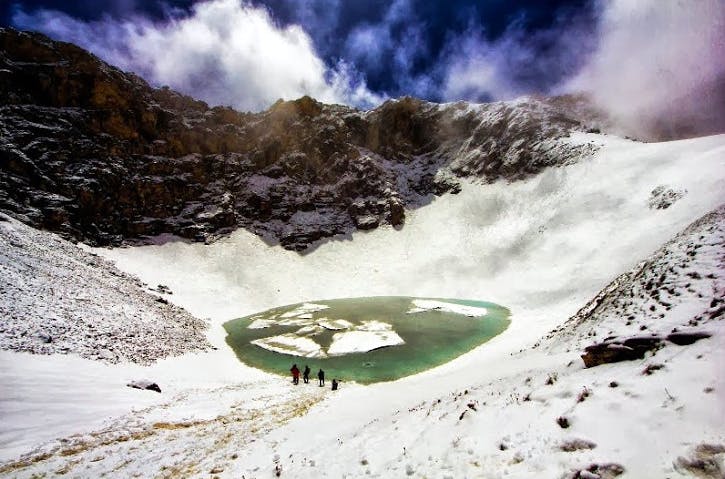 Sign up for our much loved Weekly Mailer
We have terrific trekking tips, trek updates and trek talks to look forward to