What Happened When 26 Students Went For A Trek To Brahmagiri
Share this story
On August 3rd, a group of 26 enthusiastic children from Poorna Learning Centre set off on a trek to Brahmagiri, a hill close to Bangalore. It was Eco Hiking Programme's very first school trek. A simple hike taught the children invaluable life lessons they're going to remember for a long time. But what exactly did they do?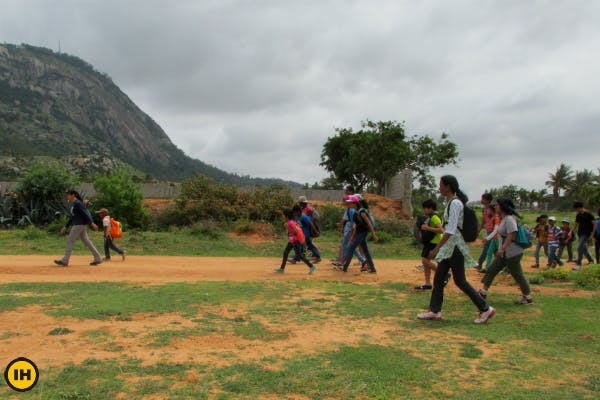 Poorna Learning Centre is a space for alternate education, and focuses on experiential learning rather than the of traditional system that most schools follow. Based in Bangalore, the inclusive school came across as an ideal space for learning. We saw a fish pond, a lovely garden and a spellbinding two-storey library inside the homely complex. What a refreshing place it was! The Eco Hiking Programme team had a brief introductory session with the children before we all set off in the school bus. Bananas and bread-jam was distributed on the way.
Back to basics
"I will teach you how to breathe and drink water," Subhankar Biswas, the Eco Hiking Programme's Trek Leader, had announced before setting off. Breathe and drink water? Isn't that something we all know and do everyday? So, after reaching the base of Brahmagiri, children were curious about what he could possibly teach them. "Do not gulp water when you are climbing up. Sip. The idea is to keep your mouth and throat moist, and make sure you don't get dehydrated," Subhankar demonstrated. Gulping large amounts of water during a hike can make your stomach twist. After that came the lesson on breathing. "Take deep breaths when you get tired. Fill your lungs with air, which will give you instant energy," he said. This was followed by a round of stretching and warm-up exercises which are crucial for climbing hills. The entire group was divided into teams of three, and the task was to stick together and help each other climb up the hill. The team set off with Komal, a Hampta Pass and Buran Ghati veteran, as the trek leader, and Yogesh bringing up the rear.
Lessons no textbook can teach
Initially, the children struggled to stick to their teams.
"Abdul!" Sridevi yelled, "Stop! Come here. Don't go so fast." Thirteen-year-old Sridevi was harrowed, but her younger teammate refused to pay heed. Soon, however, the group came to a steep ascent, and in no time Abdul's energy fizzled out. The young tyke's team caught up with him and began motivating him. "Hey Abdul, go slow there." "Come on man, you can climb from here. It's easier!" Abdul did go on, but realised that racing ahead translates to exhausting energy faster. He stayed with his group after that.
Amidst this hoopla, a tiny girl wearing flip-flops marched past the group. Her name was Ruth. At the school, when we had singled her out for not wearing shoes, she had shied away and hidden behind the other kids. But now, defeating the slippery sole of her footwear, Ruth was emerging as a natural trekker. We smiled, realising how naive first impressions could be.
What is a saddle?
Soon, we reached the saddle. "Do you know what a saddle is?" Yogesh, Hiking Club Mentor, asked. The children looked around. "It's a low point that connects two hills. Look closely, the path on which you are walking is the one that connects Brahmagiri to Nandi Betta."
From the saddle, the children spotted their yellow school bus. It looked tiny, and it gave them an idea of how far and high their legs had brought them. They all grinned in wonder and delight.
A quick lunch and some adventure
This saddle led us to a well-laid path. Children picked up pace now and soon, we reached a sprawling meadow. It offered a spectacular view of the plains checkered with fields and long, tarred roads running alongside. It was a perfect spot to have lunch.
Out came the lunch boxes and an assortment of sandwiches, pulao, alu paratha and dosa-chutney. We had lunch at 1 pm and spent around half an hour in the meadow. Soon, Subhankar called out, "We have an hour more to reach the bus, but before that, we need to climb to the highest tip of this hill." Whoa! That's a tall order. Could we do it? The hike got trickier with the trail skirting the rocky edges of Brahmagiri. All students were advised to walk in single file. Mentors and teachers were instructed to trek alongside so that no one strayed to the edge.
After a short but exhilarating climb we reached Brahmagiri's flattish top. Children stood right there and took in the 360 degree view. It was windy, and they felt elated at their accomplishment. But like all moments on the summit, this one too was short-lived. The school bus was waiting, and we had to hurry.
Two ways to descend
The descent began with another lesson from Subhankar on how to use the body like a suspension. "You could hurt your ankle and back if you descend the wrong way. And that could lead to back pain for the next 3 days," he said. That got everyone's attention. After all, no one wanted to miss school and a chance to narrate their trekking experience the next day.
There are two good ways to climb down: side-steps and duck-steps. Side-steps involve descending with your body angled sideways. Duck-steps need you to keep your feet a little apart with toes pointing outwards, almost like a penguin. Both styles help to maintain a good centre of gravity and prevent imbalance.
But, as Murphy's Law goes, balance was lost and children slipped. However, they immediately got up and tried the other style of descending until they found their rhythm. Little Arindam was one of the careful trekkers, who was sure-footed and ever-ready to help others. "That's a loose stone, be careful," he pointed to me when I was walking right behind him.
Maha Akshay fell twice in a row. "Ow! Now my hand is really hurting," he exclaimed. But forgot all about it as soon as the school bus came into view. The trek was coming to an end. And the prospect of a hot shower, warm food and a cozy bed made all children forget the hardships they had endured. In all the excitement, we did not forget to practice the concept of Green Trails. All the non-biodegradable garbage that we collected during the hike was now gathered in a big bag.
Everyone settled in the bus. Although exhausted, the children couldn't stop chattering about the hike. They carried with them memories of a trek where they had all worked as a team to make it to the top. Lessons from the trek lingered in everyone's mind. Indeed, it was an eventful day. But how did it transform the children? We will find out soon from the children, parents and teachers themselves!
Sign up for our much loved Weekly Mailer
We have terrific trekking tips, trek updates and trek talks to look forward to