How Becoming a Trek Leader Gave Direction to Vivek's Life
Share this story
"I grew up in Delhi. That is why going to the Himalayas for summer vacations was usual. It was my first introduction to the beautiful world of the outdoors.
But those days passed. After growing up and completing my post-graduation in Finance, I started working in Bangalore in an Asset Management company. The job was good. I enjoyed this new phase of life.
Two years later, I started reflecting on my experience. I realised the work was not adding meaning to my life. When I looked at my seniors, I realised I don't want to be where they are in the next 5-10 years.
That is when I decided to resign. Many people enquired that 'if not this, then what'?' Frankly, I had no answer. So I stayed in the job for some more time.
Next year, I trekked to Deoriatal Chandrashila with Indiahikes. That's where a shift happened.
On the trek, I had an epiphany. I realised I want to work in the mountains! Four months later, I trekked again with Indiahikes. This time to Har Ki Dun.
Soon after, I started looking for opportunities to work with Indiahikes. But I did not feel confident enough to apply for the role of a Trek Leader. But something had to be done. So, I resigned from my finance job and signed up for the Basic Mountaineering Course.
After BMC, I spent some more time trekking and going on expeditions. I did the Sandakphu trek, explored the Talle Valley. Did three expeditions to Stok Kangri, Kang Yatse and Mt. Yunam.
My life came a full circle when I finally became a Trek Leader. I had done my Deoriatal Chandrashila trek on 1st October 2017. Two years later, I led my first team to DC on 1st October 2020.
Initially, only my interest in mountains drew me to Indiahikes. But later, I started seeing the impact of my work on the lives of trekkers. I realised how much meaning that added to my life.
After three years of being with Indiahikes, one incident still stays with me. I had an old lady in my team. On the summit day, keeping her pace in mind, I told her that we would start the summit 45 minutes before the whole team.
When we reached the summit, the sun was about to rise and the views were absolutely breathtaking.
She got really emotional at that point and broke down.
At that moment, I had a very strong emotional realisation. I connected deeply with my work.
In 2020, when the entire team of Indiahikes was at the Chandrashila summit, I went to Arjun sir, told him about this story and got emotional while hugging him.
There was immense gratitude within me.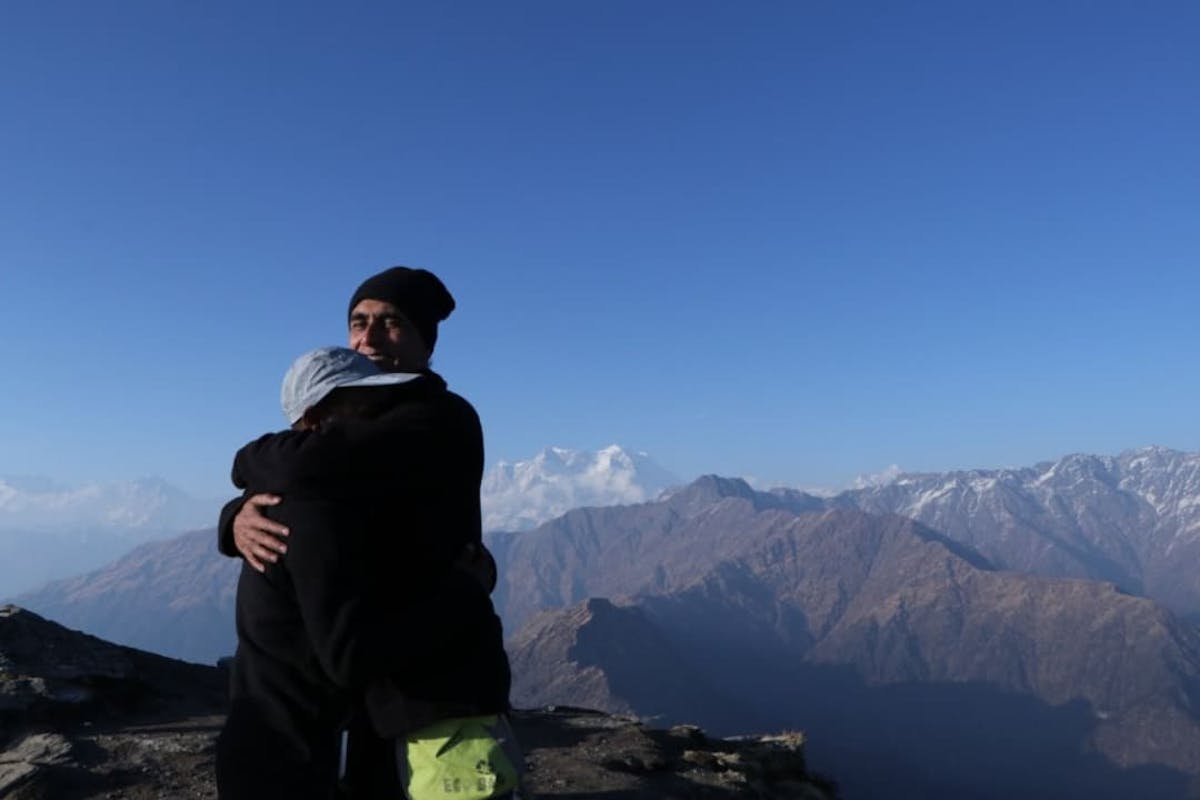 Indiahikes Founder and CEO Arjun Majumdar hugs an emotional Vivek
I guess these are the moments that make the work I do incomparable to what I did in my life previously."
- Vivek Saini, Trek Leader at Indiahikes
Sign up for our much loved Weekly Mailer
We have terrific trekking tips, trek updates and trek talks to look forward to