How Trekking Can Transform Your Outlook: Personal Story
Share this story
At Indiahikes, we hear stories of transformation every single day. We hear riveting, inspiring, and truly emotional stories. Stories about how trekking changed their lives, about how a trek brought about a complete shift in their attitude, about how someone rediscovered a part of themselves that they thought was lost.
To document some of these extraordinary stories and experiences, we've created the How Trekking Transforms Lives series. This is our attempt to share with you the life-changing effects of trekking.
Our first story is a powerful one, one that celebrates life and a never-say-die attitude.
This is the story of Raashi. 
We start with a rewind back to 2019.
The day had started uneventfully as Raashi got into a share-auto, as always, to get to her college, located some distance from where she lived. Overloaded with seven instead of three passengers and driven by an inebriated driver, the auto crashed head-on into traffic. The auto rolled over with the driver and one of the passengers dying on the spot. 
Raashi suffered a fractured collar bone and had a shard in her leg. After being examined by a doctor, she was taken back home to Nagpur the very next day. She was advised two months of complete rest. Recovery, according to Raashi, was smooth. Or so she thought. 
"I thought my mental health was fine. A few months after I dropped out of engineering college and took admission in my hometown, I realized that everything was not normal. My anxiety got severe. I broke down often. I got panic attacks. I was not able to make friends. I was not able to talk to people. My confidence was very low, and I had a lot of self-doubts," Raashi says.
To help herself, Raashi took up an internship as a content creator at a psychological counseling firm. The counselor advised Raashi to go for therapy, but the 2020 lockdown came in the way of Raashi getting help. Raashi tried to push herself out of this state but could not get back to her usual self. 
Brahmatal Trek — the Turning Point
Around this time, Raashi's friend, Yash (who is now an Assistant Trek Leader with Indiahikes), invited her to go on a Himalayan trek, having himself experienced the therapeutic effects of the outdoors and mountains. A previous positive trekking experience made Raashi agree to it, and they both signed up for the Brahmatal trek.
As Raashi says, "I was excited, nervous and scared. I was hoping to receive answers to the troubled life I was living and all the trauma I was going through. I felt a trek might be the key."
Surprisingly, the changes started right at the base camp. 
Yash recalls, "The biggest change that I noticed was that she was interested in getting to know people, something that was very different from the Raashi that I had seen over the past few months."
The Trek Transformation Experiences conducted during the trek further forced her to look within and dig deeper. 
"The first experience was to visualize the mountain within that we wanted to overcome. I wrote 'Comfort zone' and 'Pessimistic thinking' as two things I wanted to conquer," Raashi tells me.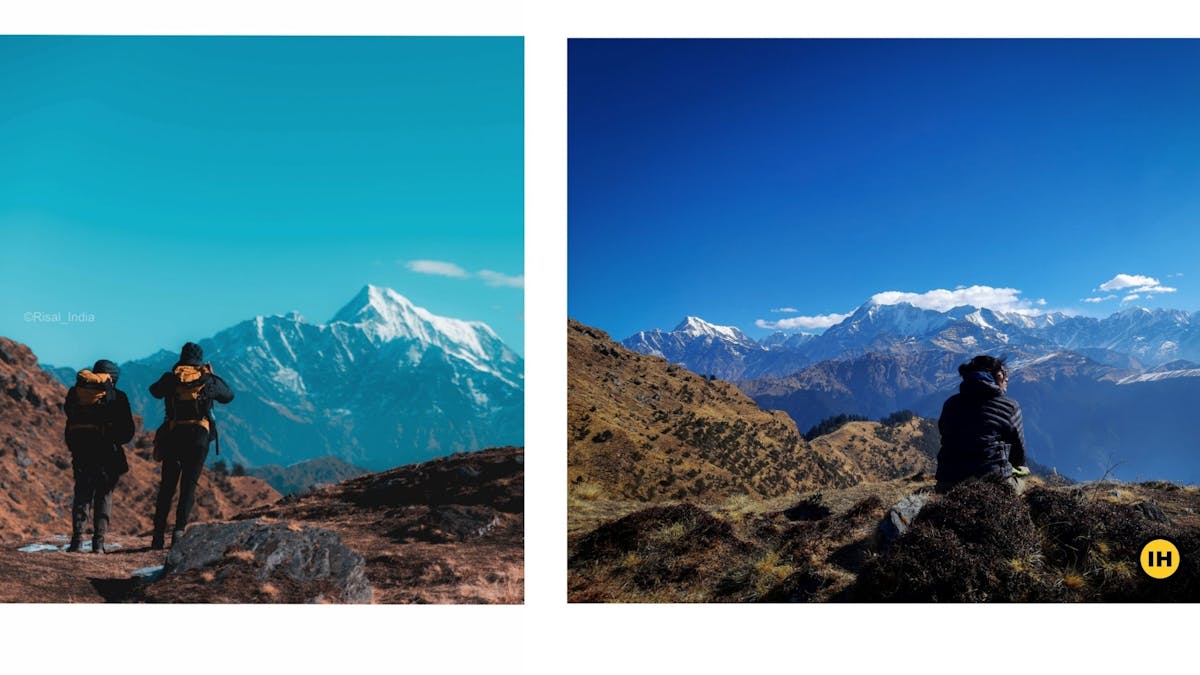 On treks, we often conduct experiences to enhance the impact of trekking on the mind, body and spirit. Raashi found these experiences to be very powerful on her outlook
The tree-hugging experience also left Raashi with tears in her eyes and a big smile on her face. 
Then came the Gratitude Circle. "We were asked to think of five people that we were grateful for, and when I thought of those people, it hit me that I hadn't thanked any of them. It gave me time to think of a different perspective. It was very refreshing and uplifting," recalls Raashi. 
As they climbed higher, Raashi started to feel her confidence resurface. 
"Every campsite we reached, I left a part of my old self and trauma behind. Every time I would think this is too much for me to do, Yash would tell me to imagine myself on the peak. He gave me a sense of purpose," Raashi says.
Reflections Helped in Going Deeper into the Journey 
However, the journey was not always a smooth one. Many-a-time, it was a case of two steps forward, one step back. 
"The final day of the summit, the thought that was running in my mind was 'Nahi Hoga, nahi hoga, we should return'. Yash and Ankur (the Assistant Trek Leader) kept pushing me and told me to take it one step at a time. They told me they would go at my pace. I felt that if not for me, I have to do this for them," reminisces Raashi. 
Raashi trudged along, almost giving up just before reaching the summit. But the sight of the sun's rays hitting the mountains changed her mind. 
"I saw the sunrise and felt like the hardship was worth the beauty. It was worth EVERYTHING. It was so magical. After reaching the top, I had tears in my eyes. I could feel myself being freed of the cage I was living in," recollects Raashi.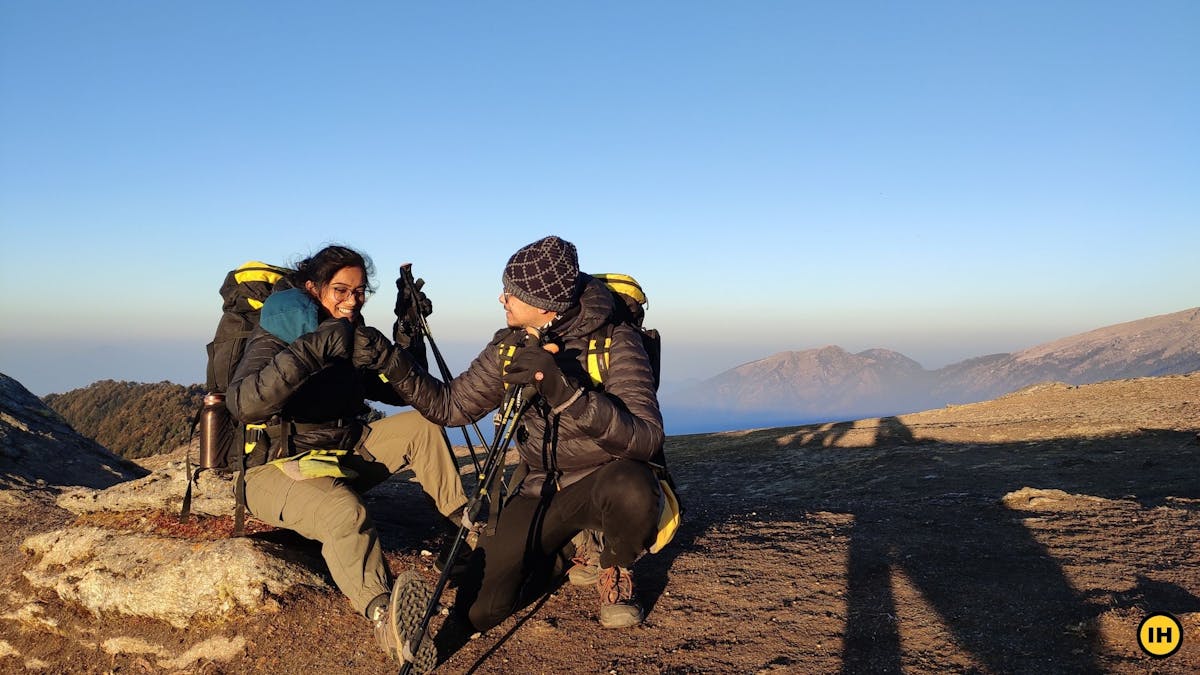 Raashi having a celebratory moment at Brahmatal Top with her friend Yash.
Writing A Letter to Self From the Summit
At the top, Raashi was asked to write a letter to her future self. The below excerpt is Raashi's deeply moving reflection of the experience – 
Being a bibliophile and having an immense love for writing, I was on Cloud Nine to do this activity at one of the few majestic corners of the world. Using my cellphone as a notepad, I started penning down my lovely overwhelming experience. 
Buried deep within the heart of the magnificent Himalayas, surrounded by the enchanted forest of rhododendrons and oaks along with patches of leftover snow, I did something that soothed my heart and soul with each word I wrote. Realising the worth of that two rupee ball pen and an A4 size paper, I once again understood how even the smallest things could become a reason for your happiness. 
I gave up every pessimistic thought I had. I stopped falling and decided to rise up. To never give up, even if I feel I have nothing to look forward to, I decided to keep going and become alive again.
We have noticed this to be one of the most powerful experiences for trekkers, when they sit atop the summit and write a note to their future selves or their loved ones. With Raashi too, it had a big impact
Back from the trek, Raashi felt like she had been given a new lease on life, one that she could lead with confidence.
We asked Raashi about the difference she felt in herself before vs. after the trek. We were curious to see if the shift in attitude and outlook had continued beyond the trek. 
"During my worst point, I felt every day was a burden. I was always anxious. I was very vulnerable, and I would cry even for the smallest of things, sometimes crying into the wee hours of the morning. I had become a severely pessimistic person. I would negatively evaluate myself and tell myself things like, you are not going to get out of this, and nothing will work out for you. 
Now, after the trek, I am just VERY happy. My parents are relieved to see me functioning so happily. I have decided I am never giving up from here on. I have something to look forward to every day. I feel I have a purpose in life. Life is worth living for. It's JUST easy," she says, reflecting on how the trek has changed her.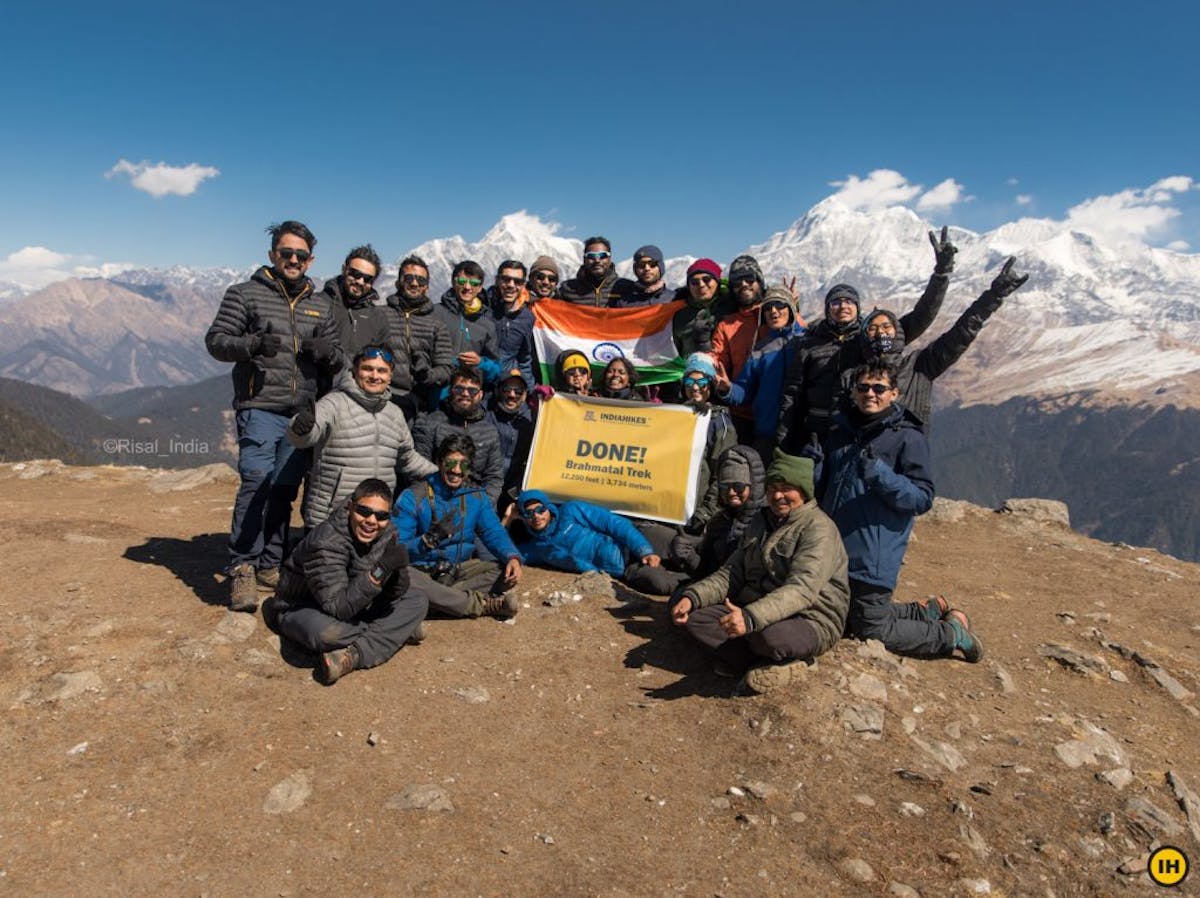 After the trek, Raashi says, her parents and friends see a discernible change in her outlook towards the world.
Having known Raashi for more than six years, Yash, too, noticed remarkable changes in her. 
He says, "She's a completely different person now. The reserved Raashi has completely vanished. That girl is no more. Now she has no problems meeting new people. She engages in conversation with everyone. She speaks more confidently. She is very clear about her life decisions and knows what she wants and what to do next."
Talking about her biggest takeaway from the entire trekking experience, Raashi says, "Don't give up, no matter how bad the situation. There is always something that will pop up from nowhere, and you will find your purpose. You will find something to live for. Life is beautiful."
On that powerful note, we'd love for you to share your most profound trekking or 'in the mountains' experience with us. Tell us in the comments. We look forward to reading your stories!
Sign up for our much loved Weekly Mailer
We have terrific trekking tips, trek updates and trek talks to look forward to