How Trekking With Your Child Can Be A Great Bonding Experience
Share this story
Last week, I went on a trek to Handi Gundi, a small hill near Ramanagara, around 60 km from Bangalore. It was a quiet Sunday morning, cloudy and breezy – a perfect day for trekking.  I had 26 others doing the trek with me, out of whom 15 were sprightly children, right from the age of 4 to 14. Honestly speaking, until that day, I had never understood why anyone should take children trekking.
I had read several articles about the benefits children would gain if they went trekking. They spoke about how it improves fitness, social awareness, team work, etc. But nowhere did I read about the impact it would have on their parents.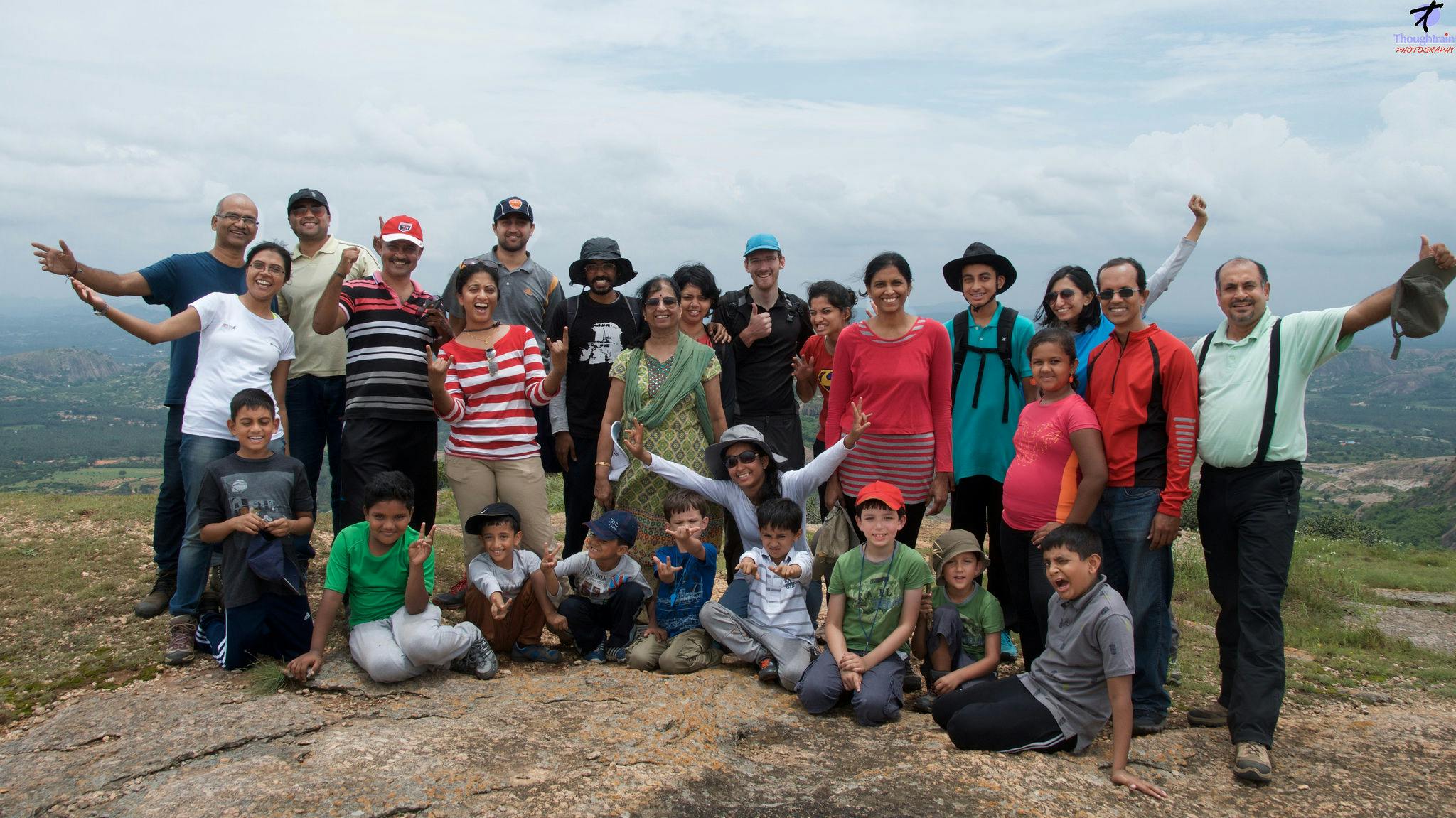 I saw Priyanka, who had brought her son, Rishi, on the trek, having a running race with the other children. Priyata, who works as a school teacher in Bangalore, was more than delighted to have a spelling quiz with 6-year-olds, and funnily enough, they were the ones quizzing her! And Usha, the 61-year-old, did not seem like a senior citizen anymore. She was fascinated just to see custard apple trees and wild tulsi plants and even took a plant home. She fell down thrice and got up laughing, dusting herself off.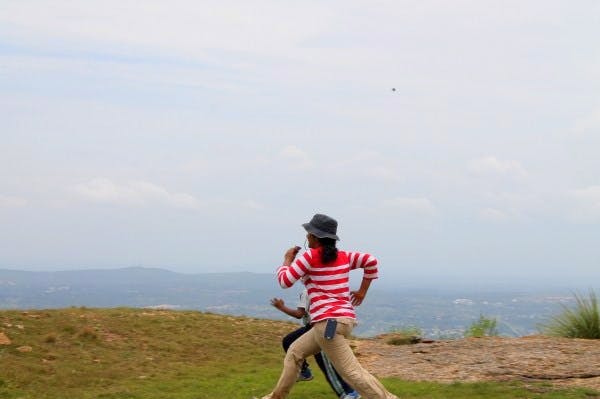 During the last stretch of the trek, however, Usha got tired and pretty much gave up. It was the first trek in 61 years of her life, and she had not prepared for it. She had come because she had to bring her grandson, Aryan, along. Aryan was already at the peak, playing with the other children. So, Usha decided to stay back and wait for everyone to return.
When Aryan heard that his grandmother was just a notch below the peak, he ran back down, shouting, "I will bring ajji up!" He gave his grandmother a hand, asked her to sip some water and brought her up. Re-energised by her grandson's enthusiasm, Usha obligingly held his hand without a worry in the world and followed him up, trekking pole in one hand and Aryan's hand in the other.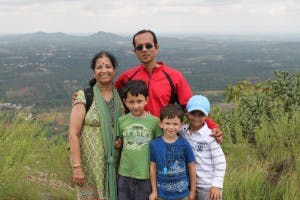 It was really heartening for me to see this exchange in roles. It was always "Usha ajji," feeding Aryan, cooking for him, taking him around to play and looking after him, but now it was Aryan taking care of his ajji. For once, Usha could stop thinking like an adult and worrying about things, and just let her grandson guide her to the top. It was her turn to be a child.
"I never thought I could make it all the way to the top! I'm so proud of myself and Aryan," Usha gushed. "Having come this far, I'd have regretted it if I hadn't reached the peak," she beamed as she saw the view from the peak.
I saw so many other mommy-son and daddy-son duos on the trek. They were as close as two coats of paint. I don't think any duo can be that tightly knit if they haven't faced challenges and overcome them together. Even the littlest challenge, I believe, can bring two people closer together.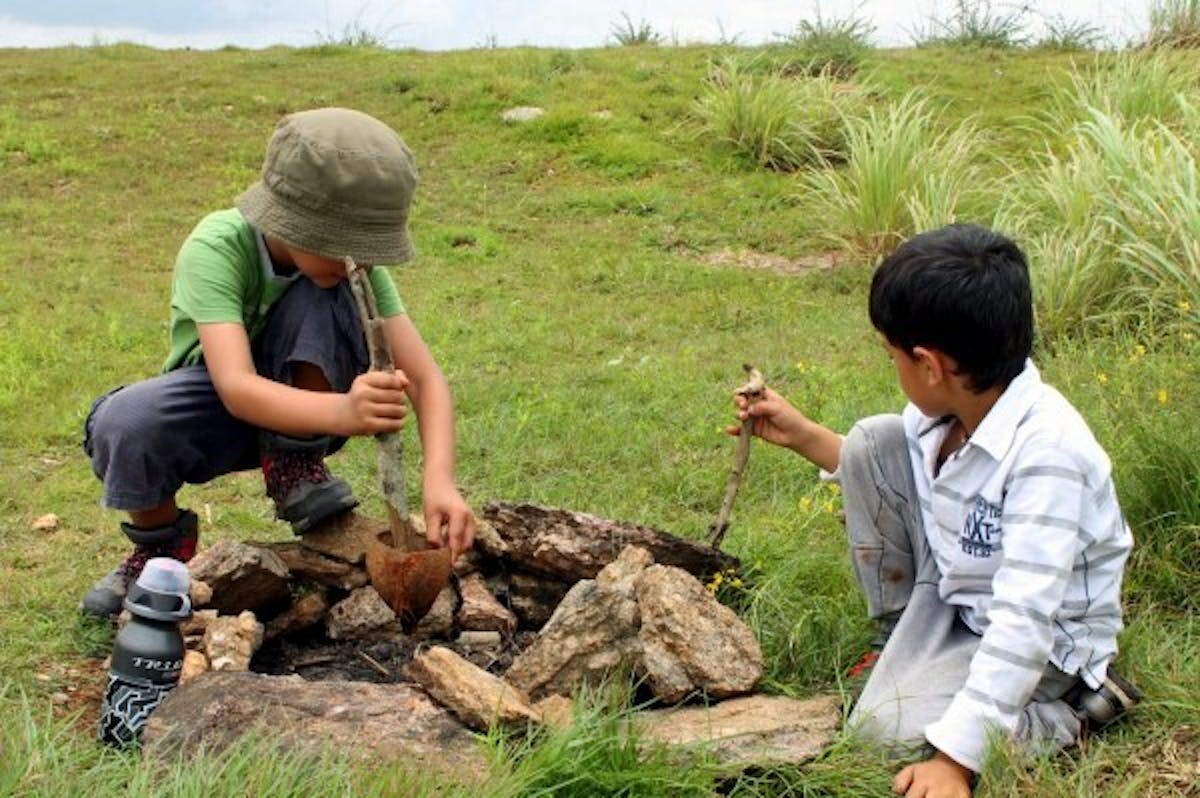 Tiny trekkers try to build a campfire and cook a meal in a coconut
Personally, I felt like a ten-year-old with the children. We tried building a campfire with two rocks, just for the fun of it. I knew it was not possible, but the children didn't think so, so I chose to ignore that knowledge too. Sometimes, it feels nice to just let go and be a child.
What I found was that trekking is not only a good practice for children, but it's an even more wonderful experience for adults who go along with them.  Take your child on a trek, you'll know. 🙂
Sign up for our much loved Weekly Mailer
We have terrific trekking tips, trek updates and trek talks to look forward to