Participate in the #IHTimelapse contest on Instagram!
Share this story
Participate in the #IHTimelapse contest on Instagram!
Category Photo Contest
By Swathi Chatrapathy
2016-12-23
With the upcoming holiday season in mind, Indiahikes is hosting an Instagram Contest. Titled #IHTimelapse, this contest is for all those who love revisiting tiny bits of their treks through timelapses! We can't wait to see all the floating clouds, shimmering rivers, swaying trees and stock-still mountains. Show us your best timelapses using the hashtag #IHTimelapse.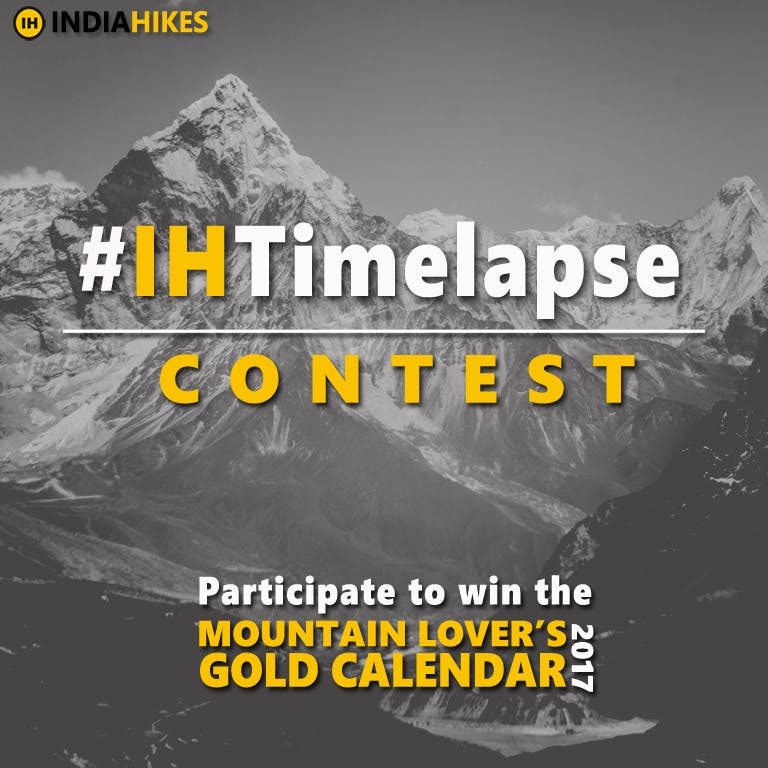 Here are the rules to enter the contest. 
Follow @indiahikes on Instagram.
Post a time-lapse or a hyper-lapse video between now and 11:59 pm IST on Saturday, 7th January 2017.
Tag @indiahikes and #IHTimelapse in the caption.
Include an interesting backstory around your entry in the caption.
NOTE: Entries must be posted from a public account during the challenge period (December 23rd 2016 to January 7th 2017). You cannot tag an older video. Such entries will not be considered.
The top entry wins the Mountain Lover's Gold Calendar of 2017 and a chance to go on a sponsored trek as a Photo Trekker**
Results will be out on Jan 9th 2016.
**Terms and Conditions: The winner will be selected as a Photo Trekker only if he clears an interview process for the same. 
Sign up for our much loved Weekly Mailer
We have terrific trekking tips, trek updates and trek talks to look forward to