Indiahikes and Uttarakhand Tourism Department open the Chainsheel Trek
Share this story
Indiahikes and Uttarakhand Tourism Department open the Chainsheel Trek
Category News
By Aswati Anand
2017-04-28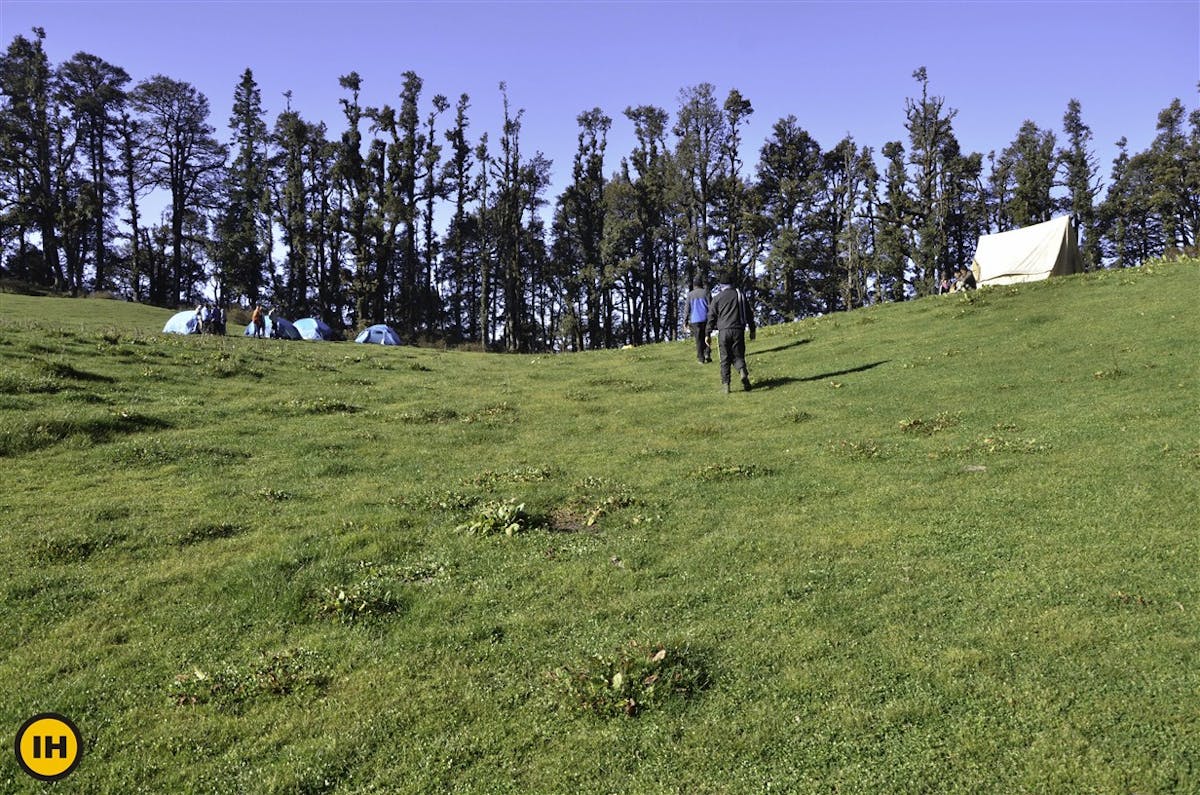 Sunauti Thach on Chainsheel Trek.
This trail goes through lovely stretches of unexplored bugyals and has fantastic views of Bandarpoonch, Chaukhambha and Panchachuli Parvat peaks. The added bonus? Camping next to twin lakes at Sarutal campsite.  
This is indeed Uttarakhand's Trek of the Year. We have put up dates for June!
Check the dates to Chainsheel trek here.
Annapurna Base Camp exploration complete
Our Green Trails Head Lakshmi and Senior Trek Leader Chaitan are back from their explorations of Annapurna Base Camp. While they barely got any mountain views because of bad weather, Lakshmi maintains this is one of the best treks she has ever done.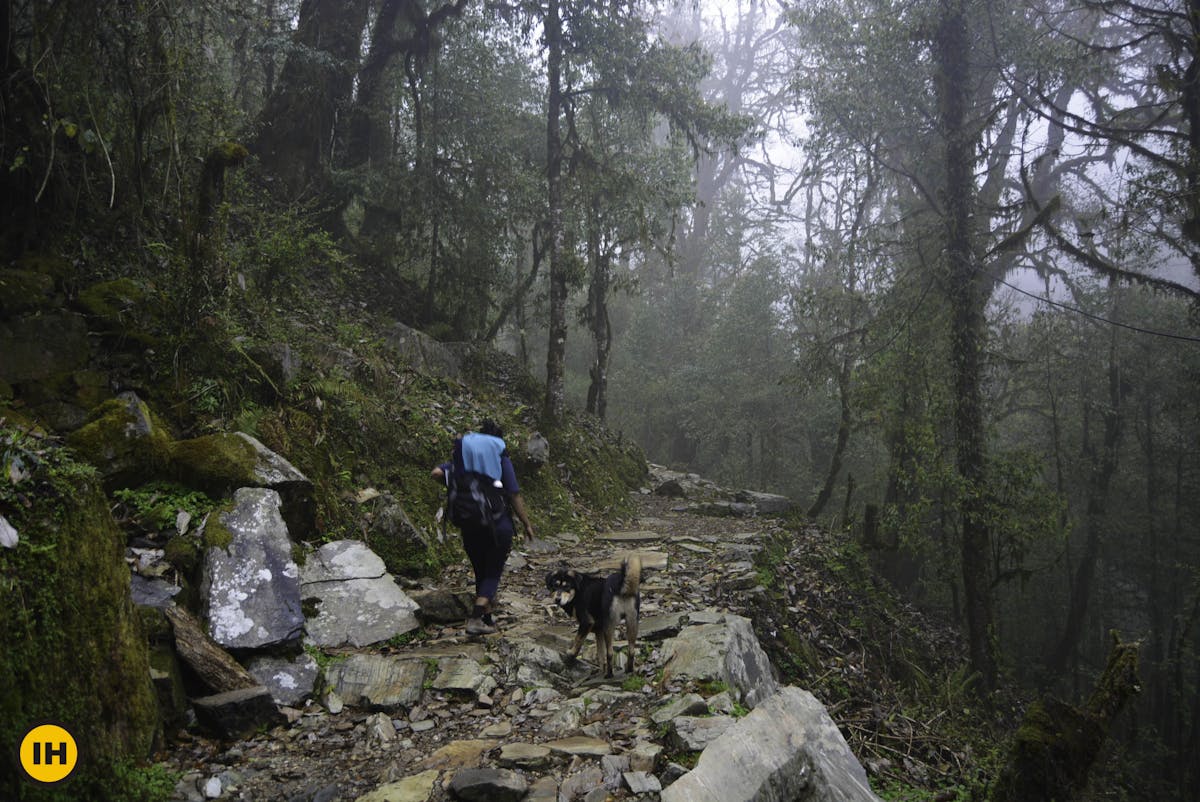 The forest walk on the Annapurna Base Camp trail. PC: Trek Leader Chaitan
"The forest walks and the mist gave such a surreal feeling to this trek. When we did see the mountains in very short clear windows, they were extremely beautiful. Machapuchare is one of the most beautiful mountains I have seen. When the sun rises at Annapurna base camp, you see the sun hit ridge between Annapurna and Machapuchare. It is quite a sight!" says Lakshmi.
She adds, "It was a nice experience to reach a cosy tea-house so you can get good rest for next day's trek. You also meet a lot of international trekkers on this trail. You get to exchange stories and discuss routes with them."
You can expect a documentation along with a few dates up on the website soon. We will be running the trek in October. So keep your schedule open!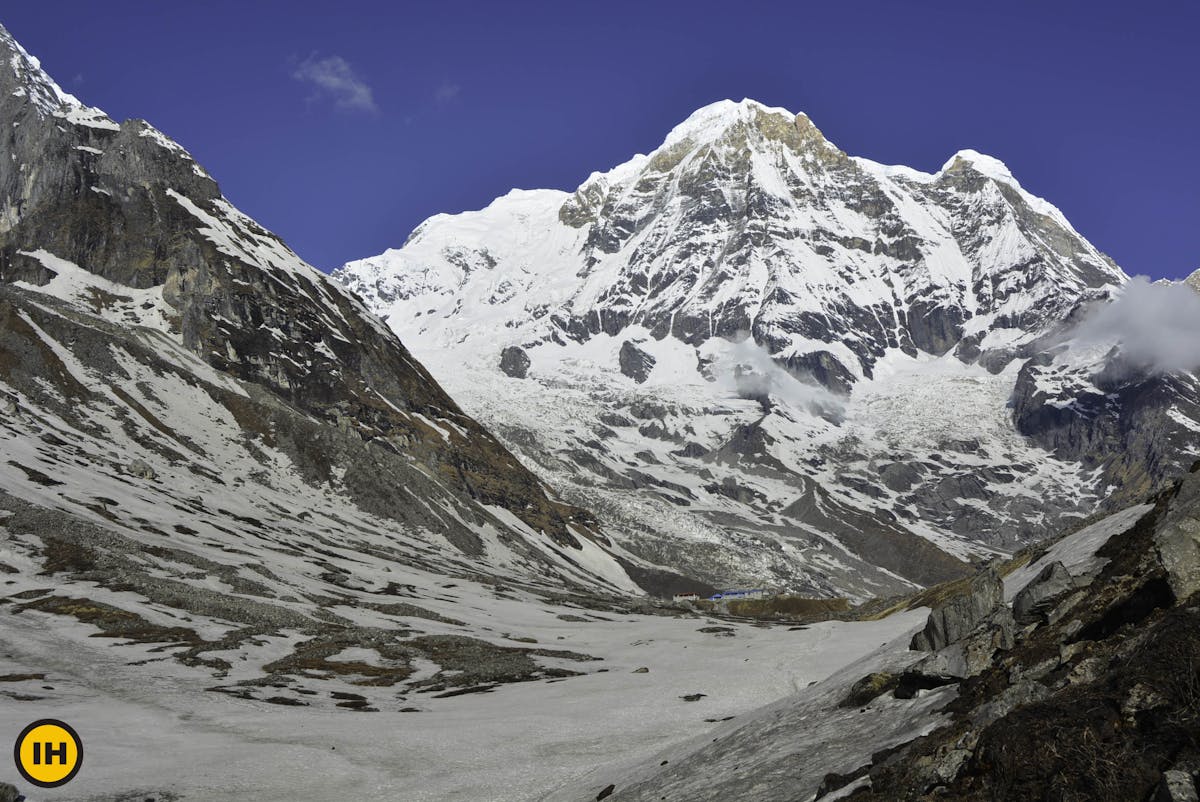 The Annapurna Base Camp. Up ahead is Annapurna's South Face. PC: Our Trek Leader Chaitan Sharma
Here are some weather updates from our treks
Sandakphu
The last week's batch of Sandakphu faced dull and gloomy weather. Our trekkers faced heavy rain and high winds at Sandakphu campsite. While arrangements were made for trekkers to sleep inside the homestay,  our tents proved strong and held their ground after good amount of pegging. The testing night gave way to a beautiful two hour window of views of the Sleeping Buddha and the Everest ranges.
Meanwhile, we have put up rainfall charts on our all trek pages. These rainfall charts will give you a good idea of what level of rainfall to expect in a year. Here's one for the Sandakphu trek. The rainfall is only going to increase. Our last batch is on May 7th. Anyone going in the April 30th or May 7th batch, must take a poncho with them.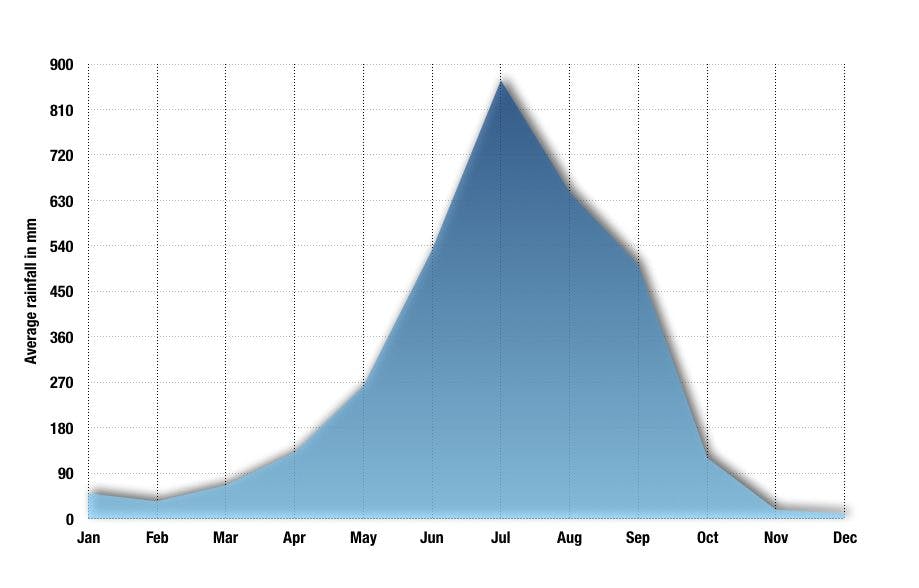 Deoriatal Chandrashila
Moving over to Uttarakhand, the weather at Deoriatal Chandrashila is pleasant. There are clear views from the summit and there is 3-4 inches of snow from Tungnath onwards. The snow was a pleasant surprise for all our trekkers.
Kedarkantha
There is no snow at Kedarkantha, however, the batch got beautiful views of the surrounding ranges: Dhauladhar, Chansil Pass, Swargarohini peak, Draupadi Ka Danda,  Bandarpoonch and Kalanag. Among other things you can see from Kedarkantha summit are Rupin and Har Ki Dun Valley.
Har Ki Dun
Speaking of Har Ki Dun, here is what the valley looks like now.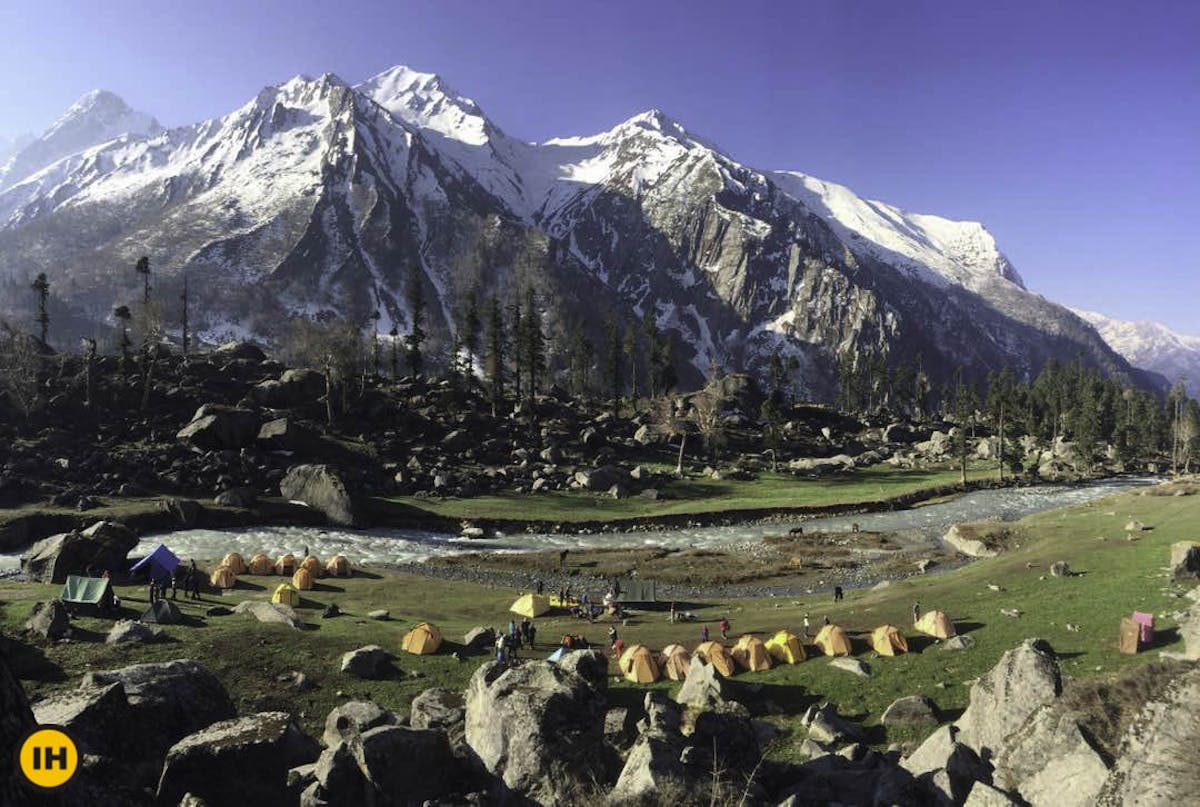 The Har Ki Dun campsite. PC: Adithya Modi
Here is what a trekker had to say about his trek experience at Har Ki Dun:
"This was my first week-long trek. And I absolutely loved it. I am coming back for more treks with Indiahikes. I could see the efforts of the organizing team throughout the week. I'd like to mention especially about our guide, Jairam, who is the best person you could ask to walk along with you as you go exploring Himalayas. He is determined, passionate about what he does, good-natured and a fun-loving person, and to top it up, he looks like David Guetta!
The food was nutritious and hygienic, so that's a plus. The scenary was breathtaking and the landscapes were grand. In 6 days, I came across sunny mornings, windy evenings, chilly nights, snowy trails, gushing rivers, clear-water streams, mountain villages, clear blue skies, lush green forests, intermittent rains and a bunch of passionate people. Excellent way to spend your week." – Sourabh Rohilla, April 2017 batch
Pangarchulla
The weather was mostly clear on Pangarchulla with a light drizzle in the evenings. The last batch faced a hailstorm in wee hours on the last day of trek. The afternoons cleared up for a magnificent view of Garhwal ranges.
This week's  episode deals with Kanamo Peak: lesser-known trek that is hidden away in the heart of Spiti Valley. The region of Spiti is still untouched by modernity, unperturbed by civilization. Swathi sits with our founder Arjun about why Kanamo Peak makes a fantastic alternative to the ever popular Stok Kangri.
Watch the episode below
The Kanamo Peak trek has a similar season as Stok Kangri. Check out dates for Kanamo Peak here.
Last two days to participate in our #IHMyTrekStory Contest and win a trek to Bhrigu Lake 
The last date for our Instagram contest is April 30th. If you're a photographer who likes to tell stories through his photographs, then you have two days left to submit your entries. We are giving away a trek to Bhrigu Lake and also some goodies from Deuter!
Here are the rules to participate in our contest.
March Trek Photographer of the Month Nominations Out
Speaking of contests, you must take two minutes out to see the lovely photographs from our March 2017 Trek Photographer of the Month Contest. You'll find the nominations here. Below is one of the nominations, shot on the Kedarkantha trek.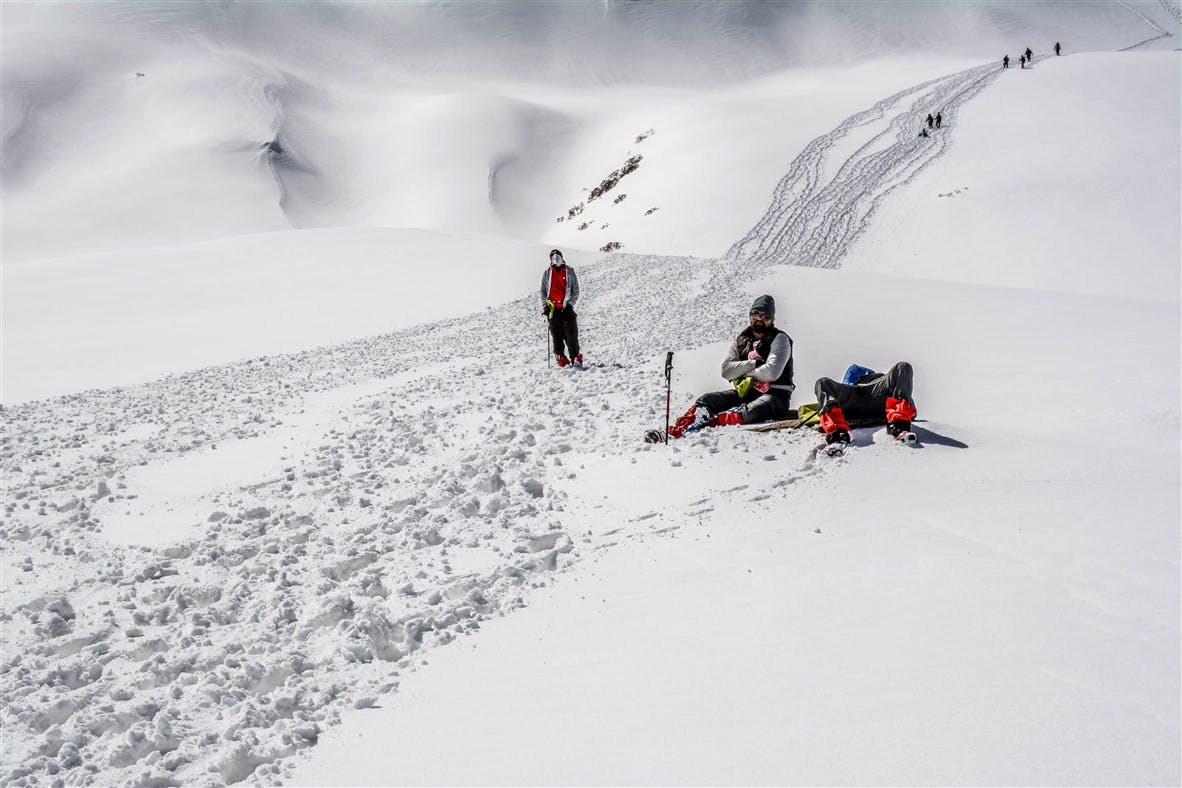 Stay tuned to our website for more updates!
Sign up for our much loved Weekly Mailer
We have terrific trekking tips, trek updates and trek talks to look forward to