How our campuses are impacting trekker experience
Share this story
Last week was very special to Indiahikes. We inaugurated two new Indiahikes campuses—the first, at Lohajung, Uttarakhand, in the lap of the Garhwal Himalayas. The second is nestled amidst dreamy apple orchards near Manali. 
These are the fourth and fifth campuses of Indiahikes, following our campuses at Sari, Kotgaon, and Raithal in Uttarakhand.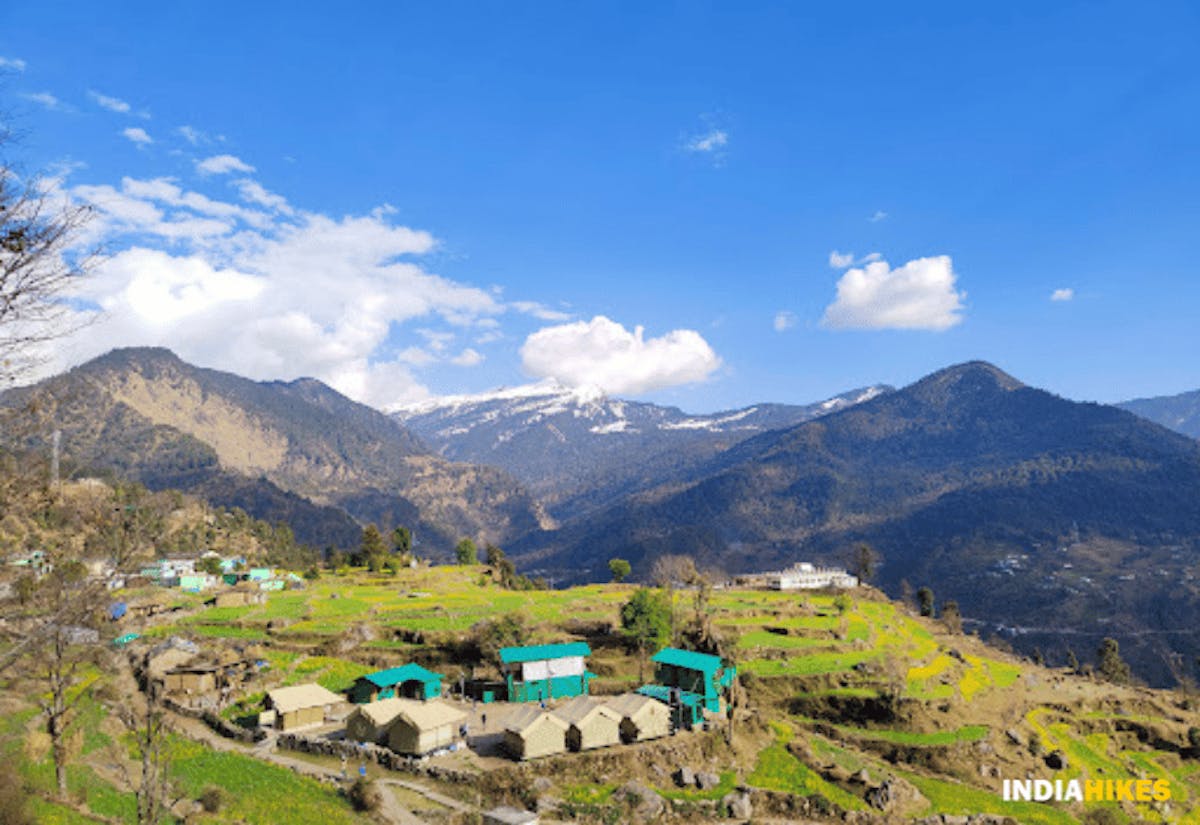 But Indiahikes campuses are a recent development. Even three years ago, our basecamp experience was very different. They were in hotels and lodges — something that always left us uncomfortable. As soon as trekkers reached the hotel, they would retire into their rooms and emerge only when called out for meals or briefings. Consequently, they would remain in their groups for most of the trek and never team up with other trekkers.
"One of our biggest dreams, right from the beginning of Indiahikes, was to create a community space for trekkers," says Arjun Majumdar, founder and CEO of Indiahikes. 
What we wanted was simple:
Could we create a zone where trekkers could form lifelong bonds? Could they come together as a team much before the trek starts?
Could we build a zone that would help us be safe from earthquakes? We know the fault lines around the Himalayas are quivering for a burst.
Could we build a home away from home for our team members? A place where they would love to come down after a trek?
We could do this if we created a community centre rather than a place for trekkers to stay. It would have to be a community centre designed to unite people.
Our campuses have become thriving community spaces. 
Today, our campuses have become community spaces buzzing with activities. Trekkers come together in the common area for conversations with other trekkers. Children play in the open area. You'll see small groups chatting away with trekkers from other groups, sharing stories and experiences. 
Manisha Hegde, the head architect behind the design of our campuses, shares her thoughts, "The Indiahikes campus has been specifically designed to create a community space. The design is meant to encourage interaction between trekkers. You can tell by looking at how the tents are arranged. The kitchen, briefing room, and dining room serve as communal spaces. You have to physically walk from one area to the next, creating conversation opportunities." 
Our campuses are a home away from home for our team members.
This space has become a home away from home for our teams. Unlike trekkers who go back home after a tiring trek, our team members cannot go to the comfort of their homes after a trek. 
"When we were staying at hotels, they did not have a sense of privacy. They had no space for washing their clothes, working on their fitness, practising sustainability, or planning their next trek designs," shares Lakshmi Selvakumaran, head of learning and development at Indiahikes. 
"Now they have a sense of belonging. They feel like it is their home. This difference makes them look at trekkers differently. When a trekker comes to our campus, everyone comes out to greet them, just like we do at home," continues Lakshmi.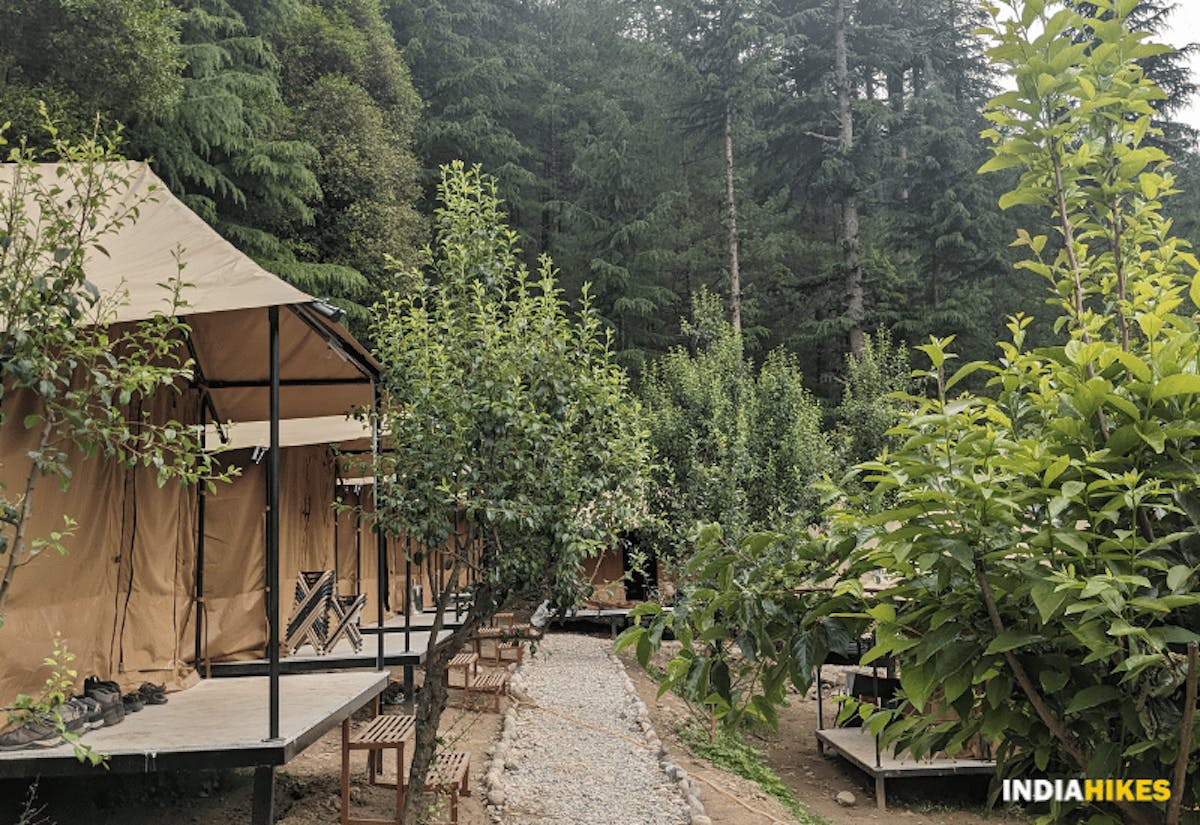 The campus brings about a spirit of trekking before the trek starts: 
A remarkable change our campuses have brought about is that trekkers get into trekking mode even before the trek starts. "Our campuses lend a different feeling to trekkers compared to hotels/lodges. The stay in Swiss tents, the bunk beds, the communal washroom facilities—the whole set-up makes you feel like you're already on a trek. It has a very backpacker feel to it. It removes any preconceived notions trekkers may have about trekking," says Manisha. 
"This allows trekkers to settle into trekking mode as soon as they arrive at the campus, not struggling the next day when they start the trek. It has made Day 1 of trekking much more comfortable," Manisha adds. 
The campuses have changed the trek experience dramatically.
Upon probing further, she adds, "When you have your own space, it opens up a lot of avenues for you. It opens up a lot of mental space to design experiences," says Lakshmi, citing the example of our Raithal campus, where we experimented with a rope course (which trekkers have come to love).  
To this, our founder, Arjun, adds, "The kinds of experiences that are being designed for our campuses are simply outstanding. I saw firsthand how the summer camp activities were designed. I saw it earlier on our family treks. Our pre-trek planning has taken on a whole new turn with our campuses. Our team members are thinking so creatively that it amazes me," he says. 
The Future of Experiences 
"The success of our various campuses has left me feeling overwhelmed," shares Arjun. "We have not only met our goals, but now our campuses have started to become experience centres. The future looks very exciting. We can do a lot here. We have just started. You could call this version one of the campuses. Version two could have lots more infrastructure," he says.
"For trekkers, it makes a big difference. Most trek with Indiahikes for the special experience they get. With these campuses, these experiences have now become more enhanced. It is simply wonderful to watch this from a distance," continues Arjun. 
For Indiahikes, this is a massive realisation of our vision for years. We see Indiahikes campuses as the future. It's a place where trekkers and Indiahikes team members have a "community home" and a futuristic "experience centre." 
"I'll be happiest if our trek leaders and team members invite their families to visit them at the campus. We are creating special family zones at our campuses. We want to create a work culture where families are an integral part of the work and are not separated by work and life," concludes Arjun.
Sign up for our much loved Weekly Mailer
We have terrific trekking tips, trek updates and trek talks to look forward to