Indiahikes Mountain Lovers' Gold Calendar 2020 - Preorder yours now!
Share this story
Indiahikes Mountain Lovers' Gold Calendar 2020 - Preorder yours now!
Category News About Indiahikes
By Swathi Chatrapathy
2019-12-03
I have a big announcement today.
Our Mountain Lovers Gold Calendar 2020 is finally up for pre-order!
This time, we have a large wall calendar, over 19 inches in width and 14 inches in height. So the pictures burst to life, giving you the wonderful feeling that the mountains are truly in your room. 
Take a look at it yourself.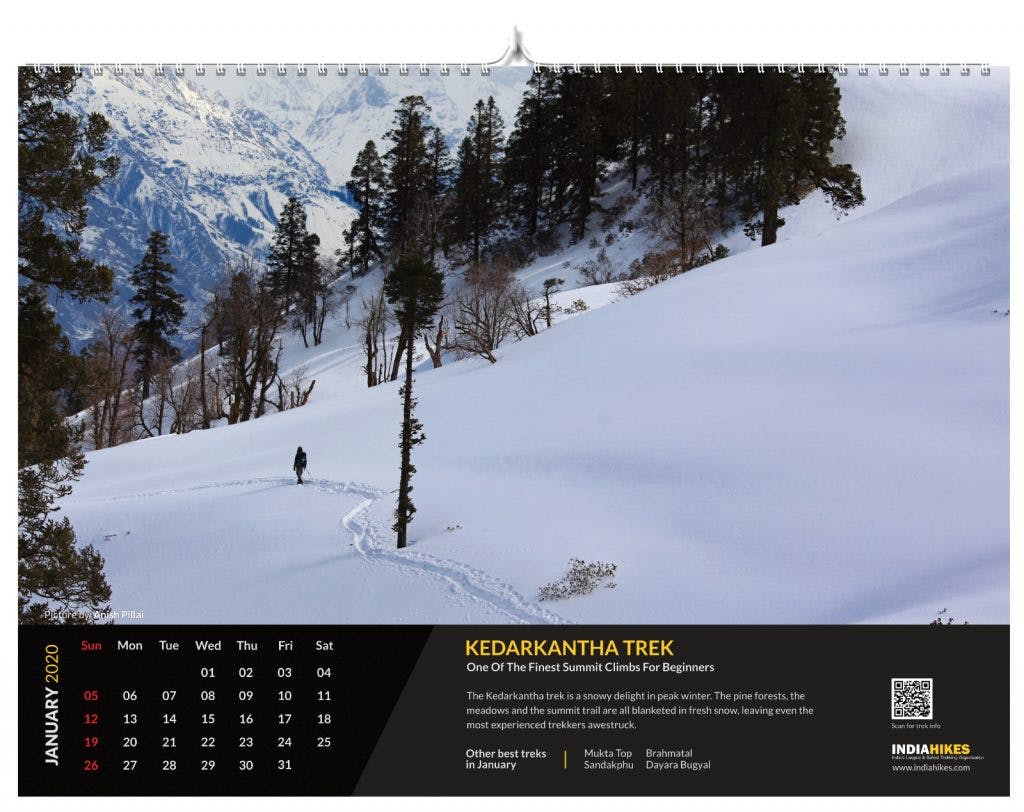 We've chosen these pictures after sifting through thousands of photos. In fact, it took us more than a month to simply zero in on them. 
They were all sent in by trekkers from all over the country. And what an honour it is for them to be featured in this calendar.
Like every year, it's truly a calendar for mountain lovers. 
It features 
12 rare professional pictures of our Himalayan trekking trails. 
It is not a desk calendar, but a wall calendar, which is easily a head-turner.
We know the calendar is a collector's item. The 220 GSM art paper used ensures you can cut out the pictures at the end of the year to make picture frames out of them. It's matt finish as well, so the photographs won't glare from any angle.
The Mountain Lover's Gold Calendar makes it a very unusual and thoughtful gift in case you want to surprise anyone. We ship it in a wonderful hard case cylinder which keeps the calendar in shape.
What can I say, this is a much-loved gold calendar and lives up to all its hype from the past 4 years. 
So pre-order yours soon. Last year our calendar sold out in 13 days.
The calendar costs Rs 445. This includes all taxes and shipping.
Head over to this page to pre-order it right away – https://store.indiahikes.com/product/mountain-lovers-gold-calendar-2020/
Just note that this is a pre-order. We will be shipping from December 16th onwards. It will take around 2-3 days to reach cities around Bangalore, and around 4-5 days to reach cities farther away. The calendars are shipped by Fedex or Aramex usually. 
If you're looking to have it shipped internationally, we'll be happy to send it. There's an extra shipping cost for that. So please write to me personally about it. 
Even before this pre-order mail reaches you, around 300 calendars are already booked. Every year, we run out of stock in around 13 days. So don't delay ordering your copy. 
Here's the link again.
Sign up for our much loved Weekly Mailer
We have terrific trekking tips, trek updates and trek talks to look forward to