How Indiahikes Dealt With My Acute Mountain Sickness
Share this story
The best laid trekking plans can be spoiled by the sudden onset of that scourge called Acute Mountain Sickness (AMS). It is unfortunate, it is frustrating, it can be hellish, as I experienced on the Roopkund trek that I signed up for in October 2016. That said, the Indiahikes team proved that how AMS is managed is crucial to a safe and happy ending for an AMS victim.
I had my heart set on doing the Roopkund trek since 2012. When I finally got an opportunity to attempt it, it turned out to be a big life experience for me. I have jotted down some of the sequence of events, experiences and lessons that I gained from this trek.
Reaching the base camp from Mumbai (where I live) was like hitchhiking. The long waiting list on the trains to Delhi and Kathgodam, and the sleepless nights traveling by state buses had sapped half my energy by the time I reached our base camp at Lohajung. As a result, unfortunately, I developed a fever on the night before Day 1 of the trek. I popped a paracetamol at 2 AM in the hope that my fever would subside and I shall be fit. Over the next four hours the fever did go away, probably due to the pure mountain air, but I felt incredibly weak and a third sleepless night had been added to my list.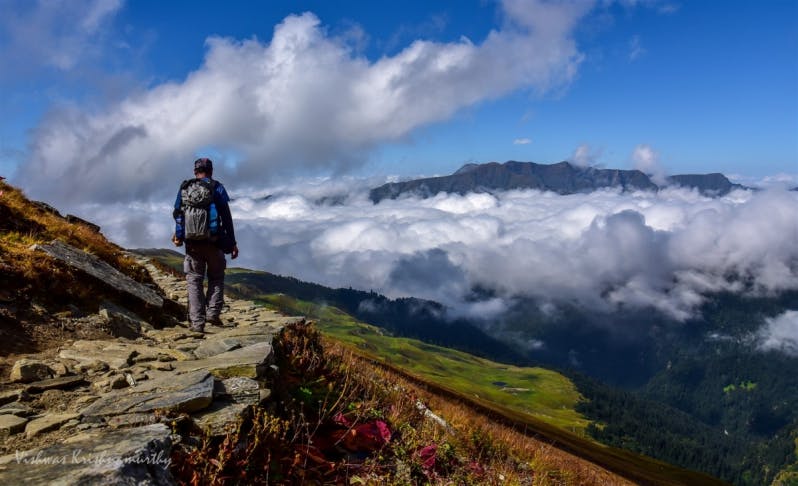 The following morning, I half made up my mind to withdraw from the trek. I decided to talk to our trek leader Indrajit for his opinion. Indrajit had given us a very warm welcome and delivered a very compelling orientation session about the trek the night before. Like all Indiahikes trek leaders, Indrajit was a man of high spirits and high levels of energy. He got our team really excited about the trek. I had developed a sense of confidence in him. Therefore when he suggested that I was fine and that I should not withdraw so early from the trek, I was on board! I said to myself, let's do it, let me at least give it a shot.
The first day of the trek, from Wan to Ghairoli Patal,was a grueling one, especially the 3-hour climb section after the Neel Ganga river. Calling it a difficult start would be an understatement! But the trail, which goes through dense oak forests is very beautiful.
Having delicious packed sandwiches in the company of newfound trekking friends would make it a really enjoyable day for anyone. Reaching the first camp would give a sense of achievement and confidence to any trekker. But this was not true in my case.
I was struggling with my fitness. I was taking a break every five minutes. Normally I would enjoy the tiring climb and the pain and sweating it out. But on that day, I felt completely out of shape. My team and our trek guide Hira ji were constantly encouraging me. They were helping me in all sorts of ways — offering to carry my backpack, giving me ORS, slowing down their own pace to give me company. Their support played a big part in me reaching the first camp.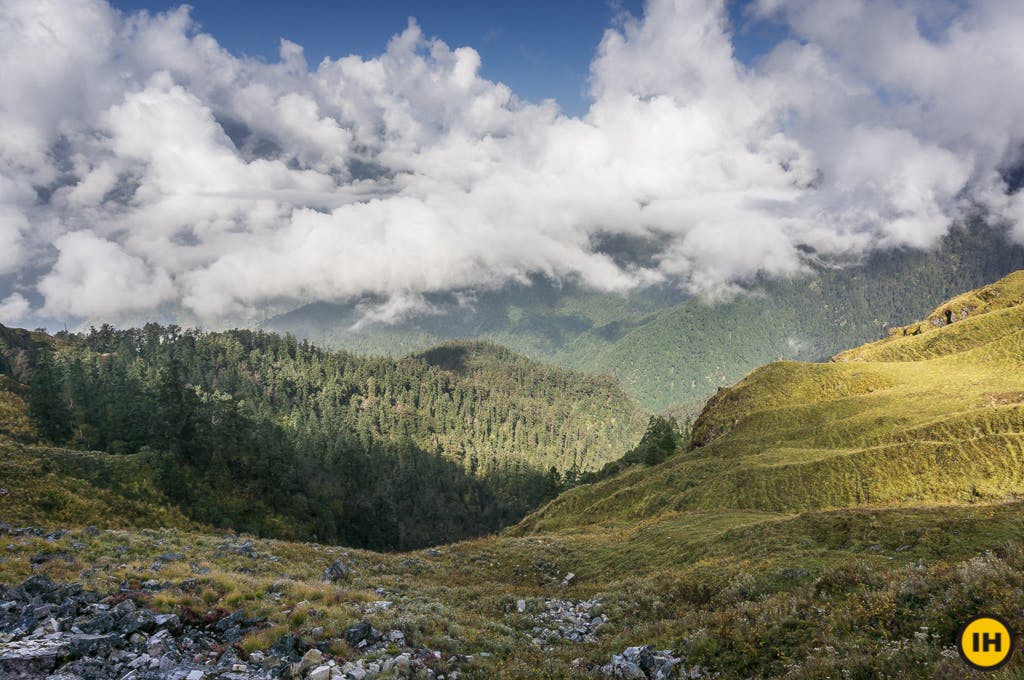 When we reached the camp, at about 3 pm, I was exhausted beyond measure. I don't ever recall being so tired in my life. I dropped my backpack, my trekking pole and just sprawled on the grass breathing heavily. Indrajit immediately took my oxygen and pulse readings. They were perfect!
Well, then why was I struggling so much? Was it in my mind? Now that I think back, it probably was. Climbing a steep section is undoubtedly physically challenging to anyone but it is important to do it in good spirit. I was just not able to gather my mental strength, especially after my confidence had ebbed due to the unfavorable start to the day. We all read so much about the power of mentally girding up and things like that, but I had a firsthand experience on the first day of my trek.
Later, I had my afternoon meal and slept soundly. I wasn't aware of the heavy hail that hit the camp that evening or the lively conversations brewing among my trek mates.
The next day, we traversed through some of the most beautiful meadows at high altitude, namely Ali Bugyal and Bedni Bugyal. The vast expanses of undulating greens lifted my spirits considerably. Warm sunny weather beamed upon us. Our group was accompanied by a mountain dog whom we named Mambo. He was a black dog, very healthy and very quiet. He walked with the group, not too far ahead nor too far behind.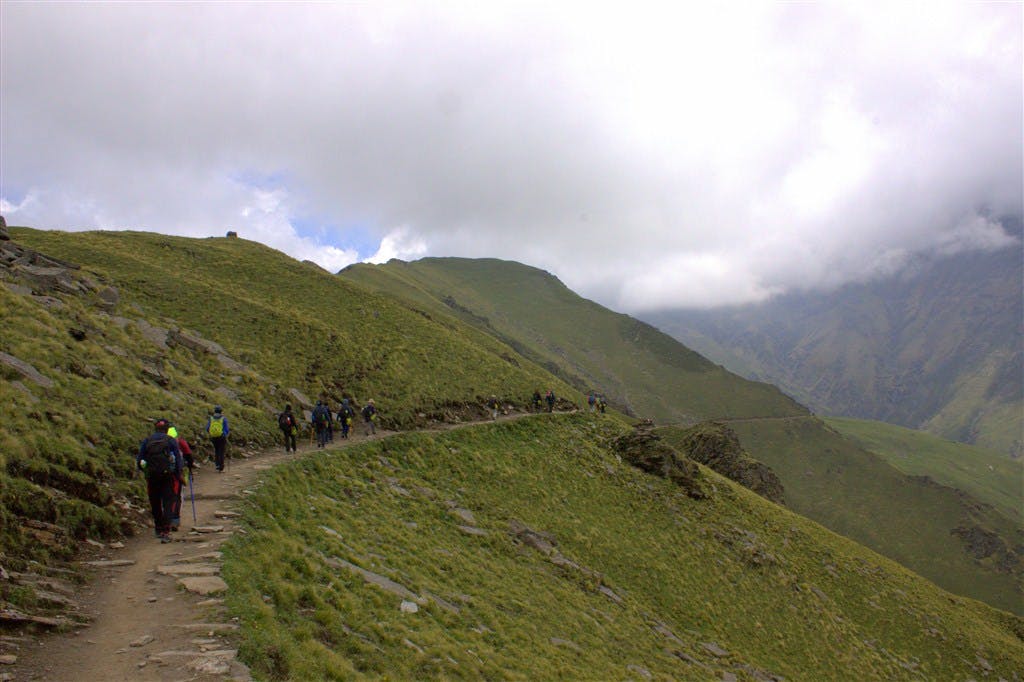 Just as we reached our second camp at Bedni Bugyal, we saw a dark grey cloud looming upon us and in no time, the hail was back. We tucked ourselves into our raincoats and extra clothing to combat the suddenly decreasing temperatures. While I was busy putting on my raincoat and rain-pants slightly annoyed at the sudden turn of weather, I noticed Mambo. He was sniffing the air and a thin layer of hail had covered his black fur. He just shook off the hail and continued walking without a worry in the world. He was not worried about the weather; he was not worried about finding food or shelter for the night or the next night for that matter.
Metaphorically, Mambo inspired me in that moment. I was so preoccupied with myself that I was missing out on the beauty around me. Hail is a gift from the mountains to trekkers. We don't get to witness beautiful ice crystals falling from the sky in our cities. Sometimes, we are worried so much about the past or the future that we just become unmindful of the present. This takes a big toll on our subconscious, sapping our energy and enthusiasm. It's a big trap that our minds set up for us and I fell into one of them on the second day of my trek.
Later, I again felt low and weak. The amazing panoramic view of the big Himalayan peaks like Chaukhambha, Kedarnath, Kedardome and Satopanth from my tent and the myriad of starry patterns in the dark night sky did lift my spirits again. In a way, I felt the mountain was testing me. She was giving me a tough time in the day and a soothing feeling in the night. Probably, she wanted to check if I was worthy of being on her flanks, I don't know.
On the next day from Bedni to Patar Nachauni (Camp 3), I did reasonably well. Thanks again to the constant support from Indrajit, my fellow trekkers and from Hira ji. Patar is located at 13,000 ft in a secluded spot some 1,200 ft below the famous Kalu Vinayak temple. In my opinion, this was the best camp site of the trek. It was completely open, so we had strong winds. We had an acclimatisation walk and bizarrely, we found mobile/data signal. After a brief escape to the outside world, we were back in our camp and enjoyed some group games. A sumptuous dinner later, we retired to our tents for the night. I felt happy with myself and looked forward to the trek next day to the summit camp at Bhagwabhasa.
On the pre-summit day to Bhagwabhasa camp, our group did an exceptional job and we were applauded roundly by Indrajit. Thanks to micro-steps and breath synchronisation techniques, the climb was manageable. We stopped at Kalu Vinayak temple and our other trek guide Viru ji offered pooja to the Ganesh idol. From this spot, we had stunning views of Mt Trishul (7,120 m), one of the most notorious peaks in the Indian Himalayas. It gets its name from Shiva's weapon, a three-pronged spear. It was awe-inspiring having the Trishul peak towering two vertical kilometres above us. For me, standing at that spot and at that moment was not an achievement, it was a blessing.
When we reached the camp at Bhagwabhasa,what I saw was not pleasing at all, especially after witnessing beautiful camps on the previous days. It was a rocky patch of land covered with horse dung and slushy snow. The temperature was nearly zero, it was freezing and out came two more layers of clothing. We had instructions to go to sleep at 6.30 pm after an early dinner.
An hour or so before dinner, I started feeling nauseated and a sense of disinterestedness took over me. I tried to dismiss the feeling but couldn't. It was cold but I was shivering even with four layers of clothing inside my tent. There was still some time for dinner and I decided to nap for a while. After I woke up, I started getting deep and dry cough for minutes together. It would stop only to start again after some time. The warning systems inside my body were triggering strong signals to my brain that something was wrong. At dinner, I just ate little. I had an alarmingly low appetite, and drank two litres of water as instructed by Indrajit. I just hoped that things would be fine by the morning for the all important summit attempt.
Suparna, who along with her husband Souvik shared my tent, also showed unusual symptoms like me. At around 9.30 pm, the shivering became more intense and the cough more prolonged. For the first time during the trek, I felt scared. During dinner, Indrajit knew that our condition was not good and decided to check on us at night.
When he took my reading, my oxygen saturation level was down to 62, the normal being 80 and above. My body had not acclimatised to the cold, the altitude and the thinner air. I was starved of oxygen and hence the odd symptoms. Basically, I was hit with Acute Mountain Sickness! So was Suparna.
Indrajit immediately decided that for our safety, we had to withdraw from the summit attempt and return to a lower camp. Descending is the only known way of relieving a trekker of AMS. We were shifted to the kitchen shed from our tents since it was warmer. Indrajit had a discussion with the trek leader from the subsequent batch, which was located at the previous camp, on the best course of action to be taken. His decision to move us down was seconded.
I feel that in a situation like this, it is really important to infuse a sense of confidence into the trekker that things will be fine. Indrajit did exactly that. He was on top of the situation with a reassuring calmness. He monitored us throughout the night missing his sleep. It was this attitude and character that made him a true leader. Hira ji was also with us through the night. He surpassed his duties by providing us a helping hand in getting things. I felt terribly guilty for all the trouble that I was causing to Indrajit and Hira ji.
At 4 am, we started our descent back to Bedni camp guided by Hira ji. In complete darkness, we had only our head lamps to light the way. Our movement was slow. It was cold. I still struggled with my cough and other symptoms. We took small steps. Exertion was painful, to say the least. What kept me going was the feeling that I was moving towards safety. At that point, I was not in the least unhappy about missing the summit climb; in fact I was relieved that I was getting out of the mountains.
The world works in strange ways, doesn't it? For four years I had been planning to do Roopkund and in an instant the plan was over. Step by step we reached Kalu Vinayak temple. I noticed faint orange hues making their way across the horizon, the harbinger of sunrise. The temple that I had seen just the previous day looked completely different, probably because I was the only person around it. I sat in front of the idol for five minutes, tears pouring down my face. It was probably because I knew I was safe. I will remember this moment for very many years.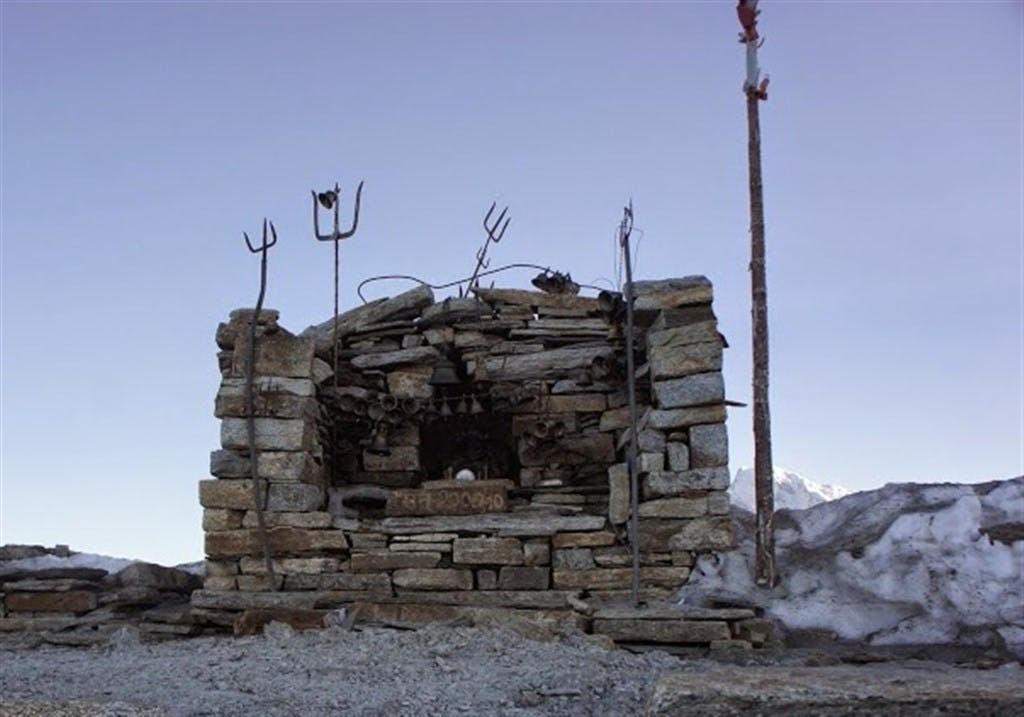 After crossing the temple we climbed downhill for about six hours. I was really quiet during the whole descent. Suparna tried to encourage me to speak but I was lost in introspection. The sound of the wind, the winding path, the towering mountains and my own thoughts kept me going till we reached the Bedni campsite at 2 pm.
Others from our team had made it all the way to the summit of Junargali and returned by 4 pm or so in various stages of exhaustion! I was not the only person with problems on this trek. Many people had issues like feverish feeling, body pain, running nose and what not. But the team braved these issues and reached the summit and returned safely; for their fortitude I congratulate each and every one of them!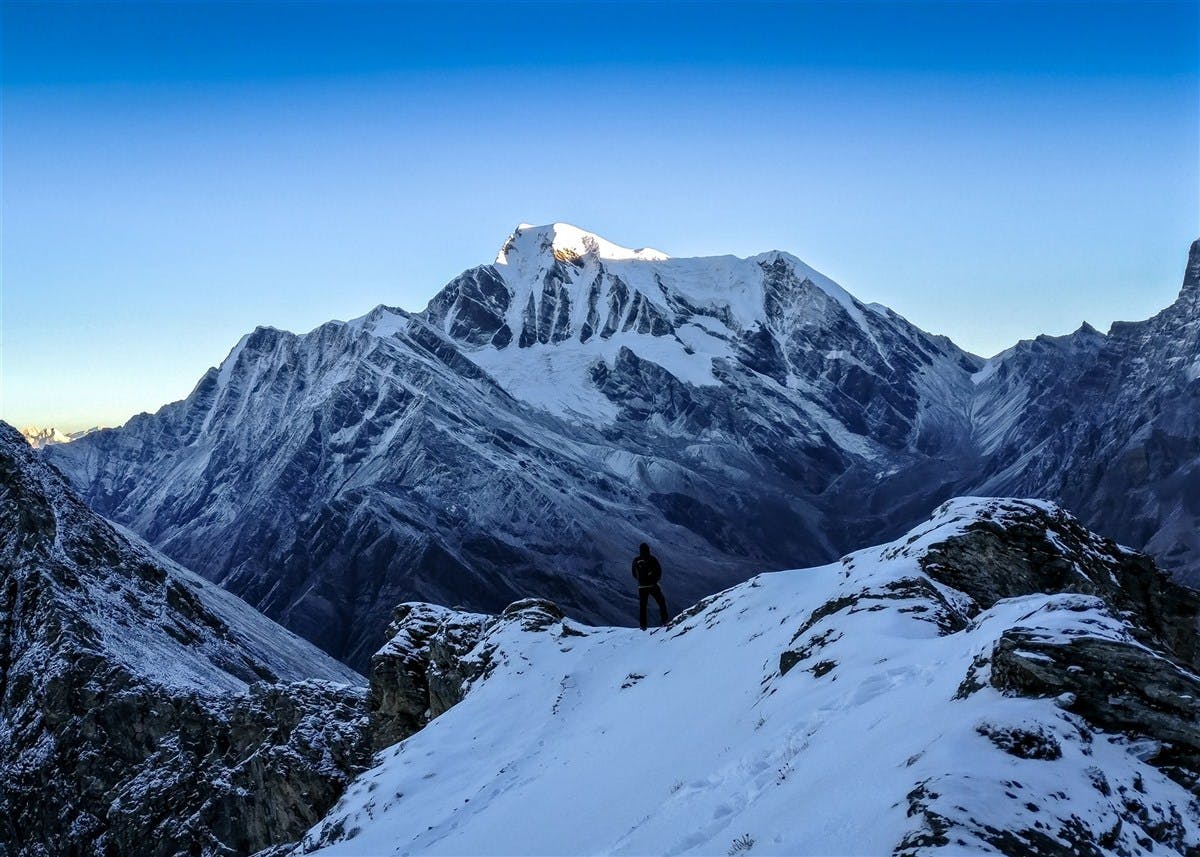 The next day, we returned to Wan and then to our good old base camp at Lohajung. There were celebrations and certificates being given out and an overall jovial atmosphere. It was good to be back. But then the regret of my incomplete journey hit me. I felt gloomy as many people noticed. But it's OK. I don't consider this to be a failure. I had reached higher altitudes than ever before, and I had a great experience.
After my experience, I truly believe that one can be on the mountains only if the mountains want you there. Mountains should be approached with humility and respect. These natural entities have existed since before mankind and will exist beyond as well. The will of the mountains cannot be challenged.
About this particular journey, I take consolation in the fact that it was probably not meant to be. I don't know when I will return to the Himalayas. What I do know is that when I do, it will be with a bag full of experiences.
Some lessons I would like to share with fellow trekkers:
Ensure you are well-rested before the start of the trek. I would recommend getting to the basecamp a day early.
Keep your trek leader appraised of any changes in your health.
Always heed their instructions/advice. This will make a big difference to how you enjoy your trek.
Respect their decision even if it means you have to leave the trek midway.
I'm thankful for:
Indiahikes trek leaders who are trained rigorously on handling AMS related issues; also full marks to them for keeping a cool head in critical situations.
Getting to at least partially complete the trek. Be it the stunning views, the ice crystals of the hail, the lesson learnt from Mambo, the green, high-altitude bugyals, the warmth of a weak but welcome sun, the camaraderie with my batchmates – these I will always hold close to my heart.
I can always attempt the trek again.
Sign up for our much loved Weekly Mailer
We have terrific trekking tips, trek updates and trek talks to look forward to