When Indiahikes trekkers ran into legendary mountaineer Bachendri Pal ...
Share this story
When Indiahikes trekkers ran into legendary mountaineer Bachendri Pal at Kanamo
Category Mountaineering Trekker Space
By Aswati Anand
2016-08-31
When was the last time you crossed paths with a legend? Perhaps a fleeting glimpse in an airport or on a street? A base camp on a mountain seems like the last place you'd bump into people – even more so, a legend. Our 13th August batch of Kanamo were in for a complete surprise when they walked into their guest house at Kibber in Spiti Valley! The guest house owner, Dorje, had exciting news for them: Bachendri Pal and her team were at Kanamo Base camp!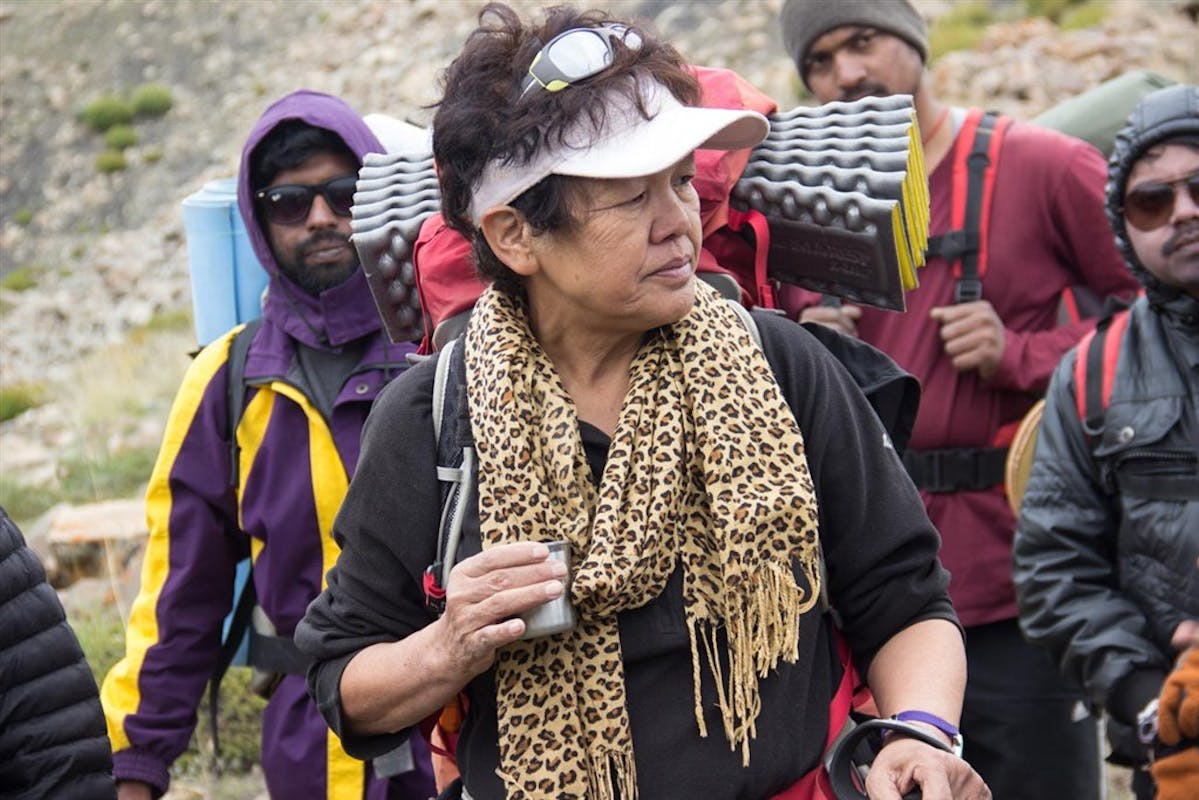 Legendary mountaineer and the first Indian woman to scale Mt Everest Bachendri Pal. PC: Sachin Jha
Being the first Indian woman to scale Everest in 1984 and leading an all-woman team to Everest in 1985- Bachendri Pal, is a legend in mountaineering circles. With not only Everest under her belt, she lead an all-women team down a Trans-Himalayan trek from Arunachal Pradesh to Indra Col – the northern most tip of India. This expedition covered 4,500 kilometres in 225 days and traversed more than 40 mountain passes! She comes from a village in Uttarakhand called Nakuri. Fearlessly taking the road not taken, she chose to be a professional mountaineer instead of a school teacher. After summiting a few smaller peaks, she was chosen to be part of India's first mixed gender attempt to scale Mt Everest and that's when she made history.
She told us that Kanamo was not a technical climb but an endurance test. Her words greatly helped up on the summit climb.
Our team reached the Kanamo Base Camp the day Bachendri Pal's team did the summit. Our trekkers were beside themselves with excitement. "It's such a small world!" Tanu exclaimed, as she recollected her meeting with Bachendri ma'am. "Jyoti and I had trekked with Bachendri ma'am before. In fact, we  had spoken to her just a month ago. We had no clue she was at Kanamo. What a place to be reunited! We had tears in our eyes. She was so happy to see us! She was thrilled we were climbing Mt Kanamo!" gushed Tanu.
"Ma'am made it a point to meet us the next day, before our summit climb, and even gave us some tips for the summit climb!" Vikas, one of the trekkers, said. "She told us that Kanamo Peak was non-technical but an endurance test. Which, in fact, it did turn out to be especially with the inclement weather we faced! Her words of encouragement and her gesture is what had kept us going at that time," Vikas added.
"In her usual jovial way, Bachendri ma'am asked us to drink loads of water for the summit climb by saying – ' mountains mein agar jeena hai toh peena hai' (if you have to live in mountains, you have to drink water)"  Jyoti fondly recollects.
You'd think handing out advise is the only thing most famous and experienced people do. But Bachendri Pal went out of her way to personally make halwa for our entire team!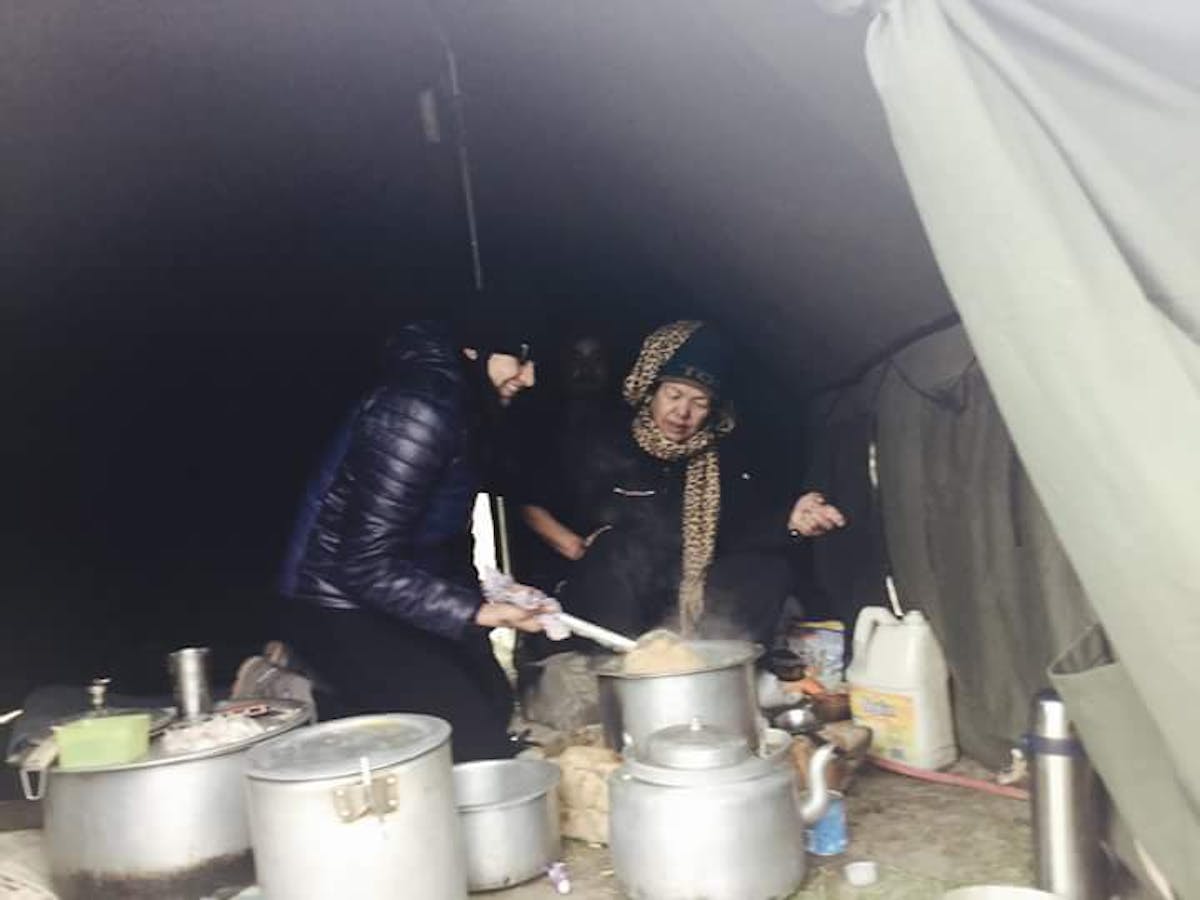 Bachendri Pal making halwa for our team!
"That was an incredible gesture! How many people would even think about doing that?" said Saranbir, the Trek Leader for the batch. "To get up in the morning and make halwa for our team- we felt so blessed. We all decided to have the halwa at the summit as prasad."
To get up in the morning and make halwa for our team. That's an incredible gesture! We felt so blessed!
Toolika Rani, an accomplished mountaineer who used to work as a Squadron Leader in the Air Force, was also at the Kanamo Base camp. She had just summited Kanamo alongside Bachendri Pal. She sat with our team and explained in detail how they attempted the summit. 
"She was so approachable! She sat with us and told us how to time our summit climb perfectly and what to watch out for on the terrain. That helped us enormously when we were climbing in adverse weather conditions," said Sachin Jha, who doubled up as an Assistant Trek Leader for this trek.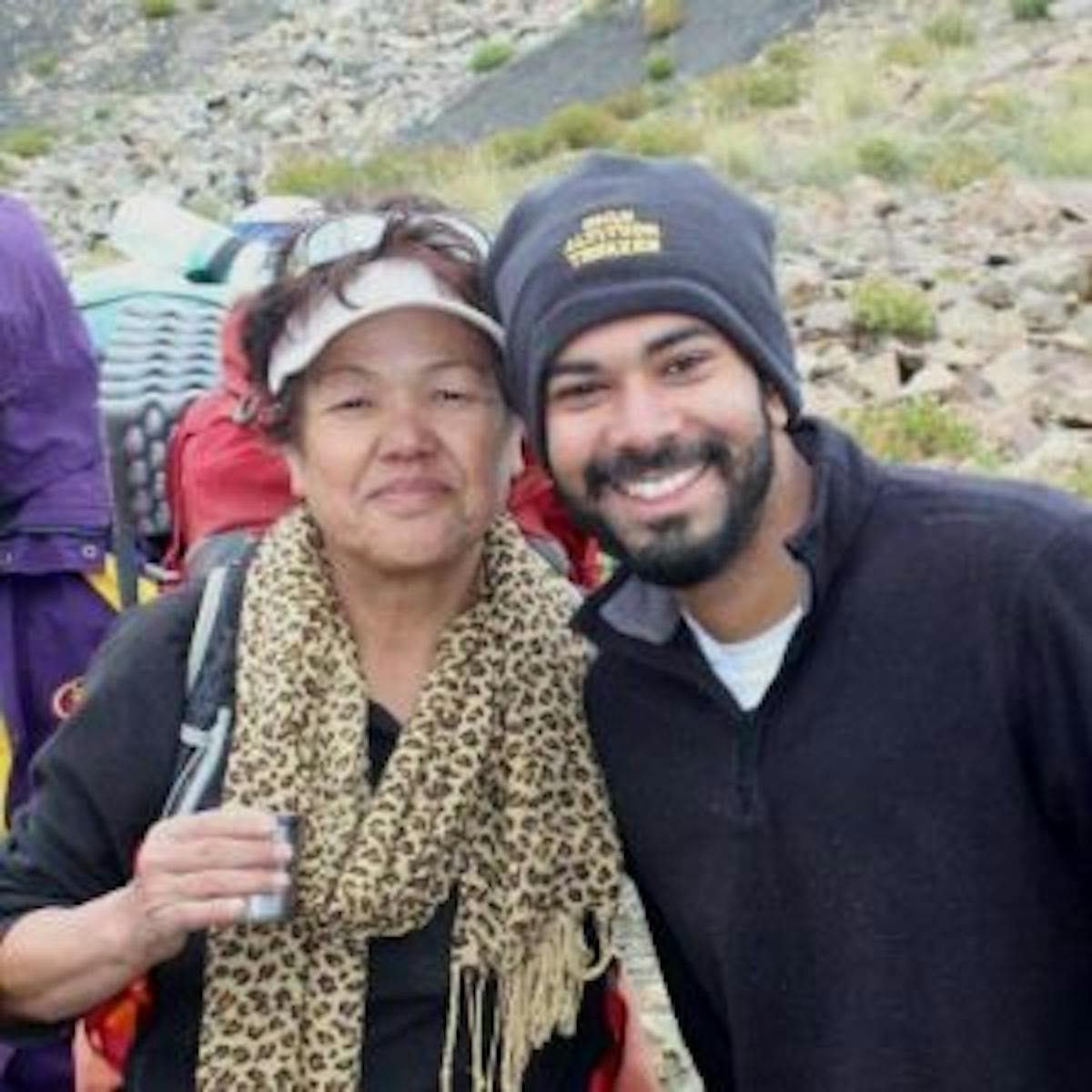 Sachin Jha from our tech team with the legendary mountaineer Bachendri Pal
The surprises didn't end there for our staff. "What was even more surprising for us was that Toolika not only knew Indiahikes, she follows our website regularly and wanted to be a Trek Leader with us!" Saranbir said. "It was an incredible honour to hear that."
"Bachendri Pal also not only heard of Indiahikes but knew and appreciated the work we were doing for the mountains," Sachin said.
"I did not expect that," said Arjun Majumdar, founder and partner at Indiahikes. "I did not expect Bachendri Pal to know Indiahikes. Learning that she knows what we stand for and appreciates what we have done, I felt gratified! Bachendri Pal, Toolika Rani – they are the leaders of mountaineering in India. What we have heard from them about us is a big deal for us. The journey we are taking is worthwhile."
Bachendri Pal has not only heard of Indiahikes but she knows and appreciates the work we are doing for the mountains.
"Not only that. She was working taking underprivileged children on the trek. She has introduced not only trekking to them, but a difficult summit climb!" added Sandhya, a partner at Indiahikes, appreciatively. "A summit trek is not easily accessible. I thought that was very noble. Also, the kind of reception she gave our team speaks a lot about the kind of humble person she is."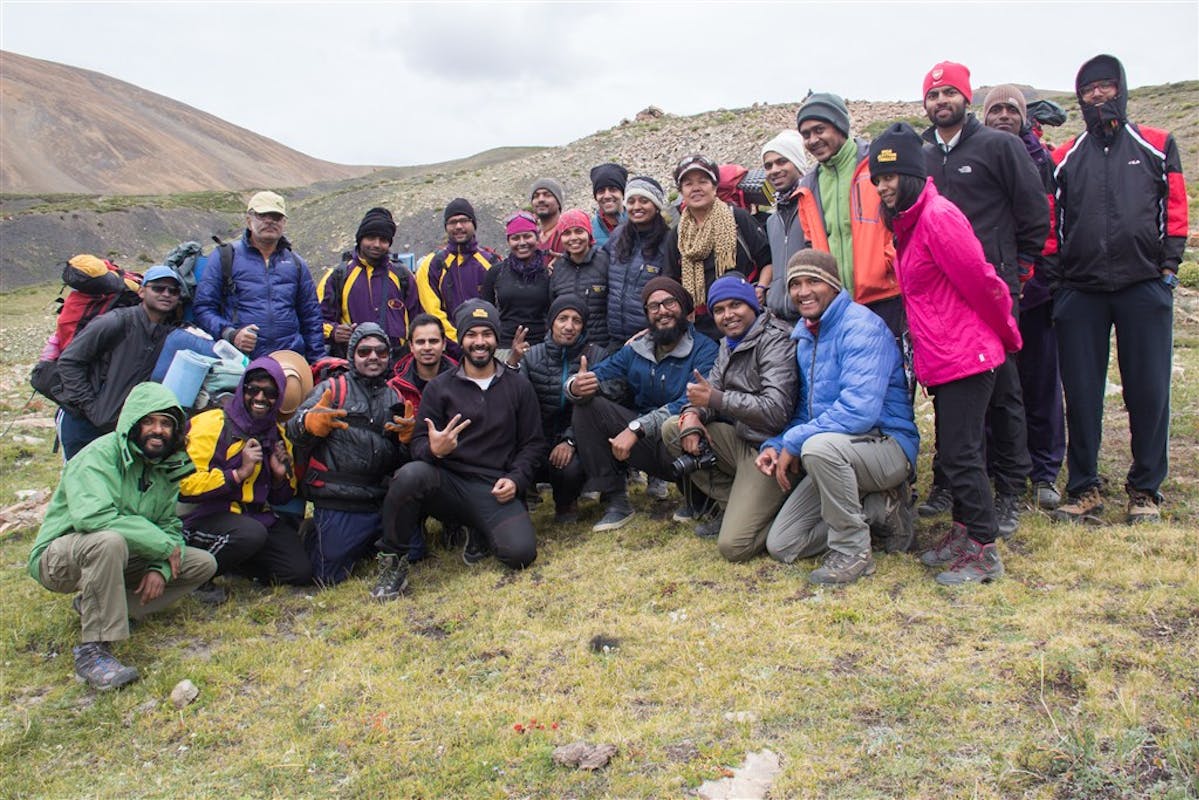 The incredibly lucky August 13 Kanamo trek team with Bachendri Pal!
What turned out to be a short but eventful meeting with legends, propelled the 13th August batch to summit Kanamo in extremely bad weather. And who knows? You might see one of these 13 trekkers climbing the Everest some day!
What you should do now
1. If you'd like to read more about the Kanamo Peak trek, click on this link.
2. If you ended up here by chance and were actually looking for treks to do: Then head over to our upcoming treks page. You'll find all our Himalayan treks there.
3. If you want to work with us: Head over to our careers page. We have lots of positions open. We also have lots of applications coming in. So the sooner you apply, the better.
Sign up for our much loved Weekly Mailer
We have terrific trekking tips, trek updates and trek talks to look forward to