Trek News from the Himalayas -- Manipur Exploration, Small Change Big ...
Share this story
Trek News from the Himalayas -- Manipur Exploration, Small Change Big Impact of Green Trails
Category News
By Latika Payak
2021-12-21
The Indiahikes Weekly Digest brings you the latest news, updates, articles, and videos from the trekking world. It takes you through everything new in the trekking world. You will find that you cannot ignore any of the sections in this digest.
This digest is sent every Tuesday as an email to all Indiahikes trekkers. If you've not been receiving your weekly mails, please drop your email id below.

6-Member Team All Set To Explore Tamenglong Forest Trek in Manipur
Two months ago Dr Dhaval Jajal from Indiahikes did a preliminary exploration of the Tamenglong Forest Trek in Manipur. He came back extremely impressed by the variety in the trail, the forests and the culture of the region.
But a lot is yet to be discovered and documented about the trail. For example, some sections of the route have to be mapped. Some parts of the trail can be reconfigured. We need to document the local culture. Some new sections of the trail have to be made.
An exploration is different from an organised trek. This is why, getting the right team for the exploration was crucial.
To get the right team, we sent exclusive invites to a few select Indiahikes Trekkers and . The selections were tough and finally we selected six team members best suited for the exploration.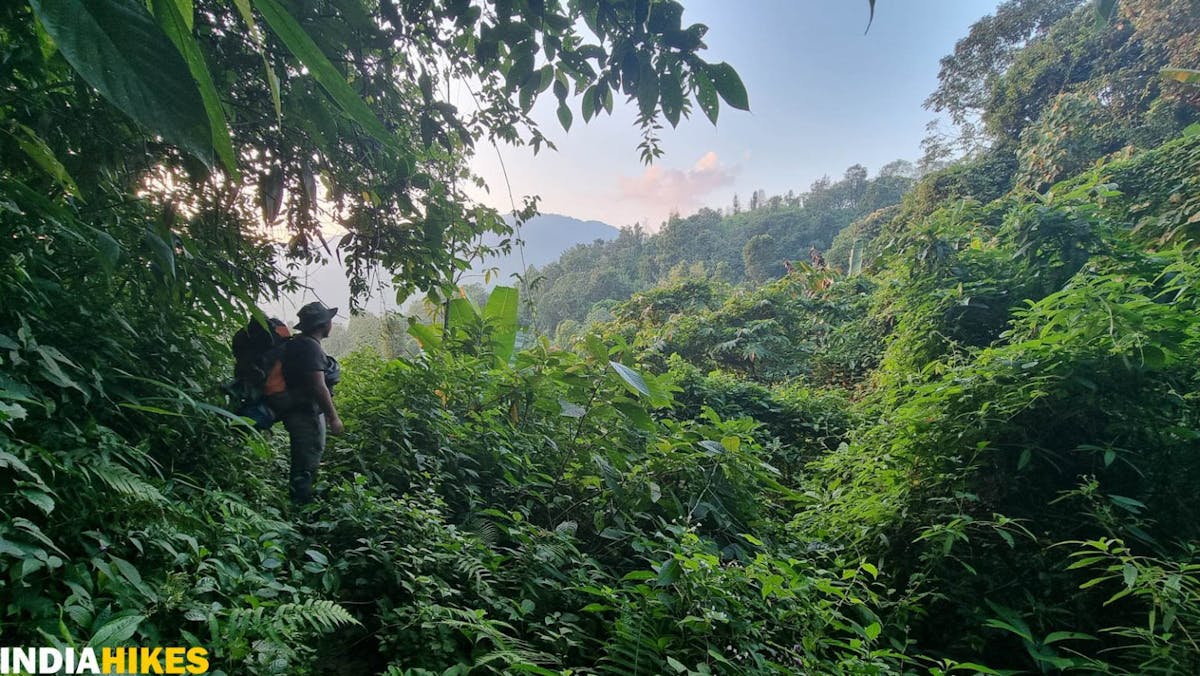 Trek Leader Dhaval during the preliminary exploration of Tamenglong Forest Trek
How a Team on Exploration Works
On an exploration, team members map the trail, or photograph, or take videos or find a new trail. Some other team members collect stories about culture and folklore from the local villages. Others may dig into the history, geography and geology of the region.
Read How Explorations Are Done

How Two Dhabawalas on Kedarkantha Trek Started Selling Local Food Over-Packaged Products
Today we want to share a story of how continuous efforts by our trek leaders and local staff on the Kedarkantha trail brought about a wonderful shift in perspective for two dhabawalas.
To give you a background, Kedarkantha is India's most popular winter trek. In fact, it's so popular that it has also become the most crowded winter trek. It sees a footfall of nearly a thousand trekkers a day in the last week of December.
However, the local economy benefits positively due to this. One major part of this local economy are the dhabawalas.
With an increase in the number of trekkers, the demand for packaged food has increased. Dhabawalas have also adapted to the situation, selling more packaged food.
This is something that has always bothered us — the increase of packaged food on trails. "These plastic disposables don't have an exit in the mountains. They usually enter streams, or are burnt at villages. We've been fighting this packaged food consumption for nearly a decade," says Lakshmi, head of Experience at Indiahikes.
But last week, something refreshingly different happened!
Our teams had been speaking to two dhabawalas at Akoti Thatch, encouraging them to make local food, instead of selling packaged food.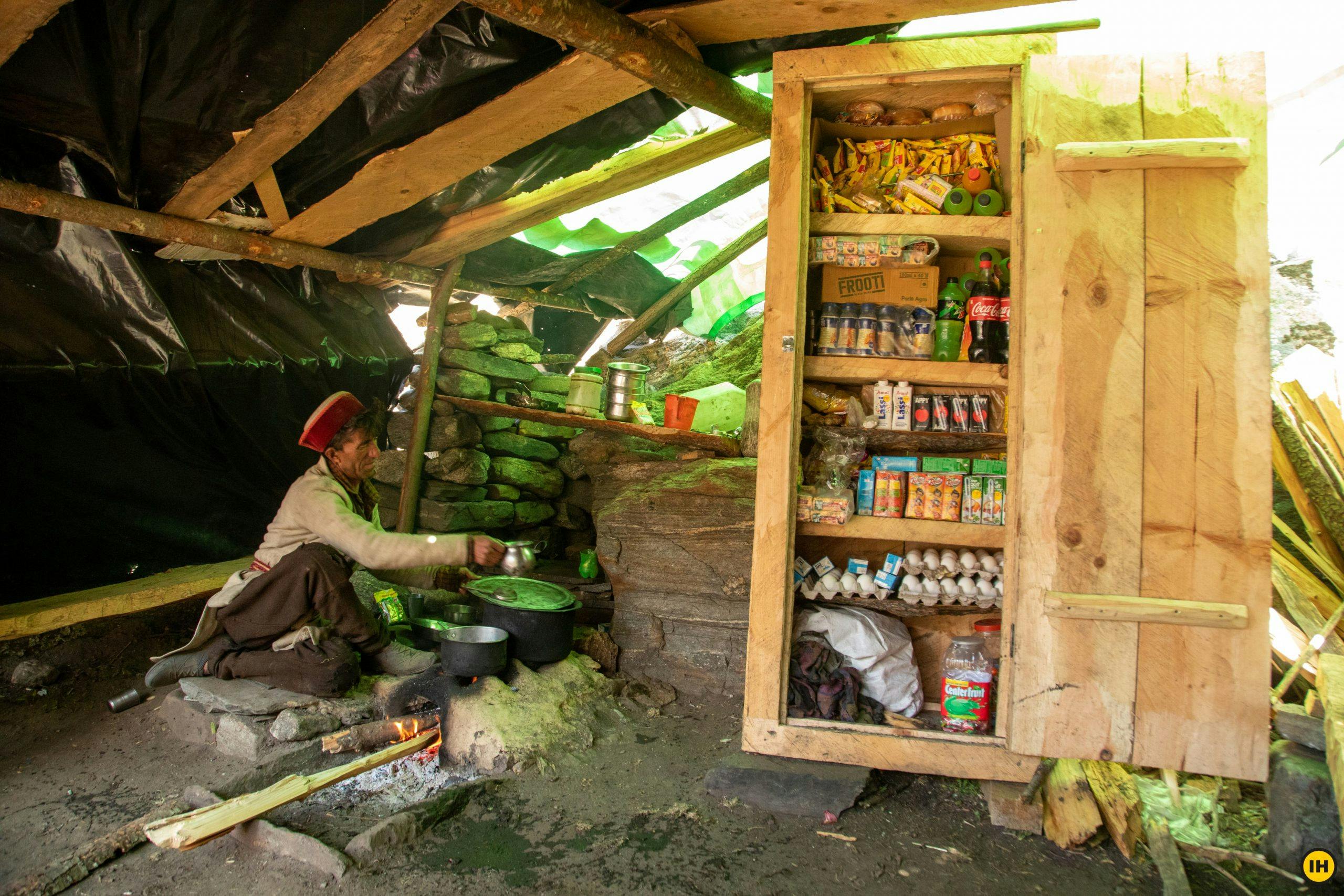 The dhaba en route Akhoti Thatch on Kedarkantha trail. Notice how the shelf is full of instant food packed in single-use plastic. Photo by Indiahikes Photographer JothiranjanIt took repeated conversations about sustainability to make the dhabawalas see the reason behind this.
After nearly a month of conversation, it was music to our ears when we heard that the dhabawalas served siddu to our trekkers! Siddu is a part of the traditional Uttarakhandi cuisine, a bread made out of wheat flour. It's made with locally sourced material, and is made especially in winter.
Trekkers loved the dish, and the feeling of tasting something authentic. Since then the dhabawalas continue to make Siddu for the trekkers.
For us, this is a small win that will go a long way!
If you're trekking with Indiahikes and come across any such dhaba on your trek, instead of ordering packed foods, ask the dhabawalas for a dish that's locally produced.
A small action like this from your side could go a long way in changing their perspective about leaving the mountains in a better place than we find them. This is the vision of Green Trails at Indiahikes.
Explore the Green Trails Initiative

Starting today, The Indiahikes Weekly Digest will include notes sent to us from trekkers. Every day, we are blessed with intimate and reflective emails from trekkers, writing about their experience and learnings from the trekking world. We hope it gives you some food for thought.
Today's mail came as a surprise to us, because it's written by someone who has never trekked with Indiahikes. Yet, he's writing to us about an Indiahikes Experience.
The email is as below, without edits. We would like to know your thoughts on it.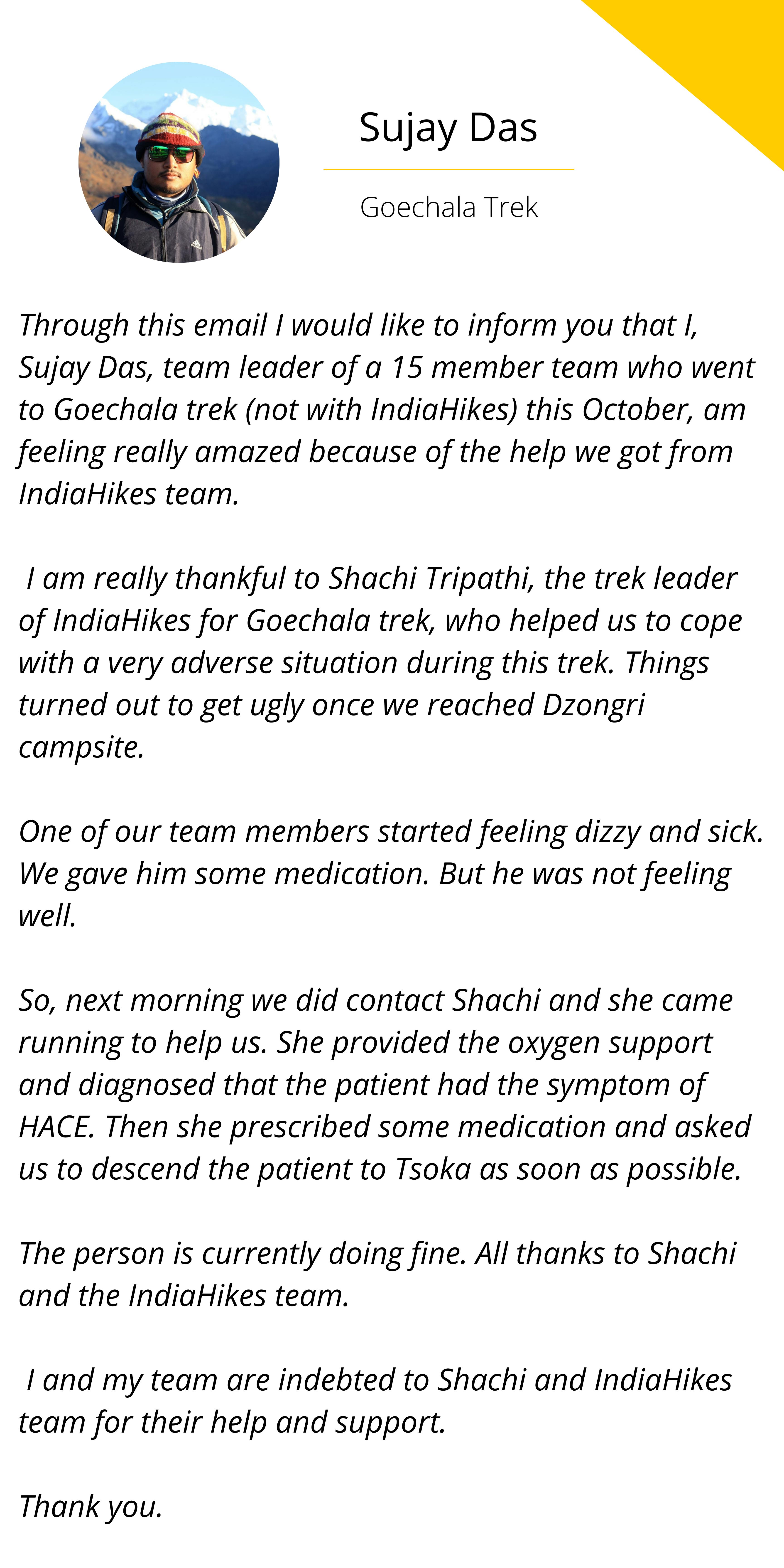 Read True Stories Of Indiahikes Trek Leaders Saving Lives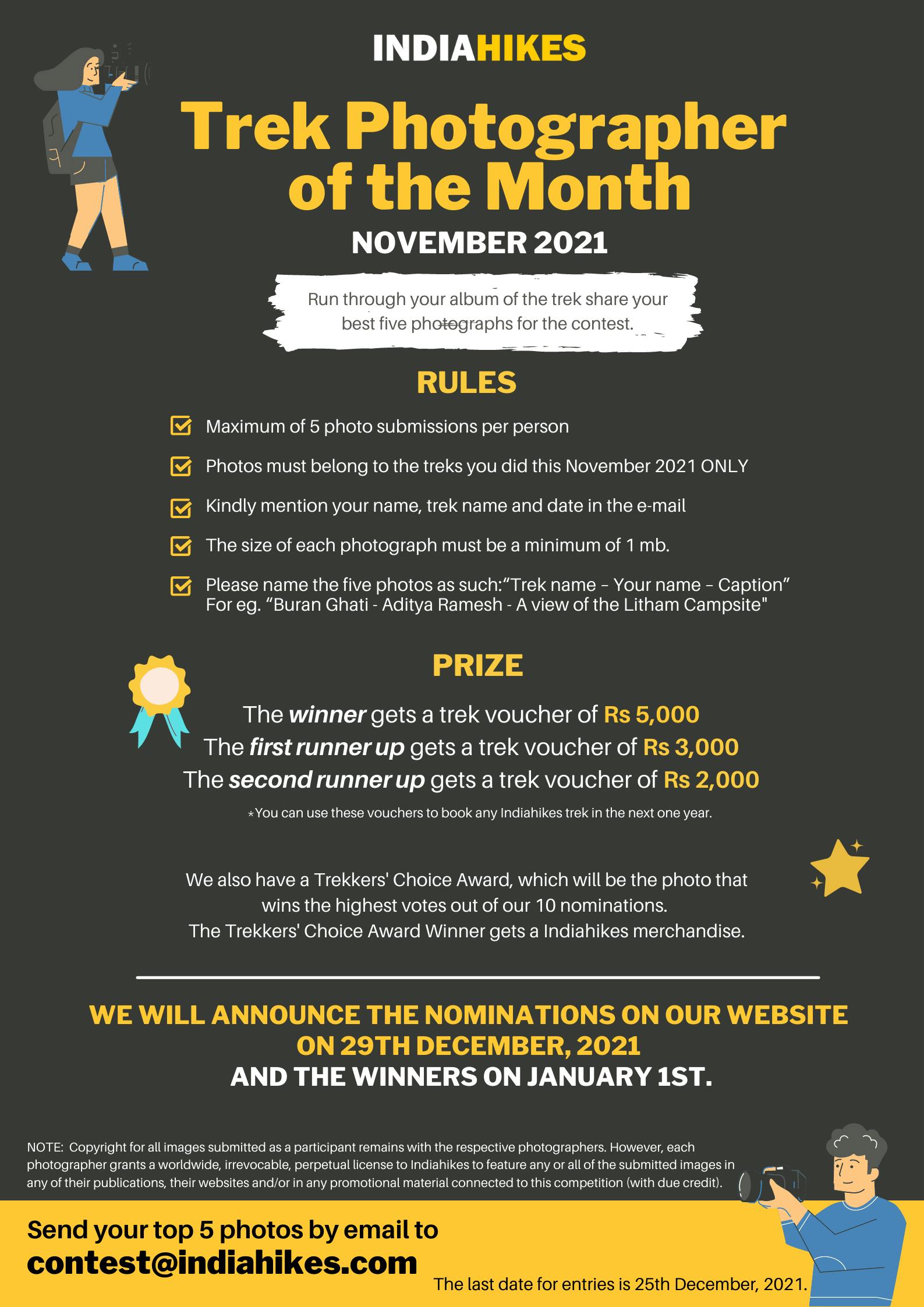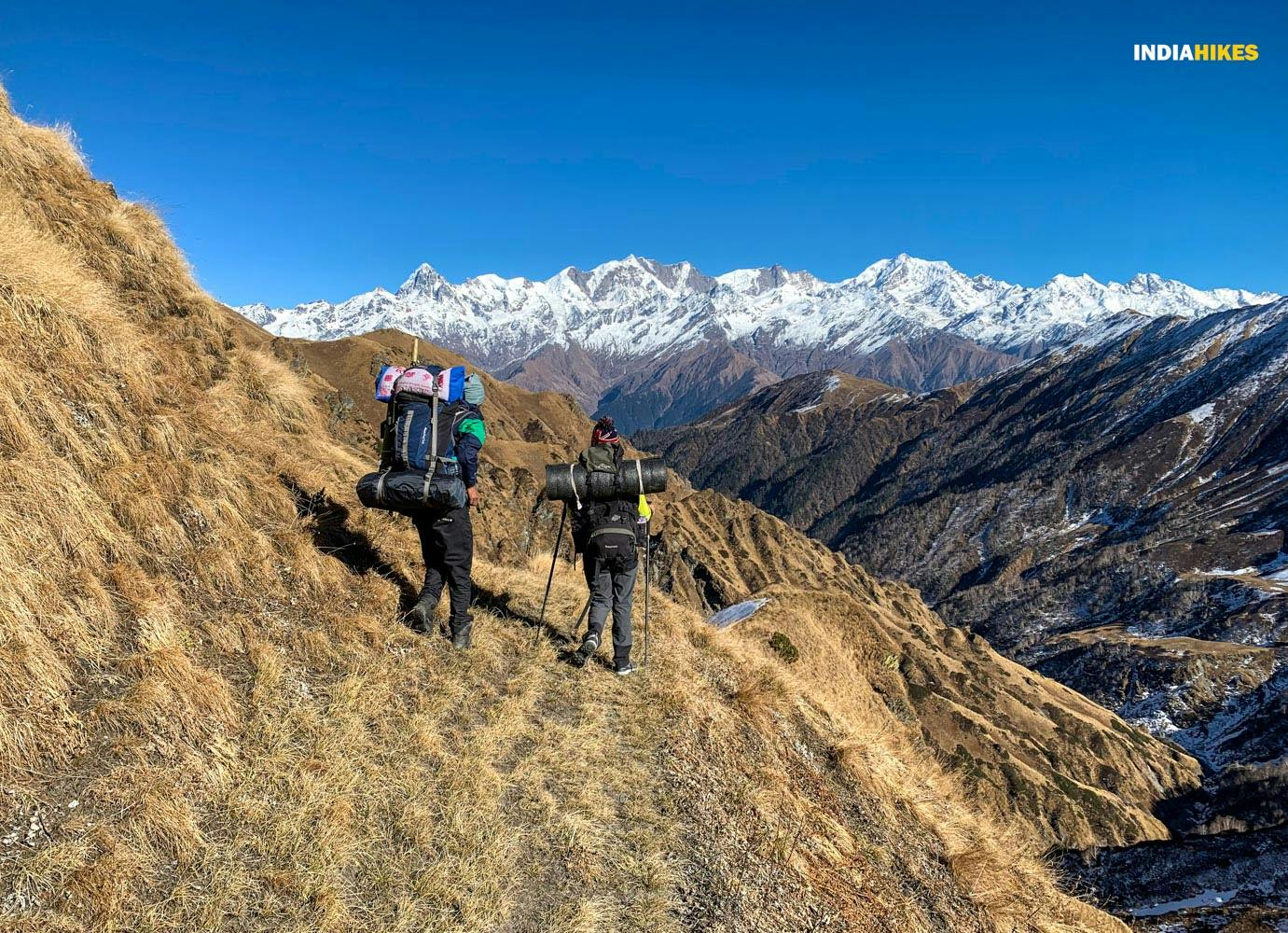 Last month, a small team comprising of leaders from Indiahikes set off to explore a new route to Gidara Bugyal. It became one of the grandest adventures of their lives. In this blog, Swathi Chatrapathy, Head, Digital Content Team, shares her experience of being a part of this once-in-a-lifetime exploration.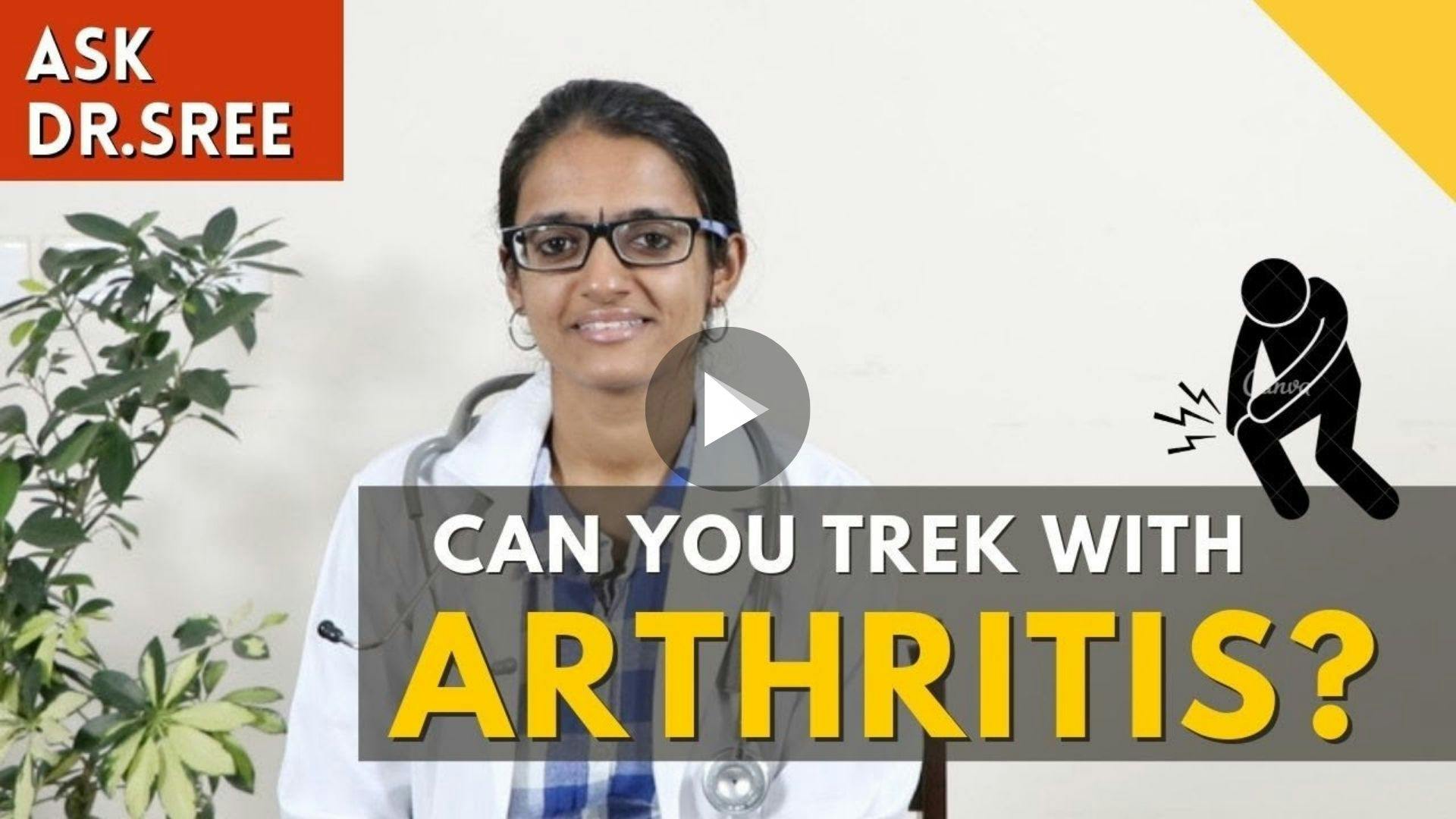 Can you trek if your knees or spine is affected by arthritis? Is it okay to trek in the cold, in the Himalayas if you have arthritis? Every year, many trekkers ask us this question. In this video, Dr Sree shares an insightful answer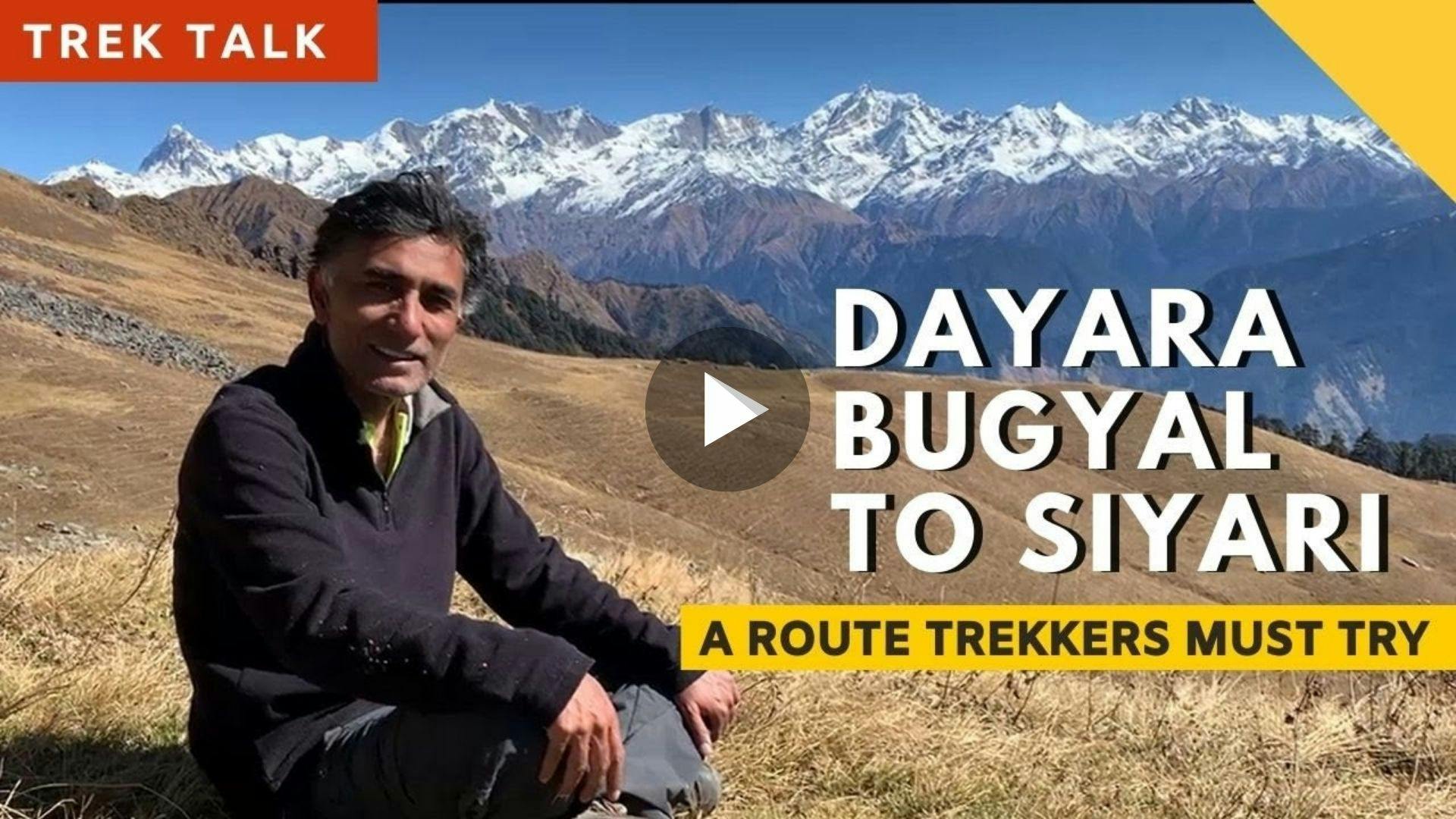 This route is only meant for those with adventure in their hearts. In this video, Arjun Majumdar, Founder-CEO, Indiahikes shares why he says so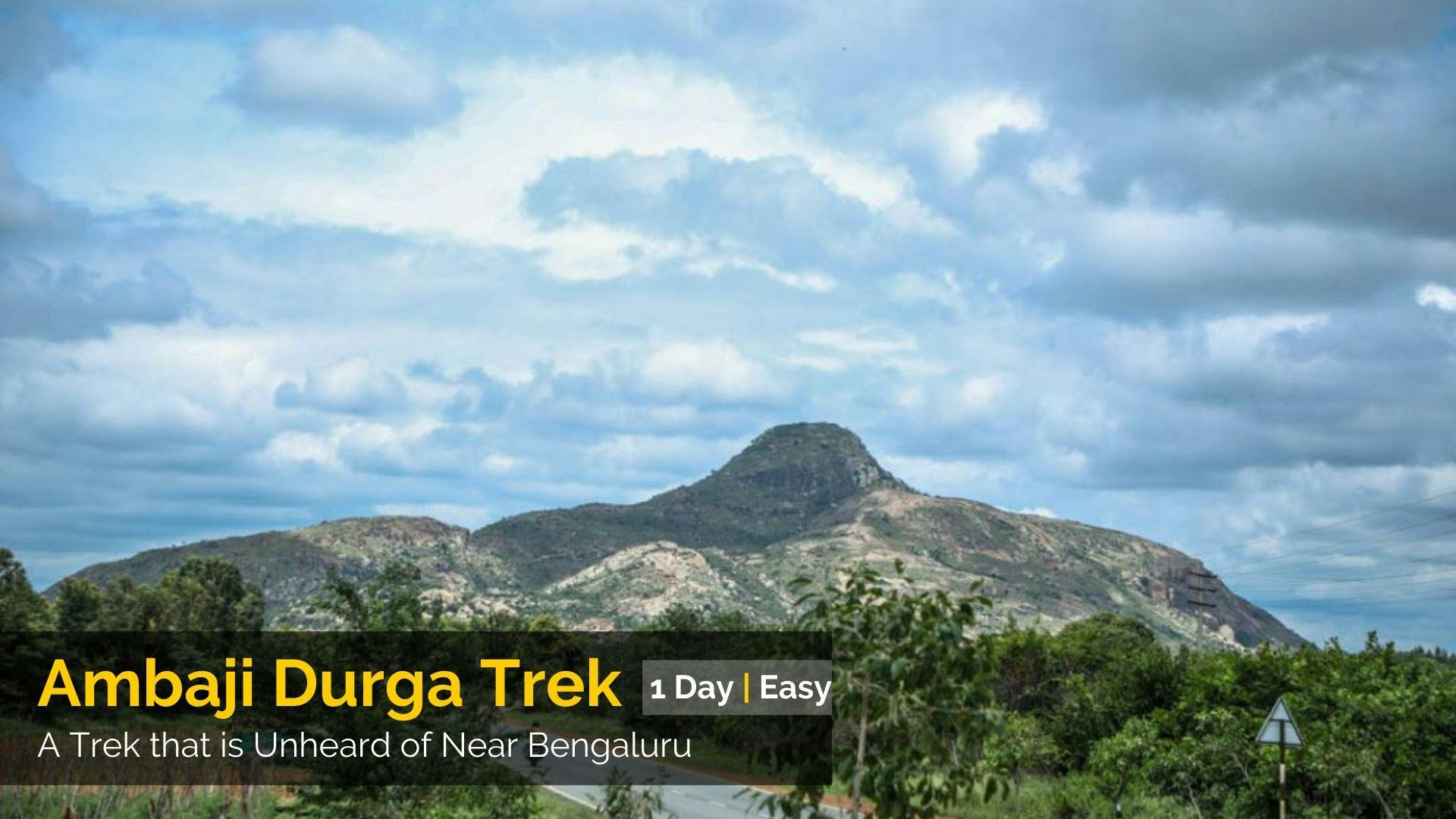 Unlike other treks near Bangalore, the Ambaji Durga trek has both culture and history embedded into it. Along with the temples, it has the ruins of the Ambaji Durga Fort.
This trek offers you a glimpse into three cultures simultaneously. Since Ambaji Durga is situated near the Andhra Border, there is definitely a Telugu influence of the Rayalaseema region. Majorly Kannada is spoken here but since Chintamani has witnessed the comings of many kingdoms, you can find many traces to its Maratha heritage. The Forts of Ambaji Durga and Kaiwara are testimony to that.
These hills hold historical importance, with cave temples, forts, ancient scriptures and idols written across them.
How to Reach
Ambaji Durga trek starts from a small village of Vaddahalli situated in between the towns of Kaiwara and Chintamani in the Kolar district of Karnataka. The village is very close to the main town and around 4 km from Chintamani.
Get Complete Details on Ambaji Durga Trek

Drop Your Email Id Here to Receive Regular Updates
Sign up for our much loved Weekly Mailer
We have terrific trekking tips, trek updates and trek talks to look forward to