Are Indian Trekking Trails Getting Crowded?
Share this story
Are Indian Trekking Trails Getting Crowded?
Category Thursday Trek Talk
By Swathi Chatrapathy
2018-07-05
Last week, when I was on the Roopkund trek, our technical guide told me something that startled me.
"We'll start our final climb at 3.30 am. We expect around 250 trekkers making their way up to Roopkund tomorrow," he said.
He said it in his most plain, matter-of-fact manner. He was more pre-occupied in the process of dusting his shoes. He did not realise the magnitude of what he said.
He had been stationed at Bhagwabhasa, the highest campsite on the trek, for the past month. To him, seeing so many trekkers was as normal as seeing leaves on trees.
In my mind, though, an alarm went off. 250 people!
It filled me with a kind of dread. I pictured a queue of headlamps inching upwards in the darkness, like a giant radiant caterpillar.
The next morning came. 3.30 am. I started my way up to Roopkund with my team of 23.
There were indeed around 200 trekkers that morning. Every time we took a water break, another team of 25 would go past us. When a trekker stopped, there would be sudden halts behind him for at least 300 metres.
We reached the Roopkund at 5.50 am.
All I could see was a landscape studded with trekkers. There were trekkers standing on the frozen lake (surely out of their minds), around the banks, on the ridge above and throughout the sides of the cauldron in which the lake lies.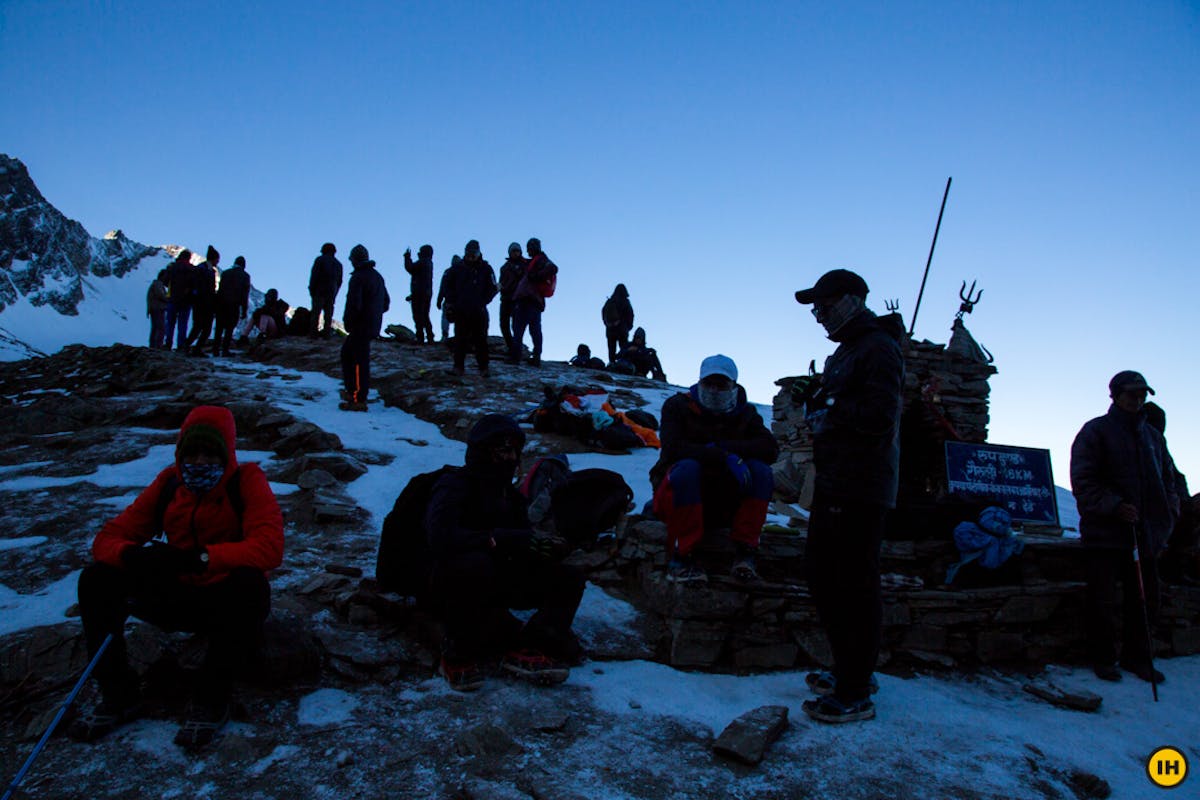 Trekkers assemble around the shrine at Roopkund. Picture shot in June 2018 by Raisin George
It was not nice. I had pictured a pristine Roopkund in my mind before the trek. This was a crowd at Roopkund.
This was reality.
The Roopkund trek had reached its saturation point.
To put things in perspective for you, there are nearly 200 trekkers on the Roopkund trail everyday in May and June. That makes it around 10,000 trekkers in summer alone.
But Roopkund is not the only trail like this.
There's Kedarkantha. There's Triund. There's Kheerganga. There's Sar Pass. There's Hampta Pass. All of them house many more trekkers than they are meant to.
Why are these particular trails crowded?
All of these trails are fairly old trails in our country. Consequently, they are more popular than the newer trails.
Why, five years ago, nobody even went on these trails. It's just that they have turned more popular by word of mouth.
It's like how Lionel Messi and Cristiano Ronaldo are the only known football players amongst lay persons. Roopkund and Hampta Pass are the few treks known amongst laypersons.
They are beautiful trails, no doubt. Even now, they retain their beauty. But the crowd really spoils it.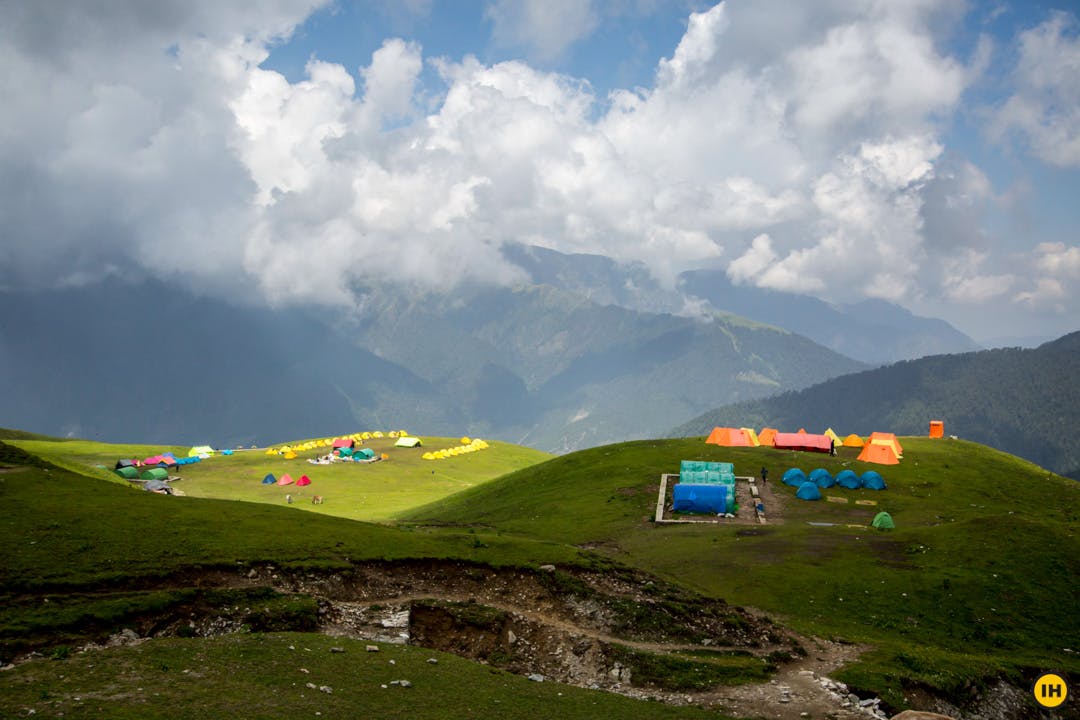 What happens if these are crowded?
Well, each trek has its own problem. But I'll list the biggest ones.
1. It's not very pleasant bumping into trekkers all the time. Or to wait for slow trekkers to move aside to let you pass. 
2. A camp may be too cramped to hold that many people. Bhagwabasa on the Roopkund trail, Juda Ka Talab on the Kedarkantha trek, Rola Kholi on the Bhrigu Lake trek are classic examples of crowded campsites.
The increased crowd not only strains resources (water, space) but also takes away privacy. The pristine location is no longer pristine. Litter is everywhere.
3. Another thing I noticed is that there's loud music on bluetooth speakers everywhere. Some people smoke, drink and wreak havoc. People shout out loudly to each other with no concern for others.
4. If the trek is like an upturned funnel, where everyone is headed to a small peak, or a  pass, the crowd gets heavy on top. Suddenly the pass is not visible, but the crowd definitely is.
Last winter, on the Kedarkantha summit there were more than 100 people at the same time on any given day. I don't know what summit experience that is.
5. The terrain might not be well-suited for toilets, and people might go anywhere they want (Chadar is a good example).
What is the solution?
Spread out.
It's that simple.
Spread out to different trails, different destinations. Don't go by word of mouth.
Dig a little deeper and you'll find gems that are not crowded, untouched and as beautiful! On our website alone you'll find 26 great treks. We wouldn't put them up if they weren't stunning.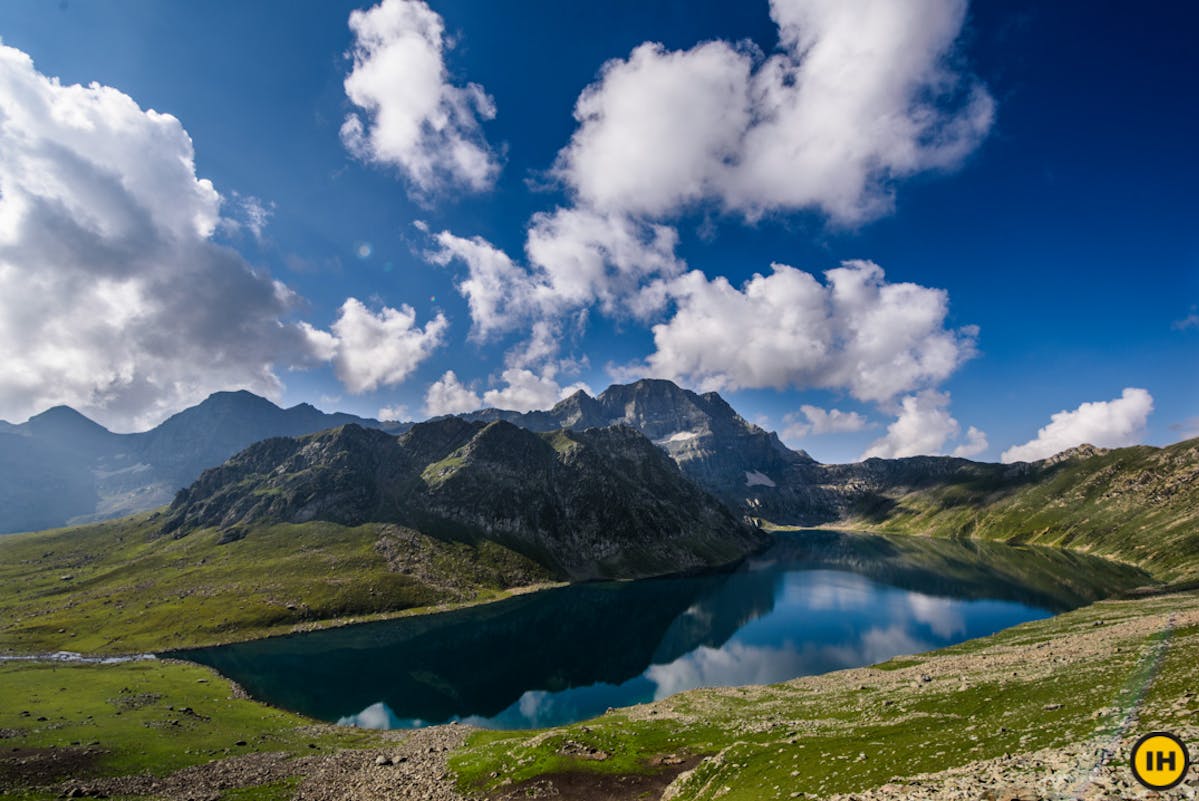 The dreamy yet lesser known Tarsar Lake. "It was a surreal experience taking in the view of the lake in its entirety", exclaims Sudheer Hegde who took this photo.
Another solution is for stricter regulations to come in. There must be regulations about the presence of dhabas, use of camping grounds, managing of waste, and on some trails, the number of people who can do the trek.
This won't happen unless the government intervenes. While the government is slowly understanding this reality, enforcing any regulations may take time.
A niggling worry is when the government takes blanket decisions about regulations without consulting anyone.
How do trekkers play a role?
Honestly, trekkers themselves are not a problem.
Think about it. In other countries, there are thousands of trekkers who tread the same trails again and again. Especially countries like Norway, New Zealand, even our neighbour Nepal. Trekking is well managed.
But it is when they become unruly and reckless that they cause issues.
Like the ones that were standing on the frozen lake. Or the ones I saw blasting Honey Singh songs in the forests of Ghairoli Patal.
So if trekkers and trekking organisations can regulate themselves, manage their own waste, then there's really no problem at all!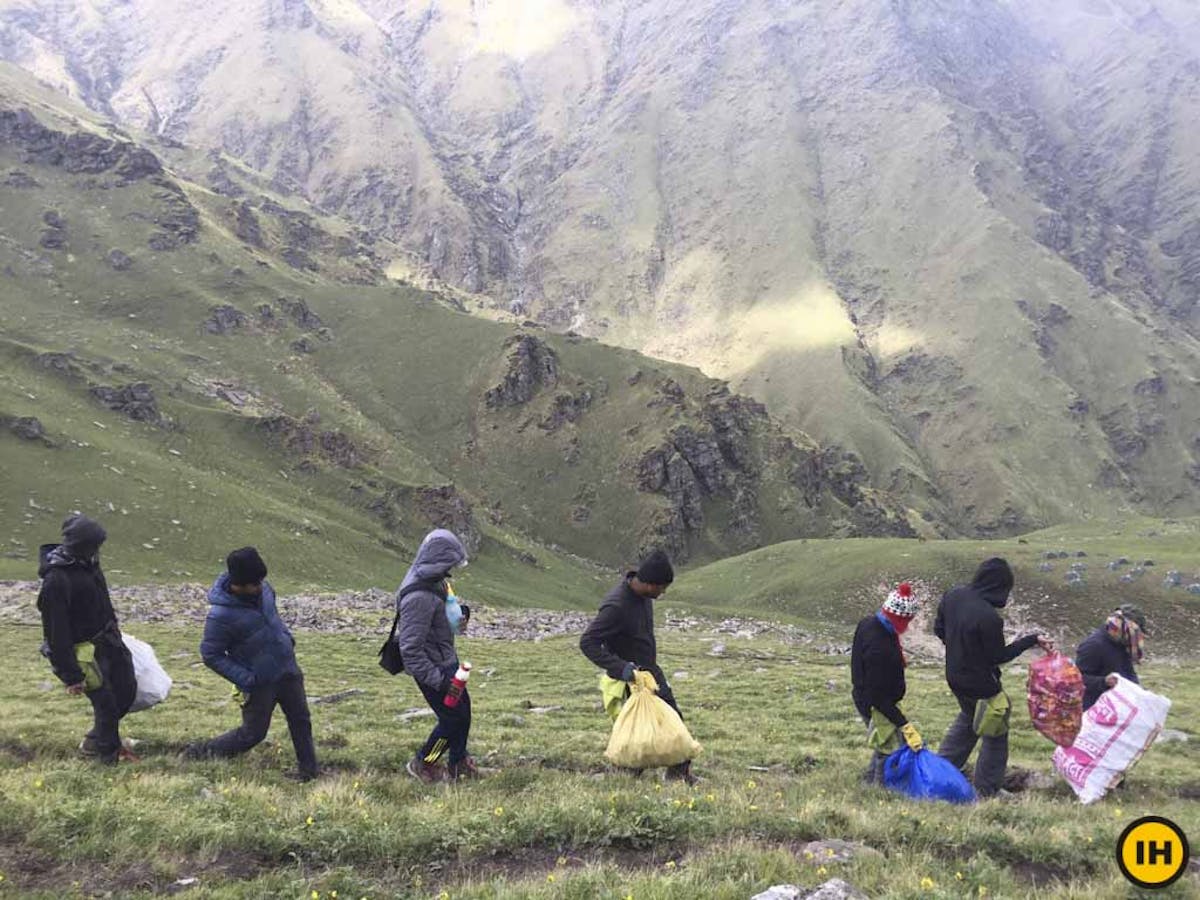 Trekkers practice the leave no trace Green Trails policy on all our treks.
Very often I hear people saying that Indiahikes must reduce the number of trekkers that they take. That we must become the regulators. But it is not easy.
At Indiahikes, we already have a strict cap on the number of trekkers we take. Most of our treks run full. When people do not find slots on our treks they go elsewhere. This does not reduce the number of trekkers on the slope. It just distributes them. It does not solve the problem.
What's worse, other organisations may not be as sensitive as we are towards the environment. That may only cause more harm.
The only real solution is to choose other treks to do. And to avoid crowding trails.
So next time you're planning a trek, choose a less-crowded trail. Or maybe go to a popular trail slightly off-season.
I'll put down a list for you to choose from.
Some rare trails to explore:
+ Phulara Ridge (Our newest trek)
(Debatably our most photogenic trek)
(We're secretly happy that not many people do this trek)
(A stunningly beautiful trail for experienced trekkers)
Popular treks in unusual seasons:
+ Har Ki Dun in Early winter (November)
in autumn (October)
in peak winter (January and February)
in winter (December)
If you need help choosing a trek, or if you have thoughts about crowded trails, drop in a comment below. Our experts will get back to you! 
What you should do now
1. If you liked this post and want to read more such posts, go to this page – You'll find many such Expert Opinions here.
2. If you're looking for treks to do: Then head over to our upcoming treks page. You'll find all our Himalayan treks there.
3. If you want to work with us: Head over to our careers page. We have lots of positions open. We also have lots of applications coming in. So the sooner you apply, the better.
4. If you want to see the 13 best treks of India: Then get our guide here.
Sign up for our much loved Weekly Mailer
We have terrific trekking tips, trek updates and trek talks to look forward to