6 Reasons Why You Should Climb The Kanamo Peak
Share this story
I have done several treks in my 4-year career as a Trek Leader. But very few have tested my endurance and skills as much as Kanamo peak. The 3 days I spent scaling the peak are some of the most challenging days I have spent in the mountains.
There are many factors that captivated me about Kanamo. Firstly, the sheer height of the peak. As trek leaders, we are accustomed to doing high-altitude treks in the range of 15,000 – 16,000 ft. Whereas the Kanamo peak stands at 19,553 ft. The challenge of reaching such a high altitude on a trek beckoned to me.
Secondly, the demanding summit day push. I always love a good adrenaline rush, and this summit-day trek was a thrill! The rapid altitude gain, the stunning panoramic view from the peak, the strenuous climb and descent on the same day – boy, was it challenging!
If you're looking to challenge yourself with a trek and go beyond the ordinary, then look no further than the Kanamo Peak. I'll lay out my reasons for you.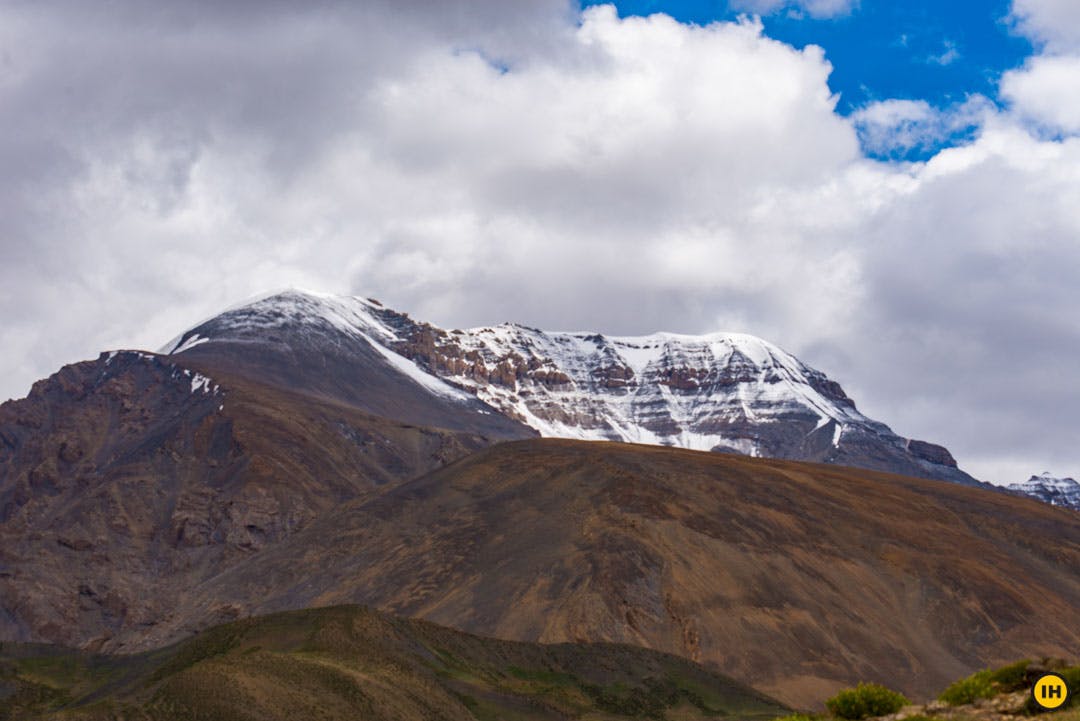 1. Kanamo is one of the few trekkable peaks above 18,000 ft
Kanamo peak is a trekkable peak. That means you do not require mountaineering knowledge or expertise to summit it. Not many peaks above 18,000 ft can claim this possibility.
You do however require a very high level of fitness and prior high-altitude trekking experience.
The Kanamo peak trek starts from Kibber, Spiti valley, which in itself is at an altitude of 14,108 ft. On the first day, you trek to Kanamo base camp (15,748 ft). After one day of acclimatisation, you will climb to Kanamo peak at 19,553 ft. That's an almost 5,400 feet gain in just three days!
Though our itinerary is spaced out with acclimatisation days in between, you still need to have high-altitude trek experience to know how to deal with the altitude.
Also, on the summit day, you not only have to ascend the 3,800 ft to the peak, you also need to descend back to basecamp on the same day. That is almost 12-14 hours, covering around 10 km, of trekking through arduous terrain! You need to have the endurance to complete this.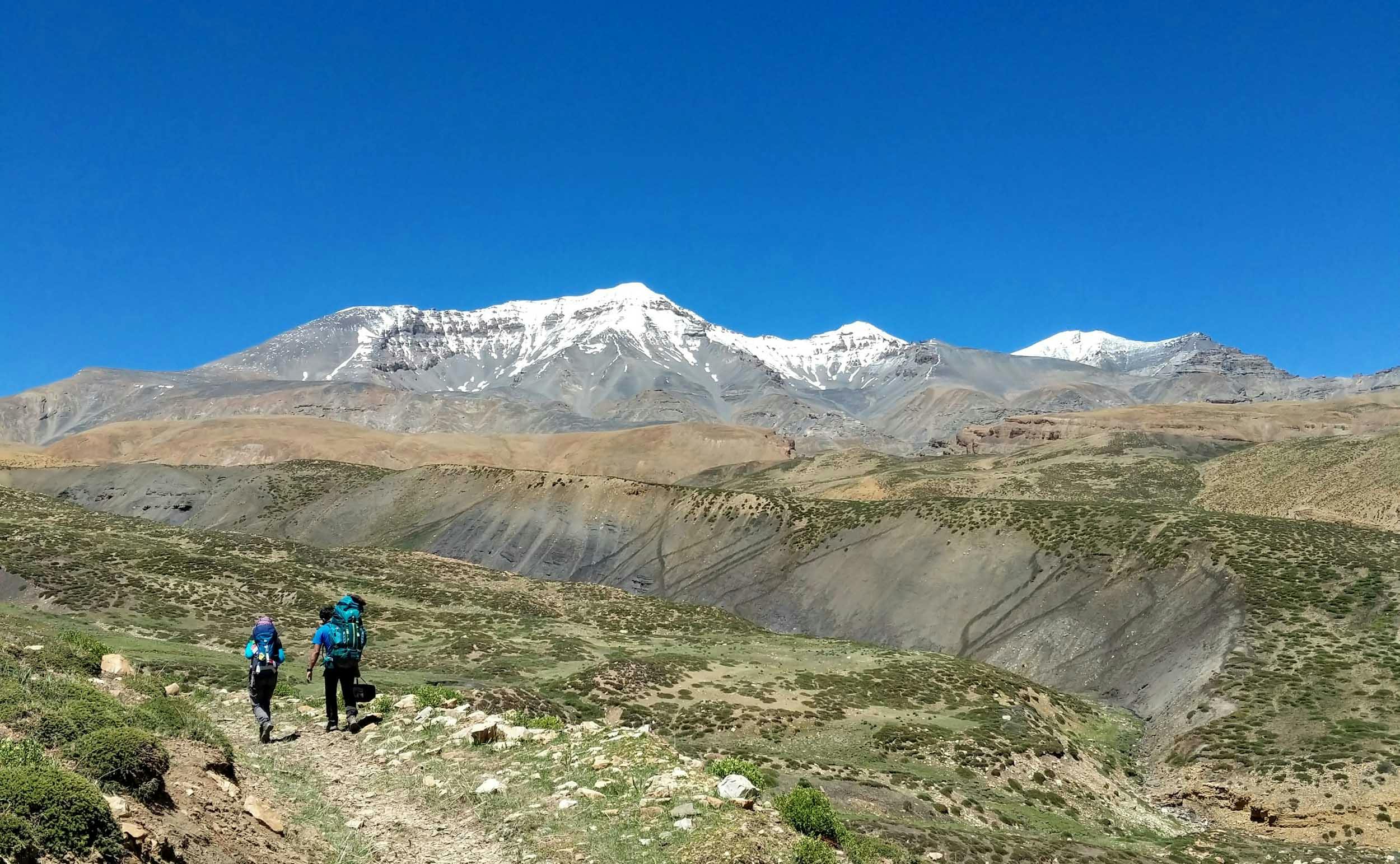 2. A summit push worthy of thrill-seeking trekkers
As a professional trekker, I always look for a new challenge on a trek. And Kanamo is filled with challenging sections.
The climb from Kibber to Kanamo base camp follows an unmarked trail once you cross the village boundaries. You navigate through scree and loose rocks over a mildly ascending trial. There's not much altitude gain on this day.
Most of the altitude gain, and adventure, is reserved for day 2. You set out from basecamp sometime after midnight, around 1-2 am. After about 800 m of navigating in the dark, you climb what seems like a gradually ascending hump. Once you reach the apex, you see a series of humps appearing out of the darkness, each with an increasingly tougher gradient.
As the sun rises on the horizon, you feel like you're racing against the clock. You have only 12 hours to climb and descend to the safety of you basecamp. Your drinking water is diminishing and there are no water sources along the way. The path itself is covered with treacherous scree and loose rocks, making the rapid altitude gain more challenging to combat.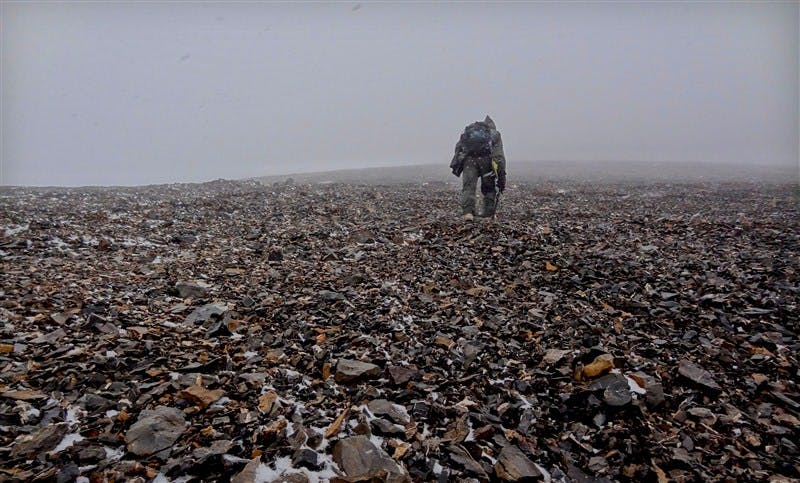 Depending on the season, there are chances you will also encounter mixed patches of snow and scree, which make navigation even harder. You can't even use microspikes because the snow is not deep enough and is melting. It only becomes more slippery as the day progresses!
The moment you reach the peak, though, all these ordeals momentarily fade for the few minutes you spend there. The sense of achievement you feel at the summit is unmatched.
3. The stunning 360 degree panoramic view from Kanamo summit
What excites me most about any peak trek is the all-round view from the peak. It's what makes the whole ordeal worth it. And Kanamo does not disappoint with its peak view.
As you stand on the summit of Kanamo, you see a total of 61 Himalayan peaks, most of which are above 20,000 ft. This includes some of the most prominent peaks of the Indian Himalayan range like Kalanag, Indrasan, Kailash, Kullu Pumori, Papsura, Jorkanden and so on.
What's more, most of these peaks feel very close to you. Especially Shilla peak, known as the sister peak of Kanamo, is so close you can almost reach out and feel its snow plumes on your fingertips.
There are very few treks from where you can see all these big mountains from one place and that too in such close proximity. It makes the 7-hour ascent worth it.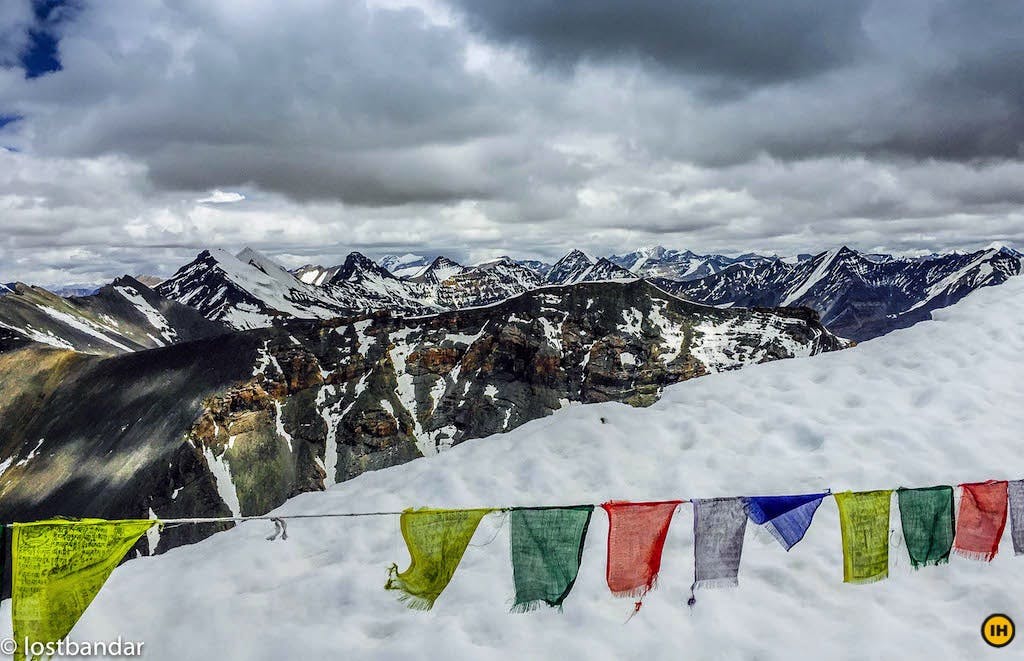 4. Good weather conditions throughout the trek
If you ask me what factors make a trek enjoyable, good weather will certainly be somewhere on top of the list. If the weather is pleasant, you will enjoy the trek more.
For Kanamo peak, the weather is a major plus point. Spiti valley, where Kanamo is located, is a rain shadow region. The weather is at most times clear and pleasant with not much clouds. These are great weather conditions to do a trek.
5. A chance to explore the remote Spiti valley
While the Kanamo Peak is a thrilling climb, the fact that it is located in remote Spiti valley makes it all the more alluring.
Spiti is a vastly unexplored region in the Himalayas. It has a distinct Tibetan Buddhist culture that adds to its charm.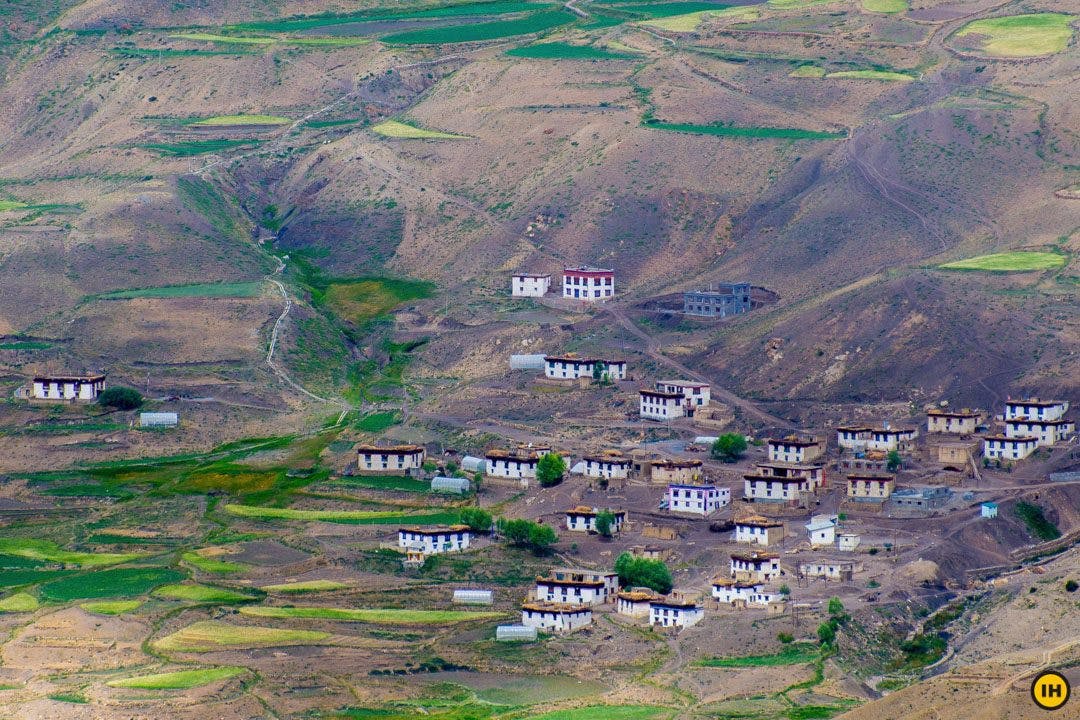 The drive from Manali to Kaza, the gateway to Spiti region, is in itself an adventurous experience. The 10-12 hour drive crosses the mighty Rohtang pass (13,050 ft) in a series of head-spinning hairpin bends. The landscape shifts from lush green to barren browns in a matter of minutes. By the time you cross Kunzum pass (15,060 ft), the roads become bumpy, and in some places, non-existent. Streams tumble right across the road. The mountain scenery is dramatic!
And then you reach Kaza. Kaza is a small town which is now the main tourist hub of Spiti valley. You can drive to lovely Himalayan villages around Spiti from here. Hikkim village, at 14,400 feet, has the highest post office in the world. You can also visit the famous Key Monastery on a short drive from Kaza.
Chandratal lake, a turquoise lake shaped like a crescent moon, is only a few hours' drive from Kaza. The serenity and solitude here beats the now touristy Pangong Tso lake in Ladakh anyday.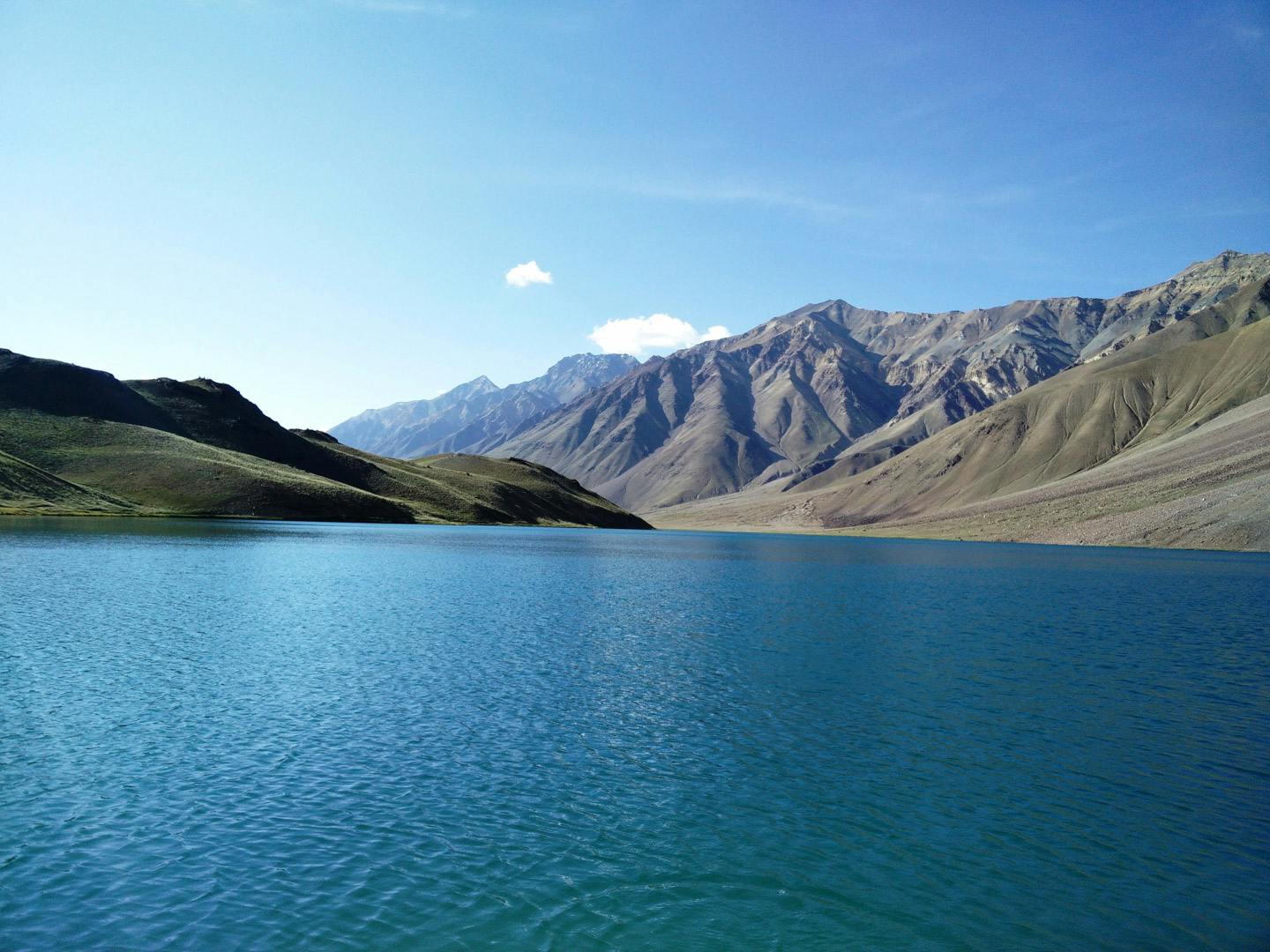 I highly recommend you read this article for more things to do around Spiti. Spend a few extra days before or after your Kanamo trek to explore around. Trust me, you will regret it if you don't.
6. A less crowded and more adventurous version of Stok Kangri
A lot of people find it very difficult to choose between Kanamo and Stok Kangri treks.
Both are trekkable high altitude peaks. And have their own charms. But I would rate Kanamo peak higher than Stok Kangri, for two reasons:
a) Stok Kangri has now become a highly commercialised trek. Expect to see traffic jams on the peak often, making the experience not so one-of-a-kind. There are chances that you may not make it to the summit too.
Kanamo, on the other hand, is not very well known. You find very few people on the trail with you, if at all. You can explore the mighty peak in solitude.
b) Stok Kangri is in Ladakh, Jammu and Kashmir, while Kanamo is in Spiti, Himachal Pradesh. Ladakh and Spiti are often referred to as Twin valleys because of their similar features. However, Spiti is way more offbeat and less explored than Ladakh. If you choose Kanamo, you will get a taste of Ladakh's landscapes but in a more peaceful setting.
So there you go. To sum it up, if you want a taste of an almost 20,000 ft peak, a thrilling summit climb and peaceful solitude on your way, then Kanamo Peak is the perfect choice.
Do you have any more highlights from the trek that I missed out? Do let me know in the comments.
Sign up for our much loved Weekly Mailer
We have terrific trekking tips, trek updates and trek talks to look forward to