Kanamo Peak Trek Called Off Until Further Notice
Share this story
Kanamo Peak Trek Called Off Until Further Notice
Category News
By Abinaya Kalyanasundaram
2019-07-23
We have some bad news for you. We are cancelling all Kanamo trek batches in July and August.
The village above Kibber, which is the base camp for the Kanamo trek, has banned all trekking activities through their region. The village leaders issued the following notice on July 20, 2019.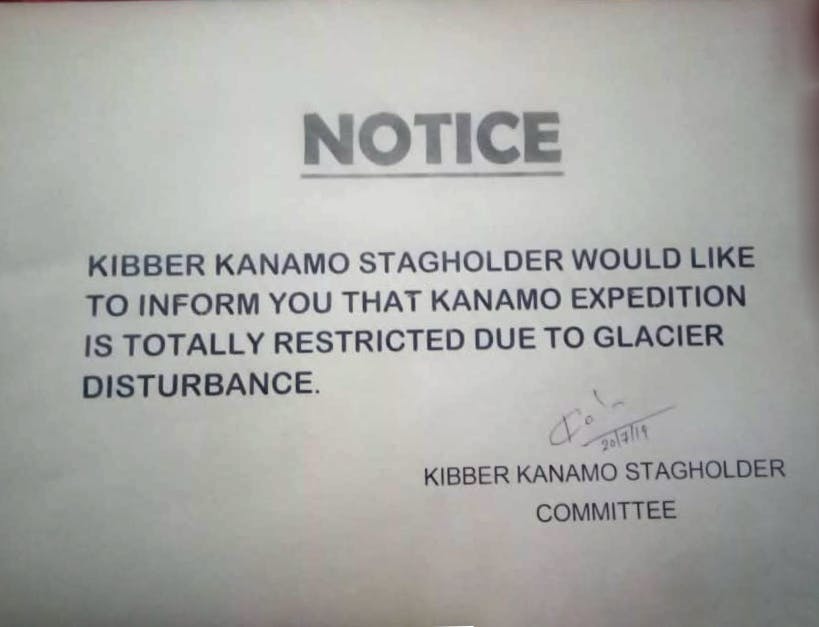 This is a blanket restriction that is being imposed on all trekking groups.
The restriction was brought about by the village leaders after they witnessed contamination of water sources by a group of trekkers, a few days ago. The trekkers left litter around their campsite close to the river, thus polluting the region and water body. This prompted the villagers to impose a ban on camping and trekking the route to the summit.
We understand that you had been preparing and looking forward to summiting the Kanamo Peak.  We have been doing our best to resolve this issue over the past few days. We had a meeting with the local leaders, speaking to them about our Green Trails initiative through which we implement proper waste management in the mountains. But the villagers are adamant about their restriction.
We are left with no option but to cancel all Kanamo Peak treks for the season.
Here's what you can do
If you had signed up for the Kanamo trek with Indiahikes, we have three options for you.
– You can cancel your trek and get a full refund.
We'll elaborate on each option in detail.
Option 1: Cancel and get a full refund
If you had your mind set on doing the Kanamo peak trek, and do not wish to do any other trek, you can cancel your trek. We will refund your trek fee in full. Kindly get in touch with your Trek Co-ordinator, Manisha – manisha@indiahikes.com
Option 2: Shift to do the Pin Bhaba Pass trek
If you're wondering why we've chosen the Pin Bhaba Pass Trek as an alternative, there are many reasons:
This option creates the least disturbance to your itinerary. The duration of the trek is the same.
The Pin Bhaba Pass trek is as equally challenging and adventurous as Kanamo. The trek reaches an altitude of 16,000 feet and crosses over from Kinnaur to Spiti.
The only change that you have to make is that you will have to get to Shimla at the start of the trek, and not Manali.
The Pin Bhaba Pass trek is perhaps more beautiful in comparison. It is the grandest crossover trek in our country. You walk through the dark forests of Mulling for a whole day. Then you find Kashmir-like grasslands of Karah. There is a beautiful river delta campsite at Phutsirang, and then there are the colourful deserts of Spiti. Each day feels like an independent trek. Also, the Pin Bhaba pass trek gives you a lot of time to explore the remote Spiti region as well. Read this article for more about what to see in Spiti.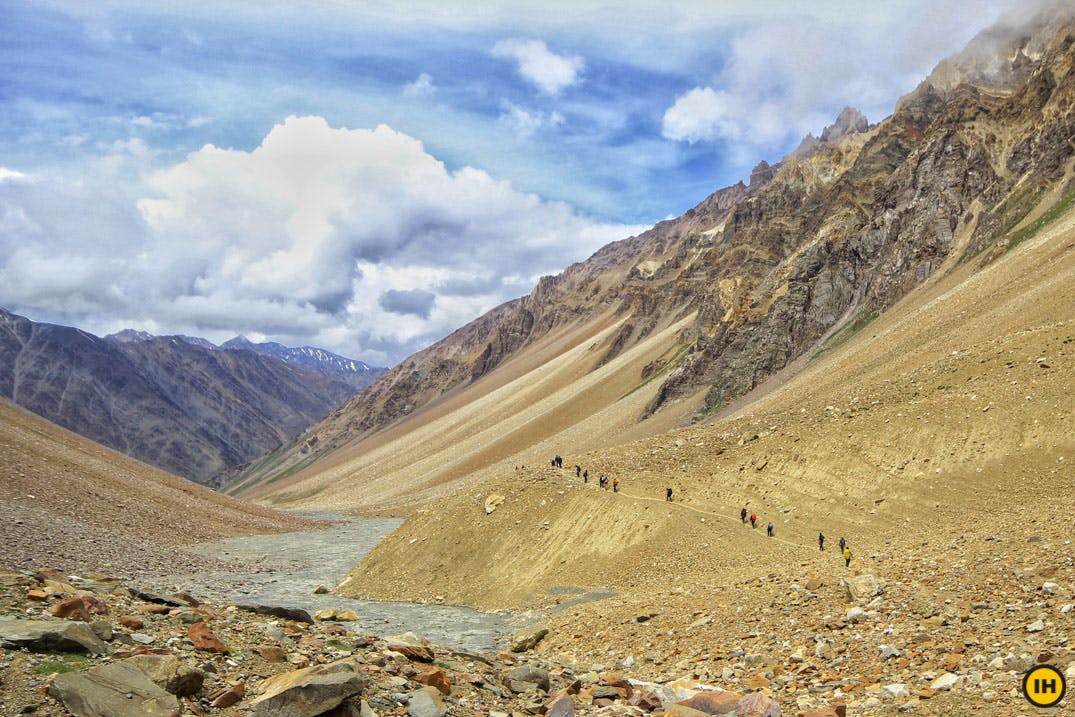 This will be your alternate itinerary:
You have to reach Shimla on your own a day before the trek. We will pick you up from Shimla on Day 1.
Day 1: Reach Kafnu; 6 -7 hours from Shimla
Day 2: Trek from Kafnu (7,878 ft) to Mulling (10,637 ft); 8 hours, 11.3 km
Day 3: Trek from Mulling (10,637 ft) to Karah (11,653 ft); 5 hours, 6.03 km
Day 4: Trek from Karah (11,653 ft) to Phutsirang (13,474 ft); 4 hours, 4.9 km
Day 5: Acclimatisation and rest day at Phutsirang
Day 6: Trek from Phutsirang (13,474 ft) to Mangrungse (13,674 ft) via Pin Bhaba Pass (16,105 ft); 9 hours, 10.9 km
Day 7: Trek from Mangrungse (13,674 ft) to Mudh (12,283 ft); 7 hours, 16.29 km.
Day 8: Drive from Mudh to Manali.
Day 9: Buffer day. It is mandatory to have this extra day as any bad weather or rain may affect your pass crossing. If the buffer day is utilised, you will need to pay us Rs. 2,500 + 5% GST. This amount is to be handed over to your Trek Leader.
This trek's itinerary will match the Kanamo trek's itinerary date to date. You do not have to change any flight plans.
Important note:
Option 3: Choose to shift to any other Indiahikes trek
In case you do not wish to do the Pin Bhaba Pass trek, then you can choose to do any other trek of Indiahikes. We will try to accommodate you in our groups. We'll give you a trek voucher that you can avail any time in the next year.
We understand that this is quite a sudden turn of events.
Our team is following up closely with the village leaders, and we will inform you if there are any updates.
But do choose one of the above options. We would recommend the Pin Bhaba Pass trek.
If you need any help, drop in a comment below or get in touch with your Trek Co-ordinator. We'll help you out!
Sign up for our much loved Weekly Mailer
We have terrific trekking tips, trek updates and trek talks to look forward to