Kedarkantha: The mission that was not accomplished!
Share this story
With 37 treks in Maharashtra's Sahyadri hills and one Himalayan trek under his belt, Atharv Kothekar is an accomplished trekker. He is also 12-years-old. With brutal honesty and disarming effervescence that only a 12-year-old can have, he writes about his experience in Kedarkantha. And his love for bhajiyas.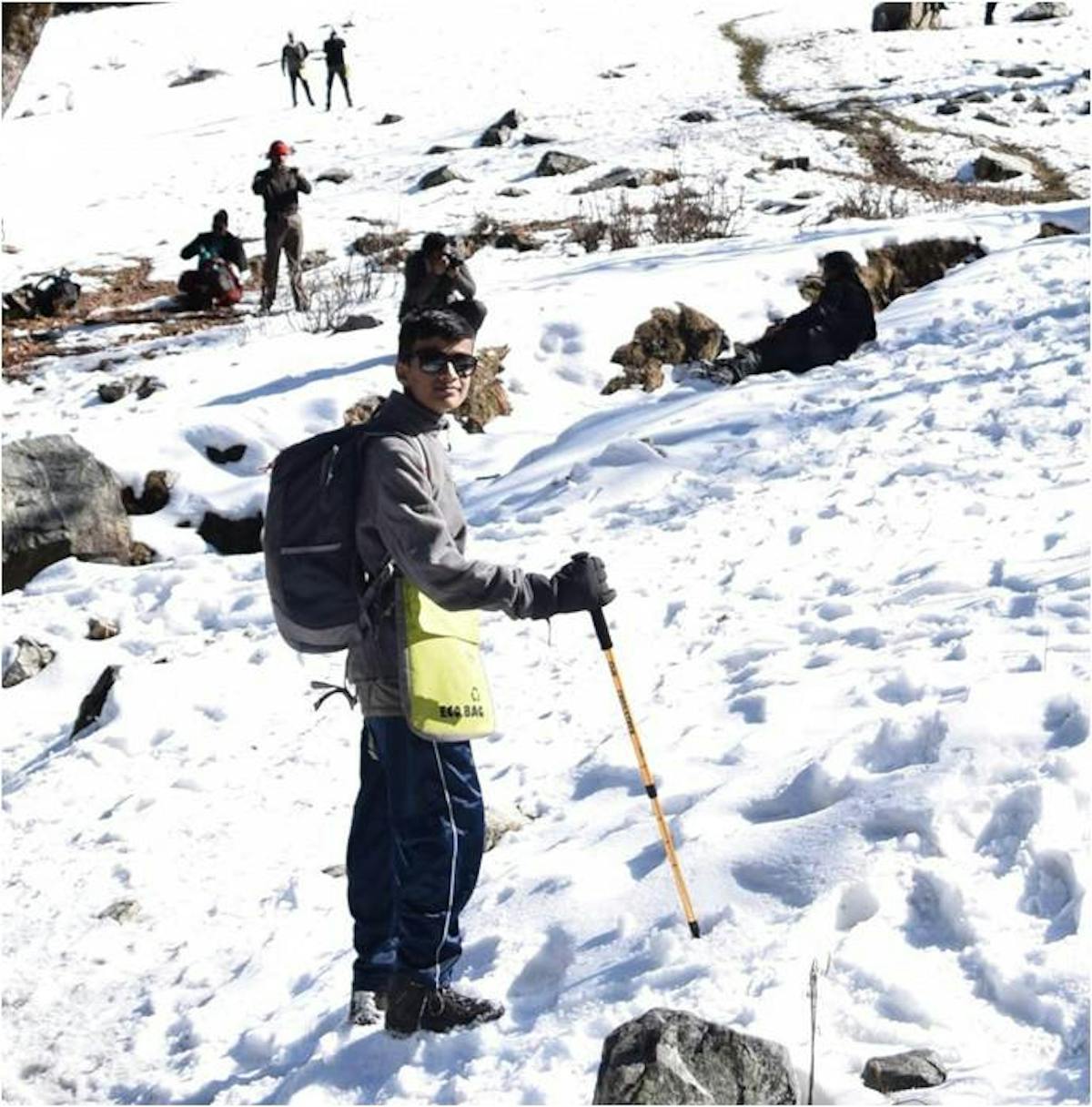 Atharv, geared to conquer mountains.
Written by Atharv Kothekar
I went to my first winter trek in December 2015. It was a really great experience! My dad and I went on Kedarkantha. It was peak season and the bookings were filling fast. We were very lucky that we got a booking!
The journey from Dehradun to Sankri was really boring. We were there in a tempo traveller for 10-12 hours! The route was very irregular. Even the parking of the place where we stopped for lunch was on the terrace! We were searching for the tempo traveller when the driver came and said that the parking was on the terrace. When we saw the board that our destination, Sankri, was just 15 km away, everyone was like, "Oh, yes. The end to this boring and tiring journey!"
Sankri was just 6,500 feet in altitude, but, believe it or not, there was SNOW!!! But, the quantity was really very low. We met our trek leader, Manav sir. He allotted rooms to us and we kept our bags there. Then, we got hot bhajiyas and steaming, hot tea. I didn't drink tea, but the bhajiyas were really soothing. I bit into one and as long as it was in my mouth, I was in a different world, where only I and MY precious bhajiya were there. It was protecting me from the cold. Ah! It felt awesome! Manav sir announced that the briefing was on six. It was just 5.30. I quickly wore my thermals as the cold was starting to get worse. Then, it was time for briefing.
First, Manav sir introduced himself and then it was our turn to introduce ourselves. He said that we have to tell our name, age and trekking experience. There were many people before me. When it was my turn, I said, "Hello, everybody! My name's Atharv Kothekar and I'm here with my dad. I'm 12 and this is my second Himalayan trek and first winter trek. And I have also completed 37 treks in the Sahyadri hills of Maharashtra." And the next moment I could hear everyone clapping. I get really shy when everyone's appreciating me and so, I tried hiding behind the pillar nearest to me. Whew! I was really glad nobody noticed! Then, we had lunch and the next thing you know, everyone was in the comfortable, heavenly beds.
Next day, we woke up at six. And, my hands and legs were numb and I was feeling very cold!! I quickly told Manav sir and he introduced me to someone whose name I don't remember. I think it was Vivian. He was from Kerala. He took me to the kitchen and ordered me to place my hands in feet in front of a fire. My hands had kind of 'absorbed' the cold, so it took a bit of time to get my hands back to normal. I went outside and saw that everyone had left. So, I started walking and after some time, I met everybody waiting for me. Then they were asking me my name as there was no light for some time during the introduction, so, I think that some people couldn't see me. And when I said that I was Atharv, they said, "Oh! You are the one who has completed 37 treks, eh?" and I said yes…shyly.
Then, when there was only half an hour left for reaching Juda ka Talab, I was just going to cry with hunger when Shiva offered me dry fruits. I, of course, didn't hesitate as it was a "do or die with hunger" situation. Ah! It was sooo good. He was like God for giving me food. Then we reached Juda ka Talab. We had lunch and went into our tents.
I rested for a while, and came out to explore where the lake was. I spotted the lake and was shocked to find that the lake was literally FROZEN!!! I wanted to test if the ice was powerful enough and started throwing stones at it. Ha! Throwing stones in water is in my blood. The ice was really hard and one stone broke as it touched the ice! I felt like walking on it, but I was way too scared. If some part of ice was weak, I would have gotten hypothermia. It was already too cold and if I fell into water that was around zero degree centigrade, I would have come out as Atharv-flavoured ice candy. I didn't even go near the lake.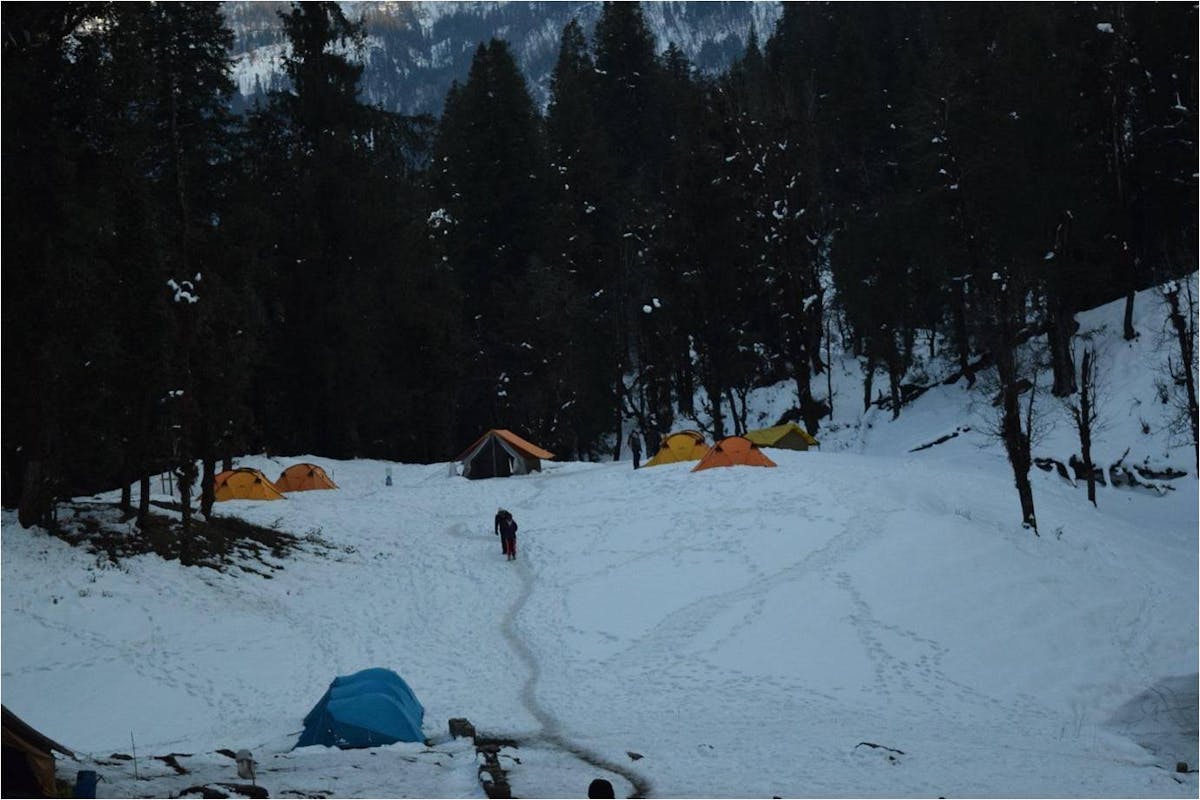 The Juda Talaab campsite.
My hands were getting numb again. Then, I saw there was fire somewhere and I ran to reach it and saw that there were some people of our batch sitting there. I couldn't resist and removed my gloves and got my hands near the fire. When my hands were warm enough, I saw that everyone was playing dog-and-the-bone and I joined them. When we got bored, we started playing lock-and-key. We all got very tired after that and decided to play dumb charades. After that Sandeep sir called us for soup. We drank it and I started playing with the snow. Time passed and soon it was time for dinner and we gathered in the dining tent and started eating. The dinner was very tasty, as always. Then the next thing you know, everybody was sleepy and went into their tents and slept. In our tent, only dad and I were there.
Next day, we woke up at six and had black tea and breakfast. The water in our bottle was frozen. The water in our wet socks was frozen. You could even hear the crumpling of the socks!!! Then we had to wear our gaiters and micro-spikes and depart for KK base camp. The journey was really tiring and my nose was paining and I had difficulty in breathing. It wasn't serious, though. After some time, we took a break and Perry, short for Periyannan, was listening to Tamil songs and I asked him if he could turn the volume on, as I love listening to South Indian songs. I don't understand the words, but I still love them. We started walking again and after a couple of hours, we reached KK base. I was really excited as the next day was summit day.
We could see the Kedarkantha summit. I relaxed for some time in the tent and then it was lunch time. We had lunch and Sandeep sir asked us if we wanted to make a snowman. Everyone jumped with excitement and started making the base for it. Everyone was just putting snow and flattening the whole thing. After doing this several times, we got a nice body for our snowman. It wasn't round, but it still looked good. Then, I found a bone which looked like a part of a backbone of some animal. I showed it to everybody. They were pretty fascinated. I kept it in front of our tent and went inside to do something which I don't remember.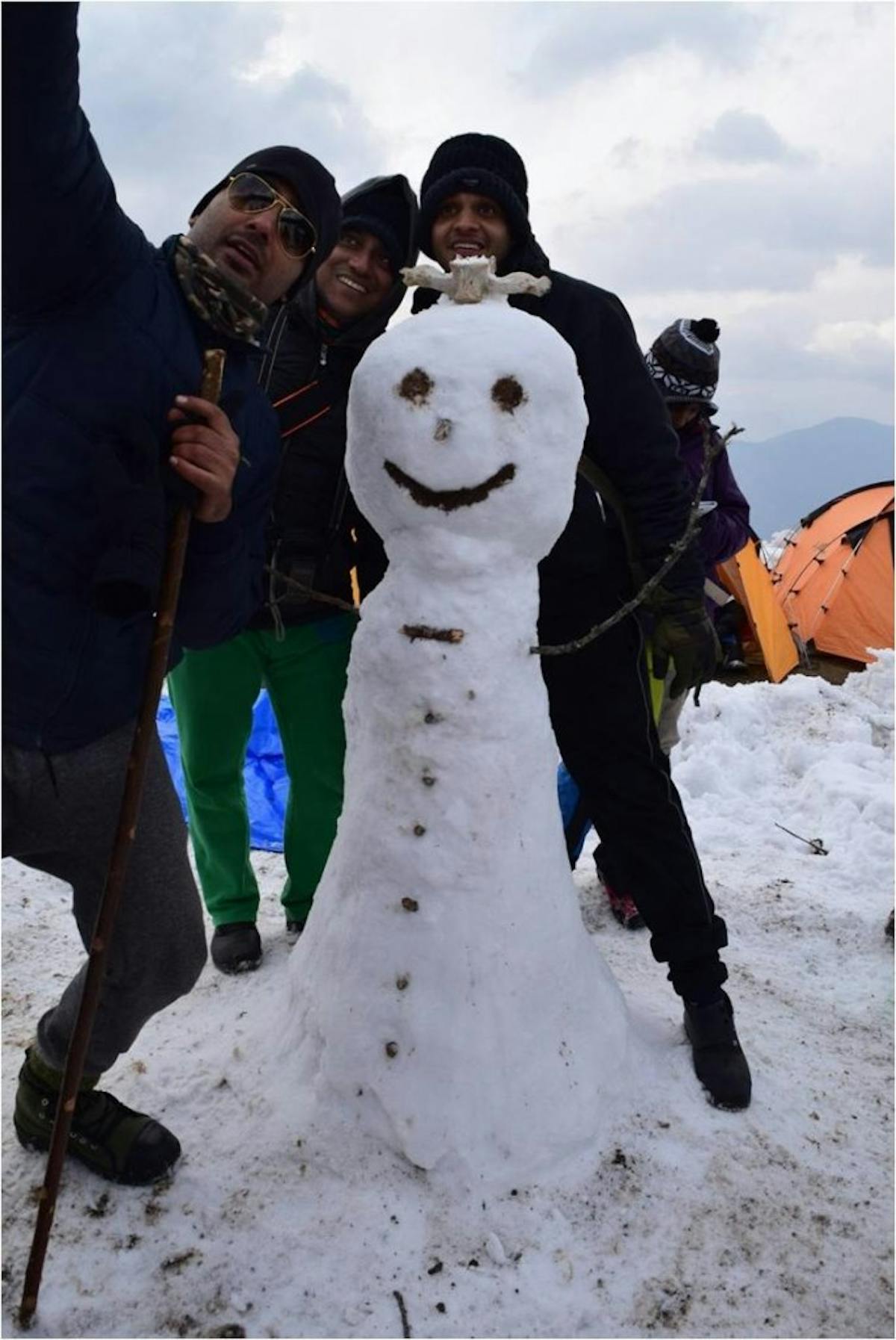 With Mittu baba, crowned.
Then, some people from the youth hostels came and they had a speaker. It was too cold and some evil clouds were hiding the heavenly sun. When the speaker was playing 'Gangnam Style', Sandeep sir said, "Let's dance, people!" and everybody began dancing! It felt so awesome. It also gave us some heat in the cold.
Next day was the summit day. It was daaaamn cold. Dad was not coming. I was ready with the camera bag (and the camera, of course) and a water bottle. When I was eating breakfast, my stomach started aching and I said that I could not come to the summit. Also, I couldn't bear the bitterest cold EVER. So, I went to sleep.
After some hours, I woke up. I went outside the tent and I saw Alka aunty coming down from the kitchen tent. She was surprised to see that I didn't go to the summit. After some time, Sandeep sir came down and asked me if my stomach ache was okay. He then left for Sankri. I said it was good. Then, everybody came down. We had lunch and departed for Hargaon.
We reached in less than an hour. We all sat near a campfire and warmed our hands. We all were hungry. Then, we were called to eat CHOWMEIN!!! It was really very tasty. I LOVED it! It was sooo good. We again sat near the campfire. Then, Manav sir called us for briefing in the dining tent. We had to talk about our experience. Everybody was very happy and loved the trek. Then, Manav sir called a guy who was the greatest cook the world! He cooked food for us all these days. The next thing we got was a home-made cake! Everybody said I should cut the cake because I was the youngest. Then they suggested that Tishta also should cut it because she was the second youngest. We cut it and it was sooo tasty. Even tastier than chowmein! Then we had dinner and slept.
Next day, we left for Sankri. The trail was really slippery and difficult to walk on. I named it 'The Trail of Doom'. We met Sandeep sir towards the end of the trail. It was really nice to see him! He was a really great man. I didn't really want to walk. But, to reach Sankri, I had to walk. When we reached there, I quickly removed my socks and found that my legs were swollen like anything. I couldn't even wear my shoes! They were paining really very much. Then, we left for Dehradun. I got frost tip in my legs. It's the stage just before frostbite. I couldn't walk for many days.
The last line I want to write is that I CANNOT SATISFY MY LIFE UNTIL I SUMMIT AND TAKE A CHALLENGE FROM KEDARKANTHA.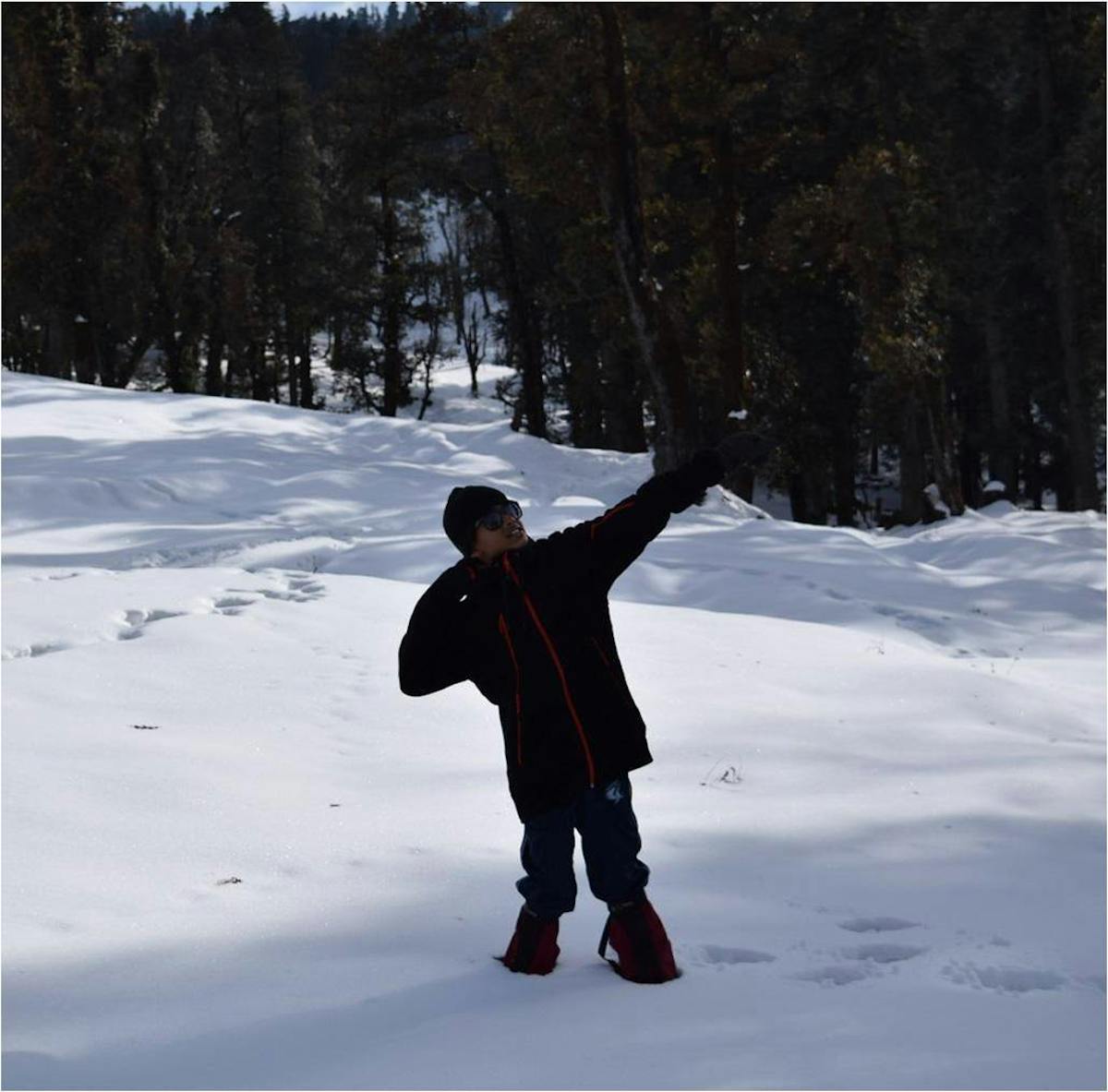 Atharv promises to be back to summit Kedarkantha, Gangsta-style.
Sign up for our much loved Weekly Mailer
We have terrific trekking tips, trek updates and trek talks to look forward to