The Mountain Lover's Gold Calendar 2017
Share this story
The Mountain Lover's Gold Calendar 2017
Category News About Indiahikes
By Swathi Chatrapathy
2016-12-16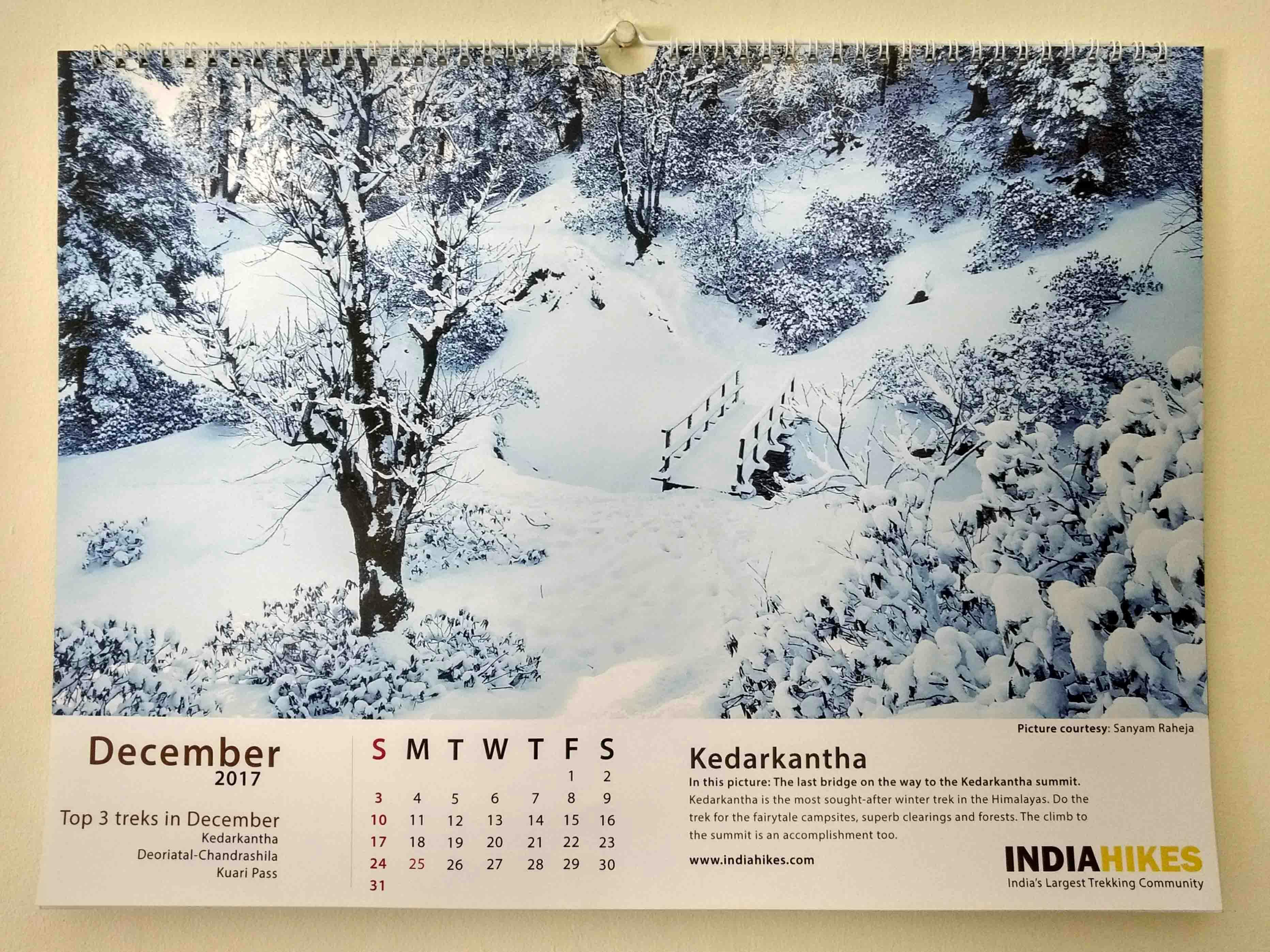 The photographs in this calendar are hand-picked out of thousands of submissions. Each of them is an elegant masterpiece.
At 19 x 14 inches, the calendar is big enough to bring your wall to life. Much like last year, this calendar is a collector's item. It makes for a great gift too!
Take a look at more pictures in the calendar below.
[Best_Wordpress_Gallery id="180″ gal_title="Mountain Lovers Gold Calendar 2017″]
PS: The calendar comes with a cheeky bonus. When the year comes to a close in 2017, choose your favourite photographs from the calendar, cut out the dates from the bottom and use it as a wall hanging!
"This calendar has given me motivation to go on another trek and get fit before that! Plus it has brought my office desk to life! Thank you so much!" – Manali Joshi
Thanks for wonderful calendar Indiahikes.I personally took the calendar from your office as I cud'nt wait till it reached my place and I was very eager to decorate my wall with this beautiful calendar. This is the best way to show my friends and family these are places I trekked and this is how it looks and u people missing the real beauty of nature. Fun part my friends feeling Jealous and my family very happy." – Sandeep R
I received my calendar and it's some serious motivation for 2017! – Zafar Anis
Thank you Indiahikes for the wonderful 2017 calendar and featuring one of my pictures of Brahmatal trek …. Warwan added to my "to do" list, in 2017!!  -Vishwas Krishnamurthy 
"My husband ordered the calendar and it's amazing! We wish to join all the treks!"- Priya Mulgund 
Got my copy last week itself. It's a first calendar ever to be hung in my house since I constructed it eight years ago. Of course I bought it for the photographs to be framed after year end." – Avinash Bodele 
Sign up for our much loved Weekly Mailer
We have terrific trekking tips, trek updates and trek talks to look forward to