My first Himalayan trek - Diary of a 12-year-old
Share this story
Atharv Kothekar, who is only 12 years old, went on his first Himalayan trek to Deoriatal in May 2015. He wrote this remarkable recollection of his trek, where he touched snow for the first time. This little hero has already completed 37 treks in the Sahyadris. Read what he has to say about his first Himalayan experience.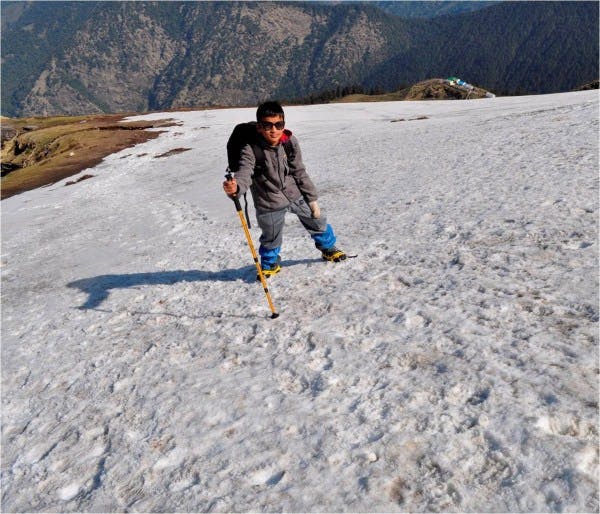 I got a surprise from my dad that we were going for a Himalayan trek! It was a mountain named Chandrashila. I began searching for everything about it, from the altitude to the campsites. The altitude was about 3,682 metres/12,083 feet (not even the height of Everest BASE camp!). I waited patiently and came to only 1 day remaining. Still I was damn patient (which was very surprising as I get hyper during such times).
Just before the day of the flight, I and dad got a terrible shock. Our flight was delayed by 2 hours!! Nothing happened but dad had to cancel our bus to Haridwar.
At last, the day of our flight to Delhi arrived. I bid my mom good bye and sometime later we were at the airport. The worst thing about flying is that you have to wait for almost two-three hours before the flight. We were checking the internet again and again if the flight was further delayed. We ate paneer sandwiches at Café Coffee Day. After a long waiting, we boarded the flight and departed for Delhi. Mumbai looked awesome from the sky with all the lighting!,
After almost two hours, we reached Delhi. It too, looked splendid from the sky! We ate cauliflower and bread from a small restaurant and picked a cab. It was almost 11 p.m., so I slept on the front seat. We reached Delhi at around 2 a.m. and stopped at a small hotel. The service was terrible. The fan made noise like anything and the remote for the T.V. was not working, but it did not bother me as we had to sleep there for only four hours.
Next day, we woke up at 5:30 a.m., freshened ourselves up and looked for Haridwar railway station. There were four jeeps standing there and we picked one and sat in it. We had to wait for a long time as some people were left to come. After some time, everyone had come except two people. We called them and they told that they had cancelled the trek.
We then started our eightten hour long journey with Rahul uncle, Shrikant uncle and Subramanya (Subbu) uncle in our jeep. We talked and introduced ourselves to each other. We were very hungry so our driver, Kusumbir uncle, offered us a north-Indian fruit named "Aadu". The first and second were sweet but, after that, the Aadus were bitter. We then saw the holiest river of Hindu, Ganga. It was very beautiful and there was a temple around it but we didn't stop there. After some hours, we were really hungry, so we stopped at a restaurant named "The Shangrila". I and dad ate aloo paranthas with pickle. We had to eat them with pickle because it was tasteless. No salt, no spices. But still, I liked it. We again started our journey and just before reaching, I saw the first snow-capped mountain and it started raining. I was feeling cold. 15 minutes later, we reached the base camp of Chandrashila, the Sari village (6601 feet).
The hotel's name was "Hira and Murali Singh Negi Tourist House". Then I met our guide, Rashesh Sir. He had a long beard and his hair tied behind his head. He didn't have time to shave or cutting his hair as after every 2 days, he had to guide a trek. Owww…what a happy life he lived. Seeing the beauty of the Himalayas every two days! As it was raining, everyone was literally shivering with cold. So, we were offered some bhajiyas and steaming, hot tea. I ate only a few of them as I thought that they were bad manners to take too many of them. Rashesh Sir told me to take more but I didn't take, so, he told me that I needed energy to trek the Himalayas. If I didn't take more I had to sing a song for all of the trekkers. I preferred eating more of them (of course). Rashesh Sir also asked me if I had any past experience in trekking so, I told him that I had completed 37 forts in the Sahyadri hills of Maharashtra. He was pretty fascinated that children like me were interested in trekking.
I went to my room and wore my thermal inners and a jacket. Then, we had an introduction. First was dad and he said, "Hello, friends! My name is Kailas Kothekar and this is my first trek in this region and also at this high altitude." I was just sitting beside him so, the next turn was mine. I decided to copy dad as I didn't know what to say, so, I began, "Hello, everyone! My name is Atharv Kothekar and I am the son of Kailas Kothekar. Well, this is my first trek at this high altitude and in this region too." Then, Rashesh Sir said, "Tell them how many treks you've completed." Then I said, "I have completed 37 treks in the Sahyadri hills of Maharashtra." Everyone applauded and I felt like a King (of course). I had never received such appreciation for this! There were Udit, his sister, Ketaki, their brother, Varun, Ishaan, Pranav, Krishnakumar (KK) uncle, Manish uncle, a couple Rashmi and Karthik, three college friends Shreshtha, Ruchita and Amita didi, Ravikiran (RK), Subbu uncle, Shrikant uncle, Rahul uncle, Vinay dada and Rajeev dada. After the introduction, sir told us to be present at 7 p.m. for briefing. We had no idea about what was the "briefing".
We were present there on time. Then sir told us that we should drink at least 2 litres of water a day or we'd get AMS (Acute Mountain Sickness). In it, water enters our brain and there was a risk of coma or even death. I and almost everyone were scared of dying so, we drank enough water. It was soon time for dinner. It was potato and bread. It was very tasty. In desserts, there was Saffron milk. I was feeling cold so, it was very soothing for my hands and body. We went to sleep after same time.
Next day, I woke up at 6. No one took a bathe as the water was literally ice cold! We freshened ourselves up, offloaded our heavy bags on mules, received our trekking poles, learnt how to adjust the height and the people who hadn't offloaded their bags packed their bags. Dad took a pic of me with my bag and the trekking pole in my hand. We were able to see the mountain and I took some pics of it, too. There was still some time left to leave. So, we went to see the school of the kids. The son of the owner of the tourist house we lived in became our guide. His name was Suyash Negi. He was very cute. In fact, every villager was like that. The road for the school was through the Sari village.
The school was small, yet beautiful. The school was separated from the village by a wheat field. We first saw the canteen menu. We tried to see the classroom through the window as it was locked because it was a Sunday. There were different buildings for the primary and secondary sections. Suyash told us that when the building was not constructed, they studied on a cement floor with a small blackboard. We again captured some pics and returned to the tourist house.
About ten minutes later, we started our journey to Deoria Tal. The word "Tal" means lake in the Garhwali language. There was a rocky trail which was splendid. There was greenery around us and it was very beautiful. After about fifteen-twenty minutes later, we reached a temple. There was Nandi, the bull which was the vehicle for Shiva. There also was one "Dholaki", an instrument with flowers on it. Every temple in that region was of the same structure and shape.
We rested for some time and again started the journey. We then came across a "hawa ghar". From that, we could see Chandrashila and the Raavanshila peaks. They looked splendid from there! We rested, drank water and started walking. We could see flowers named Rhododendrons. They were mostly red coloured. We were hungry, so, Naval dada offered us some orange and litchi candies. I took two of the orange ones. Then, after some minutes, we came across some food stalls. I took one packet of "Moong Dal" as it was written on the packet and some chocolates.
Just after this, we were shocked by the beauty of Deoria Tal. We could see that the lake was reflecting the greenest trees you could see! It was majestic. We rested ourselves on the green grass, kept our trekking poles and bags and we were offered refreshing Rhododendron juice. It was just perfect.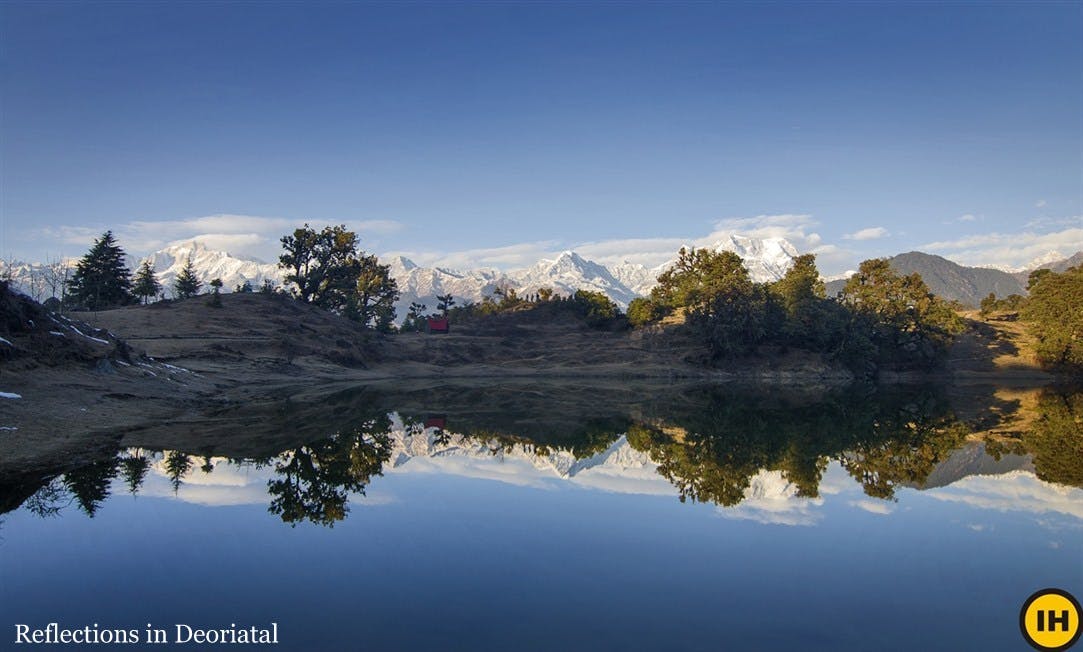 Sir told us where the washroom tents were. He also told where to wash our plates and said, "No one should go near the kitchen tent and don't go anywhere without my permission."
He then told us to choose our tents. Three people were allowed in one tent, so, I, Ishaan and Pranav were in a tent. Everyone was dead tired, so, they slept, except us. We were telling jokes to each other, asking riddles and targeting one of us and cracking jokes on him. We were laughing very loudly! We called the washroom tents as P.T. (poop tents).
We wanted to go outside and see the lake, but it was raining. I wore my raincoat and went outside but dad saw me and told me to go inside the tent. I couldn't disobey him, so, I followed his orders. If I stayed outside for another ten minutes, I would really get hypothermia. It was dead cold outside. So, we again began laughing.
When everybody woke up, it stopped raining. So, we were free to go outside! We were skipping the stones in the water. We also could see the Kedardome, Kala Parvat and Chaukhamba peaks. The Chaukhamba peaks were not visible clearly as there were clouds covering them. I thought there must be a hailstorm there. Chaukhamba had four peaks which were named Chaukhamba 1, 2, 3 and 4. 1 was the highest peak in our range. Its altitude was 7012 metres!!! The lake reflected the Mighty Himalayas very beautifully. Rajeev dada took awesome pics of the reflections. I think that his pics should receive the best photo award from the president or the prime minister.
We then went to a watch tower and from it, you can see the splendid Himalayas. We were not supposed to get range at Deoria Tal, but, on the watch tower, we got range and immediately, I called mom.
After returning to the camp, Rashesh sir offered us creamy vegetable soup. It was very tasty. Then, we were called in the dining tent. Sir told us how to use the sleeping bag. After the demo, we had dinner. I don't remember what was there, but, I will remember the "Pahadi Daal" for sure. It was the tastiest food of all times. It wasn't the normal daal we eat at our home. It was dead tasty!
We went to sleep after the dinner. You won't believe what we wore while sleeping! We wore our thermal inners, collared t-shirts, a jacket, two trek pants, socks, sleeping layers and a sleeping bag!!!
At night, I woke up as I had to go to the P.T. and I saw what you would call a once in a lifetime experience. The snow of the Himalayas was shining in the moonlight. I tried to take some pics, but the camera gave a flash which ruined the beauty. You can never capture that beauty except in your eyes. It was kind of magical, splendid, majestic, and so on. I don't have words to explain that!!!
Next day, we left for the next campsite, Rohini Bughyal. Bughyal means a meadow. We had to pack lunch in boxes as it was going to take three-four hours to reach there. We also got two packets of biscuits to munch in during walking. We did some exercise and started the journey for the next campsite. After some minutes of walking, there was a partially steep rocky trail. We got dead tired after climbing it. We ate some Rhododendrons. They were bitter, but, if we concentrated while eating, they seemed to be a bit sweet. After climbing the rocky trail, we could see a flag post named "Jhandidhar".  I was very tired, so, I threw my bag and munched in some biscuits. We could now see the base camp, the school and beautiful wheat fields. We could see that we were at a very high altitude as the Sari village was looking very small. It was pretty steep there. I wanted to go down, so, I told Rashesh sir to let me go. He said yes and accompanied me as it was very dangerous. I sat there for some time and again started walking. Naval dada offered us those candies again and again. He knew that we must be very tired and hungry. For some hours, we were walking through a forest. It was a very pleasant walk. It was very green around us. After about five minutes, we came across a steep wall of grass. It was climbable without ropes. After a long and tiring walk, we reached an amazingly open grass field. Even one person sitting on it was just a dot on the open meadow!!!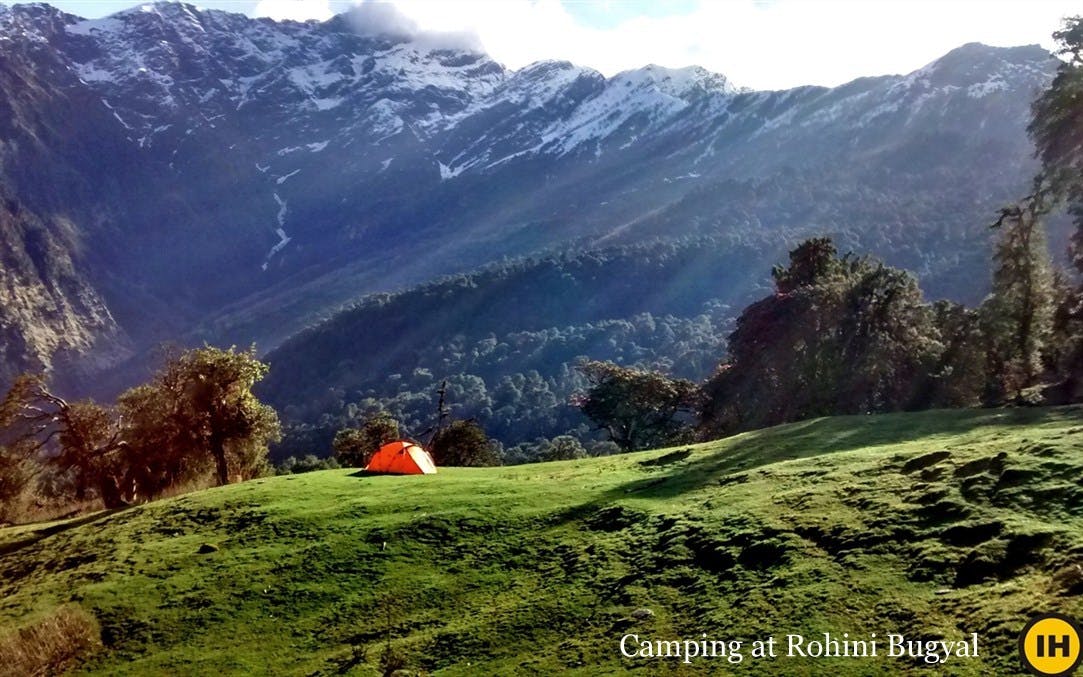 The tents had not arrived, so, we had to wait there. We relaxed ourselves and slept on the fresh grass. It was very refreshing as we were very tired after climbing a slope. Then the tents arrived. We selected the place for our tent and learnt how to put it up. It was a beautiful experience. We went inside my tent and again started joking. Rashesh sir came in our tent and offered us Avengers' playing cards. I hurt my hand with a tent pegand it was bleeding. I quickly removed a band-aid and put it on my hand. We quickly went down the slope, found a flat place and started playing cards. They all were "Iron Man" cards, but we still carried on. After some time, Udit joined us. He told me that he found a chimpanzee skull. I thought that he was joking, so, I went to check it out and believe it or not, it was there! I didn't touch it as dad told me not to do so. Time passed by and it was evening. Sir told us to come up and find wood for campfire as it hadn't rained that day so, we found little sticks of wood and gathered them at a point. Sir told me and Udit to carry a big log of wood. It may sound difficult but, it was not that much hard with two people carrying it. Soon, it was time for dinner. We poured oil on the wood and lighted it. We got a special pleasure as we had made it successful. We didn't go to the dining tent, but sat in front of the campfire. It was warm there and if we went even five metres away from it we'd freeze as it was damn cold out there. Soon, it was time to sleep. We went in our respective tents and slept.
Just one day away from the summit and from the best part of the trek, SNOW! We woke up at six, packed our lunch and started walking. It was again a very pleasant walk. After walking for two-three hours, we came across a field where sheep were grazing and a puppy and its mother were there. The puppy didn't bark at all! We offered it some biscuits and mowed it for several minutes. Udit named him Carmelo as it was caramel coloured. But neither me, nor him liked it. So, I named it Max. We both agreed upon it. After walking for almost ten minutes, we sat for lunch. We talked about Mount Everest and the Khumbu glacier. Everyone was sleeping. So, I and Udit went to a nearby stream. It was very narrow and small. We just started gathering stones and making a dam (kind of). After forty-five minutes, everyone woke up, so, we again started walking. After one hour, we reached our next campsite, Bhrujgali. As soon as we reached there, I saw a fox' skull. I moved it with my trekking pole. I asked dad if I could old it and he said yes! I took it in my hand and showed it to everyone. Sir came and found a stick of wood and hit it hard on the soil and the stick went inside and he placed the skull on it. The skull went rolling down and Udit also went rolling down to catch it. He was successful in catching it. We played like that for a long time. I thought that I should take a pic with it like the Bollywood movie "Haider". I told dad to take a pic but he didn't do it well. Rahul uncle took his place and told me to lift my hand or lower down my head for a perfect position. After many unsuccessful tries, we got a perfect pic! It couldn't get any perfect than that.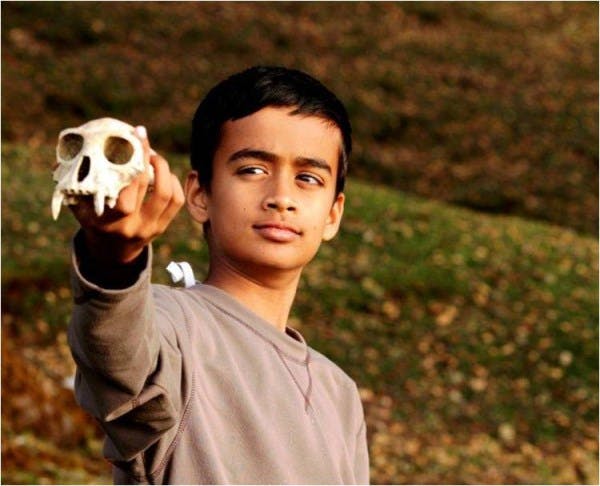 We got the training of how to wear gaiters and ice tractions to help us walk on the snow. Ice tractions were rubber belts with spikes attached to it which we had to wear on our shoes. We again had dinnerand lighted a campfire. But, this time we didn't gather wood for it. We sang songs and were told to sleep at eight as we were going to start the trek at four and wake up at three!!! We went to sleep then.
Dad woke me up at three. Ah! It felt so awesome to feel snow in your hands in the next one hour. We had breakfast and started walking…lazily! We were very sleepy and didn't want to walk. But we wanted to reach the summit. After a lazy one-hour walk someone threw snow from above and I got some sort of an extreme energy booster and I, believe it or not, started running for snow! I quickly removed my gloves and felt the snow on my hands for the first time in life. And the best part about snow is a snow-ball fight! I, too started throwing snow at everyone, so that they could also come up fast. We had a big snow-ball fight. After walking for half an hour, we got more and more snow. We came to a place where some snow had melted and it seemed impossible to walk over it as it was damn slippery. It wasn't like normal water.
We were hungry, so, we stopped at a small stall and drank coffee or tea, anything we wanted. I was feeling like it was normal temperature as I had worn a thermal inner, a couple of t-shirts, a jacket and two track pants!
Soon we reached the highest Shiva temple in the world, Tungnath. The door or "Kapaat", was not opened, so, we had to see it from the outside. 
Dad said that he could not walk any more as he was feeling dizzy, so, he stopped at Tungnath and I went with our group. We came across a narrow ridge where water was flowing from above and to our left, was a steep slope. If anyone fell down… well, you get the point. We crossed that ridge and came across an almost 30 degree way to the summit. There was snow all over it. Sir told us to wear our ice tractions on our shoes. I walked with great care as I was very scared of falling. After walking for some time, we rested on some soil and again started walking. Now…we were just three metres away from the summit. Sir tod us to remove our tractions as there was no snow on the summit and if we walked with them on soil, they'd get stuck in it and if we walked with them on rocks, they'd break and we'd slip. We removed them and walked…till we reached the summit!!!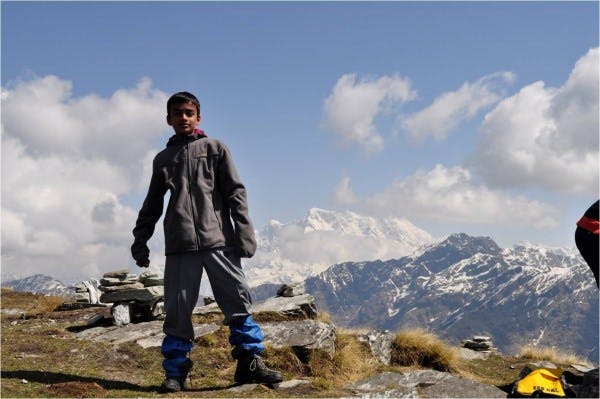 There was one small temple and a gate to the summit. There were stones arranged one above another. It was very weird. I kept my trekking pole and my bag and roamed all around the summit. There was one more temple and it was isolated at the edge of the summit. It was very small. We lighted incense sticks and offered flowers to the idol. It was very beautiful. I took some selfies and sir took some pics of me. Now, came the best part of the trek…sliding down the snow!!! I was damn excited about it. Sir offered me the second chance, after Naval dada. He just pushed me off the slope. I went very fast and my heart was beating very fast. I landed near a big rock, which was a normal landing. After me, came Vinay dada came and after him, Rahul uncle and Pranav. Then what happened is what you'd call a tragedy. Ishaan came with great speed, he came spinning down, I was looking down and I heard shouts, so, I looked back and…THUD! Ishaan got hurt on his head, the snow was red with blood and it was dripping from the rock. I couldn't control my eyes and they broke down with tears. I was not able to see the scene. It was terrible. His dad, Manish uncle, was a dentist, so, we called him, "Doctor! Doctor!"  He came down quickly. He had a doctor kit, so, he gave him pills to reduce pain. Four people carried him down. We started going down. There was a valley between us and them. They were shouting at a house. We did not know what they were doing. Shreshtha didi called 108 and asked for an airlift. They said it was not available.  I was very scared. I walked with great care. After some time, we reached Tungnath. As soon as I reached, I hugged dad and asked, "Do you know what happened there?" He said yes. They came running down carrying Ishaan and dad asked them what had happened. They just said it is an emergency. I know how dad must have felt at that time. Everyone was very upset. We came down from Tungnath and stopped near the stalls. We ate Maggi. It was hot and we were feeling a bit good. I, Pranav and Udit talked about some accidents in our memories and also about Ishaan.
After walking for another hour, we reached Bhrujgali. Karthik dada was waiting for us. We asked him what had happened. He said that Ishaan had stopped bleeding. They got a lift from Chopta to Ukhimath and his dad had someone in contact who could offer an airlift and he immediately called him. There was no option as a car would take at least seven hours to reach Haridwar. So, they got a helicopter to Dehradun and he was admitted at a hospital.
We were supposed to get range for mobiles on that day, but we didn't get it. We had given some mobile numbers to mom, so, she called someone. And guess who that was. Ishaan's dad, MANISH UNCLE!!! He explained everything to her and she got very upset. She immediately messaged Rashesh sir and he showed that to dad. He talked to mom. She was ok now. I went to sleep in my tent. After I woke up, I heard some noises coming from the dining tent and I went there. Everyone was laying a game called "Mafia". I also joined them. Then everyone who had gone for the rescue mission returned. They had only gone till Ukhimath. We had dinner and went to sleep.
Next day, we departed for Chopta, also known as the "mini Switzerland of India". It was indeed beautiful. We took some food and sat in tempo travellers. After some hours, we stopped for lunch. And after a long journey, we reached Haridwar.
This trek was indeed splendid and superb and we got certificates for our accomplishment of summiting a mountain and we got back home with lots of beautiful memories which we could never forget. I had a great experience trekking with Indiahikes and they offer a really good service.
Sign up for our much loved Weekly Mailer
We have terrific trekking tips, trek updates and trek talks to look forward to