My Happiest Trek Moment – Personal Stories of Affinity, Wonder And Del...
Share this story
What is the My Happiest Trek Moment campaign?
Frankly, we're tired of all the negative news around us. You must be too.
We are cooped up at home, not meeting people dear to us. All we get is bad news about Coronavirus spreading its devilish arms. Almost any conversation becomes about Coronavirus. It's become quite frustrating.
So we have created a space that takes us as far away from Coronavirus as possible — to the trekking world where we all yearn to be.
As a trekker, we're sure you relive moments from your trek every now and then — it could be that euphoric moment when you finally reached the summit! It could be that moment you were moved to tears by a beautiful sunrise. It could be the reflective time you spent by yourself at a campsite.
You're welcome to share your stories! We'd be happy to feature them! Find all the steps to send it here.
With no further ado, here are some fantastic stories that trekkers sent to us! 🙂
Btw, make sure you share these stories further, to help more people beat the lockdown blues!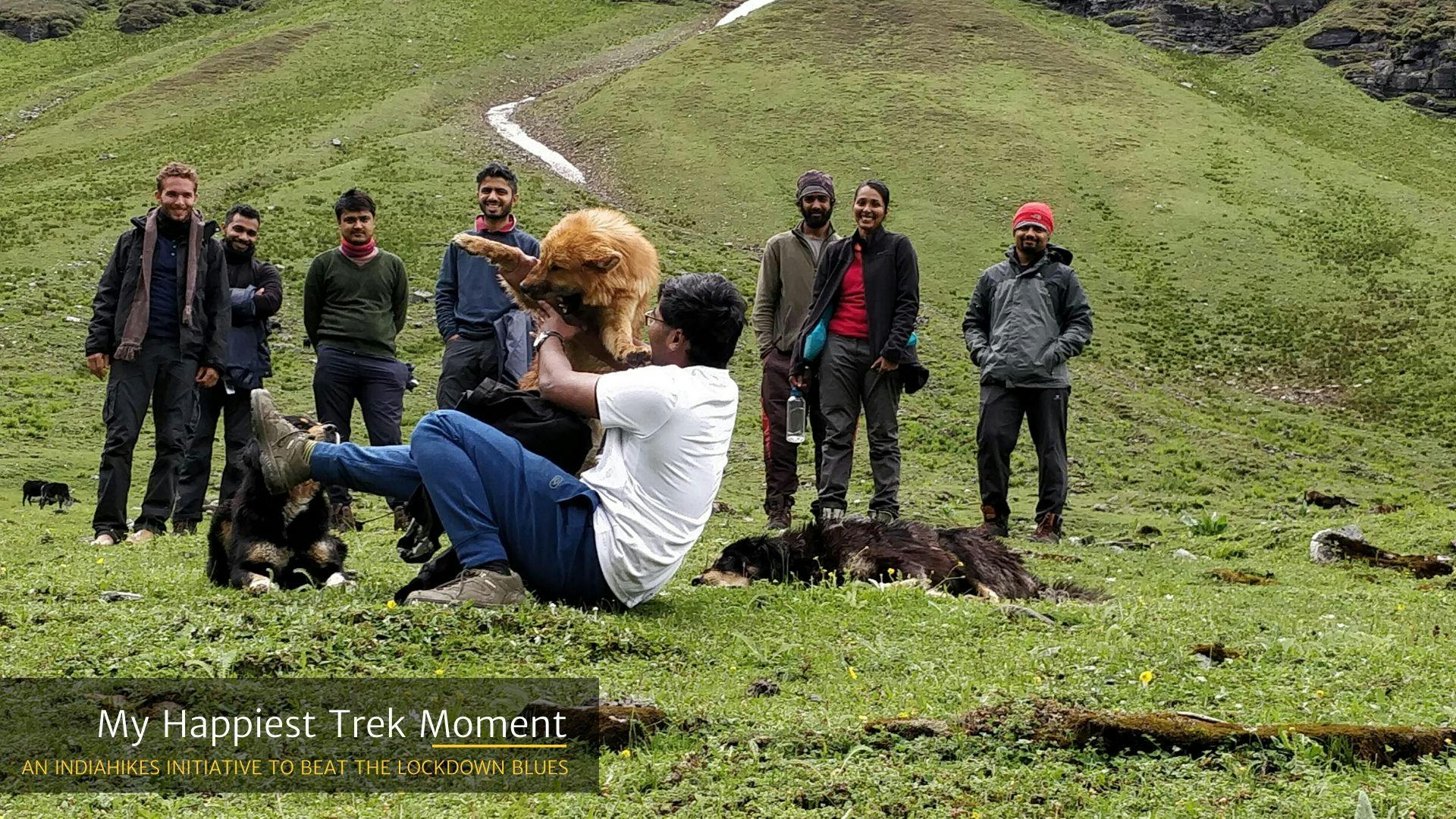 | That moment when strangers became my close friends.
"I usually moved around with a bunch people, my close friends. I always wished to take a change from the routine, So I booked the Rupin Pass Trek with Indiahikes. The trek turned out to be magical. To our luck most people came to the trek by themselves, and the people who came with their friends never hesitated to mingle with the group. We were one happy gang. I'm still friends with many of these people.
This picture was taken at  the Lower waterfall campsite (Dhanderas Thatch), on acclimatization day. It rained whole night the previous day, everything was wet and soggy. But the weather suddenly cleared up for us to bond with the nature, and it stayed clear for rest of the trek. Like any other day, we came out together and started our endless chatter. Some of us were learning to do the head stand, some literally slept in the sun , some were working on their dramatic photo and videos.  The cute dogs which came with us from the previous campsites joined us. Rest is captured in the picture." – Nayana V V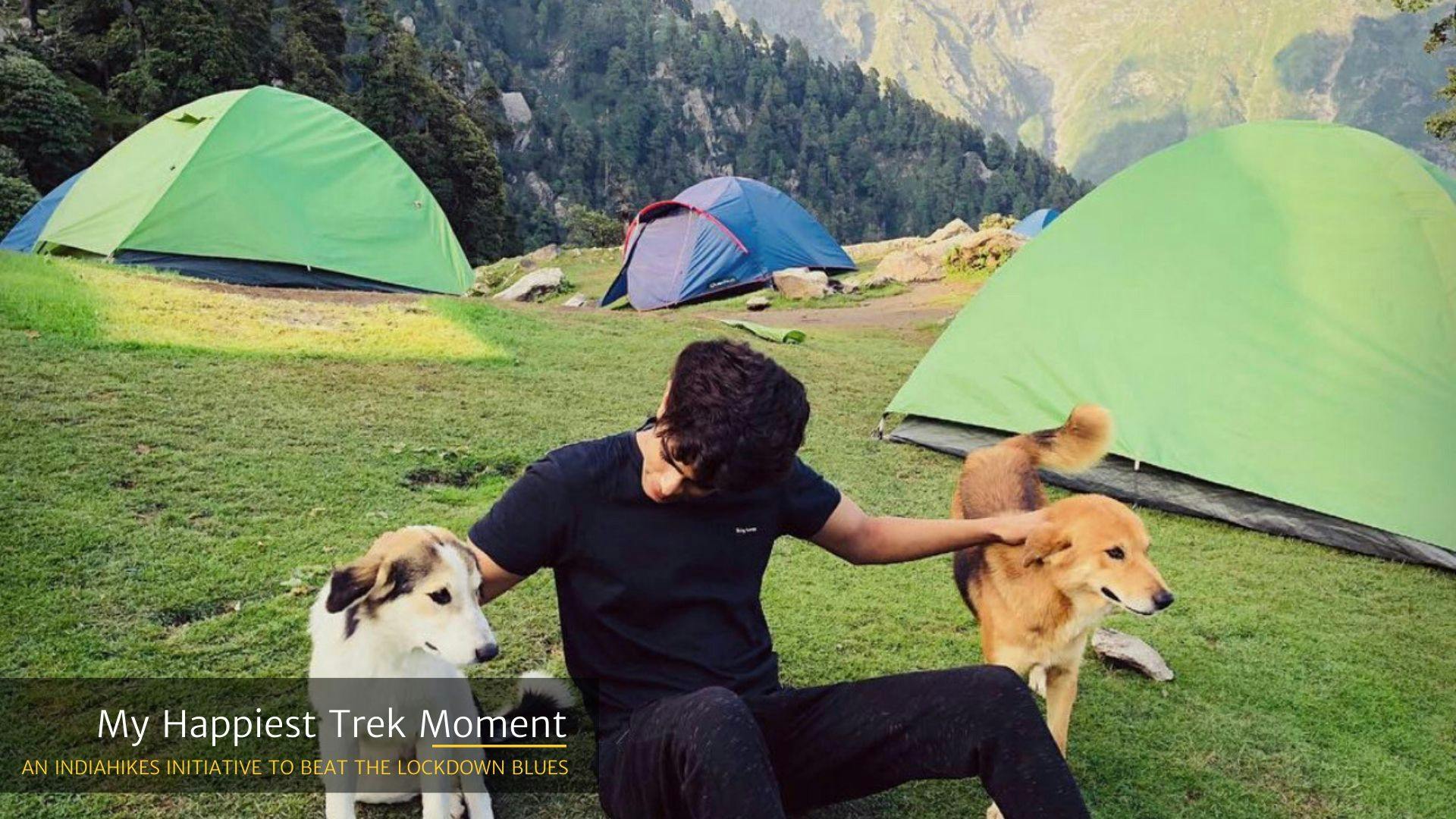 | My trek companions I always look forward to meet 🙂
"My first Triund trek was a perfect trek filled with great moments. I love dogs and if you have been to mountains you will know that it's rare that you walk a mile without having a mountain dog following you up the trail. This is a random picture and I loved the vibe in it." – Priyansh Vir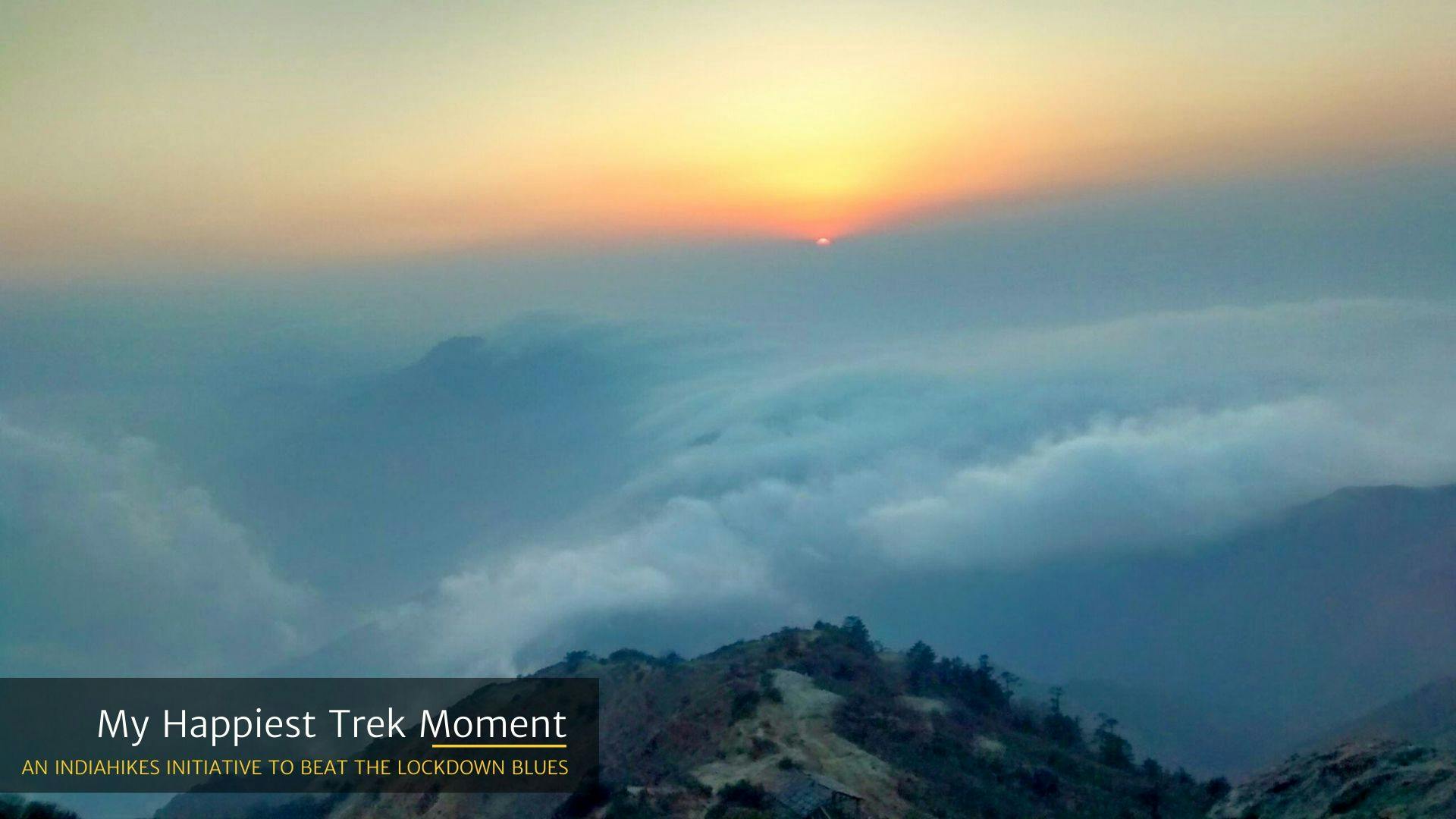 | The Invisible Artist
"In the morning when I wake up I hear the faintest sounds of chirping birds from the valley below. Right above, the snowy white clouds part ways, give in to our prayers perhaps, and  allow us our first sight of the mighty mountain range. The first sun rays have begun to find their way through the thick haze of dense fog and are shining bright on the peaks, giving them a coppery golden tint. In a few glorious seconds, I see a wondrous mix of colours and hues, mixed and added to the canvas that is the sky. It is as if an invisible artist is at work, sculpting the mountains, adding the colours and composing the music. Nature at its flawless best. – Sandakphu Trek, March 2016″ – Soumyajit Pradhan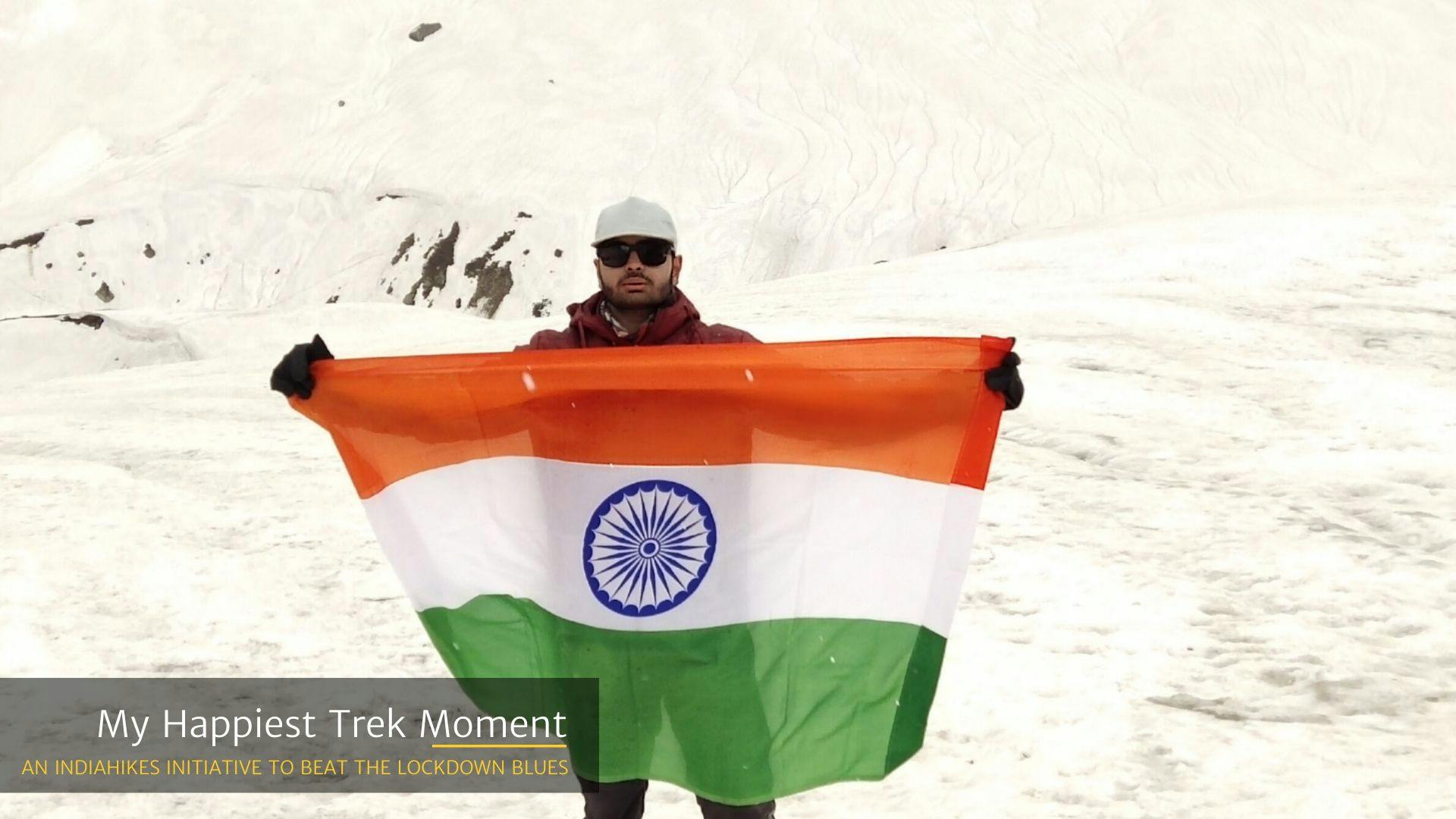 | The day my heart swelled with pride
"Starting of the trek was much easier till Litham.
But when we were for going for summit to Chandranahan, the weather started changing and light snow rain began. So our trek leader informed us that who so ever wants to continue raise your hand and others will return to Litham. I thought for a while and raised my hand and said "I want to continue."
There was one line coming in my mind "Yash, go for it, you can do it!"
So, I And other 5 members of our group continued further. As we were getting close to the summit the weather was getting stormy every second. We reached the final destination, the Chandranahan Lake, and we captured some photos and yeah you can see my photo feeling proud with myself and my group with the National Flag in my hand. It was a proud moment for all of us as there were only we 6 members out of 35 who completed the whole trek, fighting in that stormy weather. We returned to our base camp a day later and had a great night there and said bye to those beautiful peaks.
We were thankful to those guides there, they are the real heroes who stay there and try to make every possible arrangements for us and make our trek memorable.
We returned to our homes with lots and lots of memories and left some tears of happiness in that beautiful mountains." – Yash Rangrej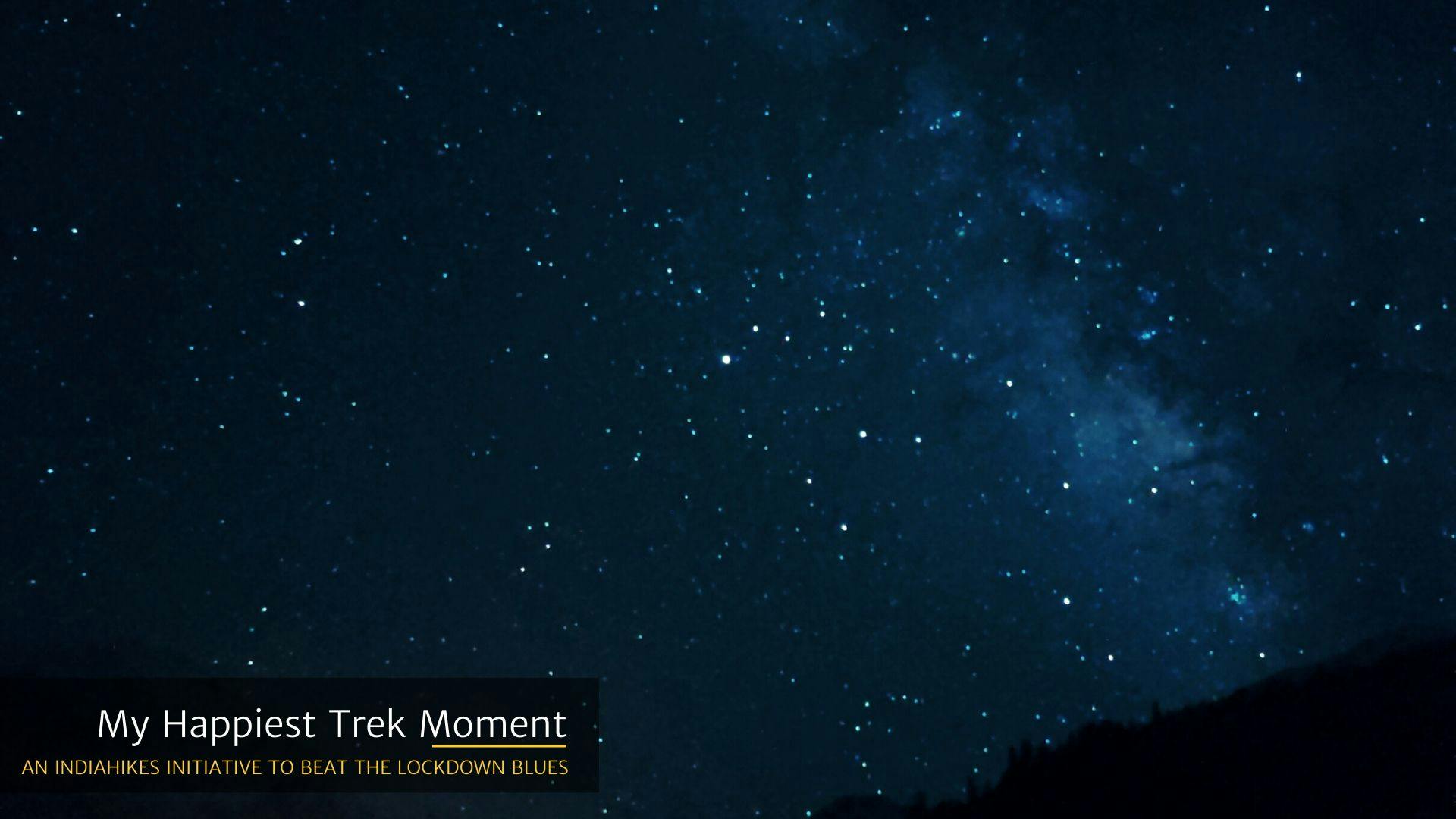 | My first encounter with the Milky Way!
"As a child I always stared out of my window to see these magical shiny dots in the sky. Star gazing has always been my favourite hobby since I was in high school. But I never really got a chance to see them in their full glory with the Milky Way by their side.
Last year in July we planned random trip to Himachal without an itinerary. On the third day we landed in a small village called Pulga and decided to take a small day hike to Bhandak. As the sun disappeared behind the mountains, the stars started appearing ever so bright. I couldn't believe my eyes and words cannot describe what I had seen.
Watching the milky way for the first time was by far the happiest trek moment in my life." – Aniket Amolik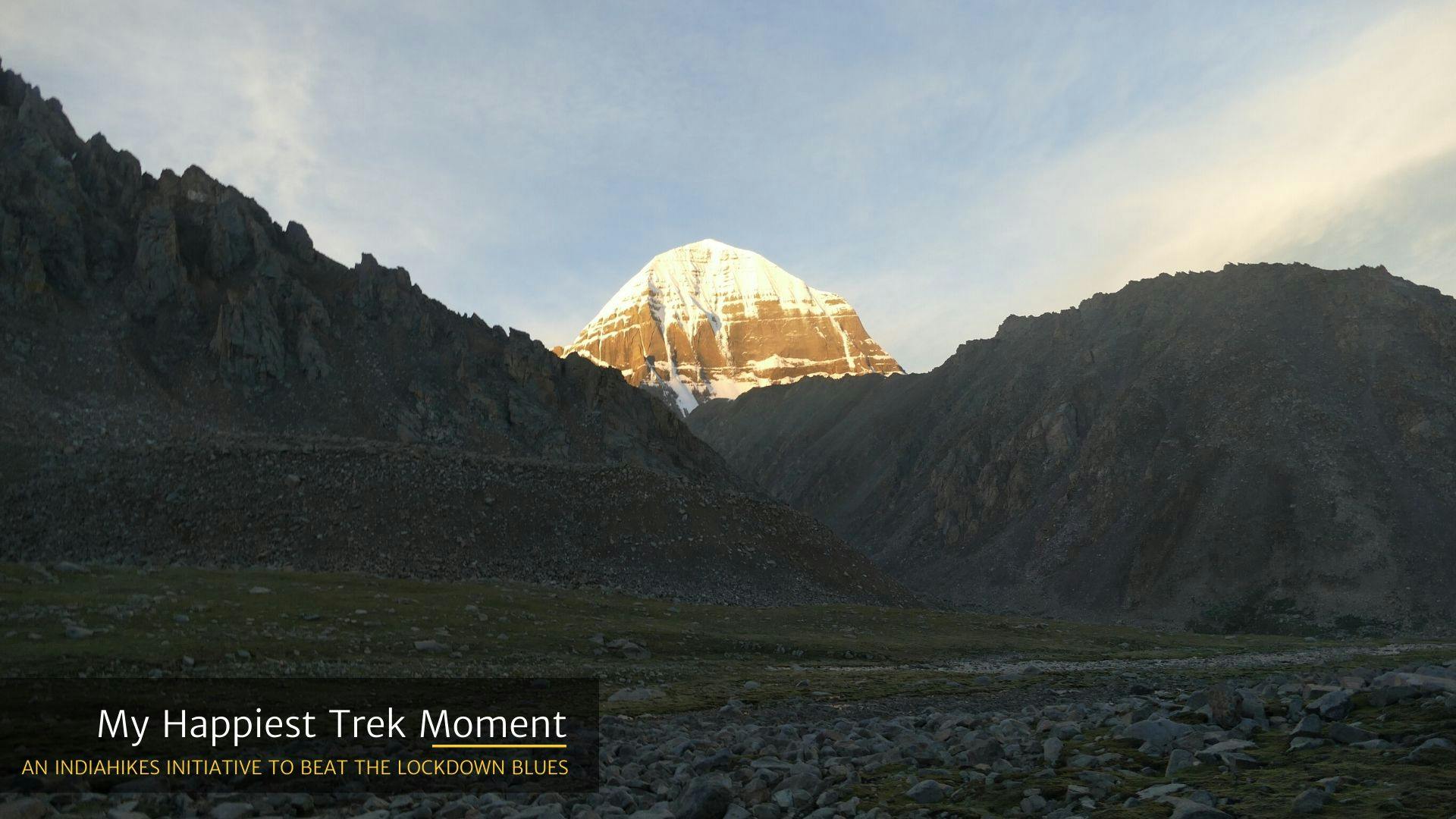 | The Golden Mt. Kailash!
"I was doing Kailash Mansarovar Trek through Lipulekh pass in 2017. Though most of the participants had joined as Yatris, I was one of the very very few who was in it because of beautiful trek.
The trek route wound through Sirsa/Gala/Budhi/Gunji/Nabhidhang and crossed the 17000 ft Lipulekh pass to enter into Tibet. The movement of crossing into Tibet border was also a memorable experience. However we were more anxious to cross the Dolma pass as it was the most toughest part of the trek.
That day, and it was August 15, those who were on foot started little early.The previous night we had camped at the base of North face of Kailash, which had a closest and stunning view. As the Sun rose slowly we were witness to Golden Kailash for almost 5 minutes before it turned into Snow white.
Slowly but surely I reached the Top of Dolma pass,18000 ft, around 8.45 a.m.  The hardest part of our trek was over.
Though Kailash was not visible from Dolma pass, I was able to rewind and see before me the Golden Kailash moments!!!" – Girish Gokhale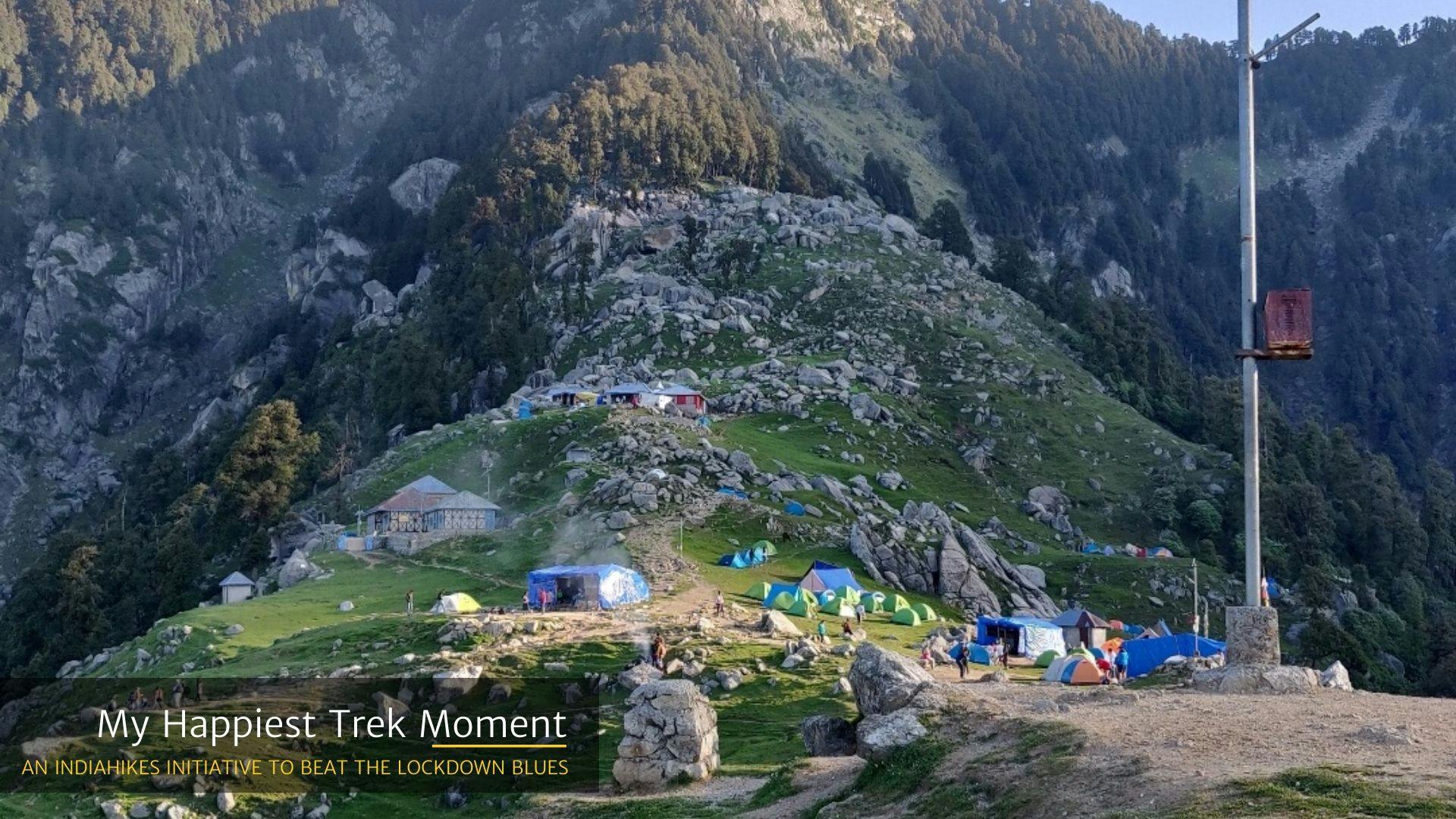 | The day I took a giant leap
"Do you ever have one of those moments where you have worked really hard and preserved through so many travails— and when you finally look at the result of all that work, you can hardly believe you did it?
Well, I have always been the weakest, not to mention clumsiest, person in my family and among my friends. Literally, if all of them had to vote for 'the most likely person to climb a hill', they would have laughed me off the list.
Yet, these pictures prove it all. These are from the moment when my husband and I reached the top of the Triund trek and I just could not believe that I had climbed to the top of a hill! I took the first picture to capture the magnificence of where we were, and the second picture to capture our celebratory ginger lemon drink.
It may have been a small trek for others, but it was a giant leap for a stereotyped person like me!" – Parul Jauhari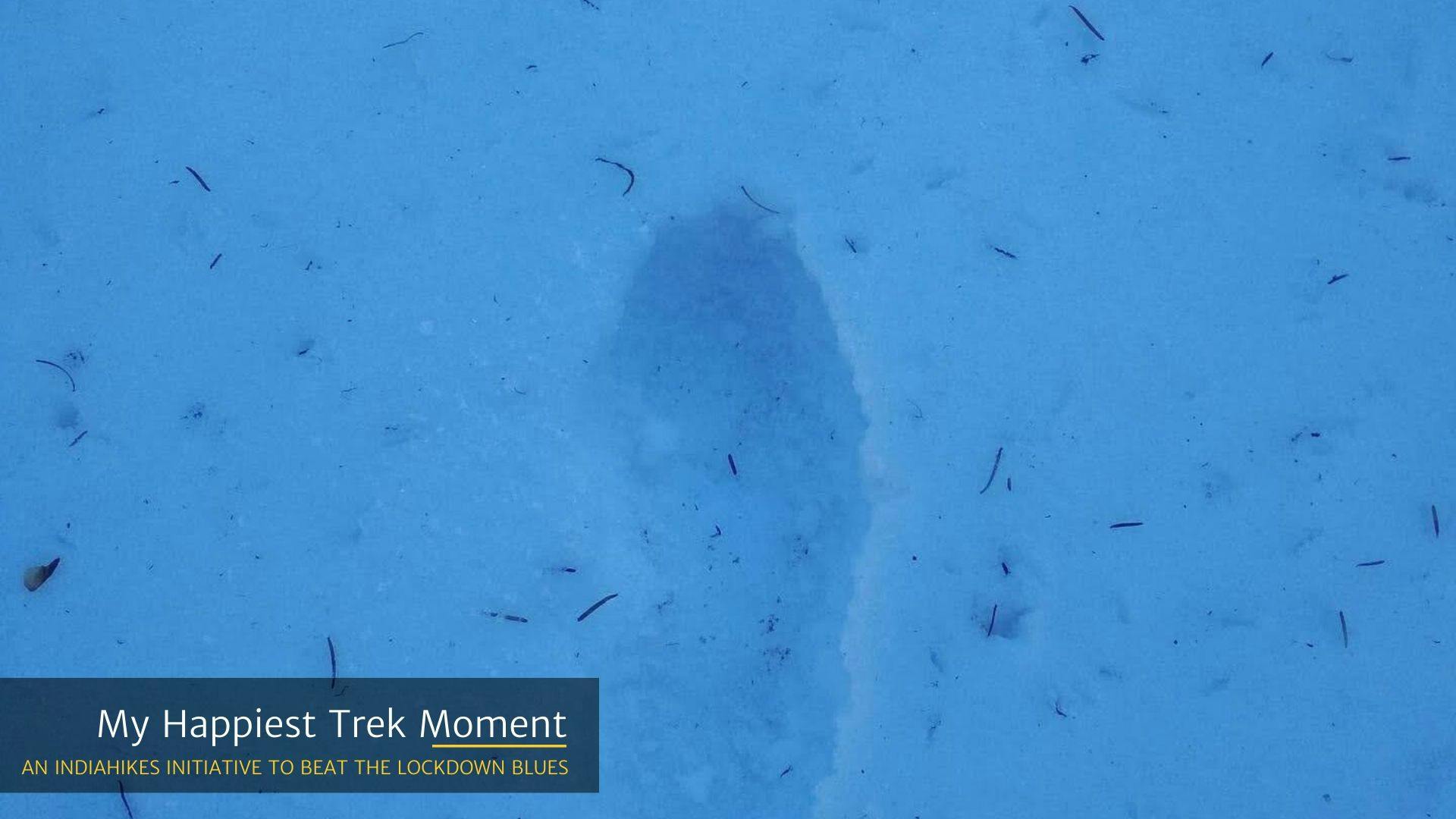 | When I etched my footprint for the first time on soft snow
"Ever since I was a kid, I always wanted to see snow. I used to watch all these snow filled grounds and yards on TV shows and movies during college, imagining how snow would actually feel like. Thinking of the same and hoping to experience it, I registered for Kedarkantha trek in the year 2016 for the first time. It was during December second week but to my disappointment I never saw snow throughout the trek. Later, in 2018 January, I registered for Brahmatal trek during January third week hoping to see snow this time at least.
I heard from the reports that all the snow was melted in Brahmatal trek and hence at the last moment, I decided to go to Kedarkantha again in search of Snow. It was totally worth it. Second trek with Indiahikes to the same place but a different route and I finally saw the white patches to begin with, on the trail and then there was loads and loads of snow. Attached is a picture of my first complete step in soft snow when I felt magical. And on the last day of the trek, we received snowfall too and I was elated throughout.
Venkatesh Prabhu
| A nap in nature's lap 🙂
"Last May, I went on a trek with my friends for the very first time. Excitement couldn't let me sleep an entire night. After a tiring drive from Delhi, we did the trek to Deoria Taal, and reached Chopta by 12AM the same day.
Next morning, we woke up at 3, and started the trek to Chandrashila. Leaving two of my starved friends behind for some food, I went ahead and reached the Chandrashila top from Tunganath in less than an hour. A sleep deprived me couldn't hold back my urge to take a nap and I dozed off at the Chandrashila top. An hour later, my friends caught me snoring and didn't forget to capture a video and a photo of the same. I call it 'a sleep in nature's lap' to save the embarrassment. The videos and photos crack me up every single time." – Shubhanshi Sharma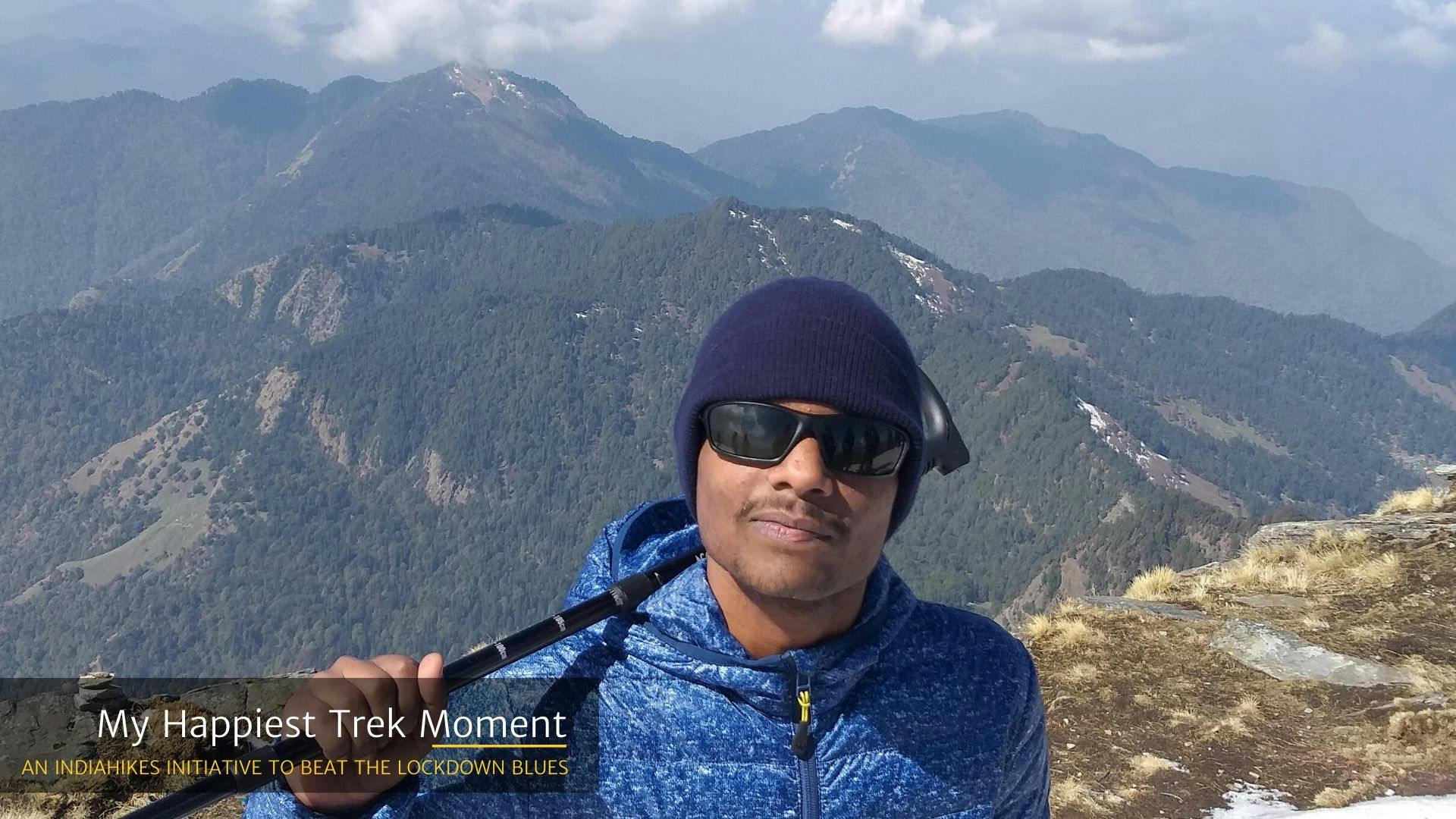 | You're not in the mountains, the mountains are in you.
"One of the best moments of my life, when I started the last leg of the summit towards Chandrashila. With every step I was absorbed in the grandeur of the mountains. Me and my friend were the first ones on the summit. Upon reaching there, there were only mountains around us. This sight was so moving, I was in tears. It was my first summit and the fact that I made it was another thing. But when you know and experience the mountains, it's more of a drug (in a decent way), you want more of the mountains. It was the best moment of my life." – Vedant Akerkar
This just the beginning…
We have so many more beautiful stories shared by trekkers. We'll be sharing all of them in this space. Stay tuned to our website!
If you'd like to contribute your photo and story, send them to tws@indiahikes.com
Use the subject line: My Happiest Trek Moment
We'll be featuring the best of entries that we get.
Meanwhile, stay home, stay safe. While we're locked down physically, let's allow our minds to wander and feel the joys of trekking.  🙂
Sign up for our much loved Weekly Mailer
We have terrific trekking tips, trek updates and trek talks to look forward to