My Happiest Trek Moment – Personal Stories of Gratitude, Transformatio...
Share this story
What is the My Happiest Trek Moment campaign?
Frankly, we're tired of all the negative news around us. You must be too.
We are cooped up at home, not meeting people dear to us. All we get is bad news about Coronavirus spreading its devilish arms. Almost any conversation becomes about Coronavirus. It's become quite frustrating.
So we have created a space that takes us as far away from Coronavirus as possible — to the trekking world where we all yearn to be.
As a trekker, we're sure you relive moments from your trek every now and then — it could be that euphoric moment when you finally reached the summit! It could be that moment you were moved to tears by a beautiful sunrise. It could be the reflective time you spent by yourself at a campsite.
You're welcome to share your stories! We'd be happy to feature them! Find all the steps to send it here.
With no further ado, here are some fantastic stories that trekkers sent to us! 🙂
Btw, make sure you share these stories further, to help more people beat the lockdown blues!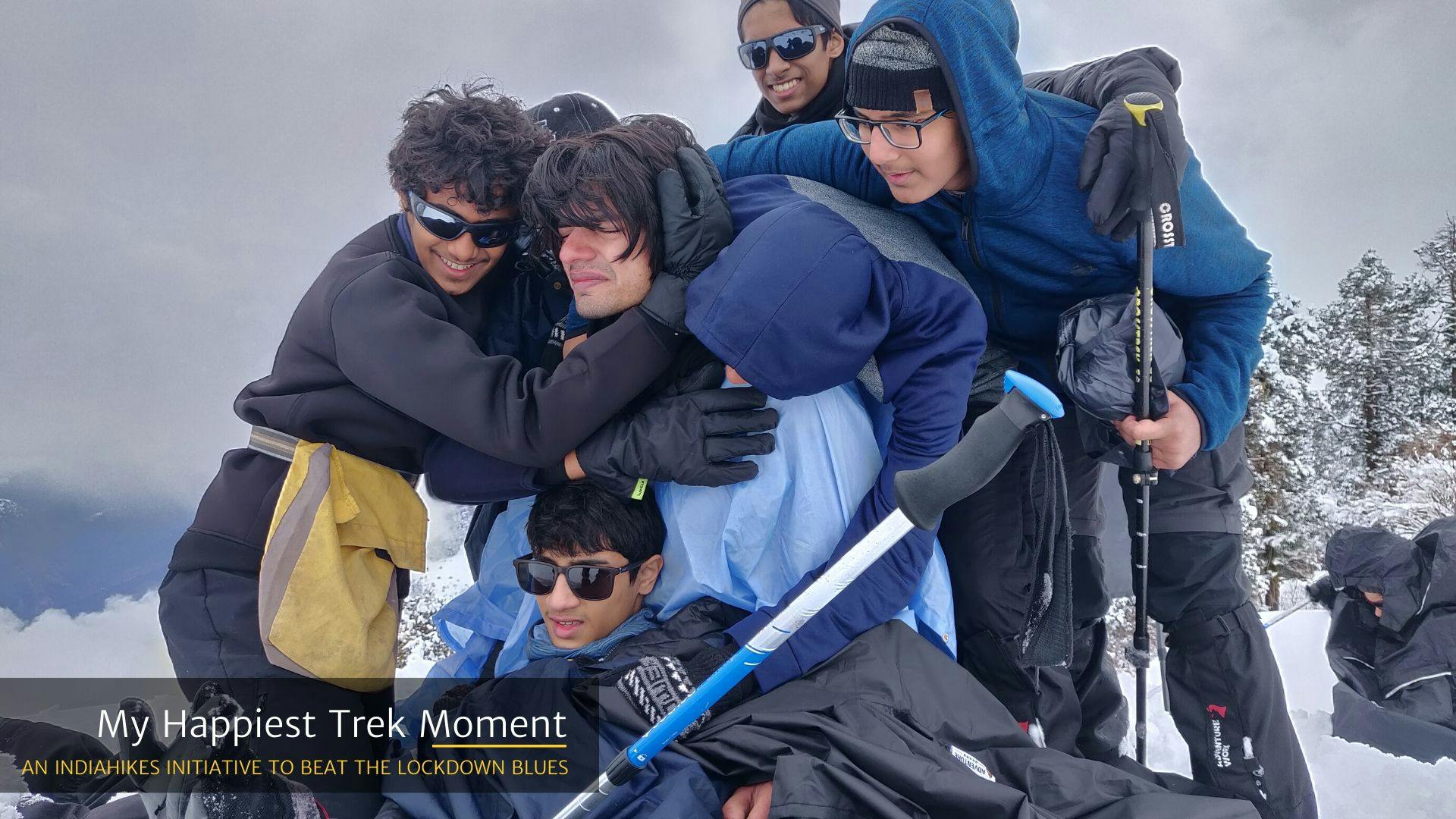 | A story of gratitude and transformation for this teacher
"I am generally very emotional when in the mountains, and have shed tears for various reasons, mostly due to views, or self realisation and peace. During Kedartal it was due to the sense of achievement. All the reasons meeting at gratitude.
During Dayara Bugyal, for the first time the tears were not for me, but for the group. For what they had achieved in tough circumstances. I expected an easy trail, but the weather gods nade it extremely tough, and the perseverence of the kids, was commendable. I broke down thinking about their strength and commitment, their love towards me. It was still gratitude, but unlike the previous gratitudes which was invariably all for myself, this was for them, the students.
Speacial gratitude to Nitesh for capturing the moment. Never saw him clicking the photo, and was so surprised and happy to see it. Undiluted, pure emotions." – Karan Shah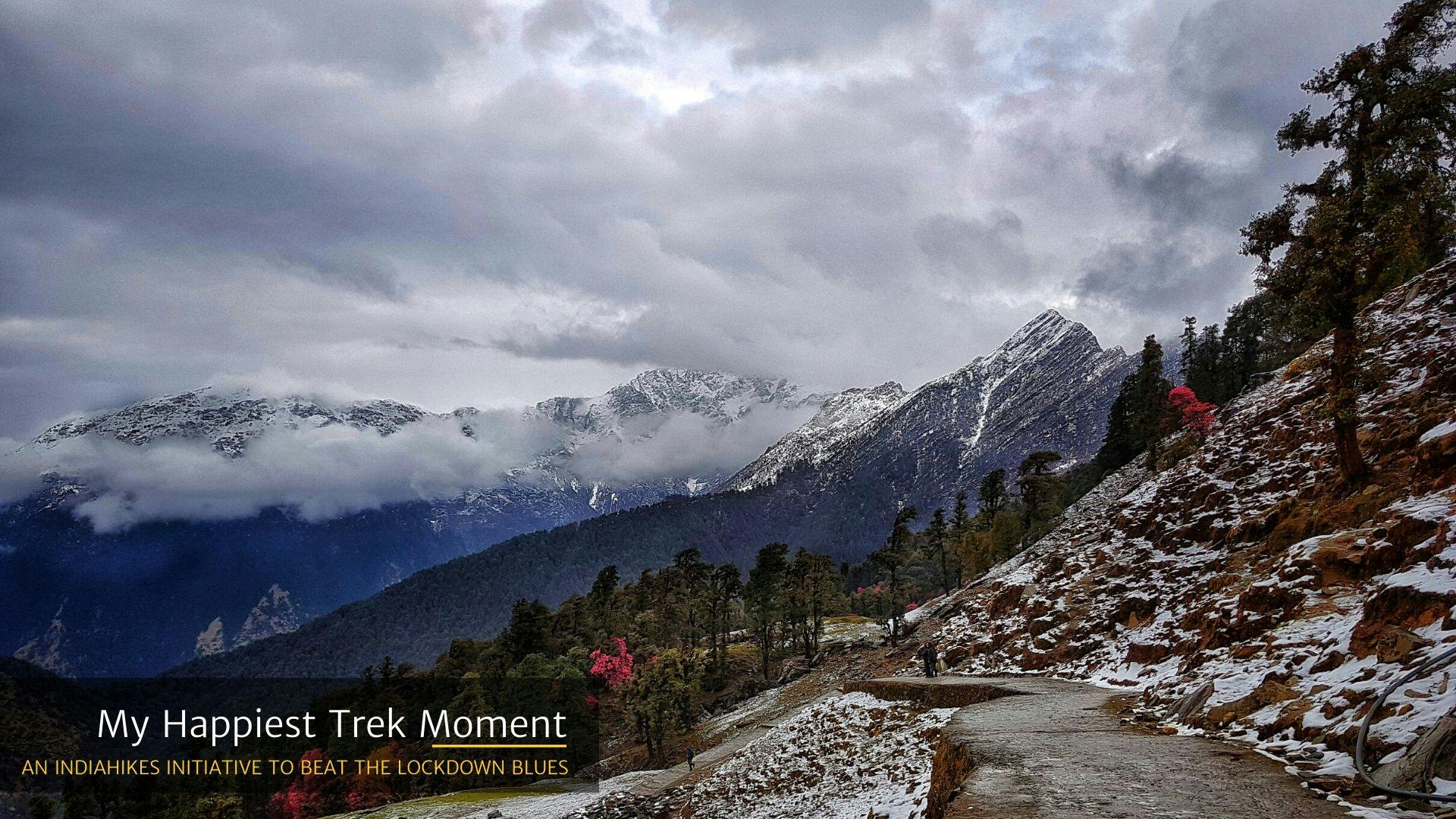 | Finding a long-lost loved one in the mountains
"This was 18th April, 2019. The night before, we had all slept apprehensively. It had rained for the whole night, so everyone was worried if we'd be able to reach the summit or not. But the next day was no less than a view of heaven. The weather was nothing short of perfect and the view was something i had only imagined in dreams. 
I actually remember this scene very well, because it wasn't just a moment of happiness for me but also of revelation. After we reached the summit and were descending down, I saw a fellow trekker crying. I was a little taken aback because I thought everyone was pretty elated to have completed the trek successfully. When i asked if she was okay, she made me sit on a big boulder and sat along with me. She began with tears by saying "I'm sorry i couldn't hold it any longer, I think I should share this with you".  She told me how she had lost someone close to her several years ago. After which she quietly slipped into depression. She faced social isolation, discrimination and suppression. In search of peace, she wandered from one pilgrimage to another, from one trek to another. But for years, she couldn't find peace. She would often sleepwalk and talk in her dreams.
One day she had a dream, wherein she says her lost loved one sitting on one of the rhododendron/ Himalayan fir tree, saying he was a hungry and wanted food. The next day she frantically searched the internet for any place that vaguely resembled the one in her dreams. That's when she arrived at Chopta. She carried a huge amount of food with her all the way up to the Tungnath temple, where she served it to everyone at the temple. She remembers hallucinating and seeing her long lost loved one for the last time there, sitting on the tree and smiling. She got overwhelmed and fainted. She had finally found peace. Since then she had done the Deoriatal Chandrashila trek several times almost every year.
I couldn't hold back my tears after i heard this. I immediately developed a close bond with this fellow trekker and to this place. Some places and some moments are magic. Sometimes, you see the past, the present, and the future in one moment. This was such a moment for me. I felt it all. Incidentally, it was my birthday too. Our team cheered up when I revealed it at the summit. 
I found amazing friends on this trek. In fact, I've been on more trips with them. The above mentioned fellow trekker is doing great now. She would probably never come out of the closet. But I hope she reads this. I hope she knows we'll be close to her. I hope we find happiness in loving each other and being there for each other. " – Vivek Saini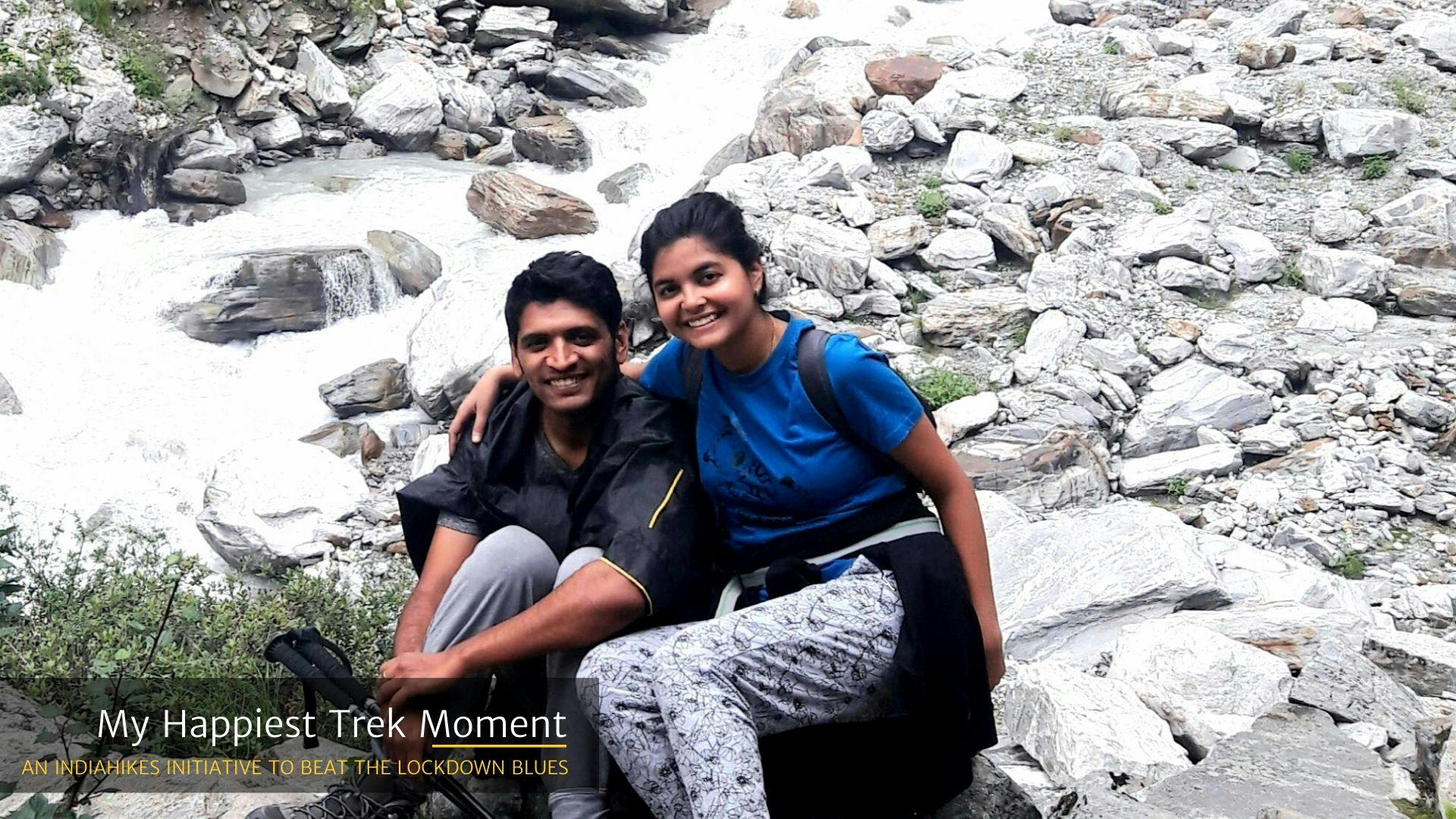 | Making childhood dreams come true
"The first time I got to know about the Valley of Flowers was through my father."One is allowed to enter that place only on foot", he had said. I was in the 7th grade back then. I imagined a picturesque, colorful, secluded valley and decided that I would be there one day.
Cut to 2019. I was happily married to the love of my life and occupied with first world problems of my career in the corporate world.  One evening, when I was complaining to my hubby about the perils of living in this "over-connected" world, he declared that it was high time we went "off-radar". He booked for the Valley of Flowers Trek with Indiahikes. And after weeks of prepping our bodies for the trek, off we went.
The moment we reached our base camp at Ghangria, there was no network on either of our cellphones. I became fidgety and anxious about missing out on office-emails. My mind was ridden with thoughts about my workplace even when we set out for our trek the next day morning.
A few kilometers into our trek, we were met with this breathtaking view of a mighty waterfall. I remember being left astounded by the vista. After a long time, I was one with the moment. A fellow-trekker offered to click the two of us. As we smiled back at the camera with the thundering sound of the water falling behind us, all worries of yesterday and tomorrow left me. I felt palpably alive. Thereon, it was just me, my hubby, my trek-mates, some casual banter and the soft sound of our heartbeats as we trudged along the route I had fancied taking right from my school days." – Somya Barpanda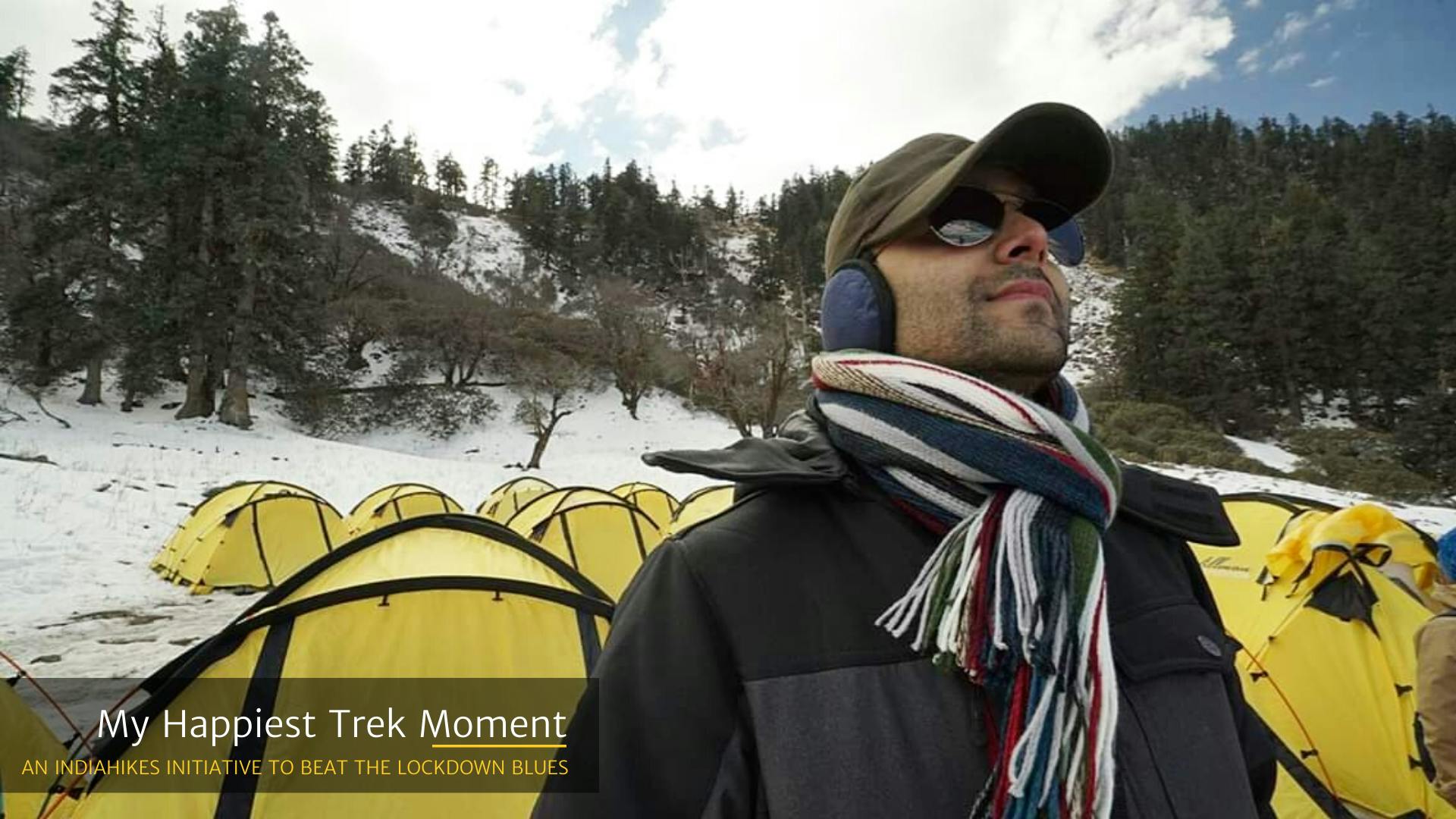 | 30 years after he bid goodbye, I found my father in the mountains
"I was 5 years old when the Universe took my father away in a car crash on the highway. Our world was turned topsy-turvy in the blink of an eye. My mom, a homemaker back then was forced to take up a clerical job in a bank and work full time to make ends meet. I have always wanted to convey this to my dad but did not know-how.
On the Kuari Pass Trek with IH, we were at Khullara campsite when I started feeling uneasy at around 3 am in my tent. I stepped out in fresh snow and stood alone in the cold, silent night. The majestic Himalayas before my eyes and a million stars around made me feel as if I was the center of the Universe.
Suddenly, I felt something very unusual. A strong presence of someone in the air. I believe it was my father. He wanted to talk to me. I was overwhelmed and started crying. I thought to myself – this is the moment I had waited for 30 years!
From the deepest depths of my heart, I called out to my dad. I knew he was listening. I assured him that mom had taken very good care of his kids and raised us into kind, respectable human beings. I thought of my grandmas and thanked them for being there for my mom in her difficult times. I thanked the Universe and told it how grateful and content I am to have had love and happiness in my life.
This single most defining moment of my life, high up in the mighty Himalayas, gave a new meaning to the word 'Happiness' for me." – Ashish Thite
| Learning from the mountains, and yearning for them
"We had descended down from the Hampta Pass summit, and there was this beautiful campsite-Shea Goru. For me, out of all the 5 campsites, this is the most scenic campsite.
The next morning, after some warm-up we started moving down to the next campsite. As I waited for other trekkers to complete their river crossing, I sat there on the grass just looking at the mountains. It was so calm and peaceful. There was this sudden sense of achievement within me. I had finally completed my first ever Himalayan Trek. I had planned this trek for so long and finally, I had done it. I thought about all the things we had done for the past 5 days, like trekking in snow, having the best pasta of my life some 13000ft above, making new friends, river crossing in such low temperatures, late-night discussions ranging from politics to football and so much more. I was so happy. But it was a bittersweet moment for me.
The trek was almost over and soon I had to go back to my real life. When it's going to almost end, that's when we realize how much we are going to miss it. I really wished that moment never ended.
It's been 2 years since, and I cannot wait to go back to the Himalayas to complete another trek and to create another special moment."– Siddesh Kulkarni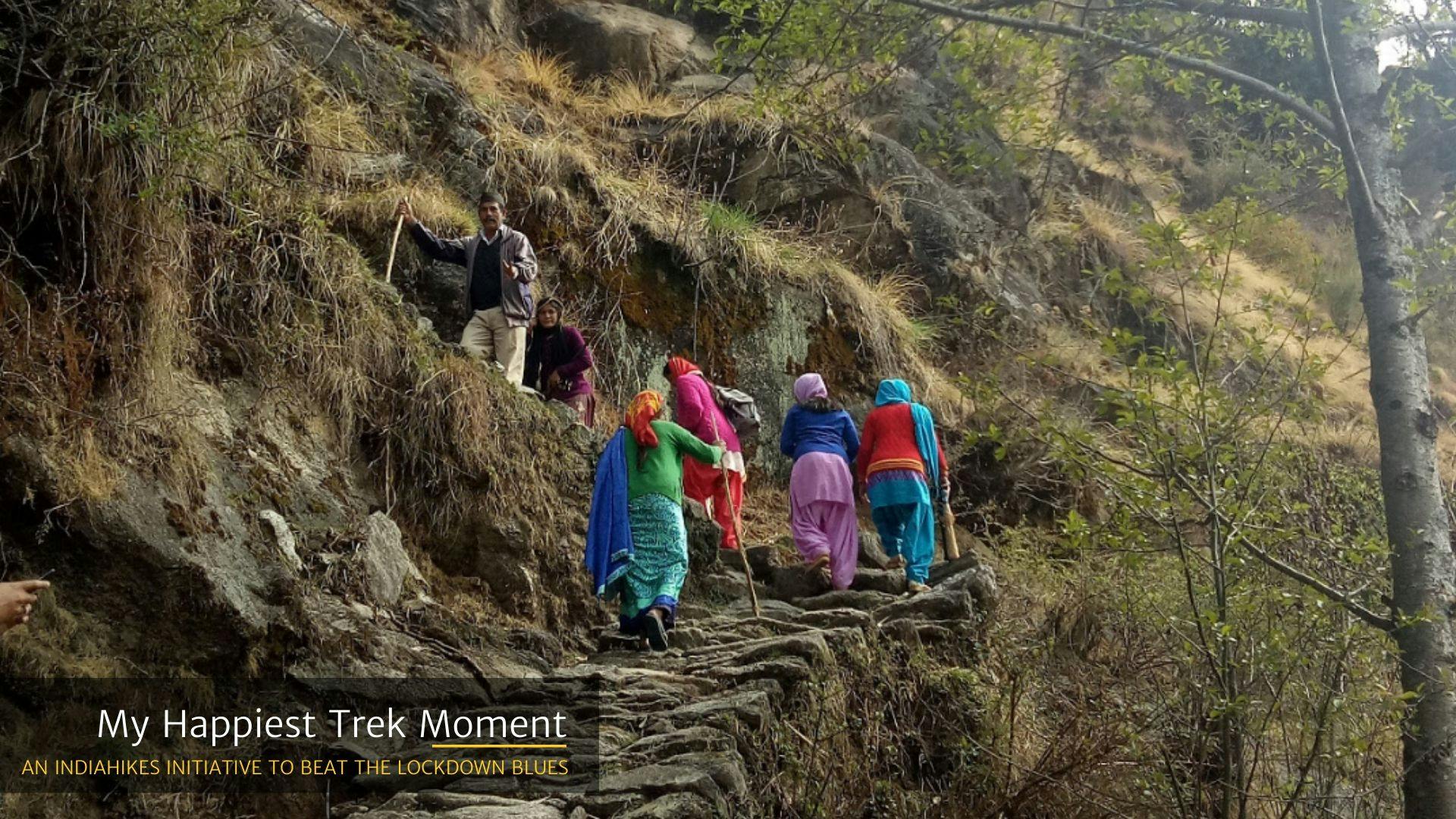 | A lesson in desire and gratitude
"We had just started our trek from the picturesque village of Sari near Ukhimat in Uttarakhand, on our way to Deorital, our first camping site. The clouds had just parted to reveal the snow-capped peaks. I halted to absorb in the beauty of the sight when a bunch of excited villagers, mostly women, crossed me. 
They smiled on seeing me and we struck a conversation. And this is their story. Every day throughout the year they work hard in the fields, tend to their cattle, and manage the housework. Today was special, for it was their annual holiday of the year. To celebrate it, they had gathered their friends for a day hike to Deorital. They carried with them a sack of rice and some locally-grown veggies and some utensils. They planned to collect some firewood on the way, light a fire and cook.
Generously they offered me to join them, and when I hesitated for I was in a large group, they opened a small bag and offered me 'Arsa', a famous Uttarakhandi sweet.
Gratified, as I munched on the sweet, I  realized that it was overflowing with love and taste. 
That day taught me a lesson. We possess so much, yet we desire for more. We put in less than a quarter of the effort they do, yet we complain about being overworked.  Here, were a group of happy women, with a sack of rice and some firewood, so jubilant on getting to enjoy a simple meal together." – Ganga Shinghal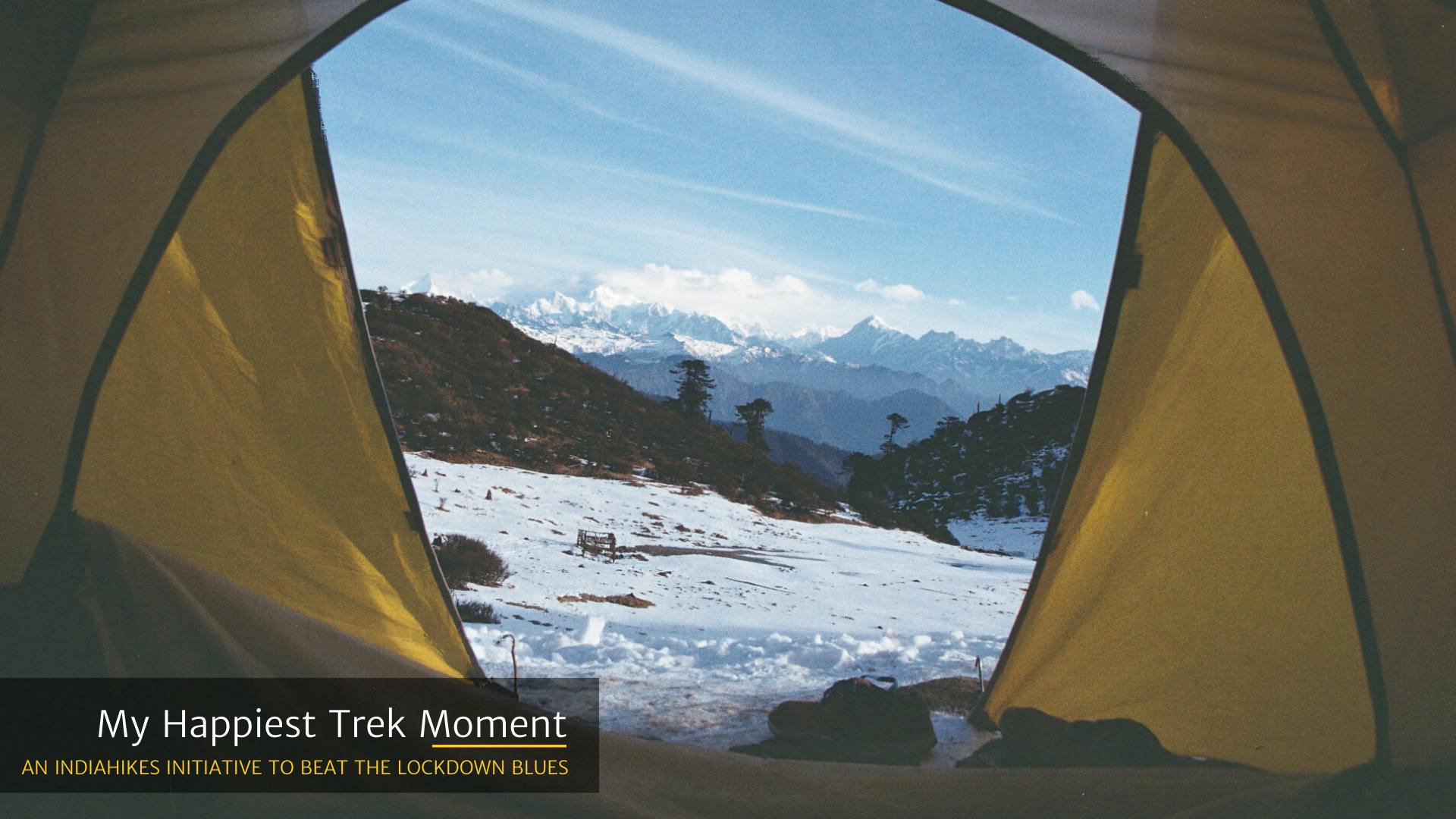 | What next? Embracing life's uncertainty with strength and resilience
"I woke up to this view on my twenty-fourth birthday. 
I had embarked on the Sandakphu trek with one of my good friends, Augustin. We were both experiencing a period of transition after graduating from our Master's program and were trying to figure out what we wanted to do, essentially for the rest of our lives. I hoped that I might experience a cinematic moment of inspiration amidst the backdrop of the formidable Kanchenjunga mountains. 
Alas, there was no sudden epiphany. 
The night before my birthday, as we settled into our campsite, the other trekkers and I gazed at the stars under the night sky. How silly of me to think I needed to establish my life's purpose during this trip instead of enjoying the brilliance of these stars! The next day, I woke up to this view at Sandakphu and realized I climbed to the peak of a mountain. I had pushed the limits of what I thought was possible; my heart and lungs emerged stronger and my mind, more resilient than before.
Unzipping the tent's flap to reveal this view marked my welcome into a new year of uncertainty and possibility." – Anisha P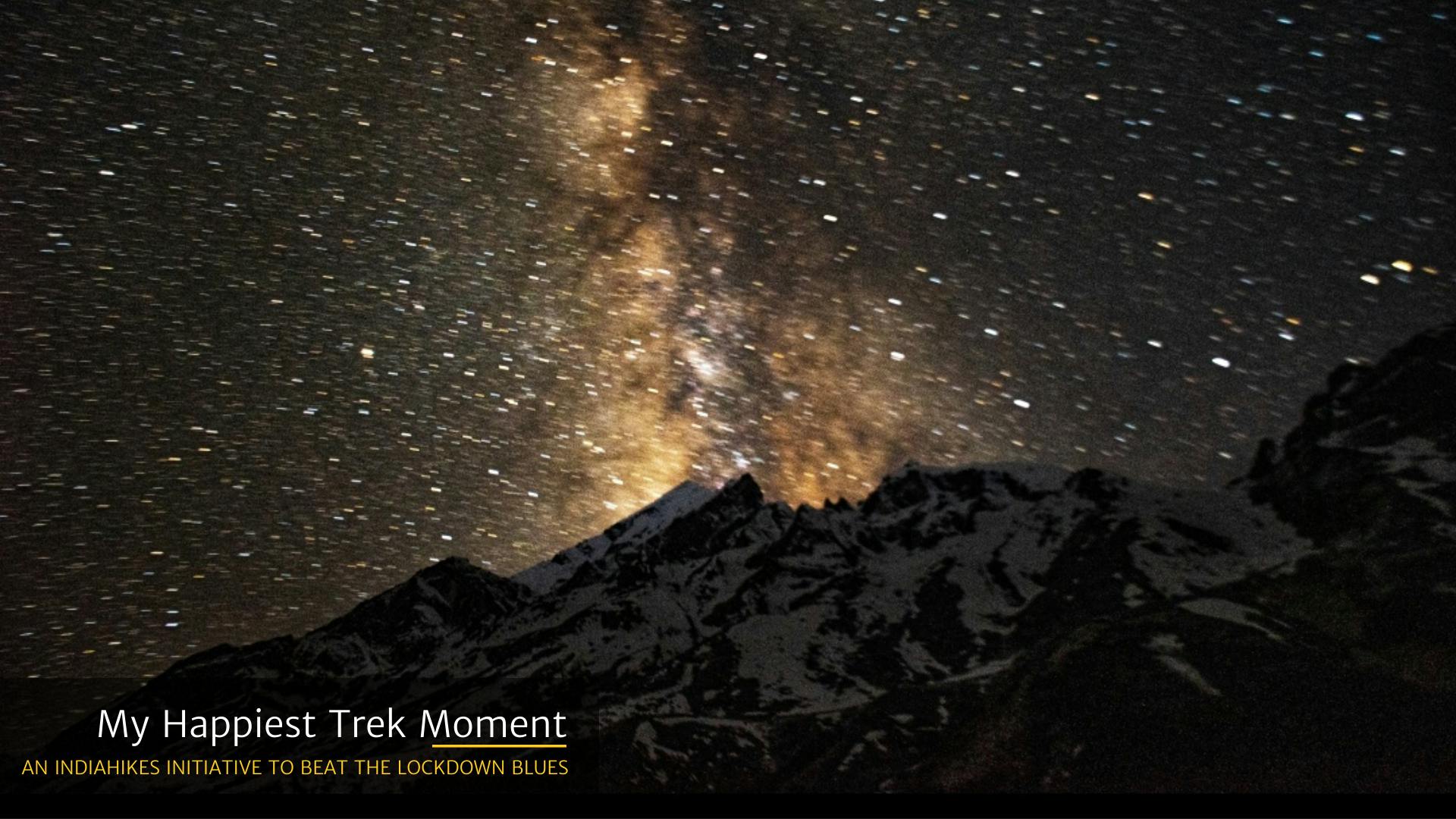 | "A silent hush of happiness" – the night sky
"A long day of trek got us to Bhojabasa, our pit-stop for the night. The fatigue put me deep into my dreams of what awaited me the following day – The sight of the magnificent Mt. Shivling basking in its glory. Early hours in the morning, I was woken up by a nudge by my friend, Guru, figuring his way out of the tent to take a leak. The very next moment, Guru asked me to come out and witness the greatest sight he has ever had.  
My hazy eyes were lit up by the stunning Milky Way Galaxy!  A sight to behold that took me a good ten seconds to cover the entire dome of stars. This sight came right out of the syllabus! The glut of stars  across the night sky reminded me of Richard Feynman's quote – 'I… a universe of atoms, an atom in the universe'. The concurrent feeling of tininess & enormity was so surreal that it filled my heart to the brim. To date, the peppered night sky gives me a rush of happiness that makes it my happiest moment ever!" – Nikhil Inamdar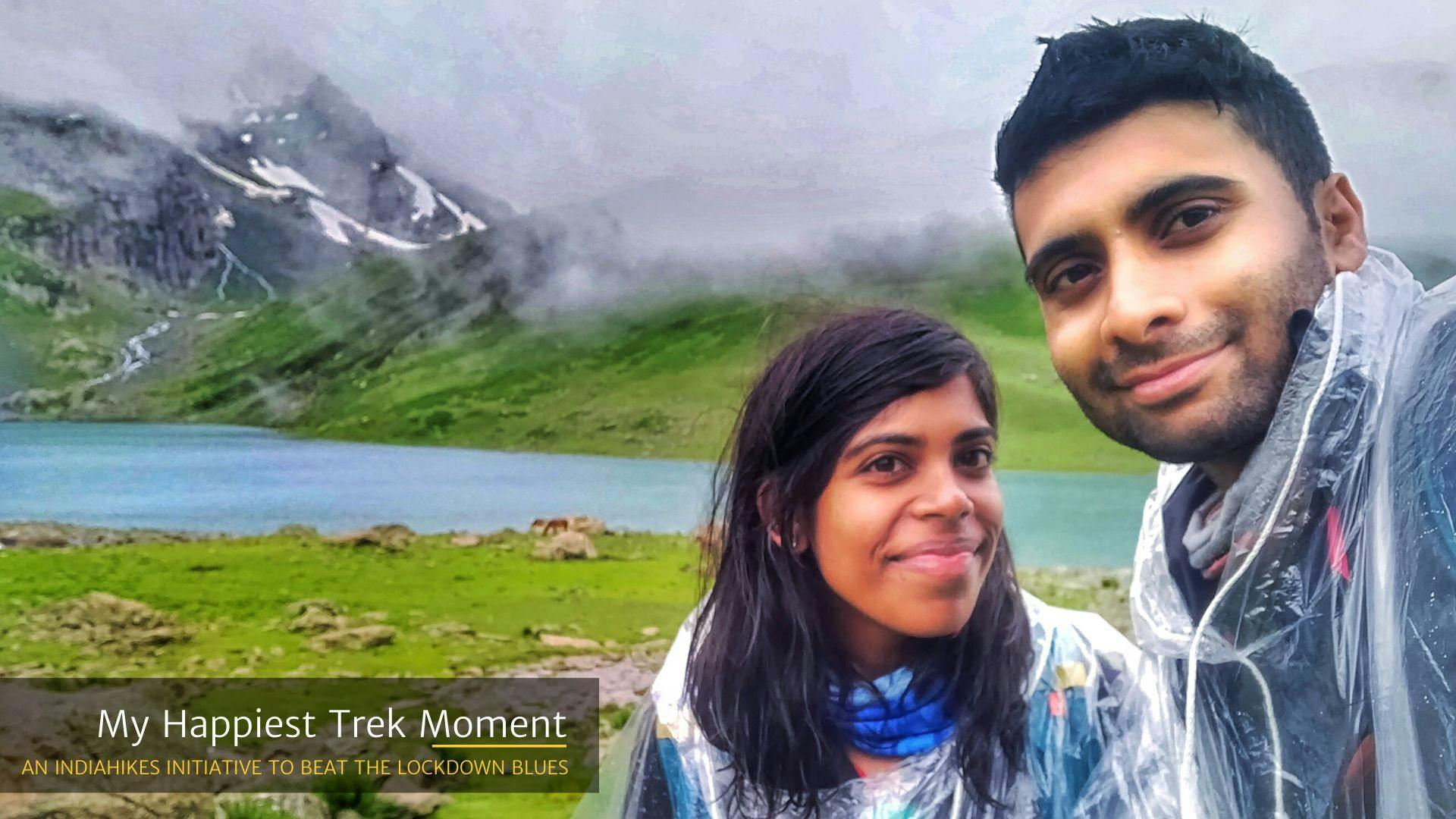 | Those who trek together, stay together 🙂
"We were about to reach our last campsite near the Gangbal lake of the Kashmir Great lakes trek .It had poured like cats and dogs.  We were Sodden and agitated, when suddenly we see the clouds descending down the mountains and forming a layer above the lake .We slowed down imprinting the splendor of the sight to be carried forever.
I had read somewhere 'those who trek together stay together'.
So, on the eve of 31st Dec 2018, we decided to do this trek together. From giving me both the poles while I struggled to cross the high altitude Gadsar pass, to playing atlas while crossing the evergreen vast meadow.
From taking turns to wash utensils to organizing each chore together.From accepting each other's exasperation after a long day of ascent and descent to sappy and corny conversations before calling it a night.
This trek did not only overwhelm me with its beauty, but it also made me realize about love a little more practically.
At that moment as I stood there taking a long look at the Gangbal lake, the mountains, the clouds, and everything magnificent nature have to offer  I was filled with gratitude and was ecstatic to be able to do the most exquisite trek with the person who matters so much to me. " – Tripti Sahu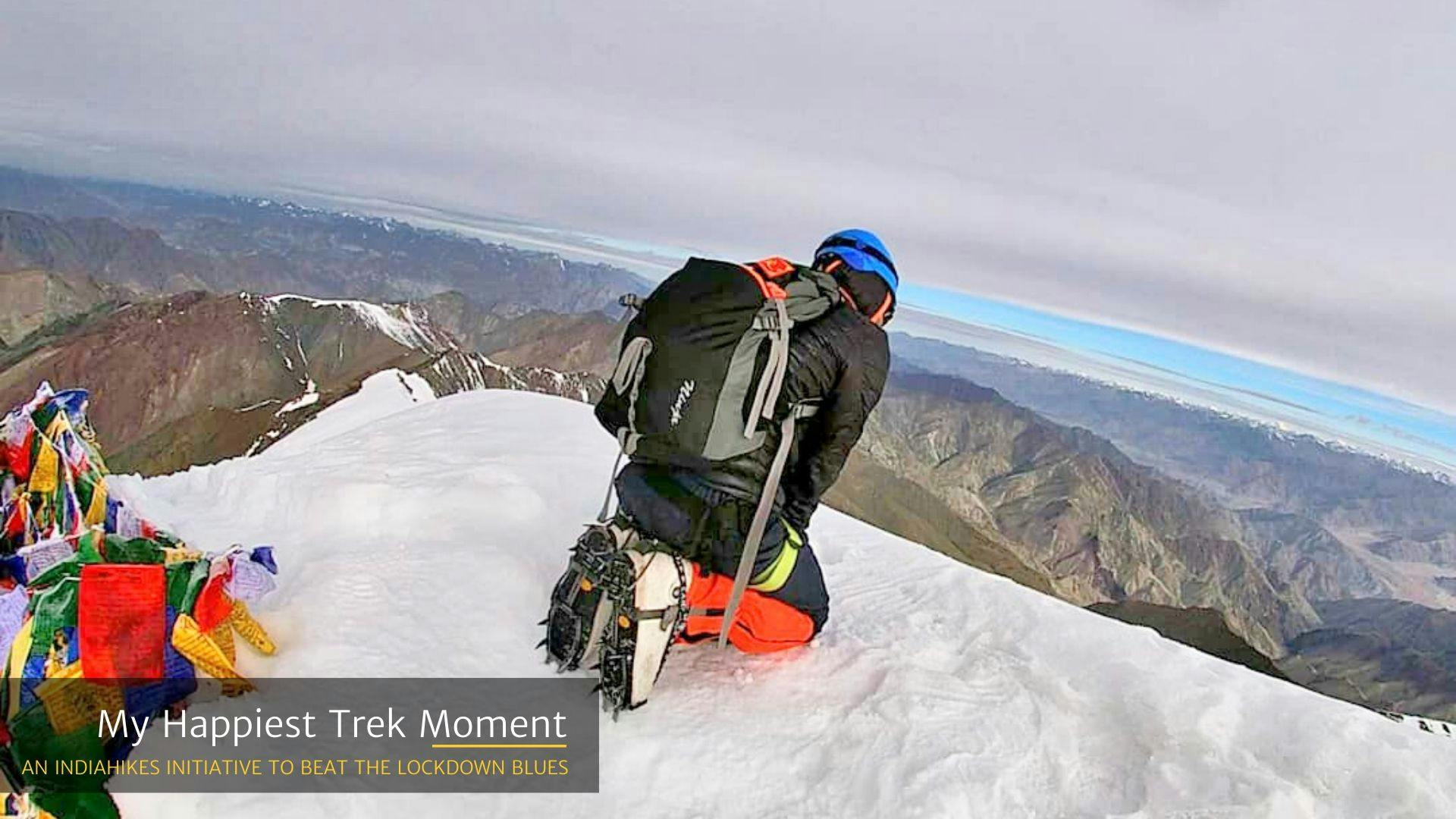 | Finding happiness at the edge of a summit
"I was attempting to summit Stok Kangri in August last year. We started for the summit at around 8 in the night. As the trek to the summit started, the temperature started falling, people started getting sick and turning back. It was very difficult mentally seeing the toughest of the people turning back.. But I focussed on moving on taking one step at a time. As we reach the shoulder it was dawn and the first rays of sun illuminated the sky in the east. The sunrise gave us hope and it was the most spectacular sunrise I've ever seen. Now we were 3 people out of 11 that started for the summit. Out of us, 3 one decided to stay back at the shoulder.
We started summit climb at around 6 in the morning and sometime later I sat down as I was not able to take even a single step further.. I was exhausted and altitude wasn't helping.. My team motivated me and I carried on. I sat two more times telling my team to go on. But they lifted my spirits up every time I sat down. We finally arrived at the summit. A summit that was looking very close from the shoulder took 2 hours to reach. Now came the two of the happiest moments of my life. First, as soon as we reach the summit I sat right at the edge of the summit bowing down to the all almighty. One foot from where I was kneeling down was a steep 90-degree fall. I heard my guide stopping me to go that close. But I was so overwhelmed by the sheer joy that I didn't even realize how close I was to the edge.. Second memory is that I got a phone network up above 20000 feet and I spoke to my parents and told them I summited. I was crying continuously as I was speaking with them. I've never been happier. 
They say mountains teach you every time you go up there. I learned the following things:
1.When you are down and think you can't carry on. You're wrong every time.
– Sumit Pamnani
Stay tuned for more stories…
We have so many more beautiful stories shared by trekkers. We'll be sharing all of them in this space. Stay tuned to our website!
If you'd like to contribute your photo and story, send them to tws@indiahikes.com
Use the subject line: My Happiest Trek Moment
We'll be featuring the best of entries that we get.
Meanwhile, stay home, stay safe. While we're locked down physically, let's allow our minds to wander and feel the joys of trekking. You can read more happy stories here.
Sign up for our much loved Weekly Mailer
We have terrific trekking tips, trek updates and trek talks to look forward to