Mountain Views On The Nag Tibba Trek
Share this story
Nag Tibba is situated on the foothills of Tehri. This place is on a saddle and the sun rise view gives an enrapturing sight of the great Himalayan range.
Nag Tibba provides the best views of the glittering snow-capped peaks of Garhwal and Kumaon. In that sense Nag Tibba makes for a perfect introductory trek for those wanting to see the magnificent Himalayan Peaks over a short time.
Doing this trek is a great way to appreciate & know more about these mountain ranges where the seeds of Indian mountaineering and trekking were sown back in 1950's. We thought to introduce a few of them to you here.
Nanda Devi & Trishul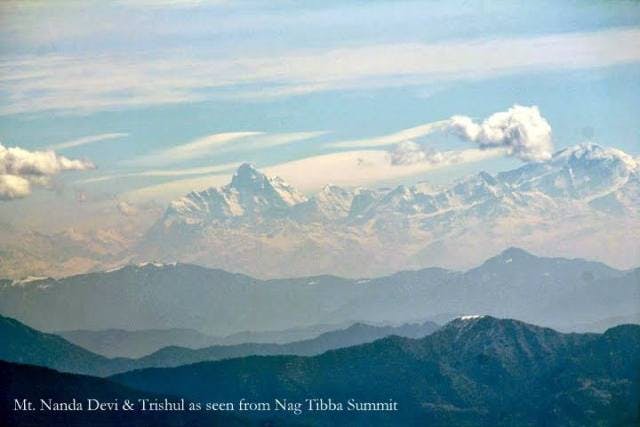 From Nag Tibba summit you can see the mountain ranges from Swaragrohini to Nandadevi. Mt. Nandadevi (25,643 ft) is the most beautiful and eloquent peak in Indian Himalayas. Once the highest mountain in British Empire, it is the second highest peak in India. Nanda Devi attracts lot of emotions among people of all kind. On a clear day, witnessing "The Devi" from the summit of Nag Tibba is a dream come true.
The Gangotri Range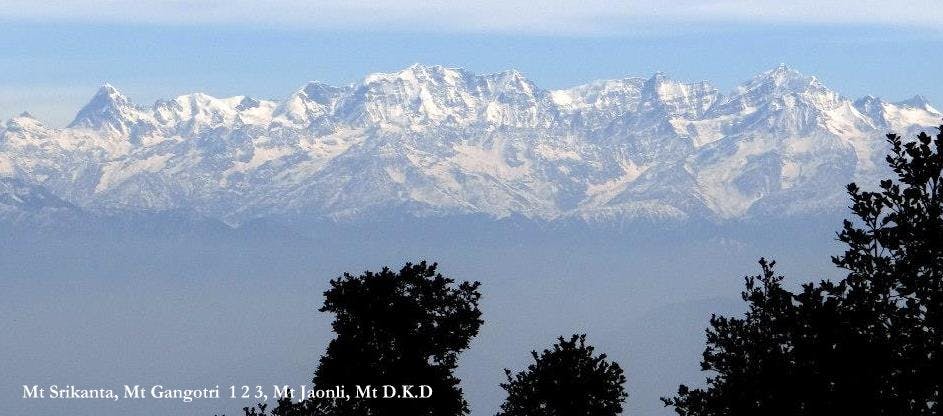 The more closer views from Nag Tibba are the peaks in the range of 20,500 feet altitude. The mountain ranges of Srikanta, Gangtotri, Jaonli and Draupadi ka Danda are frequently climbed by mountaineers. These are the most preferred peaks for learning for students of Nehru Institute of Mountaineering (Uttarkashi).
Kalanag and Bandarpoonch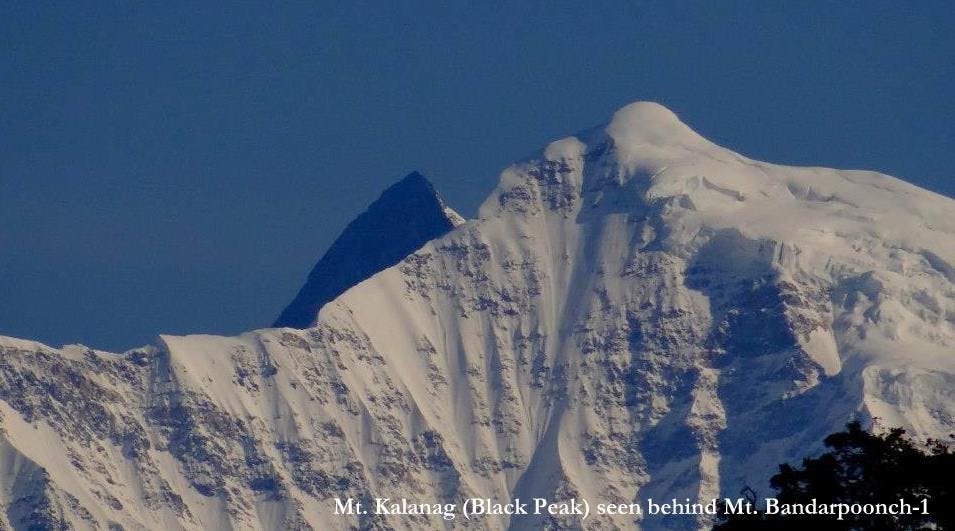 Perhaps the most intriguing peaks one can see from Nag Tibba trek are Bandarpoonch range and Mt. Kalanag. The Twin peaks of Bandarpunch-I (20,721 feet) & Bandarpunch-II (White peak – 20,019 feet) gives an impression of a monkeys tail. It was first climbed in 1950 by a team comprising of legendary Mountaineer & Sherpa Tenzing Norgay. Mt. Kalanag or Black Peak ((20,955 feet) has a near vertical rock face that gives an impression of a black cobra. The fang view of this serpent peak is something one should not miss from the summit of Nag Tibba.
Swaragrohini range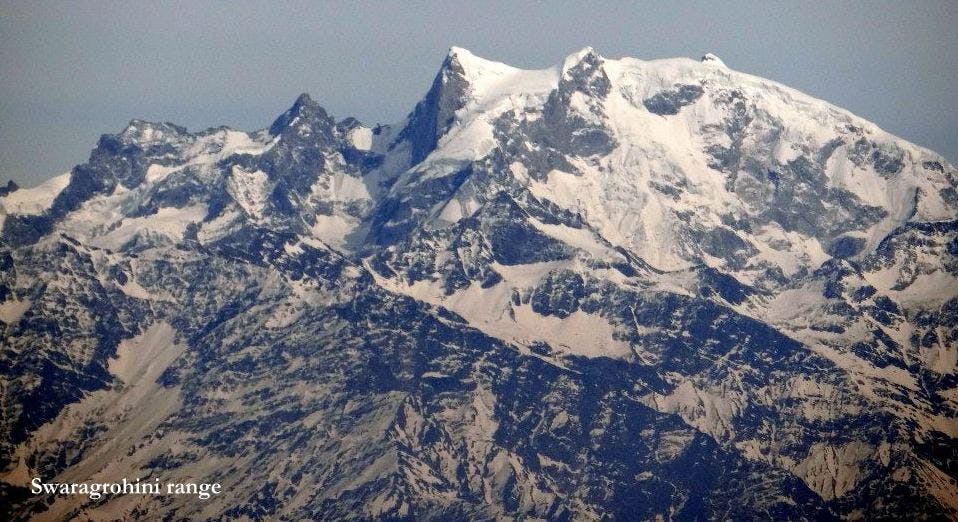 Towards the left of Bandarpoonch are the famous 4 pinnacles of Swaragrohini massifs (3, 2, 1, 4). From Nag Tibba summit you can see Peak no. 3, 2 & 1. As per local folklore, Pandavas, Draupadi & their Dog ascended to heaven through these peaks.
Mt. Srikantha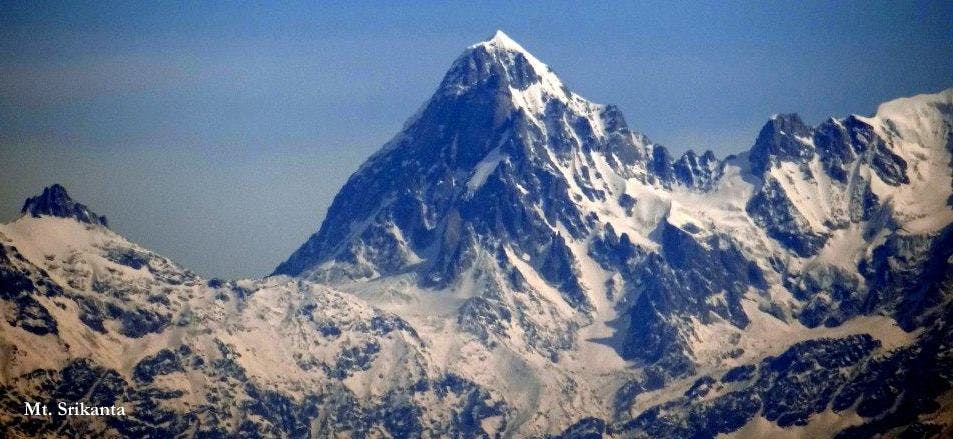 A symmetrical pyramid peak seen between White Peak and Gangotri range is Mt. Srikanta (20,121 feet). Very little is known about this peak. This peak provides technical challenges for mountaineers owing to its remoteness, difficult camping locations, steep ice-wall and narrow summit ridge covered by cornice.
Sign up for our much loved Weekly Mailer
We have terrific trekking tips, trek updates and trek talks to look forward to