Should Trekkers Offload or Not? What Do You Think?
Share this story
Over the past three weeks, our slope teams have been raising an alarm, which is very worrying. I'd like your opinion on it. 
Here's the problem. More and more trekkers are offloading their backpacks, choosing not to carry it on their own. Trekkers as young as 23 and 24, with no health issues, are casually offloading their backpacks. 
This is really bothering us. 
At Indiahikes, we have always discouraged trekkers from offloading their backpacks. Apart from those handful of trekkers who have medical issues with their back or knees, we have always encouraged trekkers to carry their own backpacks.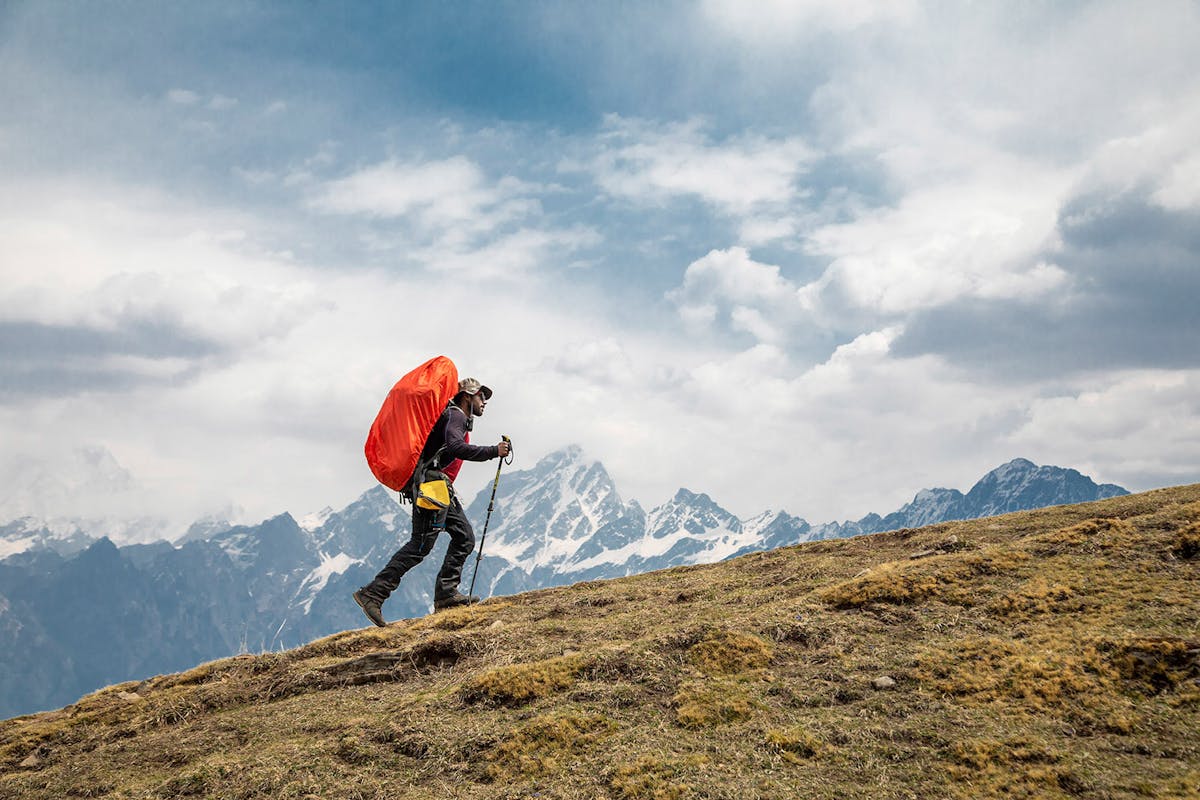 At Indiahikes, we have always encouraged trekkers to carry their own backpack. It celebrates the true spirit of trekking. Picture by Jothiranjan R
There are so many reasons for this. I'm listing a few here.
1. Offloading has an enormous impact on the environment. An impact that can be completely avoided.
"Each mule weighs around 300-350 kilos. It carries around 45 kilos of weight. When such heavy pack animals go on trails, there's a big trample effect on the trails. They have metal hooves that damage the earth. The more the number of mules, the more the trample effect," says Neha Satheesan, the head of our Green Trails team. 
But it isn't just the number of mules. The mules feed on the grasslands as fodder. It increases the number of muleteers on trails as well, it increases mule dung on trails. The entire offloading ecosystem becomes heavier rather than minimal on the environment.
From a larger perspective, if every trekker carried his/her own backpack, there would be at least 3 less mules for every team of trekkers. If this becomes a practice in Indian trekking, it would go a long way in protecting these fragile ecosystems, reducing the overall carbon footprint. 
2. Offloading defeats the spirit of trekking
"One of the beautiful aspects of trekking is that it is an adventure sport that causes the least amount of harm to the environment. You just need two legs and your backpack," says Arjun Majumdar, the founder of Indiahikes. 
When such is the case, it's not pleasant to see perfectly fit and fine trekkers choosing to put their backpacks onto mules or porters. It's not something an independent, minimal trekker would do. It defeats the spirit of trekking.
Which is why we have been encouraging trekkers to trek DIY style. Our R&D teams have also been experimenting extensively to reduce the weight we carry on trails. The mantra is always the lesser, the better.
3. Carrying your own backpack increases your sense of accomplishment
"The sense of confidence you gain when you trek with your 8 kilo backpack is incomparable," says Izzat Yaganagi, the head of Experiential Learning at Indiahikes. "I've seen this confidence lasting for years, and it reflects in other walks of life. It gives you tremendous confidence to trek on your own." 
I'm curious to know what you think.
Can you share your opinion on whether you think offloading is okay or not and why? 
As the largest trekking community in our country, we have the power to effect change. We can change the mindset of trekkers, we can change the way trekking is done in our country. To do that, we would like to take a collective opinion before making changes to the way India treks. 
Drop in your thoughts on this page as a comment below. We'll be waiting to read your thoughts. 
Sign up for our much loved Weekly Mailer
We have terrific trekking tips, trek updates and trek talks to look forward to