The Himalayan Mountain Challenge Is Now Open To All Students!
Share this story
We're excited to announce that we are opening our Himalayan Mountain Challenge (HMC) to all students, with one open batch in November this year!
We have been conducting the HMC programme over the past 8 years with management institutes such as IIM Indore, Bangalore and Lucknow.
Many college students write in asking to be allowed to participate in the Himalayan Mountain Challenge. Since the programme was specially designed for Management Institutions that had signed up with us we had to turn away these requests.
But the requests kept coming in. This got us thinking. Why not open this program out to independent students?
So here we are! An Open HMC Programme this November that you can join whether you are an individual or as a team!
If you're unfamiliar with what the challenge is all about, let me elaborate.
What is The Himalayan Mountain Challenge
The Himalayan Mountain Challenge is a 6-day programme that aims to impart real life management skills from the outdoors. It is an innovative method which integrates experiential learning with trekking in the mountains.
The objective of this programme is to help build important soft skills which are paramount in all life scenarios. The exercises are designed to bring qualities of team work, resource management, cooperation, consultation, creativity and decision-making under demanding situations prevalent in the outdoors.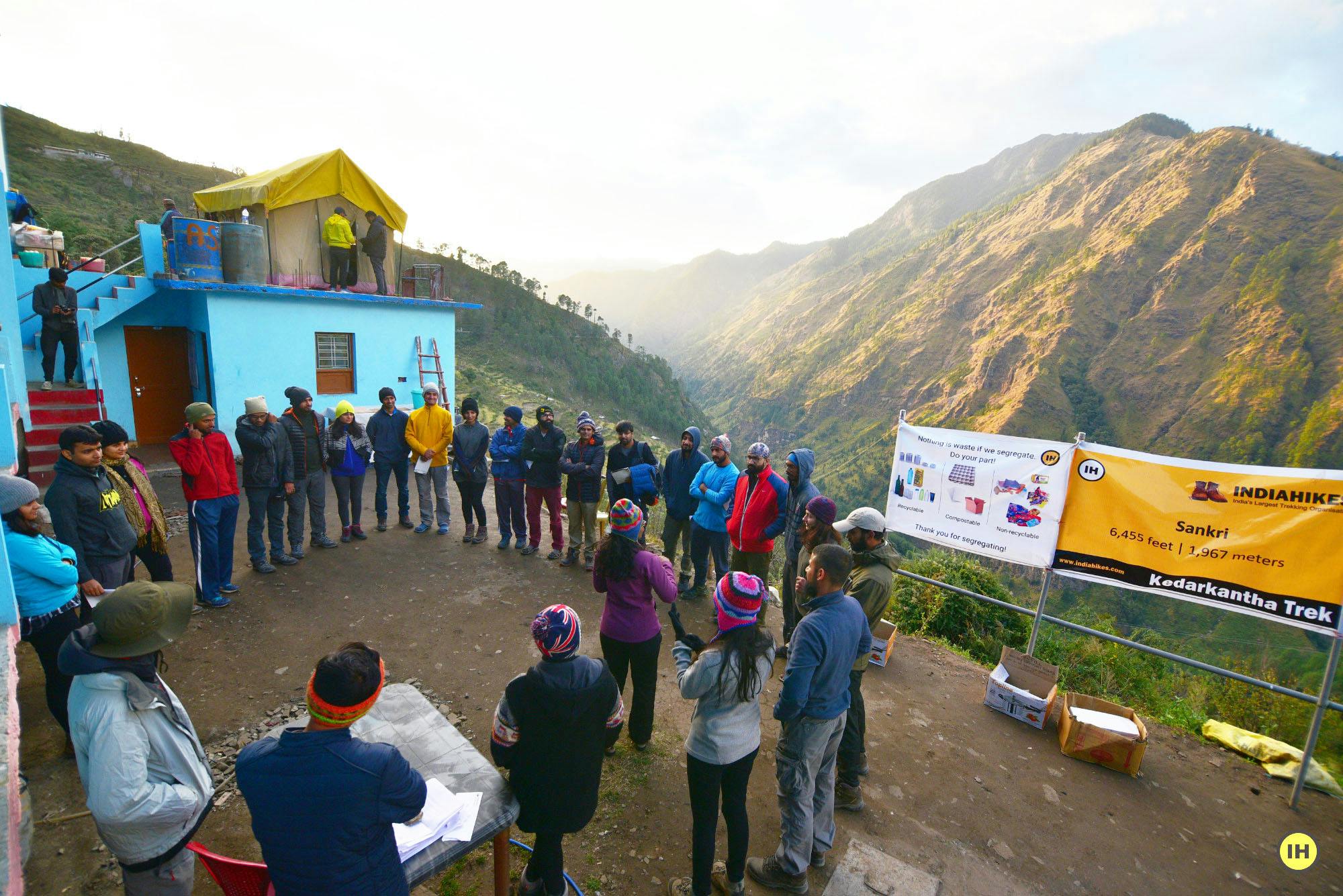 What happens in the challenge
This programme will have 30 participants.
They will be divided into 5 teams of 6 students each. One member from each group is appointed its leader.
The Challenge comprises of a trek, camping-related team activities and a project that all teams will work on. Basically you will run your own trek – with a little assistance from us.
Each team will also be given a Case Study problem. This is a real life problem faced by the Himalayan people. The teams must present a sustainable solution to this problem at the end of the programme.
There will be limited resources to complete the challenge at hand. The teams focus on excelling in their area of responsibility and at the same time cooperating with each other in a real-life setting. This happens through a series of activities that focus on teamwork, communication and individual capacity building.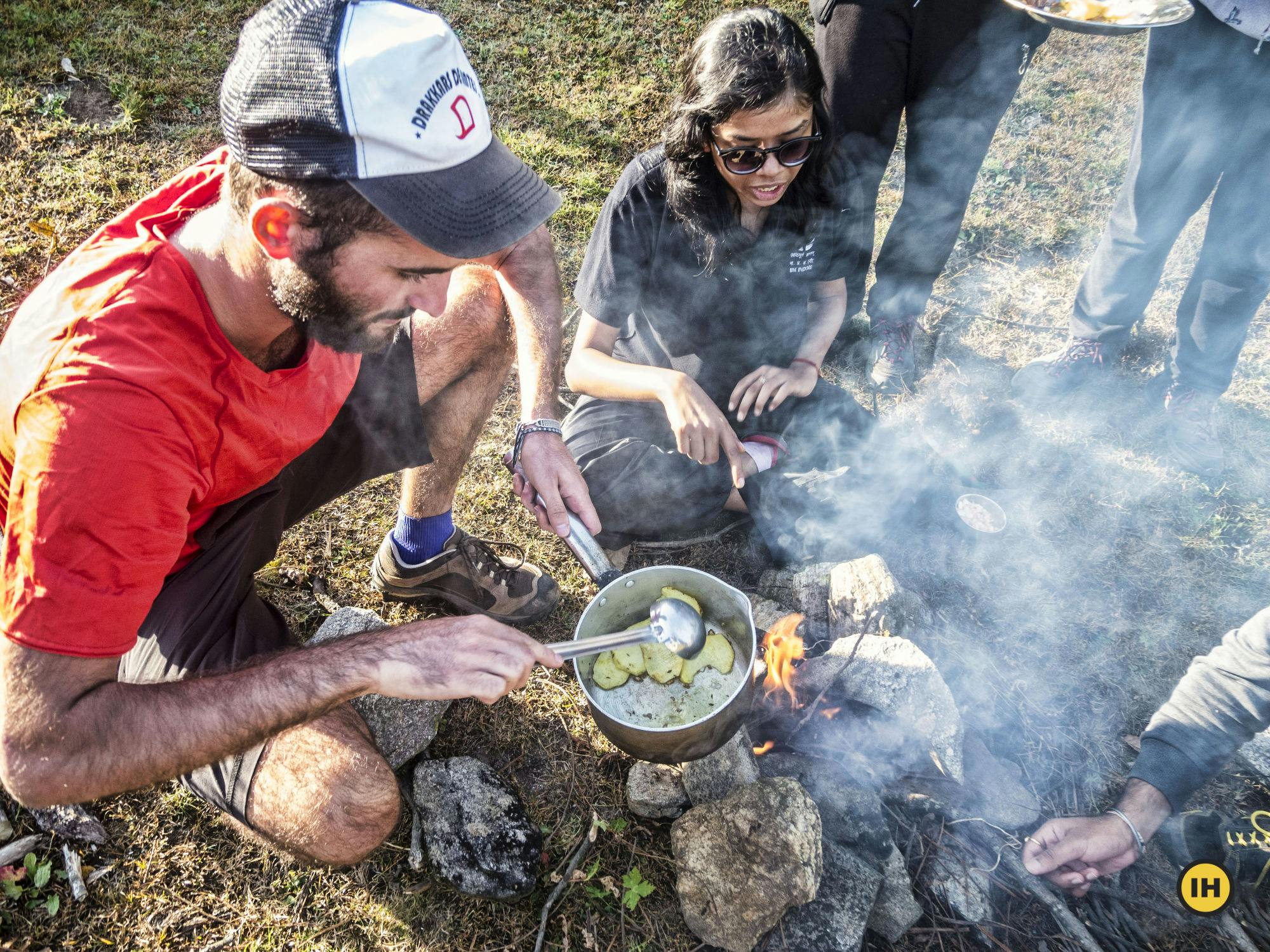 You will be handed the Programme outline at the base. This outline contains all the details of the programme: guidelines to the treks and activities, what to expect out of the programme and the trek itinerary.
Where will the Himalayan Mountain Challenge happen
The Open Himalayan Mountain Challenge Programme will be conducted at Kedarkantha.
Kedarkantha is stunning trek the easternmost fringes of Uttarakhand. It is one of the finest summit climbs for beginners, known for its pretty campsites, pristine forests and a thrilling summit climb!
In short, there could be no better place for a Himalayan Mountain Challenge. Climbing the summit over four days along with the tasks in hand is where the transformation happens.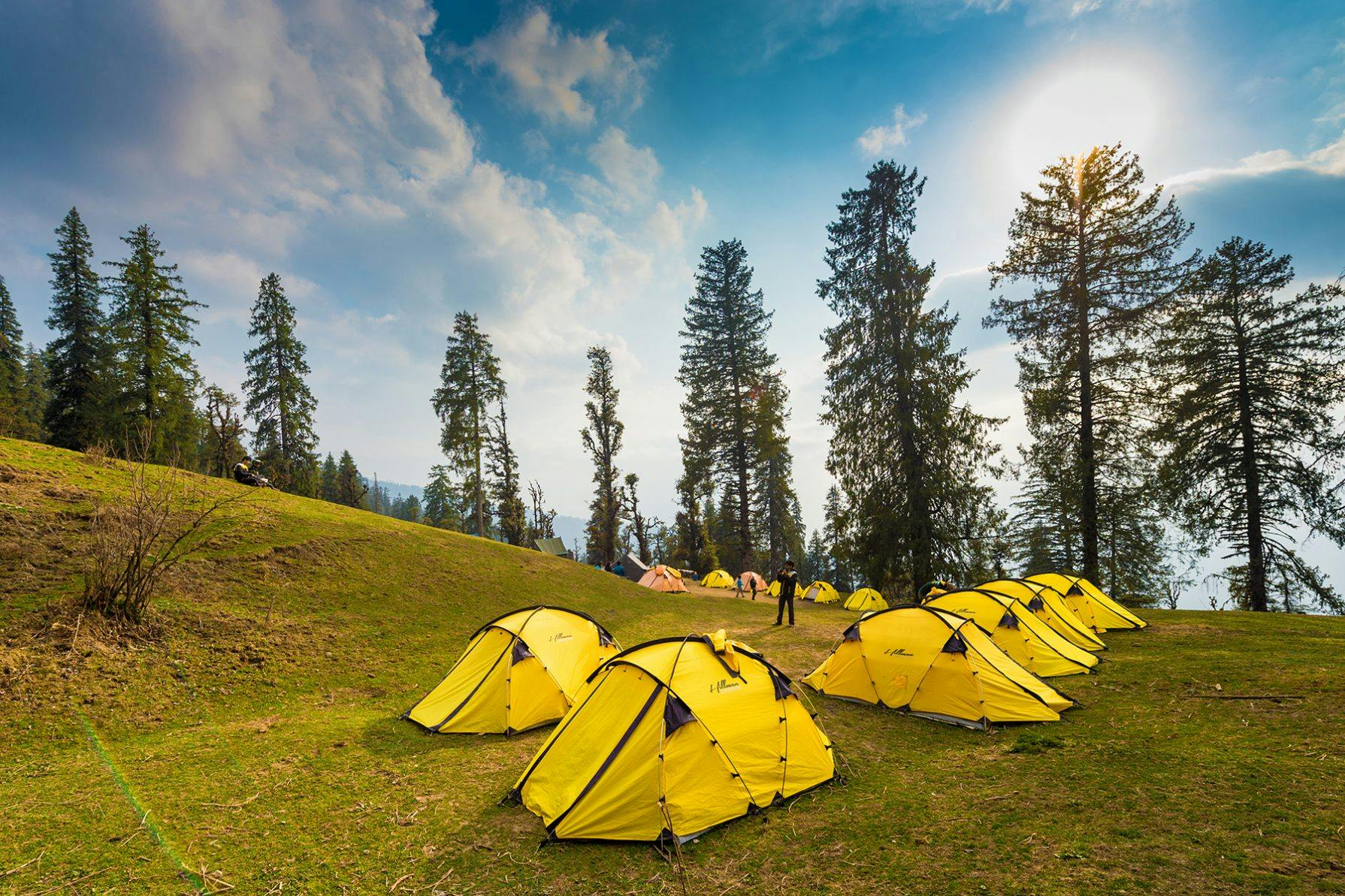 Dates and Eligibility
Here are the basic details for the Himalayan Mountain Challenge this November 2019 .
Date:     November 2 – 7 (6 days)
Eligibility:  
– Must be a student at any Institute
– Must be 18 years and above
– Must have good fitness (You need to send us a screenshot of a 5km run done in 40 mins)
Here's a short programme itinerary
The Kedarkantha trek begins from Kotgaon village, which is 226 km from Dehradun. You have to reach Dehradun on your own, from where we will pick you up on Day 1.
Here's what every day of the challenge will look like.
Day 1: Pick up at Dehradun at 6.30 am and drive to Kotgaon (6,800 ft). This is a 10-11 hour beautiful journey, taking you through Mussoorie, Nowgaon, Purola and Mori before finally bringing you to Kotgaon by 6.30 pm. After room allocation, you will be briefed about the trek. Teams will be split and instructions about the mountain challenge activity will be handed over as printed sheets for you to strategize.
Day 2:  After an hour of Himalayan Mountain Challenge briefing, you start off on the trek to the next camp Khujey (9,400 ft). Trek duration is between 4-5 hours. You're expected to reach camp by 1 pm. Post lunch, you will be given time to plan your upcoming activities and trek. Activities wind up by 6 pm.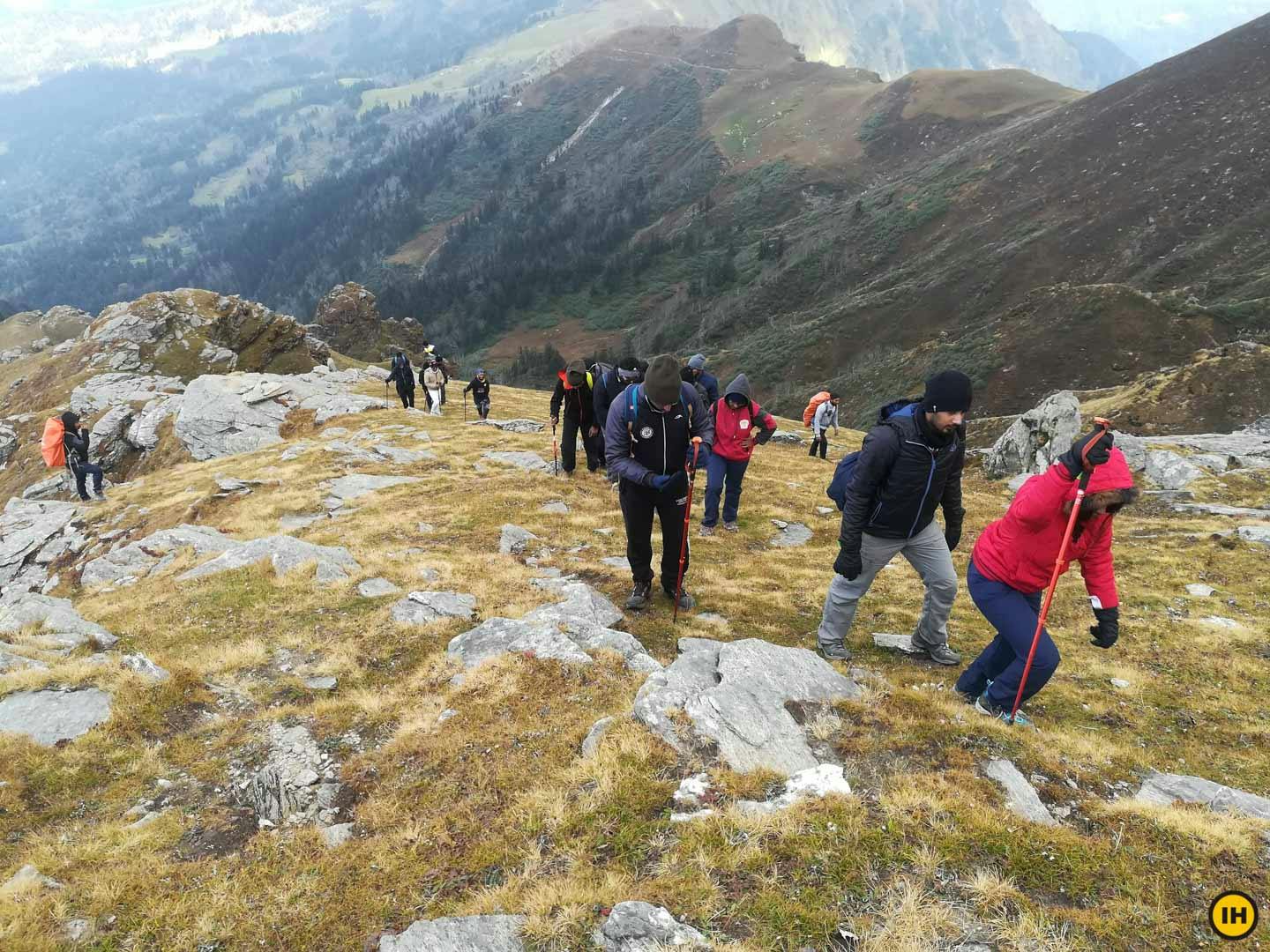 Day 3: You will have to execute your trekking plan beginning at 6 am. You are expected to reach the next camp, Bhuja Dhadi (10,800 ft) by 1.30 pm. After lunch, you begin preparations to cook an elaborate dinner. The day ends by 6 pm.
Day 4: This day is of the thrilling summit climb! So the trek begins at 4.30 am. After reaching Kedarkantha summit (12,500 ft), you will return to base, wind up the campsite and then move down to the Khujey. With this, all trek activities come to an end and the students can relax for the rest of the day.
Day 5:  Return to Kotgaon by 2 pm.  In the evening, your team will present solutions to the Case Study problem given to you beforehand. After discussions, all teams will present songs, poems, skits or any other creative performance to bring out their learnings and the Joys of Trekking. Certificates of participation are presented to all. This concludes the Himalayan Mountain Challenge.
Day 6:  Depart from base camp by 7 am. You will reach Dehradun by 6 pm.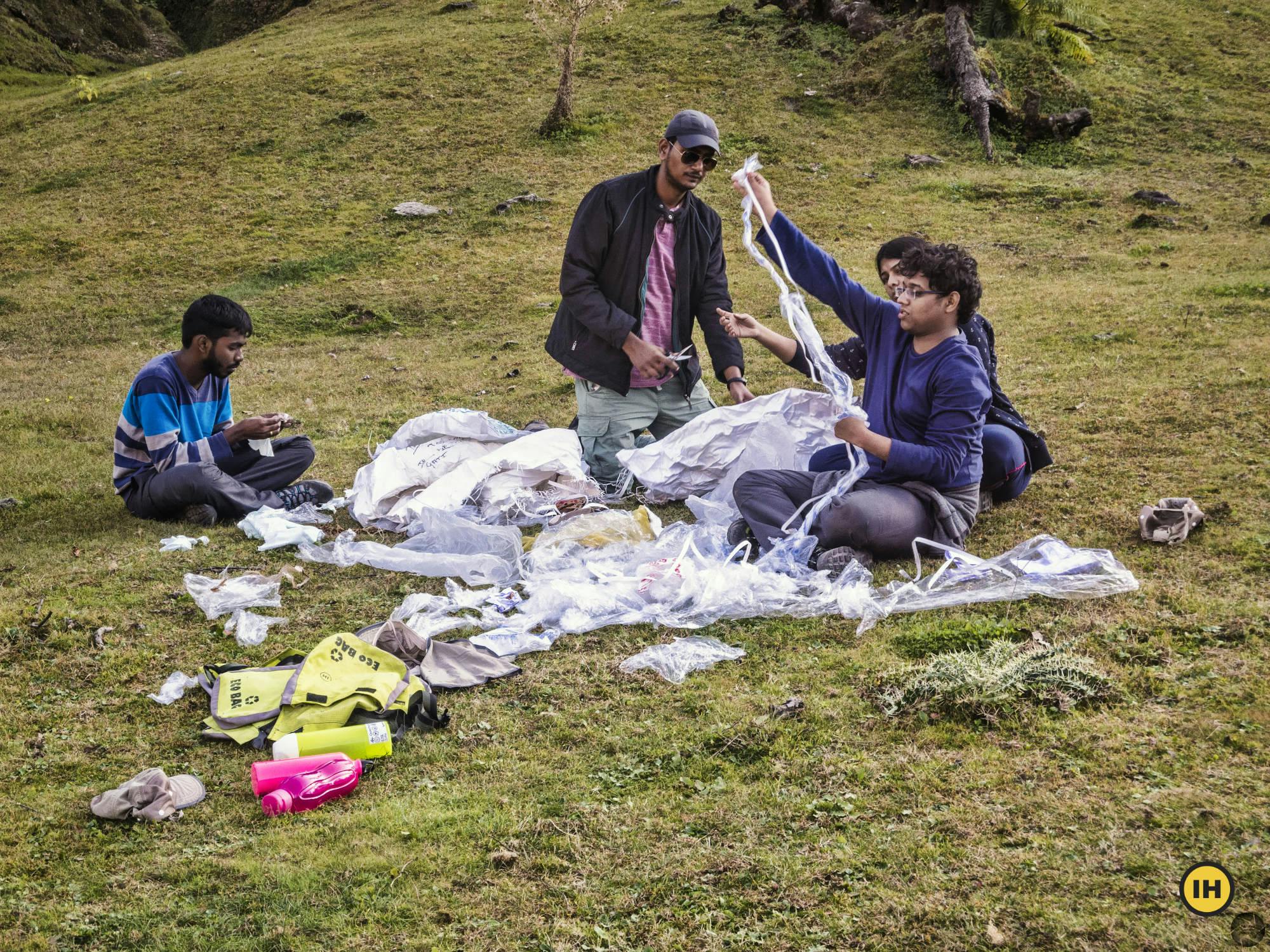 Why you should do the Himalayan Mountain Challenge
The Himalayan Mountain Challenge leaves a lasting impact. The lessons learnt during this short period in the outdoors stays with you throughout your life. Here's what a professor from IIM Bangalore had to say about it.
"I do believe the program changed each and every student's outlook and I'm sure it changed their lives. It took them out of their comfort zones. Literally. We are not talking about a hypothetical situation. The conditions were hard. I believe they will remember this and they will carry it forward when they go into corporate life. And at some point they will say 'I have survived harder things than this', and that's where I think the change will actually come."
Prof. Bringi Dev, IIM Bangalore
If you join the programme, here's what you'll gain:
1) You get to learn teamwork in mountain settings where resources are basic, which require a high order of cooperative skills. You realise that most personal limitations are largely imagined.
2) For some of you, this will be a humbling experience.  For all, it is a great boost in self-confidence. These lessons have direct implications in real life.
3) You learn that to achieve a common goal, as you need to function as a team and not think individually.
4) You discover how to improve your skills so that you can contribute to the joint effort. In doing so, you also learn how to allow your teammates to take over on matters they might be good at.
5) You learn how to strategize, manage resources and make critical decisions.
6) You also get to exercise your creativity, coming up with solutions to real life problems of waste management in the mountains.
All of this learning and more is possible from just a week of trekking in the majestic Himalayas.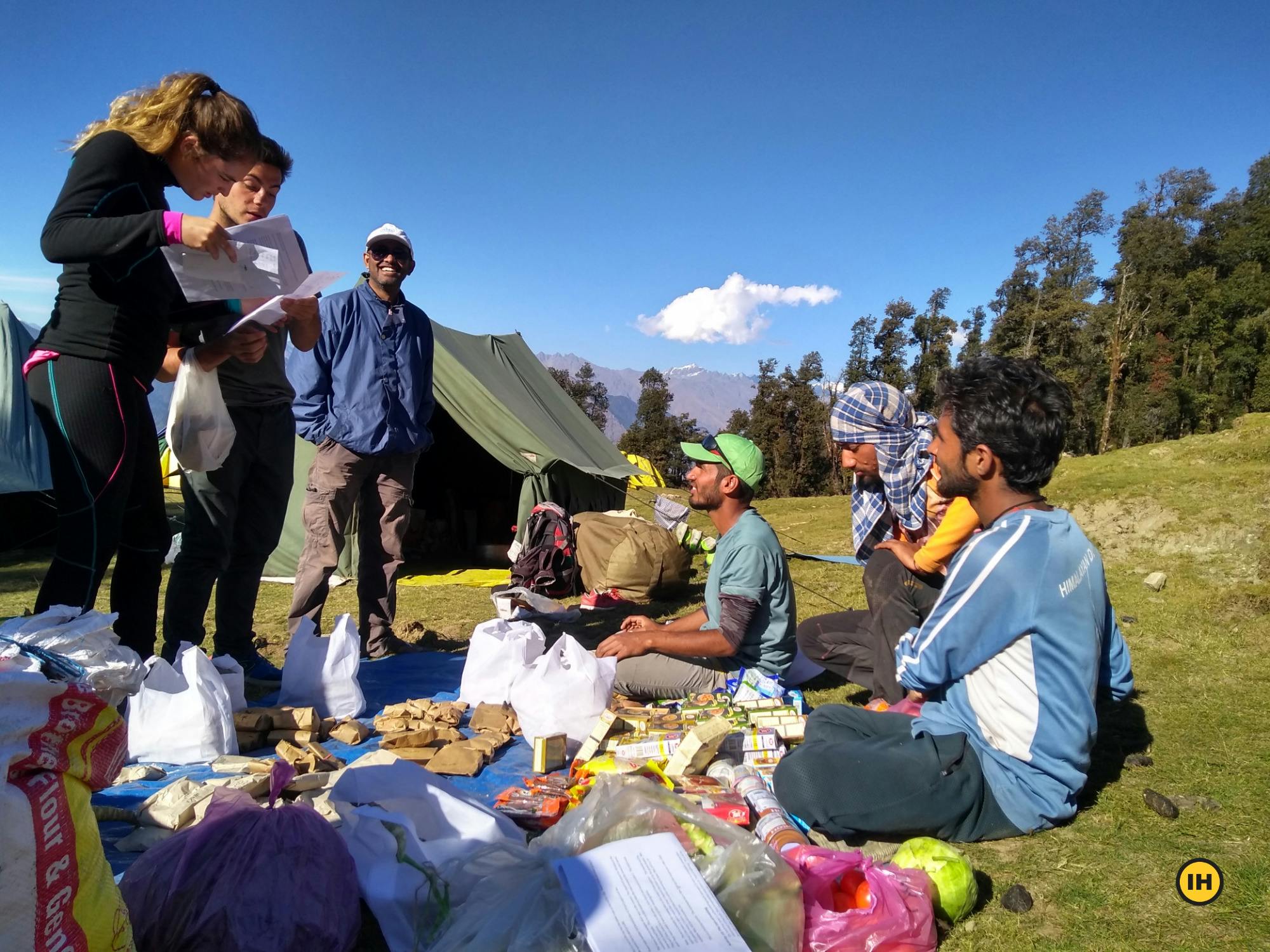 How you can register
Head to the Kedarkantha page and register for the November 2nd batch under the Mountain Challenge tab.
If you wish to compete as a team with your friends then come as a team of 6. But keep in mind: The benefits of being part of a team with unknown people enhances the experience.
We will be taking only 30 students in our first Open HMC this November.
So register soon!
By opening the Himalayan Mountain Challenge out to independent students, we're hoping to take the benefits of this programme to a wider audience.
If you're up for a one-of-a-kind outdoors survival challenge, look no further. Speak to your friends, team up and register soon!
If you have any questions, drop in a comment below, or write to izzat@indiahikes.com
Sign up for our much loved Weekly Mailer
We have terrific trekking tips, trek updates and trek talks to look forward to