Collaborative Leadership Program Now Open to All Working Professionals!
Share this story
For a long time, trekkers have been requesting us to open up our Collaborative Leadership Program to working professionals.
After nearly a decade, we have finally opened the program to students of professional courses, university students, and young working professionals all over the country!
If you don't know about it, this is a program that we have been running for the students of a few of the Indian Institutes of Management for the past 11 years. Students participate in a 4-day program in the Himalayas, which is designed to bring about Collaborative Leadership Skills.  
The Indian Institutes of Management (IIM) of Indore, Lucknow, and Bangalore have found it so useful that they offer it as a credit course to their students.
But we notice that collaborative leadership is a skill required not only by management students. 
A team activity as a part of the Collaborative Leadership Program. Photo by Dr Dhaval Jajal
Most modern workplaces require you to have collaborative leadership skills. 
Top professionals are expected to collaborate, work across teams, gain trust with mutual respect among team members and collaborate with other stakeholders as well. Emotional intelligence and relationship-building skills have become central to a professional's growth. 
We're sure you may have already noticed this at your workplace.
The interesting thing is that the world's biggest organisations and leaders are veering more and more towards collaborative leadership. It is critical to an individual's growth, and consequently, the organisation's growth. Earlier, collaborative leadership was expected only of the senior management. In the modern workforce, it is expected even at an entry-level. 
Unfortunately, the formal education systems in our country do not lend themselves to students developing Collaborative Leadership skills. The focus is still on individual development driven by a highly competitive environment. 
This is where our Collaborative Leadership Program comes in. 
A trek in the Himalayas, which is specifically designed for learning collaborative leadership skills, is an ideal setting for this program. In a short intense span of 4 days participants take away lessons of collaborative leadership that they can fall back on throughout their professional lives. 
We've seen participants take away key attitudes of collaborative leadership: 
Investing time to build relationships with teammates
Building trust through honest and transparent communication
Handling conflicts in a constructive manner
Being empathetic and inclusive
Sharing control and avoiding power struggles
Creating an environment that enables others to lead in their area of responsibility
Building connections with other teams and stakeholders
Being able to leverage the diversity in a team and tap its collective intelligence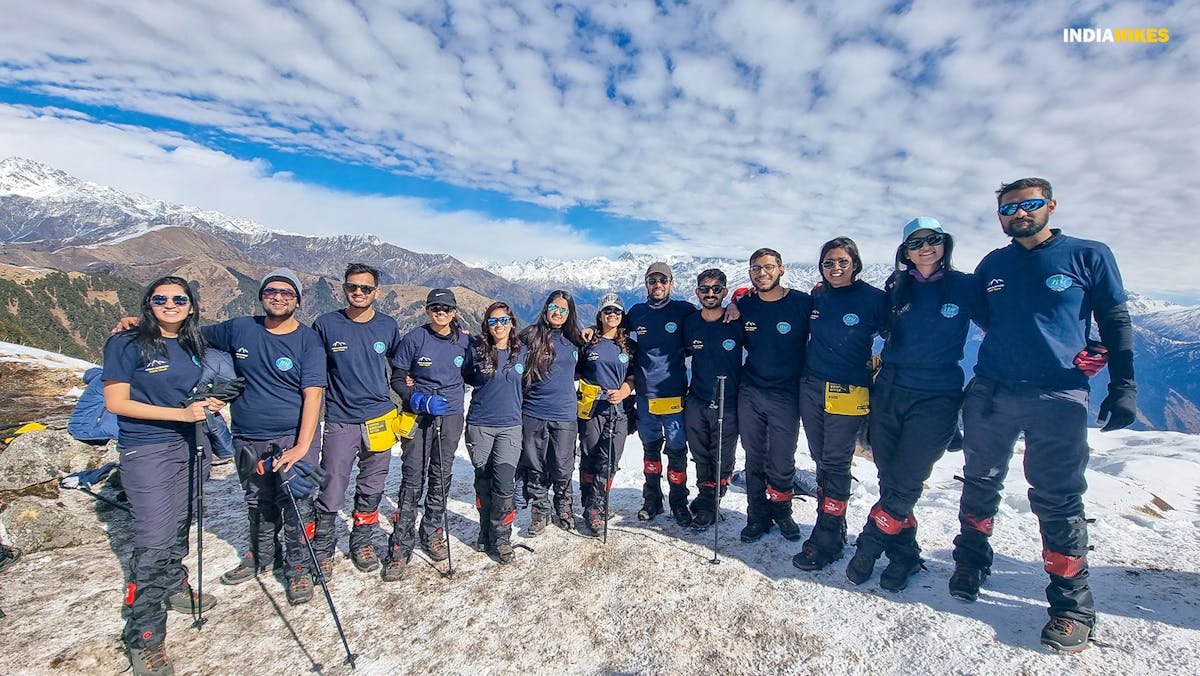 Students of IIM-Lucknow participating in the Collaborative Leadership Program. Photo by Dr Dhaval Jajal
These are behaviours that usually come with years of practice while working with a team. With the Collaborative Leadership Program the learning is condensed quickly. The impact is immediate and long-lasting. 
This is because of the way the program is designed and facilitated. 
What happens on the Collaborative Leadership Program
In this specifically designed experiential learning program, competing teams have to plan and execute their own trekking expedition in a remote part of the Himalayas. 
The trekking expedition, under our supervision, requires them to reach a high point, usually a summit, and return down to the base camp safely. Most participants have never trekked in their lives. 
In this trekking expedition, participants are completely out of their comfort zones. They are forced to confront situations and overcome challenges that they have never encountered before. Each day is designed to inculcate collaborative leadership skills in a progressive intense way. 
Overcoming these challenges tests and develops participants' skills of collaborative leadership.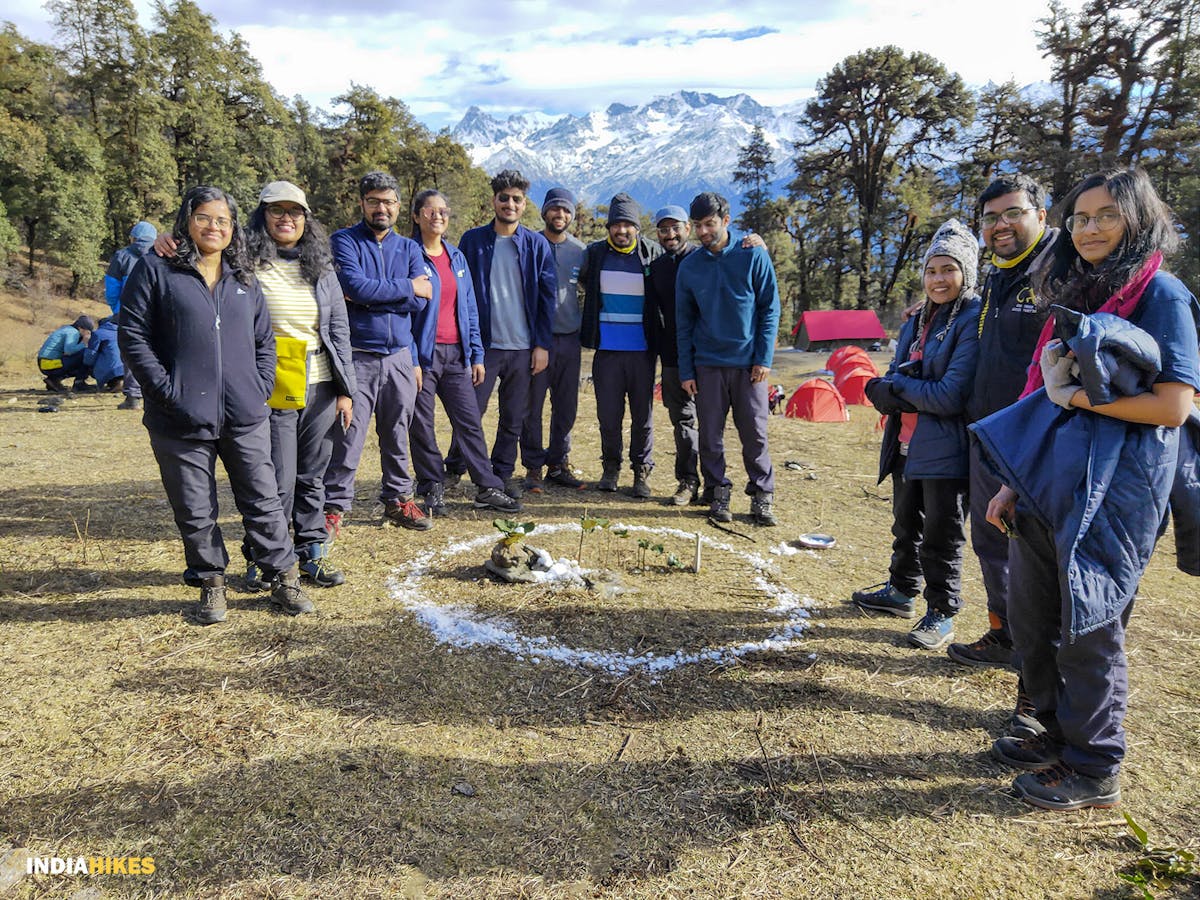 Students doing a mood board activity as a part of the Collaborative Leadership Program. Photo by Izzat Yaganagi
When and where is the program happening? 
We have currently opened up only one date, April 2-7, 2022, on the Dayara Bugyal trek. 
Program fees
The fee for the program is Rs 9750 + 5% GST.
This includes the program fee as well as all expenses of stay and food for the 4 days of the program.
At the end of the program, all participants will receive a certificate in Collaborative Leadership. 
Who can join the Collaborative Leadership Program? 
This program is open to anyone between the age of 20 and 35. It is open to university students or students of professional courses and working professionals.
If you are a manager and would like to organise a special program for your team, please email Ms Izzat Yaganagi, the head of our Experiential Learning Team on izzat@indiahikes.com. 
How to register for the program: 
At the bottom of this page is a form. If you'd like to participate in the program, fill out the application form and wait to hear from us. We do have a selection process based on your background and aptitude. 
If you have any questions, feel free to reach out to us.
Latest Videos

"Why Is It Unique Trekking With Indiahikes"

"4 Best Rhododendron Treks In The Indian Himalayas"

"How to go about Trekking Post COVID Recovery"
Sign up for our much loved Weekly Mailer
We have terrific trekking tips, trek updates and trek talks to look forward to