Pin Bhaba Pass - A Trek Interview With The Explorer Of The Trail, Tanm...
Share this story
To get a perspective about the Pin Bhaba Pass trek, we conduct a trek interview with Tanmay Bain, the Trek Leader who explored this trail.
Pin Bhaba Pass is a grand master when it comes to personality. Here is a mountain pass-crossing that functions as a magical gateway between two contrasting biospheres. The pass has been a silent witness to the dramatic shifts that have unraveled in both the Bhaba and Pin valleys, which are punctuated by varying definitions of beauty. In essence, this pass is a juncture where the statement 'the grass is always greener on the other side' doesn't find any footing.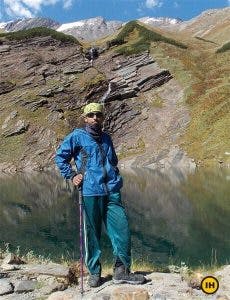 So when our trek leader, Tanmay Bain, went to explore this trek, he did not see what was coming. Having completed twenty-five treks and five expeditions, he was still left in awe by this trail.
Tanmay Bain is associated with Indiahikes as a Trek Leader since March 2015. At 23, he is is also our youngest trek leader and has quite a few explorations to his name. He is known for his extensive knowledge of the trekking world and his painstakingly detailed maps. Some of his recently concluded explorations are Gwaru Pass and Nanda Devi National Park.
Here is an excerpt from a trek interview with him –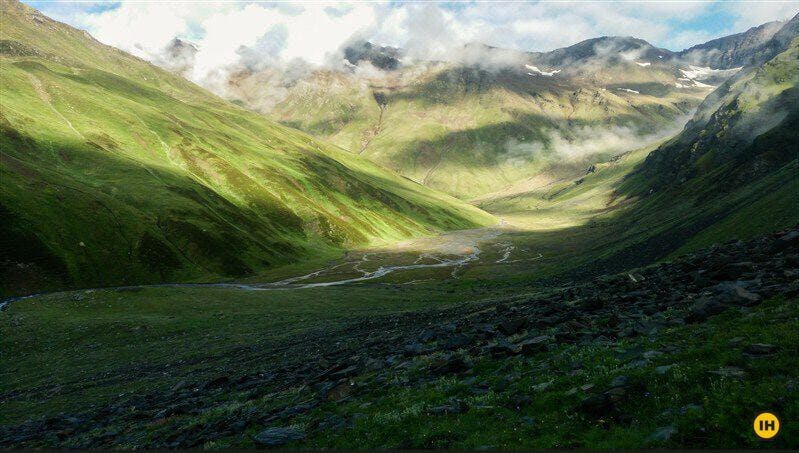 What makes the Pin Bhaba Pass special?
I've always believed that mountains have a soul. You can feel it in the aroma of the woods, the sheer force of the rivers and experience moments when your eye line meets the clouds. These high-altitude treks are emotional roller-coasters.
My trek to Pin Bhaba Pass has strengthened my beliefs further. Not many people know that Himachal Pradesh is a treasure trove for trekkers. I'm glad to see the trend changing these days. Through this trek interview I want to highlight that The Pin Bhaba Pass is an example of a trek with a soul. You'll be staying and travelling through the isolated villages of Kafnu, Mudh and Kaza. This first- hand experience propels this trek to a whole new level in terms of appeal. I also feel this trek is the best alternative for the Pin Parvati trek.
One moment you're trekking alongside large swathes of grasslands in the Bhaba valley and the next you're ascending a steep slope riddled with boulders. The prayer flags at the top of the pass resemble a colorful rendition of a finish line, only to be reminded that it's just a pit stop onto the next phase of the journey, the barren yet beautiful mountain ranges of Spiti.
Which is your favourite section from this trek?
From the saddle point (highest point) of the pass, you get to enjoy a panoramic 180° view of the Bhaba and Pin valleys. The mountain pass-crossing is my favourite part about this trek. We have to negotiate a section littered with boulders en route to the pass. The prayer flags fluttering at the pass are a welcome sight.
What are the highlights of this trek?
The Pin Bhaba Pass trek has many highlights. Here are some of my most memorable ones:
Kafnu, the base camp of this trek is home to India's first underground dam, 'the Bhaba Hydro Project'.
On Day 1, about 4.4 km into the trek, you will reach a section where you'll be surrounded by different types of trees at one spot; silver birch, pine and oaks. The sound of birds chirping in large numbers will the sound of birds chirping in large numbers has a calming influence.
On Day 3, about 3.3 km into the trek, you will be able to hear the sound of a river but you won't be able to see it. This geographical phenomenon is called a 'subterranean river', which runs wholly or partly beneath the ground surface. From this section, a quick 1.5 km steep ascent will take you to a beautiful meadow with flower beds.
The crossover is definitely the best highlight of the trek. The rigour of the ascent and descent, the contradictions of the terrain, and the prayer flags at the pass are definite crowd-pleasers.
View of Mudh village: The view of Mudh village after crossing Bara Boulder is a sight unlike any other. The river crossing atop the suspension bridge is a thrilling experience in itself.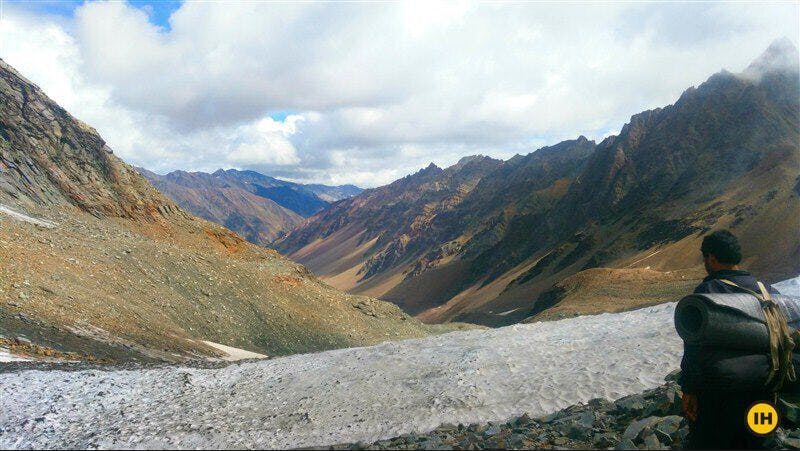 What is the toughest section in this trek?
On the pass-crossing day, the steep ascents and descents are tricky, since the terrain is a combination of boulders, moraine, glacier and scree. It's important to rest at regular intervals and hydrate yourself well. 
What are the best views from this trek?
Personally, the best views from this trek are the ones of the three beautiful mountain passes that are visible from Phustirang. It is the best vantage point to get a glimpse of these passes: Nimish Khango (16,185 feet), Tari Khango (17,318 feet) and Pin Bhaba Pass a.k.a Wang Khango (16,105 feet). It is a sight that will stay with you forever.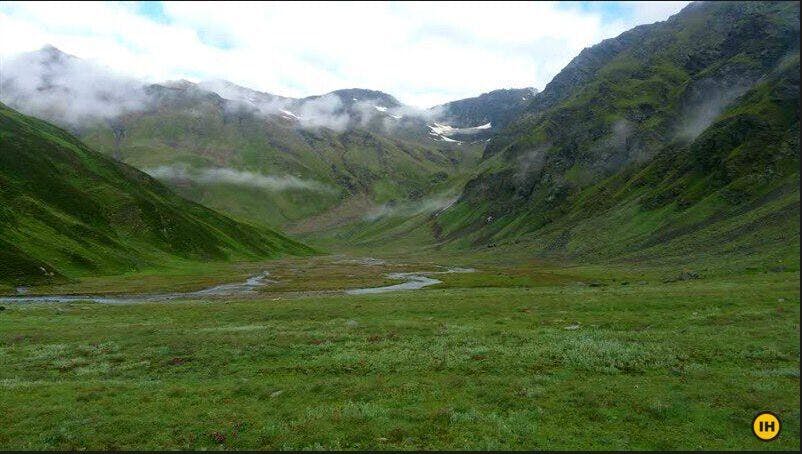 What's your advice to trekkers who want to attempt this trek?
I'll use this trek interview as a medium to spread awareness about the fitness levels required for this trek. The Pin Bhaba Pass trek is a trek that requires high-levels of fitness. Since this is a pass-crossing trek, there are no easy exits. There are a lot of factors that will challenge you in this trek; the trekking distance on Day 2, the steep climbs and tricky slopes covered with moraine, glacier and snow. It's important that you work towards a fitness regimen to prepare for this trek. You should be able to jog for 5 kilometers within 30 minutes before the start of this trek. Otherwise, it's going to a struggle and this can lead to complications. Also, you will not be able to enjoy this trek.
During the trek from Kafnu to Mulling, you gain an altitude of 2,759 feet on a single day. You need to be aware of being hit by Acute Mountain Sickness. To prevent this, it's highly recommended that you stay well hydrated and go on a course of Diamox starting three days prior to your arrival at Shimla.
Pin Bhaba Pass is a welcome addition to our repertoire. This trek not only provides a solution for trekkers who are robbed off the luxury of time but also extends an experience that is exclusive for a crossover trek. The lush greenery of the Bhaba valley and the desolate mountain ranges of Pin valley, all packed within a 7-day period makes this trek the only one of its kind. Pin Bhaba Pass is a sensory experience as it categorically captures the changes in landscapes and cultures of the region.
Cover image by Ashish Bhatt.
What you should do now
1. If you'd like to read more about the Pin Bhaba Pass trek, click on this link.
2. If you ended up here by chance and were actually looking for treks to do: Then head over to our upcoming treks page. You'll find all our Himalayan treks there.
3. If you want to work with us: Head over to our careers page. We have lots of positions open. We also have lots of applications coming in. So the sooner you apply, the better.
If you have any additional questions, comments or queries regarding the Pin Bhaba Pass or have any additional questions for any such trek interview, please drop in a comment below.
Sign up for our much loved Weekly Mailer
We have terrific trekking tips, trek updates and trek talks to look forward to