We're Opening Stargazing Treks At Indiahikes
Share this story
We're Opening Stargazing Treks At Indiahikes
Category Thursday Trek Talk
By Swathi Chatrapathy
2022-10-20
We are introducing stargazing treks at Indiahikes — a special trek where you spend every night stargazing with an expert, diving deep into the mysteries of the night sky.
Since our first group got full within days, we have opened a second group from November 21st-26th on the Phulara Ridge trek.
So you'll have to act quickly.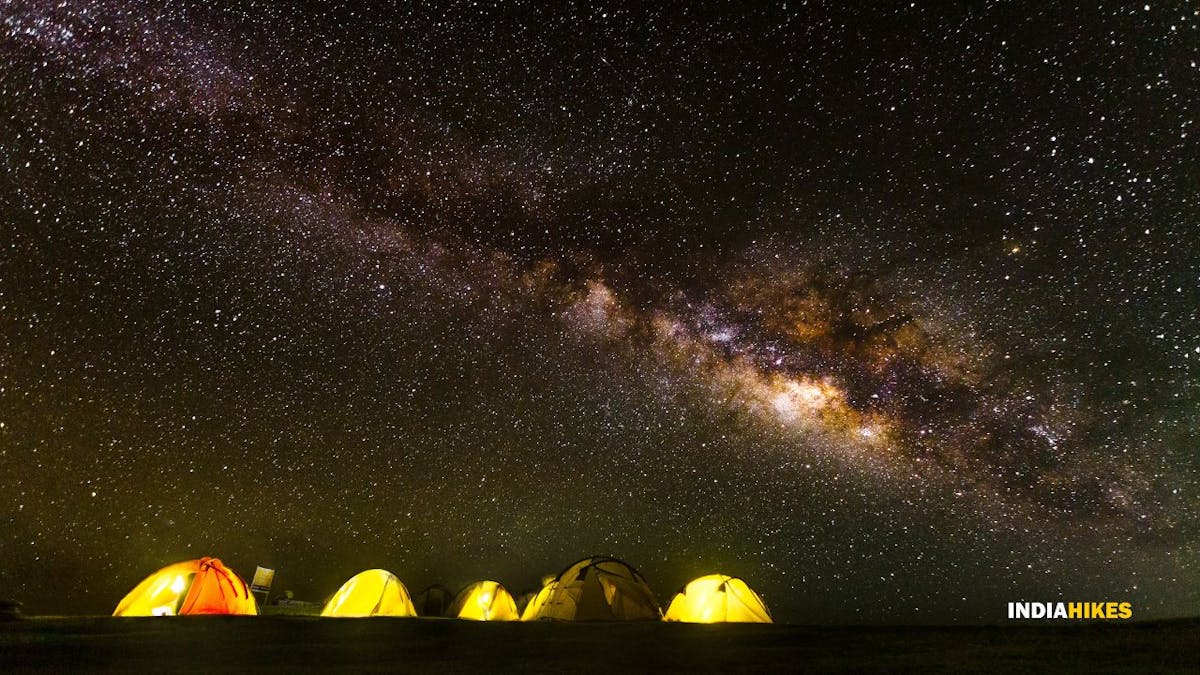 The Milky Way cutting across the sky. Picture by Pratik Mankawde.
What can you expect from our stargazing trek? 
We will have focused sessions on these topics: 
Observe and learn about different galaxies - Our own Milky Way and our nearest neighbour, the Andromeda Galaxy
Mark the common constellations of the Northern Hemisphere including Orion, Cassiopeia, Big Dipper, Little Dipper. Learn the history and mythology behind these constellations. 
Catch the α-Monocerotid meteor shower (This story will tell you why a meteor shower is an extremely special experience) 
Recognise and learn about the brightest stars of the night sky including the Summer triangle
Observe the visible planets - Mars, Jupiter and Saturn and Mercury (early morning sky)
Natural and artificial satellites - Observe the moons of Jupiter and Saturn in the telescope
The experience will be facilitated by our Senior Trek Leader who specialises in stargazing.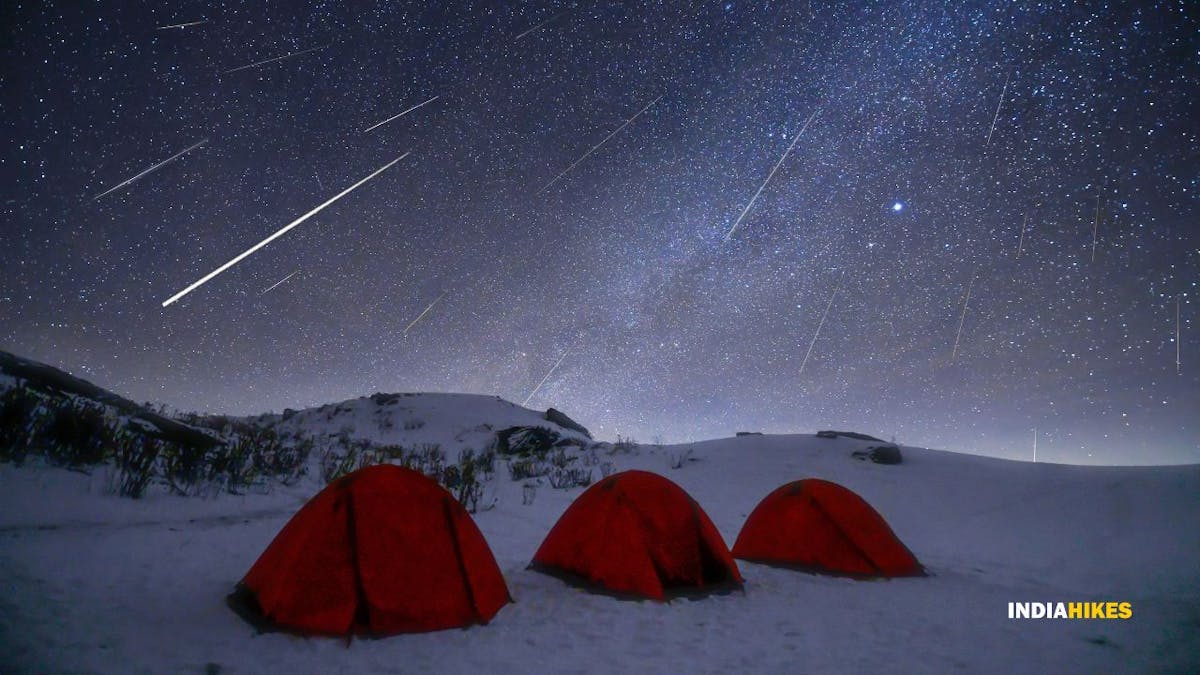 A shot of the night sky taken during a meteor shower by Shagun Bathija.
Whom is this trek meant for?  
Whether you are an amateur looking to learn about stargazing or an expert astrophile looking to observe some of the greatest celestial shows, this trek is for you. 
Joining this trek means getting to spend 6 days together with like minded people who enjoy stargazing as much as you do. 
Why have we chosen November for our star stargazing trek?  
Even though we get some of the best astronomical views from our treks, there are only some times of the year when such views are at their best. November is one of those few months that allow for seamless stargazing. There are a few reasons for this. 
First, getting clear skies in the Himalayas is a rarity. Which is why the post-monsoon weather of November gives us the clearest spotless skies and clean weather.
Second, early winter is the best season to observe the night sky. The sun sets early, bringing in long hours of dark, clear and transparent night skies. You get to experience the night sky minus the snow and freezing temperatures of peak winter. (It is still going to be extremely cold, but not maddening.) 
Third, the phases of the moon. Moonlight can be a nuisance for stargazing. The best time for stargazing is the 2-3 day window before and after a new moon. Which is why we have particularly chosen a time when moonlight is at its least, with November 23rd being a New Moon night. 
How to register for the stargazing trek? 
The Stargazing Trek to Phulara Ridge is from November 21st to 26th. 
The trek is already open for registrations. Note: The stargazing trek fee costs Rs 2,500 over the Phulara Ridge trek fee for this group.
We have a special link for you to register - https://indiahikes.com/registration?batchId=8286/
To read more about the Phulara Ridge trek, click here for details. 
I must conclude by saying that this could be one of the best trek experiences of your life. You not only get to experience a full fledged Himalayan trek with the complete Indiahikes experience, you also get to learn and experience stargazing with an expert. 
If you have any questions, give us a call and we'll help you out.
Banner Image by Sachin Srivastava
Latest Videos



Sign up for our much loved Weekly Mailer
We have terrific trekking tips, trek updates and trek talks to look forward to