Apply to be a Volunteer for IIM Himalayan Mountain Challenge this Octo...
Share this story
We're inviting you to be a volunteer at the 10th edition of our Himalayan Mountain Challenge (HMC) with IIM Indore.
Just like the past 9 years, we are giving a chance to our best trekkers to join us as volunteers for the Himalayan Mountain Challenge (HMC) for IIM Indore. 
For our previous HMC, we got over 350 applicants and could choose just 20. This time too, we will be taking just 18-20 volunteers. The chances are tight, but it's worth it. 
If there's something you should look forward to this October, it's this. 
What is the Himalayan Mountain Challenge? 
If you're not familiar with it, this is a programme we have been organising since 2011 with IIM Indore, where final year students gather in the Himalayas and participate in a strategy game. The game is designed to test the endurance, grit, strategy and planning of the students. At the end of it students take back real life management skills from the world of mountains. (Read more about it here.)
It's a highly acclaimed programme that IIM Indore has included in its curriculum for the past 9 years. Following this, IIM Bangalore and IIM Lucknow have made it a credit course for their students.
For Indiahikes to organise it is a huge pride and responsibility, and it's an equally big responsibility for our volunteers to shoulder.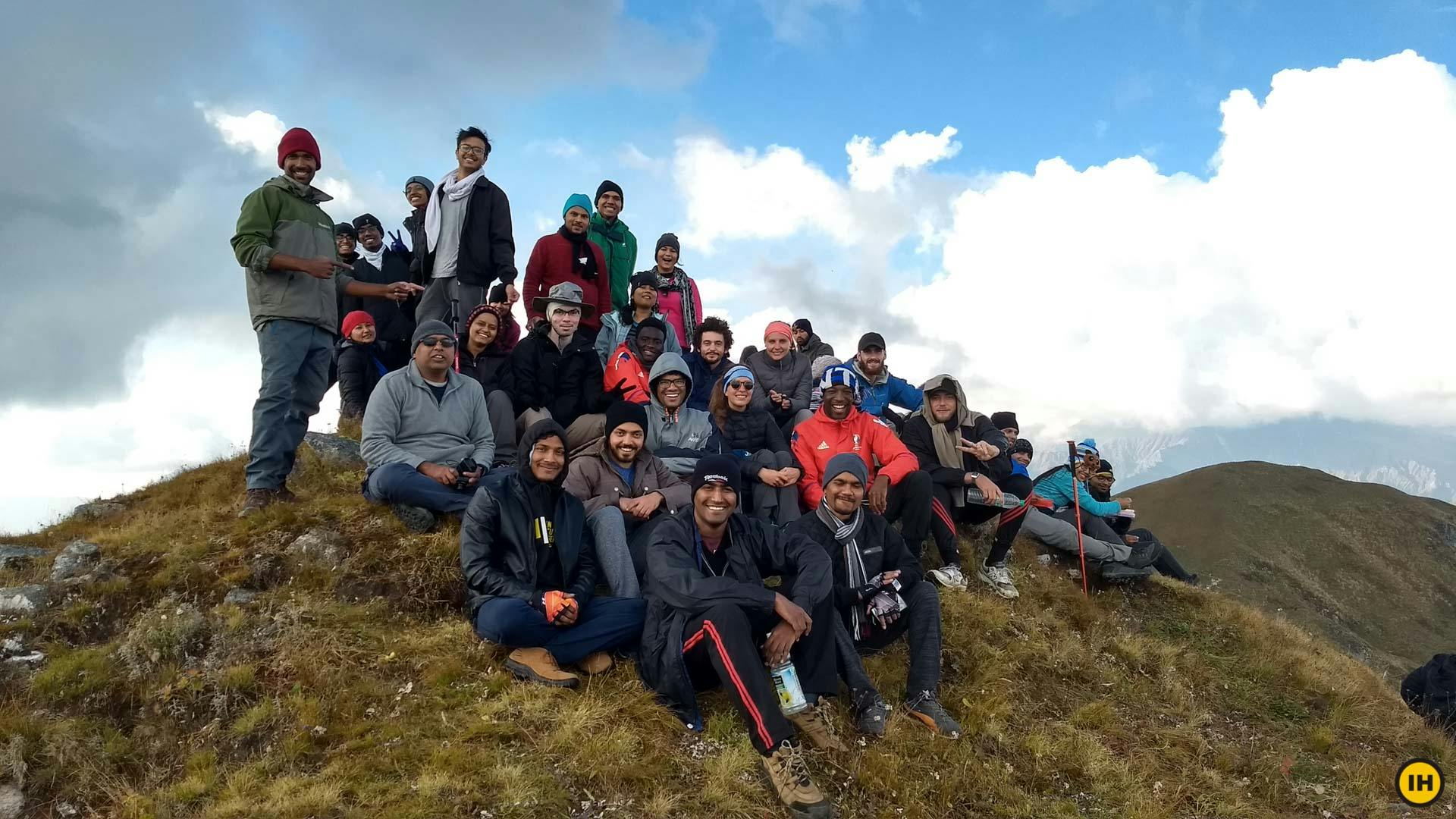 Being a volunteer is a huge learning experience
Being an insider and being an active member of the team conducting the program is a big opportunity. 
And volunteering for the HMC carries a lot of weight. You get to learn leadership skills in a hard-hitting way. It is a true experiential learning program for both students and us, the organisers. You're facilitating the program for IIM students who are stepping into the Himalayas for the first time, doing a trek largely on their own, battling circumstances completely out of their comfort zones, sometimes in the winter cold and snow, and trying to win a strategy game. 
As a facilitator, a lot of the program's success depends on you. 
You are assigned a team of 9-10 students. You are not only trekking with them but, as an insider, you are also facilitating the program. It is your job to ensure that the students complete the experiential learning program successfully. 
"During my stint as a volunteer, I realised that learning is a two way process — not something reserved just for students. As a volunteer, I learnt a lot about team management, conflict resolution and communication," says Keerthiraj, who volunteered in 2018 and was also a student of IIM, participating in the HMC in 2016.
At the end of the volunteership you also earn a certificate.
What are we looking for in our volunteers? 
We are extremely picky about our volunteers for two reasons. 
First, volunteers must be able to intellectually match up with IIM students. They need to be able to conduct reflections with students drawing out the learning of the program. This is not easy, considering IIM students are few of the top minds in our country! 
Second, volunteers play a big role in managing the whole programme. This requires good people skills, discipline and leadership ability. 
Third, the entire volunteering period is a 6 day marathon with hardly any time to breathe, eat or sleep. Volunteers need to be physically and mentally capable to handle these situations. 
We have a specific eligibility criteria. 
Every volunteer:
Must be between the age of 27 and 32
Must have at least 3 years of work experience 
Must have done at least one Himalayan trek with Indiahikes
Must not have volunteered with us for the HMC in the past. We would like to give opportunities to fresh folks. 
Must be extremely fit
If you fit the bill, you're welcome to apply as a volunteer.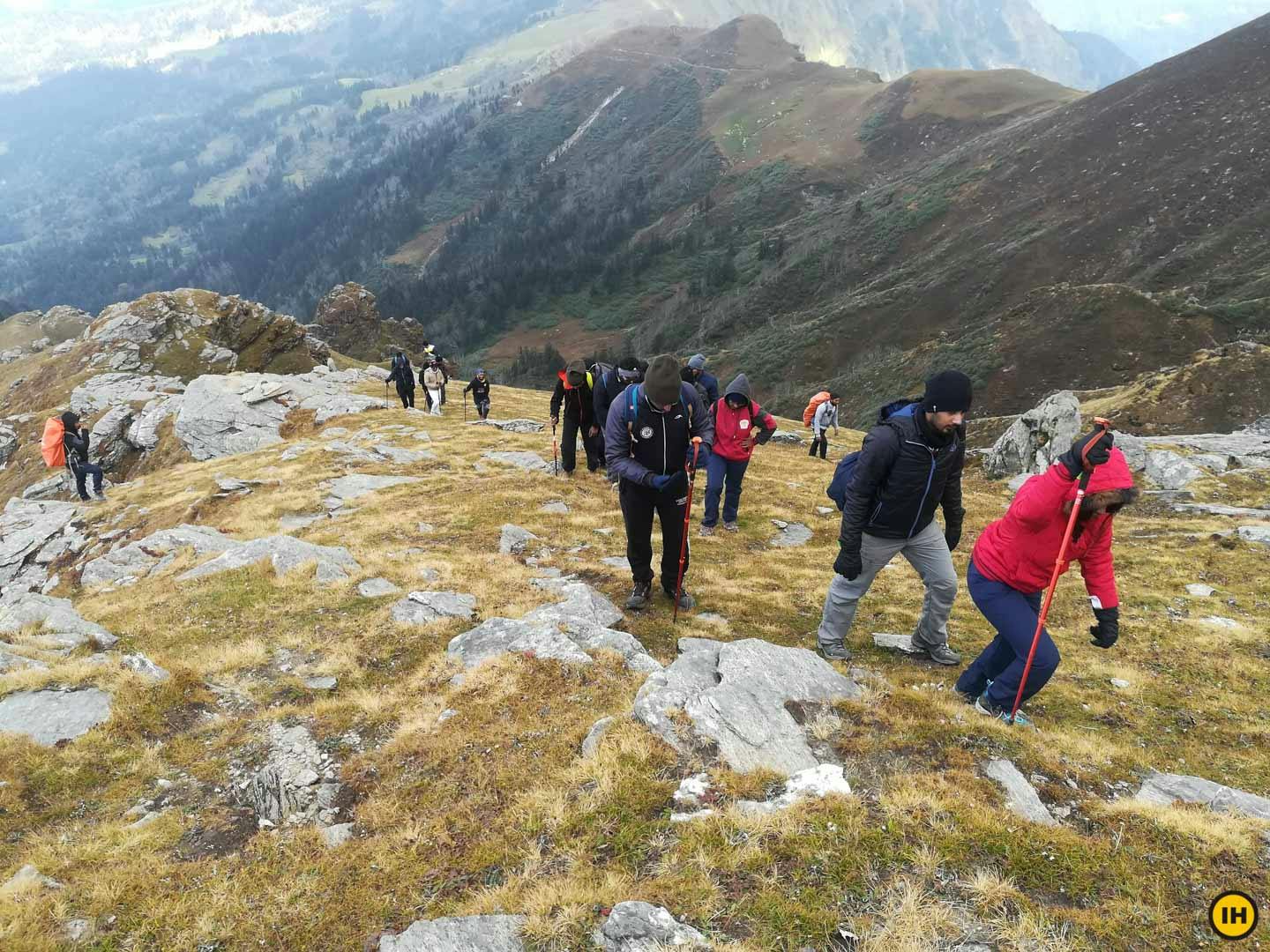 When and where is the Himalayan Mountain Challenge happening?
The Mountain Challenge will be held across three treks — Dayara Bugyal, Deoriatal-Chandrashila and Kedarkantha. 
We have two dates in October. 
25 Oct to 30 Oct (Team A)
26 Oct to 31 Oct (Team B)
Your responsibility is to reach Dehradun on 24 October by 6 am. We will move to the basecamp on the same day. The date may differ by a day based on the trek you're chosen for. We will communicate the starting date to you once you're selected.
Volunteers will be back in Dehradun either on 31st October or 1st Nov by 7 pm, depending on which team they are assigned to when they are selected. 
Note: You will not be able to select the trek. We will be allocating you based on the strengths and weaknesses of all volunteers.
Indiahikes will sponsor your volunteership throughout the trek. All stay, food and trek costs are borne by Indiahikes. You have to get to Dehradun and out of Dehradun at your own cost. Also, you have to incur/ share travel cost to (and out of) the base camp that you are assigned.
If you'd like to apply as a volunteer:
We have a two step process to select volunteers. 
Step 1: A questionnaire to get to know you and your skills 
Step 2: A video interview to assess your potential as a volunteer
We'll get back to you within 2 days if you're shortlisted after filling the form. 
Here are some questions you may have about the HMC programme
1. What is the starting point of the programme?
The starting point will be Dehradun. If you are selected, more details about the time and exact location will be shared with you.
2. Which slope will I be going to?
This will be decided only 3-4 days prior to the trek. Once you're selected, we'll ask you for your preference, but we will be making the final decision.
3. Will you book my tickets for me?
You will have to book your tickets to Dehradun on your own.
4. How much of the cost is borne by Indiahikes?
Indiahikes will take care of all volunteering expenses from base camp to base camp. Volunteers have to reach and return from the base camp at their own expense.
5. Will I get to trek during the IIM Programme?
Yes, you will get to trek along with the IIM students during the programme.
6. Will this be like usual Indiahikes treks?
Yes, this will be like a usual Indiahikes trek. However, as part of the organising team, you will have responsibilities to fulfill to make the programme effective.
7. What role do I have to play during the IIM Programme?
You will be assigned a team of 8-10 students. Your role will include the following –
Being the single point of contact for your students for any questions or concerns that they have. You will be the face of Indiahikes for them. In short, you will be a mini-trek leader for them.
Ensuring that the students understand the rules of the strategy game that they'll be participating in during the programme
Facilitating activities related to the strategy game for your students at the campsite and on the trekking trail
Helping students reflect on their learnings after each activity with a good debriefing and reflection session
Maintaining a scoresheet of your team's points
Settling any scoring related disagreement that your students might have
Briefing them on discipline and safety protocols during the programme
Ensuring that they adhere to discipline and safety protocols during the programme
Guiding and motivating them during the trek
Reporting any health concerns that you or your students might have to the Trek leader immediately
8. What should I NOT do during the IIM Programme?
Since you will be the single point of contact for your team of students, you should not –
Be preoccupied with telephone calls or other distractions once the students arrive till the end of the trek
Wander off on your own during the trek
Break any of the discipline or safety protocols
Be late or casual about punctuality
Prescribe medication to students or yourself without consulting the Trek Leader
9. Will I have to lead the trek during the programme?
All slopes will have Indiahikes Trek Leaders and guides, who will guide students and volunteers. However, you will be responsible for keeping track of the students assigned to you and motivating them through the trek each day. You will have to ensure that you're never too far away from your team.
10. Will I get to participate and be part of the game?
No, you will be an objective facilitator of the programme for the team you are assigned to. Your participation in it would interfere with their learning.
10. How many students will be participating in the programme?
There will be roughly 40-50 students in a single group. These students will be split into around 5 teams of 8-10 each. As a volunteer, you will be handling this team of 8-10.
11. Is there any pre-work to be done before the programme?
There are two things that you would need to do before you arrive for the programme –
Work on your fitness – You have to be very fit as a volunteer. You will not only be trekking in high altitudes but will also have responsibilities at the campsite before and after the trek. Doing all of this is possible only if you are physically fit.
Go through the pre-read that we will share with you before you come. This will give you an idea of the activities that you will be facilitating for students during the programme.
12. Can couples apply together for the programme?
Yes. If both of you get selected you will be going on two different slopes.
13. I have volunteered for this programme in the past. Can I volunteer again?
We are not repeating any of our volunteers from the past. This is simply because we want to give others a chance. 
14. What is the application process?
1. To apply, fill the form that is attached below.
Note: If we do not respond to you after you fill the form, it means you have not been shortlisted. 
We get a lot of applications every year. So, apply soon!
If you have any questions, comment below and we'll get back to you.
Sign up for our much loved Weekly Mailer
We have terrific trekking tips, trek updates and trek talks to look forward to